Country kitchen ideas – 42 ways to ultimate rustic inspiration
Bring a little joie de vivre to your country kitchen ideas with these modern takes on country style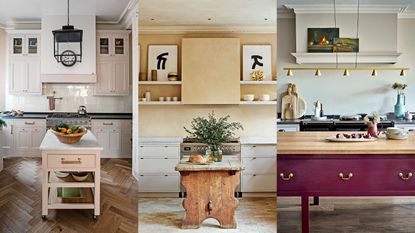 (Image credit: Plain English / Jessica Summer / Plain English)
Sign up to the Homes & Gardens newsletter
Decor Ideas. Project Inspiration. Expert Advice. Delivered to your inbox.
Thank you for signing up to Homes & Gardens. You will receive a verification email shortly.
There was a problem. Please refresh the page and try again.
Country kitchen ideas aren't just for rural dwellers. As many of us are spending more times in our homes – wherever their location – thoughts have inevitably turned to interior surroundings and how we can make them cozier, more comforting. And for many, that brings to mind a country look.
That means a returning passion for country decorating ideas and, specifically, the room that lies at the heart of our home – the kitchen.
Country kitchen ideas – 42 design rules for country schemes
Even modern homes can benefit from a touch of softer styling and simpler detailing that will embody the country aesthetic.

Of course, if you then decide you want something more modern – or even more traditional – our kitchen ideas hub is the place to start.
1. Introduce moody materials
The ethos of modern French country kitchen design is all about evoking a relaxed, welcoming atmosphere, without going full rural Provence. Here, interior designer Jessica Summer sets the scene with earthy tones and plenty of texture.
'The cabinetry is minimal and contemporary to allow the materials to stand out, but also to balance the traditional features like the antique butcher's block and open shelves,' she explains.
2. Create a moveable feast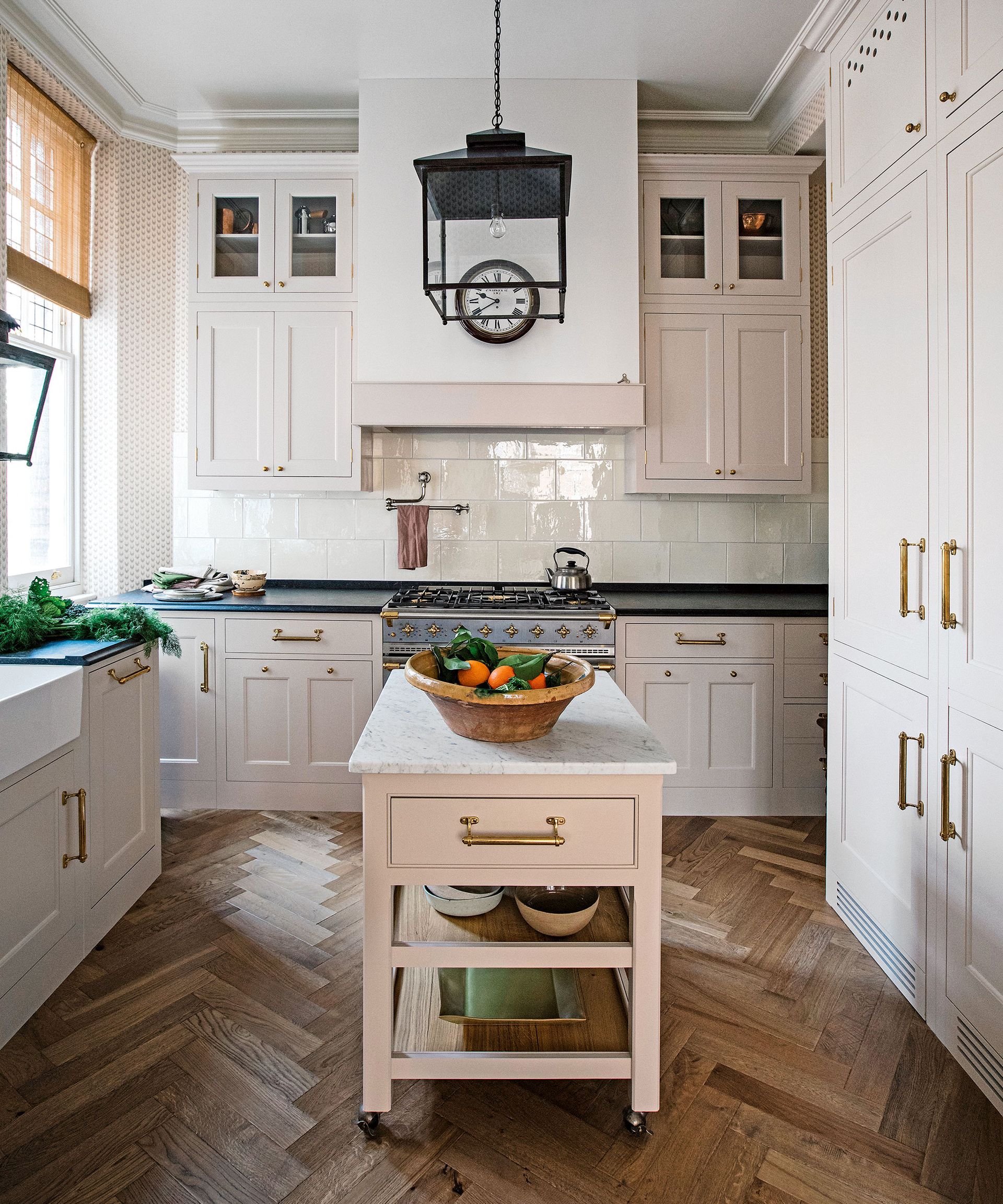 Inspired by the classic French pâtisserie table, this perfectly positioned unit sits on four lockable wheels and is poised to move out of the way for entertaining. The end drawer is designed for napkins and cake forks, while the marble worktop is perfect for serving afternoon tea and cake, according to cabinetmaker Plain English. Add a lantern pendant, pot filler and parquet flooring to infuse more rural French charm.
3. Pull up a chair
Country kitchen island units may deliver kitchen storage and prep space, but for comfort and conviviality nothing beats a generous dining table. Perfect for languid family feasts or just spreading out the Sunday newspapers, the ideal kitchen table will be weathered by years of use. For added country flair, a cast iron pot rack filled with copper pans suspended above will ensure not all storage opportunities are lost.
4. Go salvage hunting
The French did salvage long before it became fashionable, or environmentally savvy. You'll often find vintage treasures like old seed drawers and apothecary shelving reimagined when researching French style, even in modern Parisian apartments.
Here, salvage specialist Retrouvius has perfected the look using beautiful mahogany cabinets from a local museum. Replacing solid doors with glass adds a touch of vintage display cabinet je ne sais quoi. If you prefer a more traditional country look, invest in beautifully-designed country kitchen wallpaper, instead.
5. Decorate with coastal colors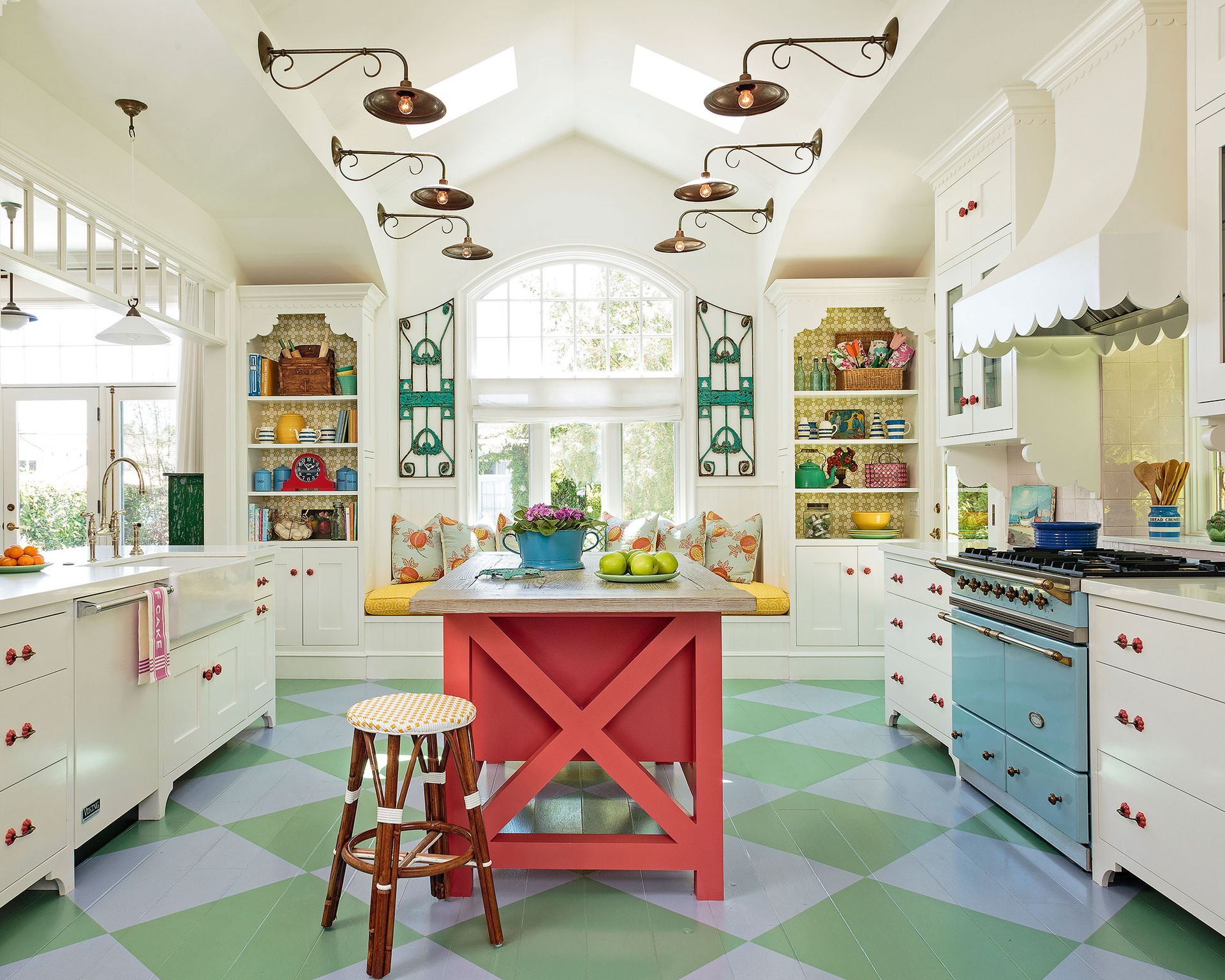 A country kitchen diner influenced by modern French country styling wouldn't be complete without a hearty dose of ornate ironwork. Scrolls essential. Seek out vintage or raw steel light fixtures for extra Gallic flair. We love the fresh Mediterranean colors in this elaborate kitchen by Alison Kandler, which are reminiscent of coastal shades found on the Côte d'Azur and bring a holiday feel. Cane stools and scallops complete the French affair.
6. Focus on the range
A robust range cooker sits at the heart of most French country-inspired kitchens. Take a traditional cooker in a modern direction by swerving a full surround in favor of this pared-back approach. The simple extractor hood anchors the range cooker as the key focal point, while keeping the overall look open and relaxed. The wood-topped island on long legs also adds to the sense of spaciousness.
7. Invest in the details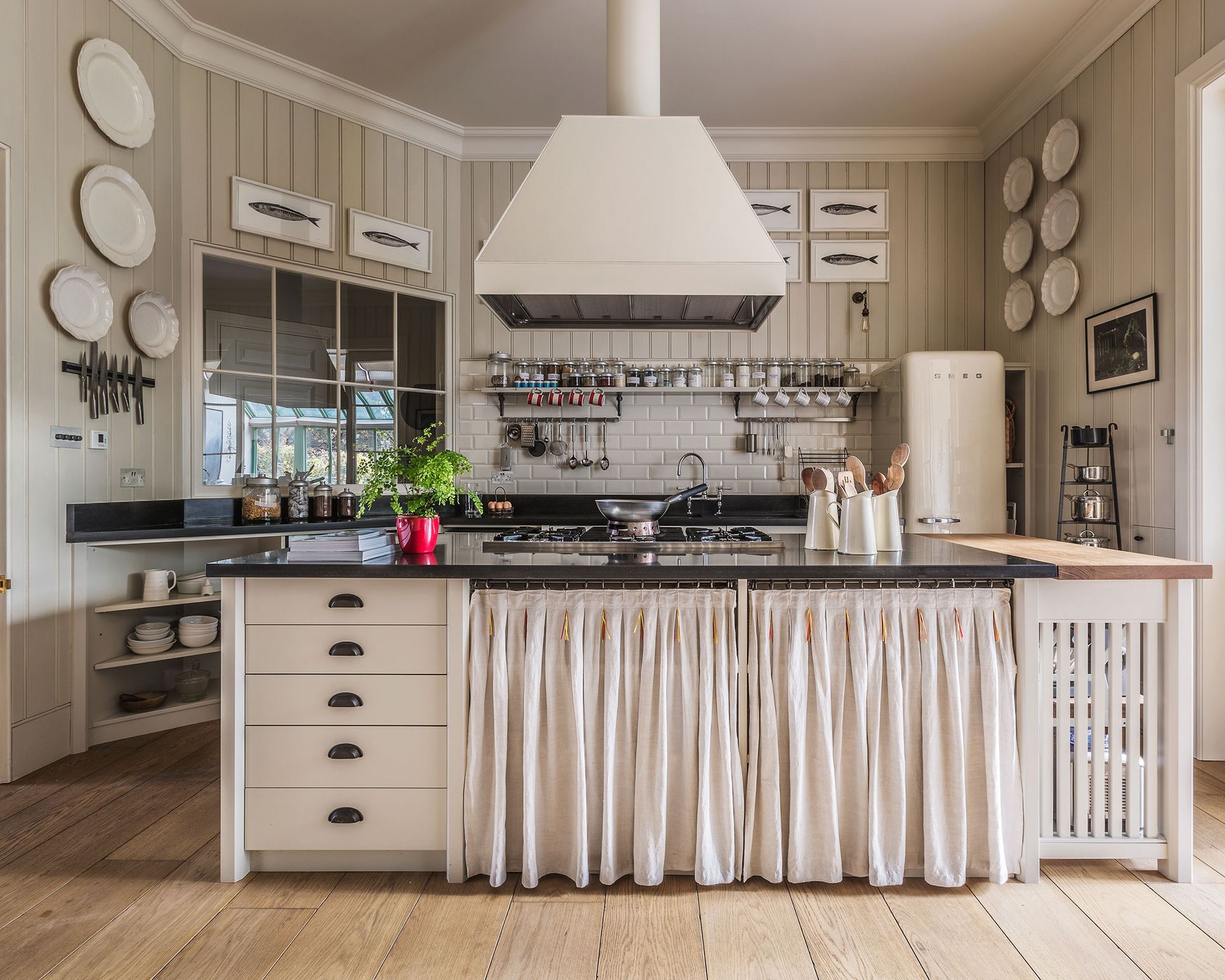 Tongue-and-groove paneling, linen curtains and wall-hung storage all contribute to a French country feel in this kitchen designed by Charlotte Crosland. Keeping your batterie de cuisine in view and close to hand via magnetic knife blocks, utensil racks and pot stands add to the laid-back, 'unfitted' ambience. Decorate with typical brocante finds like chic vintage china, enamelware and artwork inspired by country pursuits.
8. Create a country kitchen that looks authentically original
edit58 founder Lisa Mehydene commissioned her country kitchen above to look like the kitchen in John Derian's New York home.
'Lisa wanted the kitchen to fit the look and feel of the barn, to blend in as if it had always been there, to create a homely space with a lived-in feel,' says Adrian Bergman of British Standard by Plain English.
The combination of traditional cabinetry and soft, inviting colors and country kitchen curtain ideas creates a characterful space that fits perfectly in its barn setting in the Cotswolds, the UK's sought-after countryside location.
9. Introduce a sense of history
'Designing a country kitchen is not just about the kitchen style you decide to go for – it's about the lived-in feel that it creates,' says Leisha Norman, Kitchen Designer at Harvey Jones.
To make a new build or kitchen extension look and feel more country, try adding some antique details or pre-loved ornaments to bring personality.
'One of the most effective ways to achieve country charm in a kitchen is to source something that has its own story. The marks of time, weathering, or patina on metals – these looks and feelings can't be provoked from a mass-produced item bought in a shop,' Norman says.
10. Expose structural materials
If your country kitchen has attractive structural materials you can show off, don't miss the opportunity – whether brickwork, revealed from behind plasterwork, wooden beams, once hidden behind studwork, or original floor tiles, restored to former glory.
11. Color-match the floors and surfaces
For a restful take on your country kitchen ideas, opt for pale wood tones that work across flooring, furniture, work surfaces and accessories. This Amtico luxury vinyl flooring in a parquet pattern anchors this entire kitchen scheme and makes a practical choice for this hardworking space.
'Beaten planks of wood can be used for shelving, old doors can be upcycled to create larder doors, metal hooks and brackets can be good for hanging pots, pans and utensils, and old milk bottle carry baskets can easily store condiments.'
12. Add the comfort factor to an island
Farmhouse kitchen islands are still a huge trend in kitchen design and are a great way of creating a central hub within a country kitchen.
'Comfortable seating is a must and essential to the functioning of an island,' says interior designer Jojo Bradley. 'Upholstered bar stools with comfortable backs are a great way of bringing a textured or patterned element into your kitchen.'
13. Choose stone for surfaces
Stone is an essential part of the country kitchen look, delivering an earthy robustness to a kitchen style that tends to major on quality craftsmanship and longevity.
'Caesarstone surfaces have all the organic qualities of natural stone, with creamy white base tones matched with elegant marble veining,' says Jonathan Stanley, VP at Caesarstone. 'They sit perfectly well with very naive interpretations of the country style as well as more contemporary takes on it.'
Alongside their natural good looks, surfaces such as Caesarstone can also withstand the exuberant cooking and entertaining that country kitchens were made for.
14. Go for glazed cabinets
Glazed cabinets fitted with reeded glass are a modern update on traditional country house style, and are an ideal option for homes with lower ceiling heights.
'The elongated aperture for the glass within the floor-to-ceiling cabinets appear to "lift" the height of the ceiling,' explains William Durrant, Founder, Herringbone Kitchens.
'Rippled glass, brass handles and stone backsplashes are becoming increasingly popular, and replacing funky tiles as a way to introduce personality into kitchens,' Durrant says.
15. Add character with a curved island
In a characterful country property, the straight lines and hard edges of a typical kitchen can look a little… square.
In this Norfolk cottage, custom-made cabinets with curved profiles soften the space. The unusual design of the island creates a gathering space in the centre of the kitchen, and replicates the shape of the corner cabinet beyond.
For added interest, a part of the cottage's original flint wall has been left exposed.
You can see more kitchen island ideas in our dedicated feature.
16. Create a lighting plan
When planning your country kitchen ideas, it's crucial to think about your lighting design. This will include inside cupboards, over the cooker or hob, over the dining area, and the kitchen bar or island.
'Spotlights are great in alcoves and dotted strategically on the ceiling,' explains interior designer Jojo Bradley. 'Motion-activated LED strips or spots are ideal for inside pantry cupboards and inside deep drawers.'
Feature lighting is essential in a kitchen, whether it's modern or traditional in style, as it creates a focal point and can add great impact to the space.
'Lighting color is also important,' says Bradley. 'I would recommend using a warm white light throughout the house, preferably with a dimmer option, as this allows you to create different levels of ambience. Warm white light dimmed beautifully is great for when you just want to chat and enjoy your kitchen in the evenings.
17. Evolve your country style
Country kitchen ideas are evolving to embrace technology while still retaining a country look and feel.
'Our country-based customers are going for pastel pinks, pale greens, white and cream to create light spaces within their homes,' says William Durrant, Founder, Herringbone Kitchens. 'This is often paired with exposed timber to bring the kitchen to life.'
'Technology is now a need versus a trend, with boiling water taps and wine fridges being a must. People are investing in their kitchens to make them flow as an interactive space and make their homes future-proof.'
18. Introduce attractive task lighting
Wall lights that can be angled and adjusted to illuminate a work surface are ideal in darker rooms or where overhead lighting is limited. They also help to bring the lived-in character that's at the heart of a country kitchen.
Choose a design that can be wiped clean easily, made from a material that echoes the style of your decor or era of your home. Polished metal, porcelain or glass are all good options.
19. Use baskets for storage
Baskets fitted on sliding rails are a brilliant twist on traditional drawers when you're thinking of country kitchen ideas. As well as providing accessible storage, they'll enhance the look of your kitchen by adding texture and natural materials to your cabinetry. Complement the look with wooden handles and a timber work surface.
20. Take a fresh look at country fixtures
Here, the country kitchen staples of a butler's sink and wooden cabinetry have been updated to create a fresher, brighter take on country kitchen style.
Contrasting the raw wood base units with sleek work surfaces and glazed wall units brings a contemporary feel. Smart brass handles add a touch of glamour, but the overall design is based on practicality.
'With two generous bowls, this Chepstow 2 farmhouse-style sink is so versatile as it provides ample room to rinse bulky pots and pans,' says Product Manager Luke Shipway from Caple. 'However, it looks stylish too in a sleek white finish, which you can accessorise with a universal wooden chopping board and basket strainer.'
21. Integrate storage for fresh produce
'Think hidden and open storage with pull-out crate drawers, hooks, rails and shelves offering quick and easy access to organic fruit and vegetables, artisan breads and fresh herbs and spices,' says David Roy, Country Manager Schmidt.
22. Pick cabinetry that boasts raw textures
'For country kitchen style, L'Épicerie from Schmidt offers the perfect blend between laid-back country living and a contemporary unfitted look,' Roy suggests. 'It's ideal for large, open-plan spaces, as well as smaller kitchens in cottages, converted barns and rural retreats, as you can add different elements as you go.'
Using wood accents, and blending a soft coral tone with black, creates a look that suits country properties as it is bold without being overpowering.
23. Tile a stylish backsplash
'When it comes to tile design within the home, angular, symmetrical and repetitive patterns seem to be having a moment again, specifically across country style properties,' says Amanda Telford at CTD Tiles. 'They can be used in a number of fun ways to create a stylish home update with a modern twist.'
'The Metro tile trend has become an especially desirable format choice,' continues Telford. 'You can make a statement and place these tiles across an entire wall or simply incorporate them as a cool half-wall or splashback for a subtle finish.'
24. Build in seating
'Built-in seating is an informal style of dining that lends itself well to the relaxed nature of country kitchens,' says Graeme Smith, Head of Retail & Commercial Design at Life Kitchens.
It can also be a good space-saving design feature.
'Whether it backs into a corner, island or peninsular, you are instantly saving on the space that you would usually need behind traditional chairs,' confirms Smith. 'Without designated seats, you can usually fit more people around the table, too.'
25. Employ rough-hewn textures
A staple of the 1990s, barn conversions are seeing a resurgence in popularity as dreams of moving to the country and taking on a project seemed to have become more viable in a work-from-home culture.
This grand kitchen from The Main Company employs several key country-kitchen must-haves, including textured natural timber tops, tumble-edged stone flooring and a huge multi-functional island that makes the most of the high-ceilinged space.
'With original reclaimed materials including wooden beams, Cornish stone and brick walls, we were able to create a country look and feel whilst retaining some of the buildings original charm,' says Karan Main, director at The Main Company.
You can find more barn conversion kitchen ideas for your big conversion project.
26. Come together for family dining
At the heart of every tradition country kitchen sits a central table that acts as a place to prepare food, dine, work and simply spend quality time with the family. If there's room, surround it with traditional ladder-backed or church chairs.
If space is tight, then add a bench the kids can crowd on to at suppertime.
27. Opt for country house grandeur
Touches of shining copper and dark, beaded cabinetry juxtaposed with pure white worktops and marble mosaic floor combine to create a stately country home feel.
Pair with simple oak chairs, open shelving – we love a good kitchen shelving idea – and dot with pops of red to prevent it from becoming too grand.
28. Go dark underfoot
According to flooring experts Ted Todd, it's all about grain texture for flooring right now. 'Real wood floors are proving to be as popular in the home as ever, and the kitchen is no exception,' reveals Robert Walsh, founder and owner, Ted Todd Fine Wood Floors.
'Lending itself perfectly to a country aesthetic, clients want floors that are tactile and that showcase handcrafted elements such as saw marks, tumbled edges, and distressed textures.'
'Darker, natural brown tones are the current go-to choice as they really give that cozy feel that is synonymous with the country style, emphasizing natural materials, exposed wood and tactile surfaces.'
29. Elevate your storage
A pantry was a traditional element of country kitchens – helping to keep dry good, well, dry, and meats and fish cool. And today's pantry ideas are even more functional.
Update the look for now by investing a freestanding model and use it to store dry goods or to hide away modern breakfast equipment.
30. Play with tiling shapes
Many country kitchens feature tiled backsplash at their heart. Kitchen trends are currently for color, repeating patterns and experimenting with different layouts.
These Drops tiles by Porcelain Superstore, in white are a play on classic Moroccan fan tiles, but sit just as well behind a classic range oven in this country-style kitchen.
31. Use a softer shade
Pale painted Shaker cabinetry sitting on a classic random flag farmhouse stone floor is a classic combination for a smart country kitchen.
A classic range cooker (this is from Everhot) brings the country spirit – here updated in pure white for a fresh, contemporary feel.
Add simple but stylish metallic knobs and cup handles and cool white tops to complete the look.
'Color in the kitchen doesn't necessarily mean bright or bold tones. Pebble, Truffle Oil and Cashmere Sweater are all great choices for a twist on a classic grey or white,' says Hayley Simmons at Magnet.
These tones reimagine traditional neutrals to create a warm, welcoming atmosphere – perfect for a soothing sanctuary in the home.
'When opting for an elegant, understated aesthetic, choose worktops and accessories that blend, rather than sharply contrast, to curate a consistent look,' Simmons continues. 'Natural textures and organic shapes add a stylish touch and inject the homeowners' personality throughout the design.'
32. Put a twist on terracotta
The absence of kickplates will help to give cabinets a more unfitted, farmhouse appearance. It will also draw more attention to the floor, so make it stunning but hardwearing.
Natural earth tones and textures have been a big trend for 2020/21 so this Harvey Maria Northmore Fired Terracotta flooring, with its warm heritage color pigment and authentic patina, works beautifully in a country kitchen.
33. Create cabinet-free walls
Tongue and groove paneling and open shelving provide a relaxed look. Paired with cool white worksurfaces, a classic butler sink and deliciously dark Shaker cabinetry the effect is modern and chic.
234Echo the architecture of the space
Whether a traditional feature such as a beamed, vaulted ceiling in your kitchen is original or as part of a new kitchen extension idea designed in the country style, using a mix of wooden and painted cabinetry will help to complement the warmth of the timber.
35 Make room for casual dining
This British Standard by Plain English kitchen, designed for fashion and lifestyle journalist Louise Roe, is finished in Little Green Paint Company's Sage Green and topped with 5000 London Grey quartz surfaces from Caesarstone.
The galley design didn't offer much room for dining, so Louise commissioned a local craftsman to create a bespoke island from timber left over from the hardwood flooring.
36. Make a perfect start to the day
Breakfast bars and cupboards are a fairly modern invention but do have their roots in the pantry, a vital part of a traditional country kitchen.
This smart fitted design, part of a kitchen by Mowlem & Co features space-saving pocket doors and is filled with all the accoutrements needed for the most important meal of the day.
37. Refine a recipe for success
The perfect ingredients for a homely country-style scheme? Painted Shaker kitchen cabinetry? Check. Plate-rack over butler sink? Check. Comfy seating area featuring a pair of luxurious leather armchairs and rush woven rug? Check. Big multifunctional island? Check.
'To create an environment that's easy to live in, work surface space can't be overlooked,' advises Karen Read, kitchen designer at Neptune Weybridge.
38. Play with displays
Echoing the style of a classic country dresser, open shelving is the perfect way to showcase collections of china and other precious heirlooms and treasures.
Make the display stand out using a backdrop of tongue and groove panelling in pure white and contrast with dramatic black cabinetry.
39. Dress your windows
After an elegant, timeless French country house look? Fabric featuring the classic pastoral scenes of Toile de Jouy for window and door treatments is the perfect partner for a country manor kitchen.
40. Take a seat
A central workstation is a clever and hardworking alternative to a traditional farmhouse table when you're planning your country kitchen ideas. In this design, a timber worktop overhang provides space for bar stools to sit at the island, creating a spot for casual dining.
'We are often asked to create multiple dining zones with one kitchen. Whether that be a kitchen island, banquette window seating or more traditional dining at a table,' reveals Rebecca Hughes at Rebecca Hughes Interiors.
41. Keep it simple with classic design
Shaker furniture has a distinct style, reflecting the guiding principles of the United Society of Believers in Christ's Second Appearing, or Shakers as they were more commonly known.
The religious sect, formed in the late 1700s had guiding principles of simplicity, utility and honesty and those beliefs were reflected in well-made furniture with minimalist designs. Key elements are plain, framed cabinet doors, peg rails and honest, raw materials.
42. Combine practicality with warmth
Don't be afraid to mix surfaces when you're planning your rustic kitchen design. Paired with a wood-topped island this Quartz White Water surface from CRL Stone has soft brown veining and a subtle marble effect that is perfect for a country-style kitchen.
'A light colored quartz countertop will work well in the country-style kitchen, as it will complement virtually any materials and any color scheme while giving the space a modern touch, too,' says Simon Boocock, Managing Director, CRL Stone.
How do I make my kitchen into a country kitchen?
A scrubbed pine or traditional oak table often sits at the heart of a country kitchen and will ensure the space feels sociable.
'If working with vaulted or sloping ceilings, it's important to look at the layout of the cabinetry and consider how this will impact storage,' says Karan Main, director at The Main Company. 'Open-shelving and clever use of space in the lower-level cupboards will allow you to refrain from built-in overhead cupboards that might detract from the original structure.'
The modern central island works well here, too, and has the benefit of being able to feature a sink and a few concealed modern appliances, too.
'When it comes to country kitchens, it's all about making the most of the characterful details that will make your space unique,' says Karen Read, kitchen designer at Neptune's Weybridge showroom.
Range cookers also shout 'country' loud and clear and work brilliantly as a starting point for any scheme as they often come in a host of colors, sizes and fuel options. Some, like Rayburns and Esse will also run the heating as well as keeping the kitchen warm, perfect if it's installed at one end of a long-roomed barn conversion.
Natural materials such as stone and wood will add warmth to surfaces and a butler or Belfast sink topped with pillar or brass mixer taps are naturally at home in a country kitchen.
What's trending for country kitchens 2023?
'More and more customers are requesting clever storage solutions for hiding kitchen appliances and paraphernalia from view,' says Adrian Bergman of British Standard by Plain English.
'For this reason, our pan drawers and larders are very popular. The larder is the perfect space to store bulky but necessary items such as toasters, microwaves and coffee machines.
'Deep and wide pan drawers provide ample space for not only pots and pans but also stacks of crockery. We find it is often the most used unit in the kitchen.'
What colors are on trend for country kitchens?
Dark colors – from black and navy to olive greens and deep grey – are dominating kitchens right now. While they're perfectly suitable for a grand country house scheme, something discrete and subtle works more effectively in rural setting such as small cottages and even larger barn conversions.
The gentler shades of cream, sage green and duck-egg blue will prevent a smaller space feeling overcrowded and ensure in a large room the cabinets do not dominate.
'We are finding that people are being more adventurous and bolder with their color decisions, and it can completely transform the feel and mood of a kitchen,' says Bergman.
'The joy of a British Standard kitchen is that it arrives primed, so that it can be hand painted in any color and updated over time. This means that you can choose to be brave, safe in the knowledge that it doesn't have to be a permanent decision.
'Make sure always to sample a color in the room, seeing how it changes in the light. Choose a palette of colors and play with the combination until you have narrowed it down to your favorites.'
What cabinet styles are on trend for a country kitchen?
Fuss-free cabinets, such as the clean, symmetrical lines of Shaker are a good option for both traditional and modern schemes as it's a plain canvas on which to build.
Beaded cabinet doors and ones with more intricate pelmets and filials will create a more Georgian manor house feel, while flat-fronted styles will add sleek lines to an otherwise country look.
Painted kitchens are popular and also ensure there's an easy refresh option when the inevitable wear and tear on a busy family space takes hold.
Meanwhile, wood cabinets are seeing a resurgence, with oak popular for its consistent, easy-to-live-with grain. For handles, opt for large bun knobs on painted or wood doors, or choose metallic cup shaped ones in shades of nickel or brass.
If you have the space, eschew a few wall cabinets for waney-edge shelving and complete the look with an old-style larder cupboard or glass-fronted French-style dresser for plenty of storage.
What layout should I choose for a country kitchen?
'The architectural features of the room are very important in any country kitchen design,' says Bergman. Choose cabinets that allow you to work around features, to create the most interesting and unique designs.
Sign up to the Homes & Gardens newsletter
Decor Ideas. Project Inspiration. Expert Advice. Delivered to your inbox.
Andrea has been immersed in the world of homes, interiors and lifestyle since her first job in journalism, on Ideal Home. She went from women's magazine Options to Frank. From there it was on to the launch of Red magazine, where she stayed for 10 years and became Assistant Editor. She then shifted into freelancing, and spent 14 years writing for everyone from The Telegraph to The Sunday Times, Livingetc, Stylist and Woman & Home. She was then offered the job as Editor on Country Homes & Interiors, and now combines that role with writing for sister title homesandgardens.com.
With contributions from