Country kitchen ideas – get the rustic look with our ultimate inspiration gallery
Rural dwellers and city slickers alike can take inspiration galore from our country kitchen ideas, incorporating everything from architecture and cabinets to handles and splashbacks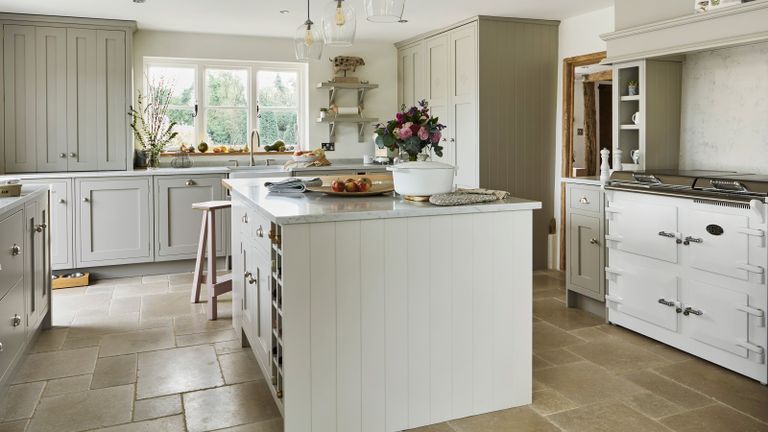 (Image credit: John Lewis of Hungerford)
You don't have to live deep in the sticks to be inspired by our country kitchen ideas.  As many of us are spending more times in our homes – wherever their location – thoughts have inevitably turned to interior surroundings and how we can make them cosier, more comforting. And for many, that brings to mind a rustic look.
Cottagecore – which, according to Wikipedia, 'celebrates a return to traditional skills and crafts such as foraging, baking and pottery' – is a growing lifestyle trend that's influencing interiors. 
That means a returning passion for rural style cottages, barn conversions and country homes and, specifically, the room that lies at the heart of most of those, the kitchen. 
Even modern homes can benefit from a touch of softer styling and simpler detailing that will embody the country aesthetic. Think country house rather than country cottage and you could be on your way to creating your own rural-style idyll.

Of course, if you then decide you want something more modern – or even more traditional – our kitchen ideas hub is the place to start. 
1. Employ rough-hewn textures
A staple of the 1990s, barn conversions are seeing a resurgence in popularity as dreams of moving to the country and taking on a project seemed to have become more viable in a work-from-home culture. 
This grand kitchen from The Main Company employs several key country-kitchen must-haves, including textured natural timber tops, tumble-edged stone flooring and a huge multi-functional island that makes the most of the high-ceilinged space. 
"With original reclaimed materials including wooden beams, Cornish stone and brick walls, we were able to create a rustic look and feel whilst retaining some of the buildings original charm," says Karan Main, director at The Main Company. 
Find more barn conversion kitchen ideas for your big conversion project.
2. Come together for family dining
At the heart of every tradition country kitchen sits a central table that acts as a place to prepare food, dine, work and simply spend quality time with the family. If there's room, surround it with traditional ladder-backed or church chairs. 
If space is tight, then add a bench the kids can crowd on to at suppertime. 
Photography / Real Shaker Kitchen by DeVol
3. Opt for Country House grandeur
Touches of shining copper and dark, beaded cabinetry juxtaposed with pure white worktops and marble mosaic floor combine to create a stately country home feel. 
Pair with simple oak chairs, open shelving – we love a good kitchen shelving idea – and dot with pops of red to prevent it from becoming too grand. 
Photography / Harvey Jones Original Kitchen
4. Go dark underfoot
According to flooring experts Ted Todd, it's all about grain texture for flooring right now. 'Real wood floors are proving to be as popular in the home as ever, and the kitchen is no exception,' reveals Robert Walsh, Founder and Owner, Ted Todd Fine Wood Floors. 
'Lending itself perfectly to a country aesthetic, clients want floors that are tactile and that showcase handcrafted elements such as saw marks, tumbled edges, and distressed textures.' 
'Darker, natural brown tones are the current go-to choice as they really give that cosy feel that is synonymous with the country style, emphasising natural materials, exposed wood and tactile surfaces.' 
These wood flooring ideas will get you thinking more along these lines.
Photography / Attingham plank flooring, Ted Todd Crafted Textures
5. Elevate your storage
A pantry was a traditional element of period kitchens – helping to keep dry good, well, dry, and meats and fish cool. And today's pantry ideas are even more functional.
Update the look for now by investing a freestanding model and use it to store dry goods or to hide away modern breakfast equipment. 
Photography / Ardingly Kitchen cabinet in Olive, Neptune
6. Play with tiling shapes
Many country kitchens feature tiled splashbacks at their heart. Trends are currently for colour, repeating patterns and experimenting with different layouts – even the humble Metro brick is being used to create herringbone shapes. 
These Drops tiles by Porcelain Superstore, in white are a play on classic Moroccan fan tiles, but sit just as well behind a classic range oven in this country-style kitchen. 
7. Use a softer shade
Pale painted Shaker cabinetry sitting on a classic random flag farmhouse stone floor is a classic combination for a smart country kitchen. 
Add simple but stylish metallic knobs and cup handles and cool white tops to complete the look. 
Photography / Shaker kitchen, finished in Putty and Dove White, John Lewis of Hungerford
If you want a truly pure look, scroll through our white kitchen ideas gallery.
8. Include a range cooker
A range, whether that's a traditional cast-iron model or a more modern version, will add warmth and focus to a country kitchen. Contrast duck-egg blue cabinetry and patterned fabrics in pretty pastel shades with a bold black range for real stand-out. 
Photography / Classic 90, Rangemaster
9. A twist on terracotta
The absence of kickplates will help to give cabinets a more unfitted, farmhouse appearance. It will also draw more attention to the floor so make it stunning but hardwearing. 
Natural earth tones and textures have been a big trend for 2020/21 so this Harvey Maria Northmore Fired Terracotta flooring, with its warm heritage colour pigment and authentic patina, works beautifully in a rustic country kitchen. 
10. Create cabinet free walls
Tongue and groove paneling and open shelving provide a relaxed look. Paired with cool white worksurfaces, a classic butler sink and deliciously dark Shaker cabinetry the effect is modern and chic. 
Photography / Haddon in Charcoal and Burnished Bronze, Kitchen Makers
11. Echo the architecture of the space
Whether a traditional feature such as a beamed, vaulted ceiling in your kitchen is original or as part of a new kitchen extension idea designed in the country style, using a mix of wooden and painted cabinetry will help to complement the warmth of the timber. 
Photography / Martin Moore bespoke kitchen
12. Make room for casual dining
This British Standard by Plain English kitchen, designed for fashion and lifestyle journalist Louise Roe, is finished in Little Green Paint Company's Sage Green and topped with 5000 London Grey quartz surfaces from Caesarstone. 
The galley design didn't offer much room for dining, so Louise commissioned a local craftsman to create a bespoke island from timber left over from the hardwood flooring. 
13. Make a perfect start to the day
Breakfast cupboards are a fairly modern invention but do have their roots in the pantry, a vital part of a traditional country kitchen. 
This smart fitted design, part of a kitchen by Mowlem & Co features space-saving pocket doors and is filled with all the accoutrements needed for the most important meal of the day. 
14. Use lighting to zone a large space
Trying to pull together the various elements in multi-functional room such as a barn conversion can be tricky. But this example (see more at @medieval_barn_location) is a resounding success. 
Why? Lighting, particularly pendants over islands and dining tables, such as these Factory Pendants in pewter and copper, £99, from Industville can help to both zone and bring continuity to different areas of a room. 
Stuck on what to do to light up your space? Our kitchen lighting ideas hold the answer.
15. Recipe for success
The perfect ingredients for a homely country-style scheme? Painted Shaker-style cabinetry? Check. Plate-rack over butler sink? Check. Comfy seating area featuring a pair of luxurious leather armchairs and rush woven rug? Check. Big multi-function island? Check. 
'To create an environment that's easy to live in, work surface space can't be overlooked,' advises Karen Read, kitchen designer at Neptune Weybridge. 
Photography /Suffolk kitchen, Neptune.
16. Play with displays
Echoing the style of a classic country dresser, open shelving is the perfect way to showcase collections of china and other precious heirlooms and treasures. 
Make the display stand out using a backdrop of tongue and groove panelling in pure white and contrast with dramatic black cabinetry. 
Photography / Kitchen painted in Jet Black from Benjamin Moore
17. Dress your windows 
After an elegant, timeless French country house look? Fabric featuring the classic pastoral scenes of Toile de Jouy for window and door treatments is the perfect partner for a country manor kitchen. 
If you're in love with this look, our French country kitchen ideas are worth seeking out. 
Photography / Bespoke kitchen by Drew Forsyth.
18. Take a seat
A central workstation is a clever and hardworking alternative to a traditional farmhouse table in a country kitchen. In this design, a timber worktop overhang provides space for bar stools to sit at the island, creating a spot for casual dining. 
'We are often asked to create multiple dining zones with one kitchen. Whether that be a kitchen island, banquette window seating or more traditional dining at a table,' reveals Rebecca Hughes at Rebecca Hughes Interiors.
See more kitchen island ideas in our dedicated feature.
19. Keep it simple with classic design 
Shaker furniture has a distinct style, reflecting the guiding principles of the United Society of Believers in Christ's Second Appearing, or Shakers as they were more commonly known. 
The religious sect, formed in the late 1700s had guiding principles of simplicity, utility and honesty and those beliefs were reflected in well-made furniture with minimalist designs. Key elements are plain, framed cabinet doors, peg rails and honest, raw materials. 
Photography / Somerset Bone White kitchen, Benchmarx
20. Combine practicality with warmth
Don't be afraid to mix surfaces. Paired with a wood-topped island this Quartz White Water surface from CRL Stone has soft brown veining and a subtle marble effect that is perfect for a country-style kitchen. 
'A light coloured quartz worktop will work well in the country-style kitchen, as it will complement virtually any materials and any colour scheme while giving the space a modern touch, too,' says Simon Boocock, Managing Director, CRL Stone. 
How can I make my kitchen look country? 
A scrubbed pine or traditional oak table often sits at the heart of a country kitchen and will ensure the space feels sociable. 
'If working with vaulted or sloping ceilings, it's important to look at the layout of the cabinetry and consider how this will impact storage,' says Karan Main, director at The Main Company. 'Open-shelving and clever use of space in the lower-level cupboards will allow you to refrain from built-in overhead cupboards that might detract from the original structure.'
The modern central island works well here, too, and has the benefit of being able to feature a sink and a few concealed modern appliances, too. 
'When it comes to country kitchens, it's all about making the most of the characterful details that will make your space unique,' says Karen Read, kitchen designer at Neptune's Weybridge showroom.  
Range cookers also shout 'country' loud and clear and work brilliantly as a starting point for any scheme as they often come in a host of colours, sizes and fuel options. Some, like Rayburns and Esse will also run the heating as well as keeping the kitchen warm, perfect if it's installed at one end of a long-roomed barn conversion. 
Natural materials such as stone and wood will add warmth to surfaces and a butler or Belfast sink topped with pillar or brass mixer taps are naturally at home in a country kitchen.
What colors are on trend for country kitchens?
Dark colours – from black and navy to olive greens and deep grey – are dominating kitchens right now. While they're perfectly suitable for a grand country house scheme, something discrete and subtle works more effectively in rural setting such as small cottages and even larger barn conversions. 
The gentler shades of cream, sage green and duck-egg blue will prevent a smaller space feeling overcrowded and ensure in a large room the cabinets do not dominate. 
What cabinet styles are on trend for a country kitchen? 
Fuss-free cabinets, such as the clean, symmetrical lines of Shaker are a good option for both traditional and modern schemes as it's a plain canvas on which to build. 
Beaded cabinet doors and ones with more intricate pelmets and filials will create a more Georgian manor house feel, while flat-fronted styles will add sleek lines to an otherwise rustic look. 
Painted kitchens are popular and also ensure there's an easy refresh option when the inevitable wear and tear on a busy family space takes hold. 
Meanwhile, wood cabinets are seeing a resurgence, with oak popular for its consistent, easy-to-live-with grain. For handles, opt for large bun knobs on painted or wood doors, or choose metallic cup shaped ones in shades of nickel or brass.
If you have the space, eschew a few wall cabinets for waney-edge shelving and complete the look with an old-style larder cupboard or glass-fronted French-style dresser for plenty of storage.  
Photography / Plain English