Pantry ideas – 36 versatile ways to design and equip your pantry
These pantry ideas and designs will maximize your kitchen's food storage – and more. We look at everything from walk-in rooms to standalone larders

(Image credit: Future)
Sign up to the Homes & Gardens newsletter
Decor Ideas. Project Inspiration. Expert Advice. Delivered to your inbox.
Thank you for signing up to Homes & Gardens. You will receive a verification email shortly.
There was a problem. Please refresh the page and try again.
Pantry ideas are often found right at the top of kitchen wish lists. Planned well, a pantry can become not simply a place to tuck away excess food and utensils, but an Aladdin's cave of beautifully presented produce which provides a calming moment of reprieve from a bustling family kitchen.
From cabinets devoted to staples to walk-in storage, pantries aren't just limited to larger homes – even smaller kitchens can usefully incorporate them into their floorplan, though organizing a pantry intricately is more important when they are smaller.
Pantries have become more popular than ever recently, as we embrace more eco-friendly lifestyles. 'Bulk buying, hoarding your jars of preserves, fermented foods and bottled vegetables from the summer garden are all things that become much more achievable with a pantry,' notes deVOL Creative Director, Helen Parker.
Below, we take you through the best pantry ideas – for all spaces and styles of kitchen.
Pantry ideas
Whether you've got a pantry which needs a refresh, or are considering adding one to your list of kitchen ideas, we've got all the pantry ideas you need to work out what's best for your space, how to get the most out of the pantry and how to make kitchen storage look the best it possibly can.
1. Make pantry ideas decorative
'A pantry is the ultimate luxury item, so if you have the space for walk-in pantry ideas, ensure yours looks as good as the kitchen beyond, especially if the door to the pantry is glazed' advises Homes & Gardens' Editor in Chief Lucy Searle.
'The easiest way to do this without impacting on your pantry's storage capabilities is to design your pantry shelving ideas so that they have a decorative element. In the pantry above, this is done with simple but stylish shelf supports, and dry goods displayed in neat glass storage.'
2. Drill down on the pantry storage you really need
If you want to relieve the kitchen of on-show pantry storage ideas, you can equip your pantry as if it were an overflow-kitchen. This means considering right down to the minutiae what exactly will be useful to have in there, other than just shelving, cabinetry or drawers.
Here, wine storage is important to the owners and has been allocated both cubbies and a wine fridge; there's a breakfast bar and space for cake-making, too – all of which allows the kitchen beyond to be much clearer of clutter.
3. Make the most of every inch of space
Most pantry ideas require clever ways to boost storage. This is where space-enhancing pantry door ideas can really come into their own, making room for otherwise awkward to display items, such as spices – best stored in alphabetical order for ease of access – and taller bottles that don't fit conventional shelving heights.
'The weight burden on the door will soon add up, so you will need to invest in a quality install for the door – industrial-strength hinges and perhaps even a wheel at the base of the door will be a must,' suggests Jennifer Ebert, digital editor of Homes & Gardens.
Otherwise, making use of specially-designed pantry organizers might be your best bet — to help maximize the space that you are working with. Whether there's a distinct lack of shelves in your pantry, or perhaps you'd like to separate your spices from your dried fruits and nuts? Use an organizer to keep this space neat and tidy, to use every inch of space, and to make dinnertime a little less chaotic.
4. Give pantry decor some focus
'If your pantry ideas don't yet include color, now is the time to consider it because its simple addition can make what is a purely functional space feel more curated and elevated,' comments Sarah Spiteri, Homes & Gardens' Editorial Director.
It may be that your pantry is a simple storage space off your main kitchen, only separated by a doorway – in which case adding color to the wall and even to accessories on the shelves can be a great way to define the two spaces and bring an accent color, even a strong tone, like decorating with yellow, into the space.
5. Create a farmhouse feel with a freestanding pantry
Farmhouse kitchens – or freestanding kitchens – are the perfect place for an in-kitchen pantry, since you can easily house a vast amount of storage into a freestanding unit.
This one, by The Cotswold Company, offers storage space aplenty for bottles, jars, pickles and spices – not to mention additional drawer space and a convenient wine rack. However, it is possible to ask your kitchen designer to create a piece that looks exactly like this but is split in half – pantry one side, refridgerator the other. It's a great use of space when you don't want appliances on show.
6. Design a pantry that doesn't look like one
A pantry doesn't have to be designed with streamlined cabinetry, practical but personality-free flooring and no decorative elements at all. If your home is beautifully decorated, it follows that you will want your pantry ideas to reflect the rest of your rooms.
'Don't banish pretty rugs, eye-catching artwork, even less than traditional attractive pantry organizers from your pantry,' says Lucy Searle. 'Bringing decorative elements into the space will inspire you to keep it well-organized and beautifully presented.'
7. Choose grooved doors for a modern farmhouse look
Bring a touch of farmhouse chic to your pantry with a gorgeous tongue-and-groove door style, featuring a cross-cut grain, clean lines.
Take a contemporary approach to this pantry idea with brass handles and a striking black color-stain finish. For a totally bespoke feel, the stain is applied in contrasting shades on other standalone pieces such as an island and sideboard units, for a scheme abundant in personality and interest.
8. Surprise with a rich wood interior
Incorporated at the end of a run of cabinetry, this pantry is a triumph of both form and function. It opens to reveal a host of built-in features – pull-out trays, spice racks, and a counter for small appliances. But it's that stunning rich wood interior that steals the show, and ensures the piece looks as good open as it does when closed.

A bespoke, hand-built-to-order larder allows for any and all individual storage requirements to be met. Meaning that any space and style of home – period or contemporary, rural or urban – can be catered for, both realising aesthetic dreams and ensuring everything has its place.
9. Try the latest look: pantry doors with glass
A pantry with glass doors makes it a design feature in its own right.
'The true wonder of a walk-in pantry is about having everything you need in sight and easy to grab. However, there's a growing trend for creating high-impact pantries that are a talking point in their own right,' says Jane Stewart, design director, Mowlem & Co, who designed this beautiful Crittall-style pantry.
'Architectural framed glass draws attention to the interior, creating a feature that's as valuable aesthetically as it is practical.'
10. Measure your space correctly
An important thing to consider is how much space is needed for your walk-in pantry.
If you're building or redoing a kitchen and wish to include one, make sure you actually have enough room. Too small area will make the space unusable for what it was intended.
'For a walk-in you are really looking to be able to step into a 60cm square to be to turn and reach for items,' advises Alex Saint, Design manager, Kitchen Architecture.
'By the time you put some shelves in this room is going to be around 80 to 90 cm square for a compact but usable space. Make sure the door is considered – it may well need to open out or be a sliding mechanism in order to work with such a tight space.'
11. Double pantries are perfect when you're not planning a walk-in
Be ready to go custom-made with a double pantry. If you don't have space for a walk-in pantry, a bespoke larder cupboard is the next best thing.
'Larders give you the flexibility of choosing storage ideas and options that work for you, whether that might involve more drawers, an emphasis on shelving, or multiple spice racks, all orderly contained behind beautiful cabinetry,' enthuses Tom Howley, design director, Tom Howley.
Do supply exact dimensions of frequently bought food packaging – a bespoke maker can tailor shelves to match.
12. Be sure to use every nook and cranny
It's only natural to be concerned that a large pantry might be a waste of space. But remember that pantries don't by any means need to be large – for example, a narrow box room with no natural light can be transformed into an ideal place to store food.
If you comfortably can fit a pantry it really can be the dream scenario as it will leave you space in your kitchen to keep things clear, clean and uncluttered.
Similarly, when building or renovating you can utilize the space behind appliances for storage. 'Pantries can also serve a dual purpose as a way of concealing appliances,' says. Tom Howley, Design Director at Tom Howley. 'With a greater shift towards keeping countertops clear of clutter, to give a more minimalist feel and allow for more prep space, the pantry serves as an excellent solution for concealing appliances.'
deVOL Creative Director, Helen Parker also notes that some people desire the uncluttered look that a pantry can build so much that they 'will create their own by sectioning off a small part of their kitchen and incorporating it into the final look of the room with beautiful joinery and metalwork.'
13. Coordinate with the walls for a softer impact
A large larder can be dominating when part of a kitchen, so soften its impact by finishing it either in the shade also chosen for your walls, or a complementary tone from the same segment of the color wheel.

When considering schemes, why not awash your space in rich depth with a considered palette inspired by wilderness skies and seas? Both grown-up and sophisticated, dark shades deliver a sense of calm and reassurance – just the tonic in a busy multi-task zones such as kitchens.
14. Think about design details if you go high-end
Carefully considered design details can transform a simple pantry idea into something truly extraordinary, as Hetherington Newman shows with this delightful jewel-box of a butler's pantry.
We love to look for unusual ideas to push a pantry beyond the ordinary,' says John Hetherington, chairman, Hetherington Newman. 'From bespoke mosaic floors and specialist lighting to cast iron shelf brackets and marble slabs for cheese and butter, the creative opportunities are endless.'
15. Take a sustainable approach
Combining organic design and meticulous craftsmanship, new, salvaged and reclaimed materials delivers custom-made pantry designs alive with distinctive charm and individuality.
Just as no piece of wood is the same, no pantry is the same – so let yours narrate its own story through honest and raw materials.
Alex Main, Director at The Main Company, comments: 'With the recent rise in awareness for sustainability and eco-conscious materials filtering through to design, reclaimed wood is a great option that not only considers the environment but also introduces an authentic charm to the kitchen.'
Repurposing timber not only provides the material with a new lease of life but also introduces a rich design history to a pantry, whatever its age.
16. Don't go too deep
Lack of space needn't be an obstacle to your pantry design. A slimline design comes with its own benefits, leaving you with more room for manoeuver, but also providing easy-access features, like wine racks.
Calm and collected on the outside yet brimming with storage architecture on the interior, this particular design from The Cotswold Company also includes shallow drawers you won't need to rummage through, and a generous amount of shelving space.
17. Consider the placement of your pantry
Another key thing to consider is where a pantry should be placed in a kitchen.
'Effective storage is of course the primary function of the pantry, this comes down to not only the internal working of the cabinet but also where to incorporate it into a kitchen design,' says Tom Howley.
'Where possible it's always useful to keep the pantry adjacent to your fridge, meaning that your food storage is all zoned in one area and it also looks neat.'
18. Take the pressure off the refrigerator
A well-equipped pantry can perform a vital supporting role to your main kitchen. 'This pantry was fully loaded with a second refrigerator, sink and drinks' bar, all within reach of the main kitchen,' explains Richard Mason, owner, The Secret Drawer.
'Installing stone countertops and full-height tiling behind the shelving is a great design feature that also helps keep the interior temperature down, taking pressure off the fridge.'
19. Decide how big or small you wish to go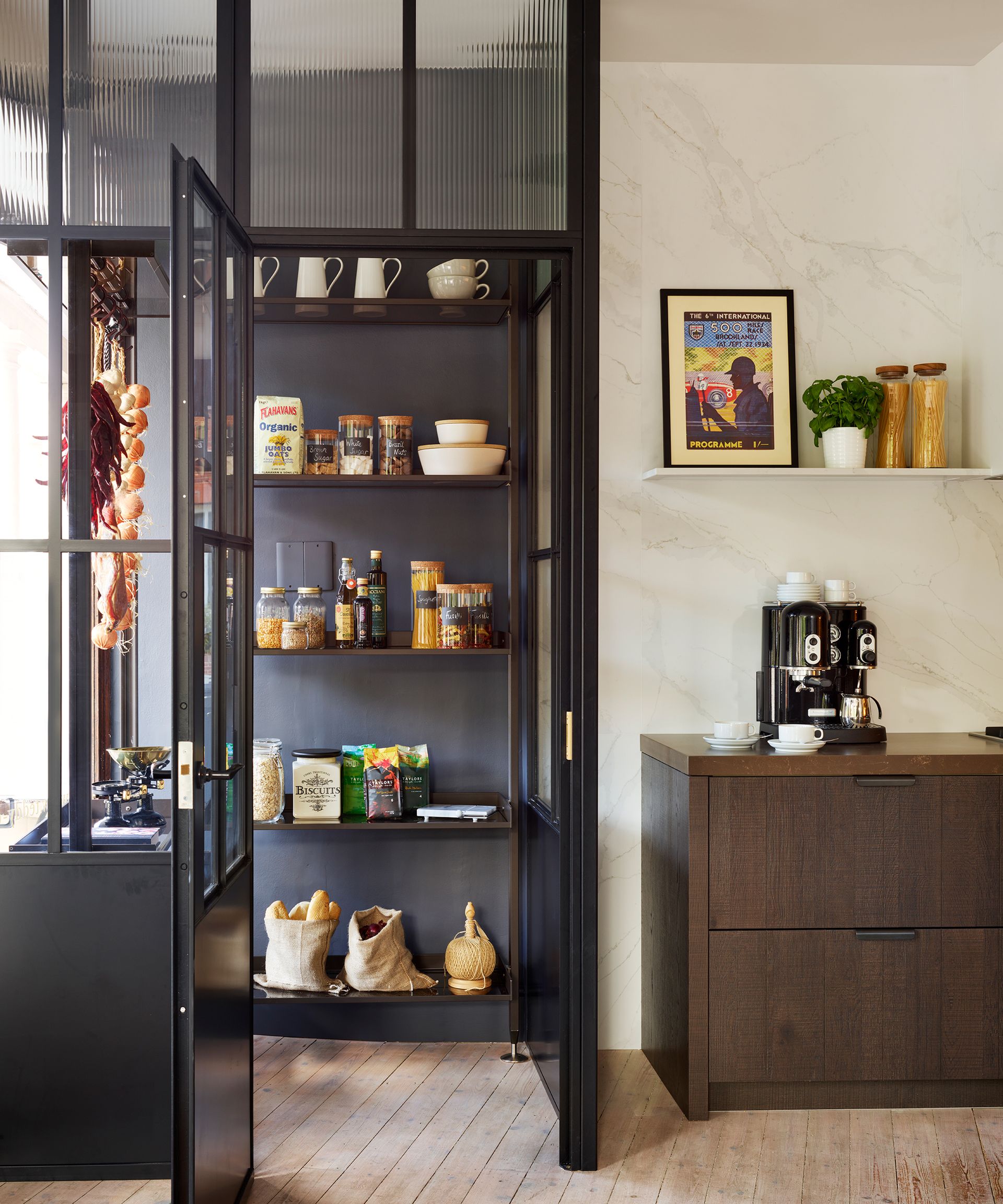 When thinking about how big a pantry should be, there's not really a rule as to how large to go. But you'll need around 80 to 60cm square for a pantry to be both comfortable and practical.
The bigger the square footage goes, though, the more you may be turning the space into more of a prep kitchen than a pantry. That said, under stairs pantry ideas can be equipped to be incredibly space efficient if storage planning is done well in advance and with a great deal of forethought.
20. Factor in pantry lighting
'Much overlooked but an unequivocal game-changer in these windowless spaces, pantry lighting requires careful consideration,' says Peter Humphrey, design director, Humphrey Munson.
Lighting shelving from behind looks pretty and ensures nothing gets lost at the back. 'The choice of door design can also impact lighting control; glazed doors benefit from dimmable lighting that will add atmosphere within the kitchen. For solid doors, lighting on automatic sensors is more practical.'
21. Factor in efficient pantry storage
It's crucial to think about other details, too, like how deep your pantry shelving should be.
Shelving – whether in walk-ins, pull-outs or counter tops – is one of the most important pantry design considerations, being where you are literally keeping the food.
You do of course want good sized shelving so you can fit in larger bottles and bags, but beware of going too far back. 'Don't be tempted to go too deep with the shelves, you may think you are getting more storage but in reality things become harder to reach and get lost at the back,' warns Alex Saint of Kitchen Architecture. 'Think about quality of storage – not just quantity.'
'If you are really tight on space, I would suggest going for a 23in-deep unit,' says Amy Stoddart of Day True. 'This is essentially half a standard size but will still provide space for pan drawers, shelving units and a door rack for storing spices and oils.'
22. Experiment with different door materials
For something a little different, consider pantry doors in metallic mesh. The opacity levels conceal contents, so shelves don't need to be fastidiously tidy.
'Mesh doors also promote clean air flow between spaces, and from a design perspective, mesh has an interesting aesthetic, resembling a modern take on rattan or wicker,' says Alex Beaugeard, director of design, Lanserring. This sliding door design also boasts space-saving benefits.
23. Keep a list of what you would like to store in your pantry
Wondering what you should put in your pantry? Although pantries, butler's pantries and larders were all originally different things, these days you can really just have fun with the space and use it for whatever you want.
One option, ideal for a built-in unit, is to make the space work harder by creating a breakfast nook. 'This hidden prep pantry [pictured] is a great place to gather small appliances that take up counter space, such as coffee machines and toasters,' says Amy Stoddart of Day True. 'Be sure to work out how many electrical outlets you'll need at the design stage.'
Meanwhile, for Tom Howley a pantry should simply be stocked with wonderful pantry staples: 'For me, the most memorable part of the most fabulous kitchens is a pantry, laden with interesting bottles of infused oils, rustling packets of the finest truffles, artisanal jarred vegetables and special seasonings.'
24. Embrace smaller spaces
Don't assume pantries are only for palatial kitchens. In smaller spaces, they can often prove more effective, like this snug walk-in tucked in a corner demonstrates.
'Creating a dedicated storage space, rather than spreading items around the kitchen, is more efficient when cooking. And although you may lose some countertop space, you'll gain more storage overall,' explains Rebecca Nokes, kitchen designer, John Lewis of Hungerford.
25. Maximize a small pantry space
You can easily maximize a small pantry space with a few adjustments to make the most out of every inch.
One of the easiest ways to do this is to look up – make the most of a high ceiling by running shelves as high as possible. Lower shelves can be dedicated to ingredients that you use everyday, while the upper levels can be used to store crockery, cookbooks and items used only a few times a year. Right at the top, neatly packed boxed of seasonal decor, crockery and ingredients can be tucked away until they're needed.
26. Keep your pantry organized
Once everything is built, you'll need to think about the best way to arrange your pantry.
'We tend to keep things simple in pantry areas with shelved storage so everything is visible immediately as you walk in,' says Alex Saint, Design manager, Kitchen Architecture.
'Consider putting a shelf at floor level just minimally sat off the floor with small feet. This allows the storage of larger sacks or crates but keeps them off the actual floor assisting with any cleaning or mopping. Sometimes it is also nice to mix some drawer storage into the lower areas to minimize the amount of bending down.'
27. Introduce a decorative element to your pantry
There are a number of easy ways to make your pantry ideas look better. In terms of literal decorating, remember that an enclosed pantry offers the perfect opportunity to be adventurous without overwhelming a scheme. Carry the color up the walls and over the ceiling for a dramatic effect.
Tom Howley also suggests we 'choose finishes for the external and internal cabinetry that work together to create a contrast, whether subtle or striking. If your cabinetry is deep green or black a la moment, choose a smoky wood finish for the internal shelving for a stylish edge.'
For those finishing touches to complete your look, Kitchen Architecture's Alex Saint recommends, 'oak or another wood for the shelving in a more traditional wrap around pantry scheme or try black steel or aluminium shelving systems for a more contemporary take. Marble on a countertop or shelf gives a beautiful luxurious touch and nods to the traditional storage of cheeses on these cool surfaces.
28. Install a pantry to add value to your home
There's no denying their popularity, but do pantries add value to a home?
It's important to remember that the kitchen is the heart of the home, and it's an area that buyers will fixate on if it's not right, as they expect to spend a lot of their time there, and having the 'dream' boxes, like a pantry, already there, could potentially be enough to tip the balance towards a sale.
However, if you're considering adding in a pantry solely to sell a property, do consult with a buyer's agent first.
29. Embrace Shaker style
For a classic scheme that honors traditional craftsmanship and quality materials, take the modern country route with a Shaker kitchen design piece that will stand the test of time.
The original Shakers had a saying; 'Do your work as though you had a thousand years to live and as if you were to die tomorrow.' Their designs and furniture survive to this day which attests to that.
Channel this philosophy with a beautifully understated larder that's big on functionality and innovative joinery – mortise and tenon joints? Yes please. Finish in a timeless painted hue to ensure your pantry endures as intended.
30. Ensure your pantry is well-ventilated
If you're asking yourself if your pantry needs ventilation, the answer is both yes and no.
Just being in a dry, cool, dark space will usually be enough for jar storage, sealed bags and hardy fresh fruit and veg such as potatoes, onions and apples when stored appropriately.
Insulating the space will keep it cooler but you do need air to circulate. If next to an external wall, consider adding a small mesh-covered window or an airbrick; you could also add a ducted ventilator fan such as you would have in a bathroom. Have it wired to come on with the light through a single switch.
But avoid installing cooling appliances in a pantry as they emit a lot of heat. In a larger pantry, a small air conditioning unit can be used to circulate air and chill stone countertop surfaces for easy cooling of hot dishes and to create cold zone for working with pastry.
31. Create maximum storage with a walk-in pantry
If space allows, a spacious walk-in larder or pantry is the ultimate kitchen storage solution and is often top of the list for people that love to entertain.
'With a much larger number of us now cooking and entertaining more at home, it has become increasing important for our clients to have a place to store all the necessary ingredients, spices, and kitchenware,' says Richard Moore design director, Martin Moore.
'We are regularly commissioned to design purpose-built larders and pantries as part of the main kitchen design. In addition to storing food and provisions a pantry is used to store platters, silverware, linens and china. It is important that large walk-in pantries have open shelving in order to keep provisions easily accessible and to bring order to the space. A marble cool shelf is a great place to store eggs and cheese and willow baskets keep vegetables fresh,' adds Richard Moore.
32. Make the most of the wall height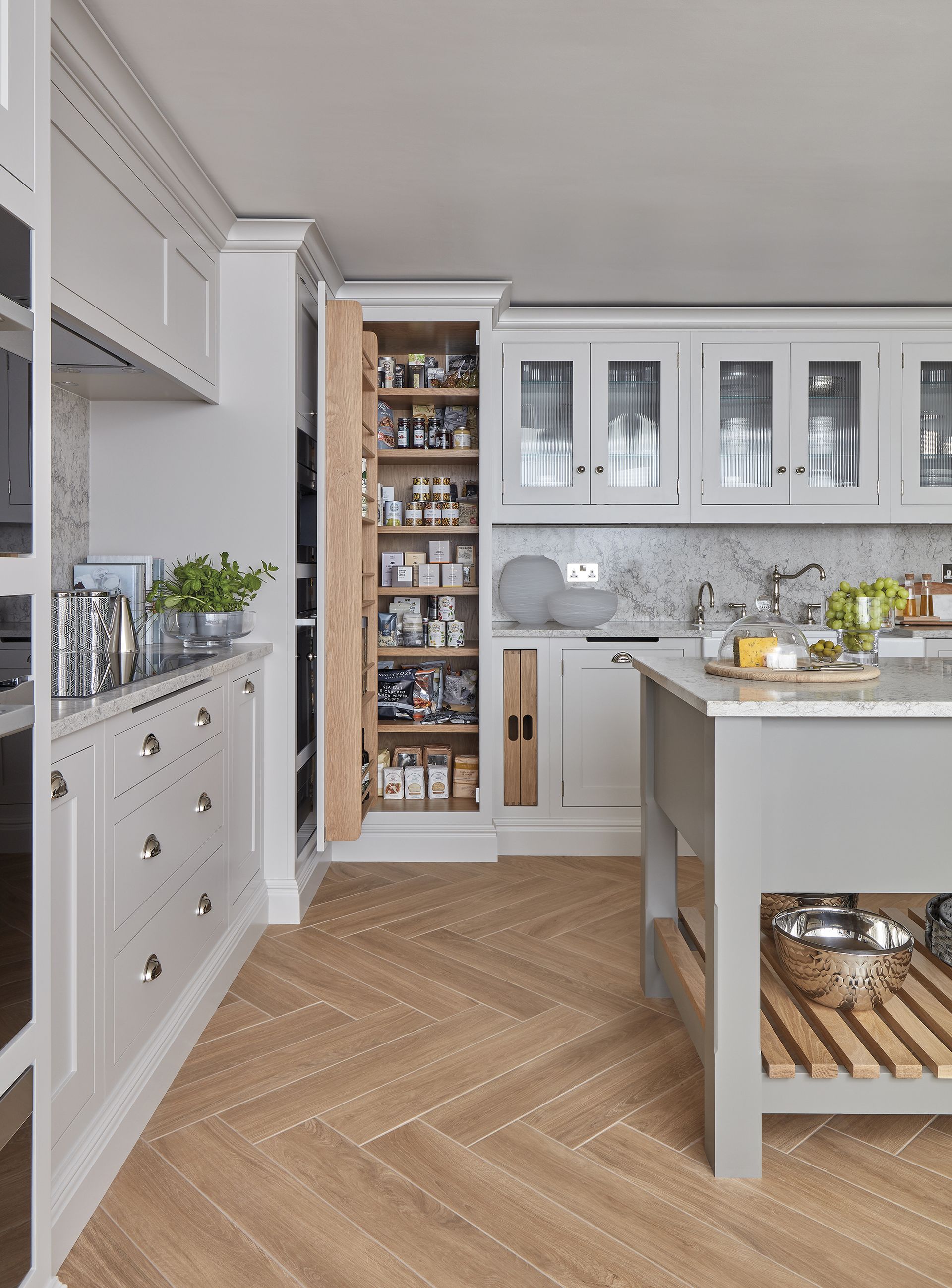 If you don't have the space for a walk-in pantry then consider incorporating a tall, slender larder unit as part of a fitted kitchen. Bespoke cabinetry fitted floor to ceiling is the best way to make the most of the space in your kitchen, especially if space is at a premium or the room has awkward angles.
'With a bespoke kitchen designer, you will be able to design floor to ceiling units that give maximum storage as well as being able to tailor the internal components to your storage needs,' says Tom Howley, founder of Tom Howley bespoke kitchens.
33. Paint your pantry
If you have a freestanding pantry, or a bespoke pantry which has been designed to fit into an alcove, then why not make a feature of it by painting it in a vibrant color?
Painted in Charlotte's Locks from Farrow & Ball, this bespoke larder by Harvey Jones brings zest and warmth to a classic cream kitchen and is guaranteed to put a spring in your step.
Purpose built to fit snuggly into this tall alcove, the larder really makes the most of the height of the room to give maximum storage.
34. Conceal appliances
If you are planning to have a bespoke larder unit with an over country storage cabinet then consider factoring in a larger area flush with the work top that can be used to hide appliances such as toasters, blenders and mixers.
'Pantries can also serve a dual purpose as a way of concealing appliances,' says Tom Howley founder of Tom Howley bespoke kitchens. 'With a greater shift towards keeping work surfaces clear of clutter, to give a more minimalist feel and allow for more prep space, the pantry serves as an excellent solution for hiding appliances.'
35. Choose a sliding solution
If you don't have space for a walk-in larder consider incorporating a sliding storage door into your design. The benefit of this solution is that all your store cupboard items can be viewed easily rather than in a standard cupboard where items can easily get pushed to the back and forgotten about.
36. Add a playful touch with patterned tiles
Practical spaces such as pantries can sometimes be boring, so why not inject a playful with vibrant cabinetry and patterned tiles between the shelves? Adding a sink into a walk in pantry is a brilliant kitchen idea for washing vegetables and preparing fresh produce.
How important is a pantry?
You might be thinking 'how important is a pantry anyway?'
Of course, it's entirely personal choice, but a pantry has a lot to offer a kitchen. It is primarily a space to store goods, keeping things in the 'cool, dark' spot foodstuffs so often require. 'it is one of the quintessential parts of a Classic English Kitchen, it is so practical and so easy to manage,' adds Helen Parker, Creative Director of deVOL. 'Everything stored together in one place and everything really easily accessible.'
More than just perishables, pantries can house kitchen appliances and gadgets, freeing up the precious real estate of the countertop. A small pantry built into cabinetry can even work as a breakfast nook, too, perhaps holding the kettle, coffee machine and toaster.
On a more emotional note, cookbooks are often stored inside pantries, including precious handwritten or annotated family versions, as well as heirlooms such as silver teapots or antique wedding china, which are seen as 'too good' for everyday usage. 'Pantries hark back to the days of less is more, as it treasures the household and family objects as pieces of importance, pieces that need to be held onto and stored together in the pantry,' notes Helen.
Whats the difference between a larder and a pantry?
The main difference between a larder and a pantry is that the former stores dry, cupboard goods while the latter stores colder produce.
The word pantry derives from the French paneterie, or a place to store, bread (pain). So, historically, pantries were the place to store foods such as flour and preserves.
Larders, meanwhile, were cold rooms dedicated to the storage of perishable goods, like fresh vegetables, meat and dairy products.
These days, however, we obviously – and thankfully – have fridges, so there is no need for a larder. So today the words pantry and larder have become interchangeable terms for food storage areas close to or within a kitchen.
What is the difference between a pantry and a butler's pantry?
The truth is, there isn't a huge difference between a separate pantry and a butler's pantry – both look very similar. And, like larders, the terms are often used interchangeably.
That said, there is one main difference. While a pantry of any size is meant to be dedicated to food storage, a butler's pantry would contain more practical, prepping elements. Appliances such as coffee makers, food processors and sinks would be associated with a butler's pantry rather than a pantry.
Sign up to the Homes & Gardens newsletter
Decor Ideas. Project Inspiration. Expert Advice. Delivered to your inbox.
Pippa is Content Editor on Homes & Gardens online contributing to Period Living and Country Homes & Interiors print issues. A graduate of Art History and formerly Style Editor at Period Living, she is passionate about architecture, creating decorating content, interior styling and writing about craft and historic homes. She enjoys searching out beautiful images and the latest trends to share with the Homes & Gardens audience. A keen gardener, when she's not writing you'll find her growing flowers on her village allotment for styling projects.