Organizing a pantry – 25 clever pantry organization ideas and tips
Organizing a pantry is easy when you know how. We ask the experts for their advice on how to maximize space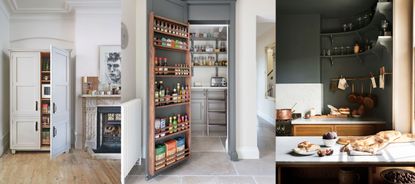 (Image credit: Future / Humphrey Munson / deVOL)
Organizing a pantry efficiently will really help you make the most of a compact space, and free up so much more storage space in your kitchen. Getting a brilliant system in place will also mean that everything is always to hand so that you – and those members of the family who can never find what's in front of their noses – can access what's needed swiftly.
Clever pantry solutions will complement the other ways of organizing a kitchen to make the room a pleasure to prepare meals and spend time in and, here, interior designers and kitchen experts give us their favorite pantry organization ideas.
Organizing a pantry – 25 ways to keep your pantry looking its best
Whatever your pantry ideas, organizing the space is best done methodically, and it may be preferable to tackle the job one area at a time. Below, we take you through the steps to organizing a pantry, perfectly.
1. Clear the decks
In order to sort everything, you first need to clear it all out to see what you're working with. 'Kitchen pantries are becoming more and more important, with healthy living vital to our everyday life and organization crucial to keeping our minds clear. In order to organize a pantry, let's first start with decluttering the entire space, which can be arduous but is essential to create a sparkling pristine pantry,' says Ella Jade, co-founder of ROOBBA.
Adopt the same tactic as you would for organizing a laundry room and consider which items you use regularly and which you don't. For pantries, though, there's an additional dimension: the dates on foods are crucial.
'Go through every single item and check its sell-by date. Yes, that even means the spices. I've found spices dating back to 1995 in one of my customer's cupboards, so don't worry – everyone has something out of date,' says professional wardrobe and home organizer Rachel Burditt – also known on Instagram as The Declutter Darling.
Get rid of anything that you really won't use at all. That way you are only left with everything you need to put back… and the pantry organization can begin.
Rachel Burditt advises throwing away any products in the right way, ensuring you clean out and recycle what you can.
'If you know that you won't use any products that are in date, think about offering them out to someone that may need them? Perhaps a neighbor – or advertising them on a free social media site for someone to pick up outside of your home,' she adds.
Once the pantry is completely empty of its entire contents, Rachel explains the next step is to give it all a thorough clean.
'Clean and scrub it – you may be surprised how much grease and food residue is hiding underneath all those packets and tins,' she adds.
2. Organize and boost storage opportunities
'Firstly, I cannot recommend enough investing in extra pantry storage ideas if your pantry is under-equipped. Whether that's pantry organizers like a revolving spice wheel or just some additional shelving, it will make organizing a pantry infinitely easier, as well as being a really simple way to make the space look tidier and more structured,' says interior designer Katharine Pooley.
3. Install lighting in your pantry
Having good lighting in a pantry will help you find things more quickly and easily. Organizing kitchen cabinets effectively is important but consider adding illumination in order to see every ingredient (even the ones tucked away at the back).
'If you have a pantry, or a larder cupboard, I'd recommend getting some spotlights. They can be battery-operated and added to the top of shelves to create additional light; it will make the space seem larger, it will be easier to spot what you're looking for, and will overall make the space seem more appealing,' says Katharine Pooley.
4. Group foods and drinks by type
Just as when organizing kitchen drawers, grouping items together can help with pantry organization. For example, by stacking all your pantry staples, such as tinned tomatoes together, all the pulses together, all the baking kit together – and so on – you will be able to see what you need much more quickly and, before a trip to the store, will be able to tell at a glance what you are running short of, and make organizing a pantry a breeze.
5. Organize food and drinks by expiration dates
Paying attention to the dates on food and drinks is crucial, particularly if you are organizing deep pantry shelves on which items can easily become concealed by others. 'Put new items of shopping at the back so you use up the food which has less shelf life left,' says professional organizer Vicky Silverthorn.
This is the way it's done in supermarkets to ensure customers buy the stock going out of date first. So it's a handy hack to have for your pantry.
Katharine Pooley agrees: 'Group foods or drinks in terms of how soon their expiration date is; that way it's easier to keep an eye out on when things are going off, and you can reduce waste.'
6. Stack foods and drinks by height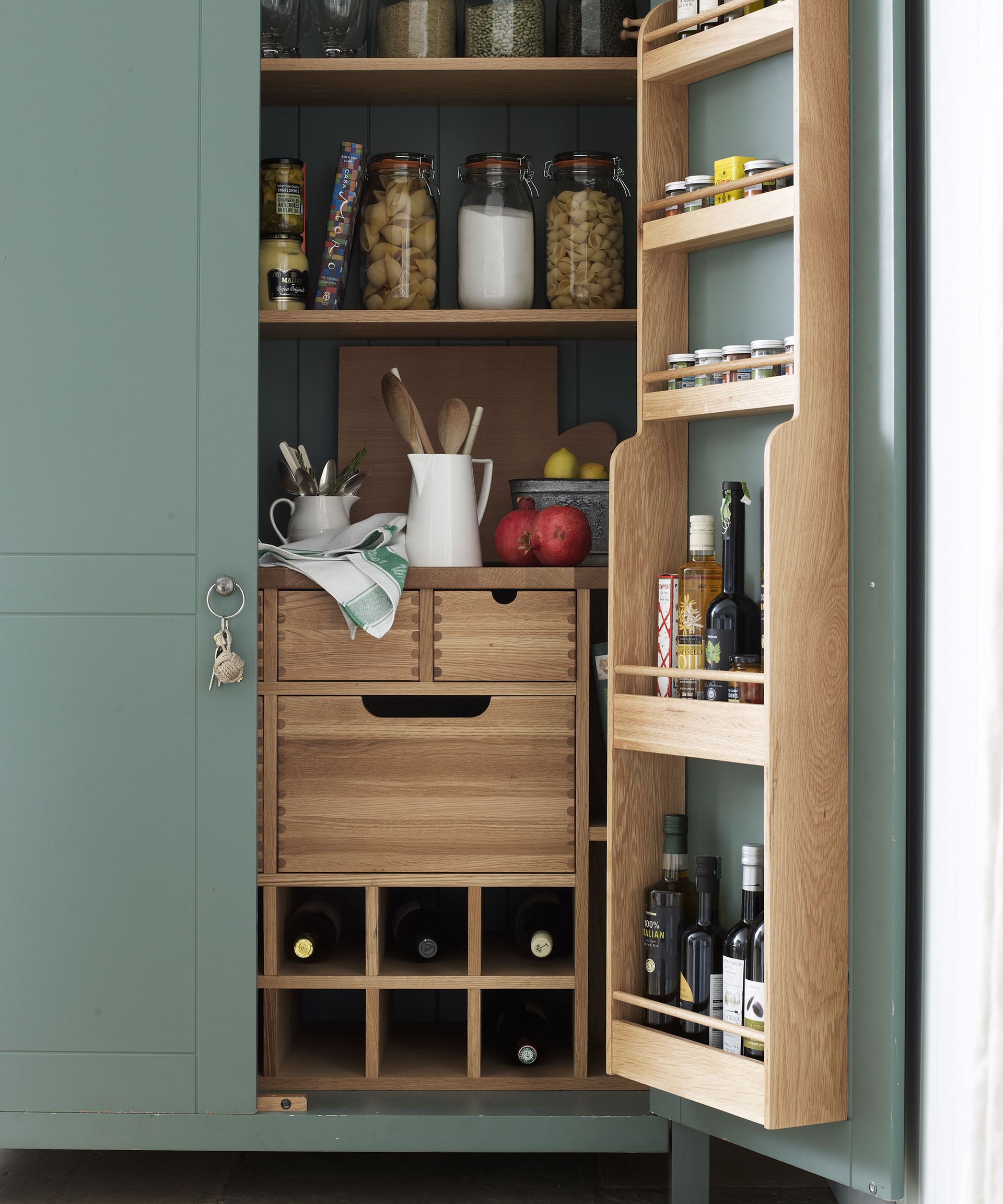 Bear in mind that in the same way as organizing kitchen countertops, how you display items in the pantry is important.
'It might sound simple, but make sure the taller items go towards the back; it's easy to put things at the front when you've just used them, but that will lead smaller items getting forgotten about at the back, plus a general untidy feel,' says Katharine.
7. Use transparent storage jars
A neat pantry is often at its best when dry foods are emptied into larger canisters or containers that can stack or sit side-by-side more neatly than tins and packets with irregular shapes and sizes.
You've probably seen them all over Instagram, but clear storage jars not only look gorgeous, they're better for the environment, too.
'Invest in some lovely storage jars to decant regular items into – consider recycled glass options and hunt down your nearest refill shop to do your bit for the planet too,' says Amy Wilson of Amy Wilson Interiors. A set of small glass jars for organizing spices can also be a worthwhile investment – especially if you value a consistent look and you've purchased different brands.
Once all the ingredients are in uniform containers, group similar foods together.
'Keep them neat and in a row in them, face all products forward and put the exact same products next to each other – it's super rewarding opening your cupboards and seeing matching food all lined up,' adds Rachel.
However, Vicky explains that not every single ingredient needs to go into a pantry storage jar.
'Putting everything in them can often limit your space as opposed to helping make better use of it,' she says.
8. Invest in slim storage
Organizing a small kitchen can be challenging, but tall, narrow pantries can be easily fitted into most and they're a good use of floor space.
Inside the pantry, the same rule applies: tall, narrow canisters are perfect for storage a large amount of dry food – often cereal or pasta – and can sit side-by-side on a shelf. Pick lidded ones with lift-up lids for easy pouring.
If you're organizing Tupperware in one of these designs, storing lids vertically in a kitchen organizer is a space-saver.
9. Label jars to make identification easier
Once you've sorted everything into its own container, it's time to crack out the label maker – or make your own if you'd prefer. Labels on storage jars make it easier to tell couscous apart from polenta, quinoa from bulgar wheat. You might know the difference, but not everyone in the family will, and it will save you from answering constant questions.
'Labelled containers or drawers are a godsend, and will prevent you rummaging around to find what you're looking for,' says Katharine Pooley.
'Try chalkboard labels or get yourself a label maker. Both options will make your pantry look "magazine ready" and help you know your plain from your self-raising,' adds Amy Wilson.
The labeling trend isn't all aesthetics, it's also geared to make your time well spent and hassle-free in the kitchen. If everything is labeled clearly, your pantry will remain neat and orderly. Labeling will also help you to snack smarter throughout the day. For instance, if you label a bin 'breakfast', you will likely avoid placing a bag of potato chips in there!
'Handmade labels are the best for making the pantry feels like it belongs to you. Regular, sticky white labels work to add a personal touch, rather than having masses of bought items that sit on the shelves without acknowledgment,' says Vanessa Arbuthnott, CEO of Vanessa Arbuthnott.
'I would label recycled glass jars and containers and avoid buying anything plastic. However, Tupperwares are excellent for perishable goods like flour, sugar, rice, and spaghetti.'
'For storage baskets, I would recommend labeling with a traditional luggage label or opting for baskets with enamelware. These are great to put open packets in, and stop any creepy crawlies making a new home,' she adds.
Save time by making labels that will assist with utility room organization while you're at it.
10. Keep breakables within reach
'Try to avoid putting any delicate or glass objects higher up; it's a recipe for disaster if you're reaching for something that can easily slip and break,' says Katharine.
11. Rotate items regularly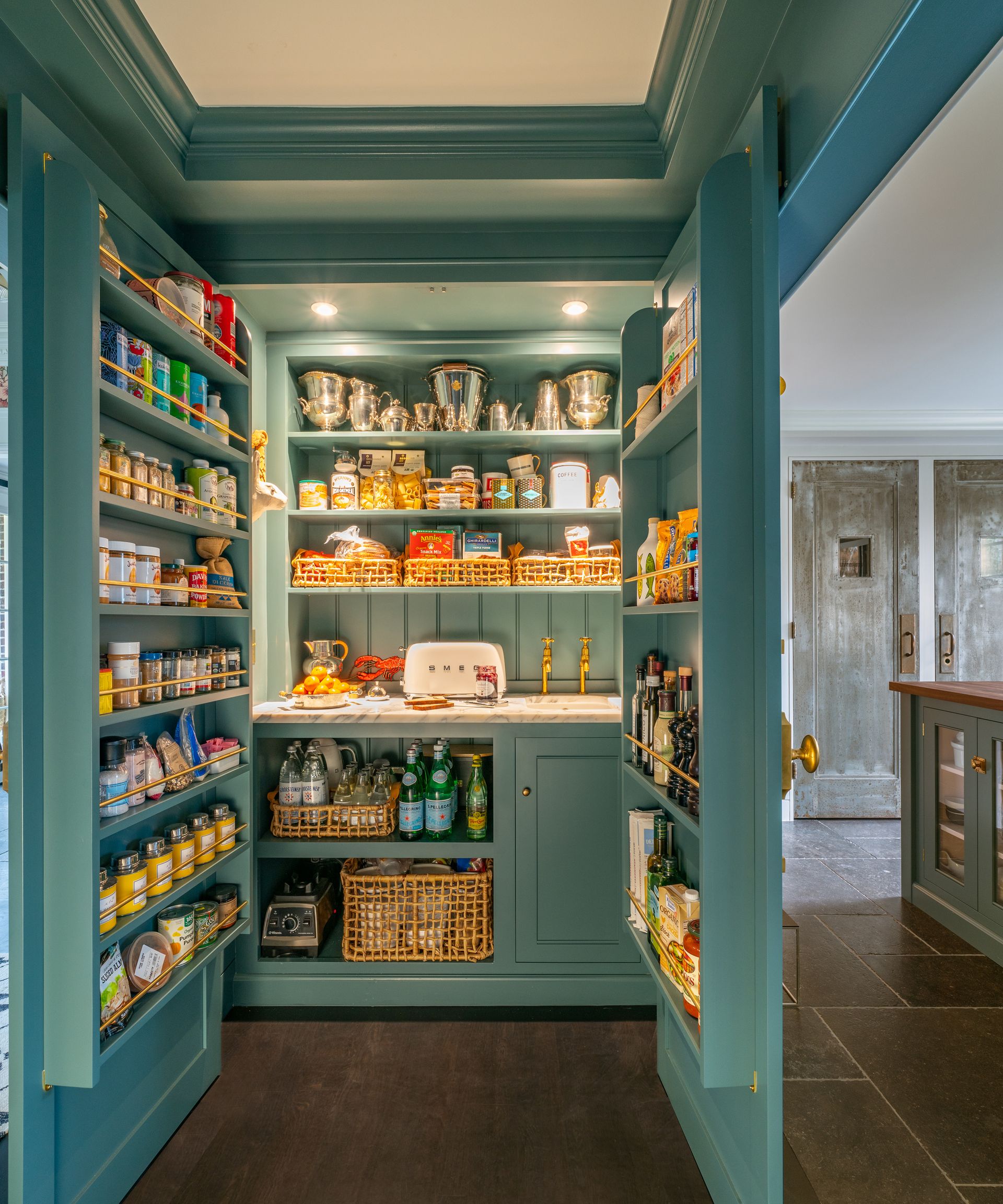 'I would recommend rotating the items in your pantry on a frequent basis, to avoid food collecting dust at the back and never getting used. You'd be surprised what concoctions you can create with tins in the back of your cupboard,' says Katharine.
12. Add shelves to cupboard doors
One of the reasons organizing a refrigerator can be an easy-to-achieve task is the fact that there's stash space on the back of the door as well as inside – and you can create the same setup for the pantry.
'Adding shelves to your cabinet doors is a fantastic way to add space for narrower items, like spices. Especially if you're working with small cupboards or kitchen corner cabinets, this really opens up the space opportunity and makes excellent use of what would be a wasted space,' says Katharine.
13. Work drawers into your storage scheme
Pantry door ideas and drawers are an excellent way to create order in a pantry. Choose shallow drawers to lay herb jars into (labels face up!) or deeper drawers to neatly store away small kitchen appliances you don't use often. When organizing kitchen drawers, particularly deeper ones, use dividers to keep items neatly categorized.
14. Use baskets to divide things up
A good way to separate things out is through the use of baskets – especially ingredients that are higher up in the pantry.
Simply pull your basket down and find what you need, then pop it back, ready for use next time. Baskets are ideal for smaller bits and bobs like spices, which can easily fall when rummaging takes place.
15. Hang hooks
It's not just food that gets stored in a pantry – it's a useful place to stash away brushes, brooms, cloths and even oven mitts – so hang hooks to keep these pieces neat.
16. Create a pan lid storage system
If the panty is used for organizing pots and pans (or perhaps the ones you use less frequently) make provision for saucepan lids. They can be awkward to store – and they are often best kept separate from the pans they serve so that these can be stacked inside each other. A narrow back-of-door rack is the perfect place to keep pan lids neat, to hand and, if they're glass, safe.
17. Hang pans on an empty wall
If your pantry is long and narrow, or you have an under stairs pantry, the far wall can be usefully employed for hanging pans by the handle, bottom sides out. A simple system of hooks will work well for this.
18. Make space for wine storage
If you have room for a wine rack – and perhaps even a wine cooler – a pantry is the perfect space for it. Wine racks are best placed at floor level, where the pantry is coolest – plus you won't need to bend to find the wine you need. Make sure to categorize the wine so you can find what you are looking for quickly.
19. Save room for a cheeseboard
If you like to serve cheese at the end of a meal for guests but like to keep your cheese just below room temperature, a pantry is a great place to store it. In this case, you'll need to allow for countertop space for a cheeseboard to sit.
20. Make space for open shelving
Floor-to-ceiling open shelving is a brilliant way to organize a pantry. As long as you arrange them well, they will serve you well. Add doors for items that you don't use often, such as china or appliances – this will keep the dust off them and give a larger walk-in pantry a smarter look. Stick to glass panels, though, so that you can always see what you need at a glance.
21. Place seasonal items up high
Anything you don't use often – cocktail straws for parties, cookie cutters for Christmas – can go up high in your pantry. That way, your pantry is organized so that regularly used pieces are to hand, and seldom-used mostly out of reach.
Avoid stashing anything you no longer use at all, though, following Marie Kondo's tips for organizing a small kitchen. Precious pantry space should be reserved for the items you do need.
22. Add a chalkboard for a constant shopping list
The back of pantry doors are often wasted – but paint a panel in chalkboard paint and you have an instant shopping list you can chalk on every time you notice something running out.
'Or simply pop a jotter inside in the pantry door to make notes as you run out of things so the shopping list is always up to date,' adds Amy.
23. Add storage on wheels at floor level
Putting boxes or hampers on wheels at floor level will make it easy for you to roll them in and out to access whatever you keep in them, whether recycling or bottles of soda water.
24. Don't forget the step ladder
A foldaway step ladder is a very important pantry organization feature – it makes access to the higher shelves so much easier. Leave space to lean it against the wall – or install a hook to hang it from when not in use.
25. Make the most of a pantry door
'When it comes to pantry storage, more is always more and the best ones use every drop of space,' says Louisa Eggleston, creative director at Humphrey Munson. 'Even the back of the door can be utilized for pantry storage with a full-length spice and condiment rack to provide quick, easy access to everyday essentials.' Steps can help you make the most of the space, too, while open shelving allows you to view the contents of your larder cupboard.
How do you organize a walk-in pantry?
Stumped at how to organize a walk-in pantry? 'The key to a handy pantry is to be able to walk in, take a look and quickly grab what you need,' says John Sims-Hilditch of Neptune.
'Consider running shelves up to the ceiling and have plenty of drawers under worksurfaces for easy access to the items you use most.'
A classic configuration includes low-level drawers that can be reached without bending and baskets on tracks to store foods such as potatoes and onions in semi-darkness. Sturdy oak shelving is a good option to hold the weight of jars and tins.
How do I group items in a pantry?
To group items in a pantry, think categories in the same way you would when organizing a chest freezer, for example, or even when tackling non-food areas such as organizing under the sink.
'Categories are likely to be individual,' says Lucy Searle, global editor in chief of Homes & Gardens. 'My pantry includes a baking section, one for quick meals, and another for breakfast foods, for example. Labeling each section spells it out to the whole family.'
Jennifer is the Digital Editor at Homes & Gardens. Having worked in the interiors industry for a number of years, spanning many publications, she now hones her digital prowess on the 'best interiors website' in the world. Multi-skilled, Jennifer has worked in PR and marketing, and the occasional dabble in the social media, commercial and e-commerce space. Over the years, she has written about every area of the home, from compiling design houses from some of the best interior designers in the world to sourcing celebrity homes, reviewing appliances and even the odd news story or two.