Best kitchen organizers: 15 buys to tidy your culinary space
These are the very best kitchen organizers to bring order and style to your space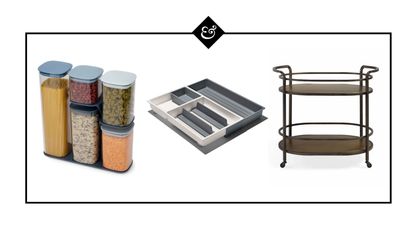 (Image credit: Future)
Sign up to the Homes & Gardens newsletter
Decor Ideas. Project Inspiration. Expert Advice. Delivered to your inbox.
Thank you for signing up to Homes & Gardens. You will receive a verification email shortly.
There was a problem. Please refresh the page and try again.
These kitchen organizers are essential for solving all of your storage and culinary issues. There are so many elements that formulate organizing a kitchen, from cookware to utensils, and it's no surprise that things might start to feel disorganized quickly if there aren't designated spaces.
These luxury kitchen organizers have a focus on high-quality materials and ingenious designs in order to make cooking and cleaning a seamless process. They can also contribute to the design of your space too, subtracting clutter from your carefully constructed vision.
Helpfully, there are so many ways to subtly include kitchen organizers into your space. That includes maximizing pre-existing space under countertops and within cabinets, and more complex solutions, including lazy Susans and wall organizers. Allow yourself to be charmed by all of the excellent kitchen solutions on offer within these products, and gain a renewed enthusiasm for your culinary pursuits.
---
15 genius kitchen organizers to take clutter out of your space
You can trust Homes & Gardens. Our expert reviewers spend hours testing and comparing the latest products, helping you choose the best for you. Find out more about how we test.
1. Joseph Joseph 2-piece Drawer Organisation Set
This kitchen organizer for drawers is a secret weapon for storing flatware
Specifications
Size: H2.25" x W7" x D15.5"
Material: Plastic
Holds : 8 compartment cutlery holder, knife holder for up to 9 knives
Reasons to buy
+
Space-savvy, overlapping compartments
+
Separate knife compartment holds knives up to 9 inches
+
Compact
Reasons to avoid
-
Made from plastic, but they are BPA-free
This two-piece set covers so many crucial elements when it comes to organizing kitchen drawers. We've had hands-on experience with the flatware organizer and we think it's great for storing your flatware set(s), especially if there's little space in this drawer and you own a fair few pieces of flatware. It allowed us to stack our flatware and make use of every inch of space in this drawer, to store plenty more utensils keeping them out of the way and off our countertop. The organizer sits on tiny feet, to keep it in its place once stored in your drawer. The knife holder works in a similar way, and it will ensure your knives are kept nice and tidy, and most of all: easy to find and safely stored. Both of these organizers are made from BPA-free plastic and they are easy to keep clean, just wipe them with a cloth when necessary.
2. OXO Good Grips Large Expandable Kitchen Tool Drawer Organizer
A kitchen drawer organizer to keep your utensils tidy
Specifications
Size: W9.8" x H16.35"(max) x D2.49"
Material: Plastic
Includes: 1 expandable drawer organizer, 1 small storage cup, 2 removable separators
Reasons to buy
+
Expandable to fit your drawer size
+
Removeable trays
+
Non-slip feet
+
White and grey look
Reasons to avoid
-
Made from plastic, though it is easy to keep clean
This OXO drawer organizer is sitting tidily inside our kitchen drawer, holding everything from our chopstick collection to several spatulas plus lots more. It truly did transform this previously messy drawer for the better, turning it from an unkept area of our kitchen to a tidy space to make things easy to reach whilst cooking. Whilst we don't use this to store our flatware, it is great for separating types of utensils if you have a few too many in your drawer. Thanks to its removable sections, we've used it to separate our straws from our chopsticks and our skewers, whilst it comes with a removable storage cup to hold spare smaller items such as matches and food bag clips. The large grey section of this drawer organizer is expandable to suit the size of your particular drawer, and it spans the entire height of the drawer to hold larger utensils such as wooden spoons.
3. Rev-A-Shelf Cabinet Door Organizer
A kitchen organizer for your cabinets will unlock empty, unused space
Specifications
Size: 3.56" H x 13.75" W x 4.25" D
Material: Plastic
Includes: 5 door trays
Reasons to buy
+
5 trays for storage
+
Easy to install with screw-in clips
+
Won't chip, leak or crack
+
Different finishes and sizes available
Reasons to avoid
-
Won't fit all cabinet doors
When it comes to organizing kitchen cabinets, it can be hard to know what to do or buy. You don't want to throw any valuable cookware away, nor can you afford to delegate cupboard space to items you hardly use. Well, this five tray door storage set will install a sense of purpose within your cabinets, even if they are tiny. Simple to set up and strong to withstand the test of time, you can fit so many items in thanks to the many layered system.
4. Joseph Joseph Extend Dish Rack
This extendable dish rack will make the after-dinner clean up as smooth as possible
Specifications
Size: H6.3" x W12.6" x D14.3"
Material: Polypropylene body, nano plated steel rack
Includes: Dish rack, flatware holder, drainage board
Reasons to buy
+
Extends to almost double its original size
+
Removable flatware drainer
+
Integrated spout to drain water
+
White or gray finishes available
Reasons to avoid
-
Can be a little bulky when extended to full size
The messy array left after dinner time is much less overwhelming thanks to this extendable dish rack from Joseph Joseph, which you can use to store dishes and cutlery as they dry off, either fresh out the dishwasher or if you've washed them by hand. There is plenty of space to store all your dishes before you put them away, and perhaps the best feature is the integrated spout which holds water, so that you don't have to leave this next to the sink. Keep it out of sight and empty the water it collects later.
5. Ferm Living Kitchen Rod
With a kitchen wall organizer, everything you need is within reach whilst keeping your countertops free
Specifications
Size: H3.8" x W21.8" x D2.4"
Material: Metal
Includes: 6 hooks
Reasons to buy
+
Neatly displays kitchen essentials
+
Items are easy to access
+
Non-bulky
+
Brass or black finish
Reasons to avoid
-
Only suitable for storing certain items
Proving that kitchen rods don't need to be purely functional, this rustic looking piece is perfect for anything from towels, oven gloves to pots and pans. With six hooks and available in black and brass, you can keep everything hung stylishly within arms length.
6. The Container Store Stackable Bamboo Storage Bins
With stackable kitchen storage bins, you can keep smaller items in a designated space
Specifications
Size: Large (12" x 14" x 5"), Medium (12" x 7" x 5"), Small (6" x 7" x 5")
Material: Bamboo
Includes: Small, medium and large containers (sold separately)
Reasons to buy
+
Thick sides and raised base for secure stacking
+
Sold separately so customizable to your space
+
Natural bamboo material
Reasons to avoid
-
Items in the bottom units would be harder to access
Bringing a sense of structure to your kitchen rack or shelves is simple with these stackable bamboo bins. You can de-clutter all of those smaller items and keep them neatly organized, while maintaining easy access to them. Keep larger items in the biggest tray at the bottom, but be aware you may have to remove the other bins to get to them.
7. Tower Adjustable Lid & Pan Organizer
Make cooking simple with a kitchen organizer for pots and pans
Specifications
Size: L7.9" x W17.7" x H6.9"
Material: Steel, ABS Resin
Includes: 10 storage racks
Reasons to buy
+
Neatly organizes bulkier kitchenware
+
Extendable
+
Suitable for inside drawers and cabinets
+
Racks can be removed to accommodate bigger objects
Reasons to avoid
-
Regular cleaning required
Prevent scratches and stacking with this wonderful minimalistic Yamazaki organizer. With space for large and small lids and pots, this organizer is also great as it's extendable, so you can tweak it to suit the exact size of your drawers.
8. The Home Edit By iDesign Sand Divided Lazy Susan
Kitchen organization trays give a perfect opportunity to store favorite spices
Specifications
Size: D12"
Material: Natural hardwood
Includes: 4 compartments
Reasons to buy
+
Durable wood
+
Easy access to items via turning mechanism
+
Tall sides to keep everything in place
+
Compact
Reasons to avoid
-
Only suitable for smaller kitchen items such as spices and sauces
A lazy Susan is a genius storage solution, whether you want to keep this sumptuous tray on your countertop or stash it within your cabinets. For keen chefs, it might be good to have favorite seasonings and spices to hand, and this tray is certainly stylish enough to graduate to a kitchen countertop.
9. Joseph Joseph Podium™ Storage Container Set - Editions
With these kitchen jar organizers, you can stack dried foods and cooking essentials
Specifications
Size: H12.5" x W12.5" x D4.5"
Material: Plastic
Includes: 5 storage containers with stand
Reasons to buy
+
Clever stand allows any container to be accessed easily without removing others around it
+
Airtight silicone seals to keep food fresh
+
Easy-pour corners
With this set from Joseph Joseph you can gain five individual jars for kitchen storage as well as a convenient and well designed stand to match. The accompanying stand allows you to access other jars without disrupting the others stacked below or beside, meaning you can access exactly what you need without consequence.
10. Yamazaki Rolling Storage Cart
A kitchen organizer cart can make use of those in-between spaces
Specifications
Size: W18.7" x D5.1" x H31.7"
Material: Steel, Wood
Includes: 3 shelves and top board
Reasons to buy
+
Space-savvy
+
Able to slot into gaps between cupboards and units
+
Mobile, so easy to have nearby while you cook
Reasons to avoid
-
No lock on wheels to stop it moving around
If there are empty spaces within your kitchen that you could utilize for storage, then allow this streamlined cart to do that for you, with caster wheels for easy access and a solid ash wood top to help it blend in with the surroundings. It has practical-sized tiers for oils, wines or larger jars, and is as practical as it is stylish.
11. Umbra Peggy Drawer Organizer
This in-drawer kitchen organizer keeps your most challenging items tidy
Specifications
Size: W21.38" x D11.88" x H4"
Material: Plastic
Includes: 2 adjustable trays and 16 pegs
Reasons to buy
+
Adjustable trays and removable pegs for easy customization
+
Non-slip feet
+
Easy to assemble
Reasons to avoid
-
Not suitable for all drawer sizes
If you've always wondered how to organize kitchen drawers, then this tray ought to go down a treat. Eliminate any bad feelings towards your dinnerware drawer with this excellent yet simple organizer. With two dimpled, adjustable trays this organizer lets you reconfigure your set up to however you need and would also be extremely helpful to store pesky food containers that you need for lunches and leftovers. It's extremely handy for storing and separating dinnerware sets.
12. Serena Bar Cart
Add a bar cart to your kitchen for a stylish way to store your drinks and your fancy glassware
Specifications
Size: 31.5" H x 35.5" W x 21.75" D
Material: Brass & oak wood
Includes: Two circular shelves
Reasons to buy
+
Compact
+
Wheels mean it can be easily moved around
+
Durable
+
Two-tiered brass ring around each shelf for extra protection
A bar cart is a simple way to add sophistication to your kitchen, while keeping all your drinks organized and together. You can proudly display your finest bottles on this luxury two-tiered cart from Arhaus, made from oak wood and antiqued sheets of brass. The brass handles showcase its traditional industrial design, and would look magnificent storing a decanter and your finer glasses on the top shelf.
13. Crare & Barrel 16-Bottle White Revolving Spice Rack
A revolving spice rack is a stylish but savvy way to tidy up your spice cupboard
Specifications
Size: W7.33" x D7.33" x H10.33"
Material: Stainless steel with a white painted finish
Includes: Spice rack holder and 16 pre-filled glass bottles
Reasons to buy
+
Holds 16 spice jars
+
Revolving for easy access
+
Spices in refillable glass jars included
Reasons to avoid
-
Not suitable for smaller jars of spice
Invest in this spice rack holder from Crate & Barrel and not only will you have a storage solution for your cluttered spice cupboard, you'll have 16 refillable glass bottles to keep your spices both pleasing and organized. The clear glass bottles are labelled, covering all the most popular spices such as basil, parsley, italian seasoning and many more. Once you finish your initial supply (kindly provided by Crate & Barrel) simply refil the jars and place back in your space-savvy spice rack.
14. Espana Helper Shelf
This kitchen shelf organizer uses elevation for a polished look
Specifications
SIze: H6.45'' x W14'' x D9''
Material: Metal
Includes: 1 extendable shelf rack
Reasons to buy
+
Expandable
+
Compact so can fit in most cupboards
+
Lightweight
+
Stackable if you buy more than one
Reasons to avoid
-
Advisable to store smaller items on top as weight capacity isn't the strongest
This lightweight metal shelf riser is a no-fuss way to organize your kitchen cupboards. Simply place the rack in your pantry or kitchenware cupboard and use it to separate larger items underneath from smaller items on top. If you buy more than one, you can place them on top of each other, as the slim metal legs slot into the mesh holes on top of the rack.
15. SKAGERAK Dania Teak Onion Crate
A simple wooden crate is a fail-safe way to tidy away kitchen clutter
Specifications
SIze: W8.75" x L12.15" x H5.1"
Material: Teak
Includes: 1 wooden crate
Reasons to buy
+
Durable wooden material
+
Three-tiered wooden sides to keep contents secure
+
Can be stored in or out of cupboards
Reasons to avoid
-
Wooden finish may not suit everyone's kitchen
This beautiful wooden crate will store your fruits, vegetables, bread - or anything else you please, given that durability and sturdiness. Rest assured your food won't roll out on to the floor, as the triple-layered sides will keep everything inside. The organizer would be a charming, rustic addition to your kitchen, and is perfect for those incorporating a farmhouse style.
---
How we chose these kitchen organizers
First and foremost: we have not had hands-on experience with all of these kitchen organizers. We have, however, tested the kitchen organizers in this list that have a badge. These kitchen organizers have been used by our Deputy Ecommerce Editor, Annie Collyer, inside her kitchen so that we can consider how they withstand use, and report how they made her kitchen easier to organize.
Otherwise, the rest of the picks in this guide were carefully considered to ensure that we only recommended units that were both practical and stylish. We checked the dimensions, materials, and storage space of each product, and included a variety of organizers that can be both displayed or hidden. Customer reviews informed our choices, to make sure they would live up to their expectations.
What to consider when buying the best kitchen organizer
Size
Firstly, you'll want to measure any spaces in your kitchen you're looking to organize so that you can make sure you buy an organizer that is going to fit. Every kitchen is different, so there are lots of variations in the size of organization units to accommodate for this, which can quickly become confusing when browsing.
You want an organizer that has enough storage to do its purpose but doesn't take up heaps of space when doing so. There are lots of space-savvy products out there, so keep shopping until you find an organizer you're sure will do the job, without adding clutter to your kitchen.
Type
As reflected by our top picks, there's a huge variety of kitchen organizers you can add to your space. Some can be hidden in cupboards and drawers, others will hang on the wall or stand up on the floor. The type of kitchen organizer that will work best for you really depends on what you're planning on storing in there, so it's important to get clear on this before purchasing.
Material
Depending on the type of organizer, different materials work best. Metal and stainless steel options are good for holding dishes and flatware, as these can be easily cleaned, whereas wooden organizers are more suitable for tinned goods and food packets. Plastic or glass containers are a great option for holding dried food, because these can also be looked after easily and will maintain your food's freshness.
What is included?
Check how many compartments the organizer has, and whether or not it comes as different pieces or as a singular unit. Some organizers can be mixed and matched, whereas others come as a set. Just make sure you purchase an organizer with enough storage space for what you need.
Browse more kitchen organizers...
Organizing your kitchen is something that is bound to evovle over time, especially when you need to renovate or factor more space in. If you're still searching for the organized system of your dreams, then these are the retailers we would recommend heading to first:
Sign up to the Homes & Gardens newsletter
Decor Ideas. Project Inspiration. Expert Advice. Delivered to your inbox.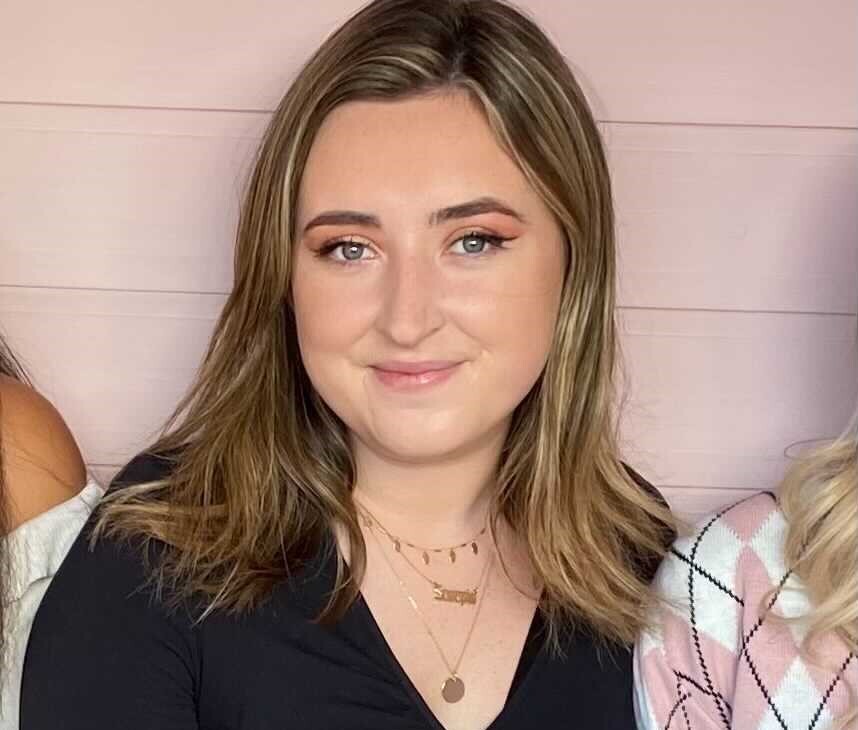 Molly is the Ecommerce Writer for Homes & Gardens and spends her time searching the internet for the next best thing for your home, with a focus on shopping edits and buying guides. Before joining Homes & Gardens, Molly graduated from the University of Exeter with a degree in English Literature, with previous internships undertaken at The Economist in her summer breaks.