Living room ideas – 25 inspiring ways to decorate and furnish your space
From classic and contemporary to relaxed, family-friendly spaces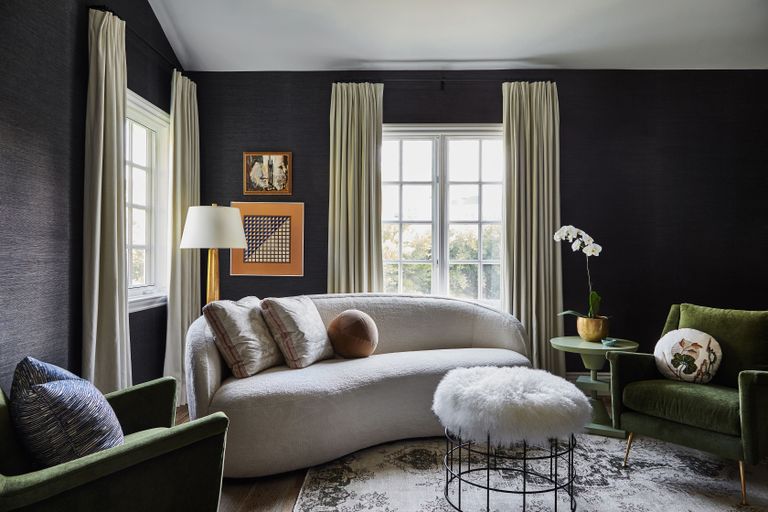 (Image credit: Stefani Stein)
Take inspiration from our selection of living room ideas – we've picked our favorite elegant classic and contemporary schemes to suit every home's style. 
How should I decorate my living room? 
A good starting point is to think about how many people you need to fit in your living room on a regular basis. This will help you to choose the right living room furniture and living room storage.
Your floor plan should consider the room's layout from a social and practical point of view. Plan seating in groups to ensure conversation flows when you have guests and consider scale and how different pieces will sit together. Seating heights vary so balance is key, but make sure guests are seated at the same level. 'Not everything has to be two-by-two when it comes to layout,' says interior designer Nina Campbell. 'By combining different styles, colors and finishes you will create an effortlessly eclectic look.'
'Do put together a measured plan of your living room before buying new pieces of furniture to understand the sizes you require,' explains Emma Sims Hilditch, Creative Director, Neptune. 'That way you will avoid making expensive mistakes.'
In terms of colour, your living room should reflect how you want to feel in that space. It is the room in which you will spend the most time in, so it is important to get it right.
See more: Small living room ideas – 15 ways to plan and decorate a smaller space
Living room ideas
These are our favorite living room ideas – we've added in-depth advice from well-known designers and our own team of experts, too.
1. Focus on flooring first
Flooring sets the scene, so it is a very important starting point for a living room design. 'Usually, I begin thinking about the hall floor,' remarks Sean Cochran, creative director, Cochrane Design. 
'For instance, if I've used straight wooden boards along the length of the hall, I might use parquet in the same tone and finish in the living room.' We have seen a resurgence of interest in wood flooring, so there are now all kinds of parquet styles, extra-wide boards and different finishes available.
2. Design a picture perfect living room
A combination of antique pieces and traditional furniture, arranged in considered fashion around a central coffee table, create a classic elegance in this design. The grand proportions of the room are accentuated by the series of prints hung symmetrically across one entire wall, adding both personality and color to the scheme.
3. Instil purity in your space
Go back to basics with simple offerings. Alongside all the clamour of color, pattern and shape in current interior design, there's a quieter story of considered, understated forms and textures at their finest. 
Dress your scheme with simple linen or silk, sleek metal, rich wood and polished stone to bring an elegance and timelessness to interiors, placing them above and beyond seasonal fads. Here polished concrete flooring offers a smooth, subdued contrast to organic-shaped furnishings, while a smart grasscloth wall covering lets dramatic artwork do the talking.
See: Small living room storage ideas – 16 ways to clear the clutter in a compact space
4. Add an element of light elegance
An antique Persian rug defines the seating areas in this living room. The rich colours of the rug and traditional armchairs add warmth, their formality offset by comfortable couches covered in natural linen to introduce a lighter mood. Furniture is symmetrically placed to create a balanced look, while the eye is drawn to the focal point fireplace.
5. Create interest through scale and texture
'Pattern is a great way to introduce character to a room,' explains Bunny Turner, interior designer, Turner Pocock. It can be used to define a space and change the tone of different areas. 'For example, you might want a bolder pattern on upholstery in a formal living area with a constant pattern used in an adjacent snug.' 
The key is to start with a fabric that has a striking pattern featuring more than three colors. From that fabric choose the colors to be used in the scheme, then select a combination of designed in that palette, perhaps a stripe, a geometric, a floral and a textural option such as a coarse linen or herringbone.
6. Create a wall feature
The space above the couch itself can often be forgotten, but it needs just as much attention as other areas. Choose prints that coordinate with the overall scheme of the room and hang in an assortment of matchings frames. Group in odd numbers to create harmony and visual interest, or play around with a symmetrical look to create balance.
7. Make a statement
Go bold and inject color with a mix of textures and prints. If you've got a plain backdrop, opt for a vibrant couch, such as a shade of striking blue, and dress it with a collection of contrasting cushions for a real visual feast. And don't neglect the area under your feet – add a patterned rug to anchor the space.
See: Small living room ideas for apartments – 12 ways to enhance the feeling of space
8. Invest in a rug underfoot
A tactile rug on top of a wood floor adds a layer of interest and comfort to a living room. Choose a large rug, so you can position all the furniture on it, rather than half-on, half-off, which is distracting. In a large open-plan room, a rug can define the seating area. If there is a signature piece of furniture, for example a blue chair, pick a rug with an accent of blue to make the chair stand out.
9. Let the light in
A refined palette or soft colors and pared-back style give this modern family living area its bright, uncluttered feels. Scandinavian-inspired furniture accentuates the light mood of this design. 
Note the color punch supplied by accessories and wall art and the way the patterned rug adds interest and warmth to the room. The main purpose of Scandinavian design is to improve daily life. Furniture is therefore not only about stylish elegance, but also about functionality – it should serve a purpose and stand the test of time.
10. Use lighting for dramatic effect
Chandeliers and pendants are popular for dramatic effect, but they don't need to be in the center of a room. Try hanging a pendant low over a desk or table, or perhaps three blown-glass spheres suspended at different heights in a corner. Using a pendant is an unusual way can add a fun layer to your lighting scheme.
11. Keep it neat and tidy
Modern life requires that the main room of the home fulfil a multitude or functions, so well-planned storage is key when designing and planning a living room. Good storage is essential in a family room, and this shelving unit provides generous space for displaying favourite objects, books and photographs, while built-in cupboards and drawers conceal DVDs, games and AV equipment.
12. Make a feature out of a monochrome scheme
Black and white is ideal for a living space, where you can really go to town with pattern, texture and prints. If a white sofa isn't practical, then choose a design in charcoal or pewter and layer with throws and cushions in various muted black and white. Plenty of black and white prints and an eye-catching pouffe or rug will make a statement, and you can always soften the look with pale tones of grey, beige or creamy whites.
13. Let the floor do the talking
Introduce pattern and natural character to the home with an ever-popular wood floor. Wood remains an enduring choice for interiors and is wonderfully versatile. An intricately laid parquet combining marquetry and parquetry demonstrates the highest level of craftsmanship in this living room by architectural and interior design company, Point 3 Design. 
Take a light-touch approach with other aspects of the decorating and keep the rest of the scheme neutral to focus the eyes.
14. Take inspiration from nature
Interior designer Sophie Ashby reveals that nature provided the inspiration for this scheme's welcoming, earthy palette. This is quite a grown-up room, and the seating arrangement reflects this, with a pair of bespoke, classic couches in a sage-green velvet, teamed with a tan daybed. 
'The palette was inspired by Holland Park in London and features neutral colours: greens, blues, russets, oranges and yellows,' says Sophie. 'We started with the rug, which we designed as an ode to the park, incorporating peacock feathers as well as leaf motifs.'
15. Unite classic with contemporary elements
Katie Harbison of property development and design studio Banda achieves an elegant mix of Mid-century and modern in this living room. Allow the room's beautiful proportions and original mouldings to shine by keeping the backdrop neutral. 
'Walls are painted in a subtle grey and the floor is a natural oak, topped with a silky grey rug,' explains Katie. The sofa's rounded shape almost embraces the angular coffee table by artist Thomas Markunpoika. Every piece in the room is individual, but together they create a sense of harmony, thanks to their natural colors and subtle textural interest.
16. Be sympathetic to the age of your property
Work with the age of your home to create a sympathetic design that is both timeless and stylish. To reflect the age of the property, interior design company Sigmar used traditional grey for the walls, providing a contemporary note with pale-green doors and woodwork. 
A stronger color was added with green Kaare Klint Safari chairs and cushions in sea blue tones to create a calm but edgy look. 'This space was stripped of its Victorian details in the 1960s,' says designer Ebba Thott. 'We reinstated cornicing and deep skirting boards, raising the door frames to celebrate the ceiling height.'
See: Living room paint ideas – ways with paint, and your questions answered
17. Utilise a single color palette
Using a variety of motifs in one hue and keeping pattern to the upholstery, while walls and floors remain plain brings depth to a scheme without it feeling too busy. In this room, a striking wave design on the couch offers a contrast to the more subtle prints elsewhere. Mixing and matching delicate designs and bold motifs can have remarkably different effects, depending on how they are used.
18. Evoke a sense of calm
Mix elegantly crafted contemporary pieces with a serene palette of materials and hues gathered from nature, for calming interiors with a focus on the finer details. A timeless scheme offers respite from the whirlwind of modern life – and with the neutral elements in place, it is easy to play with the balance of your palette as seasons change.
'Neutrals colors work well as a base as it keeps an interior looking fresh and styled without appearing dated,' says interior designer, Kelly Hoppen. 'You can then use color to accent or highlight using star pieces of furniture, accessories or art.'
19. Give florals a modern twist
Use the latest foliage and floral motifs to bring uplifting color and decorative interest to a living room. Pair botanicals with dramatically dark walls to give a surprising contemporary twist to a traditional look. Use vibrantly coloured upholstery to add further layers of richness.
20. Decorate with a sea of blue
Breathe new life into the classic coastal look with a breezy palette of blues, from soft shades of pale through to denim, teal and Breton navy, all complemented by pops of vibrant red. Opting for bold, block color, such as azure, denim or sapphire, on upholstery and in rugs allows depth to be added with pattern. Here, a fine ticking stripe and geometric print fabrics provide lively highlights that catch the eye.
21. Mix and match materials
Accents of chalky terracotta, brown and duck egg blue combine beautifully to bring depth to this scheme's neutral base. Incorporate accessories in a variety of materials, including glass, metal, ceramic and wood, to create a modern look. Soften the scheme with plush upholstery fabrics, which enhance the feel of understated luxury.
22. Introduce wood for warmth
If you're looking for living room ideas for a cool space – perhaps one served by north- or east-facing windows that only deliver morning daylight, if at all – it is a wise idea to add warmth to the room with structural materials. You can do this with a wooden floor, wood-panelled walls or wooden ceilings.
Or, of course you can simply add warmth with wooden furniture and complementing  colors and textures in other furnishings.
This gorgeous room is by Champalimaud Design in New York.
23. Furnish wisely around statement lighting
If you are picking out statement living room lighting for a room that doesn't have really high ceilings, ensure your furniture – particularly the coffee table and seating grouped on an area rug beneath the lighting – is low-slung. This will allow the room to breathe and for the lighting to be a focal point without the space feeling crowded.
'Do not be afraid to play with scale when it comes to bespoke statement lighting,' says Natalia Miyar, an LA-based interior architect and designer, who designed the room above. 'There are some wonderful high street options available if you do not have the budget to commission something bespoke. My advice is to not play too safe and use this as an opportunity to have a little fun.'
Architectural lighting is a lighting solution that designers also use to light dark areas, surfaces and to highlight a room's structure. 'Think of the angles in the room and how to light them,' continues Natalia Miyar. 'What you want to achieve is a range of light sources, light should be emitted from various points of the room and at different levels.'
24. Pick a dark wall color – but add touches of light and warmth
Stefani Stein, who runs an interior design studio in LA, specializes in room schemes that are easy to live with but which still create impact. This living room above typifies her approach – drama in the contrasts, curvaceous furniture that's modern but welcoming and a really traditional feel, despite the modern approach. 
If, like Stefani, you wish to use a dark color on your walls to create a cozy, intimate feel, be sure to balance out the darker shades with pale colors, seen here on the sofas, the floor and at the windows – and add a touch of warmth with accent colors in furniture and accessories.
25. Pick an eclectic combination for a welcoming living room
London-based interior design studio Kelling Designs love to design rooms that waver between elegance and practicality – and we think this living room encapsulates that perfectly. The eclectic mix of patterns are perfect for weathering busy family life, while adding color, interest and – importantly – warmth to the space.  The use of contrasting patterns work because the color palette is complementary, with each subordinate to the couch. 
Which color is best for a living room?
This is very subjective as it's all about personal taste, along which item you want to build the room around. Whether that be a piece of art, a rug, or a textile. The key thing is to pick out the highlight color to enhance the best of the centerpiece.
Creating color schemes is always fun and you might be surprised to know you're not limited with colors for small rooms. 'Pale neutrals are the obvious choice to encourage the illusion of space. For a cool, stylish look, opt for light greys,' explains the experts at Dulux. 
'To imbue a sense of warmth with the light and airy feel of white, try an off-white palette.' When you pair pale neutral walls with furniture in a similar color palette, you'll create the impression of open and seamless space.
Alternatively, painting a room in dark colors creates the perception of depth, therefore hiding the fact that it's so small. Consider a feature wall in a deep grey with accent colors of purple or yellow. Rich blue tones, like sapphire and indigo provide a soothing appeal, along with depth.
Which colors make a living room look bigger?
'White and neutral shades are always the go-to color as they make a room look bigger, airier, and more open,' says David Harris, Design Director at Andrew Martin. 
'However, for small space living, you can be more daring. Don't be afraid of dark and rich colors, like coffee or dark grey, such as or try teal or even orange, for a braver burst of color.' 
These hues bring richness, intimacy and extra depth whilst allowing you to show personality and flair. Layering these deep rich colors with artwork also adds fantastic texture and interest.