Bay window ideas – 10 ways to dress bays with blinds, curtains and shutters
Make the most of your bay window by dressing them with beautiful window treatments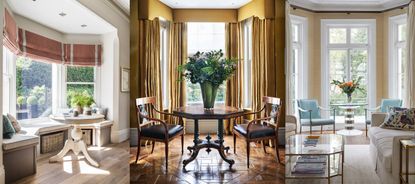 (Image credit: Future)
Are you looking for bay window ideas? Bay windows are beautiful architectural features which bring huge amounts of light into the home.
If you're lucky enough to have a bay window then be sure to give it the finishing touch it deserves with a beautiful made-to-measure window dressing. Curtains, blinds or shutters can all be fitted to a bay window and are a brilliant way to control the light levels and privacy of a room while showcasing the architectural character of your property.
Projecting outwardly from a building, bay windows are formed of multiple glazed frames which are either angled or at right angles to each other, which is also known as a box bay window. While the projecting design brings additional light into the room, finding the right window treatment ideas for them can prove a challenge compared to regular windows. We've rounded up an array of ideas for dressing your windows along with tips from the experts to help get you inspired.
Bay window ideas – how to dress bays with blinds, curtains and shutters
Choosing bay window ideas can be daunting as there are so many different options, each with their own uses and benefits. From fabric solutions such as classic curtain ideas and Roman blinds, to slatted venetian blinds and shutters made from wood or composite, the selection is dazzling and it can be hard to know where to start.
Bay window treatments are a brilliant way of controlling the natural light within your home as well as enhancing privacy and bringing an additional layer of insulation, but they can also be a beautiful design feature within a room. Before deciding which style is right for your space it's a good idea to examine how you use the space and what purpose you need your window treatments to fulfil.
1. Bring classic elegance with full length curtains
If you're looking for bay window ideas for a traditional dining room you can't go wrong with floor-to-ceiling drapes. A brilliant choice for your dining room curtain ideas, window dressings will bring timeless elegance to a space and, with so many luxurious textures and decorative prints to choose from, can offer the opportunity to wow dinner guests. This golden velvet brings a glamorous feel to special occasions while the pelmet enhances the traditional formal feel and obscures the gathered top.
'A pelmet, also known as a cornice board, is a box frame used to conceal the top of curtains, and is commonly found in classic interiors. Pelmets can be made by using foam core or plywood to create a structure which can either be painted a similar tone to walls, or upholstered in fabric to match the curtains,' explains interiors writer Yvette Murrell for Homes & Gardens.
'Though largely decorative, they also offer insulation around windows, which is why they are popular in older buildings such as this Kensington house. Here, interior designer Christiana Syrris, then at Studio Indigo, used a mustard hue both on the walls and the window dressing. This provides a modern twist while also adding depth and interest within a singular color palette.'
2. Preserve authentic wood shutters
If you're lucky enough to have a period property with bay windows complete with their beautiful original wooden shutters – and window seat – consider showcasing them as part of your interior design. 'Original shutters are prized features of period homes and should be preserved and celebrated wherever possible,' advises Melanie Griffiths, editor of Period Living magazine.
3. Bring warmth and color with Roman blinds
When it comes to how to measure for curtains and how to hang curtains, fret not. An expert can do all the measuring for you. Made-to-measure fabric Roman blinds fitted to each frame are a beautiful bay window idea. Not only do they offer control over lighting, they are a good way to bring color and warmth to large, neutral living rooms which can have a tendency to feel cold. Roman blinds can also be lined with a blackout lining to block out the light and provide an additional layer of insulation.
Alternatively, 'why not consider installing a combination of blinds and curtains in your bay window?' Says Louise Wicksteed, design director of Sims Hilditch Interior Design. 'This provides an additional layer of insulation while simultaneously adding an element of elegance to your interior.'
A common query when buying blinds for bay windows is whether blinds should go inside or outside the window frame. Louise suggests that, 'if you are installing a blind to cover a large window with a seat built in (as seen here), the blind might extend beyond the frame.'
4. Create a focal point with color-blocking
Pairing Roman blinds with curtains brings extra flexibility over light levels as well as additional insulation, but can also make a beautiful feature in a living room as it offers the opportunity to play with exciting color combinations. For a living room curtain idea with wow-factor try teaming rust-colored curtains, which will provide a warming block of color after dark, with contrasting peacock blinds.
'Suspended below a specially designed pole or track, curtains with a wave heading make a sleek impression with their structured shape and floating appearance,' says interiors journalist Sarah Warwick, Period Living magazine. 'They also stack tidily so won't impede views or daylight.'
5. Make a feature of original shutters
Historically most wooden shutters would have been unpainted, so if you have original shutters and are looking for an authentic feel, then preserve the natural wood finish. Alternatively, if your original shutters have already been painted, try refreshing them in contrasting color to the walls for a playful, contemporary twist.
6. Add the finishing touch to a colorful living room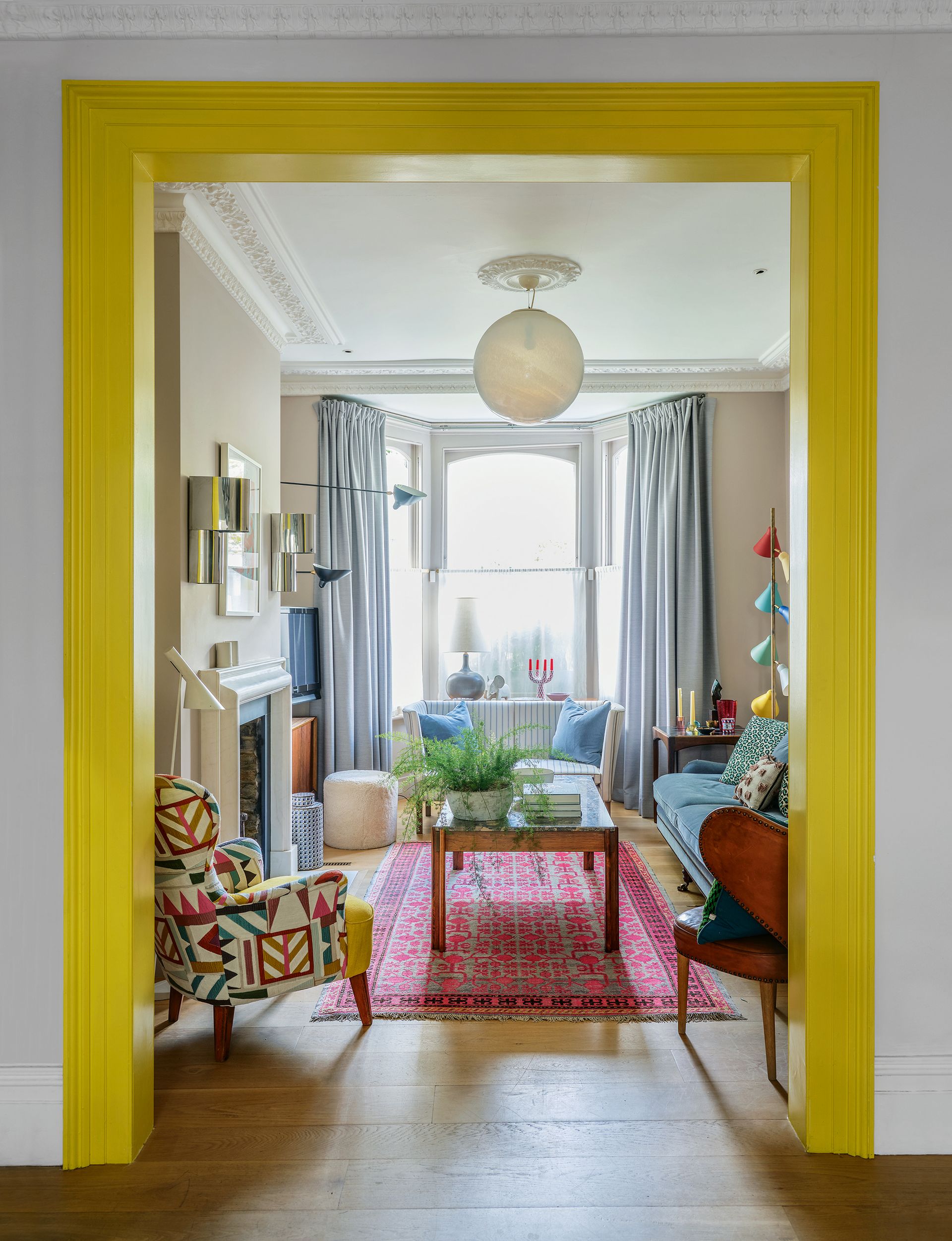 Guaranteed to bring a cozy feel when drawn, full length curtains are a brilliant bay window idea for living rooms. While decorative fabrics will make a statement, if you have a colorful interior filled with pattern and decorative interest, then it may be effective to balance the look with curtains in a soft pastel shade, as this scheme highlights.
'In terms of colors and pattern, this is really a case of personal preference, however, I always opt for neutral curtains if there's a lot of color and pattern in the room already,' says Emma Deterding, founder and creative director, Kelling Designs. 'Not only does this help to balance the scheme, but if you have spectacular views out the window, then this will allow them to flow into the room making the room feel a lot larger.'
If your living room bay window is overlooked or positioned on a street then consider pairing full length curtains with cafe-style sheer curtains to help screen the room from view during the day.
7. Inject personality with pattern
Pairing curtains and blinds in decorative prints is a brilliant way to bring a playful feel and decorative interest to a bedroom. Covering the headboard in the same design as the blinds will not only make a beautiful statement, it will also help create a cohesive, unified look.
If creating a bedroom with a restful feel is a priority, it's important to choose bedroom curtain ideas in prints which will not overpower the space – try opting for small repeat, abstract prints such as Vanessa Arbuthnott's Sepals and Petals design (on blind) and Pretty Maids design (on curtains). Introducing cushions and bedspreads in larger scale prints in co-ordinating colors will help create a dynamic, layered look.
8. Control light levels with plantation shutters
Plantation shutters with adjustable slats or 'louvres' give control and flexibility over light levels and privacy which is useful for street-facing windows. Available in cafe-style, tier-on-tier, or full height, plantation shutters also bring a sleek, streamlined look to interiors making them a preferable option to curtains if you're looking to create a more contemporary feel. They also have the benefit of being easy to wipe clean.
9. Create a country feel with a classic stripe
If you have a country home full of beautiful wood and natural stone, consider fitting a window blind in an earthy, textural linen which will beautifully complement the patina of the natural materials and really make them sing. A timeless stripe, Vanessa Arbnuthnott's French Ticking in Mushroom/Raspberry brings a subtle hint of pattern to this calm corner while also giving a gentle nod to the weatherboarded walls of this country living room.
10. Maximize light with window film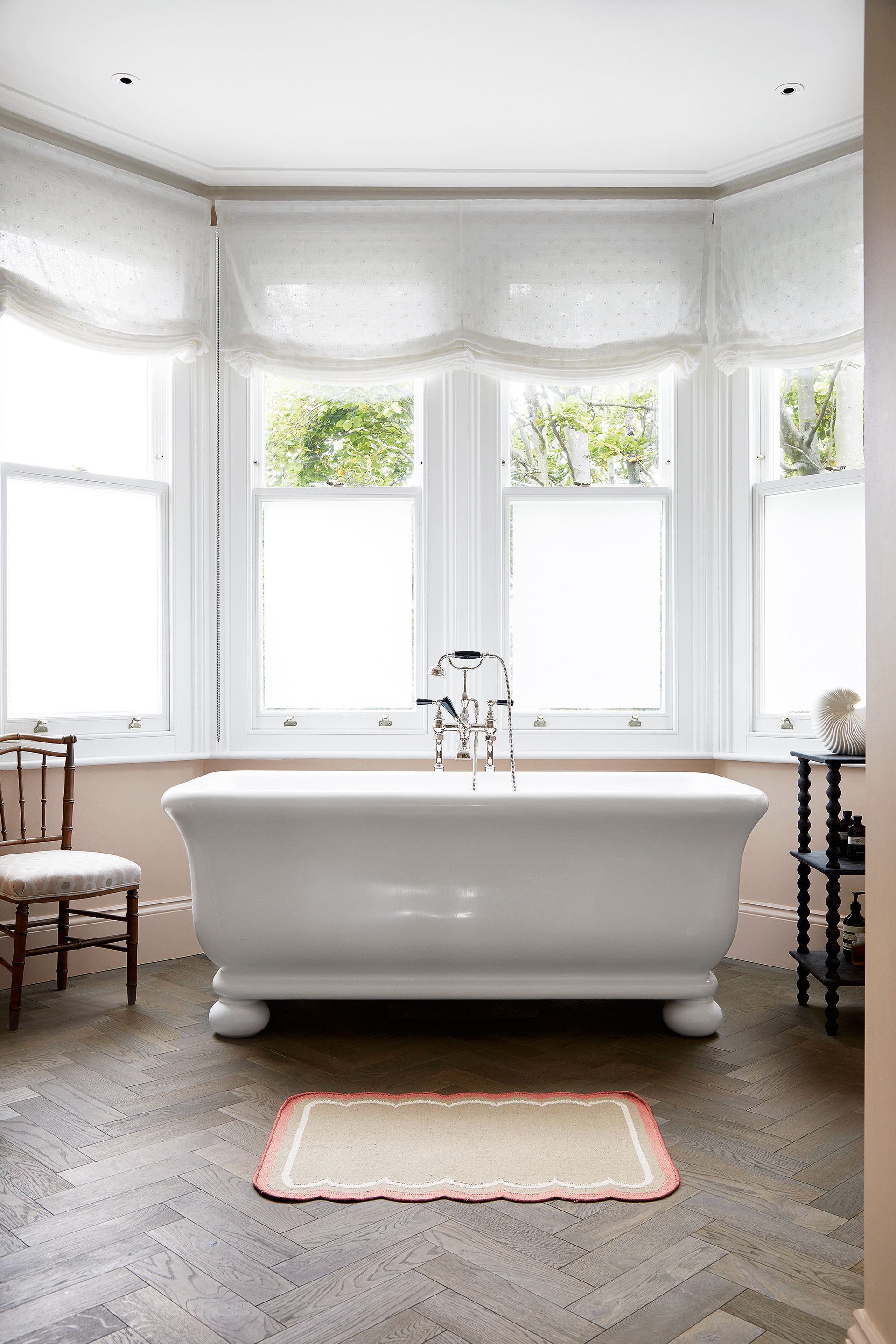 Are you looking to maximize light in a bathroom without compromising on privacy? A combination of sheer blinds and frosted window film could be the solution. Available from companies such as Purlfrost, frosted window film applied to the lower lights of a sash window will obscure the view without blocking any light making for bright blissful bathing environment. Fitting sheer blinds with a gentle gather will allow views to still be enjoyed but will also bring an air of romance to the space, making them a great traditional bathroom idea.
What is the best way to dress a bay window?
The best way to dress a bay window will depend on may factors including the type of room and how you use it, as well as what look you and feel you want to create.
If you are looking for window treatment ideas for a bedroom then controlling light levels may be the top priority – for ultimate control you may want to team blackout blinds with sheer blinds which will block the early morning sun throughout the summer months yet also bring light and privacy throughout the day.
Dressings such as window blind ideas and curtains ideas are brilliant choices for bedrooms, living rooms and dining rooms as they control light levels while allowing you to inject personality, pattern and color through beautiful fabrics.
'Curtains are an opportunity to bring a layer of softness and coziness to every room. You can introduce color and pattern on a large scale, and from which you can choose a complementary paint color for the walls and co-ordinating fabrics for other upholstery in the scheme,' explains Penny Morrison. 'I like to use loose floaty linens for a relaxed look and for more formal settings I use silks and velvets. Pay attention to the curtain headings for the look you are trying to create and whether you are hanging the curtains on a pole or on tracks, and whether you are going to have a pelmet or not.'
Alternatively, when it comes to moist areas such as kitchens and bathrooms venetian blinds or shutters made from water resistant materials may be preferable as they are each to clean and will resist damage from splashes, unlike fabric solutions, see our kitchen bay window ideas for further inspiration.
With adjustable slats, plantation shutters can be brilliant solutions for street facing windows, as Chrissie Harper, customer experience manager at California Shutters explains. 'Tier-on-tier shutters are a stylish addition to larger bay windows, making them great for living rooms and bedroom bays, especially if they are front-facing rooms overlooked by neighbors or a busy sidewalk. The bottom tier will offer you privacy when getting changed, or watching TV, without having to shut out light completely.'
What looks good on a bay window?
All sorts of treatments can be fitted to a bay window including curtains, blinds and shutters, but what looks good on your bay window is ultimately a matter of personal taste. If you're looking to make a feature of your bay window then curtains and fabric Roman blinds are a brilliant way of injecting colour and pattern. Fabric treatments will also bring warmth and softness, making them suitable for bedrooms and living rooms, plus they work well in traditional schemes
For a more contemporary look made-to-measure shutters will give a sleek, streamlined finishing touch.
As such large, prized architectural features how you dress a bay window can have a big impact of the look and feel of a room, so if you are embarking on an interior redesign you may want to consider the bay window as a starting point.
'I begin designing a room around a bay window if it has one, it's important to include the space in the layout of the room so that it's not wasted.' says interior designer Penny Morrison. 'A bay window can create a cosy space either for an armchair and lamp, a table or even with banquette seating for a dining table in. It's just important not to block too much light. It's useful to know how you are going to dress the bay window from the start, whether that's with blinds or curtains.'
Sign up to the Homes & Gardens newsletter
Decor Ideas. Project Inspiration. Expert Advice. Delivered to your inbox.
Pippa is Content Editor on Homes & Gardens online contributing to Period Living and Country Homes & Interiors print issues. A graduate of Art History and formerly Style Editor at Period Living, she is passionate about architecture, creating decorating content, interior styling and writing about craft and historic homes. She enjoys searching out beautiful images and the latest trends to share with the Homes & Gardens audience. A keen gardener, when she's not writing you'll find her growing flowers on her village allotment for styling projects.