Country living room ideas – 45 rustic looks for your lounge
Create a warm and inviting feel in your home with these country living room ideas, whether you go for traditional or modern, shabby-chic or smart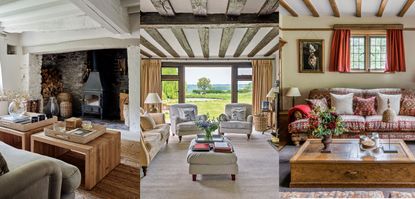 (Image credit: Future)
Your country living room ideas should are the heart of the home, the best place to kick back and relax, surrounded by creature comforts. One of the hallmarks of country living room ideas is that they are easy to tailor to your style – fill your space with heirloom furniture, clashing patterns and bold colours, or keep it pared back with muted shades, natural finishes and plain fabrics, and you will have an inviting, relaxed rustic space that's unique to you.
How you plan to use your space, and whether it's your only sitting room or you have further areas for relaxing and entertaining, will help to define your living room ideas. There are more details to consider when creating this look, too – these country living room ideas and tips will help you get it just right.
Country living room ideas
When browsing country decorating ideas, ask yourself: do you want a cozy snug or an expansive area where all the family can relax together? Is your style country house formal, or do you prefer a more laid-back aesthetic? Are you a fan of color, print and pattern, or do you gravitate towards more muted tones and simple shapes?
Once you have an idea of your room's style, size and how it will be used, you can begin the fun job of honing your country living room ideas to create a characterful, relaxing space you'll love to spend time in.
1. Choose joyful color for your country living room
When you're creating a moodboard for your country living room ideas, don't feel that you have to balance a bold print with pared-back color. Sometimes, being bright and bold is the best option – especially with country curtain ideas for living rooms.
'Here, it's the joyous color – from the punchy cushions and lamp to the grounding pale pink of the upholstery – that helps highlight the beauty of the floral,' says Ella Richards, Head of Design at Linwood. These drapes are in the company's Albertine Classic Rose fabric.
2. Mix finishes in a country living room
'Modern country design is where tradition meets modern-day living through distressed finishes, mixed metals, handcrafted furniture, and a simple color scheme anchored in earth tones,' advises Amber Dunford, Style Director at Overstock.
'To balance the country elements, opt for prints that don't feel overly precious and have a bit of modernity to them, such as a check or a ticking stripe. Textiles such as leather and suede paired with industrial materials like iron and brass will add just the right amount of sternness to the lightheartedness of a country aesthetic.
'Liveable comfort and family-centric themes are staples of this style, so a clean-lined sofa with overstuffed loose cushions should help you strike that balance between modern and country.'
3. Celebrate color and pattern
'The contemporary country look is all about achieving a balance of comfort, tradition and elegance,' says fabric designer Penny Morrison. 'The spaces should feel inviting and inspiring.
'It's important to pay attention to the traditional features of a property rather than attempting to hide or change them. Enhance them by decorating a fireplace, say, or painting joinery in a high-gloss lacquer finish.
'When mixing patterns in a room, do so within a similar color scheme. This will bring depth and harmony to the space, keeping things vibrant and interesting without making it feel too fussy or orchestrated.
'I would say it is best to do the upholstery in plain colors or muted small prints, and save the larger, bolder patterns for accessories such as cushions or ottomans, or if you have a larger space, one or two chairs.'
4. Expose brick or stone walls
If your property is blessed with beautiful stonework or old brick walls, think about revealing that natural rustic beauty in your country living room ideas – even if it's just in one focal point, such as the chimney.
'Think back to the country farmhouses of the past; a lot of these spaces will have had brick or stone walls,' explains Ryan Jones from Land of Rugs.
'Whether it is one feature wall or all the walls in the home, exposed brick can add drama to your space. It is also worth noting that exposed brick or stone works perfectly with carpet or hardwood flooring.'
5. Make country living room ideas personal
'Keep decor personal and meaningful. Country life is about welcoming people into your home, sharing stories and experiences,' advises Marian 'Mimi' Meacham, Principal of Houston-based Marian Louise Designs. 'Decor items that are personal to you are instant conversation starters.'
Books, collections, photographs and artworks will all bring a personal touch to your country living room ideas. 'Display treasures and collectibles you have amassed throughout your life and travels for that warm, inviting feel,' says Mimi.
6. Put wood on the ceiling
When you're pulling together your country living room ideas, it's likely your focus will be on flooring and walls. But don't forget the ceiling above your head – it's a vital element of any decorating scheme.
'Some of my favorite elements involve wood on the ceiling,' agrees Ran-D, interior designer and co-founder of RelaxingDecor.
'For example, hardwood ceilings look amazing when paired with light walls and floors. Or wood beams on the ceilings look great as well. I also love wood trim around the home, such as around doorways or windows.'
7. Color-check your curtains
Choosing country curtain ideas is an open and shut case – you really do need to consider how they frame a window when they are pulled back, and what the expanse of fabric will look like when they are closed.
'Window treatments in natural tones such as flax, cream and beige will always work well in a country living room,' confirms Devin Shaffer, Lead Interior Designer at Decorilla Online Interior Design.
'I like to choose organic fabrics including cotton and linen. This will help to integrate the interior with the surrounding landscape.'
8. Choose a topical wallpaper
If you want to bring a classic British look to your country living room ideas, consider opting for country wallpaper ideas associated with the English country house style, albeit updated for modern tastes. Rural motifs such as animals, birds and flowers, mixed in with stripes and checks, are a great place to start.
'Mulberry Home offers timeless, romantic fabrics and wallpapers with a sense of whimsy, drawing inspiration from a quintessentially British aesthetic,' says Ann Grafton, the brand's Creative and Managing Director.
'Game Birds is one of Mulberry Home's most cherished and iconic designs and has recently been reimagined with new colorways as a fabulous wallpaper.
'To create a fabulous interior for your country living room, consider layering a bold wallpaper like Game Birds wallpaper with a plaid design and a plain to create a delicious, colorful and stylish living space".
9. Seek out calming sage
This gentle color should definitely be an option when you're planning your country living room ideas as it brings a natural serenity to a scheme.
'I love to use simple neutral colors to decorate. Sage is a softer, more subtle shade of green that has a peaceful impact in almost any room,' says Janet Wischnia, President of American Blossom Linens.
Living room paint ideas or soft furnishings in green creates a relaxed feel. 'A sage blanket or throw can brighten up a chair in your living space but still leaves you with a feeling of calmness, and we all need that now,' Wischnia says.
10. Create comfortable gathering spots
'Country style is a trend that we've been eyeing for the past few years and we've loved to watch it develop and go from the "modern farmhouse" aesthetic to a more refined, yet rustic, country-inspired appeal,' says Devin Shaffer, Lead Interior Designer at Decorilla Online Interior Design.
'Comfort is the key component of the style, so gathering spots such as country living rooms are where the design flourishes. A blend of weathered wood and antiquated finishes layered against neutral finishes in tones of white, beige and gray is the foundation of a modern country scheme.'
11. Expose rustic wood in a country living room
If you're fortunate to have existing architectural features and rustic surfaces, look to incorporate them into your country living room ideas.
'Try bringing natural elements into your home by exposing wooden beams and any worn and distressed wooden furniture,' suggests Richard Petrie, home expert at Thomas Sanderson.
'Introducing natural materials such as wood into your rooms can add clean leans, a calming ambiance and will help achieve the outdoor aesthetic associated with the modern country style.'
No beams? Add a rustic wooden mantel above the fireplace, lay reclaimed wooden floors, or search for antique furniture that shows the knocks and patina of age.
12. Look to nature for color ideas
If you're struggling to pair colors for your decorating scheme, a walk outside could provide all the inspiration you need.
'Follow nature's lead by combining green and yellow,' suggests Ella Richards, Head of Design, Linwood. 'They sit next to each other on a rainbow after all, so are the perfect pairing for this relaxed, modern country living room.'
The living room color schemes you consider should make the most of your room's aspect and the available natural light, as well as the mood you want to create.
13. Go for 'Grandma gingham'
Chintz and even gingham are coming back – think modern grandma, as the checks are blown up in scale,' says Mark Cutler, Co-Founder of Los Angeles-based interior design firm, CutlerSchulze.
'As nostalgia grows, modern country is looking cleaner, more pulled together and more decorative.'
14. Pick out characterful accessories
It's the extra details that will pull your country living room scheme together – wonderfully cozy throws and blankets, vintage vessels and jars in which to display gathered branches and blossoms, and quirky talking points such as the oversized clock in this image.
'Dressing your room is your moment to be creative and truly stamp it with your personality,' says Andrea Childs, Editor of Country Homes & Interiors magazine.
'What's exciting is that you can swap pieces in and out as the seasons change or you discover new treasures to decorate your home, so you always have a fresh new look when you want it.'
15. Create a relaxed cabin feel
Bring a happy, relaxed element to your country living room ideas by bringing in a 'cabin escape' element to your scheme.
'Focus on shades that are brighter, fresher, and airier to evoke a friendly, inviting feeling in relaxing entertaining areas,' suggests Mimi Meacham, Principal of Marian Louise Designs.
'Mix old with new furniture for a lived-in feel. And play with pattern – a buffalo check rug or gingham throw pillows can bring some of that elevated yet approachable country look to the room.'
16. Put a twist on print
Print and pattern is synonymous with country living room style but its form changes with the times. Sometimes bold florals lead the way, then small prints make a comeback. Graphic shapes such as stripes, checks and block prints also find their place in a country living room scheme.
'Pattern started making a comeback a year or two ago, mostly in geometrics. Now it's the turn of organics,' says LA interior designer Mark Cutler. 'Think of modern takes on traditional florals and even paisley.'
Mix different scales of pattern with plain fabrics for a chic take on country style.
17. Opt for oak in a country living room
When you are dialling in your country living room ideas, the materials you choose are key. Choosing warm, unstained oak over glossy cherry or black ash, say, will immediately place your scheme in the rustic space.
'Whether you are looking for furniture for a side table, the frame of your sofa, bookcases or drawers, oak is the way to go when you are designing in a country style,' says Ryan Jones from Land of Rugs.
'One of the benefits of oak, especially if it is reclaimed, is that it adds depth and character to your design. Contemporary furniture design can feel a little one dimensional. Oak adds that layer of intrigue to your design that will keep you, and your guests, interested.'
18. Bring nature into a country living room
Nothing says rural style like a bouquet of garden-fresh flowers, and making a floral display an essential part of your country living room ideas will bring natural beauty to your scheme.
Seasonality is key, so even if you're buying your blooms from the flower store, make sure they are local and haven't been force grown.
'Regardless of whether you live in a large home or a city apartment, bringing a touch of nature into your home will add to an authentic modern country feel,' agrees Richard Petrie, home expert at Thomas Sanderson. 'You can also incorporate indoor plants and bright blooms to bring character to your space.'
19. Add wow with woven wallpapers
The beauty of natural materials is a focus of rustic style and incorporating them into your country living room ideas will bring a real sense of warmth and authenticity.
'We are seeing more wallpapers in country living rooms,' confirms Mark Cutler of design firm CutlerSchulze. 'But it's in a fresher way, with wallpaper often printed on to grass cloth to add another layer of texture and detail.'
20. Discover your inner artist
Textile designer Molly Mahon is hugely inspired by the Bloomsbury Group of artists and writers who lived and worked in Britain in the early twentieth century. Her Sussex home, close to the Charleston farmhouse associated with the group, is decorated with the Bloomsbury trademark love of pattern and decoration, with surfaces painted throughout the house.
The decoration of her rustic living room is a showcase for her passions – especially the artfully painted fire surround.
'The painting was inherited from my husband's grandmother,' says Molly. 'And the framed artwork to the left is actually a piece of original Barron & Larcher cloth that I bought online. I have always collected beautiful textiles and think they look so fabulous framed.'
21. Seek out antique shapes for furniture
You don't need to source authentic antiques for your country living room, but adding traditional design elements in your furniture choices will add depth and history to your rustic space.
'We see more traditional silhouettes gaining popularity,' comments interior designer Mark Cutler of LA-based design firm, CutlerShulze.
'Finding a fauteuil – an upholstered chair with a wooden frame and arms – used to be challenging, now they are even popping up on Wayfair. European country style is back and we are here for it!'
22. Light the way with crystal and bronze
Planning your living room lighting ideas goes hand-in-hand with coordinating the rest of your decor scheme. Not only will the fixtures themselves complement your style and color palette, but the lighting you choose will establish the ambience of your space.
'We're seeing the trend for brass receding and the return of bronze, bringing a beautiful layered finish with richness and depth to country living rooms,' says LA interior designer Mark Cutler, of CutlerSchulze.
'I also predict the return of crystal. As a precursor, we're seeing lots of cut glass hanging pieces in a range of colors.'
23. Choose 'casualwear' for your furniture
While we love a smartly upholstered sofa, slipcovers can bring a more relaxed look to a country living room.
'Loose covers in deliberately creased linen never need smartening up,' agrees Justin Marr, Design Director of Zinc Textile. 'White sofas are always a winner and are a great base for warmer accents of cognac, ochre and tobacco.
'The aesthetic for our collaboration with Martin Hulbert Design is relaxed, informal and with a handmade appearance, as shown in this space. A mix of non-matching but happily coexisting cushions, and unlined washed linen curtains are effortlessly relaxed.
24. Use muted colors on country living room walls
Off-white shades or dusky pastels are the quickest way to create a calming, fresh feel in a room. And when a space feels calm, it feels welcoming.
From a practical standpoint, a light color scheme will make a small country living room feel bigger, as well as giving you a versatile backdrop to explore a wider range of furniture and accessories options.
25. Add country character to a plain living room
'When it came to designing this sitting room I added the beams on the ceiling and the rough beam over the fire place to create a rustic feel to this country house,' says interior designer Marion Lichtig. 'This is reflected too in the rough hewn coffee table.'
Lichtig then added a few finer items, such as beautiful antique furniture, an elegant scallop back sofa and decorative lighting. 'I like to mix objects to give a room balance, layers and plenty of interest,' she shares.
26. Create a conversation area
To give your country living room an atmosphere of warmth and welcome, arrange seating to make conversation – not the TV – the focus.
'In this room, the armchairs and sofas face each other across an upholstered ottoman, on which a tray of drinks or afternoon tea could be placed,' says interior designer Jojo Bradley. 'The comfortable furniture is softened further with cushions that invite you to relax and settle in for a while.'
This type of furniture arrangement works really well for small or larger groups, too. The pair of armchairs with their own side table provide an area for two people to sit and talk together, while the sofas provide additional seating when crowds gather.
27. Add depth with lighting
A standout light can seem the obvious solution to bring the wow factor to your living room. But bright and shiny isn't always best, especially when it comes to country-style schemes.
'A common mistake is to focus on a show-stopping piece and forgo lighting the rest of the room, leaving it lacklustre and without atmosphere,' explains Mary Buchanan, Creative Director at Laura Ashley. 'Contrast light and shade to create a dramatic finish.'
Buchanan suggests lighting a room from the ground up. 'Wall lights, table lamps and floor lamps are perfect for layering,' she says. 'You can also use these to spotlight favourite objects in the room and light up cozy corners for reading and lounging.'
28. Use expert tricks to make small rooms look larger
Country homes, with their beautiful oak beams and thick stone walls, are brimming with history and character. But the rustic architecture runs the risk of making rooms appear small and dark.
When you're planning out country living room ideas, copy some of the tricks used by interior designers to bring a sense of light and airiness to a space. Think Perspex or glass 'invisible' tables; large furniture pieces, such as sofas, raised on elegant feet; and coffee tables made from elegant metal, rather than heavy wood.
29. Make a large country living room look cozy
Drawing in the furniture away from the walls of the room will make a large space seem more intimate – a tip interior designers use when creating living room schemes for barn conversions, lofts and other airy country spaces.
To avoid a railroad effect, with galleys on either side of sofas, for example, use additional pieces to fill the void.
Here, interior designer Jojo Bradley has placed a console table against the wall. It provides a handy perch for table lamps, while occupying the gap behind sofa.
30. Paint beams white
Older country homes featuring traditional dark oak beams and smoke-stained fireplaces can be too oppressive for contemporary tastes.
Keep the charm while updating the look by painting walls, woodwork and even bricks or stone in a bright white.
This will transform a country living room in an instant and given an uplifting spirit to your country home.
31. Make sitting by the fire an experience
Whether it's an original inglenook fireplace or a contemporary wood burner, gathering around the warmth of real flames is a quintessential country experience.
Your home may have an existing hearth and chimney that requires you to plan ideas for your living room around it. Or you may have the luxury of installing a new fire or stove in the place that suits you best. Either way, it's important to think about how you can integrate the fireside experience into your decor.
Factor in seating placed close enough to feel the warmth but not too near to be damaged by heat or sparks. Add a table or two, plus a footrest so you can warm your toes.
Finally, make your fuel, kindling and fireside tools a part of the room scheme by organising them in attractive baskets and log holders.
32. Add in iconic design pieces
When your country property is a repurposed rural building such as a barn, it can be difficult to know how to furnish the space. One answer is to take your cue from the architecture – often large, lofty and with an industrial edge – rather than the age of the building.
For your country living room inspiration, look to iconic mid century design, with its clean lines and unfussy styling.
33. Make the most of the view
Living room furniture tends to point towards the TV but there's a far bigger screen to enjoy – the view in your window.
Position your seating to make the most of the view, without lining it up so that it looks as if you are at the cinema. A sofa facing the glazing, with comfy armchairs at an angle at either end, will mean you enjoy the landscape in front of you and still be able to chat easily to family and friends.
34. Add a statement accessory
When you're coming up with country living room inspiration and ideas, don't play it too safe.
'A fabulous accessory, such as a statement mirror or outsized pendant light, will add a dynamic, look-at-me quality to a room that makes it an exciting place to spend time in,' says Sara Bird, Decor Editor at H&G's sister title Country Homes & Interiors, who styled this living room for the magazine.
Keep it country by choosing a design with a rustic touch, like the natural materials that decorate this mirror frame.
35. Include some florals
Pattern – especially big, blowsy florals – is synonymous with country living room decor. And an eye-catching pattern in bold colors is a great way to add a focal point.
Using pattern in large swathes in blinds, wallpaper or curtains will make the biggest statement and draw the eye to a specific part of the room.
If you've decided that curtains are the best way to get your pattern fix, go for a full-length design to increase the cozy factor.
36. Pick pale wood for furniture
Light-colored woods, such as beech, whitewashed pine and ash, have a more informal feel than dark woods and better fit the ethos of a rustic country look. The choice of complementary colours for paint, soft furnishings and accessories is also much wider when you choose pale-wood furniture.
Here, soft furnishings from Susie Watson Designs add punches of pink, mauve and mulberry, which sit nicely against the relaxed look of bleached-effect furniture.
37. Heat the space with a woodburner
Nothing embodies a cozy, rustic feel quite like a stove or woodburner. Whether it's a modern, freestanding design or one that's nestled in a brick fireplace surrounded by craggy logs, both will offer warmth – literally and figuratively – and provide your country living room with a stylish focal point.
38. Include texture with rattan, wicker and reed