Country living room ideas – rustic rooms that are cosy and chic
Whether you go for traditional or modern, shabby-chic or smart, you're guaranteed to create a warm and inviting feel in your home with a country-style living room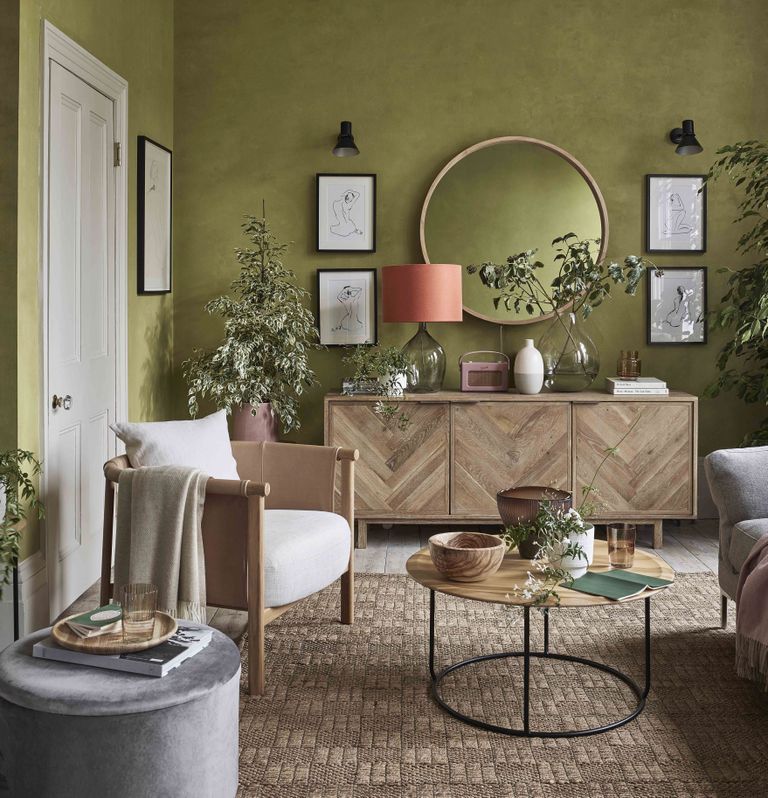 (Image credit: John Lewis)
The country living room is the heart of the home, the best place to kick back and relax after a long day surrounded by creature comforts. 
One of the hallmarks of country decor is that it's easy to tailor to your style – stuff your space full of heirloom furniture, clashing patterns and bold colours, or keep it pared back with muted shades, natural finishes and plain fabrics. 
However, there are a few details to consider when creating this look, so read on and you'll have a welcoming and restful country living room in no time.
See more: we have lots of living room ideas to suit all styles in our dedicated design gallery.
1. Use muted colours on country living room walls
Off-white shades or dusky pastels are the quickest way to create a calming, fresh feel in a room. And when a space feels calm, it feels welcoming. 
From a practical standpoint, a light color scheme will make a small country living room feel bigger, as well as giving you a versatile backdrop to explore a wider range of furniture and accessories options. 
2. Add in some florals
Pattern – especially big, blowsy florals – is synonymous with country living room decor, and an eye-catching pattern in bold colors is a great way to add a focal point. 
Using pattern in large swathes in blinds, wallpaper or curtains will make the biggest statement and draw the eye to a specific part of the room. 
If you've decided that curtains are the best way to get your pattern fix, go for a full-length design to increase the cosy factor.  
3. Pick pale wood for furniture
Light-coloured woods, such as beech, whitewashed pine and ash have a more informal feel than dark woods and better fit the ethos of a rustic country look. The choice of complementary colours for paint, soft furnishings and accessories is also much wider when you choose pale-wood furniture. 
Here, soft furnishings from Susie Watson Designs add punches of pink, mauve and mulberry, which sit nicely against the relaxed look of  bleached-effect furniture.
4. Heat the space with a woodburner
Nothing embodies a cosy, rustic feel quite like a stove or woodburner. Whether it's a modern, freestanding design or one that's nestled in a brick fireplace surrounded by craggy logs, both will offer warmth – literally and figuratively – and provide your country living room with a stylish focal point. 
5. Include texture with rattan, wicker and reed
Natural materials are a big part of nailing the country look, so incorporate them into your decor. 
A rattan chair or bench is a good place to start if space permits but if not, rattan and reed baskets or a jute rug will all create a rustic look that has all the more charm because of their non-uniform finishes. 
6. Choose squishy seating for country living rooms
Country-style seating has rounded armrests and cushions, and either chunky, turned-wood legs (with or without castors) or a pleated skirt that skims the floor. However, you can achieve a smarter country feel by putting the emphasis on the fabric pattern and going for more streamlined silhouettes for the furniture.
If you have a spare corner, fill it with a statement armchair and place a side table topped with a lamp next to it to create a cosy reading nook. 
Fabrics and trimmings, Vanessa Arbuthnott.
7. Show off brickwork or wooden beams
If you have wooden beams or exposed brickwork in your living room, highlight them to give the country living room look bags of authenticity. 
'I don't think you can really get the right look without using old things – rugs, paintings, antiques,' explains Vivien Greenock, interior designer and former senior director at Colefax and Fowler. 
'It's those things that give a room a permanent look, and a depth of feeling.' 
Fabrics and trimmings, Vanessa Arbuthnott.
8. Go for distressed finishes on accessories
Whitewashed original floorboards, a timeworn finish on shutters, unglazed pottery, unfinished wood ornaments, mercurized mirrors and cable-knit cushions and throws are all very effective country living room ideas for creating a rustic, lived-in feel – but that needn't mean the room can't look smart. Neat silhouettes on furniture and pared back decor will help a smaller country living room feel larger and brighter. 
Fabrics, wallpaper and trimmings, Vanessa Arbuthnott.
9. Light up corners with lamps
Lighting is the most effective way to create mood, and supplementing a main ceiling light with plenty of table and floor lamps will lend a cosy feel at the flick of a switch. Add to the ambience with smoked- or amber-glass bulbs, rather than clear ones with bright white filaments. 
Living room (above) at Kit Kemp's house – take the tour in our dedicated feature.
10. Bring the outdoors in with flowers and house plants
A country living room should be simple, relaxed and natural, and nothing evokes this better than house plants and fresh flowers. Choose several different kinds of house plant and put them in unexpected places, such as on the top of a cabinet or in bookcases, for a quirky feel. 
Add to the scheme with fabrics in equally botanical prints, such as this Forever Spring collection from ILIV.
We answer three key questions so you can get your country living room decor spot-on.
How can I decorate my living room in a country style?
Do you want a traditional country look or a more pared-back, modern feel? If your living room has lots of period features, such as beams, fireplaces or ornate plasterwork, a traditional look will enhance these features. 
You can then afford to be bolder with colour and pattern, and more is definitely better, so pack plenty of furniture, soft furnishings and accessories into the space. 
Matt Deighton, managing director and Chesterfield sofa specialist at Sofas by Saxon, says: 'Consider choosing sofas and armchairs in different finishes, rather than co-ordinating fabrics, to maintain an eclectic feel.'
Modern country living rooms are less cluttered, favour a muted colour palette and use pattern, including stripes and checks, more sparingly. The best way to add a cosy, lived-in feel here is with plenty of unfinished wood, chunky knits, sisal, wicker and other natural materials. 
To give your scheme a French country feel, painted furniture with ornate detailing is a must, while pale greys, muted blues and dusky pinks are the go-to colours. 
For a shabby-chic slant on country style, flaking paint on furniture, mercurised glass and floral prints are key. Keep walls white or off-white and add colour with soft furnishings and accessories in sugary pastel shades.
How do I make my living room feel cosy?
If you have the space, a woodburner will create a cosy mood in an instant. One less obvious way is to include a bookcase – either freestanding or built into an alcove – as the old-world, familiar feel that's created when you're surrounded by books oozes comfort. 
Switching bright white lightbulbs for soft white or even coloured-glass ones offers a much more intimate feel. Go one step further by including plenty of soothing candlelight too. 
Lastly, tactile materials such as velvet, chunky wool and faux sheepskin are the cosiest of choices for cushions, throws and rugs, and will help soften the hardness from any wood furniture or beams.
How should I arrange my country living room?
A country living room should look relaxed – perhaps even a little haphazard. Place armchairs and tables at 45-degree angles to walls in the corners of your room, layer sofas and chairs with cushions and throws, pile logs in baskets and arrange plants so that the leaves cascade down the sides of cabinets and tables. 
It's also important not to leave too many bare spots in your living room – a floor lamp or trug filled with folded blankets is better than wasted space.