Modern farmhouse style: what is it, and how to achieve it
Everything you need to know about modern farmhouse style and how to make it work for you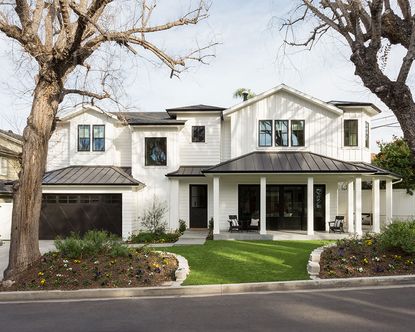 (Image credit: Amy Bartlam)
The trend of modern farmhouse came into its own in 2020 and it's going to be around for some time to come.
This contemporary yet cozy style is bang on the zeitgeist, allowing more personality than city sleek modern and more calm than traditional rural stylings. As with any new look, there's a lot to learn out there, so we've comprised our go-to guide on how to get the modern farmhouse style in your own home.
Explore with us the nuances of this trend, what colors you should look at and which materials you could use in your scheme. And see more modern farmhouse ideas – creative ways to perfect this style in your home – in our design gallery.
What is modern farmhouse style?
The modern farmhouse style is the perfect blend of the traditional country look with the more minimal contemporary design.
Clean lines and a sleek aesthetic has been the go-to interiors style for a while, but with so much happening in the world these days, we're craving a touch of the more comforting, cozy elements.
Like with this Nicky Dobree designed interior, modern farmhouse retains a fresh look, and yet embraces natural elements and celebrates the beauty of imperfections throughout.
What is the difference between country and farmhouse style?
When you hear the word 'farmhouse' you might imagine the classic rustic look, perhaps slightly cluttered and without any strong design thread. This is where the 'modern' element of this style is important. Emma Sims-Hilditch, founder of Sims Hilditch comments that although people often crave the charm of a country style home, 'they also want their home to be practical and to work for their needs.'
Modern farmhouse is the contemporary take on the rustic style, so everything is tailored into making sure you have everything you need to continue to live a modern life, just with a farmhouse tint. While country homes are beautiful, this style takes our favourite comforting elements from there and adds sleek touches with smooth lines, brushed metals and neutral palettes.
Emma Sims-Hilditch suggests a few ways to achieve the modern farmhouse look without going too classic country. 'To us, modern farmhouse style is all about creating a cozy interior with layers, pattern and color. One way to get this look (if budget allows) is to open up ceilings to expose the rafters and make the most of the height. Alternatively, adding materials such as limewashed timber cladding to walls and ceilings can immediately transform a room. When it comes to choosing fabrics, try pairing multiple patterns and materials such as a chunky linen with a smooth velvet in a similar color palette.'
As Emma advises, fabrics and materials are kept within a fairly strict color pattern – this will prevent the look from becoming too eclectic and rustic, and instead feel curated and considered, as one might expect from a modern home.
Why is modern farmhouse style so popular?
Where once stark minimalism in the home provided a welcome clean sanctuary from the outside world, as we spend more time in the house, we're craving something a little more comforting.
While the fresh design aesthetic is still prominent and desired, adding more personality, warmth and charm into the home speaks to how we're all feeling at the moment.
Modern farmhouse also celebrates the historic, reminding us of simpler times, without forcing us to give up any of the contemporary lifestyle elements to which we are accustomed. Anna Beeber, Partner at Champalimaud Design explains: 'Today, the modern farmhouse is a celebration of the historic form, updated with interiors that embrace a contemporary design perspective. With these kinds of projects our studio is always careful to celebrate the history and include a little patina while being mindful of our client's modern lifestyle. The relationship between the old and the new must be considered and work in tandem with one another – the harmony is essential.'
What are the best modern farmhouse style neutral colors to use?
When you think modern farmhouse, think neutrals. One of the easiest ways to start building up this look is by layering whites, creams and soft grays. By sticking to a largely neutral scheme, you're adding that contemporary freshness which the style requires.
'To avoid a room looking stark, an off white or pale neutral is always a good approach to take,' advises Ruth Mottershead Creative Director, Little Greene. 'Using different neutral tones from the same colour family allows for layering and seamless shifts from room to room giving a sense of consistency with subtle nuances. Consider the use of graduated tones of a colour – for example our Little Greene 'Colour Scales' collection offers our most popular colours within families of four graduated tones made using the same pigments just in different strengths. French Grey, Slaked Lime, Portland Stone and Rolling Fog are just a few of the neutral colour families in this collection that would work beautifully in a modern farmhouse.'
Take inspiration in mixing neutrals from this modern farmhouse kitchen, which uses the warming Mushroom on the wall and crisp, contemporary Flint on the units; both paints from Little Greene.
What are good farmhouse colors?
Part of the key in adding the 'modern' into modern farmhouse is adding in contrasting colours to the neutral backgrounds. Interior designer Kate Lester points out: 'Don't forget the black! Adding pops of black doesn't make a space feel darker, in fact, it's the opposite! Black is the perfect juxtaposition to the crisp white and creates a perfectly balanced backdrop for rugs and furnishings.'
As well as blacks, look to inky blues, emerald greens and charcoal grays for wonderful hints of modernity and personality in your modern farmhouse. 'The best colors for farmhouse spaces are colours that blend well with their vernacular and natural setting,' advises Irene Gunter of Gunter & Co. 'We like to experiment with denser natural greens, blues, pinks or terracottas, both on walls or in terms of accents such as tiled splashbacks, colors of handles or even internal cabinet materials. It's no surprise that shades of green, or darker blues are very often used in countryside settings, they feel at home and give a certain grounding to the overall scheme.'
Another way of letting your personality to shine through with color is by looking to softer shades. A few touches of pastel pinks and sage greens can add a feminine touch, while still allowing the modern scheme to stay strong.
What materials are modern farmhouse?
Whereas the strictly modern home relies on a clean palette of stainless steel, sleek surfaces and polished stones, the modern farmhouse look needs to mix these up with more natural finishes.
Combining the contemporary materials with weathered finishes adds that farmhouse character and warmth that you're looking for. Think untreated, raw woods, exposed brickwork and leathers and tiles with a patina. Katie Cox of Ham Interiors describes how they create the modern farmhouse feel: 'we use contemporary lines and clean finishes with rustic but not overly traditional touches.'
Similarly, Little Greene's Ruth Mottershead likes to emphasise the natural texture of materials. 'A key element when creating a modern farmhouse look is texture - so pair neutrals with related shades in rich wool, tumbled linens, and mid-century style reclaimed or textured wood furniture. These types of schemes evoke a sense of calm but still have an element of interest through texture, elevating the look from simply 'country' to a more contemporary feel.'
While a lot of the modern farmhouse elements can be added or built into a home, if you already live in a period property there are a few other things to consider. 'I am a firm believer that structural details like beams shouldn't be hidden or changed in any way,' says kitchen designer Tom Howley. 'The beauty of working within architecturally diverse properties is that the briefs are further defined. All designers love working within a brief. It helps to direct your design ideas, and instead of limiting you, these restrictions can actually provide further platforms for great design if you consider the possibilities rationally and creatively. For the perfect modern farmhouse kitchen, incorporate these architectural details into your overall scheme.'
In these properties you may have issues with the original materials, on which Tom comments: 'A lesser-known tip in getting the modern farm house look lies in behind your cabinetry. In many properties, listed homes in particular, the flooring can be uneven. You may be unable to correct or straighten original flooring to stop the cabinetry from opening or closing of its own volition. And anyway, it would be such a shame to tamper with original flagstone or wooden floorboards! We use magnets in our cabinetry to correct this instead.'
How do you achieve the modern farmhouse style in a kitchen?
The kitchen is the perfect place to start your modern farmhouse journey. As the heart of the home, the natural warmth and feeling of relaxation of the space lends itself ideally to this type of scheme.
Moreover, as kitchens obviously require many modern trappings, like cooking gadgets and white goods, you can start your journey here by working on blending these with more traditional touches.
Interior designer Nicky Dobree explains how she created this modern farmhouse kitchen. 'Framed with exposed brick the Crittall windows bring the exterior in and create added texture against this wall. The exposed timber beams add warmth to the space and draw the eye up adding to the sense of airiness. The timber cupboard doors with leather handles enhance the country feeling of the kitchen and the large white ceramic lamps that sit on the surface are a nice softer alternative way to lighting this area creating intimacy in the space.'
'The large central oak island is the perfect place to prep, gather, eat and chat,' continues Nicky. 'Keeping it open on one side stops it from feeling too blocky and enables people to sit opposite each other rather than always in a line. The vintage singer stools sourced at an antique fair, add a personal touch. Large wicker baskets under the island are used for storage with drawers and cupboards on the other side. Floating oak shelves are ideal for displaying items and break up the white wall between the windows.'
Other ways of adding the modern farmhouse style into a kitchen include using sleek Shaker style cabinetry with brushed metal handles, oversized industrial light fixtures and a large, raw wood dining table for family and friends to gather around. With appliances, stick to modern stainless steel and avoid retro shapes and colourways with your gadgets, otherwise you'll veer into country farmhouse, rather than modern.
What is modern farmhouse architecture?
Modern farmhouse style is just as appealing when looking at the exterior as it is the interior. Traditional country homes offer many of the key architectural notes that modern farmhouse buildings use; timber cladding, lofted spaces and, often, wraparound porches. Other external touches to consider are industrial elements, such as metal light fixtures.
This more contemporary interpretation requires a crisp paint on the outside. White is one of the most classic colors for farmhouses to be painted in. During colonial times, whitewash was used as it acted as a preventative from mildew, and it also offered mild antibacterial properties. Today these are less of a concern, but choosing to keep the exterior in the traditional whitewash, while adding in contrasting highlights of a darker color, usually black, keeps things modern and fresh.
Indoors, modern farmhouses typically have more open floor plans and larger windows than their classic counterparts. The bones may be from the traditional country farmhouse design, but these changes allow more air and light to flow through.
Overall, 'Keep millwork details simple,' advises interior designer Kate Lester. 'For a true modern farmhouse look we skip crown molding and lean towards more casual detailing, like a board and batten or shiplap paneling. We also keep door and window casing simple and streamlined. Less really is more when you are trying to achieve this look.'
Thea Babington-Stitt is a Content Editor at Future. She has been an interiors journalist for nearly 10 years and has held positions at LivingEtc, Country Homes & Interiors and Homes & Gardens. Currently, she is writing for Ideal Home and Style At Home's websites and magazines.