Modern farmhouse style – create a classic look with a contemporary twist
Bring the welcoming, cozy, naturally inspired and uncluttered interiors of modern farmhouse style to your home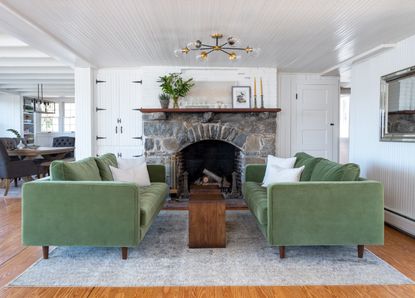 (Image credit: Storie)
Modern farmhouse style might claim to be the perfect blend. It draws on tradition, but feels up to date; it combines rustic touches with contemporary refinements; and it feels cozy and welcoming yet remains beautifully uncluttered.
Fixer Upper Joanna Gaines is a champion of the look and it's really no wonder so many people have joined her in bringing the style home. After all, with its neutral palette, tactile and organic materials, and emphasis on comfort it makes for a relaxing and also practical living environment.
Modern farmhouse ideas mean drawing on the very best elements of classic farmhouse style, but giving them a twist that reflects 21st century living and our guide has the knowhow you need on getting the look.
What is modern farmhouse style?
Modern farmhouse style takes the traditional farmhouse look but brings in elements of contemporary design.
'To me, modern farmhouse is incorporating the old with the new,' says interior designer Sarah Kruse, founder of Storie. 'Vintage style furnishings with newer shapes and materials that consistently pay credence to nature.'
To create modern farmhouse style, you will need to think color palette, finishes and textures, and furniture and accessory choices and we've put together the details you need below.
What is the modern farmhouse color palette?
Natural shades
Modern farmhouse style begins from a neutral color palette and builds on it. 'Farmhouse colors are usually inspired by the colors we see in nature – neutrals, blues, greens, or softer hues of more extreme colors like red, yellow, and orange,' explains interior designer Sarah Kruse.
Pale neutrals
Decorate with neutrals by layering whites, creams and soft grays brings the contemporary freshness this style requires and creates a base to which accent shades can be added. However, it's crucial to ensure the result is not clinical. 'To avoid a room looking stark, an off white or pale neutral is always a good approach to take,' advises Ruth Mottershead, creative director, Little Greene.
'Using different neutral tones from the same color family allows for layering and seamless shifts from room to room giving a sense of consistency with subtle nuances,' she explains. 'Consider the use of graduated tones of a color – for example our Little Greene Color Scales collection offers our most popular colors within families of four graduated tones made using the same pigments just in different strengths. French Grey, Slaked Lime, Portland Stone and Rolling Fog are just a few of the neutral color families in this collection that would work beautifully in a modern farmhouse.'
Accent colors
Key to the modern element of modern farmhouse style is adding in colors that contrast with its neutral background, as Sarah Kruse recommended above.
How to pick accent color ideas?
'The best colors for farmhouse spaces are those that blend well with their vernacular and natural setting,' explains interior designer Irene Gunter of Gunter & Co. 'We like to experiment with denser natural greens, blues, pinks or terracottas, both on walls or in terms of accents such as tiled splashbacks, colors of handles or even internal cabinet materials. It's no surprise that shades of green, or darker blues are very often used; they feel at home and give a certain grounding to the overall scheme.'
But there's another accent worth considering for modern farmhouse style. Interior designer Kate Lester says, 'Don't forget the black! Adding pops of black doesn't make a space feel darker, in fact, it's the opposite. Black is the perfect juxtaposition to white and creates a balanced backdrop for rugs and furnishings.'
Interior Designer
Interior Designer
Irene Gunter
Irene studied Art History before training at the prestigious Inchbald School of Interior Design. As Creative Director of Gunter & Co, Irene oversees the design for every project alongside her team of designers who manage the day-to-day implementation. Inspiration for each project comes from a myriad of sources: from historical architectural details to contemporary building materials or vintage furniture to contemporary sculptures. She centers her designs around the tension between organic forms and regular repetition to create spaces that catch the eye, are thought provoking and packed with interesting talking points.
Materials to use
When it comes to materials, opt for 'naturally inspired finishes – dark woods, stone, rattan, burlap, etc', says Sarah Kruse. However, unlike the classic farmhouse look, this isn't a style that's rustic throughout. Stainless steel, sleek surfaces and polished stones are combined with natural elements in the modern farmhouse look.
And it's mixing in weathered, organic materials to the sleeker contemporary ones that adds the character and warmth of modern farmhouse style. 'We use contemporary lines and clean finishes with rustic but not overly traditional touches,' explains Katie Cox of Ham Interiors. For floors, think wide wood planks, and focus on untreated, raw woods, barnboard details, exposed brickwork, leathers, and tiles with a patina.
Focus on texture
The feel of the materials is also crucial to creating a modern farmhouse interior. 'A key element when creating a modern farmhouse look is texture – so pair neutrals with related shades in rich wool, tumbled linens, and mid-century style reclaimed or textured wood furniture,' says Little Greene's Ruth Mottershead.
'These types of schemes evoke a sense of calm but still have an element of interest through texture, elevating the look,' she adds.
Choose the right furniture
Furniture for a modern farmhouse interior puts the emphasis on comfort and liveability. Think generous seating with fabric or leather upholstery, wooden dining tables and chairs, which can be salvaged pieces and show the marks of use, and wood – perhaps with wrought iron details – for side and coffee tables.
Classic farmhouse furniture can be successfully combined with other looks, though. 'Mid-century is a great style of furnishings to mix in with more traditional farmhouse style pieces to make the space more contemporary while still paying homage to farmhouse design,' says interior designer Sarah Kruse.
To complement modern farmhouse furniture, opt for metal details in lighting and cabinet hardware, and bring in accessories that feature wood and metal, along with those made from natural materials like wicker and rattan. But be mindful not to overdo it with accessories – rooms should be calm and uncluttered.
The modern farmhouse kitchen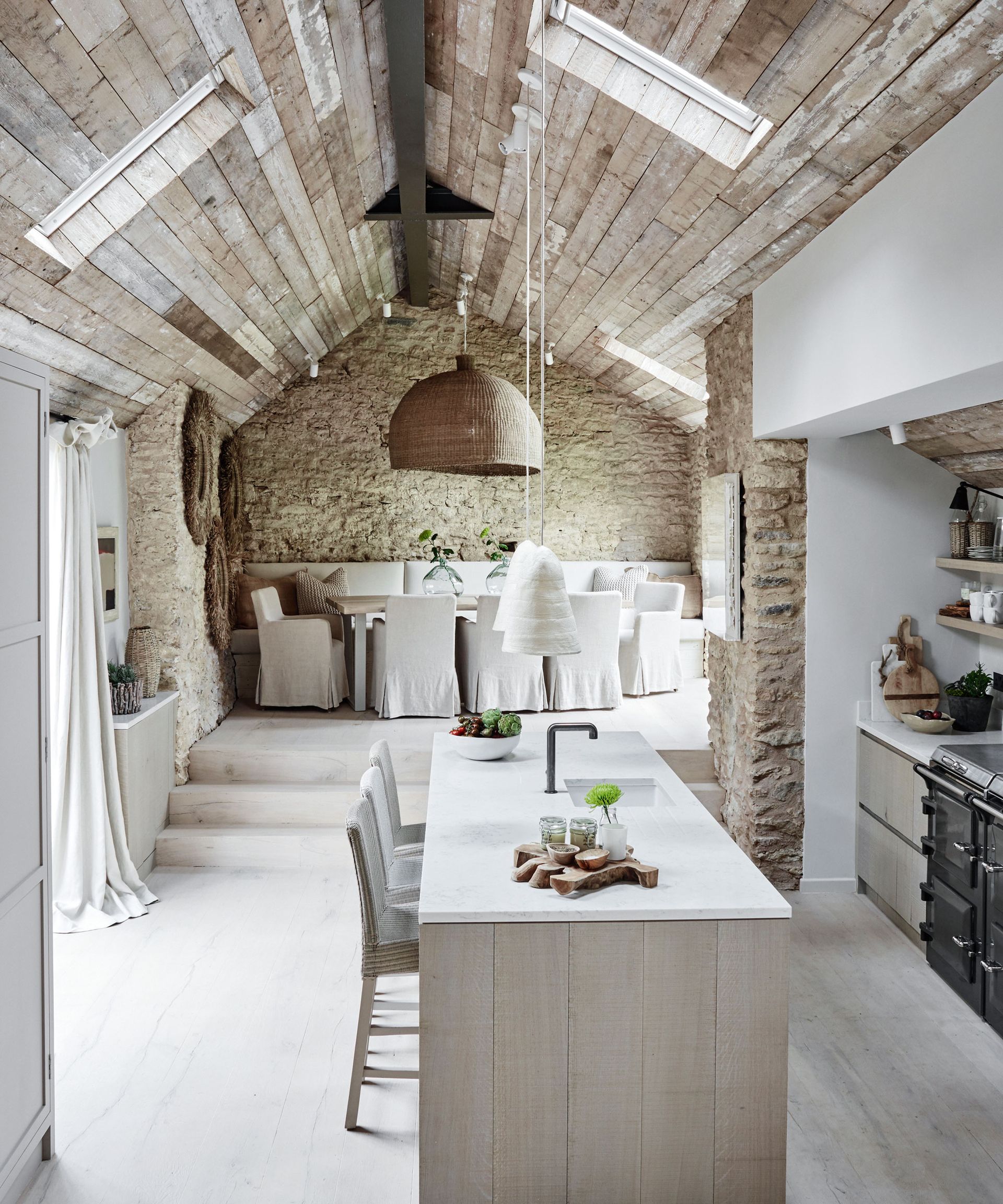 Farmhouse kitchen ideas continue the happy blending of contemporary and traditional elements. Think fuss-free sleek Shaker style cabinetry with brushed metal handles, oversized industrial light fixtures and a large, raw wood dining table for family and friends to gather around. With appliances, stick to modern stainless steel and avoid retro shapes and colors.
If your home has architectural features, bring them into the design of the kitchen. 'I am a firm believer that structural details like beams shouldn't be hidden or changed in any way,' says kitchen designer Tom Howley. 'The beauty of working within architecturally diverse properties is that the briefs are further defined. All designers love working within a brief. It helps to direct your design ideas, and instead of limiting you, these restrictions can actually provide further platforms for great design if you consider the possibilities rationally and creatively. For the perfect modern farmhouse kitchen, incorporate these architectural details into your overall scheme.'
If the room has original flooring this needn't compromise the functionality of the room. 'In many older homes, the flooring can be uneven,' explains Tom. 'You may be unable to correct or straighten original flooring to stop the cabinetry from opening or closing of its own volition. And anyway, it would be such a shame to tamper with original flagstone or wooden floorboards. We use magnets in our cabinetry to correct this instead.'
Modern farmhouse architecture
Modern farmhouse style is just as appealing when looking at the exterior as it is the interior. Traditional country homes offer many of the key architectural notes that modern farmhouse buildings use: timber cladding, lofted spaces and, often, wraparound porches. Other external touches to consider are industrial elements, such as metal light fixtures.
This more contemporary interpretation requires a crisp paint on the outside. White is one of the most classic colors for farmhouses to be painted in. During colonial times, whitewash was used as it acted as a preventative from mildew, and it also offered mild antibacterial properties. Today these are less of a concern, but choosing to keep the exterior in the traditional whitewash, while adding in contrasting highlights of a darker color, usually black, keeps things modern and fresh.
Indoors, modern farmhouses typically have more open floor plans and larger windows than their classic counterparts. The bones may be from the traditional country farmhouse design, but these changes allow more air and light to flow through.
'Keep millwork details simple,' advises interior designer Kate Lester. 'For a true modern farmhouse look we skip crown molding and lean towards more casual detailing, like a board and batten or shiplap paneling. We also keep door and window casing simple and streamlined. Less really is more when you are trying to achieve this look.'
FAQs
What is the difference between modern farmhouse and country style?
Modern farmhouse style has similarities to country style, so what makes the two looks different? 'A true country home will usually be a bit more kitschy than a modern farmhouse home, but both can work to incorporate both old and new looking pieces,' says interior designer Sarah Kruse.
In blending old and new modern farmhouse style takes favorite comforting elements from country style and adds sleek touches with smooth lines, brushed metals and neutral palettes. It's easy to live with, too. As Emma Sims-Hilditch, founder of Sims Hilditch, explains, it offers the charm of country style, but satisfies people's desire for 'their home to be practical and to work for their needs.'
Emma's recommendation for creating the modern farmhouse look without going too country? 'To us, modern farmhouse style is all about creating a cozy interior with layers, pattern and color. One way to get this look (if budget allows) is to open up ceilings to expose the rafters and make the most of the height. Alternatively, adding materials such as limewashed timber cladding to walls and ceilings can immediately transform a room. When it comes to choosing fabrics, try pairing multiple patterns and materials such as a chunky linen with a smooth velvet in a similar color palette.'
Why is modern farmhouse style so popular?
Modern farmhouse style provides an attractive warmth and charm and celebrates the traditional without forcing us to sacrifice modern comforts.
Anna Beeber, partner at Champalimaud Design, says, 'Today, the modern farmhouse is a celebration of the historic form, updated with interiors that embrace a contemporary design perspective. With these kinds of projects our studio is always careful to celebrate the history and include a little patina while being mindful of our client's modern lifestyle. The relationship between the old and the new must be considered and work in tandem with one another – the harmony is essential.'
Sign up to the Homes & Gardens newsletter
Decor Ideas. Project Inspiration. Expert Advice. Delivered to your inbox.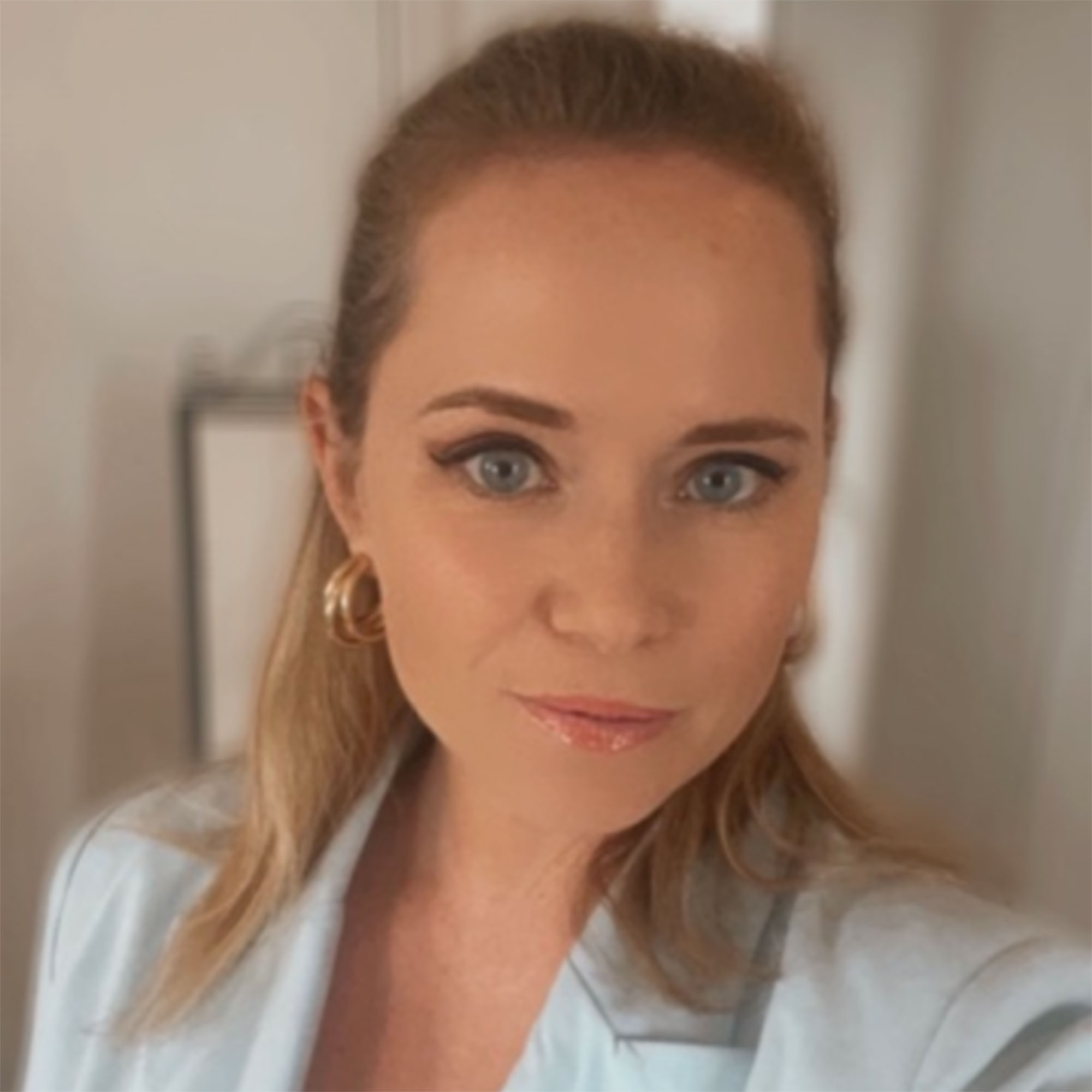 Thea Babington-Stitt is a Content Editor at Future. She has been an interiors journalist for nearly 10 years and has held positions at LivingEtc, Country Homes & Interiors and Homes & Gardens. Currently, she is writing for Ideal Home and Style At Home's websites and magazines.