Backyard ideas – 25 inspiring looks for designing your outdoor space
From design inspiration to inspired planting advice, these backyard ideas will help you to create your perfect space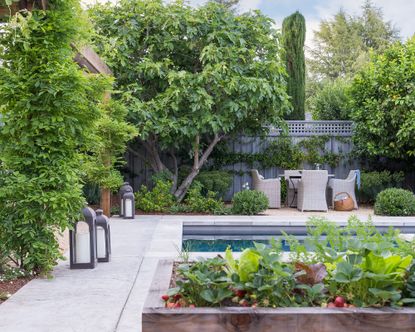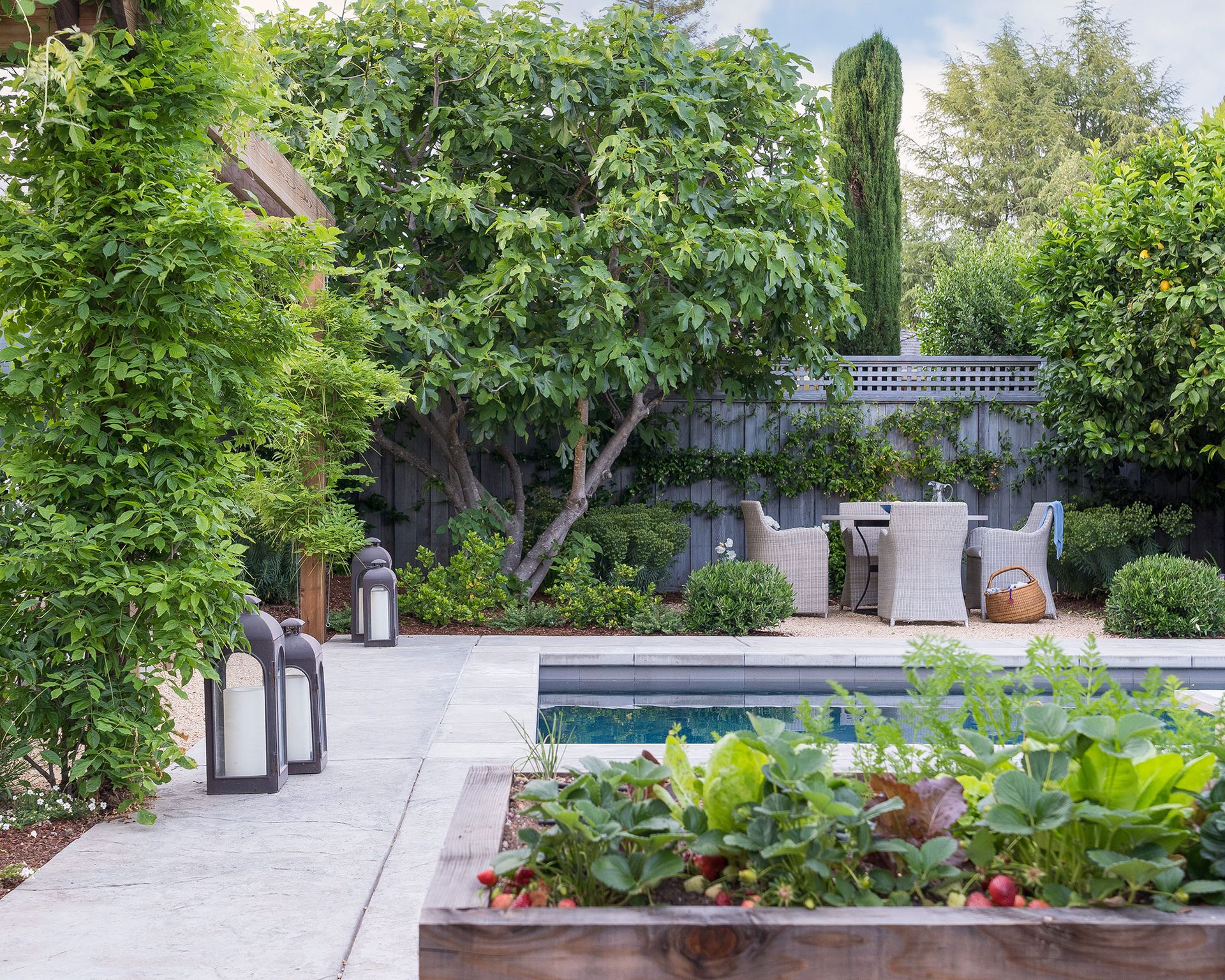 (Image credit: Courtesy of Christian Douglas Design)
Whether you are looking at a complete redesign, or simply want to improve and enhance your space with some new features, the key to successful backyard ideas is a considered mix of planting, landscaping and lifestyle elements.
When deciding on the approach for your backyard makeover, it's always best to start with the architecture of your property and the local area and take your lead from there. Get your backyard landscaping and planting right by following tried-and-tested design rules, then add your own unique spin to give your space the standout factor.
'While the same design principles can be applied to all types of backyard, no matter their shape or size, ultimately each will be exclusive to its owner's tastes and requirements, as well as the plot's unique situation,' says award-winning garden designer Kate Gould.
25 stunning backyard ideas for spaces big and small
Kate Gould explains there are a number of factors to consider when choosing the right backyard ideas for your space, including: personal tastes, the location, and whether you're looking for backyard ideas on a budget or have a bit more to spend.
'Two backyards, side by side, facing the same way, will be markedly different because of their owners' wishes,' she says. 'This individuality makes garden design so much more interesting.'
Find inspiration from some of our favorite ideas for transforming your backyard.
1. Resolve functional issues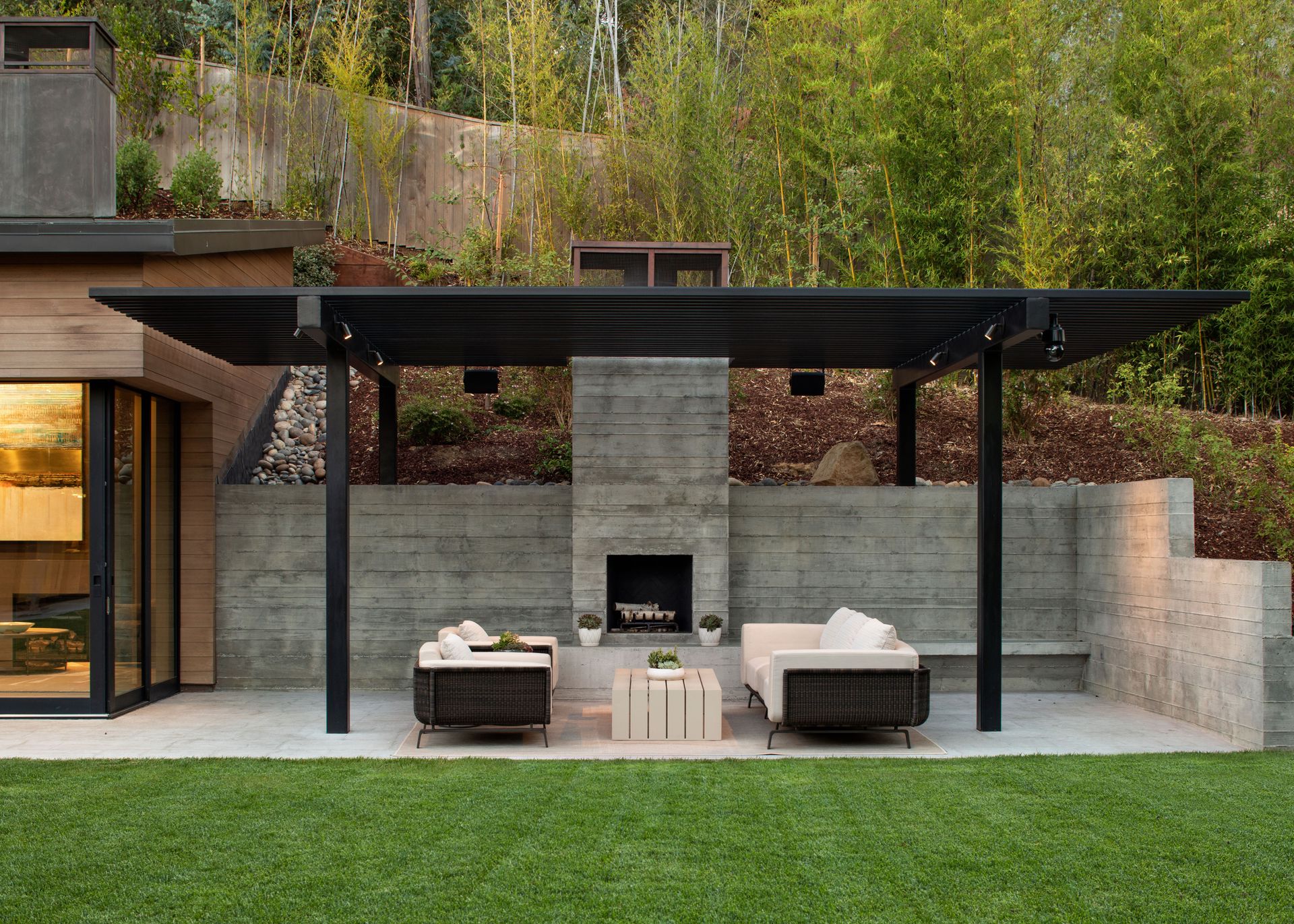 A garden redesign is the chance to not only enhance its aesthetic appeal, but also the ideal time to resolve any practical or functional issues – problems that can be stressful and expensive down the line.
The first consideration should be resolving any issues with your backyard's natural topography.
Joshua Sear, architect and landscape designer at Barlow & Barlow tackled a potentially serious flooding problem in a client's backyard. 'The garden was actually sloping back down towards the house, which meant in wet weather it was flooding the property.'
To resolve this, he considered various sloped backyard ideas, and decided to 'dig down two feet overall and level the whole garden. This created proper drainage so the garden and house are now flood proof,' he explains.
2. Fill a backyard with texture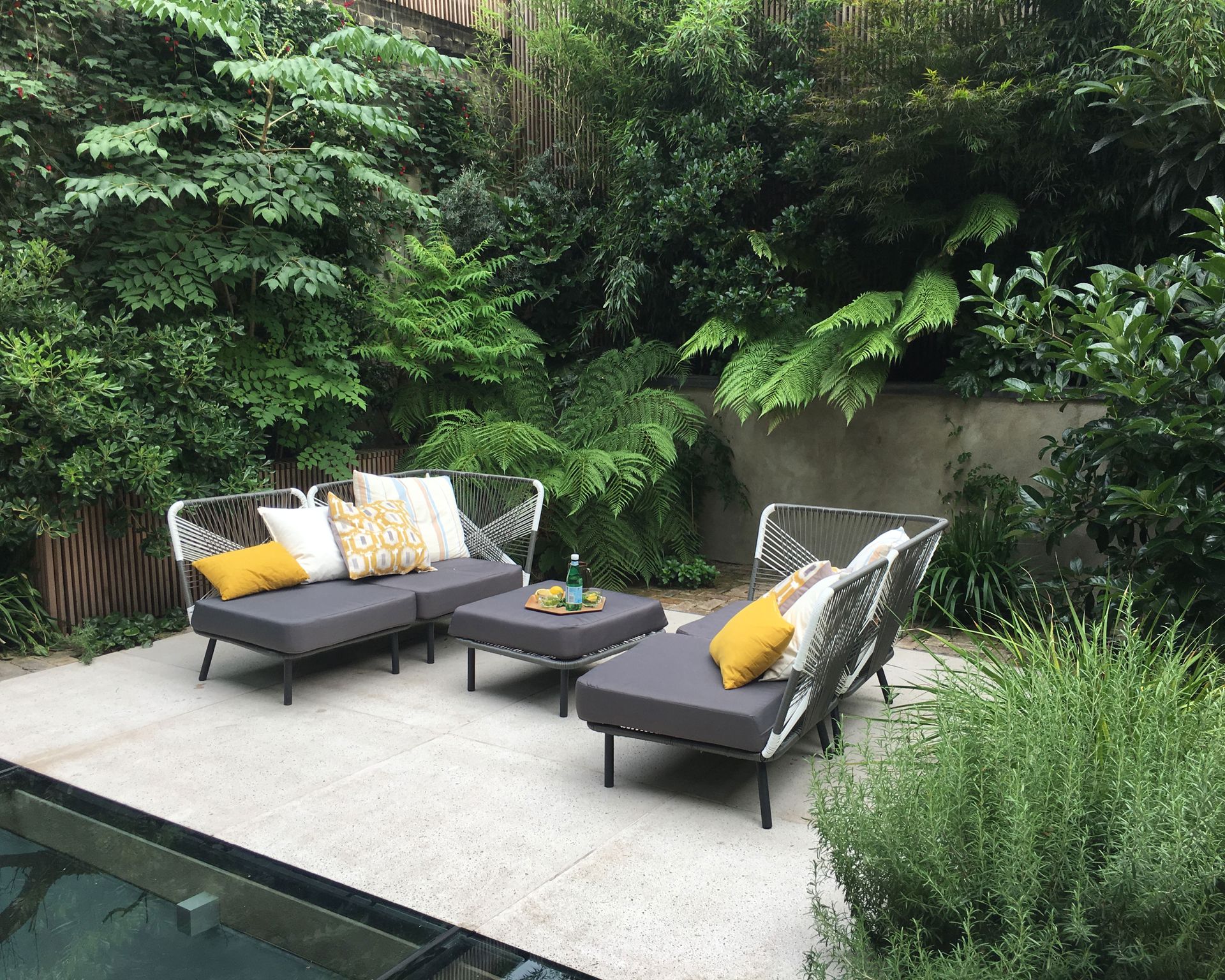 When it comes to small backyard ideas, you can make a real impact and create a sense of more space by filling the area with light and texture through careful planting. If you're wondering how to add luxury to a backyard, then careful choice of planting is one way
Landscape designer Jane Brockbank had to fulfil her client's brief of creating 'a beautiful "green" picture that would be the constant visual backdrop to the main family kitchen/dining room.'
'It was quite a challenge,' recalls Jane, about the space at the rear of a terraced Victorian house.
Jane's aim was to make the space 'full of shimmery light and texture,' so she decided to dig out the whole garden to the new basement level, including underpinning all the walls, placing planting in newly created beds at lower levels.
'It was a very constrained site – we needed to make it feel lighter and bigger than it was,' continues Jane. 'Much thought was given to the walls – they are very tall so we used many contrasting tall evergreen shrubs and evergreen climbers to counteract this.'
3. Create contrast with light and shade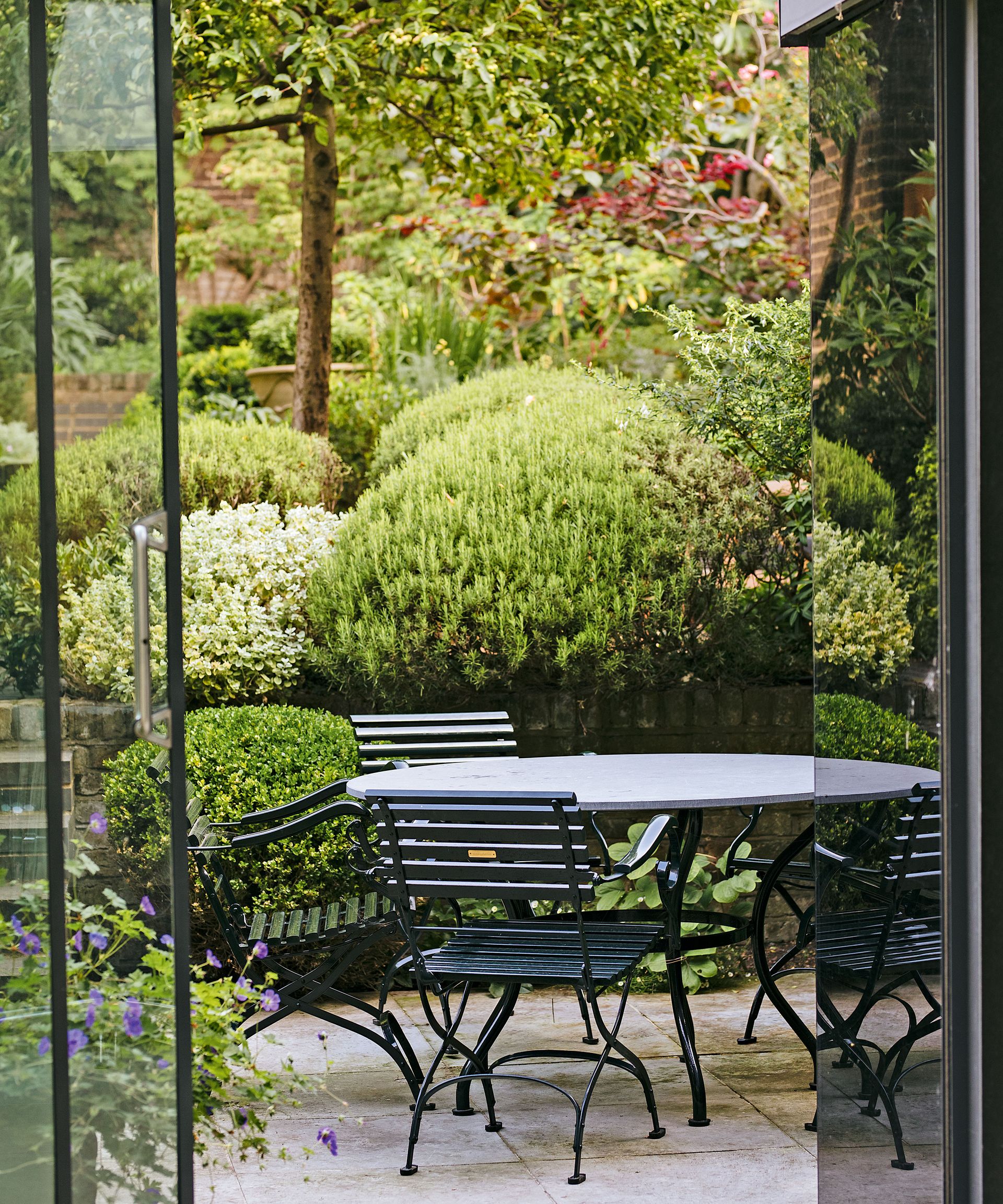 Develop different planting between light and shaded areas for a garden of contrasts. There are many plants and shrubs for shade that can create a feeling quite distinct from sunnier areas of the garden.
Award-winning landscape designer Emily Erlam has created this, her own, small garden from a long narrow space behind her house. Its setting means it is naturally fairly shady.
'A tall wall on the back elevation makes it feel very private and enclosed, and now I have some quite tall structures in there it creates an even greater contrast between light and shade. In many ways this has been its success,' says Emily.
There are different factors to consider in how to design a sloping garden. 'We created raised terraces as you go up the garden to maximize our opportunity to capture sun and, seen from the basement, these also give a feeling of a cascade of planting,' says Emily.
She embraces its shadiness, calling it a 'garden of evolution', and continues to develop the planting since it was reworked about eight years ago. 'I have found that specific areas require different treatments to make the most of things like sunny spots and special spaces,' she adds.
4. Add bespoke backyard furniture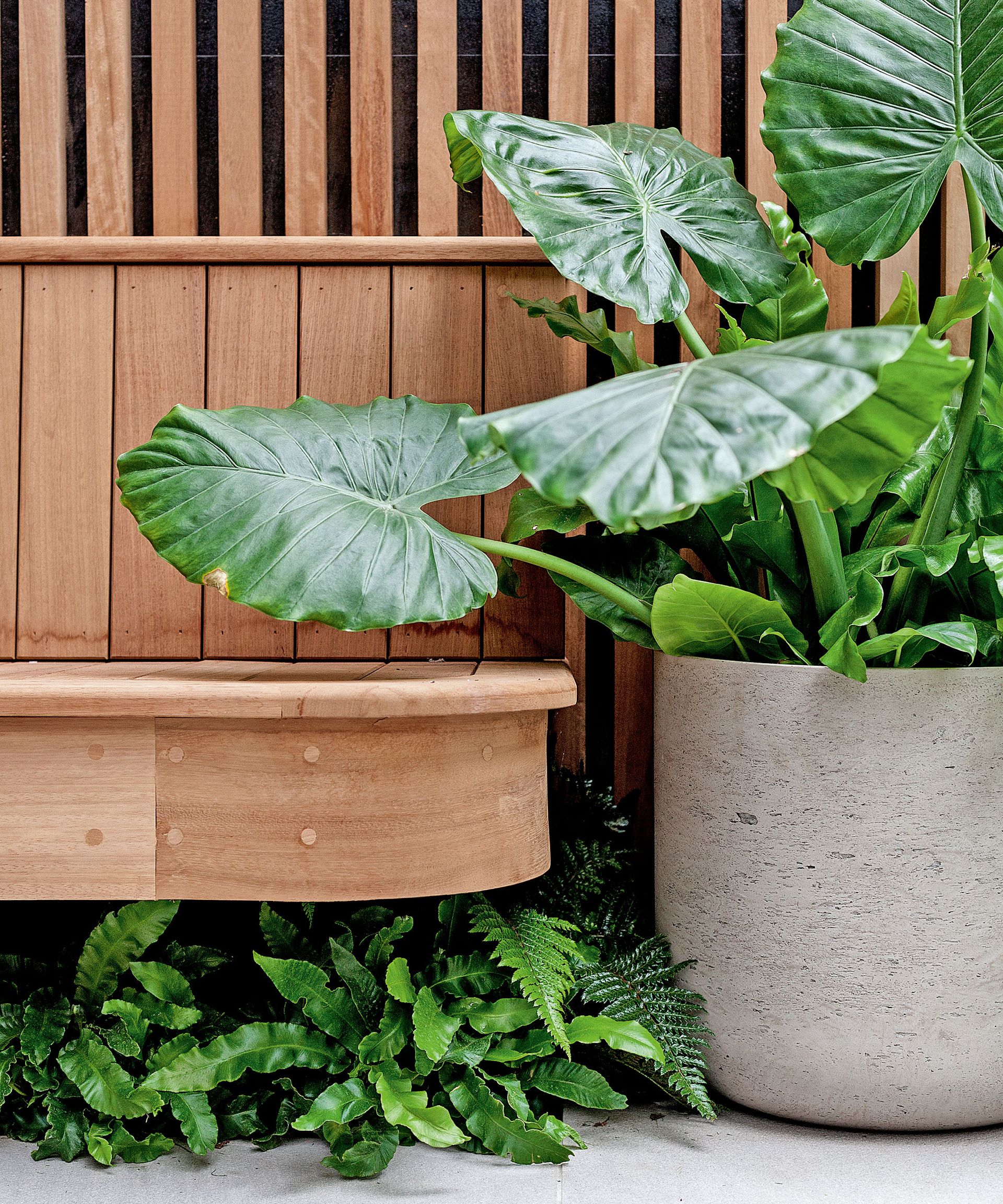 Do not overlook the importance of outdoor furniture in your backyard ideas, and bespoke pieces can help to achieve your unique vision for the space.
This sculptural bench was created entirely on site in the garden by the Rosebank Landscaping team. 'We chose iroko hardwood and steam-bent it on site to ensure it fitted perfectly into the space,' says Matt Keightley, design director of Rosebank.
The vertical lines above the bench complement the curves of the seat and the surrounding exotic planting adds a soft contrast to the harder surfaces of the timber.
'We used Asplenium scolopendrium and Dryopteris wallichiana under the bench,' continues Matt.
Outdoor furniture doesn't have to be off the shelf. Local fabricators can help you achieve a unique vision if you have the time and budget.
5. Plant a living backyard wall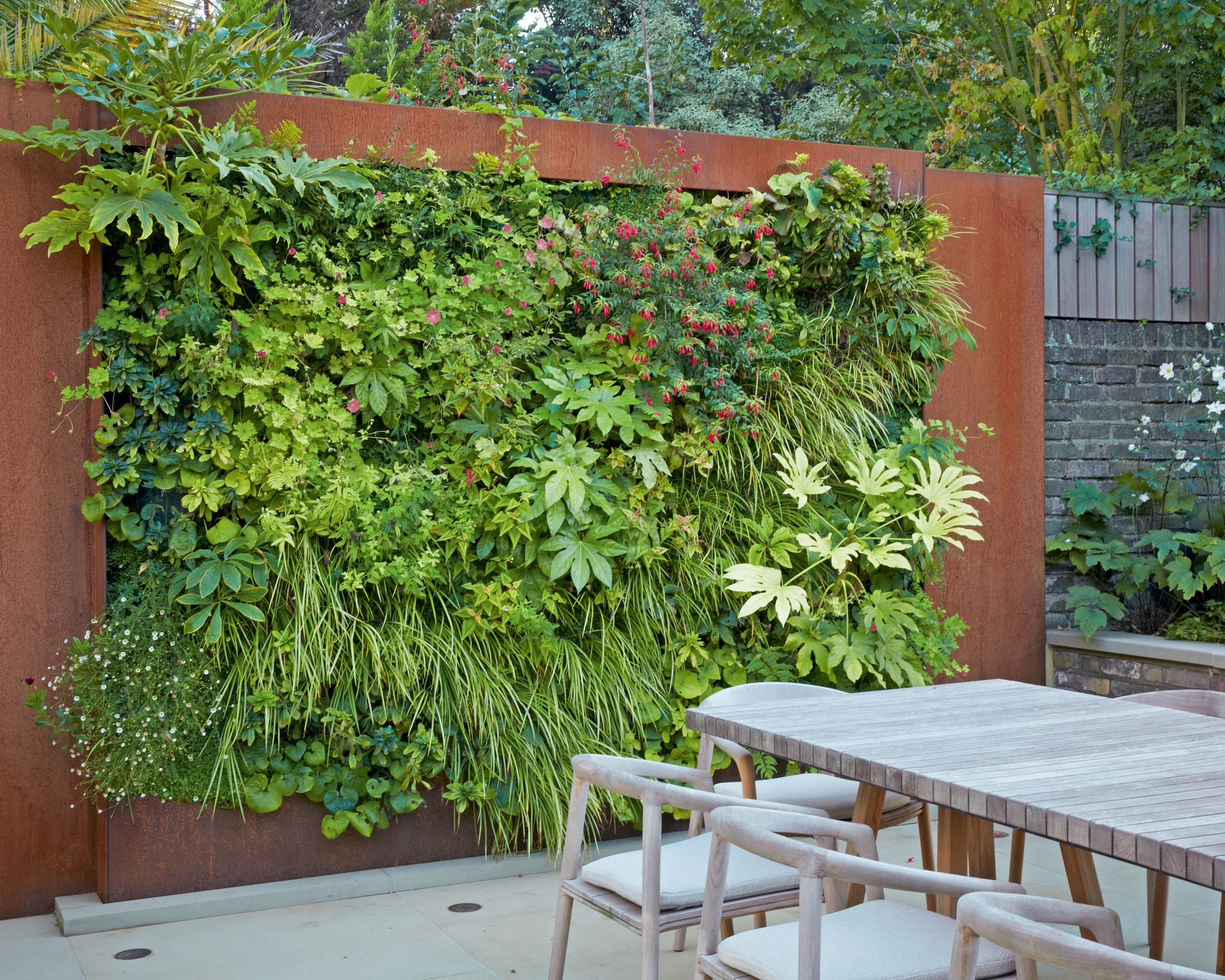 Living wall ideas can transform an outdoor space, and the range and sophistication of the systems' structures and maintenance make them suitable for many backyards.
Tom Massey Studio worked with Tapestry Vertical Gardens to design this, one of two high walls covered in vertical greening, for the client's garden in London.
'These walls create a sense of enveloping nature. Here this creates a focal point for the dining area and includes ambient lighting for evening entertaining,' says Tom Massey.
Living walls are among the many vertical garden ideas that can make the most of every growing surface.
6. Lose the lawn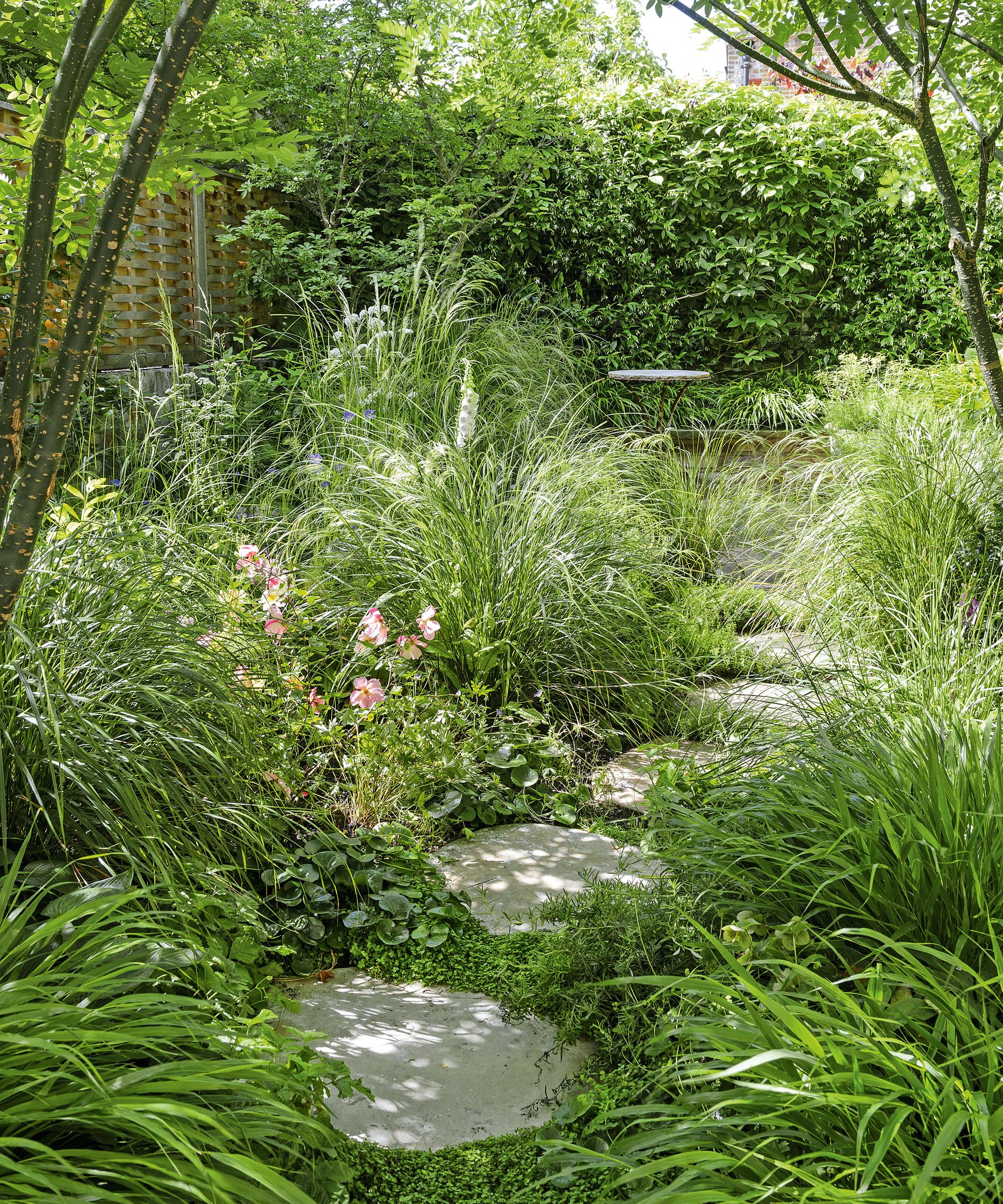 Consider if you backyard needs a lawn. For family gardens a lawn is often an important element to allow for childhood play, but if it's not then think about replacing it and creating a no-grass backyard, particularly if you have a small or narrow garden.
Garden designers Charlotte Harris and Hugo Bugg of Harris Bugg Studio convinced their clients to lose the lawn in this backyard and rewarded them with sophisticated planting that creates way more atmosphere than cut grass ever could.
'As the garden opens to sun, the wildflower meadow-like planting is full of white foxgloves, Digitalis purpurea 'Dalmatian White', meadow cranesbill, Geranium 'Brookside', and valerian, Valeriana officinalis,' says Charlotte.
'The brief was to create a nectar and edibles-rich haven for people and wildlife that reflects the client's love of foraging and cooking,' adds Hugo.
The backyard has many plants for pollinators and a small vegetable garden. Edgings of wild strawberries and rosemary provide texture and ground cover, and herbs, such as sage, thyme, fennel and lemon verbena, grow in sunny spots. Lemon balm and different varieties of mint, which can be invasive, are grown in herb planters, and a prolific Sichuan pepper, Zanthoxylum simulans, is planted towards the back.
Stepping stones made from York stone paving, which was saved from the original garden and used to create a winding garden path, lead to an 'evening terrace' in a small clearing at the rear of the garden.
7. Mix and match materials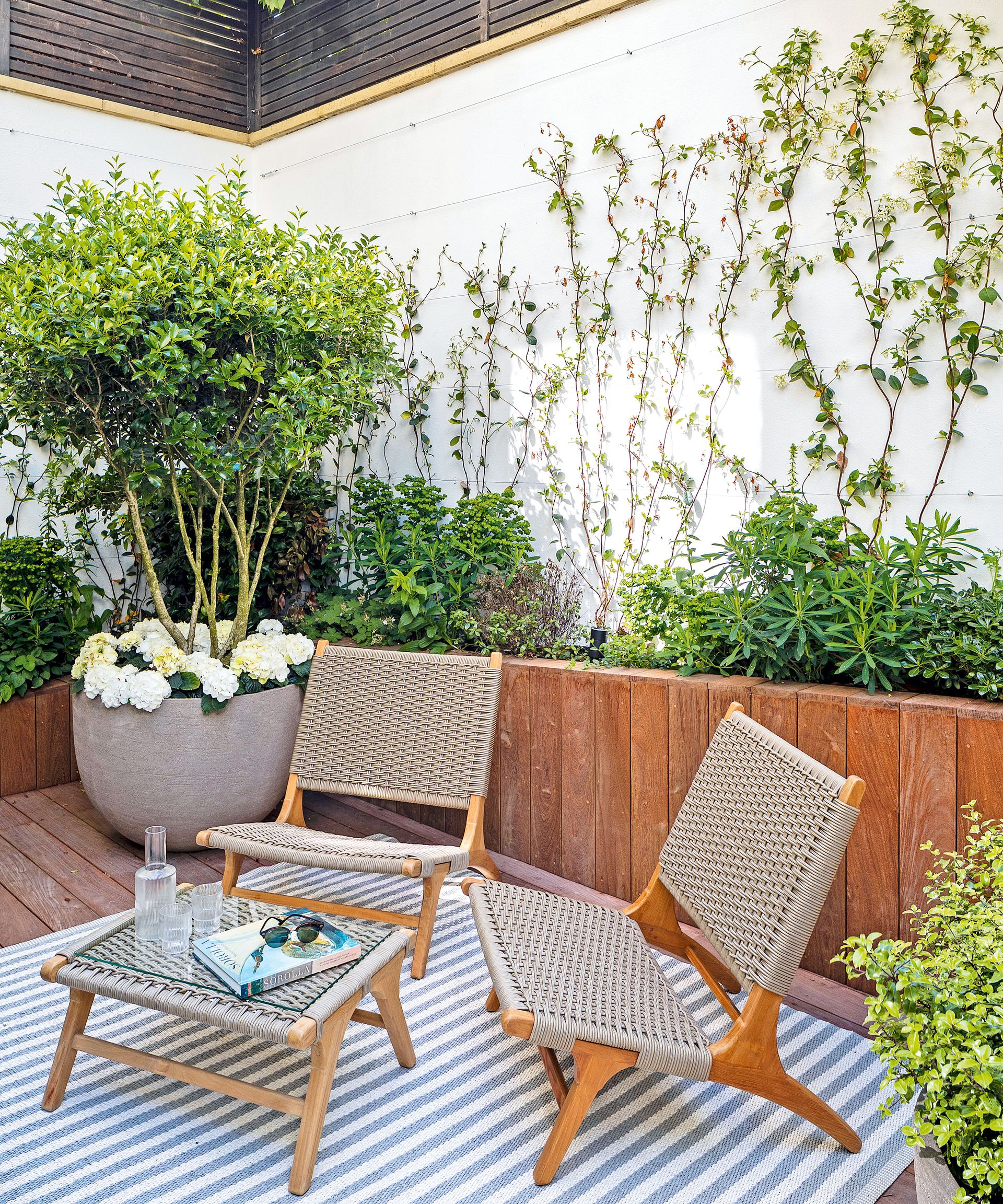 Think about the mix of materials you can include as part of your backyard ideas. Garden walls in particular can utilize a mix of textures and finishes.
Attention to detail paid off when designing this enclosed seating area, part of a garden which is split over three levels. Interior designers Kitesgrove worked with horticulturalists Cameron Gardens who created the pots and planters around the outside of this walled space, which has been painted in a light shade to draw more light into the space, with horizontal fencing panels adding another texture.
The planting softens the impact of the boundary walls. Cameron chose a mixture of flowering and evergreen plants including viburnum, pittosporum and camellias, plus jasmine for its delicate flowers and evening fragrance.
The striped outdoor rug picks up on the theme of vertical and horizontal lines and lightens and softens the look of the wooden decking.
8. Plant between steps for added greenery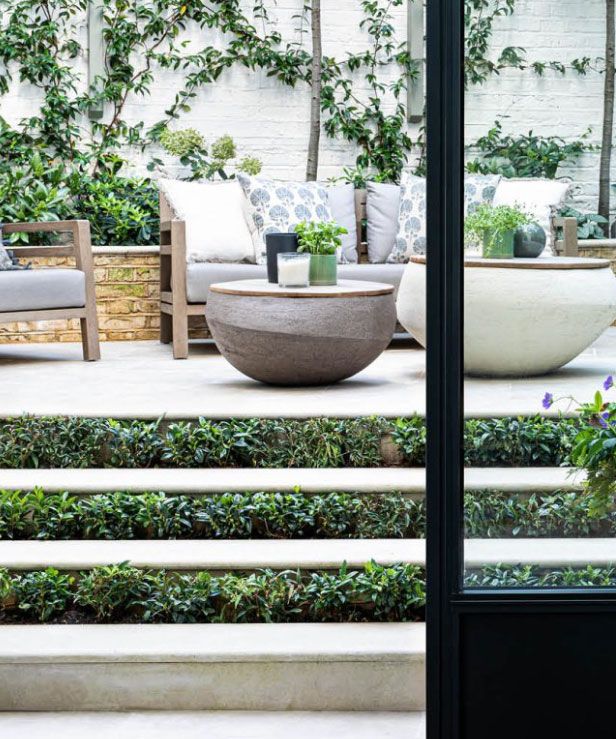 Planting into hard landscaping is the perfect way to soften its impact when you're considering how to landscape a backyard.
Simply by inserting planting between the steps here, a sense of natural beauty has been injected and the garden as a whole has been enhanced.
Landscape designer Stefano Marinaz explains how he achieved this result: 'The steps are built using concrete block work and then clad with stone. To accommodate Sarcococca hookeriana 'Humilis', we made a gap between the steps of about 100mm to allow for the soil and drainage. This specific evergreen sarcococca was chosen because it stays compact.'
9. Use evergreens for drama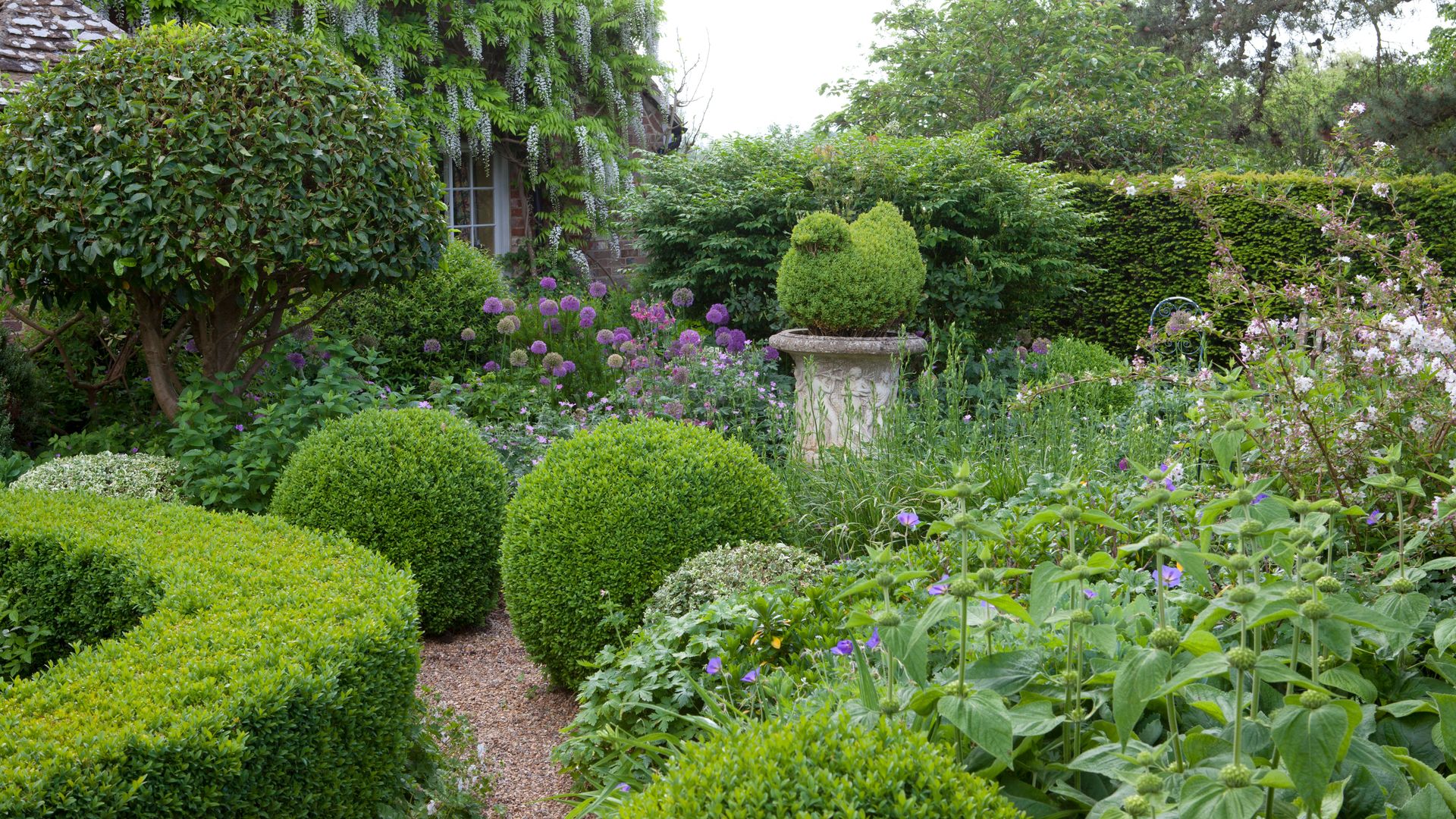 However small or shady your outdoor space, you can still use plants to introduce drama.
Landscape designer Emily Erlam has harnessed their architectural forms to create real green impact in her own garden.
'There is a high proportion of evergreen sculptural plants which means it has good structure all year round,' Emily explains. With many evergreen fast-growing shrubs you can quickly create the effect you are after.
'I have added some ornamental grasses and perennials, which grow between these to make change and add to the drama. The shapes of the plants hug the walls and some arch over the seating area to make it feel enclosed,' she adds.
10. Zone your backyard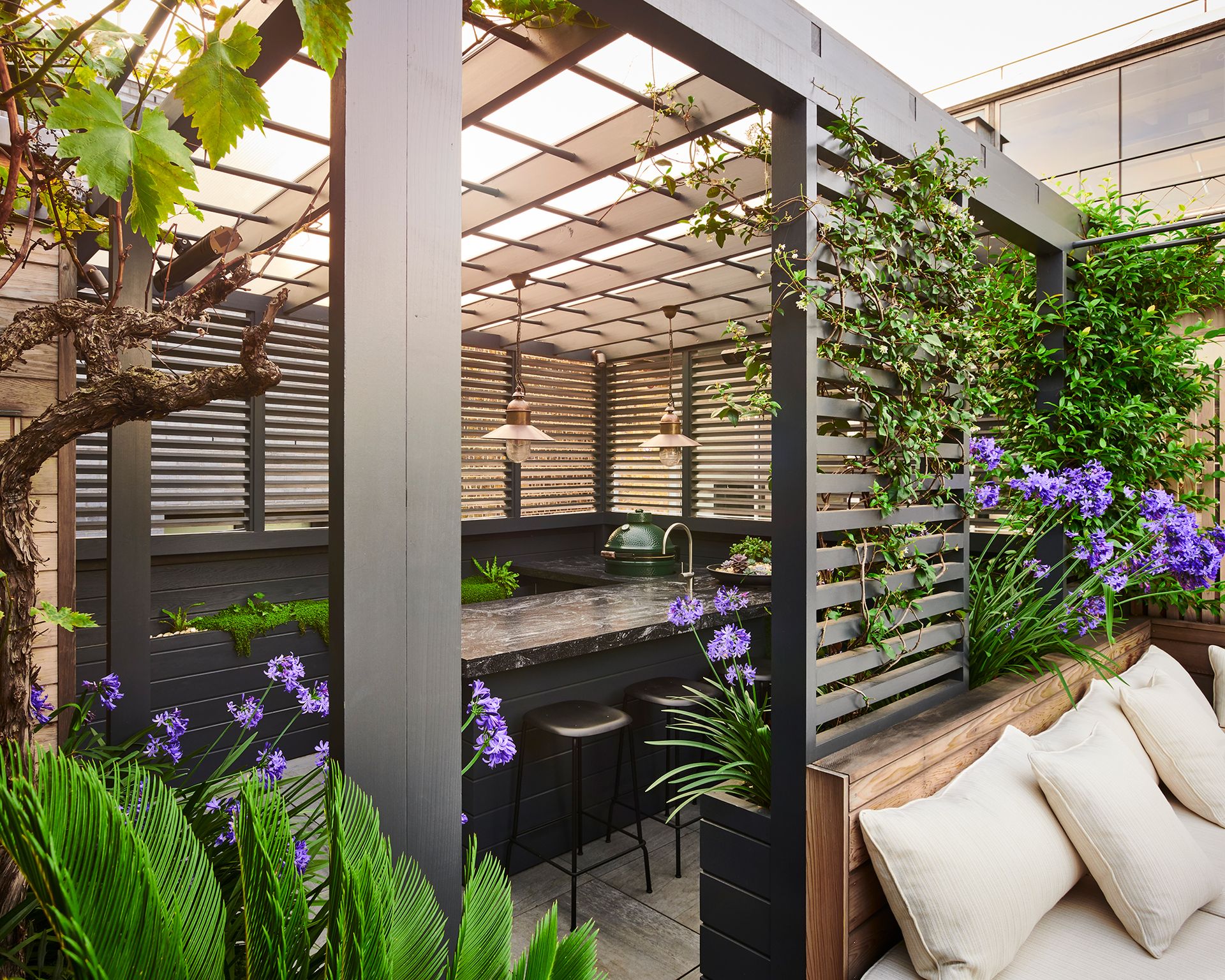 Think about how you would like to use your outside space. Consider creating an outdoor kitchen and dining area for entertaining and impromptu barbecues, and perhaps a separate lounge area for some quiet relaxation.
Adding a tucked-away bench where you can enjoy your morning coffee or a cocktail at the end of the day can be another way to create more interest in the garden. Ideally this should be revealed as a surprise that can't be seen from the house. Covered patios work well in this respect.
The way you divide up the space – known as garden zoning – matters, too.
'In terms of creating distinct zones, it's important to use garden screening ideas, such as climbers and plants that act as veils to divide spaces rather than solid walls that can't be seen through. This makes for a more dynamic space without making it feel smaller,' says garden designer Adolfo Harrison.
Garden designer Tom Massey adds: 'The most successful spaces reveal their details and invite discovery. Zoning and dividing backyards is a useful technique to draw the eye and the visitor into the space.
'In a long, narrow backyard, zoning and dividing creates a sense of intrigue, giving different areas different atmospheres and characters,' Tom adds.
11. Go for bold paving for a statement backyard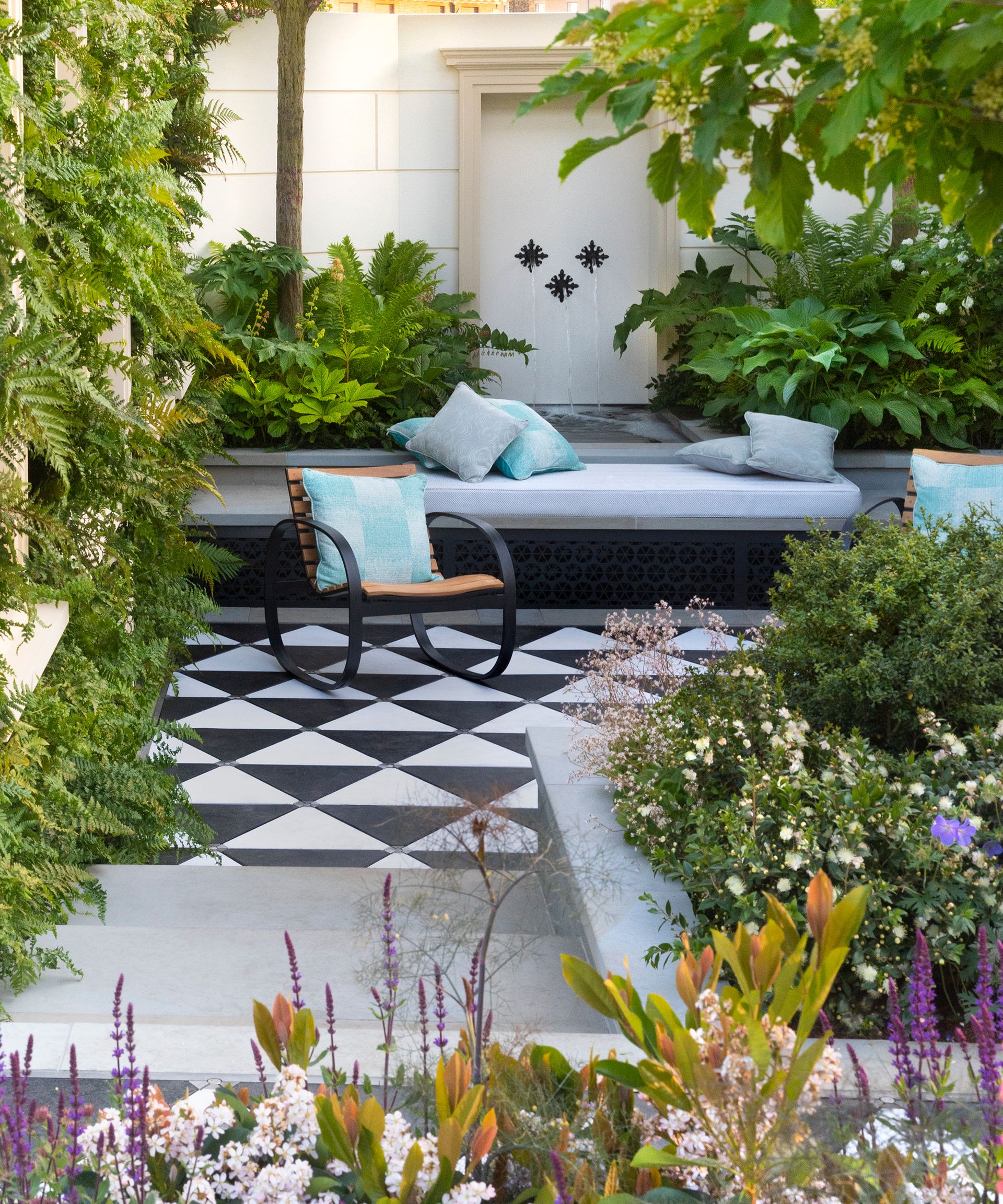 Modern patio ideas are a great way to tap into the 'inside-outside' lifestyle trend, where the garden is seen as an extension of the home.
A successful small space always requires careful consideration and inclusion of all the components that make interaction between house and garden possible. Choose hard surfaces for entertaining and relaxing. Mixing in a surprise design element, such as geometric tiles, will give your paved backyard the wow factor.
'Ensuring that your design is bold will give it longevity and make it appealing for as much of the year as possible,' says garden designer Kate Gould. 'Get the bones of the scheme right and the planting will shine.'
12. Create a visual link between indoors and out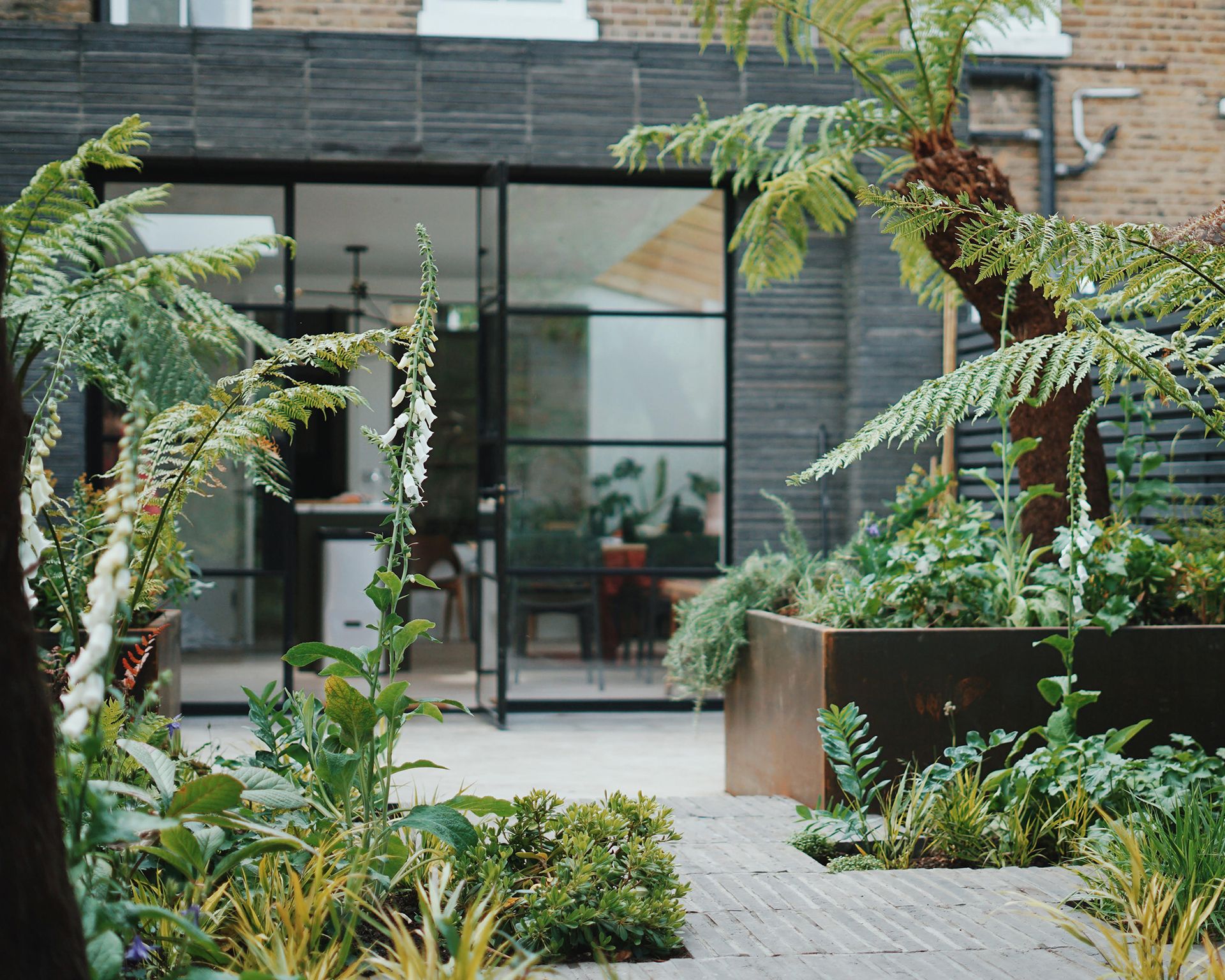 Take one small element such as a landscaping material and use it to create synchronicity between house and garden.
The understated hand-thrown clay pavers in this garden create a soft and natural look that works in both contemporary and traditional design schemes.
'The clay pavers used on this house extension have been repeated on the garden path in the same stack bond format,' says Tom Massey. 'This creates a visual link between house and garden. The staggered laying pattern creates pockets for planting to fill and soften the hard landscaping.'
Another simple way of creating a link is to pick up a color from the house and repeat it in the garden color scheme. Corten steel planter box ideas contrast with the natural stone.
13. Choose integrated seating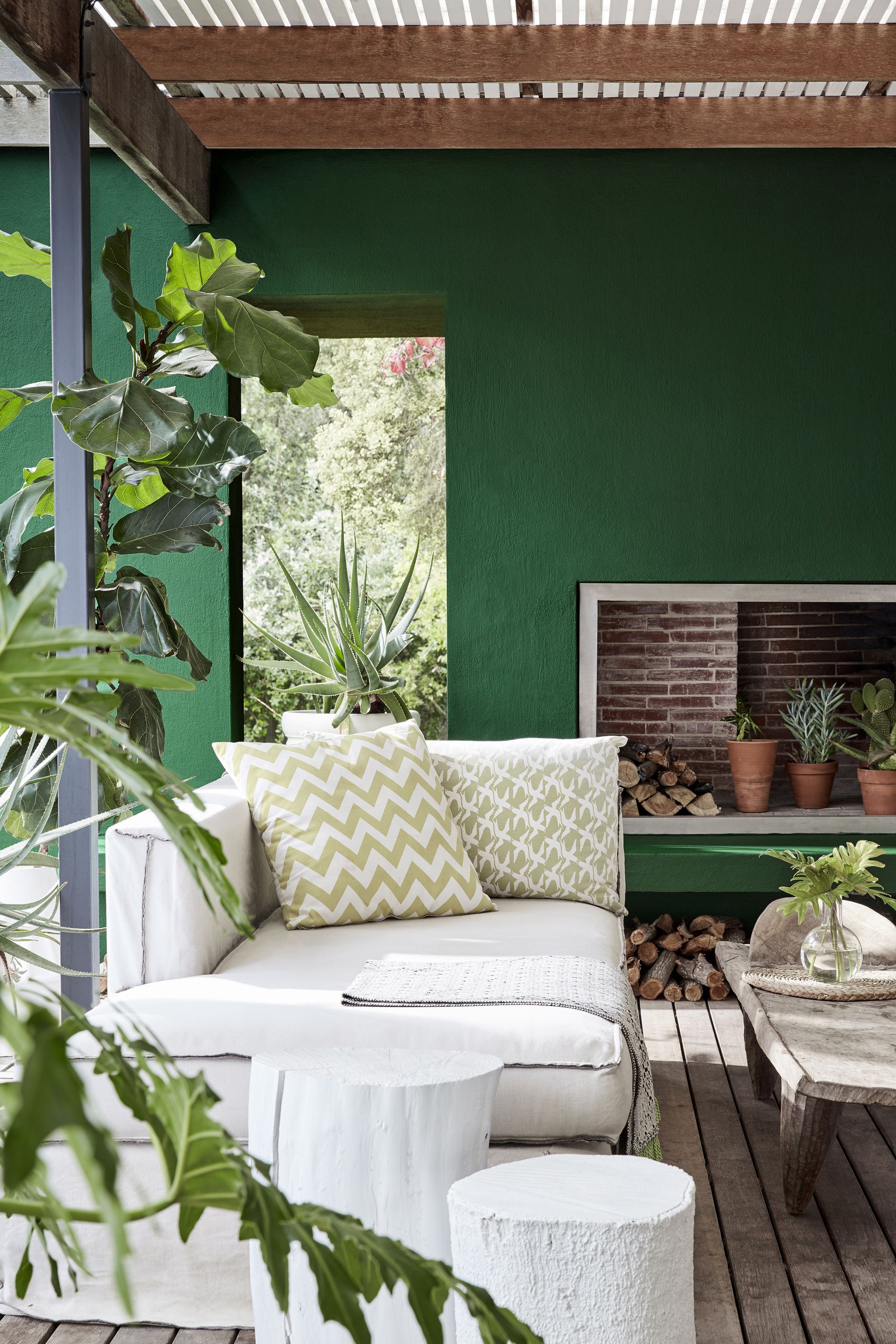 Space permitting it's good to incorporate several different seating areas into your backyard ideas to add interest.
This would include choices for dining and relaxing, as well as introducing the odd wild card, such as using Adirondack chairs in a secluded corner for quiet reading or browsing.
Consider adding customized seating in materials like stone, brick or wood specially designed to integrate into your space. Stylish seat pads can then be added that co-ordinate with your overall scheme.
Think about incorporating a lift-up design as garden storage for cushions when not in use. Freestanding benches are a great choice as well when you need extra seating.
14. Add a pergola for privacy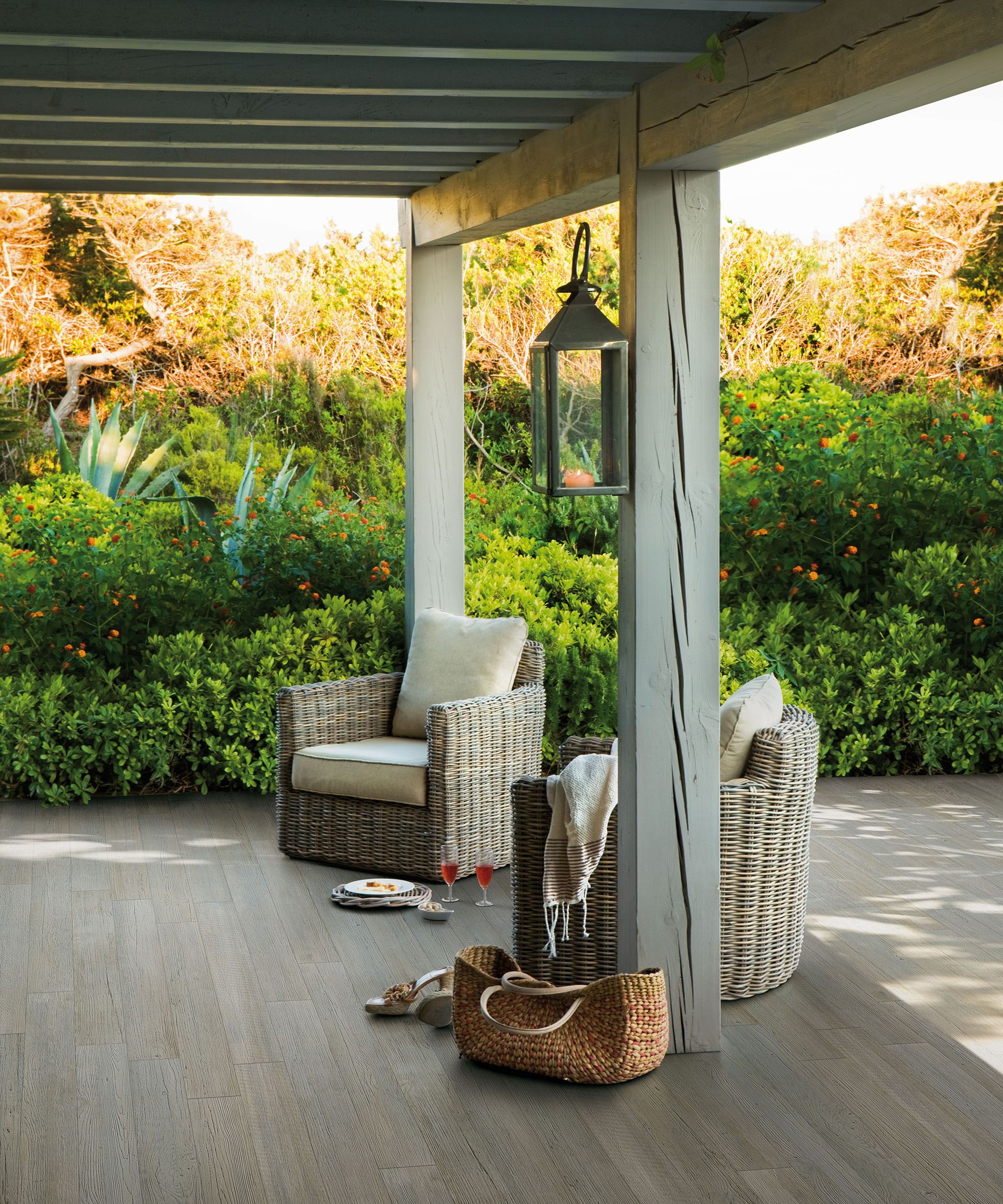 Think vertically to make use of the space above your backyard, too. Eye-catching pergola ideas will add an architectural element, especially if you leave them unplanted so the clean lines are allowed to work as a design feature.
Offering patio privacy and shelter, a pergola will add a new dimension to the possibilities for entertaining in your yard, offering up a space that can be used whatever the weather.
When there's a chill in the air, simply add an outdoor rug, backyard fire pit, or heater so you can maximize the amount of time you spend outside.
15. Add atmospheric backyard lighting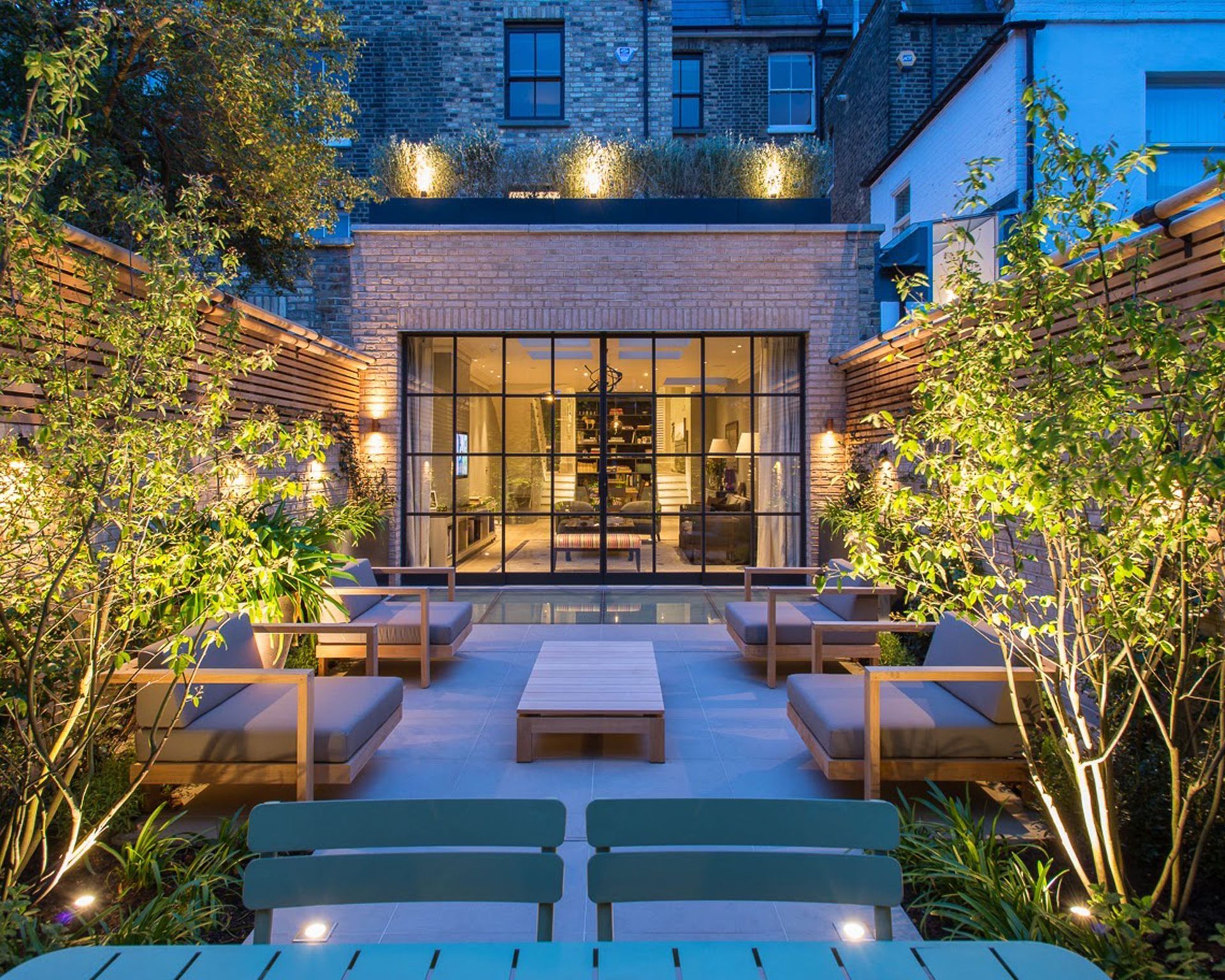 Discreet outdoor lighting ideas add drama to the evening garden and create a welcoming ambience. It brings another dimension to an outdoor space, making the backyard usable all year round.
Plants take on architectural qualities when uplit, adding a dramatic quality that's very different from daytime.
Choose uplights that are either recessed into the ground or set on a moveable spike as they are ideal for illuminating plants and can be shifted to suit the mood. The light diffuses up through the plants to cast sculptural shadows against the backdrop of a wall or fence.
Uplights work best with ornamental grasses, bamboo and palms, which all have architectural forms to create shadow play.
Pool lighting ideas can also turn this area of the backyard into an atmospheric entertaining space in the evening.
16. Create seclusion in an overlooked backyard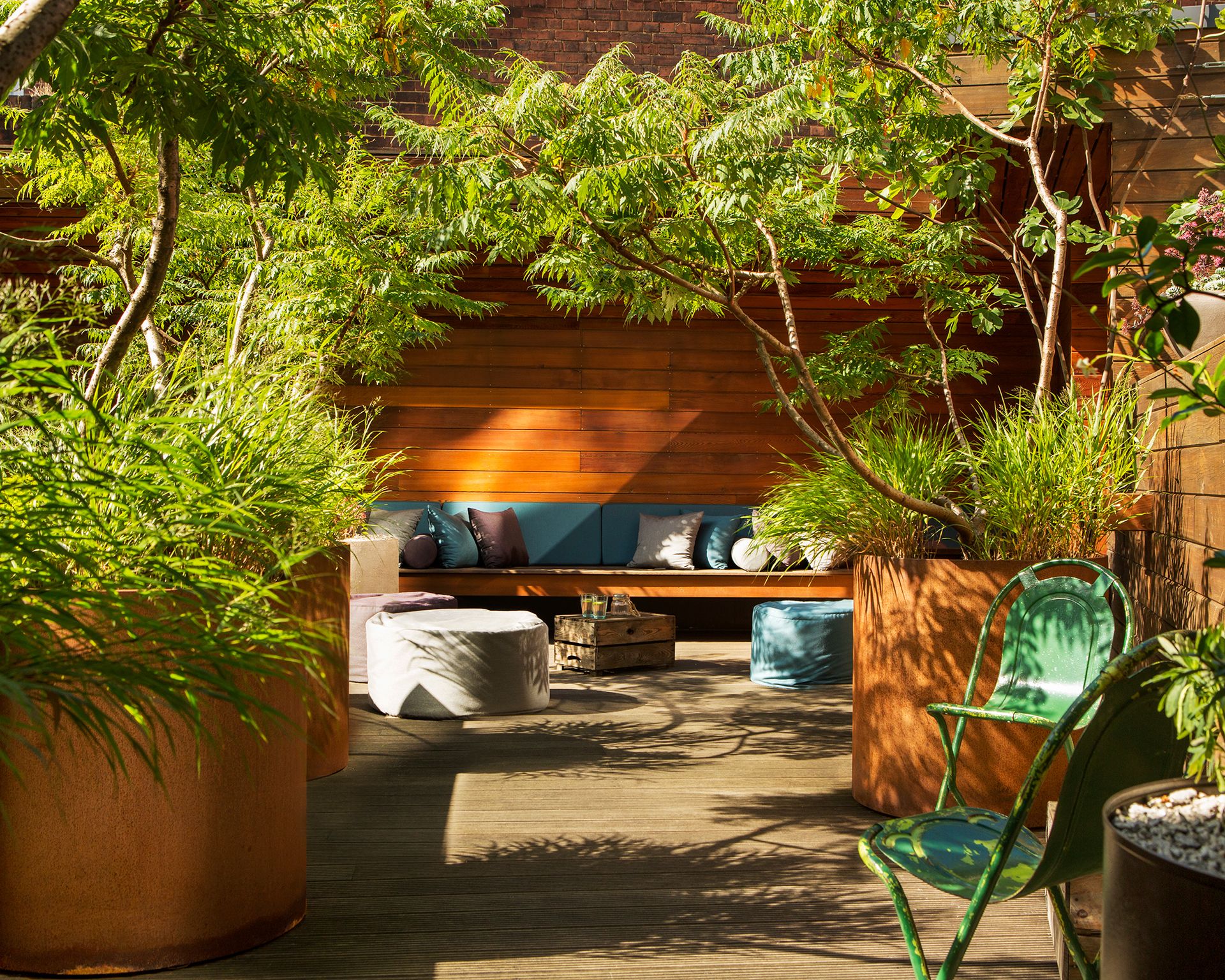 Consider what elements can be introduced to make your space feel more private, particularly if it's in close proximity to other properties.
Using some of the best trees for screening and privacy, or trees for small gardens in large planters is a good way of creating a secluded space. There are also many shrubs for privacy or privacy hedges to choose from.
Take inspiration from Mediterranean garden ideas and used planting that will thrive in a sheltered environment like this, but remember to factor in how big things are likely to grow as this needs to be included in your plan.
'The use of trees in these corten planters provides a sense of enclosure for an overlooked terrace,' says Adolfo Harrison. 'Corten steel suits both traditional and contemporary schemes. It's a good way of mixing in a modern material that has an old feel about it. The orange hue looks stunning as a backdrop for greenery, too.'
If your space is overlooked from above but planting isn't an option, then a garden parasol can also be used as a freestanding screening device. Whether you opt for cantilever or traditional, our guide to the best patio umbrellas offers some useful options.
17. Style your space for an individual look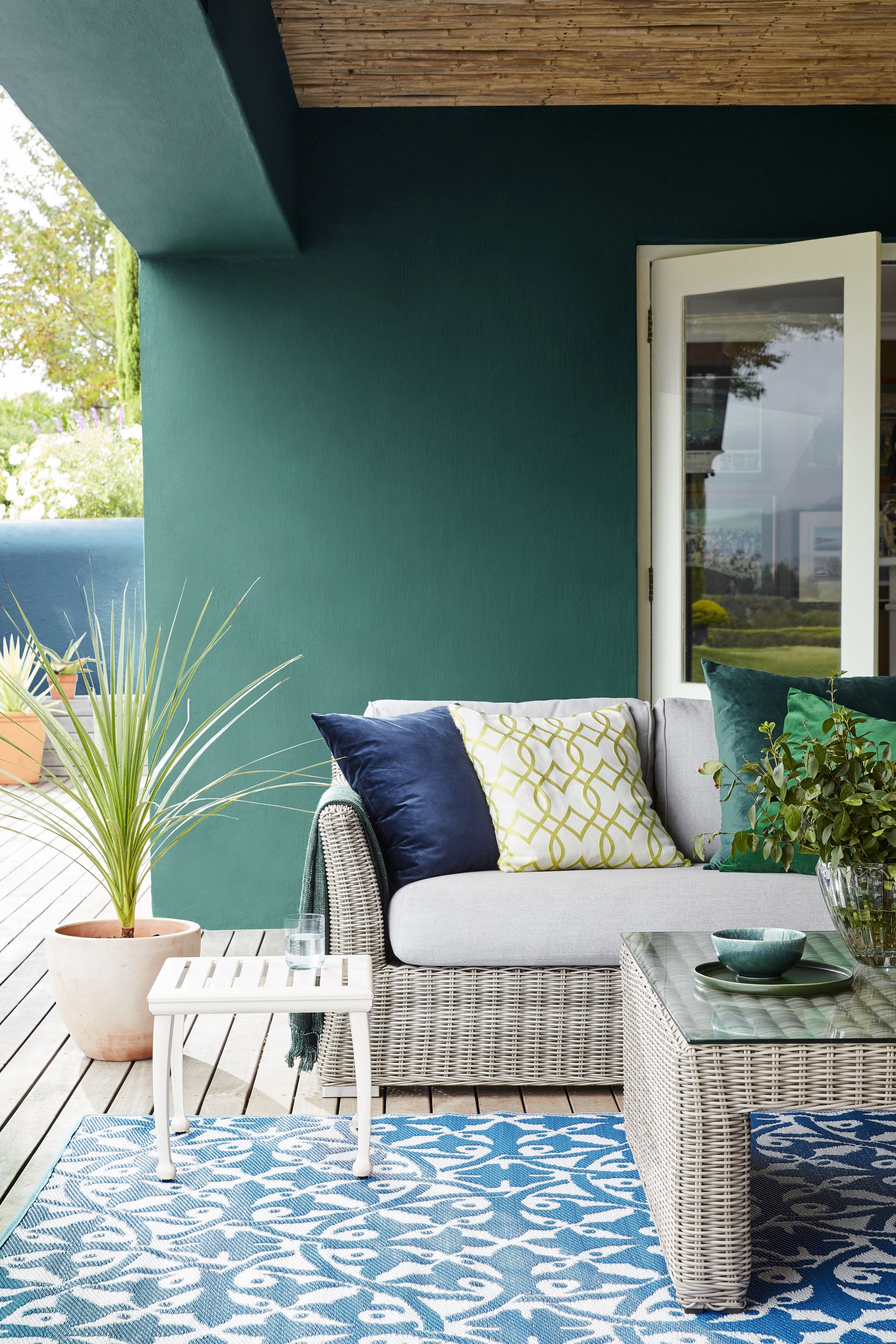 Add a personal touch to your backyard with carefully chosen pieces that pull the whole look together.
Whether it's cushions, throws and outdoor rugs, or bigger items such as furniture and garden sculpture or yard art ideas, aim for these finishing touches to tie in with the backyard design theme. Foldaway tables and outdoor chairs are a great additional choice to bring out when you're entertaining.
Rugs, cushions and throws in muted tones of dove gray are contemporary yet have a classic quality. Gray is also a good neutral to tie in with your planting scheme, and it's a natural fit with landscaping materials such as concrete and stone too.
18. Use paint to add splashes of vibrant color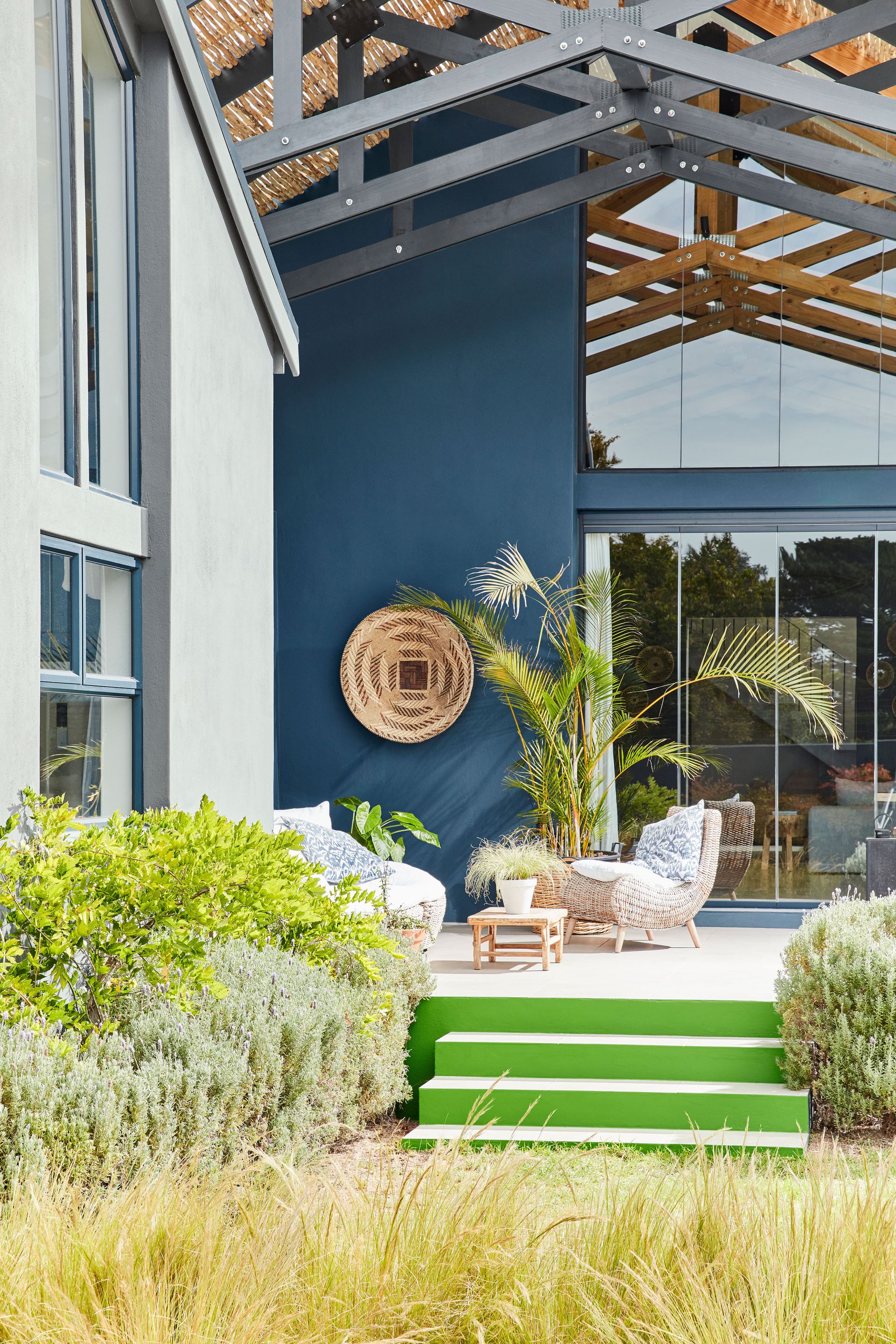 Even the smallest backyard or patio can be turned into a great entertaining space, as this patio demonstrates. This stunning courtyard backyard has a cozy seating arrangement, surrounded by planting to make it feel secluded.
The green steps are a clever painted patio idea that injects a splash of color and vibrancy to the overall space without it dominating the overall scheme. Plus, it would be easy to swap this for a different color further down the line should you fancy a quick patio makeover.
19. Create a striking focal point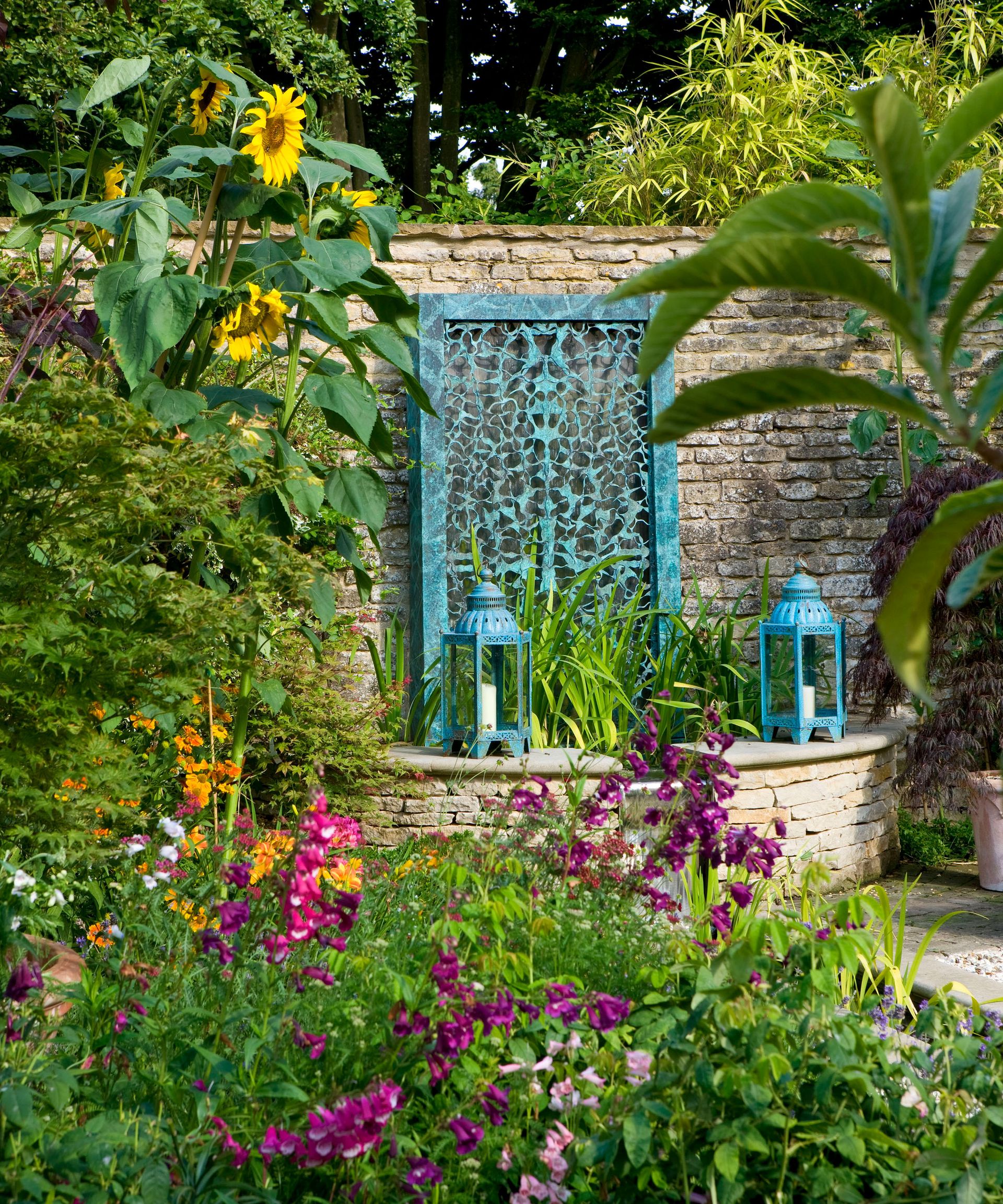 A focal point in the garden that you can see from the house will tie the two spaces together.
This could be a water feature, a garden pond, sculpture, decorative planter or architectural plants lit for effect at night to create an atmospheric backdrop that can be enjoyed from indoors, too. It has the bonus of making the interior feel more spacious as the eye is drawn outside beyond the walls.
This filigree bronze water wall by David Harber adds movement and an artistic element to a garden.
20. Surround a backyard pool with planting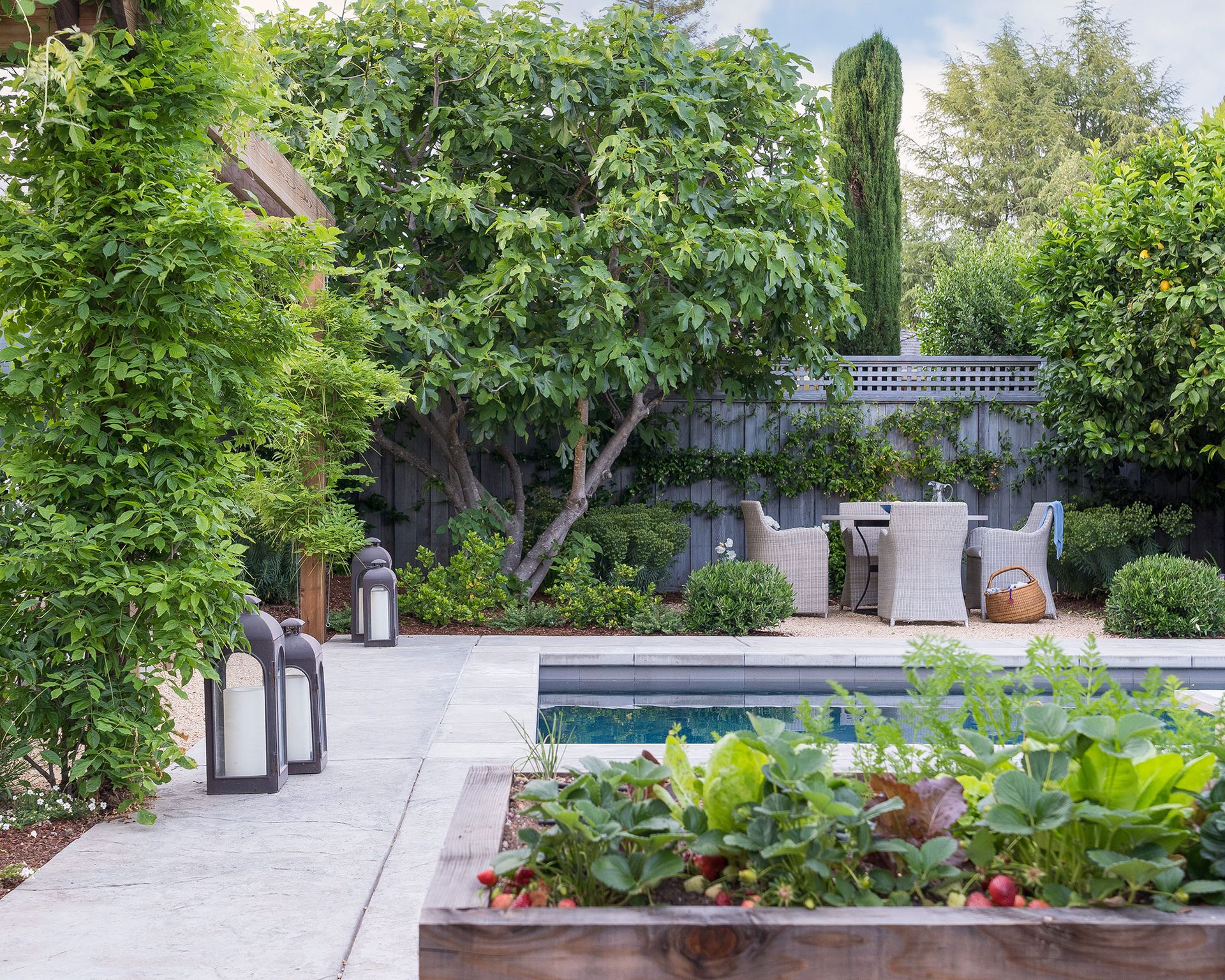 For a low-maintenance pool landscaping option that looks good, stick to a palette of planting with only one or two colors in addition to green.
Limit the number of different types of plants, especially if you're working with a small backyard, as too much can look crowded and fussy.
Always use a combination of structural and seasonal planting, such as a stylish and easy mix of low evergreen hedging, grasses and perennials, as seen in this pool area.
Structural plants form the framework of a garden and help to define the space, so deciding where to position them is an important first step during a makeover or redesign.
21. Limit your color palette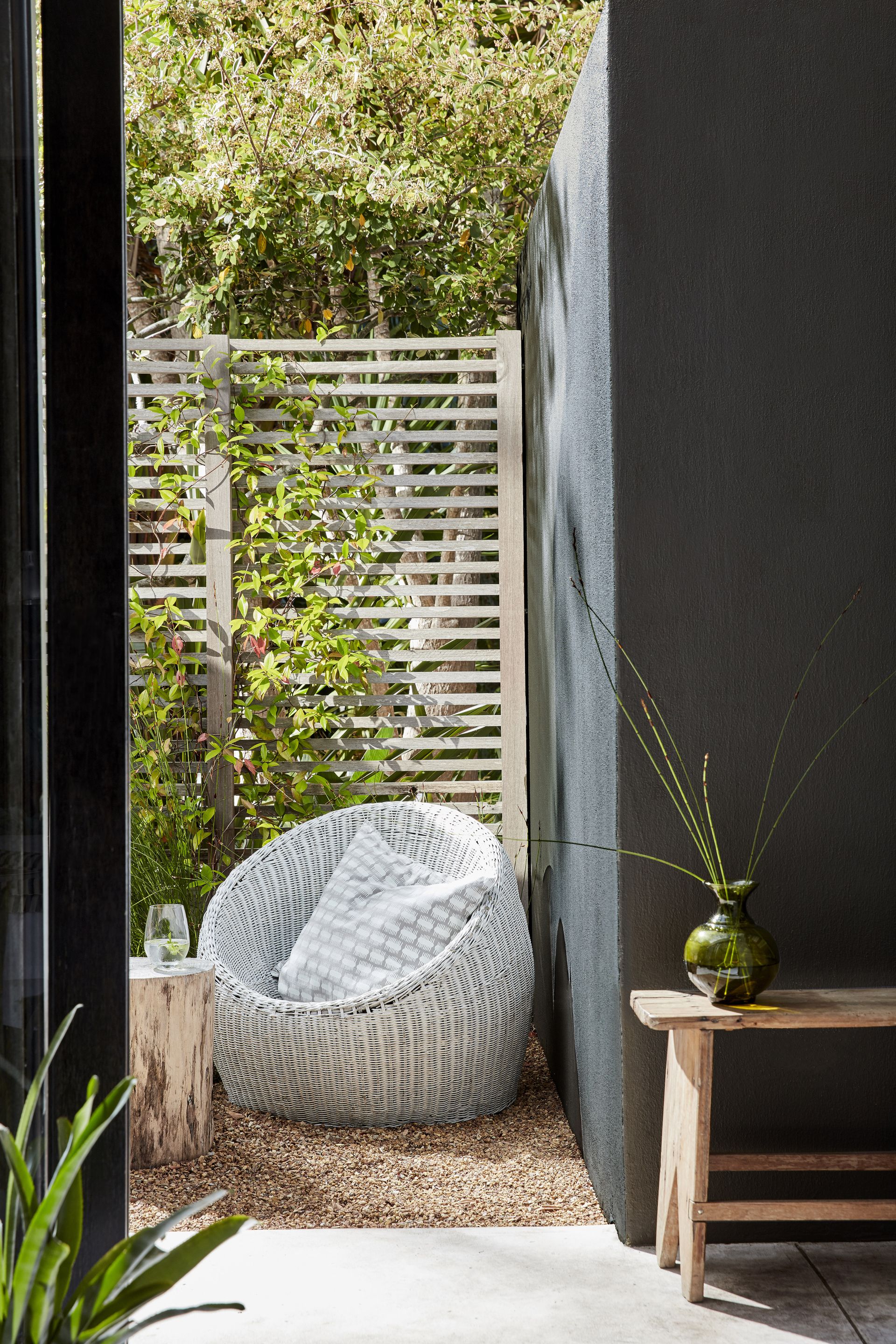 Co-ordinating seating and walling materials in sympathetic tones allows the planting to take center stage and pulls the space together.
'Limiting your palette to a tonal range or selecting one finishing touch as a highlight will create a much more calming effect,' says garden designer Kate Gould. Choose materials that are in keeping with your property and the surrounding area.
Be sure to maintain this vision for your space at all times and don't deviate from it however tempting other options might be. Throwing the kitchen sink at your garden just complicates things. Stick to your plan and this will ensure that your finished garden is exactly what you had in mind.
22. Introduce water for a soothing space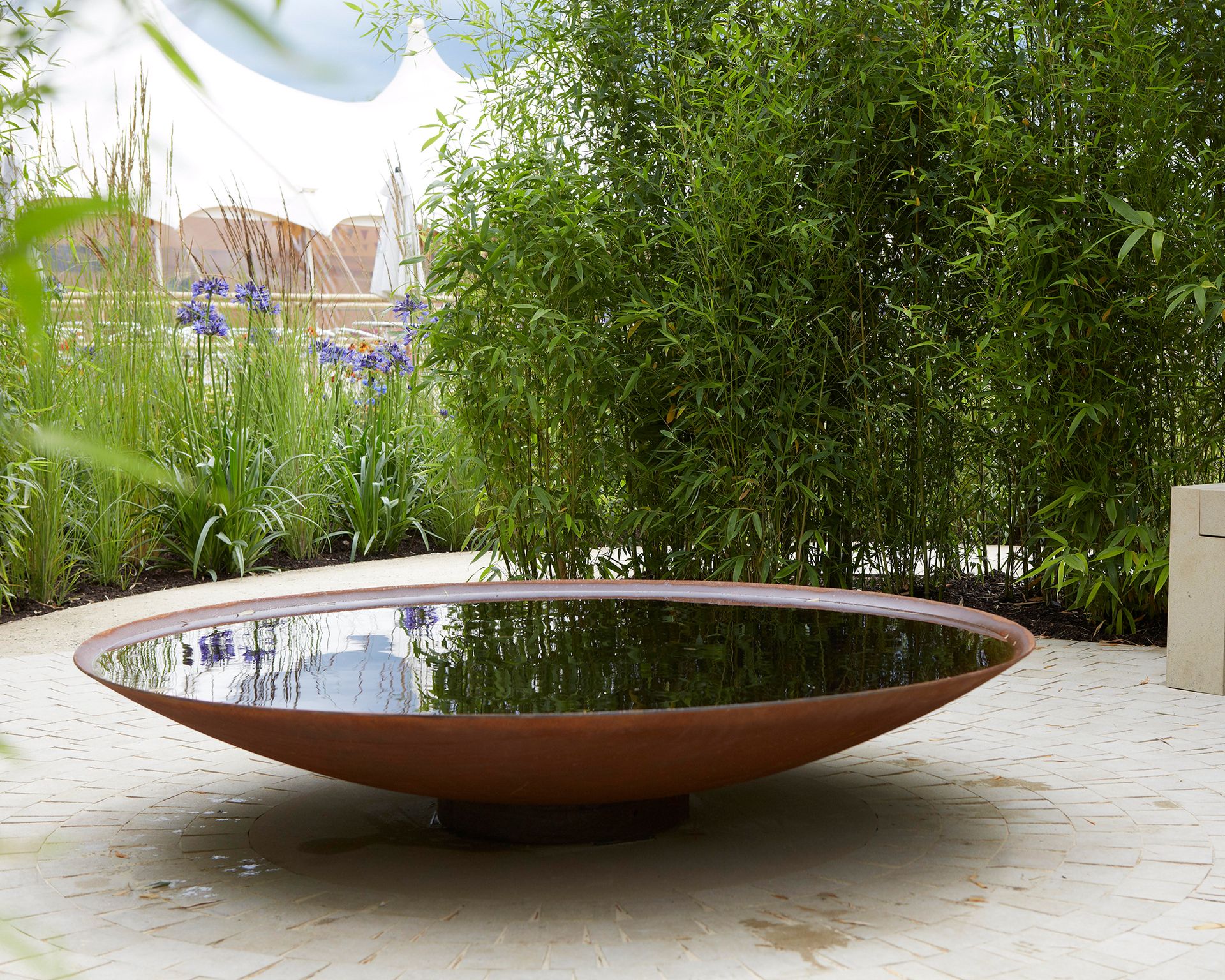 Top of everyone's wish list when it comes to ways of introducing a relaxing element in the garden, soothing water features look most natural when paired with lush planting.
'This corten steel bowl is filled with water that's been dyed black, a simple and low cost way of including water in your design,' says Tom Massey. 'The key to its success is simplicity. The black water is still and reflective, creating a calm atmosphere surrounded by the lush green bamboo planting.'
A reflection pool like this is easy to do and works well if you like a sleek and minimal look. There's no pump, electricity or water supply involved either – which is good if you're trying to keep an eye on the landscaping cost of your yard.
23. Prioritize relaxation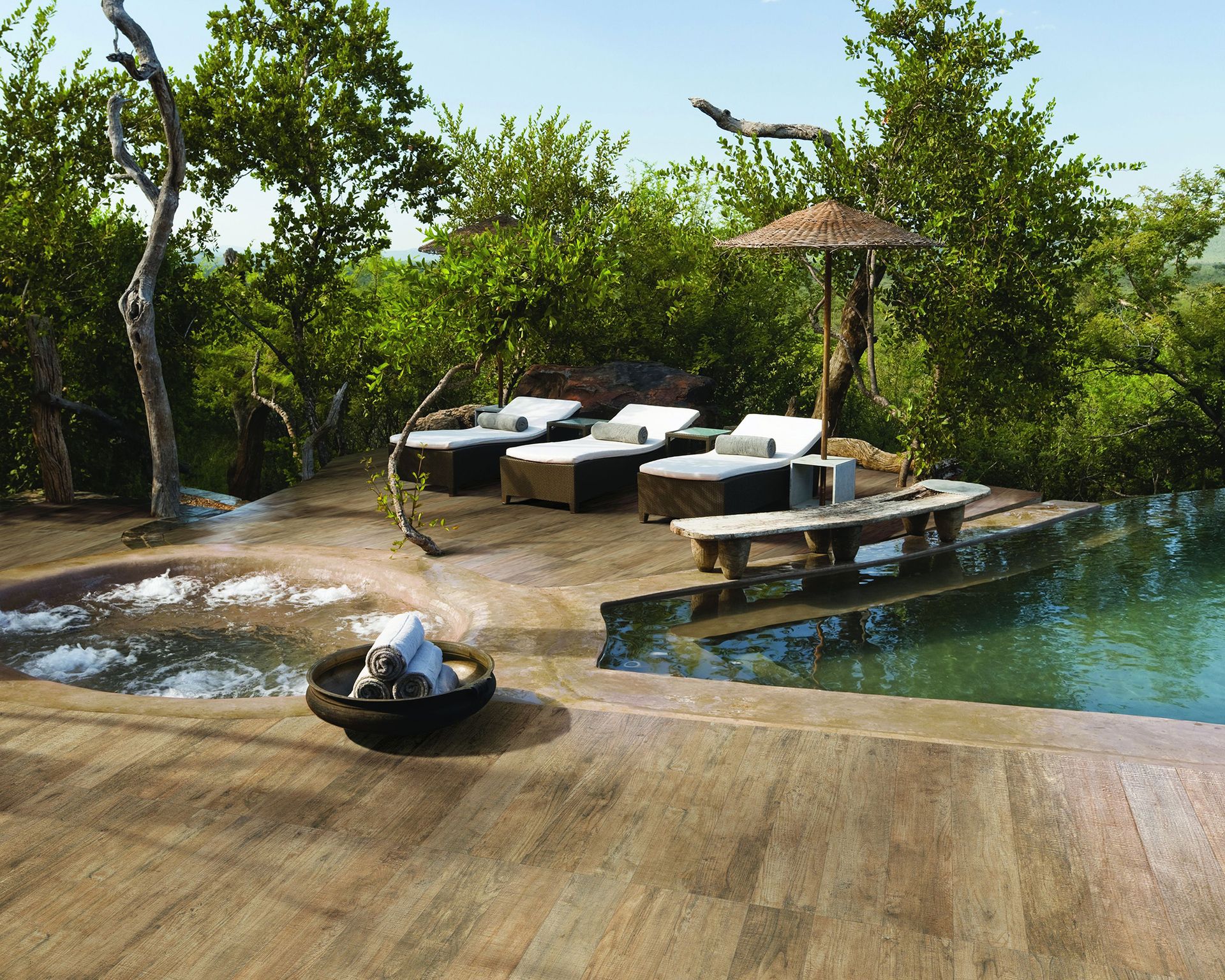 Your backyard is very much your own private space. It should be somewhere to relax in. You could even turn it into your own spa-style area.
Maybe you like the idea of an integrated hot tub to relax in, fancy a full-on backyard pool to take a dip, or you simply want a place to park your yoga mat or take a few rays. Whatever your choice, relaxation should be a key factor in any garden design. After all, taking a vacation in your own backyard is quite the trend now.
Choose from hard wearing, low maintenance, deck ideas, such as non-slip porcelain tiles, which are practical when water is part of the design and also easy to keep clean.
24. Design a small backyard carefully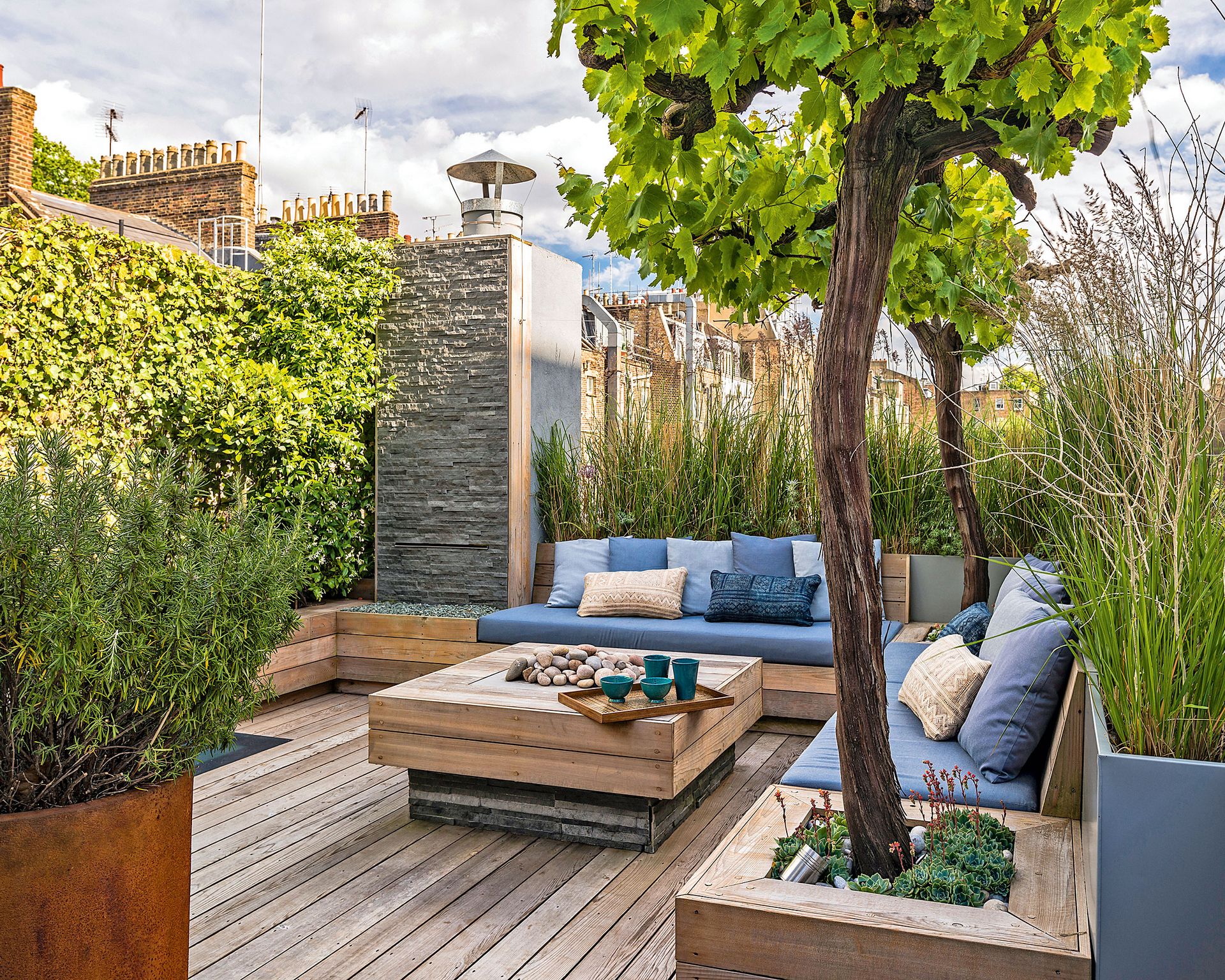 Balcony gardens and roof gardens need extra planning, particularly when it comes to how you're going to maintain the space.
Urban rooftops can seem harsh and exposed spaces but with some expert input warm and convivial places can emerge.
Interior designers Maddux Creative called on trusted garden designer Adolfo Harrison to help tackle this rooftop garden. Grasses create a screen for both privacy and to protect the bespoke seating from the elements. Dual-purpose cladding hides a tall and ugly structure and becomes a water feature, and a table-top fire is a mesmerizing focal point.
Here decking provides a tactile surface underfoot. While real wood has become a desirable aesthetic to incorporate into your outdoor space, it also demands regular maintenance and care, so consider that wood-effect outdoor tiles give you the ability to create the same stunning design, without the high price and annual upkeep.
Porcelain tiles are water and stain resistant, which makes them the perfect for outdoor entertaining.
25. Fix your lawn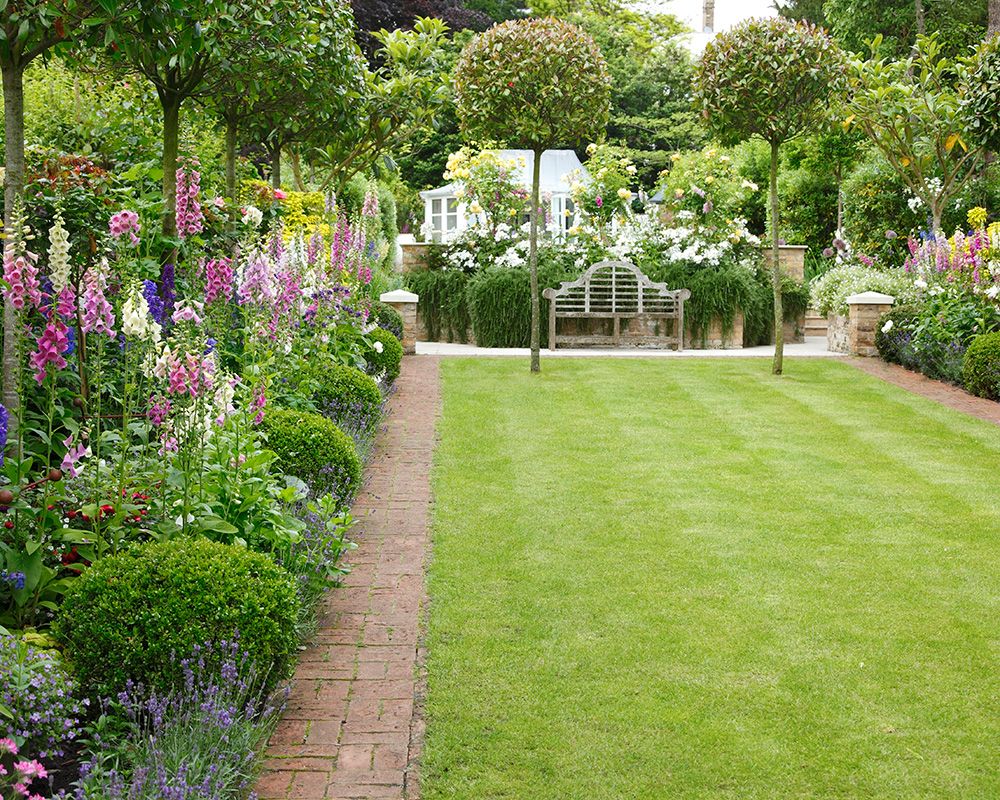 Walking barefoot on a green swathe of velvety lawn is one of life's pleasures and for many it's a backyard must-have.
To keep it looking its best learn how to aerate a lawn, how to repair patches in grass and how to plant grass seed.
Cutting your lawn frequently leads to the best results, but know how often you should mow your lawn. This generally means once a week during summer. Leaving the grass slightly longer can reduce the chances of it going brown and drying out.
What should I put in my backyard?
Keep things simple. Decide what you want your space to look like and stick to your vision. Trying to squeeze in too much will often leave the end result feeling busy.
Hard landscaping materials are the main structure of the garden while planting is used to soften and enhance the space. Aim for a streamlined combination of the two.
Focus on planting that offers year-round interest with a balance of color, fragrance, foliage, structure and winter stems. Always include some evergreens in your planting scheme to green up the space permanently.
Include several seating area perhaps one for lounging, one for dining and another to provide a space for quiet contemplation. Aim to follow the sun (or shade) round the garden.
How do you make a backyard more interesting?
Plan a 'journey' through the backyard, even if the space is small.
Create areas of the garden that are not seen on initial view and can only be appreciated once you are immersed in the space. This helps build a sense of anticipation. It fools the eye, and makes a small garden seem bigger.
Distinctive features and focal points will encourage progression through to maximise the space.
Choose dramatic planting to shift the eye away from cramped dimensions, and contrasting textures and materials to make a space feel larger. Look at the details too.
Adding a stylish mirror panel will create impact and enhance the space by bouncing light around and creating interesting reflections.
How do you make a backyard feel cozy?
Outdoor fireplace ideas immediately make a backyard cozy. Setting up a seating area around a fire pit, log burning brazier or chiminea is a tried and tested formula to make a backyard feel cozy. Consider a retractable roof cover for your patio to add to the sense of enclosure too.
Lighting is also key to creating an intimate space. Add drama and atmosphere with a selection of lighting for that all-important glow at dusk.
For best results, add layers of lighting at different heights, starting with low level recessed uplighters and battery powered lanterns. Then add hurricane lights at table height, finishing with wall-hung styles and outdoor string lighting looped through branches or from a pergola.
How do I turn my backyard into an oasis?
Boundaries are one of the first things you need to take into account if you want to create a sense of privacy and turn your backyard into an oasis.
Slatted fencing panels let air in and feel less rigid than solid blocks. Vertical living walls are another good way of masking a view while enhancing your own green space.
A row of pleached trees will help to block out neighboring houses if your garden is overlooked and can be uplit at night to shift the spotlight on to your own space. A pergola also gives you privacy from above if you're overlooked.
Sign up to the Homes & Gardens newsletter
Decor Ideas. Project Inspiration. Expert Advice. Delivered to your inbox.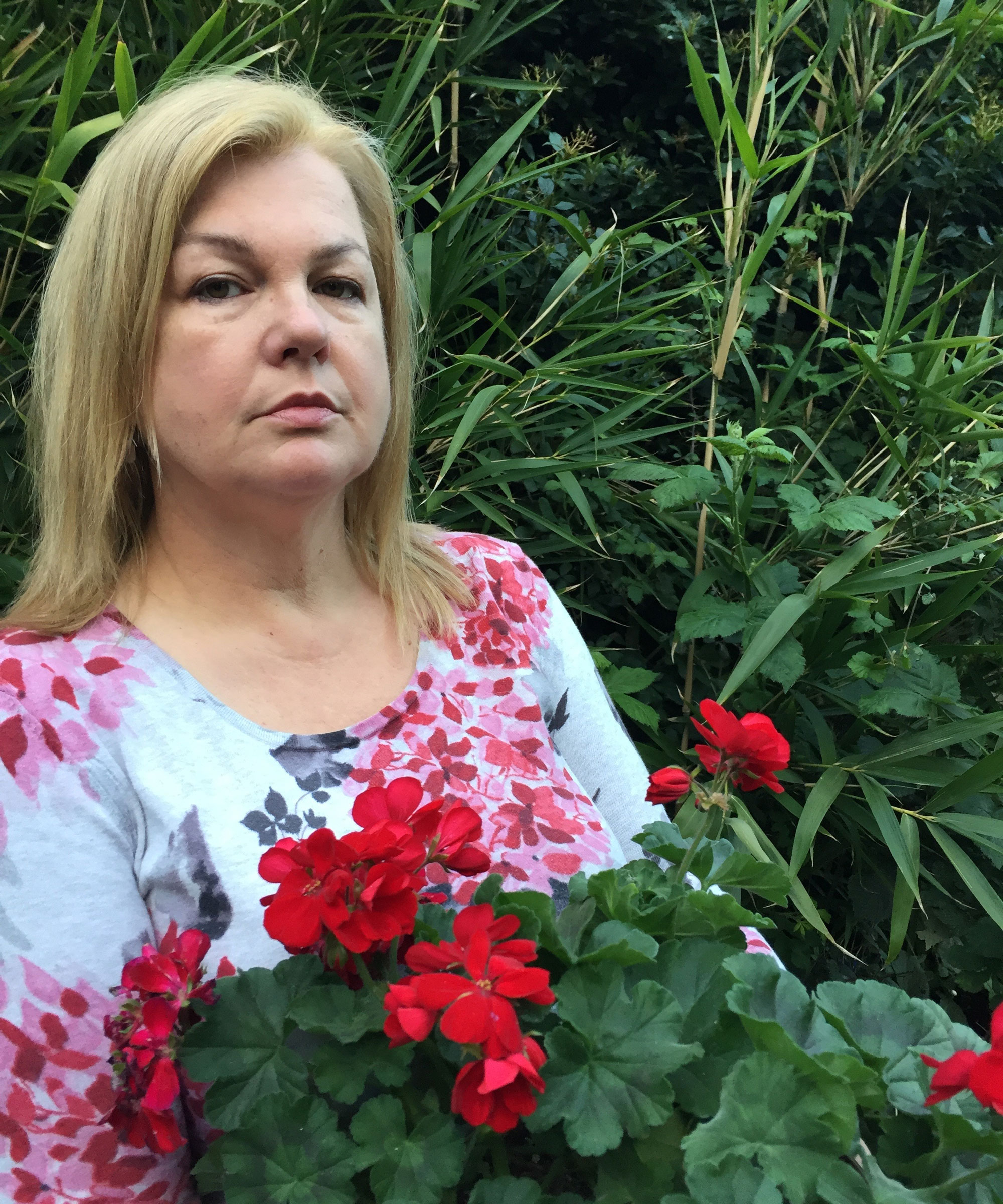 Lifestyle journalist Sarah Wilson has been writing about flowers, plants, and garden design and trends since 2015. Having already studied introductory garden and landscape design as well as a course in floristry she is currently adding to her list of qualifications with an RHS Level 2 course in the Principles of Plant Growth and Development. In addition to homesandgardens.com and livingetc.com she's written for gardeningetc.com, Modern Gardens and Country Homes & Interiors magazines.