Sloped backyard ideas – 10 expert design solutions for a sloping garden
These gorgeous sloped backyard ideas and expert tips will take your sloped garden to new heights, including sloped backyard ideas on a budget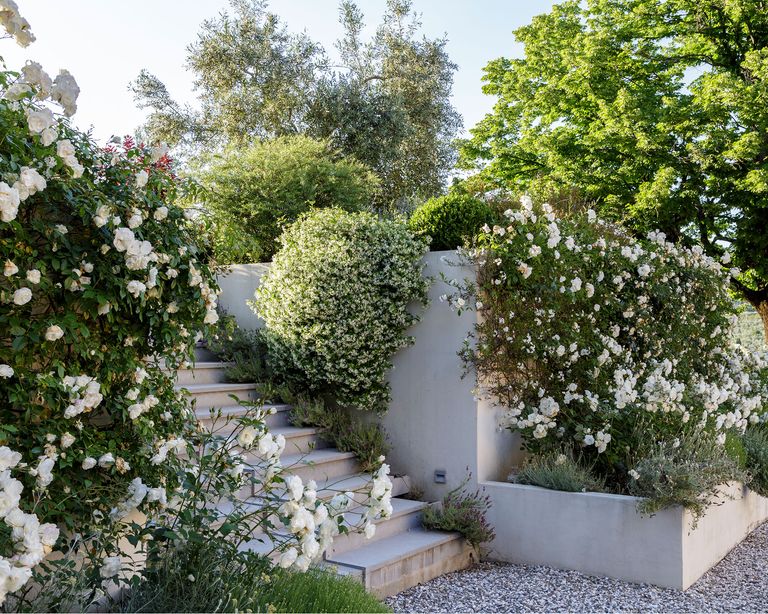 (Image credit: Future / Mark Bolton)
Admittedly, it can be hard to find the right sloped backyard ideas – sloping gardens have a reputation for being fussy or impractical. Since their angles are often too precarious for a pool or pergola, it's easy to let that vacant square footage go to waste.
However, with a little creativity, strategic planning and the right garden ideas, a sloped backyard can have a lot to offer.
Sloped backyard ideas
Find standout sloped backyard ideas below that dare to defy gravity.
Whether you are looking for inspiration for the ultimate entertaining space or need backyard ideas on a budget, these sloping garden designs will take your space to new heights.
1. Ascend to greatness
As this option from multi-disciplinary firm RIOS proves, the simplest sloped backyard ideas and solutions can often be the most impactful.
Here, a minimalist pathway traverses a large bamboo forest, complete with 85 different plants. The garden is designed to be experienced during the dramatic sunset light, while the landscape bathes the hillside below the house in warmth and an energizing glow.
2. Level your land
San Francisco is known for its hilly landscape, so it's no surprise that Bay Area-based designer Kendall Wilkinson has experience putting sloped backyard landscaping ideas into practice. Though Wilkinson wanted to have a leveled yard for her clients, the stone wall and fireplace seen here accentuates the angled terrain.
'You can see how significantly the yard is sloping behind the wall that provided the perfect foundation to add the fireplace and seating,' Wilkinson explains. 'Being placed on this side of the property makes this patio very quiet, serene, and relaxing. Paired with a metal pergola style roof, strategic lighting, and really comfortable matching sofas, wasted space becomes valued square footage.'
3. Go for a versatile vantage point
Garden designer Georgia Lindsay used a combination of hard landscaping and clever small back yard ideas to transform a dangerously crumbling slope into a multi-purpose garden with various terraces.
The first terrace allows for a generous storage area for bikes and garden equipment beneath, while the lower part of the garden flows seamlessly from the house with hardwood decking to echo the internal flooring. A cozy seating zone and stylishly integrated outdoor lighting ideas complete the garden.
'Sloping gardens can be great when it comes to lighting,' she shares. 'It's like an amphitheatre; you are able to enjoy your whole garden with one view.'
4. Fill your sloped garden with flowers
As this space from Andrew Mann proves, flowers can go a long way. The San Francisco-based architect teamed up with Christa Moné by using raised garden bed ideas to trail blooms down the slope.
Not only does this idea breathe some life back into the yard – literally – but it also creates visual interest between the base of the slope and the property's outdoor pavilion.
5. Fire up your sloping backyard
If you want to turn your sloped backyard into a liveable oasis, Camille Styles deftly bridged the gap between form and function. Here, the blogger built a handful of terraces, complete with seating areas and a fire pit.
'When we bought the property, there was crumbling stone terracing that had been built by the original owner of the property back in the 1950's,' she wrote. 'It was covered by overgrown vines, but it always reminded us of old European estates and we imagined restoring it to its glory.'
6. Play away in a sloping space
If you want to find sloped backyard ideas that are appealing to the entire family, consider adding a play area to your space. Fortunately, it's possible to infuse some childish wonder without compromising your home's style.
'Designed for a young family, the house features a sheltered lower courtyard space which provides greater privacy, and a triangular stepped landscape was proposed to manage the level change,' explains Mike Gibson of Eldridge London.
'The repetitive triangular planning allows for a variety of activities whilst maintaining a clear consistent identity. The triangular modules form planting beds, steps, trellises, sitting areas, and include a slide and sand pit play area.'
The result: A playful yet sophisticated environment.
7. Plan for a water wonderland
Another way to bring some fun to your sloped backyard ideas is by adding a stock pool. Cuckoo 4 Design blogger Julia Konya refers to her sloped backyard as 'essentially a hill'.
By adding an above-ground pool, she is able to make the slope appear less severe, plus serve up some fun for the entire family. The wooden exterior takes inspiration from rock garden ideas and adds leafy greens to round out the look, turning this sloped backyard into a tropical oasis.
8. Plant fruit and vegetables on a slope
For a sloped backyard that's both practical and aesthetically pleasing, add a vegetable garden. Leslie Bennett of Pine House Edible Gardens decked out this space with wooden raised garden beds and pyramid-shaped trellises.
The raised garden beds follow the slope's natural path, creating designated areas to grow everything from herbs to tomatoes to spicy chili peppers. Not only does this tip make the most of occupied space, but it will also resemble a lush, nutritious salad when in full bloom – small vegetable garden ideas really can be incorporated anywhere, even on a slope.
9. Blur the boundaries with a stairway on a sloped space
An outdoor staircase might be an easy way to optimize a sloped backyard, but it can often feel jarring when juxtaposed with the lush greenery.
Los Angeles-based firm Elysian Landscapes blurred the lines of the hardscape by flanking each side of the stairs with a wild array of plants and grasses. This setup has an ethereal edge, thanks to its layers of textures and muted color palette.
10. Make your mark with a visually-pleasing design
If you're wondering how to landscape a backyard to make the hardscaping feel more pronounced, take a cue from Ian Kitson, who created this yard for an art collector.
'It looks over an estuary in Wales, which is tidal,' he explains. 'So twice a day, the water disappears and you get amazing patterns in the sand river bed: This is one of the clues the garden design takes.' The raised garden beds and curvy pathways highlight the sloped land, blurring the line between earth and water.
What can I do with a sloping backyard?
There are so many sloped backyard ideas and possibilities. Hard landscaping is key and requires careful planning in order to make effective use of the available space.
Slopes offer fantastic design opportunities and exciting new ways to experience and view a garden, whether it's from up high, or down below. But steep slopes can also be both costly and awkward to manage, so they do require a bit more thought than usual.
When it comes to the wholesale redesign of a sloping garden, terracing is the obvious option. Unfortunately it's not a cheap one. Earth moving equipment is often necessary. So too are lengthy retaining walls, which are always expensive – particularly if they're made from bricks and mortar.
If you need sloped backyard ideas on a budget, instead consider strategies that minimize major ground works. First and foremost, do you actually need to terrace the whole garden? It's likely that one or two level plateaus built into the slope – for a bench or two perhaps – will create enough useable space and cost much less.