Patio ideas – for living and dining outdoors, stylishly
Looking for patio ideas? Design your dream patio garden, whether it's a sociable dining space or an area to lounge, with our inspiring spaces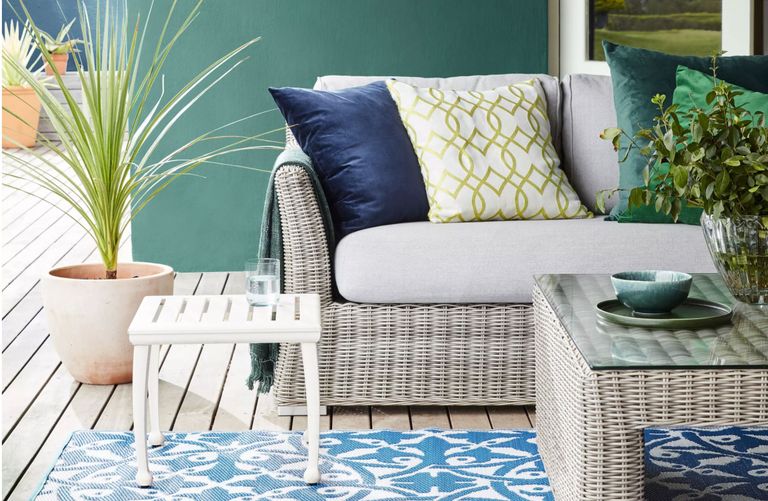 (Image credit: Little Greene)
These garden patio ideas are aimed at anyone who wants to create the perfect living or dining space outdoors. Whether your garden is short on square footage, is a planted terrace, a courtyard garden or a larger, more expansive space, a patio can be a good solution, combining elegance with low maintenance. 
Simple paving such as travertine or traditional stone creates a sleek or rustic look, while clever planting will soften and provide privacy. Just add comfortable seating to create an ideal outside room.
Below, we showcase inspiring patio garden ideas to help you kickstart your design. For more backyard ideas, don't miss our main guide.
1. Make a patio an extension of your indoor living space
Any outdoor space we have can become a valuable addition to family life and increasingly we see it as an expansion of the home. Joining the two areas with patio doors – folding or sliding – is a popular solution, but asthetically the choice of furniture, decor and flooring can help tie these two spaces together.
Marking a defined threshold between the end of one room and the beginning of the other is a good place to start. The choice becomes more dependent on which room leads onto the outdoor space. 
A carpet tends to be the norm in a living room, but next to a garden can be more tricky, so check out more natural, hardwearing floorcoverings, such as sisal, coir or jute, as these offer an element of comfort but also will accommodate a certain amount of traffic too. Matched with a wooden decking, painted in a strong shade, it offers an interesting balance between the indoor and out.
2. Create a living wall to border a patio
Patio planting ideas are important to research at the same time as you consider patio design and materials because they soften what can often be a hard-edged space. For anyone considering small garden ideas, a vertical wall is a fantastic option – it takes up little to no patio space but provides a wonderful, verdant backdrop.
3. Create a patio that connects to your kitchen
Design a patio area immediately next to the kitchen as a backdrop for your kitchen scheme. Think about how materials – flooring, walls and furniture – and planting will work with the space indoors and how they will look all year round, whether you are enjoying them in warmer weather outdoors or admiring them from inside in cooler months, adding color, texture and interest into the hardscaping, and using paint, pots and planters to bring plants in bloom to the fore.
4. Create a terraced patio for interest
Patios don't have to be a one-level, just-outside-the-door affair; this carefully designed tiered space is a prime example of a patio that has stepped up to the next level in garden design. Each terrace is given a different 'zoned' purpose and the staggered planting is used cleverly to break up the hard landscaping and to create privacy.
5. Pick plants that enhance space
'Try using white flowering plants in small spaces like patios as they can help create light. White flowers are also the last color that you see at night, so when planted in the right place they add depth,' says garden designer Sean Butler of Cube 1994 Ltd. 
'In shady areas, use Saracoccoa, commonly known as the Christmas Box, a very richly scented evergreen plant that flowers early. A good all-round plant which crosses all boundaries is Buxus (box). This can be used to create good structure.'
6. Furnish your patio like a living space
Approach the furnishing of your outside space in a similar way to the treatment of the inside. Consider warmth under foot by using outdoor occasional rugs, introduce punctuations of color in paint and variations of texture in furniture, throws and cushions.
7. Choose characterful patio flooring
When it comes to patio flooring, using a small unit size such as pebble mosaic or richly textured herringbone or basket weave brickwork can make the space feel larger. Similarly, a smooth terrazzo can create a clean, spacious feel. Natural sawn stone is an attractive solution, as it's often rich in tone, smooth underfoot and can look very warm.
8. Consider decking materials for raised patios
Elevated patios are best made from decking – chosen because it's lightweight and easy on the eye. While early decks were made out of first-generation hardwoods, now it's hard-wearing composites and eco products made of recycled materials that are all the rage. We are also experimenting with stains and widths to give the timber a very contemporary feel.
This porch is the ideal spot for a spot of morning breakfast. The structural roof and ceiling fans will be sure to keep you sheltered and cool no matter the weather.
See more deck ideas in our dedicated gallery.
9. Use a patio to introduce color
Turn your garden into a riot of color. Be inspired by the color of your favourite flower and bring your tired patio to life this summer. From Delphinium Blue to Sunflower Yellow, there's plenty of color about to burst into life in flower beds and borders, so why not take inspiration and use these shades of summer to style your outdoor area too?
10. Create a living canopy for your patio
A cooling spot for relaxing, entertaining or designed purely as a retreat, a patio with shade will make your garden a joy to use all day long. A simple living canopy creates shade and privacy wherever and whenever it is needed. The lush foliage has been trained over a horizontal frame for extra support as needed, providing shelter from the elements below.
See: Patio cover ideas – to create shelter, shade and privacy in the garden
11. Include an outdoor patio cook space
Outdoor kitchens can extend your patio's use, making it a space not just for dining and lounging but for living in warmer months. Design yours just as you would a kitchen indoors, creating a dedicated cook zone connected closely to a dining area. 
See: Outdoor kitchen ideas – create a food prep station in your backyard
12. Surround a patio with cottage planting
A patio is the perfect opportunity to create a focal point for a cottage garden – planting borders that surround two or three sides of your patio with cottage garden blooms, fruit and veg will create a welcoming space that's pretty, too. Planting scented blooms will enhance your enjoyment further.
For inspiration for cottage patio ideas, see our dedicated picture gallery.
13. Work patio lighting into your design scheme
Patios need to be well-lit to function properly at night – but unlike indoors where lighting needs to be occasionally bright, floodlighting a patio is impractical. Instead, look to create soft lighting zones around the patio – whether creating ambient lighting with pretty bulbs, like in the patio above, or creating a display of lights on a table, or spotlighting plants or containers that edge the patio.
See our feature on garden lighting ideas for advice and inspiration.
14. Include a water feature to create a peaceful patio
Adding a water feature to your patio ideas wish list is a wise move – it makes for a wonderful design element, creates opportunity for a wider variety of planting, and is an integral part of a wildlife garden. 
Plus, if your backyard suffers from noise – perhaps from traffic or neighbors – a moving water feature can be an opportunity to minimize them. 
15. Create a patio focal point with a faux fireplace
If yours is a sheltered or enclosed patio, you have the opportunity to treat the space as you would a room indoors. In this case, a focal point will be beneficial to your outdoor room – whether a fireplace, as shown here, or a brightly painted wall. 
If you do choose the fireplace option, furnish it with plants and candles to create a truly characterful space.
How can I make my patio look nice?
The key to making a patio look nice is to choose the two main elements – planting and paving – carefully. The type of planting you choose will help to soften the look and feel of the patio. 
Consider feathery grasses or velvety ferns, and if your space is small, try to create a sense of lightness using plants with soft foliage and small, delicate leaves.
Color is important too. Opting for light greens, silvers and greys will help create a sense of spaciousness, while highly reflective, shiny leaves can add light and shimmer providing a greater depth of field in the planting scheme. 
See: How to design a patio – an expert guide to getting the basics right
In larger spaces, fragrance is a good way of zoning: a variety of fragrances in different areas of a terrace can suit different moods and help them come to life at different times of day. 
Don't forget the look and feel of the space by night too. Incorporate different types of mood lighting – even the use of hurricane lanterns can create a simple, romantic terrace full of warmth in the evening.