Patio ideas – 28 ways to create a stylish garden patio area
Be inspired by these patio ideas to design the perfect outdoor space for your backyard for dining, entertaining and relaxing in year round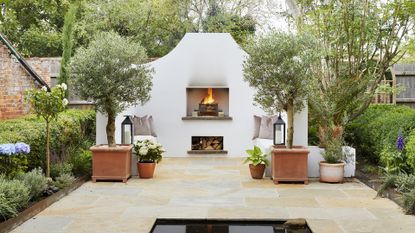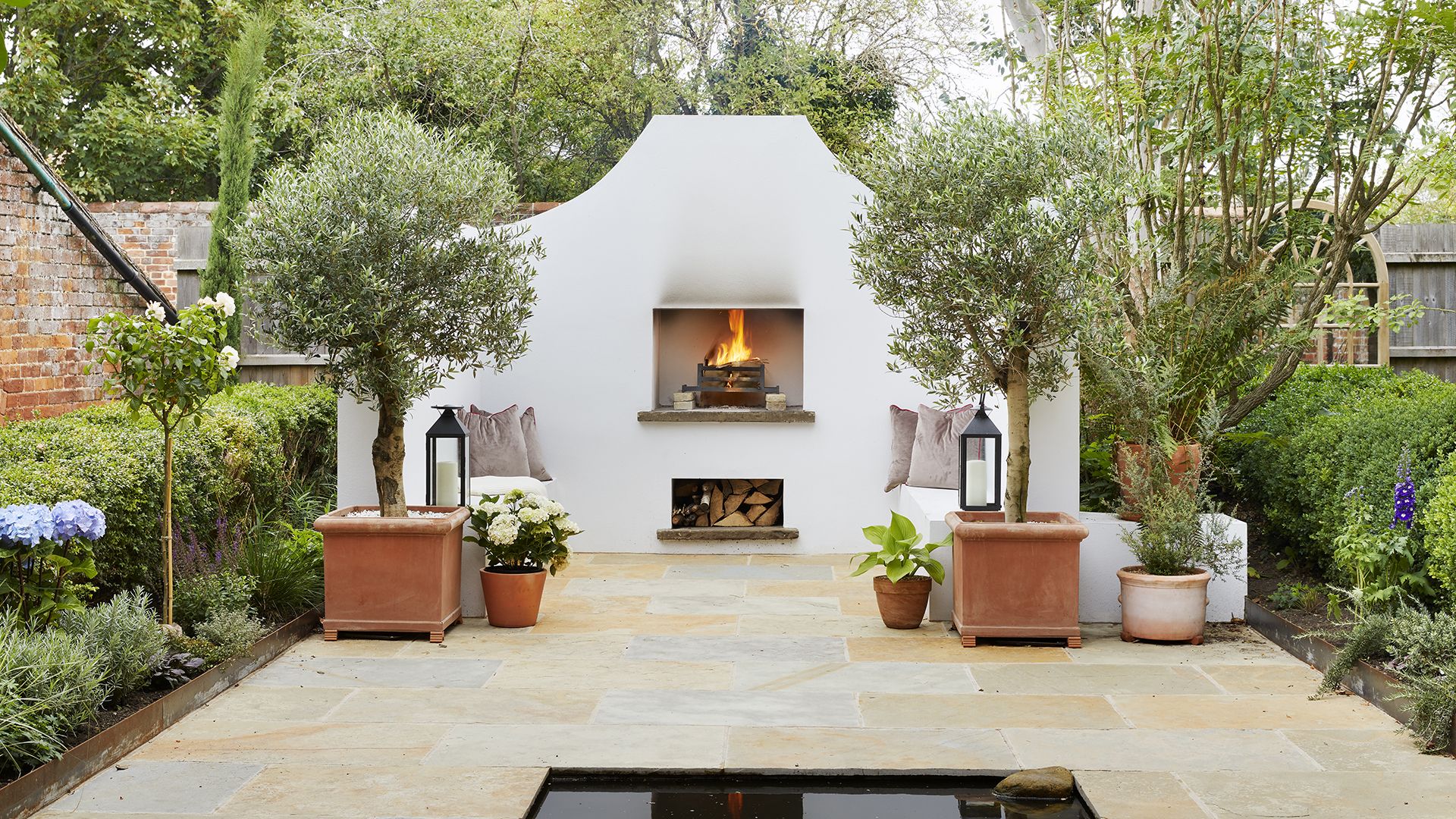 (Image credit: Darren Chung)
There are numerous options when it comes to patio ideas for your backyard, whether you're looking to transform a courtyard, small urban plot, or a larger country garden to create a zone for outdoor living.
Think about what you want from the space; will it be a place to sit and relax, dine and entertain, or a place with a focal point to pause on your journey to other areas of the garden? This will inform many of the decisions that you make for the space.
With a wealth of landscaping materials available to complement any style of property, as with other backyard ideas, choose those that are suitable to the style of the garden and location. The tone of the existing or planned garden planting will also dictate the patio ideas that you choose.
Look at these patio ideas to inspire your own scheme.
Patio ideas to inspire
When it comes to designing a patio, start by working out how you plan to use your new addition. This will determine which patio ideas are best for your space.
Ask yourself whether your patio is to be somewhere private to relax and enjoy breakfast on a sunny day, as well as in the evening, in which case you will wish to include patio lighting ideas. On the other hand, is it to be a space to entertain friends and family, so do you want to integrate outdoor kitchen ideas or perhaps channel garden party ideas? Your answers to these questions will define the direction of your design.
1. Create a sunken patio area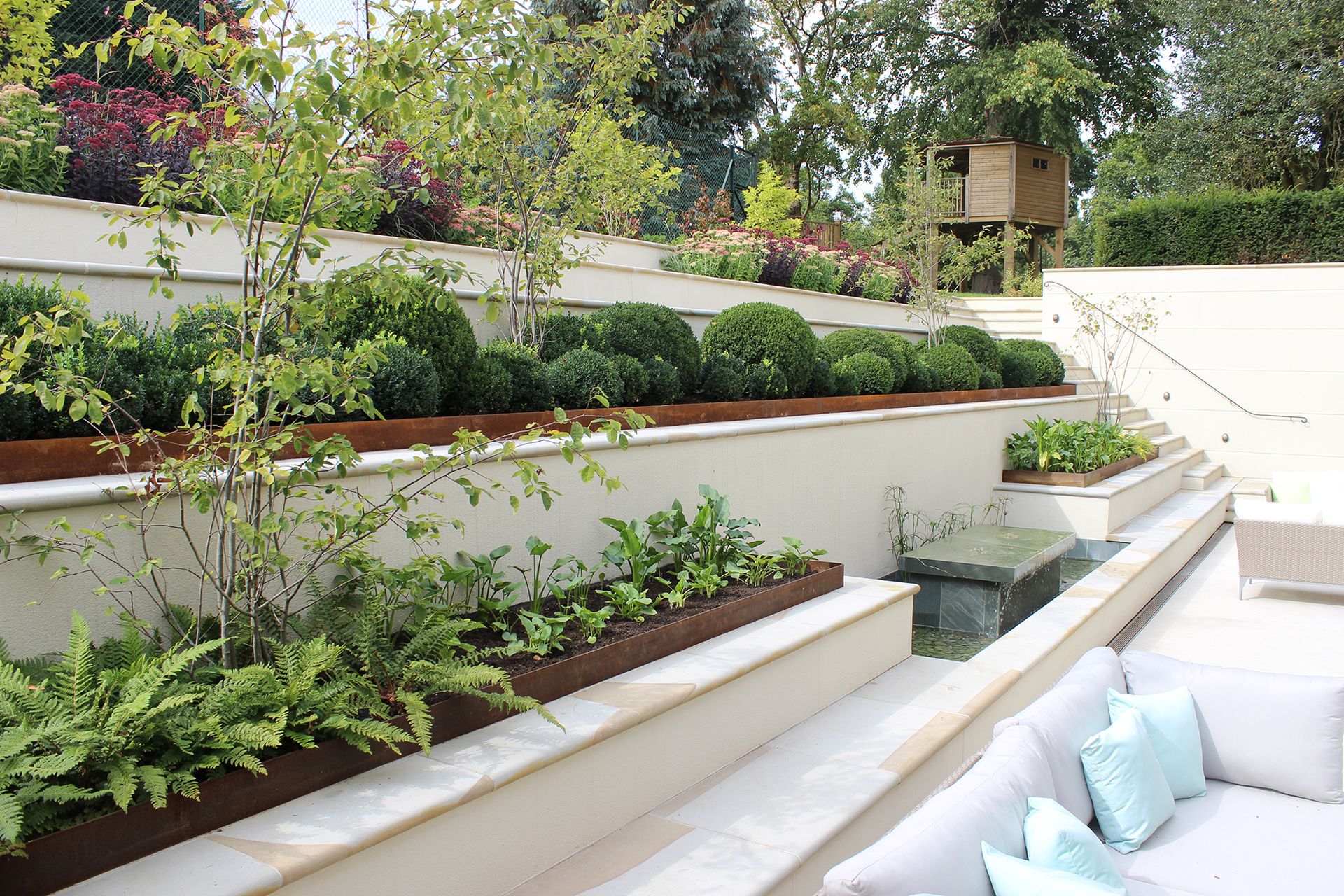 A sunken patio area can be an effective way to create an intimate seating or dining area of your backyard, in spaces large or small. This can be particularly successful as a sloped backyard idea.
You can build seating into the surrounding retaining walls to make the best available use of space, and soften the impact of walls by planting with tall ornamental grasses, training climbing plants to scramble up walls, or include hanging plants from beds above.
Building a sunken patio can obviously 'be a more expensive option as it requires a greater amount of dig out, but it will provide privacy and also potentially shelter from the wind,' says garden designer Peter Reader. This is a consideration if the garden is in an exposed spot.
'You can create seating areas that aren't immediately visible, that can feel like your own exclusive, private space, surrounded by night scented flowers such as nicotiana, dianthus and stocks, perfect to watch the sun go down,' agrees garden designer Michelle Brandon.
2. Mix patio materials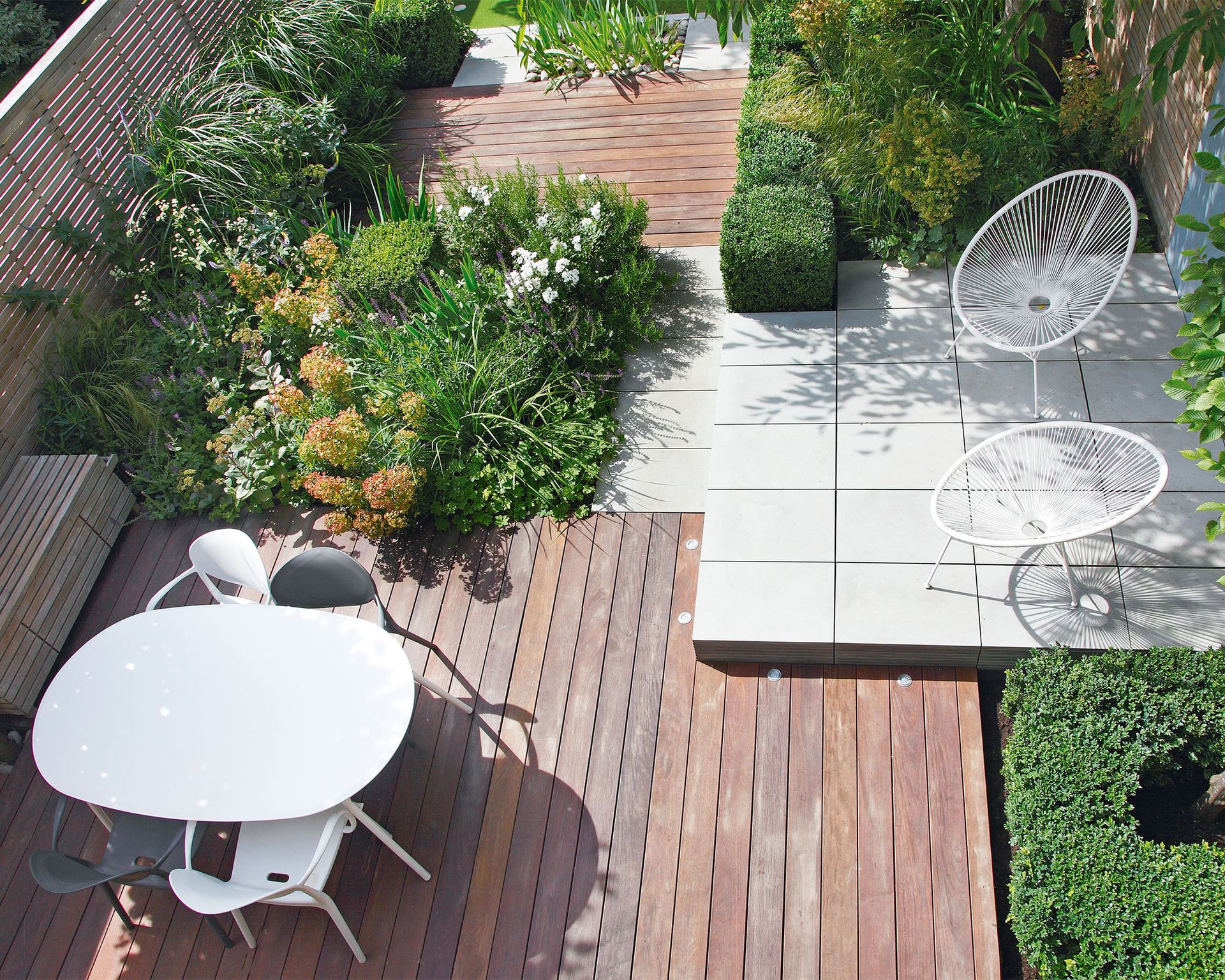 Mixing your patio materials adds interest and breaks up a large area, and it can make a smaller space feel larger. Do, however, carefully think it through so it doesn't end up looking a bit piecemeal. If you hire a landscape designer they will use their expertise to make the most of the space available.
'A combination of finishes in the same material can lessen the impact of a larger patio space,' advises landscape architect Marcus Barnett, such as slabs cut large and smaller, in square and rectangles, and laid in different patterns. A mix of materials can also help to garden zoning different areas of the patio space, large or small, such as above, where wooden decking and stone slabs help to delineate relaxing and dining areas. Patio step ideas in differing materials can also help to create a journey through the space.
'Choose mid-tones for patio landscaping materials – dark paving can get very hot underfoot, while white can dazzle in bright sunlight,' says John Wyer, CEO of Bowles & Wyer.
The material chosen has to be sympathetic to the architecture of your home. You might opt for clay pavers to marry with slate tiled roof of a property, York stone to complement a traditional cottage, wooden decking, or sleek porcelain tiles for a contemporary clapperboard home.
3. Consider sustainability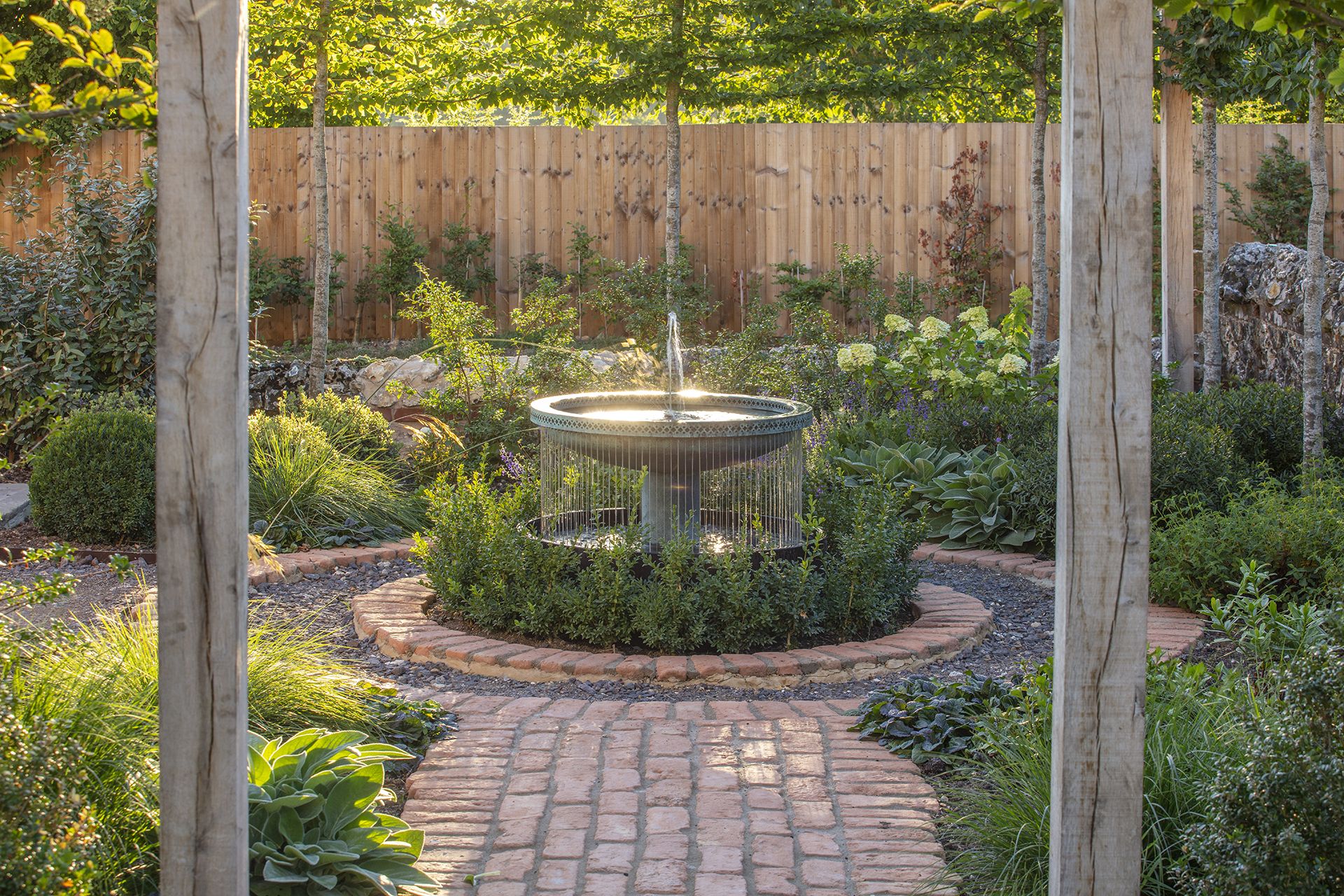 Select patio paving materials that are environmentally sustainable as possible as part of your sustainable garden ideas. Using recycled or reclaimed materials reduces the use of natural resources, while patio gravel gardens and other permeable surfaces allow rainwater to soak into the ground rather than contribute to flooding.
If you are creating a patio as part of a larger garden landscaping project, you could look to re-use bricks, stone, gravel or cobbles that are removed from elsewhere. Always look to local materials to reduce your carbon footprint – nearby quarries and salvage yards are good sources.
4. Plant between patio paving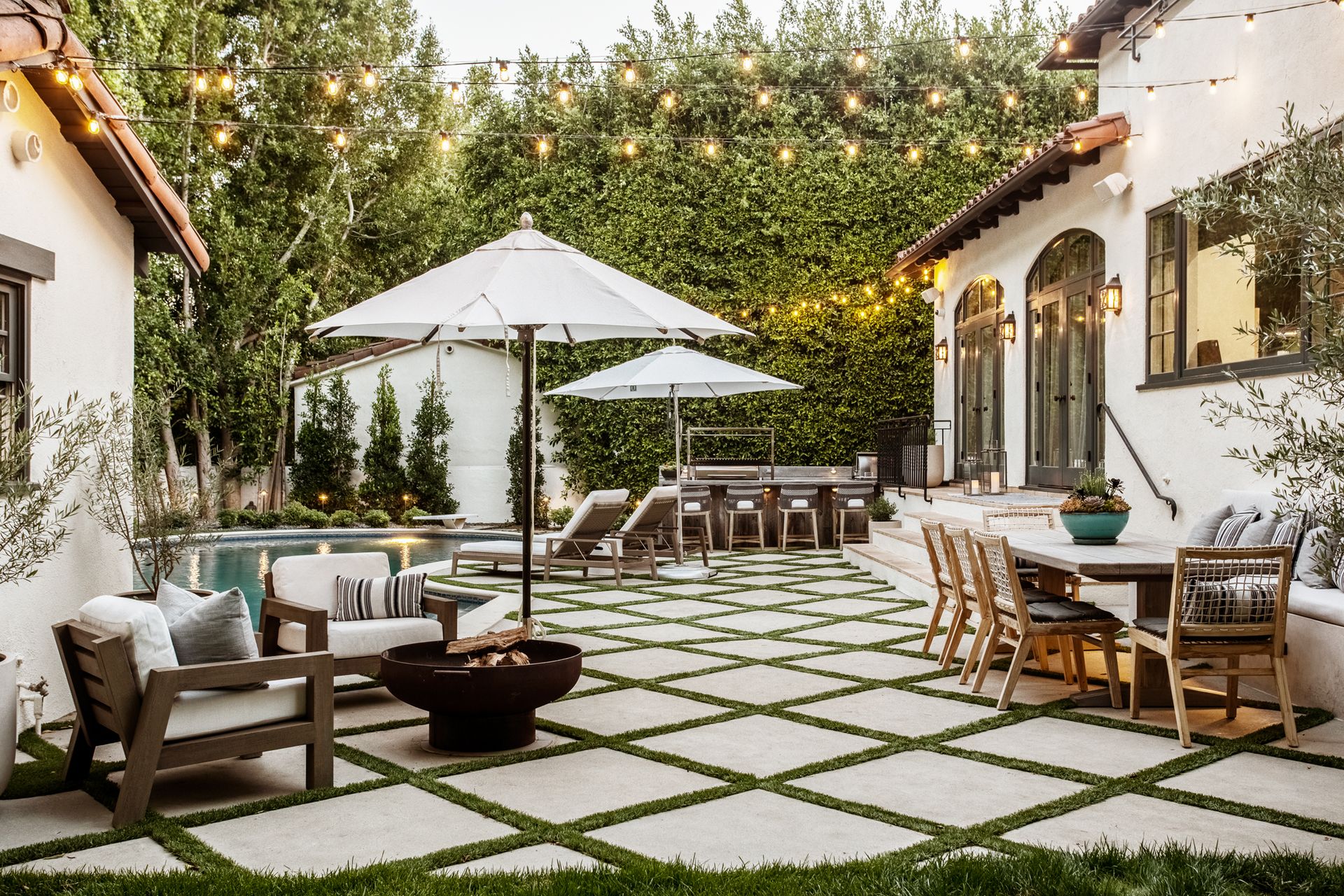 To soften areas of patio paving, whether the area is large or small, then consider including planting between the slabs to blur the boundaries between hard and soft landscaping. This adds a lush element, and can enhance the impact of the pattern and layout of patio ideas.
As well as being aesthetically pleasing, it is a sustainable garden idea as it helps surface water to get absorbed back into the ground after rainfall, and increases biodiversity.
There are a range of plants you can use that are low growing, hardy, will withstand footfall and might even produce seasonal blooms. These moss and herbs, including aromatic herbs such a creeping thyme or camomile; flowering options such as erigeron or saxifraga; succulents, low growing grasses, and many more.
5. Accessorize with pots and planters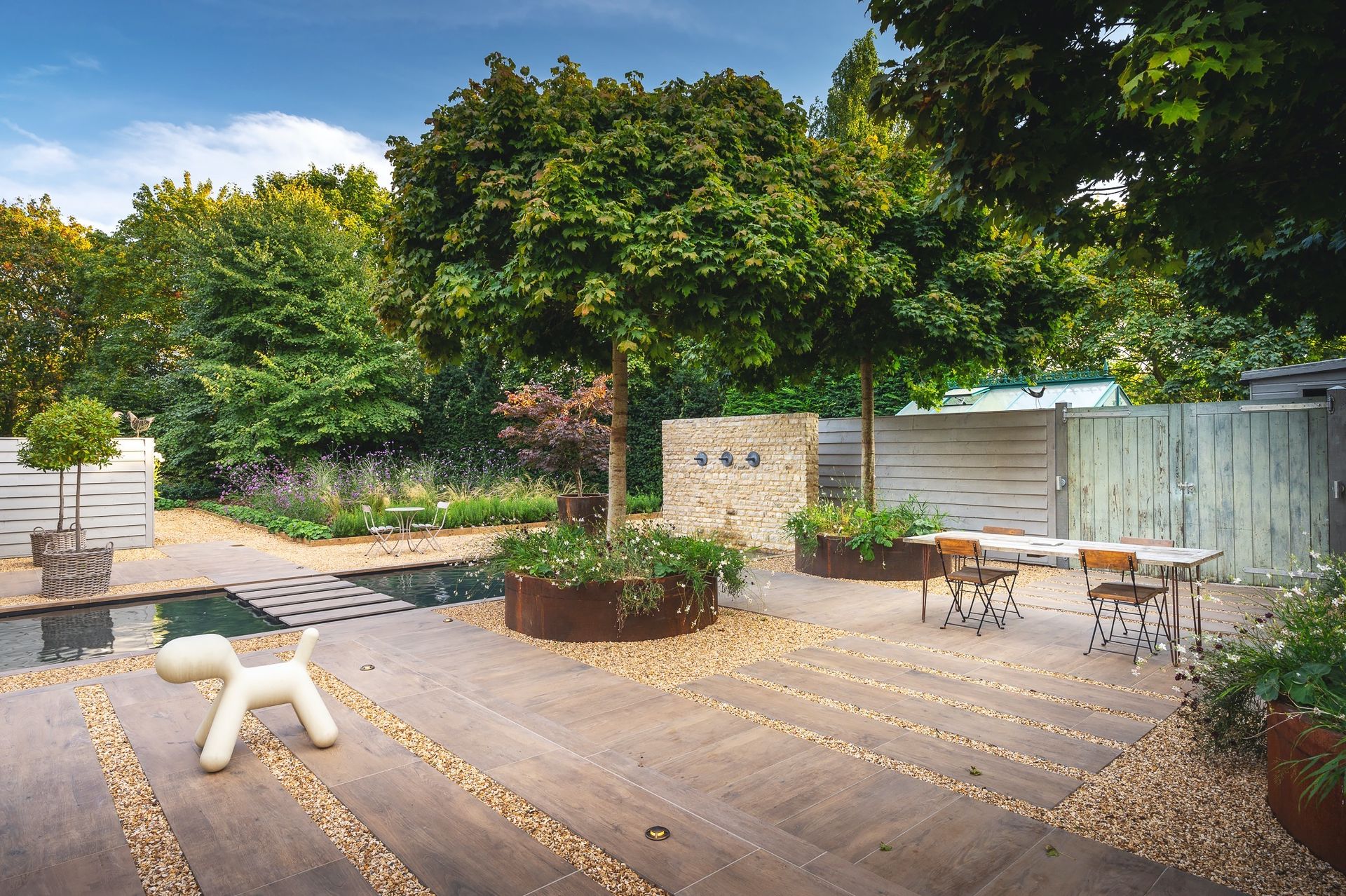 Enhance the feel of the patio area by adding pots and planters as container gardening ideas. Plant them with a mix of evergreen plants for year round interest, or trees to grow in pots, augmented by seasonal blooms, from spring bulbs to summer perennials, for a changeable display.
There are plenty of choices of plants for pots all year round that can suit sunny or shadier spots. 'Lavender, nepeta and similar scented plants can make a lovely surround to paved areas,' explains John Wyer.
Bringing potted plants onto the tiles, deck or gravel will help to tie your patio into your large planting scheme. If your patio connects to your kitchen, then herb planter ideas are a beautiful and useful addition to the space.
With larger planters you can create dramatic displays and divide spaces on the patio, or direct the eye to focal points beyond – for a more contemporary space use a few large planters in materials such as corten steel. The beauty of smaller pots, is that they offer flexibility so you can move and change them with the seasons, depending on how the space is to be used. For a cottage patio or traditional space, a mix of container styles can add a more relaxed feel.
'If the patio is a smooth, natural stone you can add some texture with planters and a dash of colour from planting,' adds Marcus Barnett.
6. Add a patio fire pit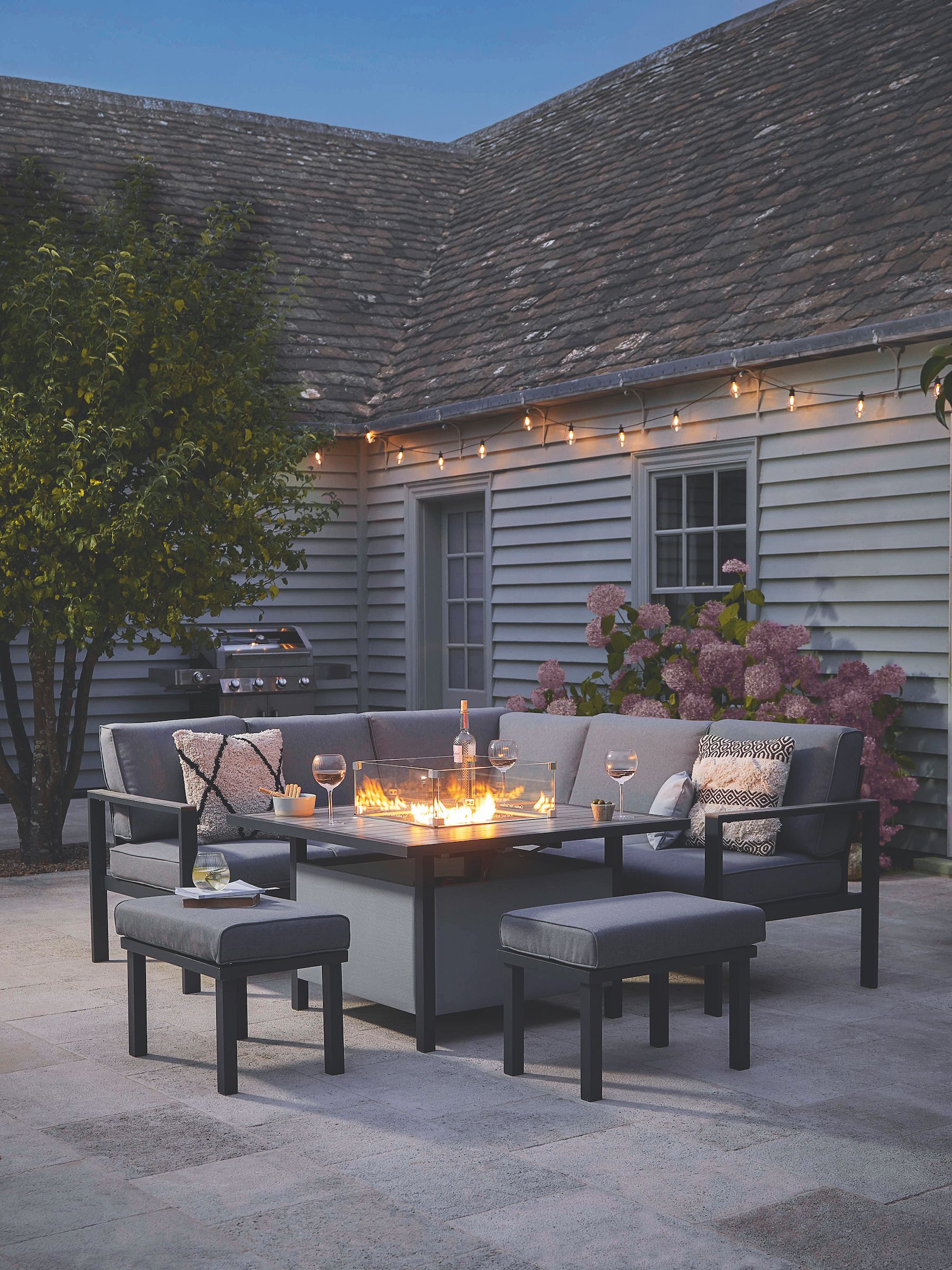 With many of us wanting to enjoy our outdoor spaces 365 days a year, adding a patio fire pit will enable you to make use of the space even on cooler days or evenings.
There are numerous designs available to suit the style of your patio ideas, from rustic stone designs, to sleek, contemporary in-built table-top fire pits.
Providing warmth and atmosphere from flickering flames and the gentle glow, 'fire pits make life alfresco a little cosier,' says Claire Hornby, head of creative at Barker and Stonehouse.
7. Add indoor conveniences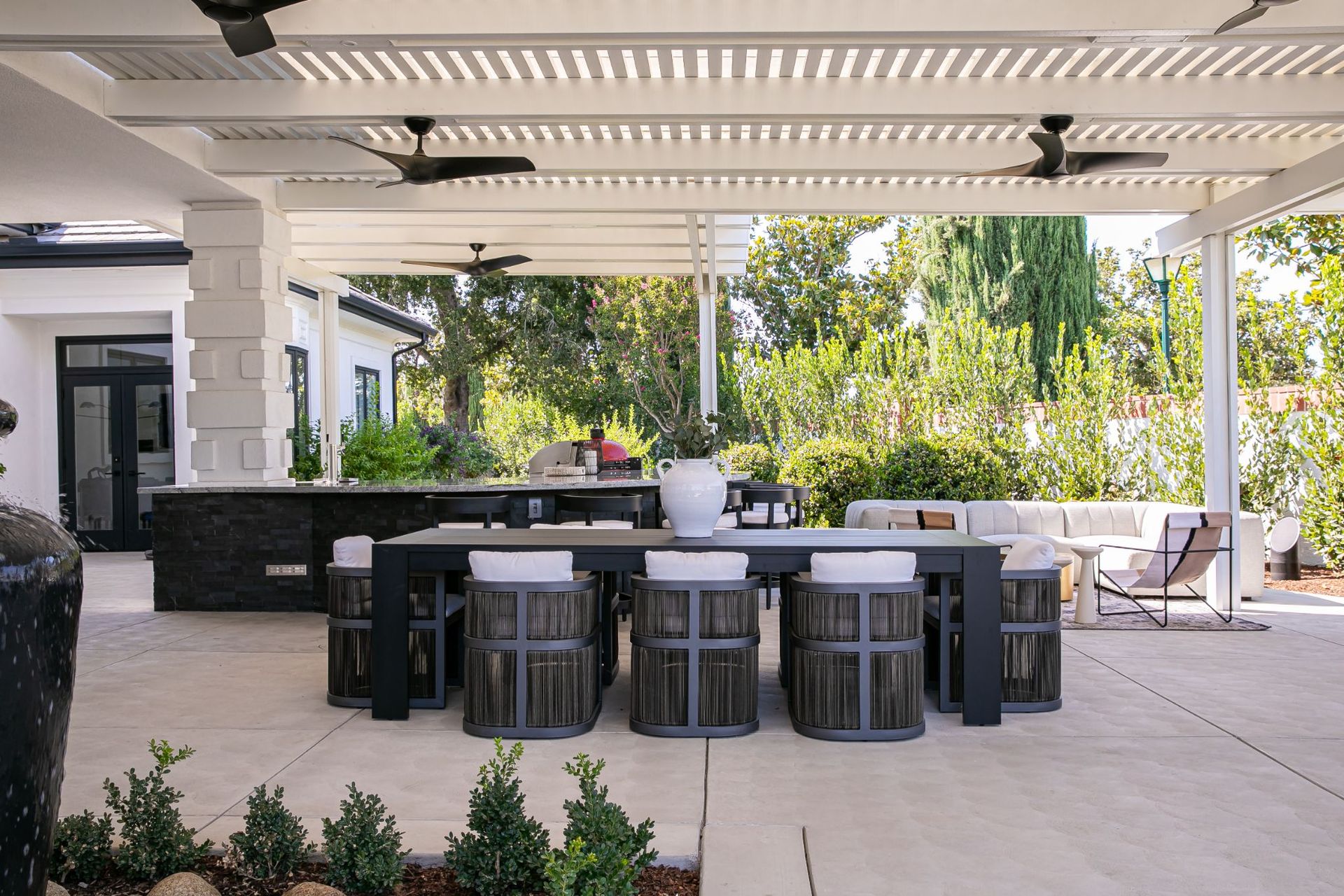 Designer Breegan Jane created the ultimate indoor-outdoor space for her California clients' back patio by incorporating interior touches. Overhead fans keep the space cool (and keep bugs away), a pergola offers shade from the midday heat, and upholstered chairs in the outdoor dining area make it easy to linger over long dinners al fresco.
8. Incorporate a beautiful dining area into your patio ideas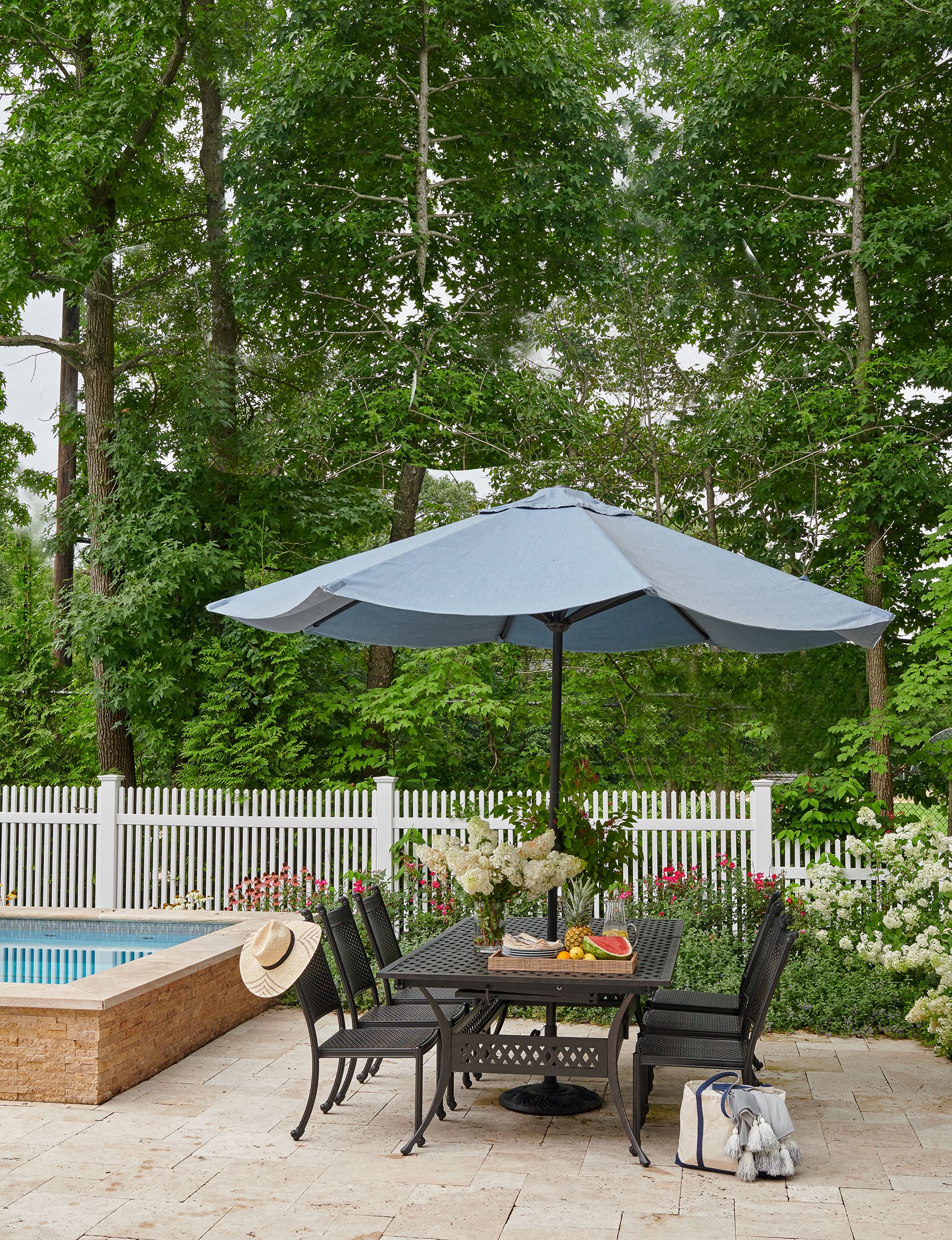 When correctly designed, patio ideas can transform your garden into a room in its own right. 'I always approach outdoor design the same way I approach indoor design, but of course with additional considerations,' says Georgia Zikas, founder at Georgia Zikas Designs. 'Ultimately, you want to create a space that feels like a natural extension of the home, and can function while looking great. This usually means some sort of seating area or outdoor dining table to enjoy summertime BBQs and parties. You'll want to choose furniture that looks great but can withstand the elements.'
Opt for charm-filled patio furniture ideas like this classic wrought iron furniture which brings traditional elegance to the scene. Pair with an umbrella over the table, which will not only protect you from sun but also add color and height to your vista. Of course, umbrellas are not the only patio cover ideas, you can also provide shade by planting trees, or adding a pergola or a colorful canopy.
9. Choose paving that complements your home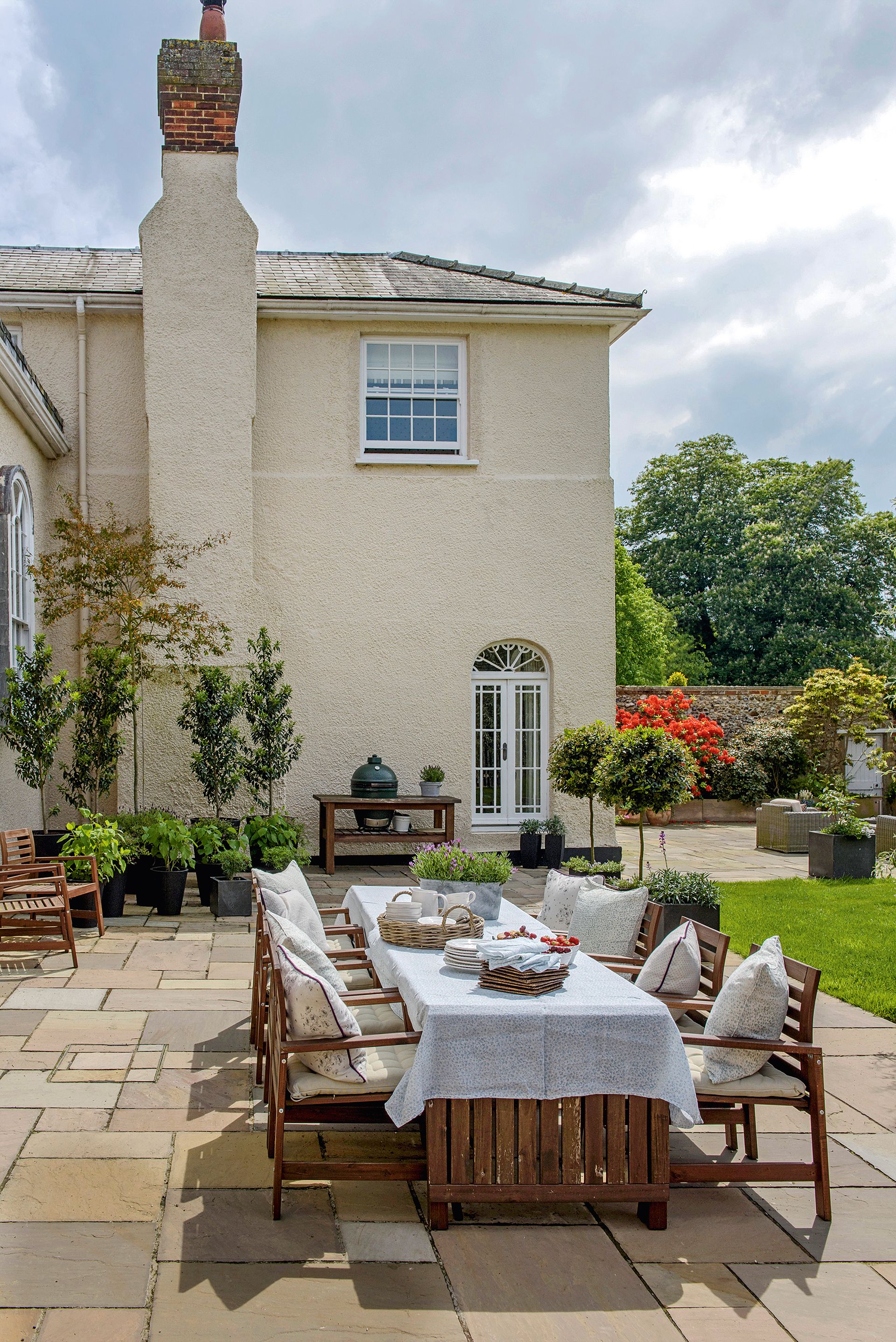 Your choice of paving will predominantly depend on the exterior of your home.
'A traditional or country style property complements more rustic finishes, such as a tumbled limestone paver whereas a contemporary home will likely suit a straight cut porcelain paver with low tonal variation,' says Isabel Fernandez, director at Quorn Stone.
Choosing flooring for your patio ideas is much the same as selecting bathroom floor ideas: it needs to be waterproof and have a low slip-level. Opt for patio flooring with at least an R11 rating, which offers increased friction and therefore slip resistance.
Once you've selected your tiles, gravel or paving, be sure to find out how to lay a patio as this will ensure that you have a comprehensive understanding of the process, even if you don't intend to lay the patio yourself.
10. Create a Mediterranean-inspired patio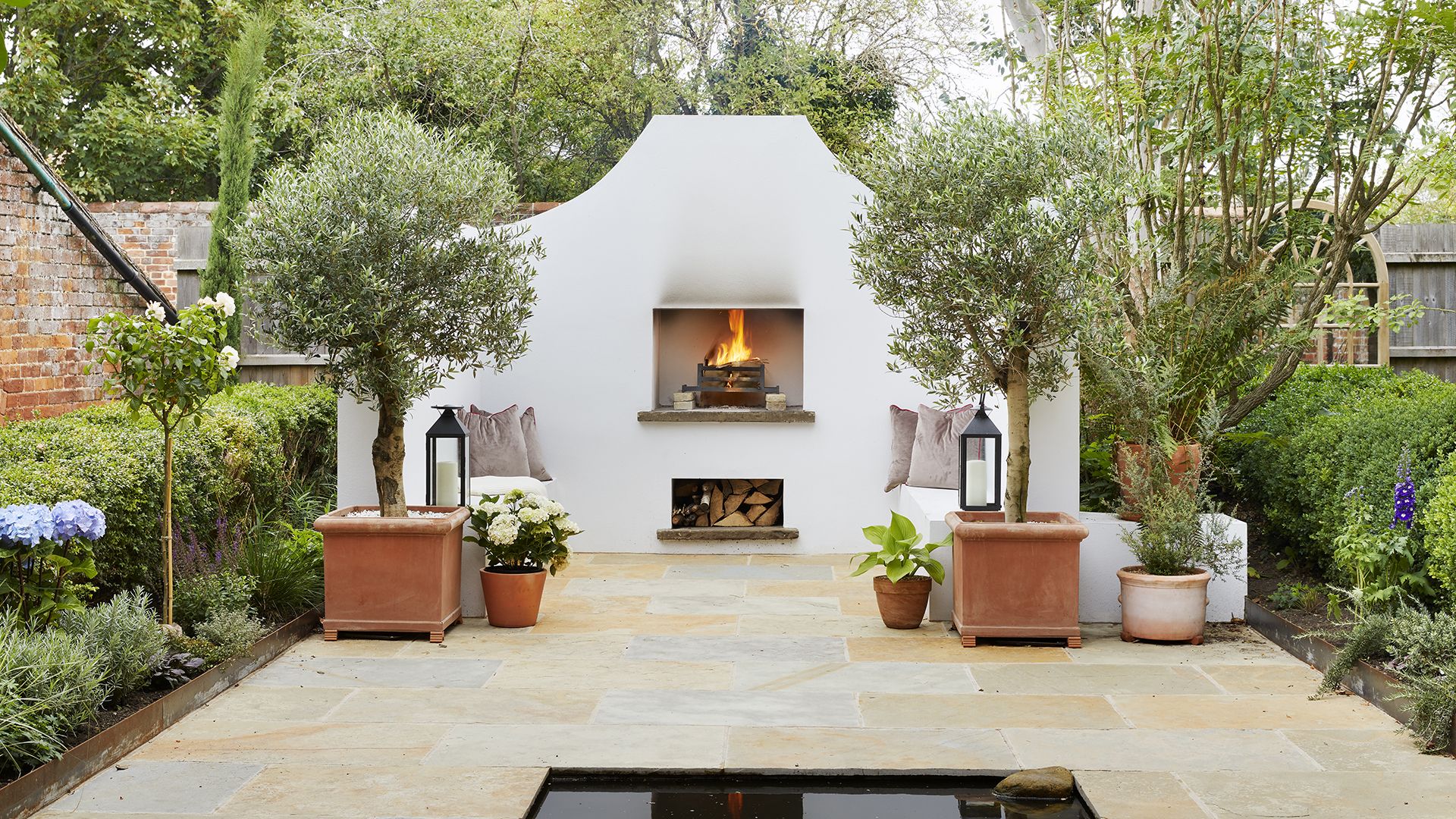 Channel a Mediterranean-inspired paradise by opting for light colored stone flooring ideas which will create a bright basis for the design. Then decorate with patio planting ideas; here, terracotta pots filled with olive trees and rosemary help to tie the patio in with the planting elsewhere in the garden.
This patio goes a step further with its Mediterranean inspired design, creating a faux white washed wall – echoing that of a Mediterranean villa – provides an air of seclusion and privacy, with seating either side of an inbuilt fire pit. Complement your Mediterranean patio ideas by learning how to create a Mediterranean garden.
11. Add a canopy to create an indoor-outdoor living space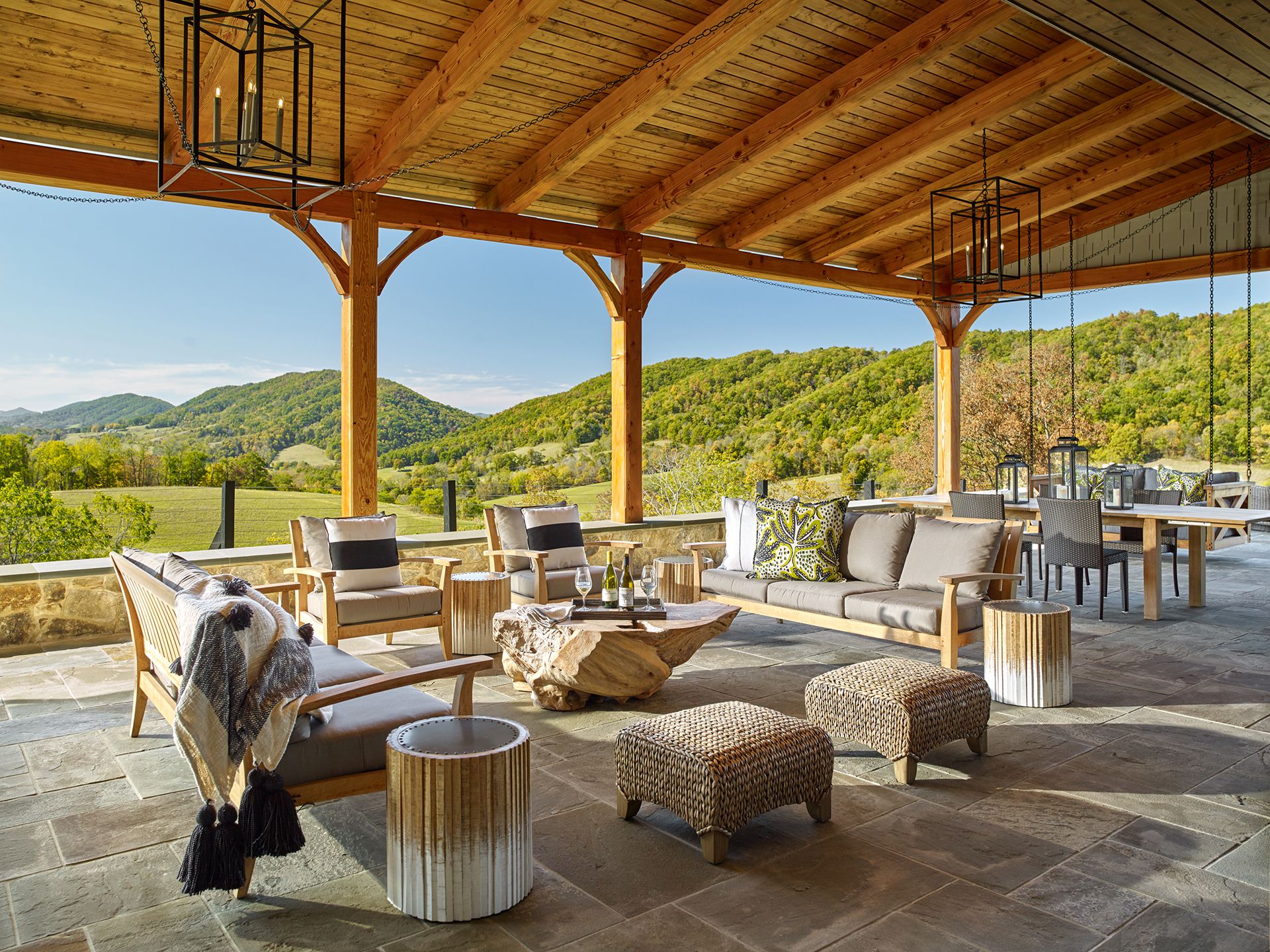 If you live in an area where the weather is consistently warm and sunny, your patio will be in near constant use. Therefore, you can afford to create a more permanent design rather than just sticking to temporary garden shade ideas such as parasols, canopies and sails.
One option for a permanent canopy is a pergola. Pergola ideas are one of the simplest ways to provide a more intimate space in your garden.
12. Let your patio ideas be inspired by resort living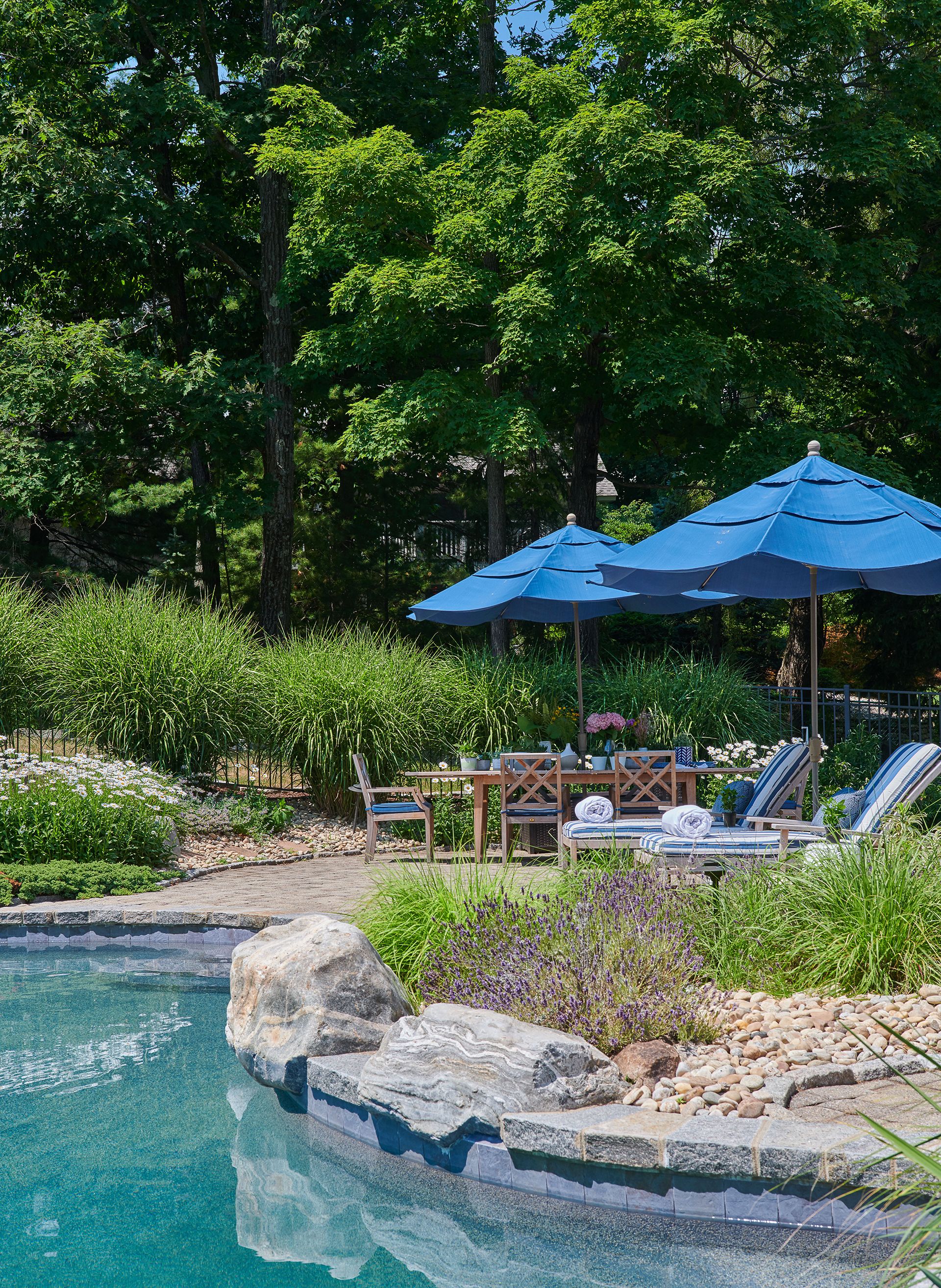 You can't beat the serenity of relaxing by a pool, but for many ,this is a luxury that is reserved for the holiday resort. If you're considering pool patio ideas to incorporate into your patio ideas, then why not let your design be inspired by resort living?
'If you're lucky enough to have a pool, I definitely recommend investing in some luxe loungers with great, outdoor-grade fabric cushions. This will make your backyard feel like a resort and you'll want to spend all your time out there when the weather is nice,' says Georgia Zikas.
'I love to mimic the natural colors found outdoors, so I always recommend some sort of wood furniture set, or even rattan, and then play up nature through blues and greens in your umbrellas, cushions and other furnishings.'
13. Use flooring to create the illusion of more space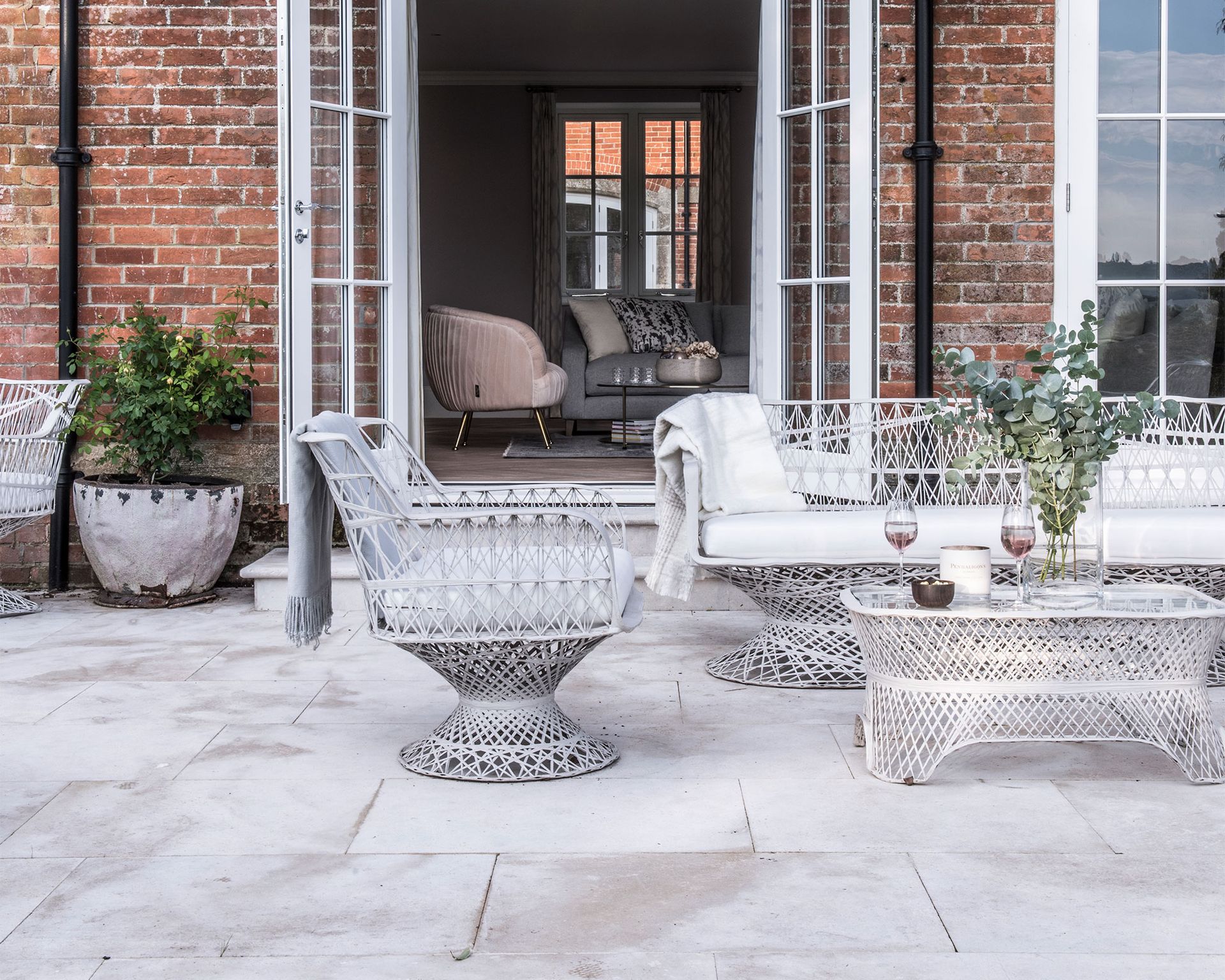 Emphasizing the width and length of your space will help your patio ideas to feel more spacious, especially when viewed from inside the home. 'Go with a large format paver. The larger the paver, the less grout and therefore it helps to create a seamless space that isn't broken up by numerous grout lines. Also opt for a grout color that is a close color match to the paver itself to give the illusion of a larger area,' says Isabel Fernandez. Picking a large format tile is a great option for making a small garden look bigger.
As well as considering the flooring, installing patio doors will also help to make both your patio and living space feel larger by joining the two areas together. Adding patio doors will also help to increase natural light in your home, letting you to continue enjoying your beautiful patio ideas even when inside.
14. Make your patio ideas an extension of your indoor living space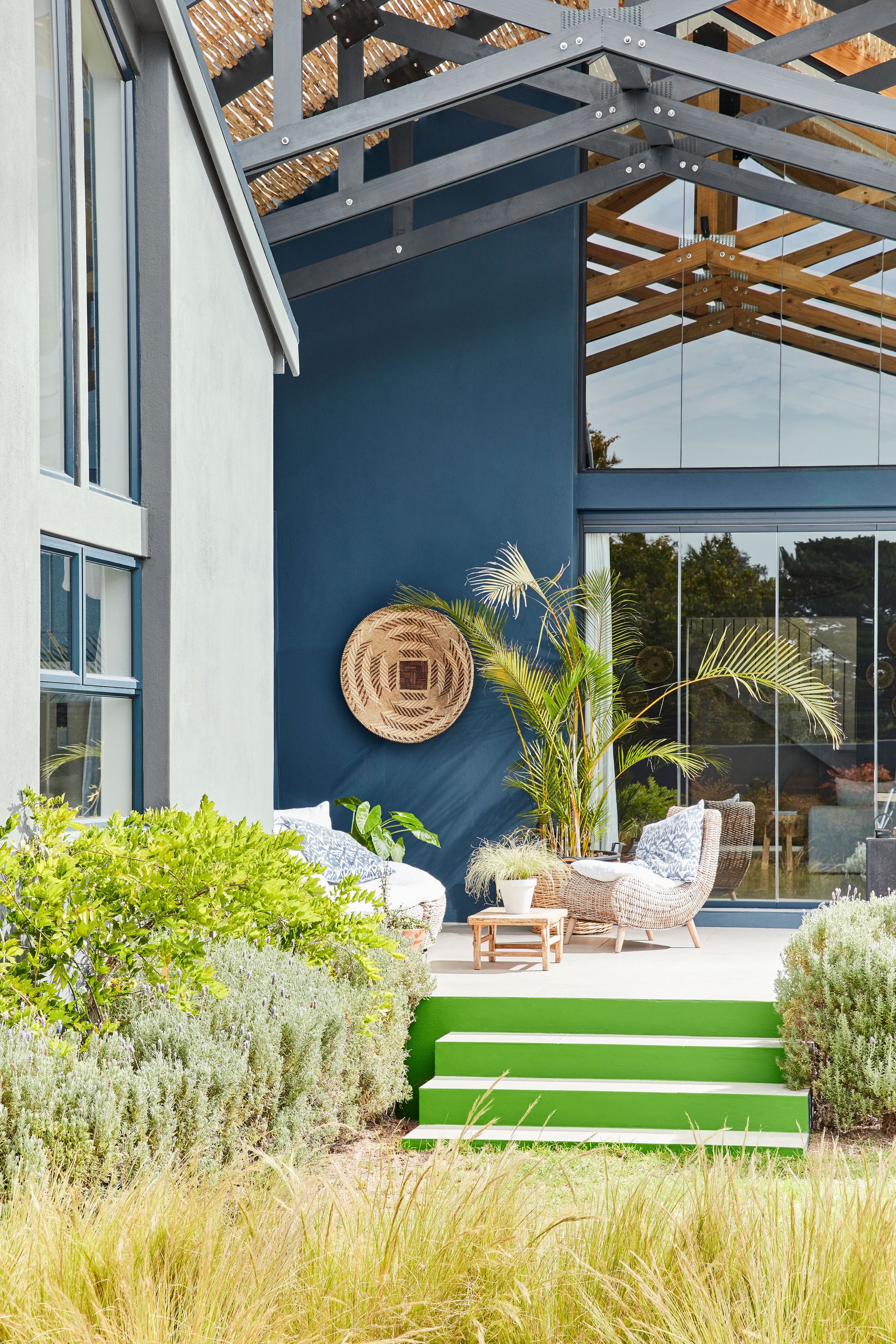 Any outdoor space we have can become a valuable addition to family life and increasingly we see it as an expansion of the home. Use stylish patio doors to join outside with in. Folding or sliding doors are a popular solution, but aesthetically your patio furniture and the choice of décor and flooring can also help tie these two spaces together.
Marking a defined threshold between the end of one room and the beginning of the other is a good place to start. The choice becomes more dependent on which room leads onto the outdoor space. A carpet tends to be the norm in a living room, but next to a garden can be more tricky, so check out more natural, hardwearing living room carpet ideas, such as sisal, coir or jute.
These offer an element of comfort but also will accommodate a certain amount of traffic too. Matched with wooden decking ideas, painted in a strong shade, it offers an interesting balance between the indoor and out.
15. Create a living wall to border your patio ideas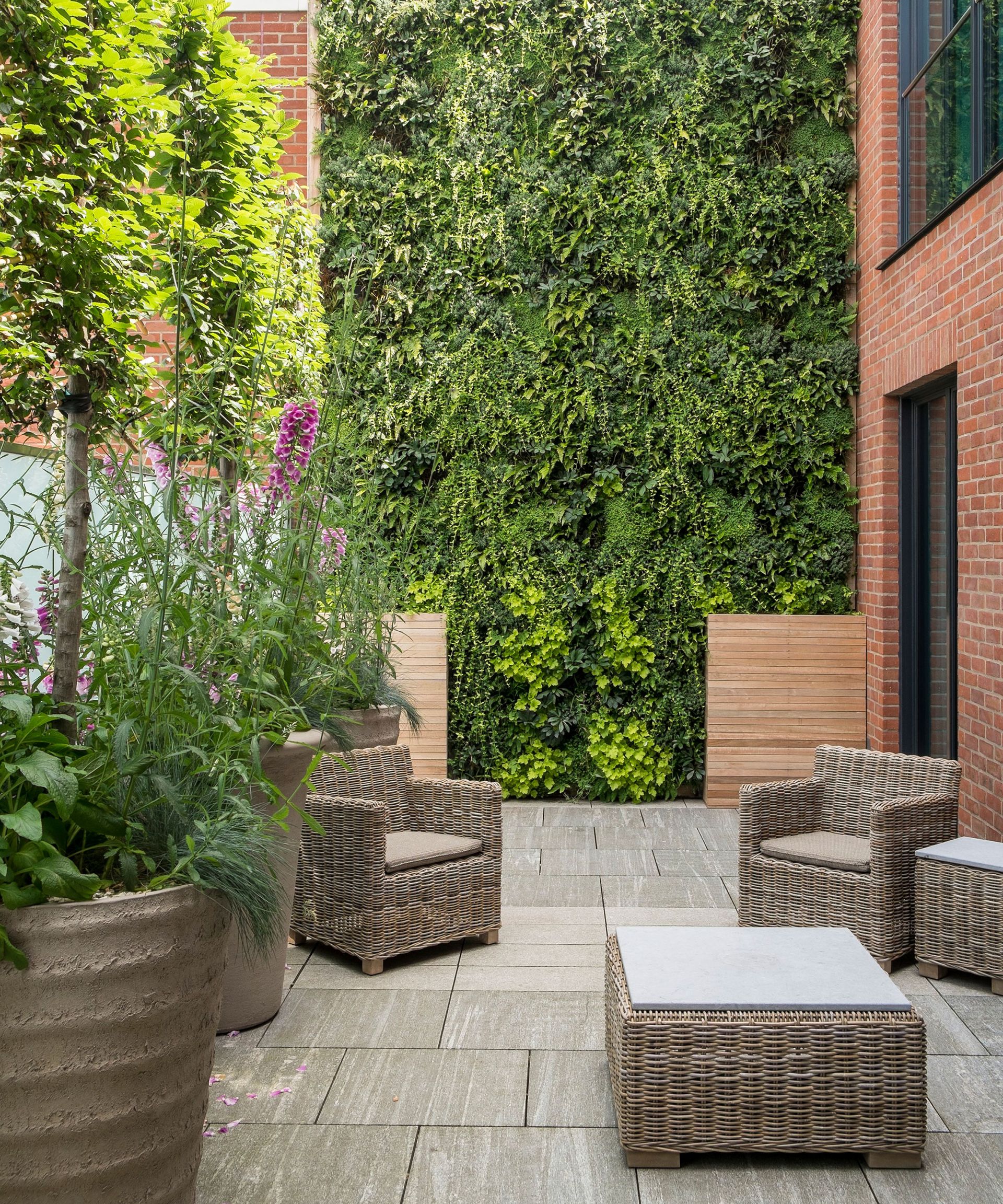 Patio planting ideas are important to research at the same time as you consider your wider patio ideas as they will work together to frame your patio and soften what can often be a hard-edged space.
For anyone considering small garden design or searching for apartment patio ideas, a vertical wall is a fantastic option – it takes up little to no patio space but provides a wonderful, verdant backdrop. As well as creating an aesthetic backdrop to your patio, incorporating living wall ideas and vertical garden ideas will also improve air quality, reduce noise and attract wildlife.
16. Create a patio that connects to your kitchen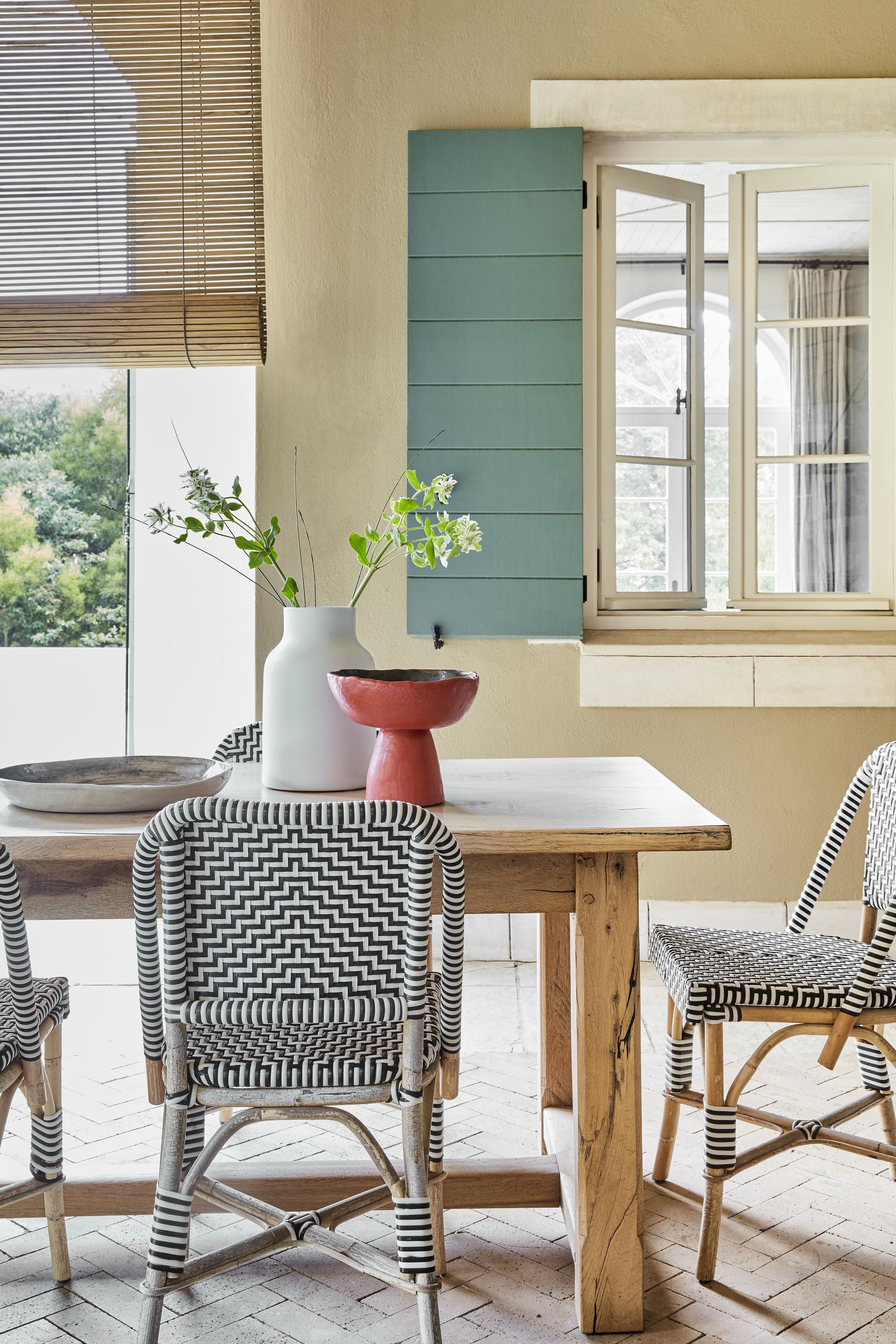 A patio immediately next to the kitchen can provide a backdrop for your kitchen ideas.
Think about how materials, flooring, walls, furniture and planting will work with the space indoors and how they will look all year round, whether you are enjoying them in warmer weather outdoors or admiring them from inside in cooler months.
To bring your patio ideas together, think about how you can add color, texture and interest into the hardscaping by using paint to bring plants in bloom to the fore.
17. Embrace modern patio ideas with a terrace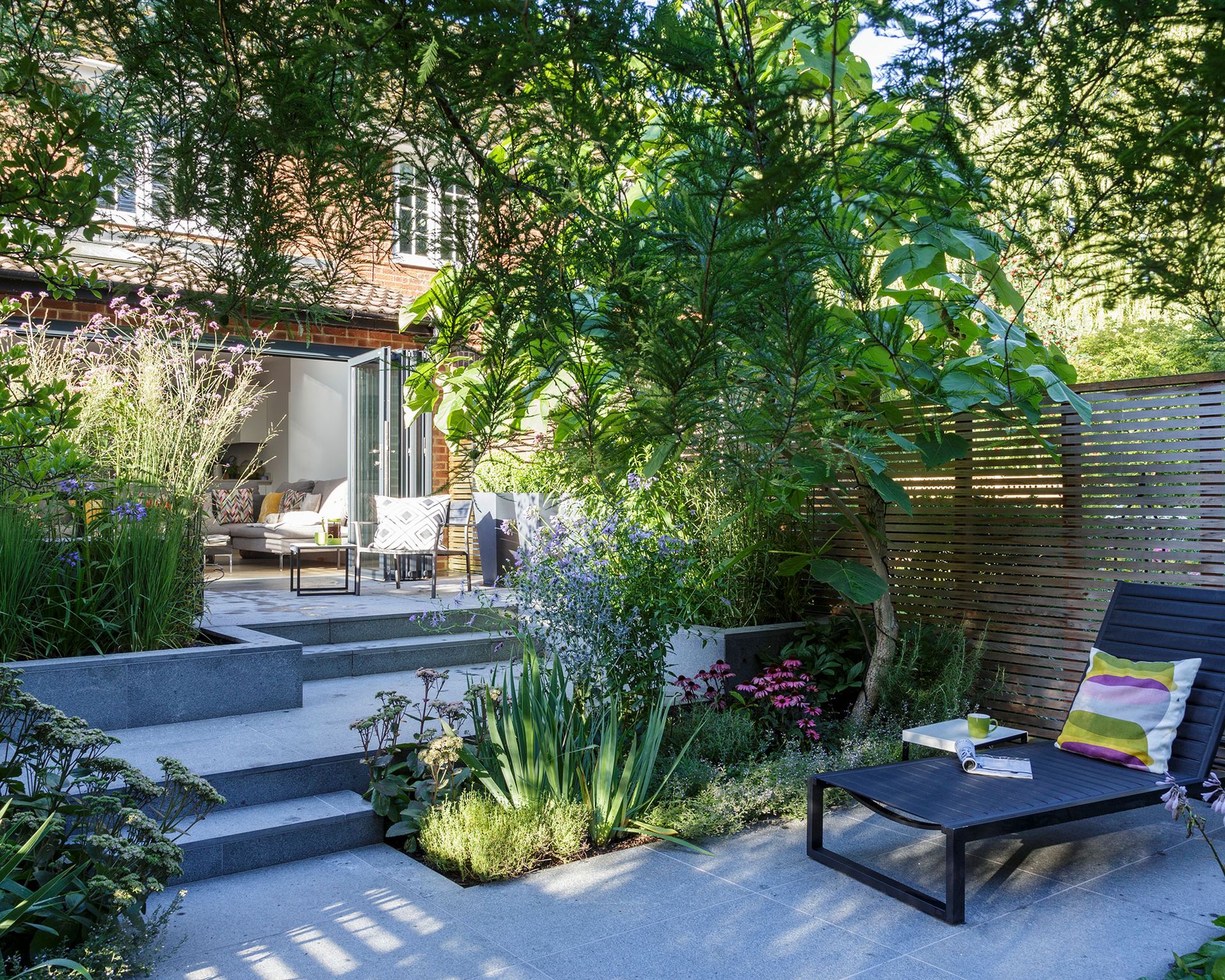 Patios don't have to be a one-level, just-outside-the-door affair. Instead, consider a multi-level terrace that can add height and interest to your backyard. Use the levels to create different zones and using planting to give the space a softer edge, but ensure you incorporate good lighting to be able to navigate steps safely. There are many sloping garden ideas you can incorporate into any style of design.
18. Pick plants that enhance the space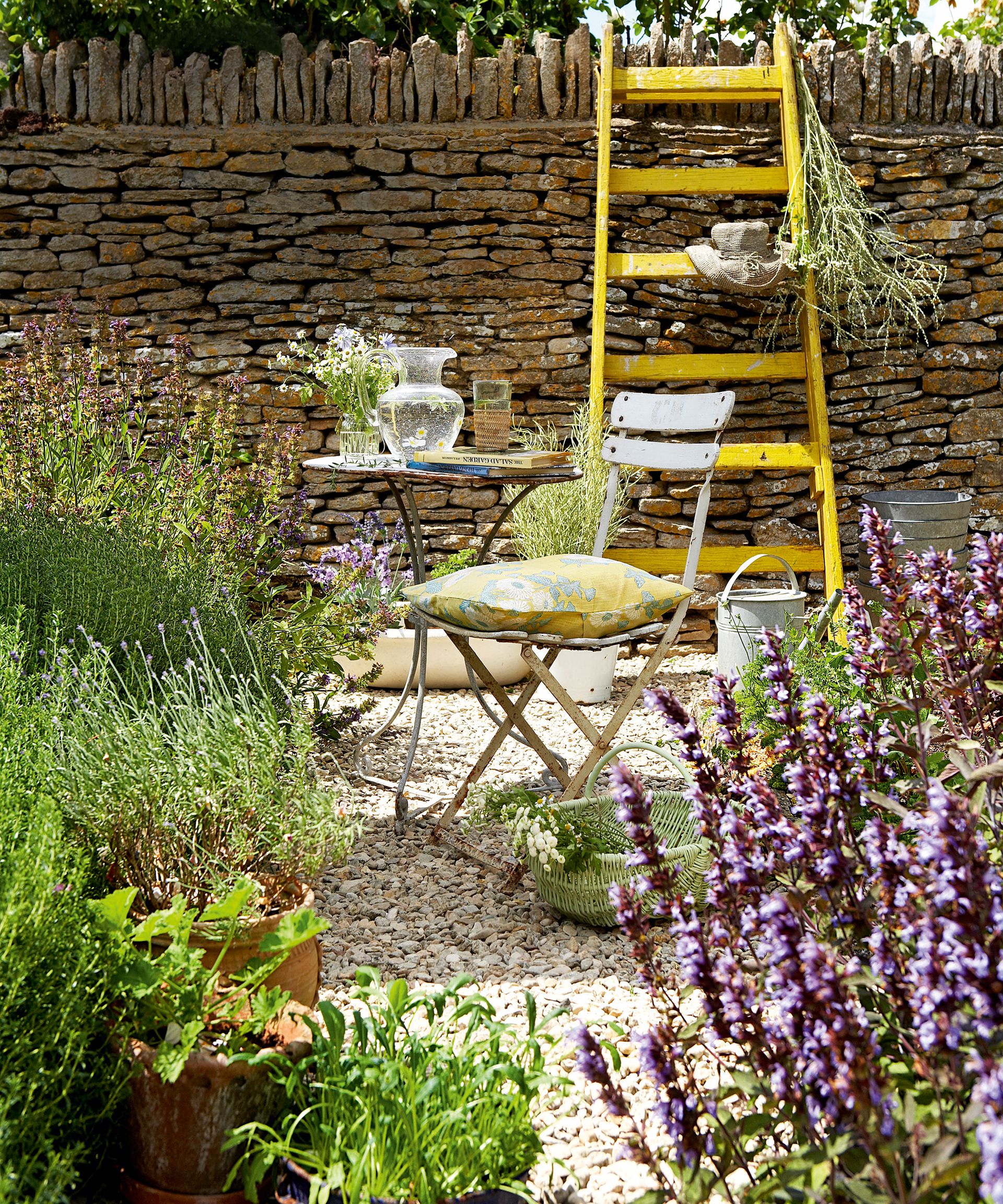 There are plenty of different planting ideas that will really elevate your space, from Mediterranean plants for a sun-loving spot, to naturalistic planting design that can suit many styles of backyard.
As a white garden idea, 'try using white flowering plants in small spaces like patios as they can help create light. They are also the last color that you see at night, so when planted in the right place they add depth,' says garden designer Sean Butler of Cube 1994 Ltd. 'While in shady areas, use saracoccoa, commonly known as the Christmas Box, a very richly scented evergreen plant that flowers early. A good all-round plant which crosses all boundaries is buxus (box). This can be used to create good structure.'
Make sure that you have plants on your patio all year-round as this will ensure that it's always bright and welcoming, even on colder days. From glossy evergreens to vibrant bulb flowers, adding some of the best winter plants for pots and borders to your patio will add a new dimension to your winter garden ideas.
19. Furnish your patio like a living space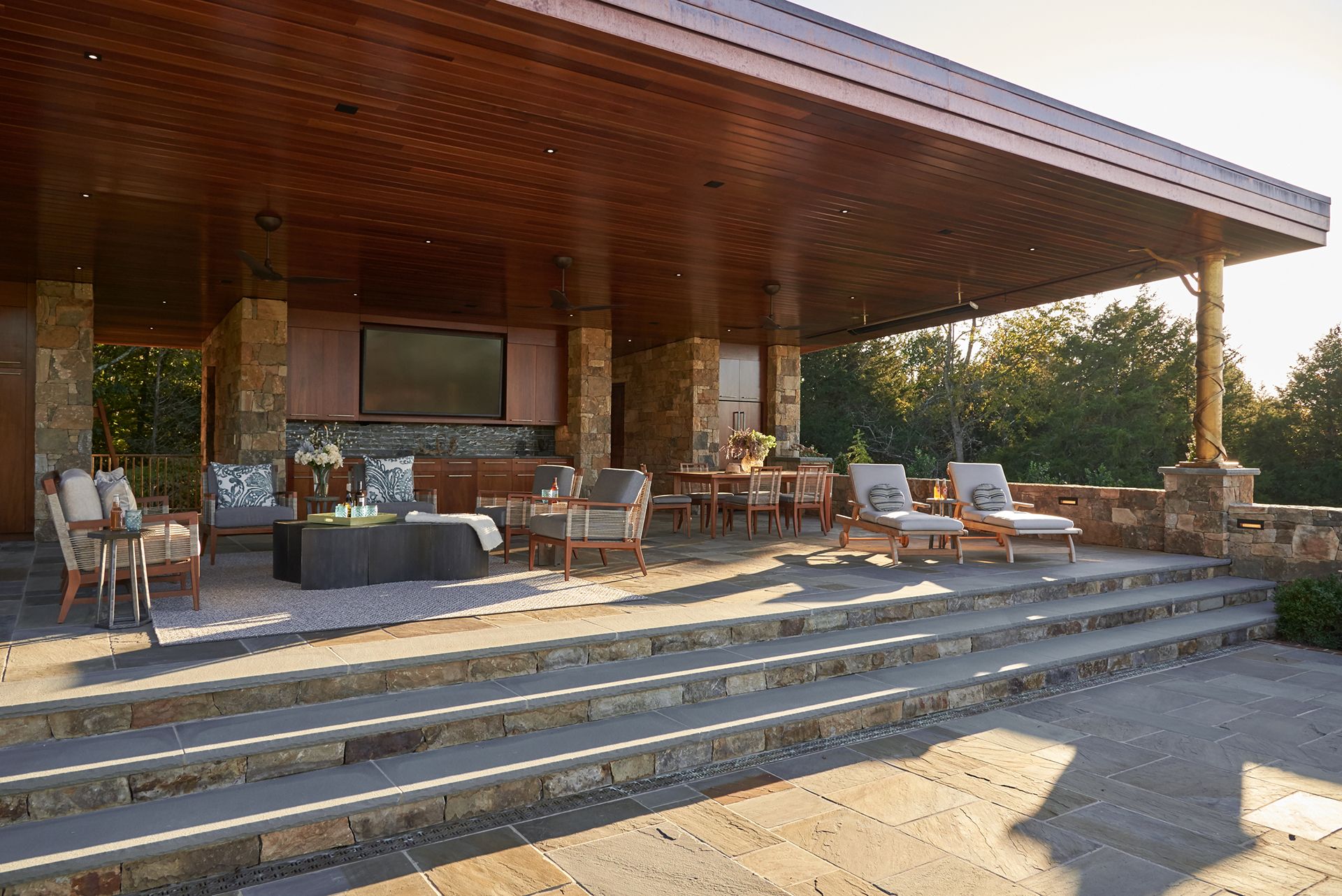 To ensure you end up with the best outdoor furniture for your space, approach the furnishing of your outside space in a similar way to the treatment of the inside. Consider warmth under foot by using outdoor occasional rugs, introduce punctuations of color in paint and variations of texture in furniture, throws and cushions to create an outdoor living room space.
'It is important to understand if you want the patio to allow for both dining and socializing in soft seating, or to only do one independently. Understanding this goal, and how many individuals you want to support, mathematically drives the scale of the patio,' says Cathy Purple Cherry from Purple Cherry Architects.
To ensure there's room in the budget to furnish your outdoor space appropriately, plan it into your patio costs from the beginning.
20. Consider decking materials for raised patios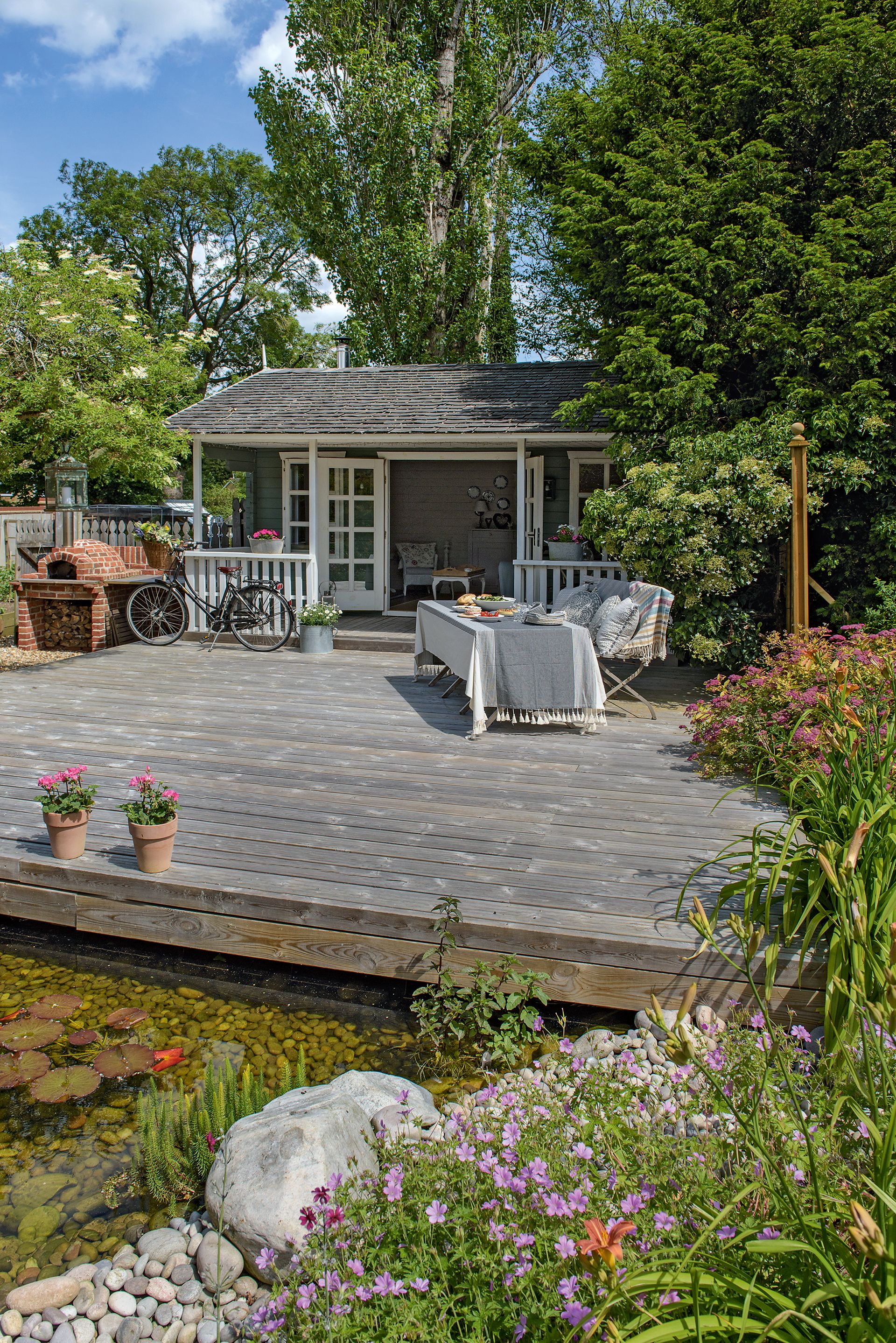 Elevated patios are best made from decking – chosen because it's lightweight and easy on the eye. While traditional deck ideas were made out of first-generation hardwoods, now it's hard-wearing composites and eco products made of recycled materials that are all the rage.
A softer alternative to paving, wooden decking harmonizes with trees and planting to create the perfect space for alfresco dining or relaxing, and it can be raised for better views. Opting for unstained wood means it will age gracefully over time, blending into the garden aesthetic.
Alternatively, opt for a more modern look by painting your deck – there are plenty of different deck color ideas to choose from. Dark colors are a great choice as they will instantly draw the eye, work harmoniously with the garden and are highly durable so won't need repainting as regularly as lighter colors.
Consider finishing the look with deck railing ideas for a secluded finish to the space.
21. Create an inviting patio by introducing colors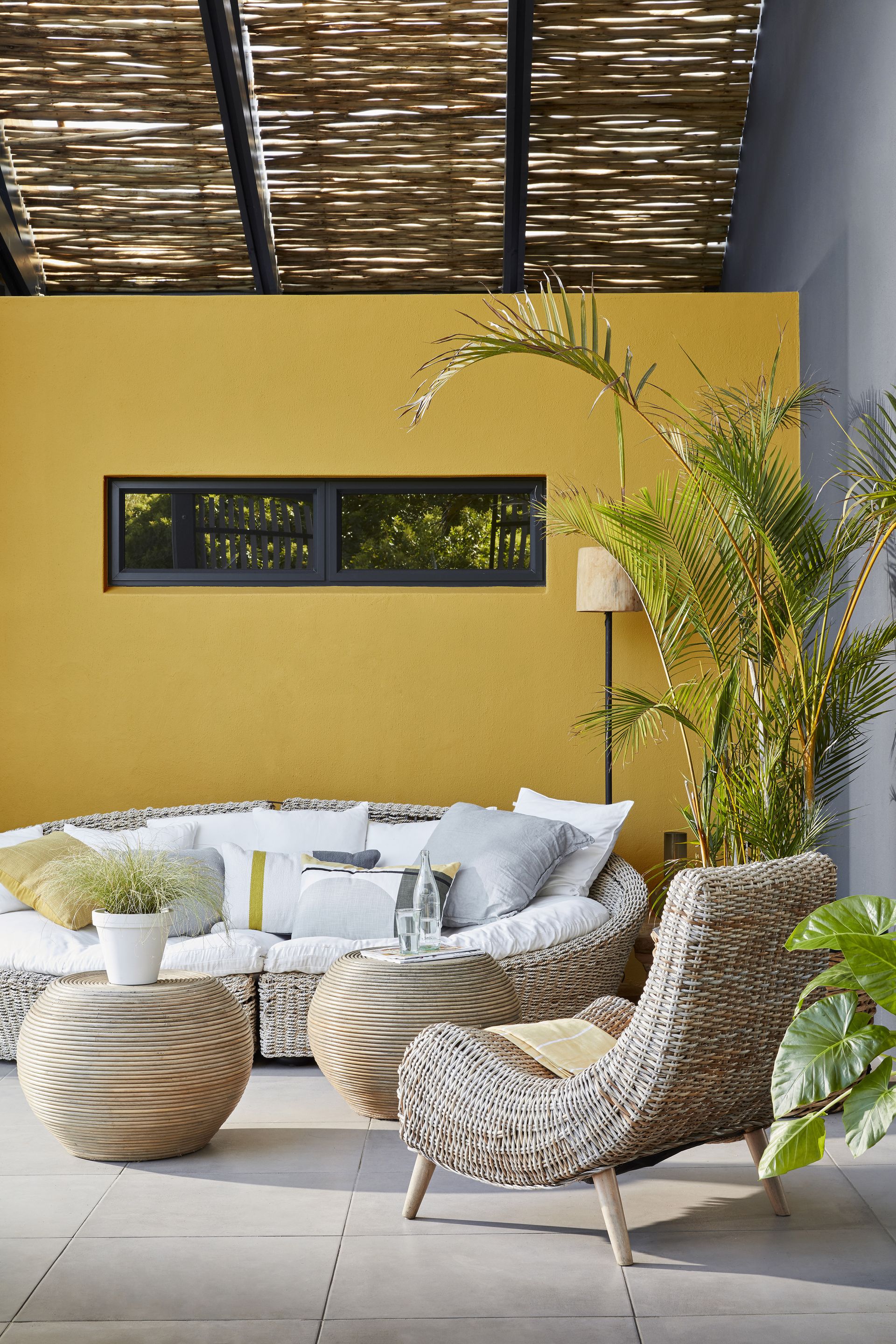 Turn your backyard into a riot of color. Be inspired by the color of your favorite flower and bring your tired patio to life this summer. From delphinium blue to sunflower yellow, there's plenty of color about to burst into life in flower beds and borders, so why not take inspiration from these shades of summer when you're planning garden color schemes.
When painting your patio area, it is important to be aware of the different paint finishes and the effect these have on your space. Firstly, it is important to select an exterior paint as this will ensure that it can cope with the a range of different environments and temperatures without cracking, peeling or running. Opt for a satin or eggshell finish as they offer low-levels of reflection, so help to disguise uneven surfaces and imperfections yet have a slight gloss, that means they can be wiped clean more easily.
22. Create a living canopy for your patio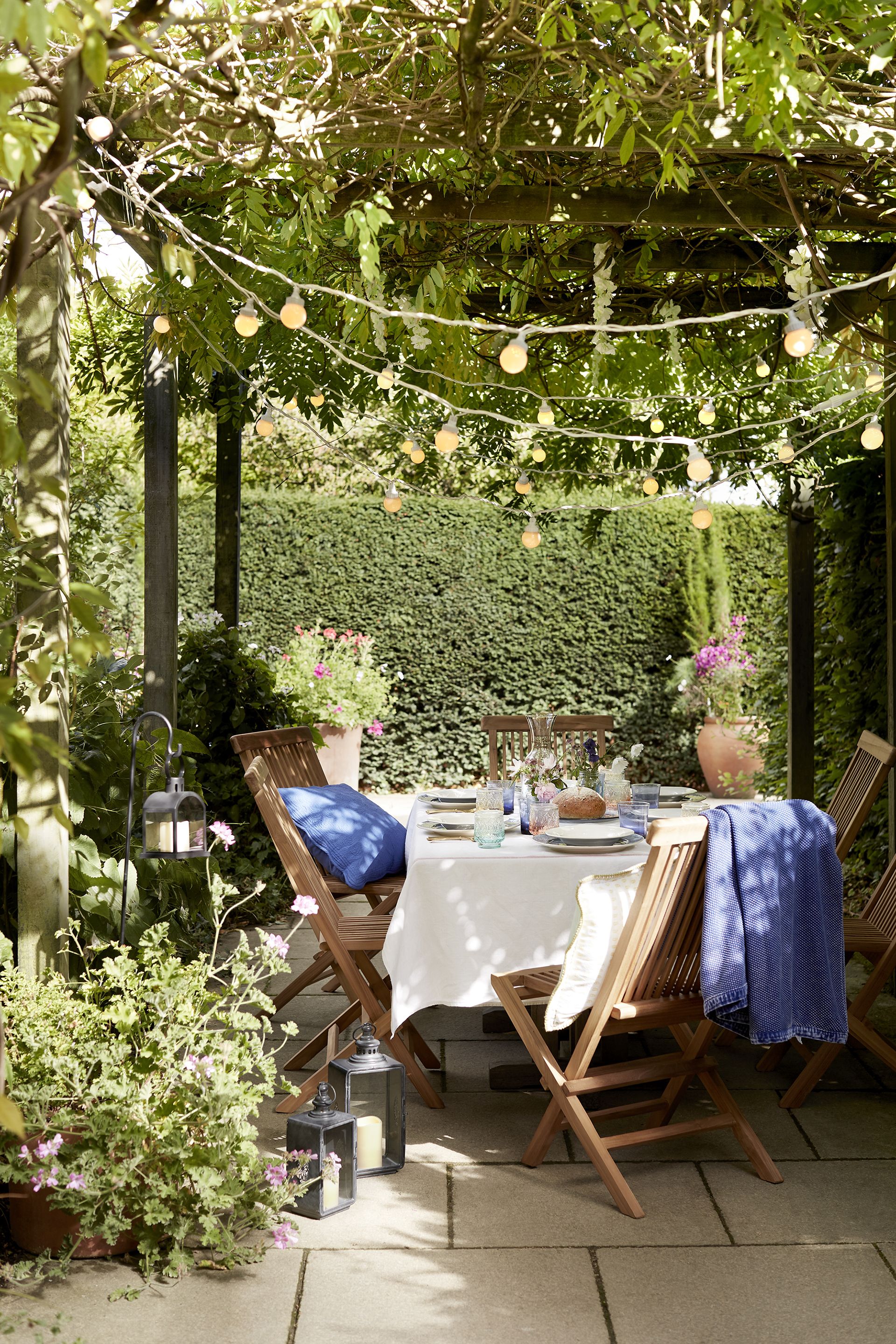 Shade garden ideas come into their own when designing a patio. Not only will a shaded area create a cooling spot to relax on hot summer days but it will also make your garden a joy to use all day long.
There are lots of different covered patio ideas to choose from, but one of our favorites is a living canopy. This simple yet effective design sees a pergola draped with foliage and climbing plants to create a botanical haven, offering shade and privacy. When deciding to create a living canopy choosing the best flowering climbers is essential, as is selecting fast-growing flowering vines, combining these two types of plant will create a luscious space that will be full of color and perfume during summer.
23. Include an outdoor patio cook space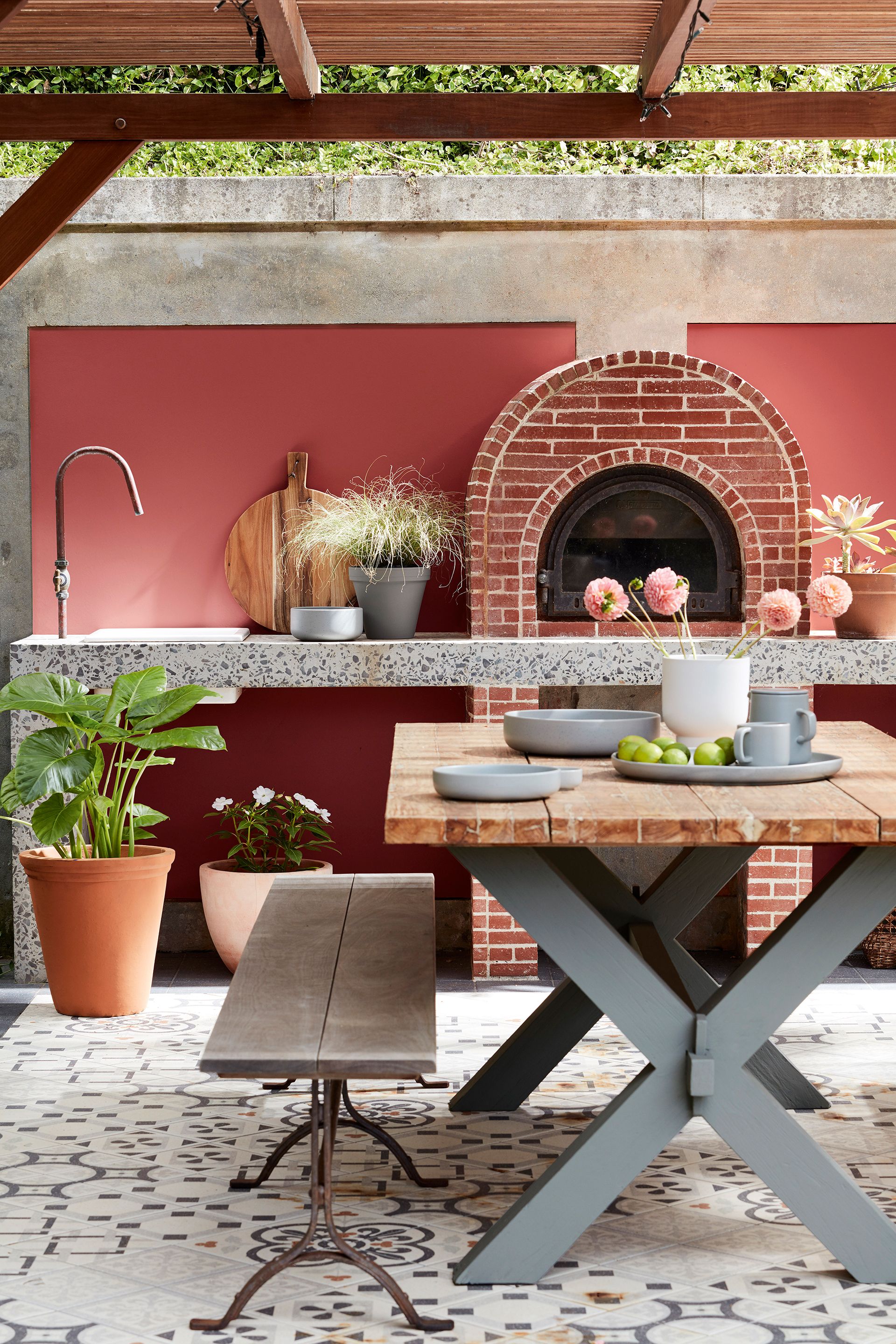 Adding an outdoor kitchen to your patio ideas can extend its use, creating a space not just for dining and lounging but for living in warmer months. When figuring out how to plan an outdoor kitchen, approach it just as you would indoors. Create a dedicated cooking zone, accompanied by preparation space, as well as a closely connected dining area. Quick access to running water is also a must so be sure to incorporate a tap and sink into your design.
24. Create a patio focal point with a faux fireplace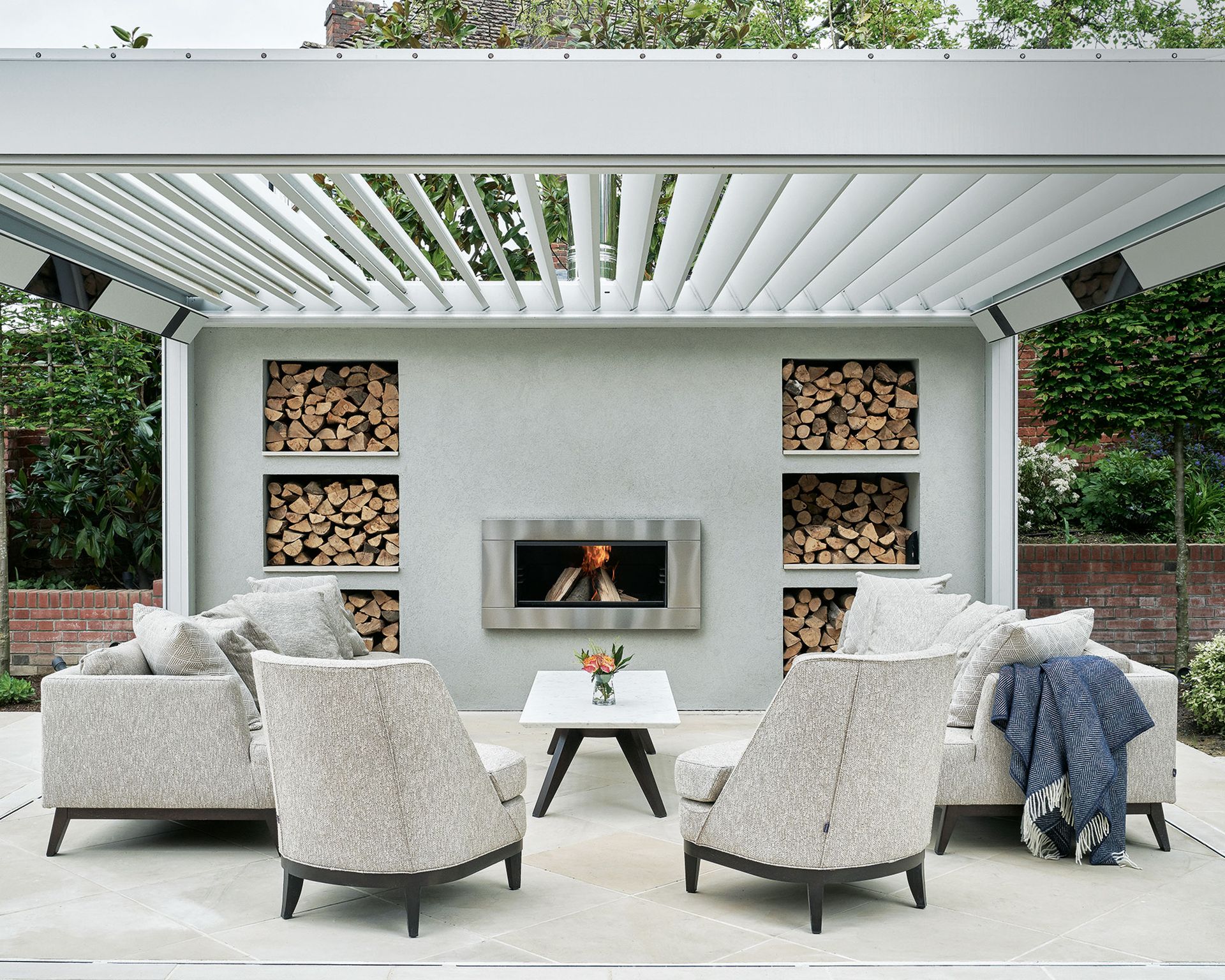 If yours is a sheltered or enclosed patio, you have the opportunity to treat the space as you would a room indoors. In this case, a focal point will be beneficial to your outdoor room. Here a characterful Victorian fireplace is a quirky addition to the space but one that instantly draws the eye.
This faux fireplace serves as an aesthetic focus, and you can furnish the rest of the patio with plants, candles and a cozy sofa to create an inviting space.
25. Surround a patio with cottage planting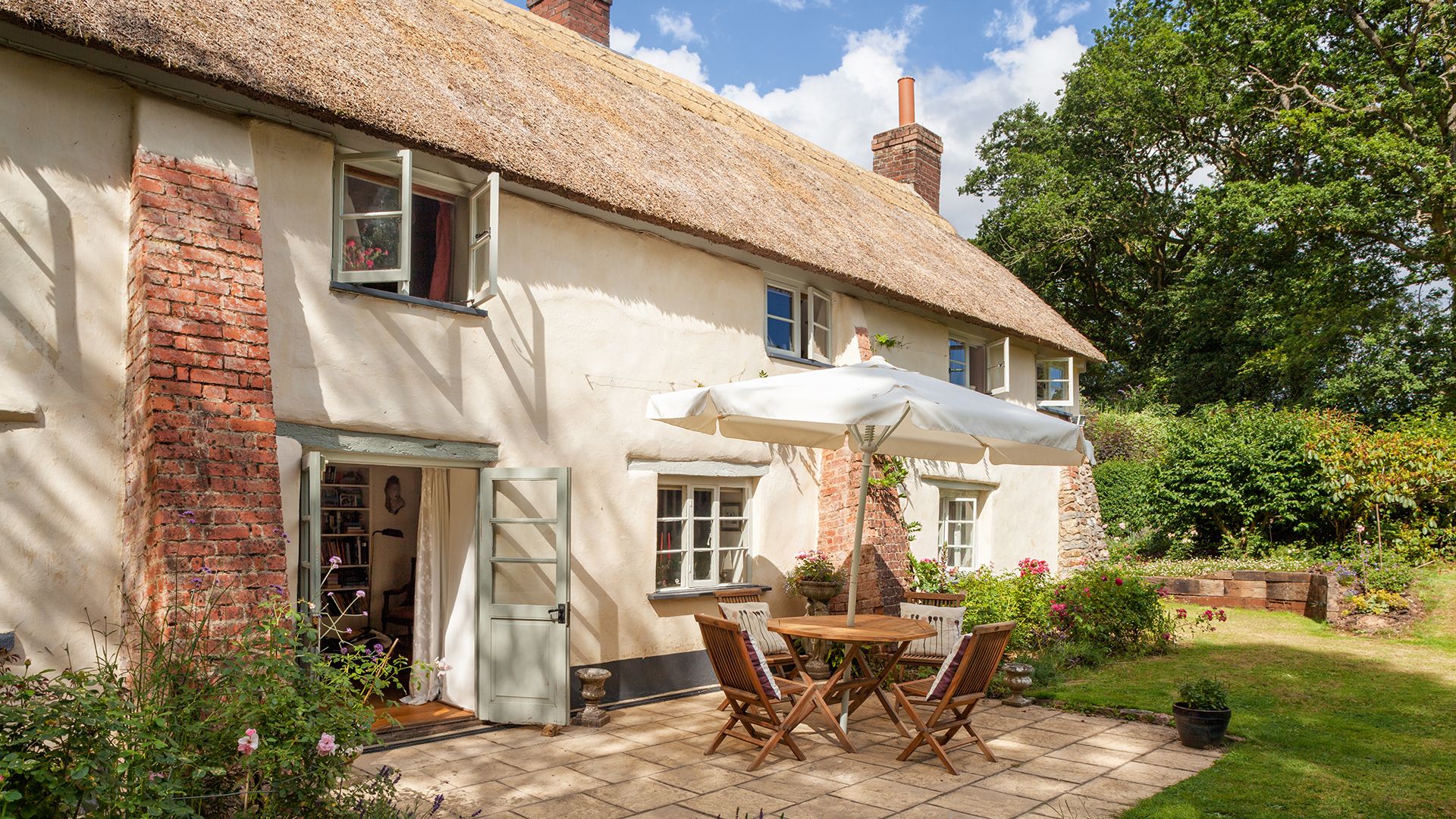 A patio is a great addition to a cottage garden, but let your design be inspired by nature and opt for natural materials that will seamlessly integrate into your space. Select natural stone flooring – there are plenty of stone flooring types to choose from – as this will create a naturally inspired backdrop to complement cottage garden plants.
Creating an elegant focal point on your patio by adding wooden patio furniture ideas that will lend the space a soft, welcoming aesthetic, ideal for al fresco dining and relaxing with friends and family.
26. Include a water feature to create a peaceful patio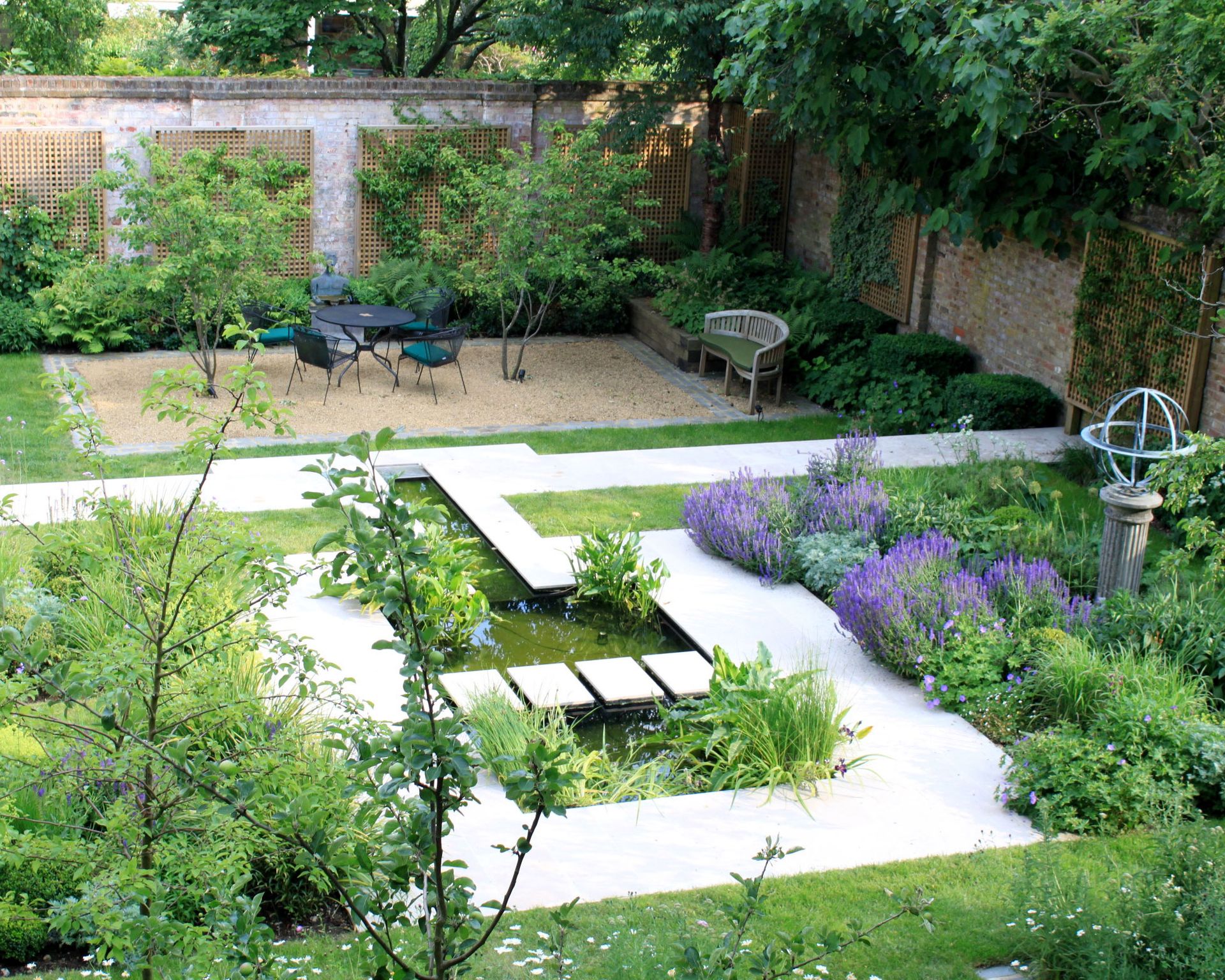 Incorporating water feature ideas into your patio ideas is a wise move. Not only does it make for a wonderful design element and creates opportunity for a wider variety of planting, but it is also an integral part of wildlife garden ideas.
If you are looking to fully capitalise on creating an eco-friendly garden, then maybe consider garden pond ideas instead. Regardless of its size, learning how to build a pond and adding one to your patio ideas will prove invaluable for wildlife.
Whether you opt for a water feature or a pond, adding garden fountain ideas is definitely worth considering, especially if your backyard suffers from noise pollution as the gentle, relaxing soundtrack of the moving water can help to minimize the sound of traffic or noisy neighbors.
27. Work patio lighting into your design scheme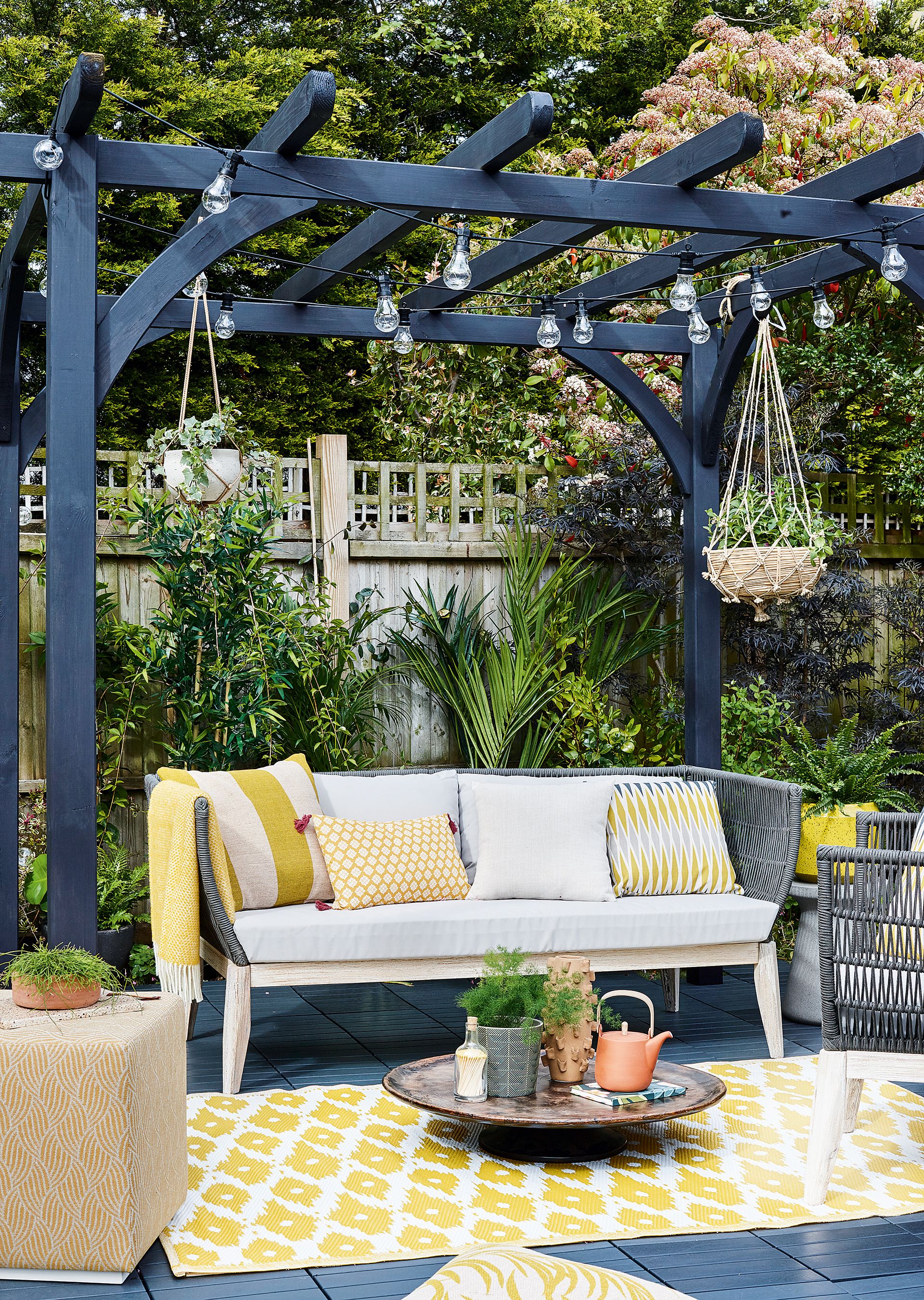 Patios need to be well-lit to function properly at night – but unlike indoors where lighting needs to be occasionally bright, floodlighting a patio is impractical.
Instead, use attractive outdoor lighting ideas to create soft lighting zones around the patio – whether creating ambient lighting with pretty bulbs, like in the patio above, or creating a display of lights on a table. An outdoor lantern is also a stylish yet practical option for bringing light into this space.
28. Position a patio away from the house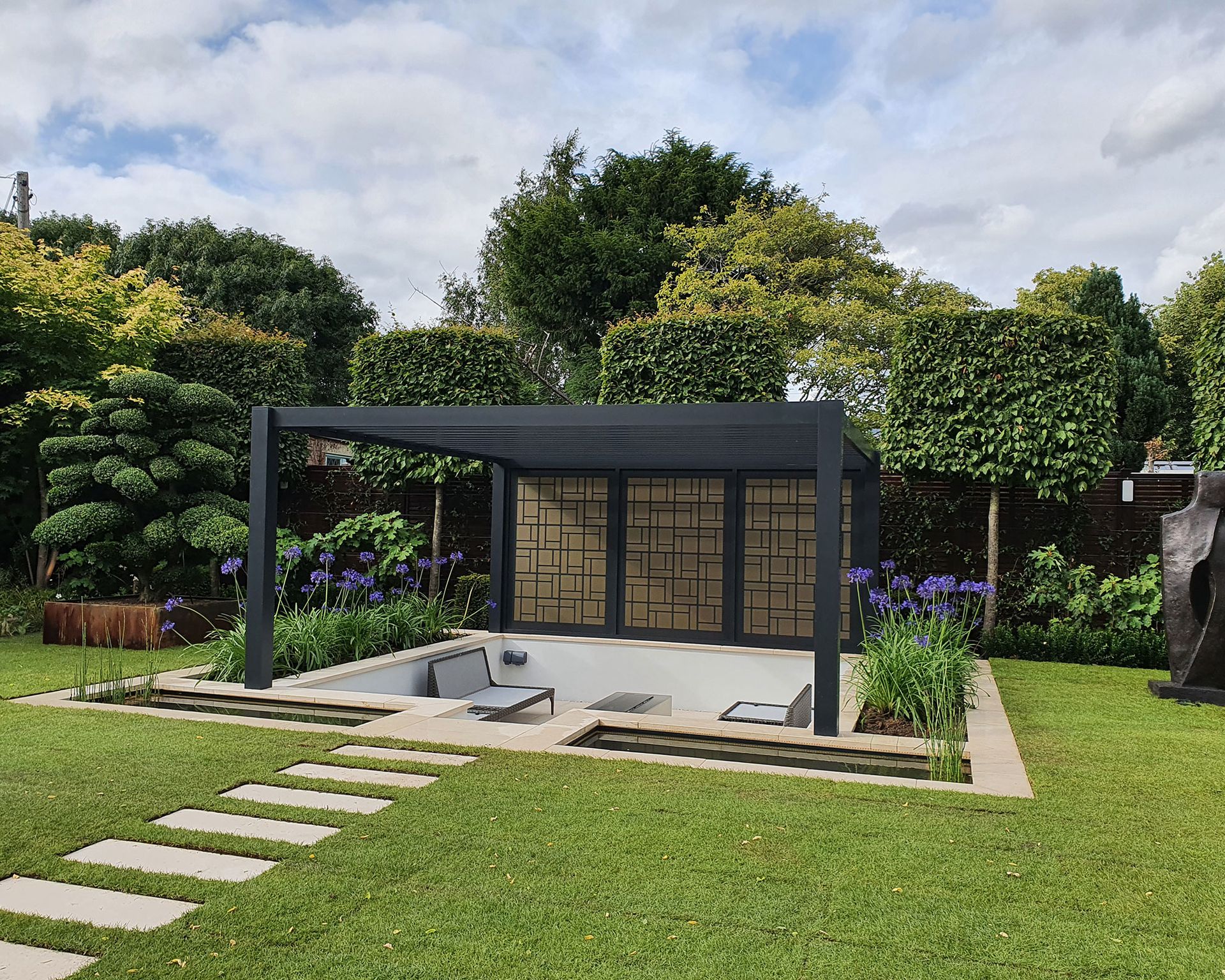 Your patio does not have to be connected to the house. While positioned adjacent to the house is the most popular location for many, it is by no means the only location. Any paved area in the garden which serves a recreational purpose can be deemed a patio.
In the garden design above by Kate Gould, a sunken patio area has been designed in a garden area to create a private and intimate space away from the house.
If your patio is designed with daytime relaxing in mind, it might be worth locating your patio in the space that receives the most sunlight throughout the day. Alternatively, if your patio is intended to be a space to enjoy an evening drink, you might want to consider where the last rays fall.
Walled gardens – or partially walled gardens – also offer another patio citing opportunity. With the walls radiating the warmth that's been throughout the day, a walled patio will create a warm and cosy nook that's ideal for evening alfresco dining. Why not combine your patio with an outdoor kitchen island to create an external kitchen/dining space that works independently from your home.
How do you make an affordable patio?
You can make an affordable patio by using reclaimed and recycled materials, and if you learn how to lay a patio yourself then this will cut down on labor costs.
You do not need to opt for the most expensive landscaping materials as you can make a patio more inviting by adding furniture with cushions and throws and patio covers such as umbrellas, pergolas or sails. Think of designing your patio in the same way as you do your living room, factor in colors, textures and lighting to create an inviting and welcoming space. These are all elements you would include if you wondering how do I add luxury to my backyard.
Don't forget the look and feel of the space by night, too. Incorporate different patio lighting – even the use of hurricane lanterns can create a simple, romantic terrace full of warmth in the evening.
How can I make my patio look nice?
The key to making a patio look nice is to choose the two main elements – planting and paving – carefully. The type of planting you choose will help to soften the look and feel of the patio.
Consider feathery grasses or velvety ferns, architectural plants for a tropical garden feel, or if your space is small, try to create a sense of lightness using plants with soft foliage and small, delicate leaves.
Color is important, too, when considering different patio ideas. Opting for light greens, silvers and greys will help create a sense of spaciousness, while highly reflective, shiny leaves can add light and shimmer providing a greater depth of field in the planting scheme.
In larger spaces, fragrance is a good way of zoning. A variety of fragrances in different areas of a terrace can suit different moods and help them come to life at different times of day.
What is the best material for a patio floor?
Ideally you want to choose and sustainable and long lasting material for your patio floor. Natural, local stone is ideal, as it will complement the location, be hardwearing and long lasting, and add to your eco credential, whether this is natural stone riven paving slabs for more traditional settings, clay pavers, or sleek porcelain tiles for a more contemporary space. There are also a whole host of recycled and reclaimed materials that can be incorporated into a design.
Sign up to the Homes & Gardens newsletter
Decor Ideas. Project Inspiration. Expert Advice. Delivered to your inbox.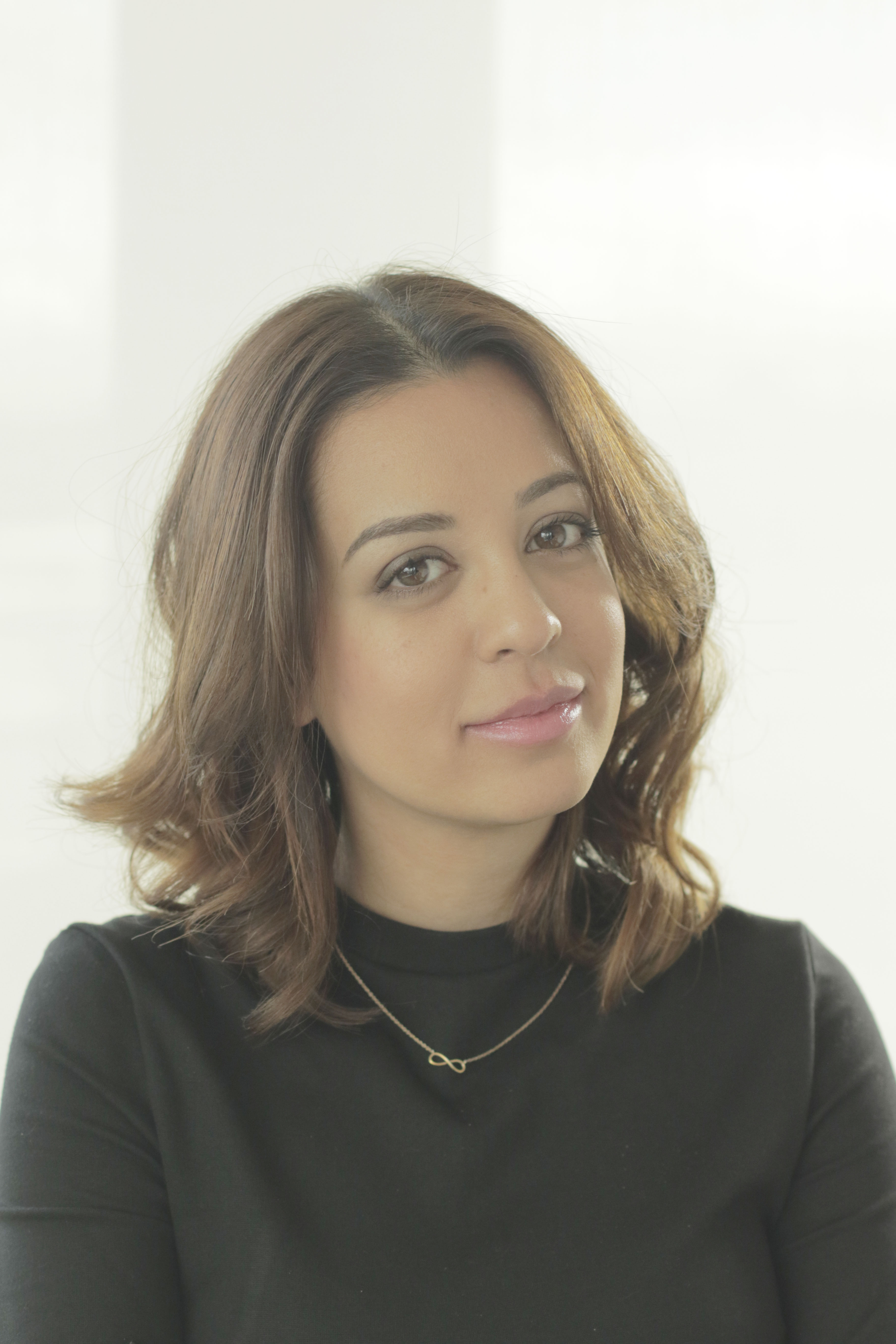 Jennifer is the Digital Editor at Homes & Gardens. Having worked in the interiors industry for a number of years, spanning many publications, she now hones her digital prowess on the 'best interiors website' in the world. Multi-skilled, Jennifer has worked in PR and marketing, and the occasional dabble in the social media, commercial and e-commerce space. Over the years, she has written about every area of the home, from compiling design houses from some of the best interior designers in the world to sourcing celebrity homes, reviewing appliances and even the odd news story or two.