Deck color ideas – how to choose the color to paint your deck
Be inspired to color your deck so it's the perfect complement to planting, landscaping and your home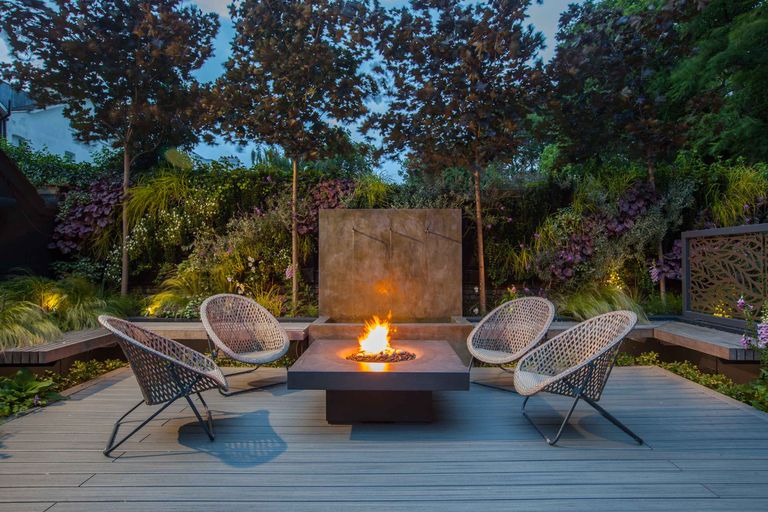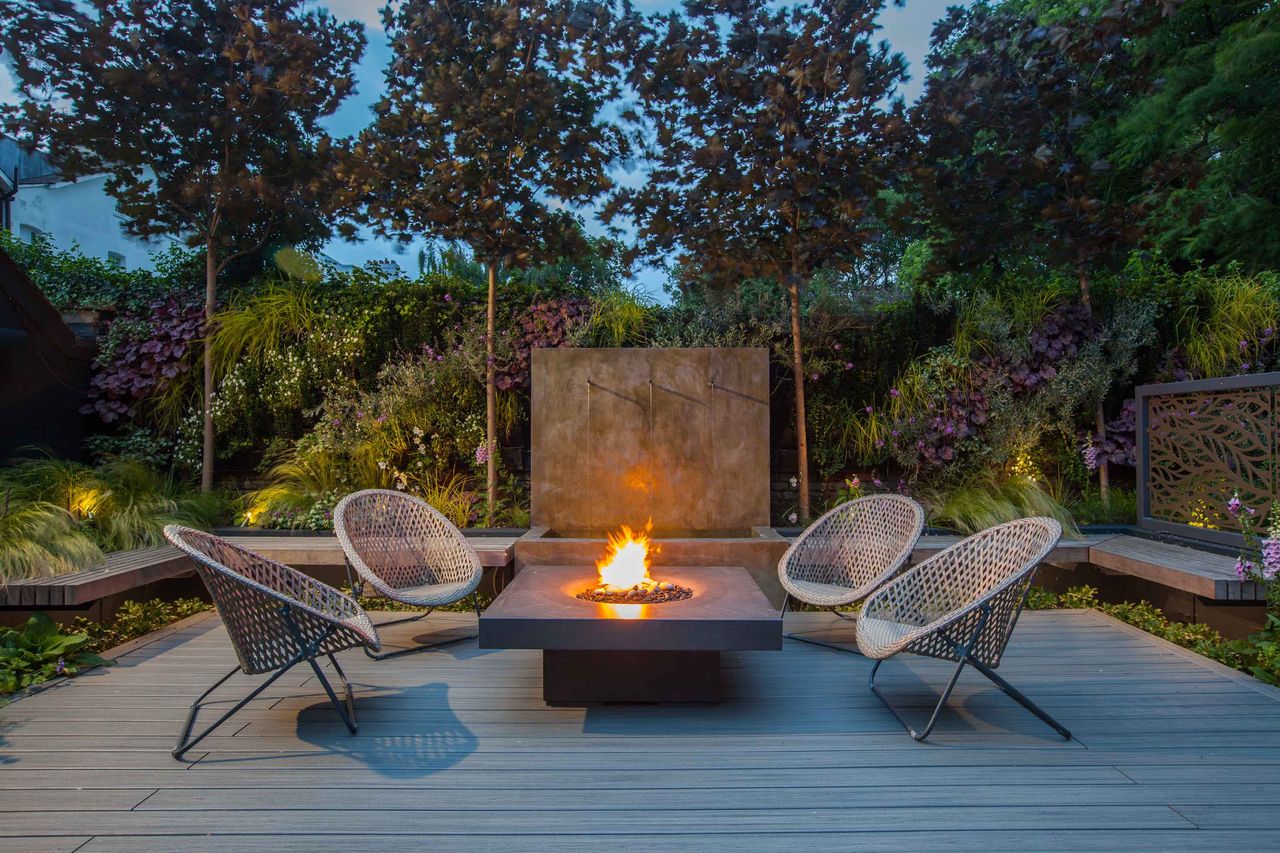 (Image credit: Simon Orchard Garden Design)
Deck color ideas might be on your list of decisions to make if you are transforming your backyard. A deck, after all, can be the design's focal point, so to exploit its potential to the maximum, it's worth considering which color is the best option for you.
Or, perhaps you are improving your existing deck and looking for deck ideas? Its original shade may have deteriorated over time and a deck color revamp may be due. But even if that's not the case, a different decking hue could work far better aesthetically. Paint your deck a new color and it's possible to transform your outdoor space.
'You can match a deck to a warm, rich hard and soft landscaping palette, or tone a silvered deck with a planting scheme,' says Catherine MacDonald, Principal Landscape designer at Landform Consultants when discussing deck color options.
'If the decking is adjacent to the house, tonally matching the interior floor color with the decking color can help create a sense of space and bring the outside in.'
Deck color ideas
To get you started, we've put together the best deck color ideas to make yours a handsome part of your outdoor landscape.
1. Choose an understated deck color as contrast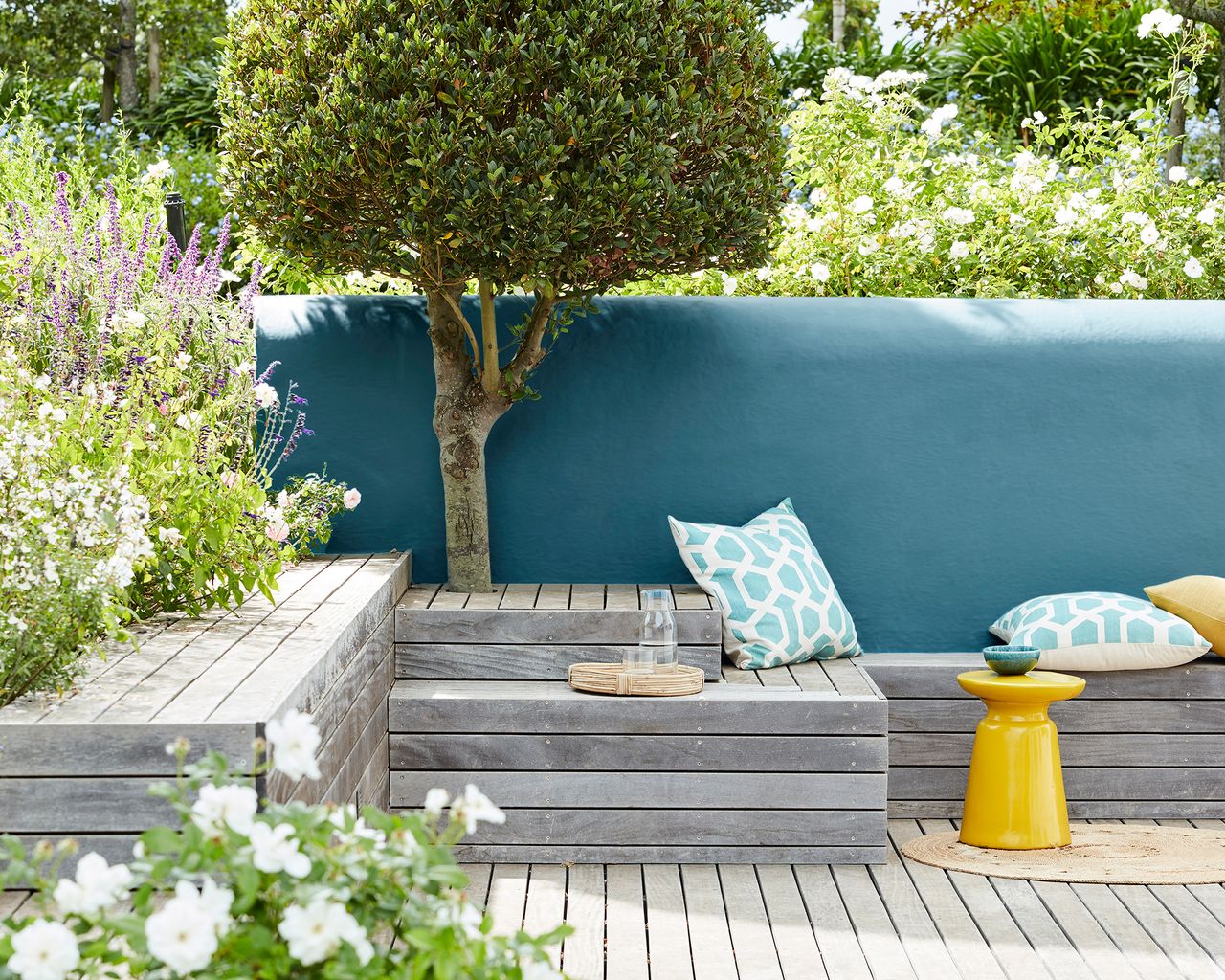 If you want to put the focus on the most colorful elements of a garden – which might be an array of flowers or a permanent feature like this blue-painted wall, or both – opt for a subtle gray color for the deck.
Make sure you use exterior masonry paint for a garden wall like this one, and opt for blooms on the blue and violet parts of the color wheel if you pick a similar shade in order to create a harmonious effect.
2. Keep deck shades soft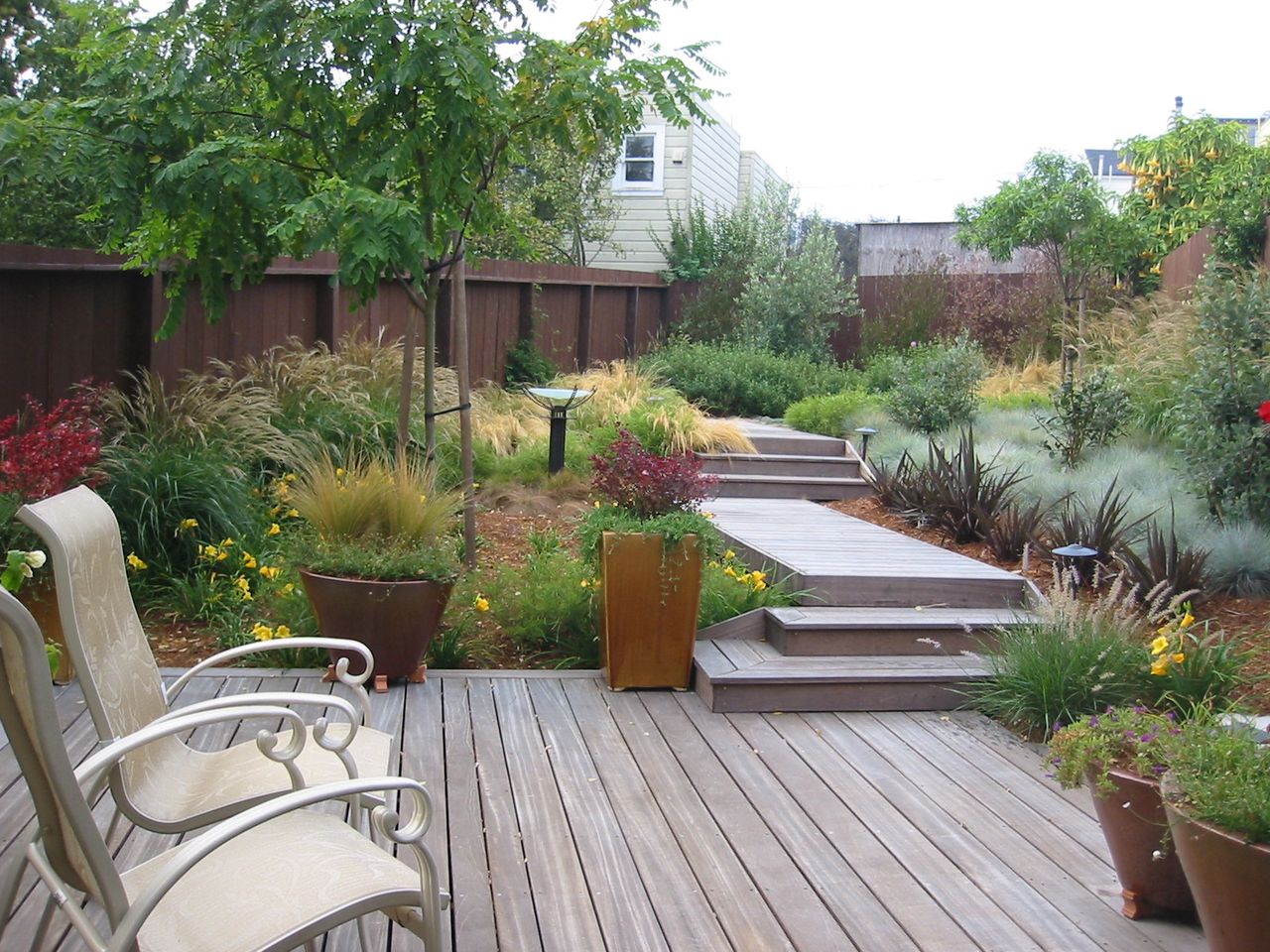 This city garden in San Francisco by Arterra Landscape Architects features a deck for relaxing on that extends into a path leading down the narrow space. 'We used cedar and let it naturally gray out for low maintenance,' says partner Gretchen Whittier.
Some decking woods can take years to gray, so if you want the same gentle colorway to complement a planting scheme, painting the deck is a speedy shortcut to the same look.
See: Deck planting ideas – using beds, planters and living walls
3. Create a continuous effect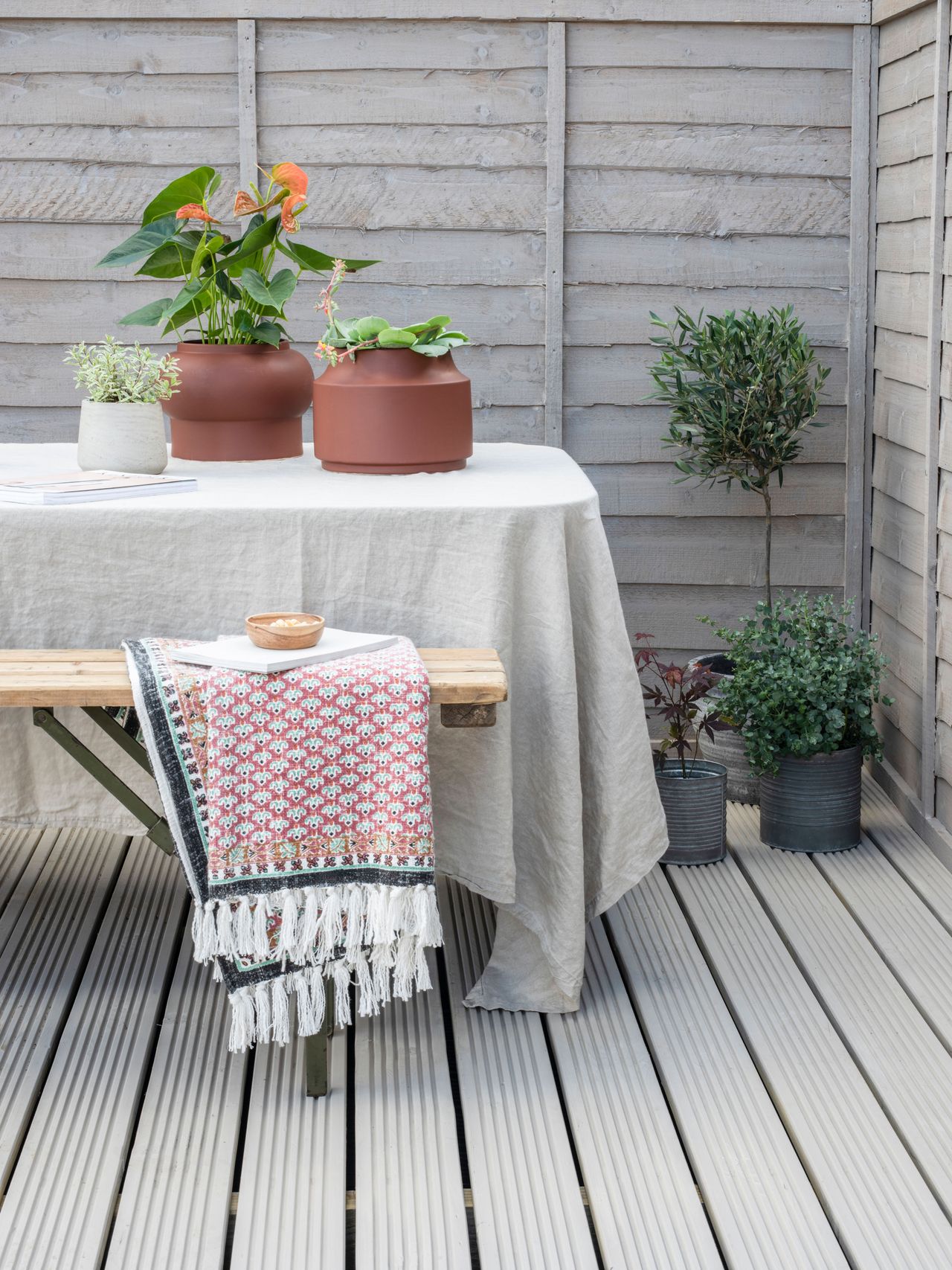 If your deck is surrounded by fencing, choose a color you can use to paint both it and the fence for an area that really does say 'outdoor room'.
Select a shade that will reflect the light and recede from the eye for painting what are the walls and the floor of an exterior room to keep it bright and open. They'll also reflect candlelight for a deck that's atmospheric after dusk.
This trick is particularly useful at enhancing space – perfect if you are looking for small garden decking ideas.
4. Take your cue from nature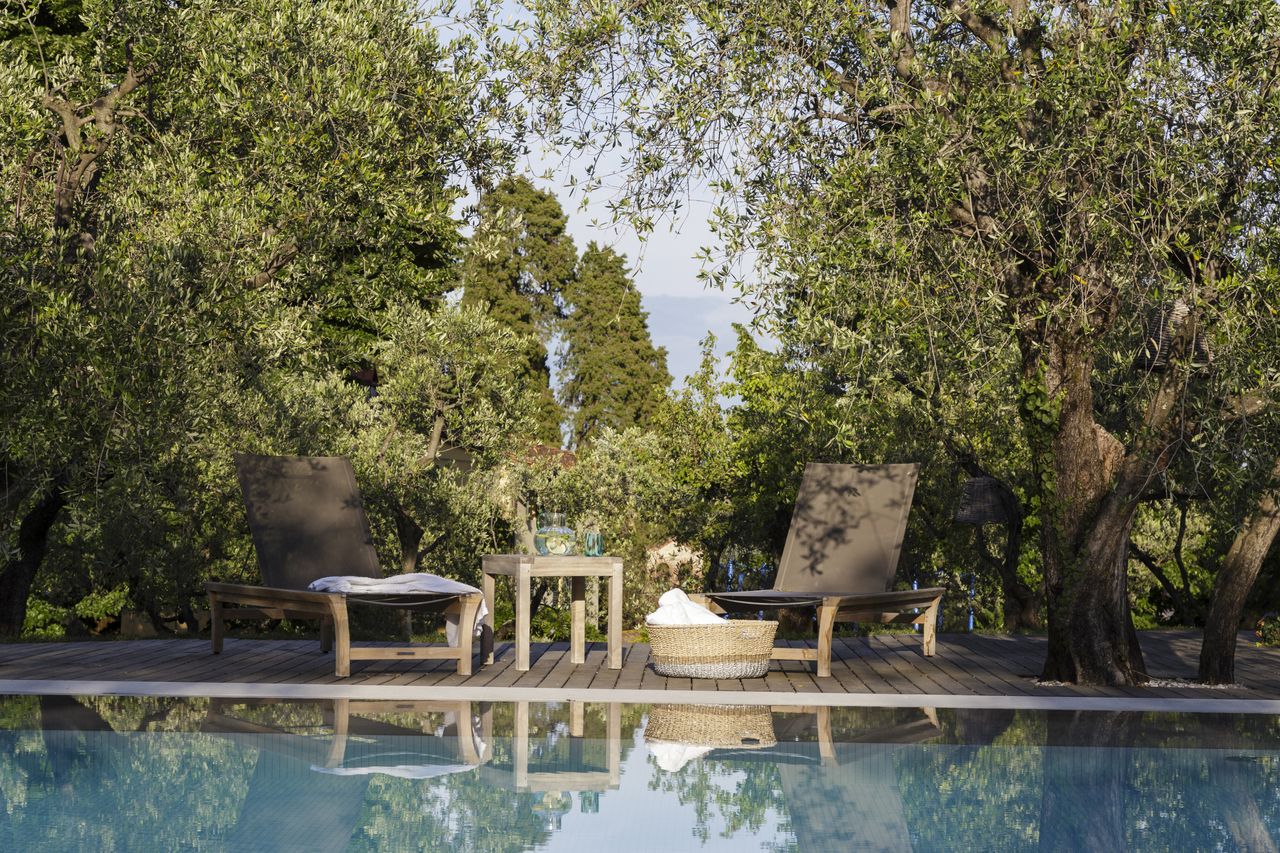 In this backyard, the deck has been designed around the beautiful trees that bring shade at the water's edge, and the dark deck color echoes the shade of the bark. It's a strategy that harmonizes the natural and the built parts of the garden so they look as if they're meant to be together.
You'll want to choose a deck paint that promises to be slip resistant to renovate or transform a deck in any case, but it's a particularly important attribute for a deck beside a pool.
5. Team with pavers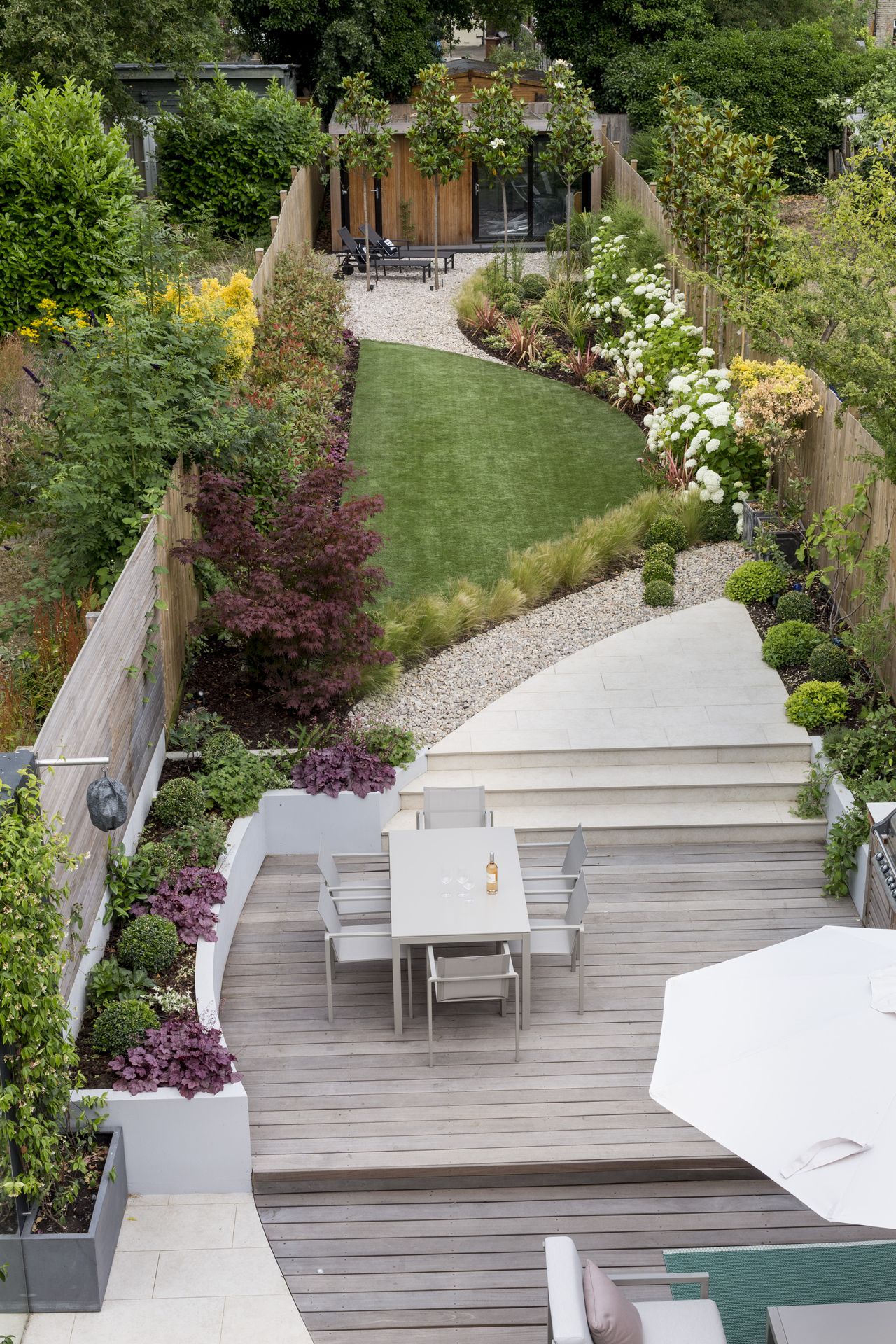 Decking may be just one of the hard surfaces underfoot within a garden scheme, and choosing the right deck color can ensure each works happily alongside the other. In this London garden by Kate Eyre Garden Design the curvilinear design which makes the long thin garden feel wider features porcelain pavers and pebbled areas, too.
'I love the neutral tones in a garden as it feels more natural whilst still looking chic,' says Kate. 'Personally in our design team, we love the contrast of the porcelain against the decking in terms of textures and color.'
6. Match outdoors with in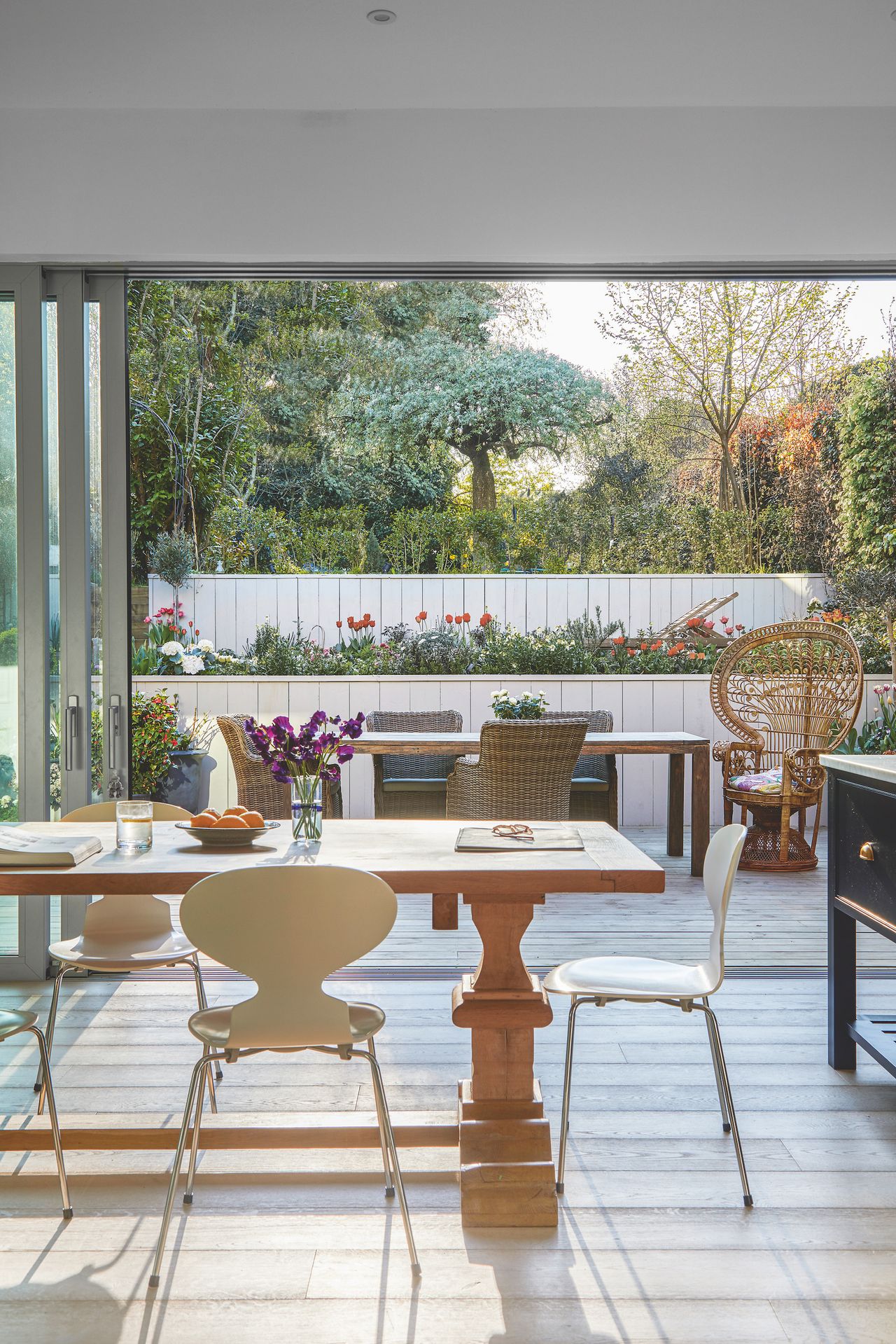 For a deck beyond sliding or bi-fold doors that can open the interior right up to the backyard whenever the weather is good enough, try a deck paint that matches the color of interior flooring. It will make the two different surfaces appear as one, blurring the division between indoors and out for space-stretching effect.
Laying interior floor boards and exterior deck boards in the same orientation if you're putting them in new is also a tactic worth adopting to further blur the distinction between the two areas.
7. Make planting pop with a dark deck colors
Just like inside your home, a dark backdrop can make the accent shades you choose for a garden scheme pop. Inside, it's walls you'd paint to achieve this effect, but outside, paint the deck in a slate, charcoal, or deep color tone to set off lounger upholstery, floor cushions, or contemporary furniture in brilliant shades.
Combined with an outdoor kitchen in gray, this dark statement deck has fabulous modern credentials.
8. Contrast the deck color with the house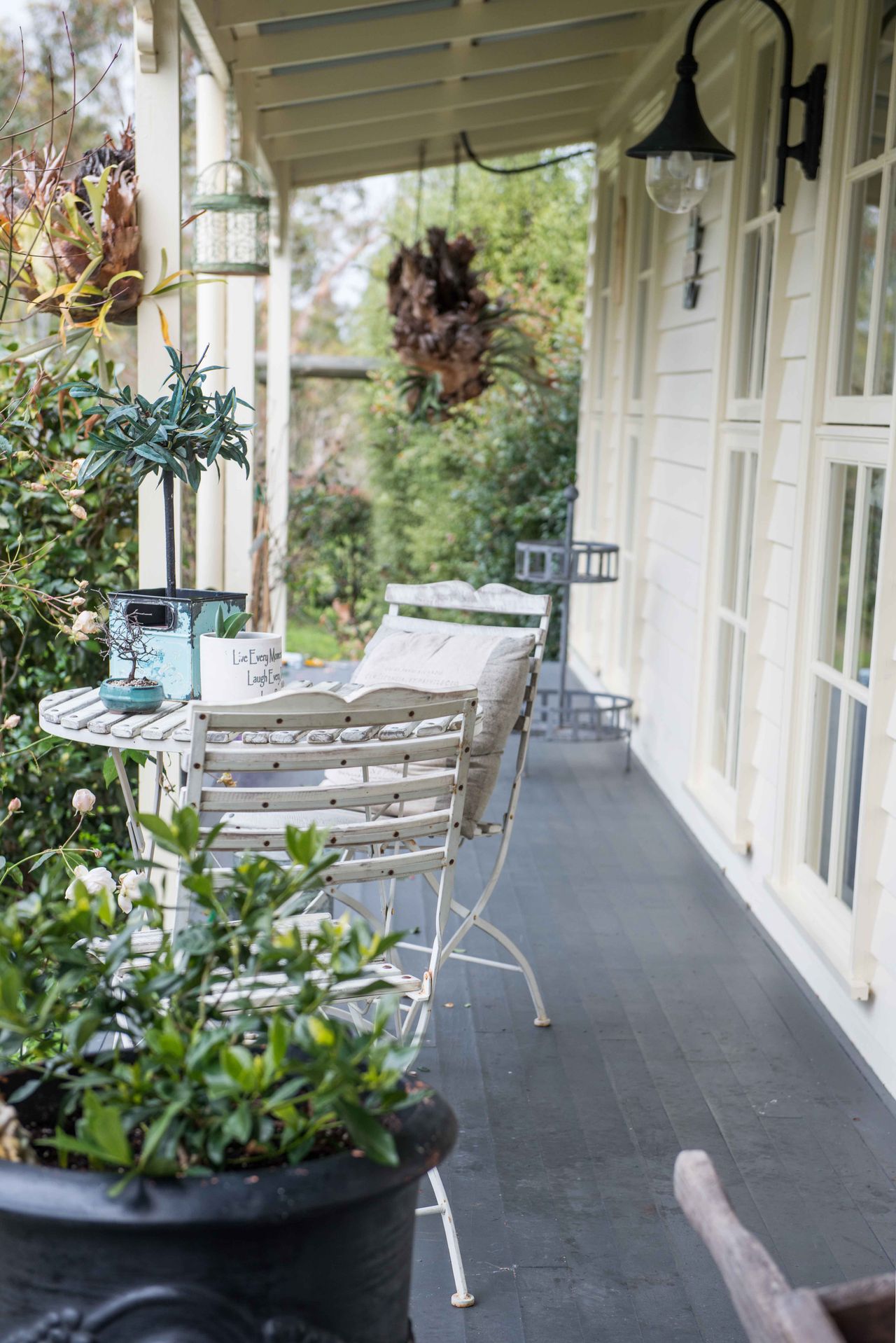 Consider deck paint that will contrast with the exterior of your home – particularly for a small deck. It will help define the exterior seating area. Black and white is a classic combination, but you could get a similar look with any dark and light pairing. Follow the lead of this home with furniture that continues the home's color and containers that repeat that of the deck boards to pull the look together.
See: Deck railing ideas - materials and styles for every garden
9. Tone with pebbled areas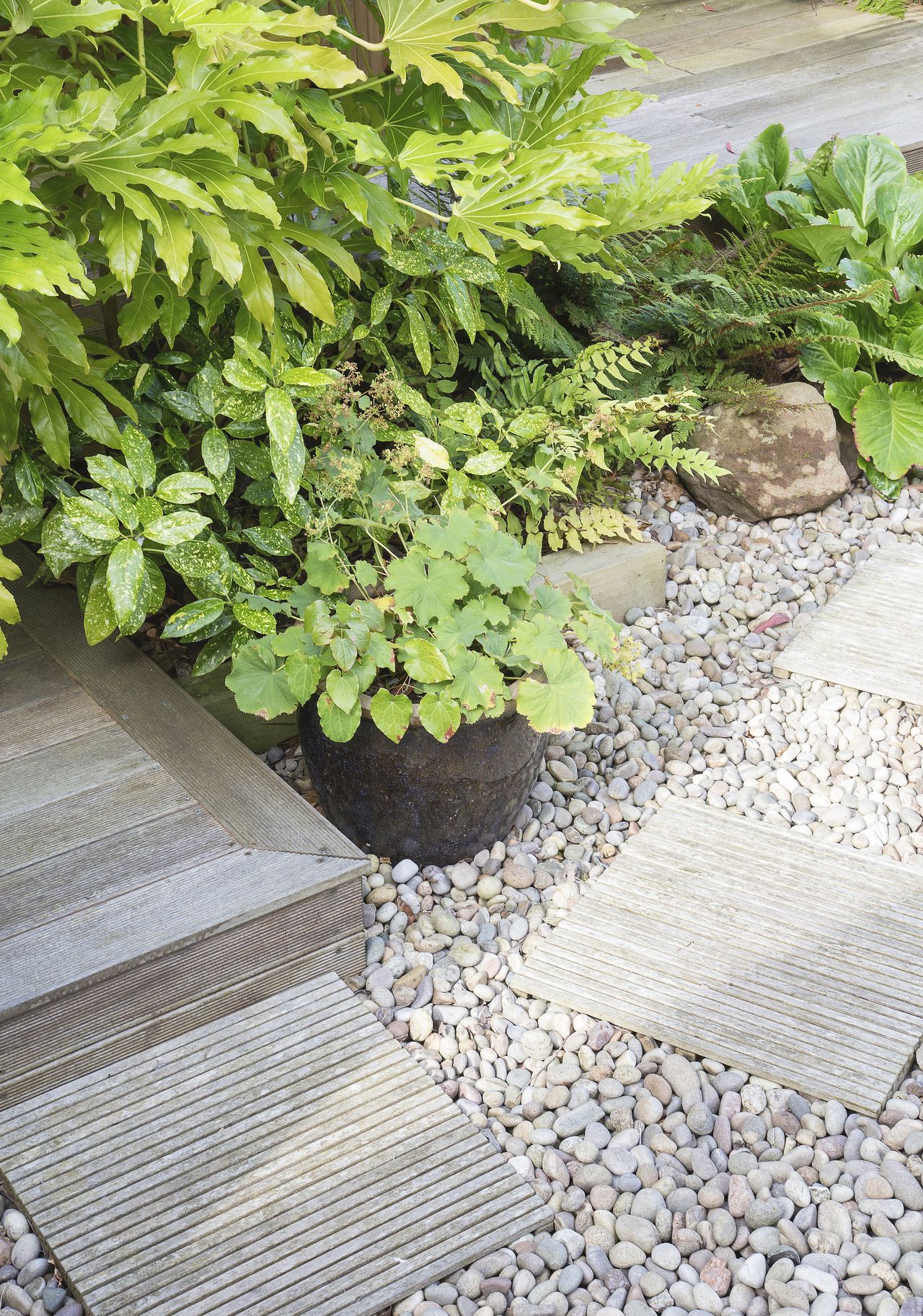 If your deck boards or squares are laid next to pebbles or gravel, opt for deck paint color in a tonal shade. The different textures of the materials will provide plenty of interest underfoot, so you needn't be concerned that the effect will be bland.
In this garden deck boards, deck squares and pebbles in bleached tones are a soft contrast to the vibrant green of foliage plants grown amongst them.
10. Harmonize decking with furniture colors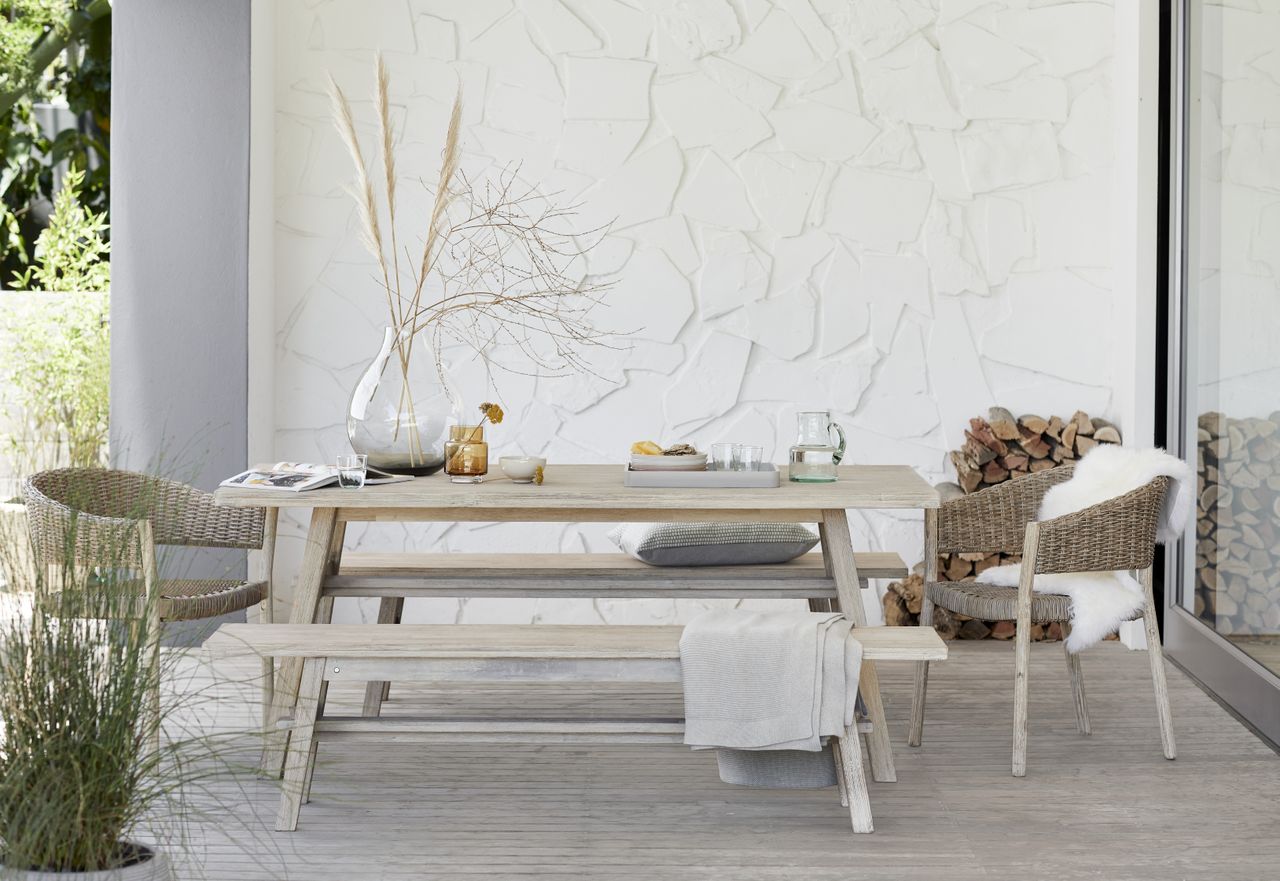 You could take a similar tack as above, but painting the deck to co-ordinate its color with garden furniture instead. Here, the palette is neutral for a calming ambience with pale wood furniture plus a light finish for the deck.
Woven dining chairs provide textural contrast to the smoother timber of the dining set and deck, so the monochromatic scheme isn't flat. Follow this design's lead by finishing a dining or seating area with cushions in linen and a faux fur throw to boost the tactility of the space.
11. Repeat a door color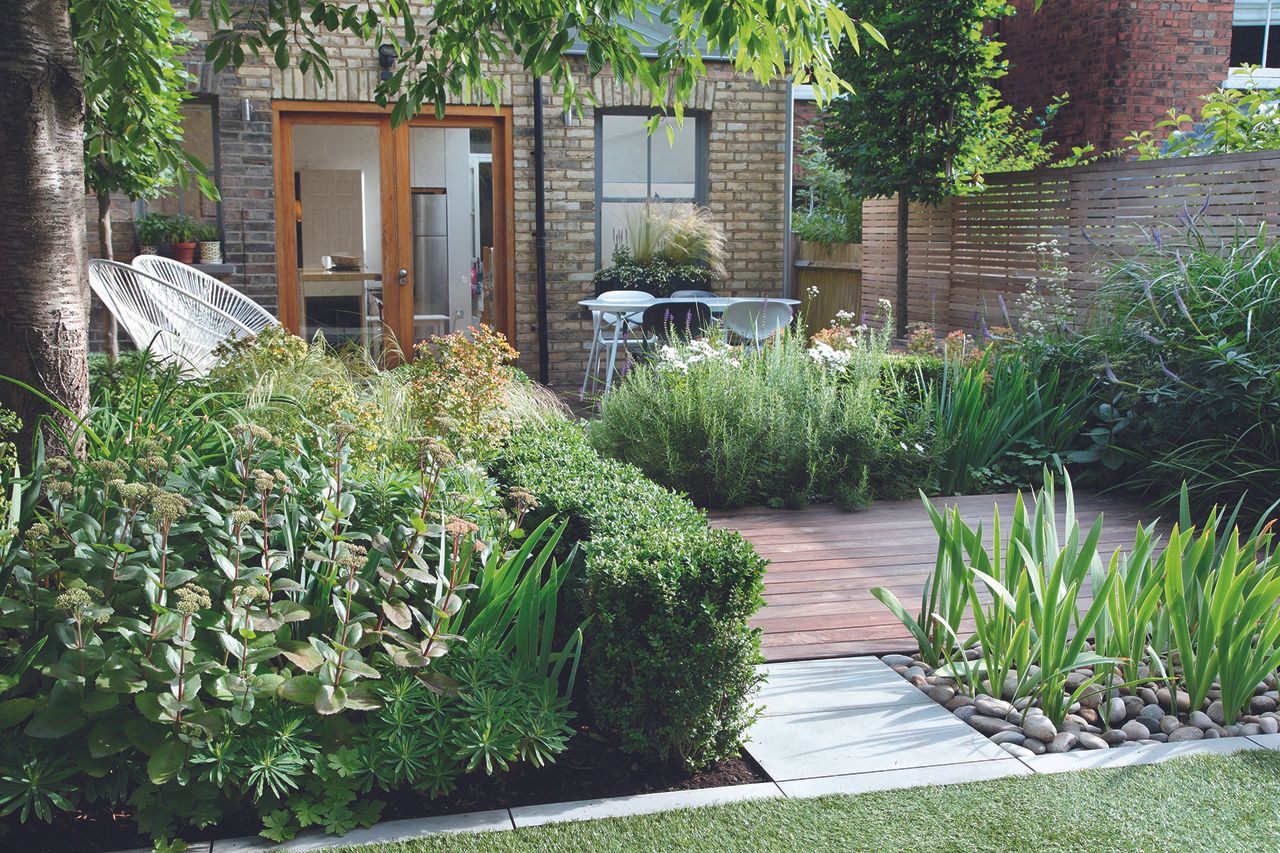 Here's another tactic for linking the deck with the house for coherent style. Paint the deck in a color that repeats that of exterior door frames. In this backyard it's the rich shade of the double doors that lead from the interior to the garden, but with a fabulous range of different deck paint colors on offer, it's also easy to match door or window frames in blues, greens, grays and more.
12. Make a country-style design look modern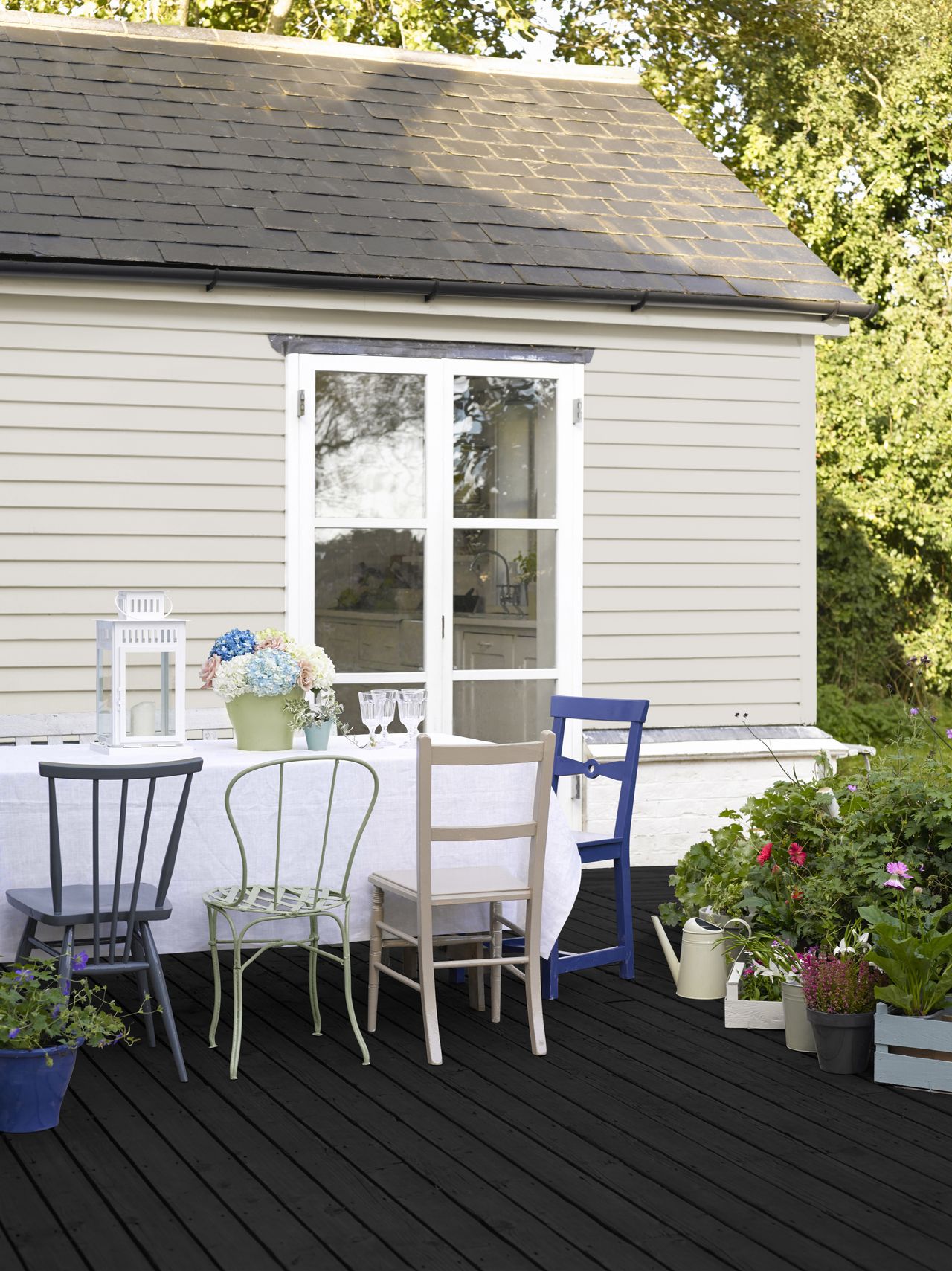 If you want to give a rustic backyard a modern edge, paint your deck black. The shade will look striking alongside softer hues that you might more typically find in a country plot such as creams, greens and blues. A color like this one needs to be kept perfectly crisp so bank on repainting your deck more frequently than you might with other paint shades to maintain it.
13. Take a contemporary approach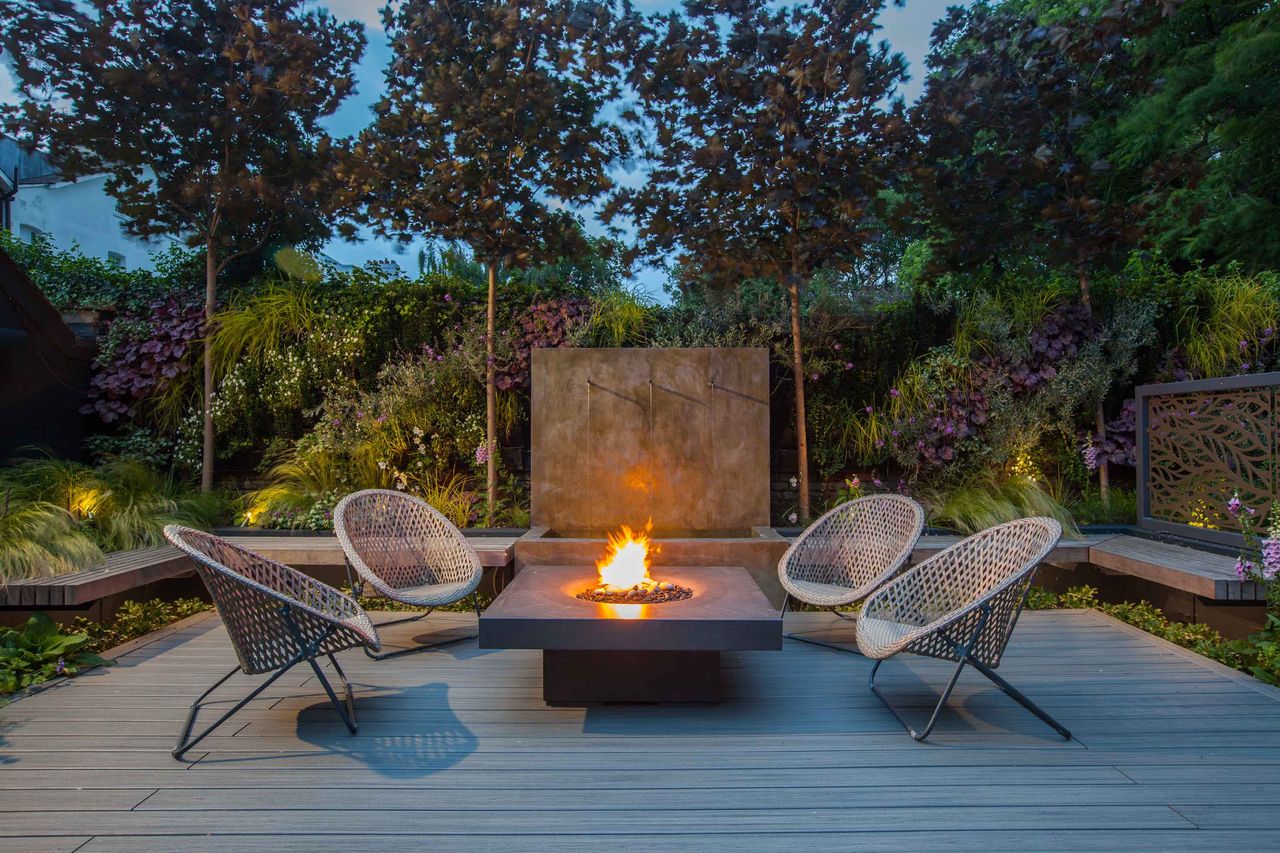 If you want to create a contemporary scheme, gray could prove the best color for a deck. 'If the house windows or bi-fold doors are anthracite gray using gray for the decking helps to tie the whole scheme together and unify garden and house,' says Simon Orchard of Simon Orchard Garden Design, who created this sophisticated garden.
'In this garden, the decking color is echoed in the seats, firepit and metal frame around the decorative laser-cut screens,' he explains. 'The simplicity of this pared-down color palette is very effective in creating a calming space and the dark gray creates a fantastic foil for the more colourful planting.'
What is the best color for a deck?
The best color for a deck is one that fits your garden's style – be that contemporary or more classic – works with the rest of its hardscaping, as well as the planting, and is sympathetic to the house, too. But that actually gives you a wide choice, which can feel a bit overwhelming.
If that's the case check out our 'How do I pick a deck color?' section, below, for ways to approach the dilemma.
How do I pick a deck color?
You can pick a deck color in a variety of ways. 'We're taking more of our cues from the natural world, so choosing a color that reflects the style and tones in your garden is a great starting point,' says Jimmy Englezos, Ronseal Decking Expert and Senior Product Manager.
'Consider a shade that matches border or other plants – or co-ordinates with garden furniture, fences or sheds.
'Bold shades are everywhere this year, and choosing rich or darker shades will provide a great showcase for green foliage and complement flowers and shrubs, providing an outdoor oasis feel.
'If your space is smaller, opt for a lighter or even a white color scheme, used across decking, sheds, furniture, walls and even planters to make the most of the room and create a fresh, stand-out, summer look.'
Should house and deck be the same color?
A house and deck can be the same color, but they don't have to be. 'If you're after a matching look, the exterior of your house should ideally have some timber elements in order for the decking to look like a cohesive part of your home,' says Matthew Brown, Sadolin Technical Consultant. 'These features could be as large as timber cladding or as subtle as a few exposed beams, a wooden porch or a wooden balcony. The tone of wood of these outdoor elements will help guide your choice of paint or stain when treating your decking.'
See: Front porch ideas – clever ways to create a strong first impression
But a deck can be a different color to the house. 'Let the elements surrounding the decking influence the choice of color you make,' suggests Matthew. 'For example, a mostly green area might inspire you to choose a natural palette of greens and muted browns.'
Or, if the deck connects directly with the house, other elements could be the starting point. 'Why not choose the same color used for the front door or the window frames or, alternatively, opt for a color that's similar to the shade of your house exterior,' says Matthew.
Sarah is a freelance journalist and editor. Previously executive editor of Ideal Home, she's specialized in interiors, property and gardens for over 20 years, and covers interior design, house design, gardens, and cleaning and organizing a home for H&G. She's written for websites, including Houzz, Channel 4's flagship website, 4Homes, and Future's T3; national newspapers, including The Guardian; and magazines including Future's Country Homes & Interiors, Homebuilding & Renovating, Period Living, and Style at Home, as well as House Beautiful, Good Homes, Grand Designs, Homes & Antiques, LandLove and The English Home among others. It's no big surprise that she likes to put what she writes about into practice, and is a serial house renovator.