Deck ideas – 16 stylish looks to take your backyard to the next level
From creating a practical outdoor living space to surrounding a pool in style, these deck ideas have plenty to inspire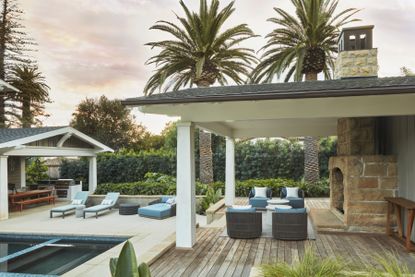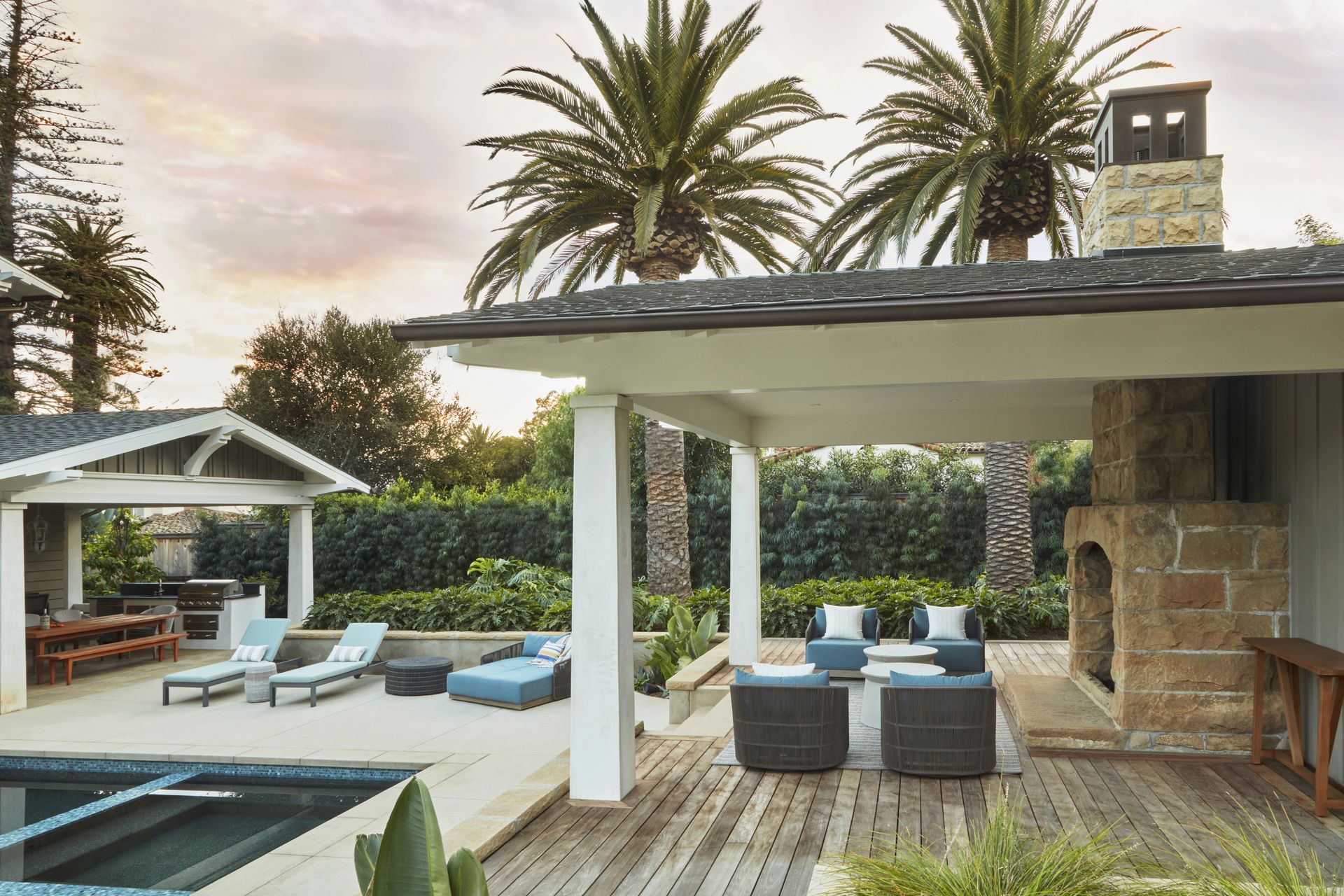 (Image credit: Jessica Risko Smith / Caitlin Atkinson Photography)
If you love to spend time outdoors, you're just a few deck ideas away from lounging in the afternoon sun with a good book, or hosting friends and family for an alfresco dinner party.
Although decking has been a staple of the boat building business for centuries, this design approach didn't enter the interiors world until the 60s. Many Americans hankered after an indoor-outdoor style extension to their home on which to host their BBQs, so built elevated patios directly off their living spaces out of decking – chosen because it's lightweight and easy on the eye.
Over the years, decking's usage has expanded, and it has become the go-to material for a contemporary patio or roof terrace. Materials have also come into their own. While early decks were made out of first-generation hardwoods, now it's hard-wearing composites and eco products made of recycled materials that are all the rage for backyards. We are also experimenting with stains and widths to give the wood a very contemporary feel.
On-trend deck ideas for a fabulous outdoor space
From decking layouts and patterns we love, to deck railing ideas and inspiration for small backyards, we've rounded up the best deck inspiration we could find to help you plan your dream space.
1. Build a custom deck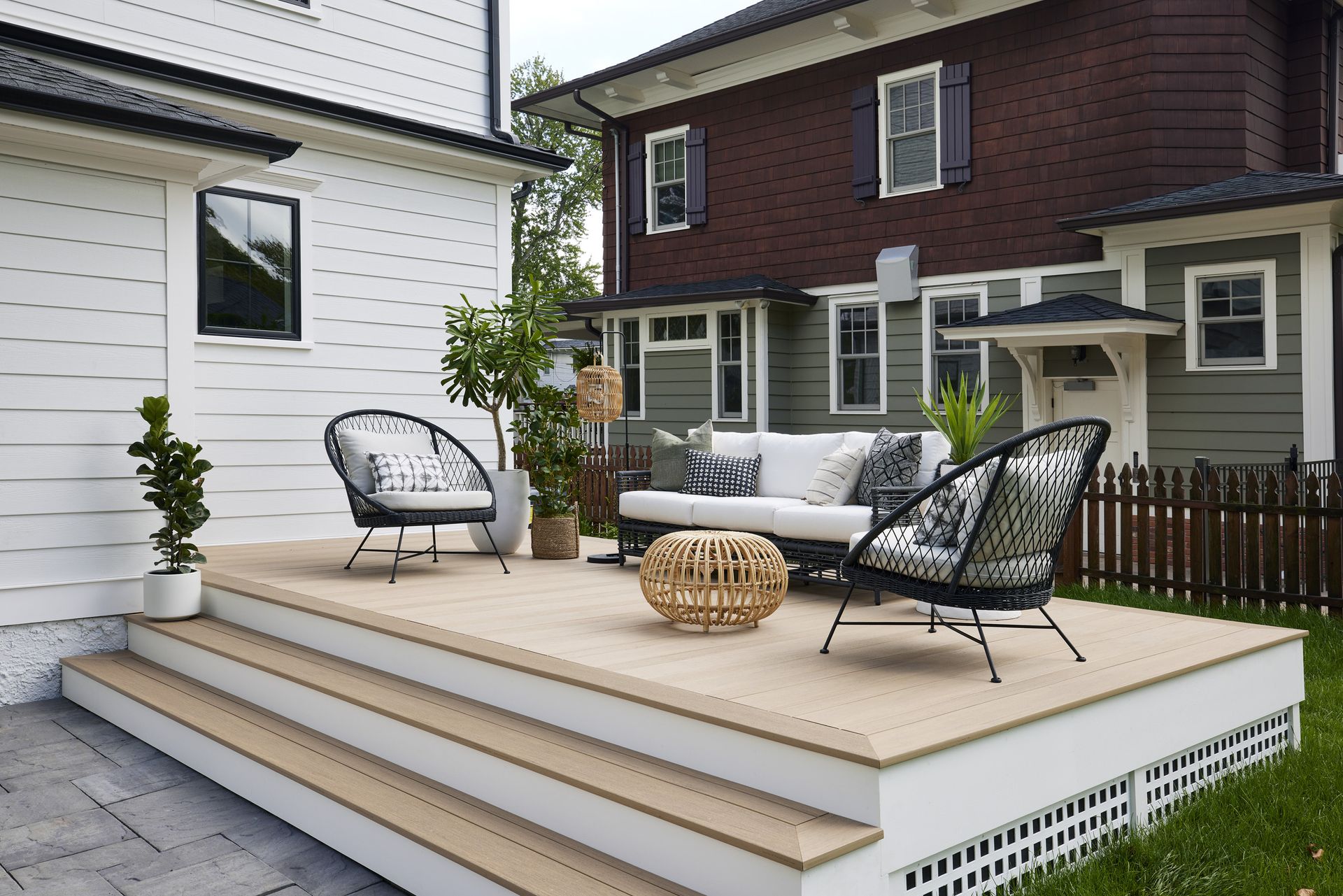 If you're looking for small deck ideas, a custom design is a great choice, because it will be built to maximize your space.
'A custom deck is a uniquely designed structure that meets your specific needs and preferences,' says Sam Toole CMO of TimberTech, a composite decking company. 'Working with a contractor for a custom-built deck ensures your deck is built to the right specifications for lasting performance.'
2. Light up decking at night
To ensure your decked space is useable after dark as well as during the day, it's sensible to plan your deck lighting ideas from the outset.
When planned correctly, it will allow you to use the space throughout the year. Plus, you can use it to highlight some of your favorite features in your yard, such as a pool or hot tub area, as the owners of this property have done so well.
'Simple LED lights inset in the deck or in steps will create a subtle glow and help to light the way after dark,' says Beth Murton, Head of Gardens for Homes & Gardens. 'Proper deck lighting is especially important on a sloped site or where there are lots of steps to ensure that it is safe for everyone to use at night.
'Although it's possible to retro fit lighting, for the sleekest look it is always best to fit it as the same time as your deck,' adds Beth. 'Your decking supplier will be able to advise on the most suitable products to include in your space, especially if you are fitting them near a water feature, pool or hot tub area.'
For the past 20 years, Beth has worked for and contributed to a number of leading homes magazines and websites in the UK, including Real Homes, Ideal Home, Period Living and Grand Designs. She was the launch Editor in Chief of outdoor living website Gardeningetc.com for nearly three years, and is now our Head of Gardens, bring her passion and knowledge of all things outdoors to Homes & Gardens.
3. Surround a pool with decking
Decking is the perfect partner for a tropical-style space complete with pool, outdoor shower and lush, leafy foliage, as showcased in this stunning garden by Kate Gould at the Chelsea Flower Show in 2022.
Not only does pool decking feel soft and warm underfoot, but the natural colors and textures enhance the spa-like vibe of the space. A composite material that is resistant to rot and mold would be the smartest choice for a space like this where it is likely get wet on a regular basis.
Kate specifically chose planting that has a 'a strong evergreen backbone and a tropical theme' to showcase how effective green planting can be at ensuring there is plenty of color and texture in an outdoor space all year round.
4. Create pockets of planting
Finding ways to encourage more pollinators and wildlife to our backyards is key as their habitats are being gradually eroded. If you're going to add more hardscaping to your backyard, consider how you can still incorporate areas of planting in your landscaping ideas.
We love how this decked space includes mini pockets of planting in the deck, softening the look of the timber and creating a more natural look that works particularly well with the cottage garden-style space.
Good options to plant include mini ferns, creeping thyme for its nice smell, or mat-forming varieties of stonecrop.
5. Up the style stakes with a herringbone decking pattern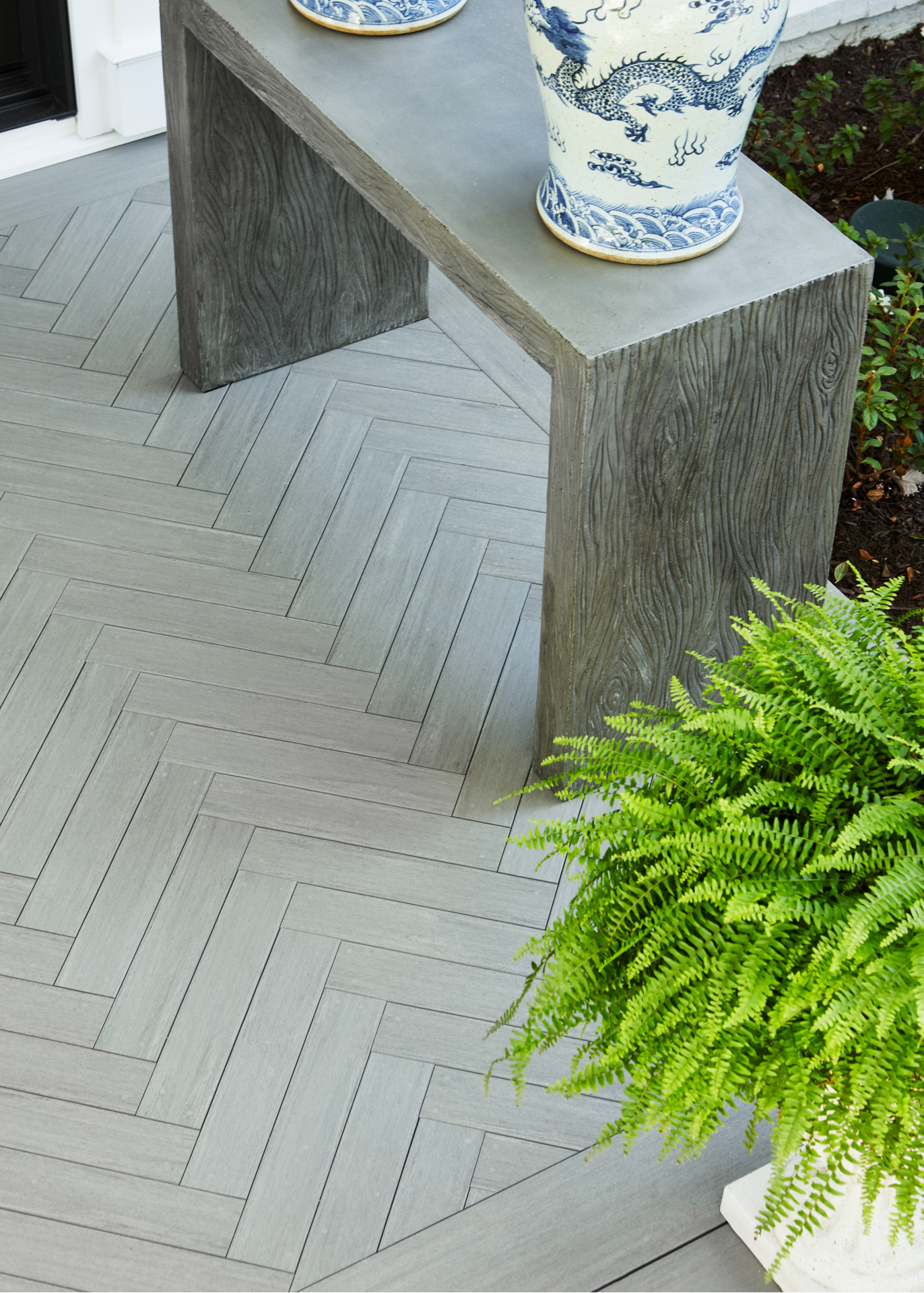 Herringbone floors are a popular indoor feature, especially in traditional, elegant spaces. So why not bring them outside to create a similar feeling?
'A herringbone pattern is rich in visual interest and immediately elevates the style of your outdoor living space,' says Sam Toole. 'This pattern can also serve as an intricate focal point when used as a framed inlay.'
6. Pair a deck with a patio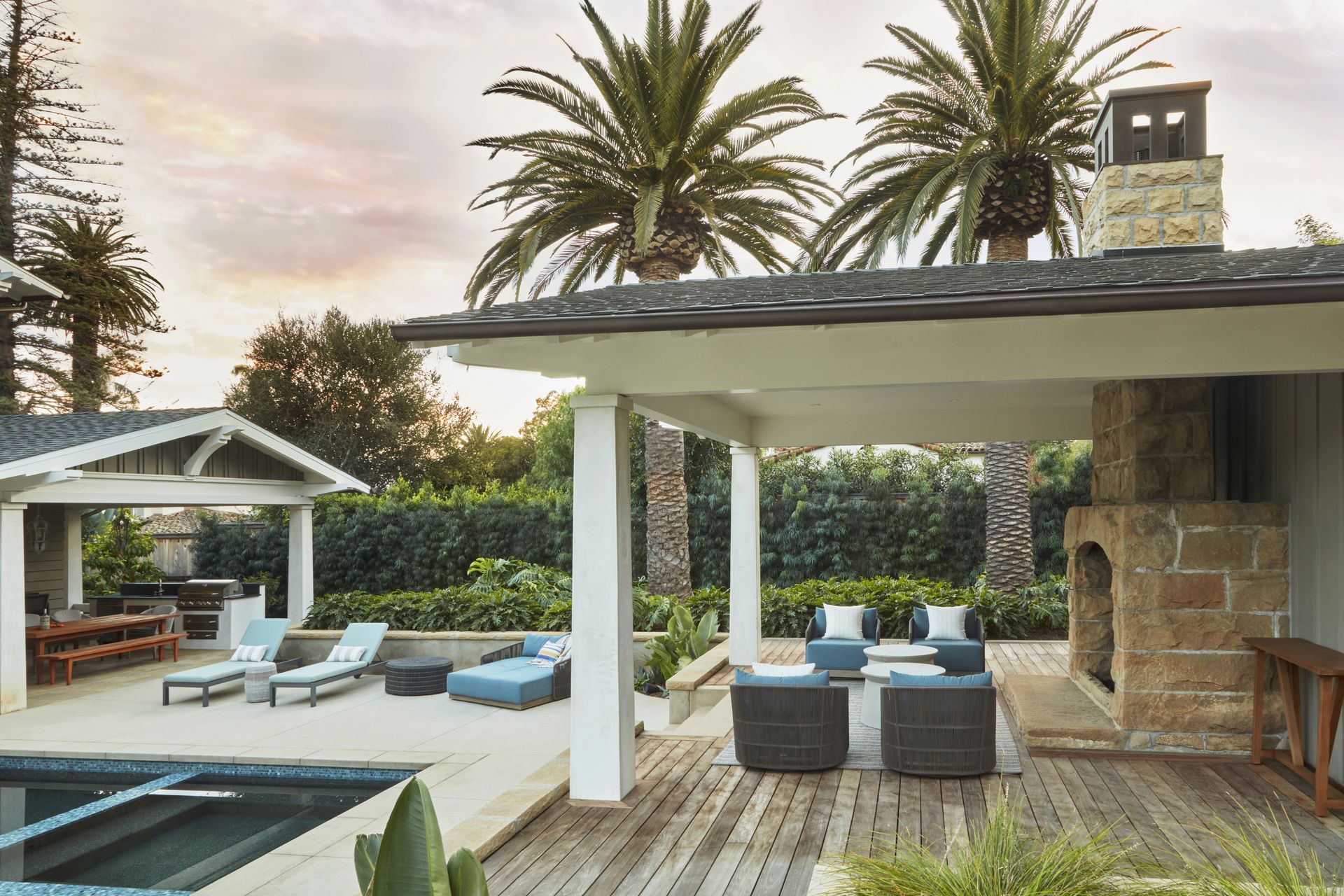 In a large outdoor space, vary your landscaping to create a more inviting space. At the Santa Barbara, California home above, designer Jessica Risko Smith added a deck adjacent to the pool patio to break up the vast space.
The wood decking adds a sense of warmth to the harder landscaping elements of the patio, and helps delineate the living area from the nearby pool deck.
7. Opt for modular furniture to maximize deck space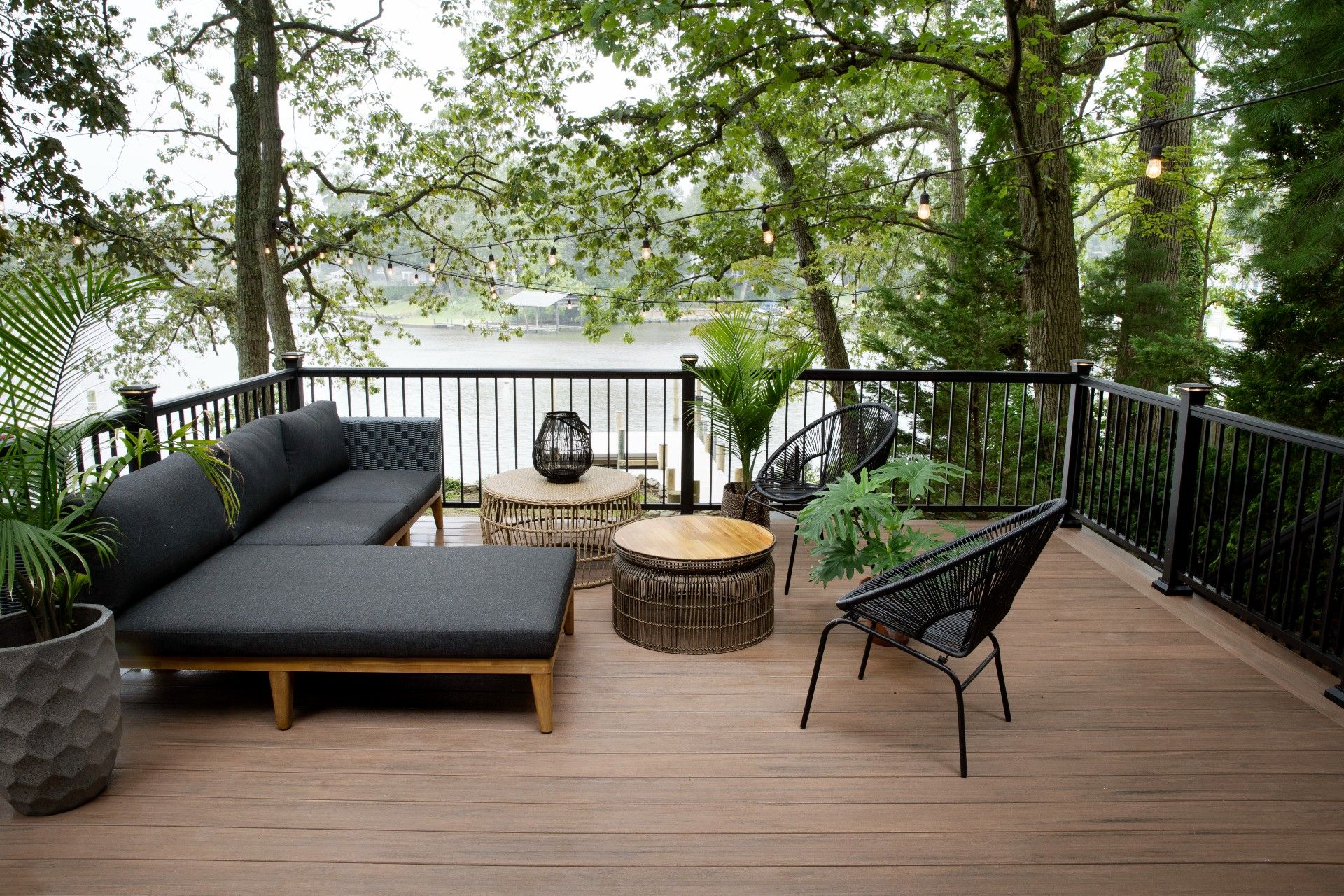 'For maximum versatility and a totally curated space, opt for modular outdoor furniture and décor,' says Sam Toole. 'Modular pieces can be easily rearranged and sometimes nest inside each other for optimal flexibility and functionality. So, whether you're hosting a small intimate gathering or a big family get-together, your space can accommodate your needs.'
8. Soften a deck with rugs and cushions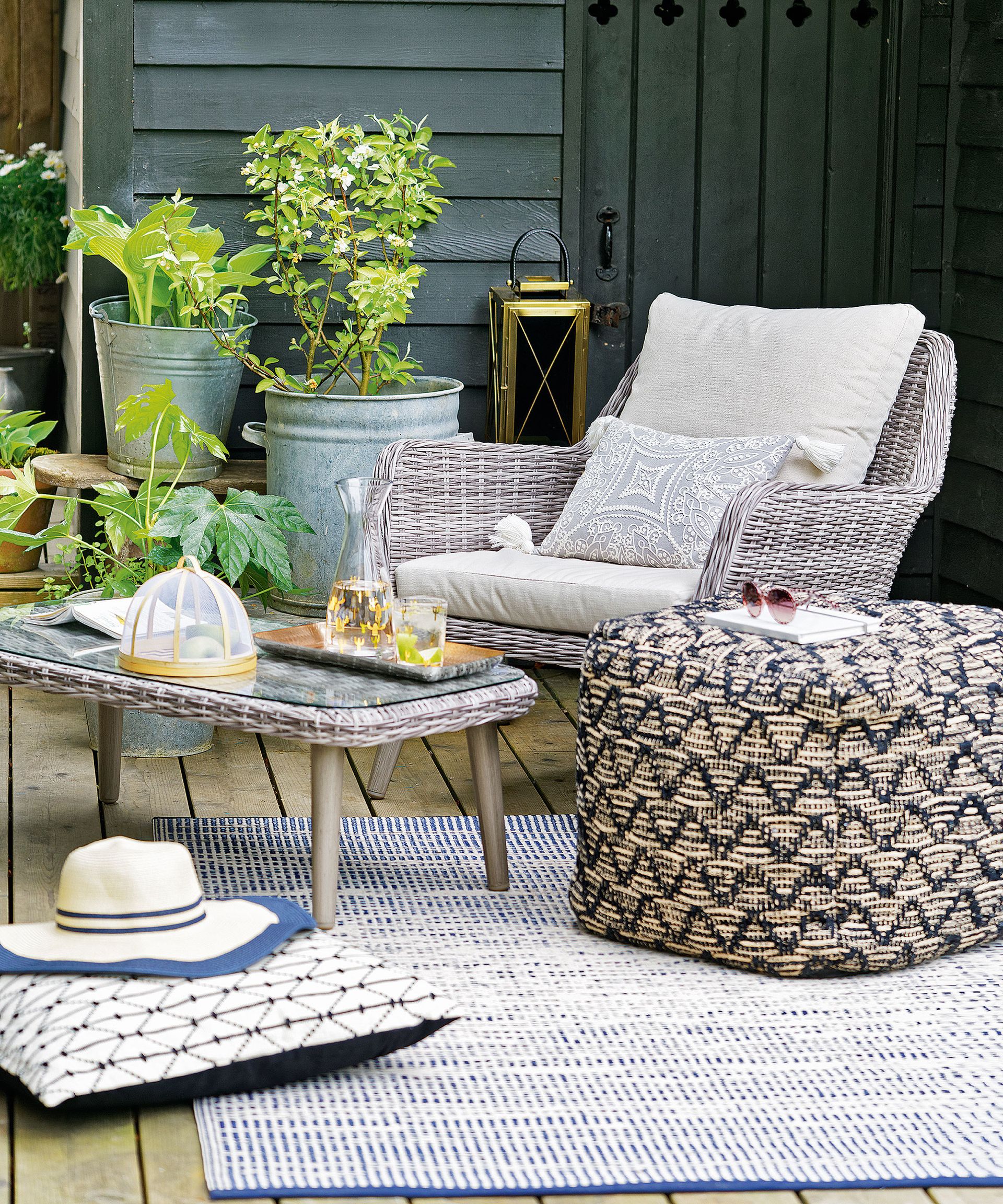 Although decking is a practical material for an outdoor space, if you're going to be using it as your main outdoor living area, chances are you'll want to soften the overall look of all that wood.
Adding outdoor rugs and oversized floor cushions can introduce pattern and texture to the space, helping to break up the large expanse of timber. What's more, if you have a large decked space, rugs can help to zone different sections of it, separating lounging areas from dining spaces, for example.
Cleaning an outdoor rug is super easy too – all you need is some warm water and a good scrubbing brush to remove any stubborn stains.
9. Use decking to zone a small space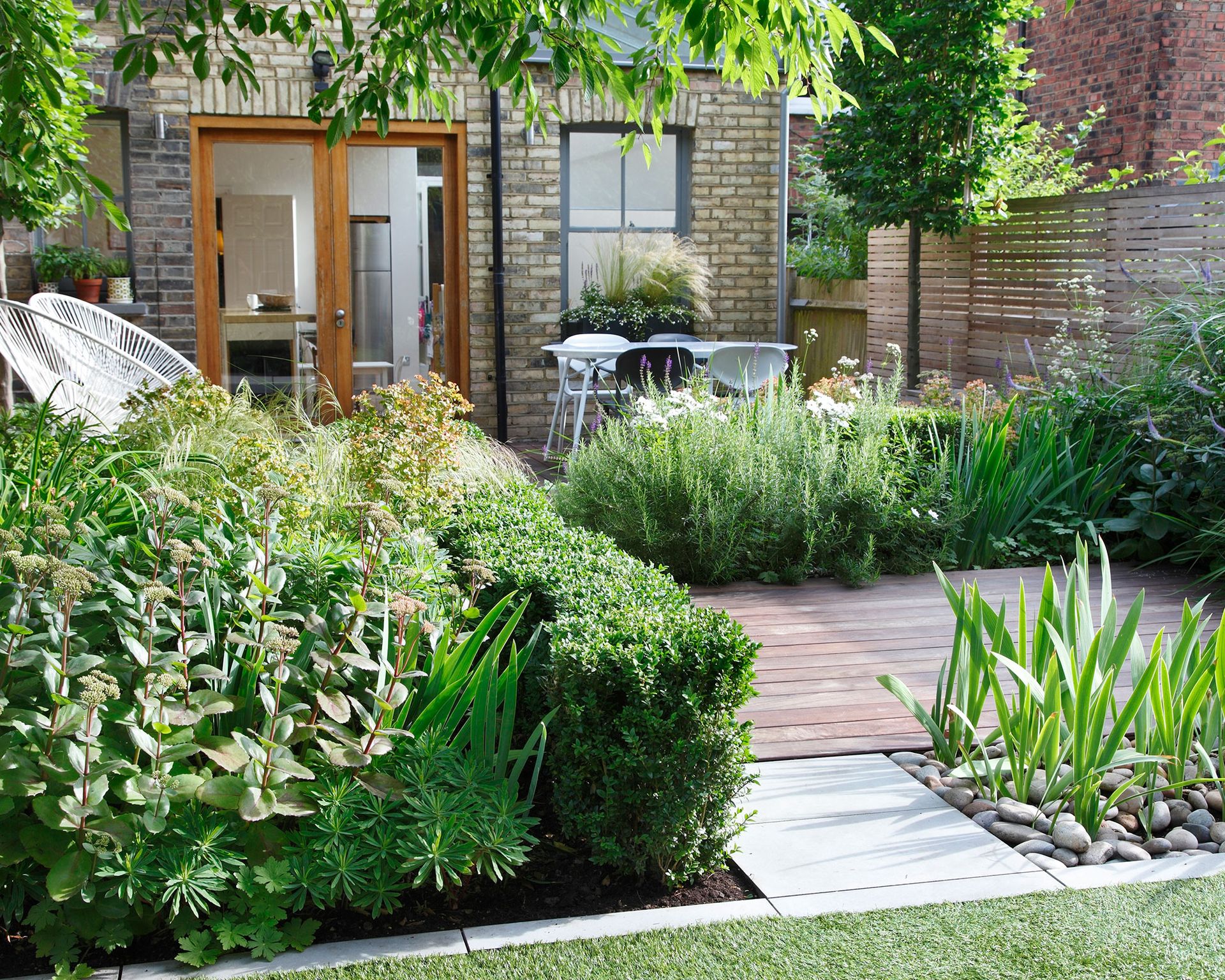 It's not a surprise that decking is now used so widely. It can be widened into platforms or narrowed into paths to link different areas, binding together a garden's design.
In small backyards, decking may even be used to replace lawn and paving, flowing in an unbroken series of paths, terraces and seating. With forward planning, lighting cables and water pipes can be concealed beneath, opening up options for outdoor lighting ideas that rival interior rooms.
10. Take your decking to a new level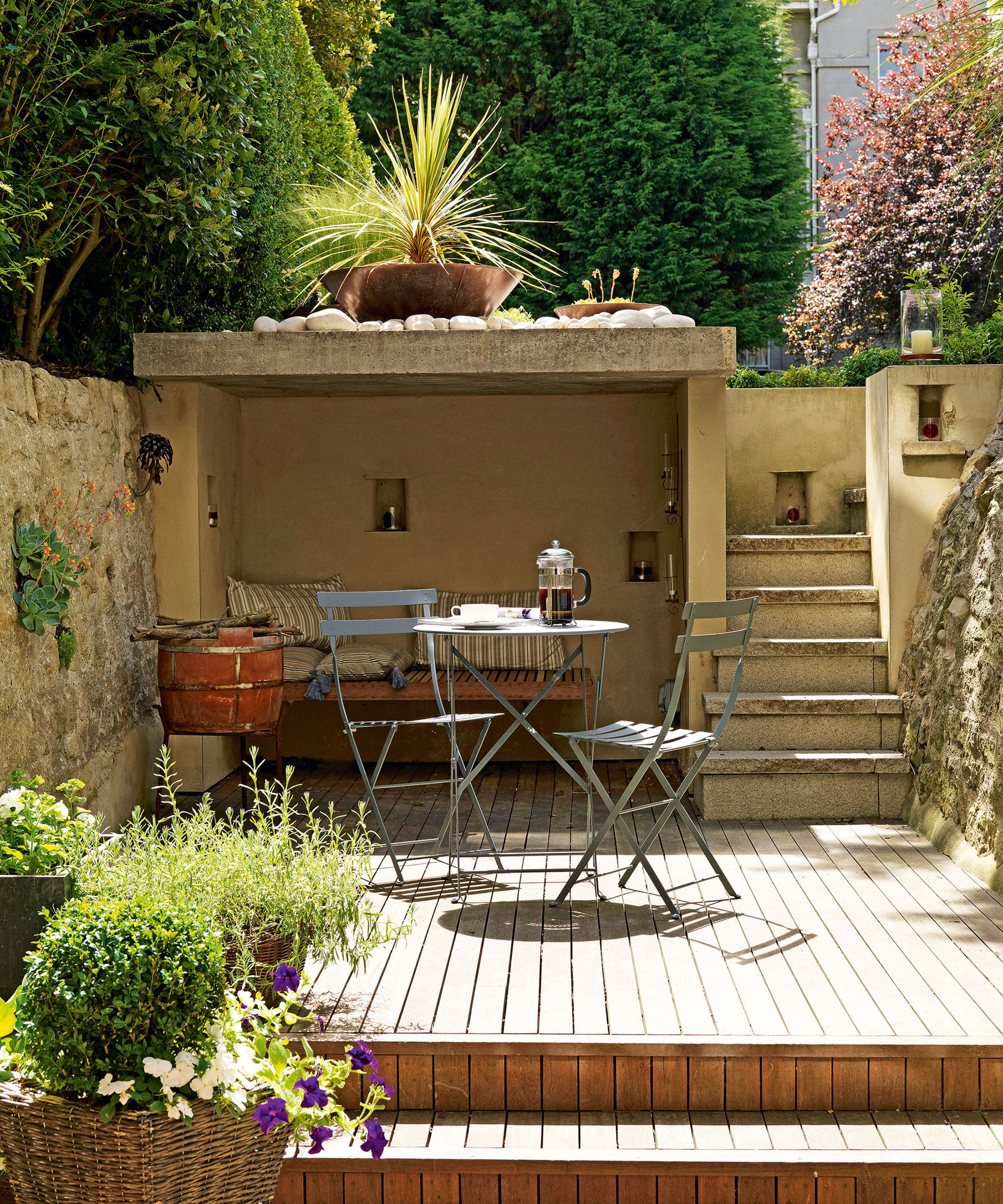 Decking is a godsend when designing a sloping garden or split-level site. It can easily be built up into a platform or stepped downwards to cope with the sloping nature of a site.
In narrow plots where the planking zigzags through the garden, it draws the eye around the area, making a backyard look bigger.
11. Incorporate raised beds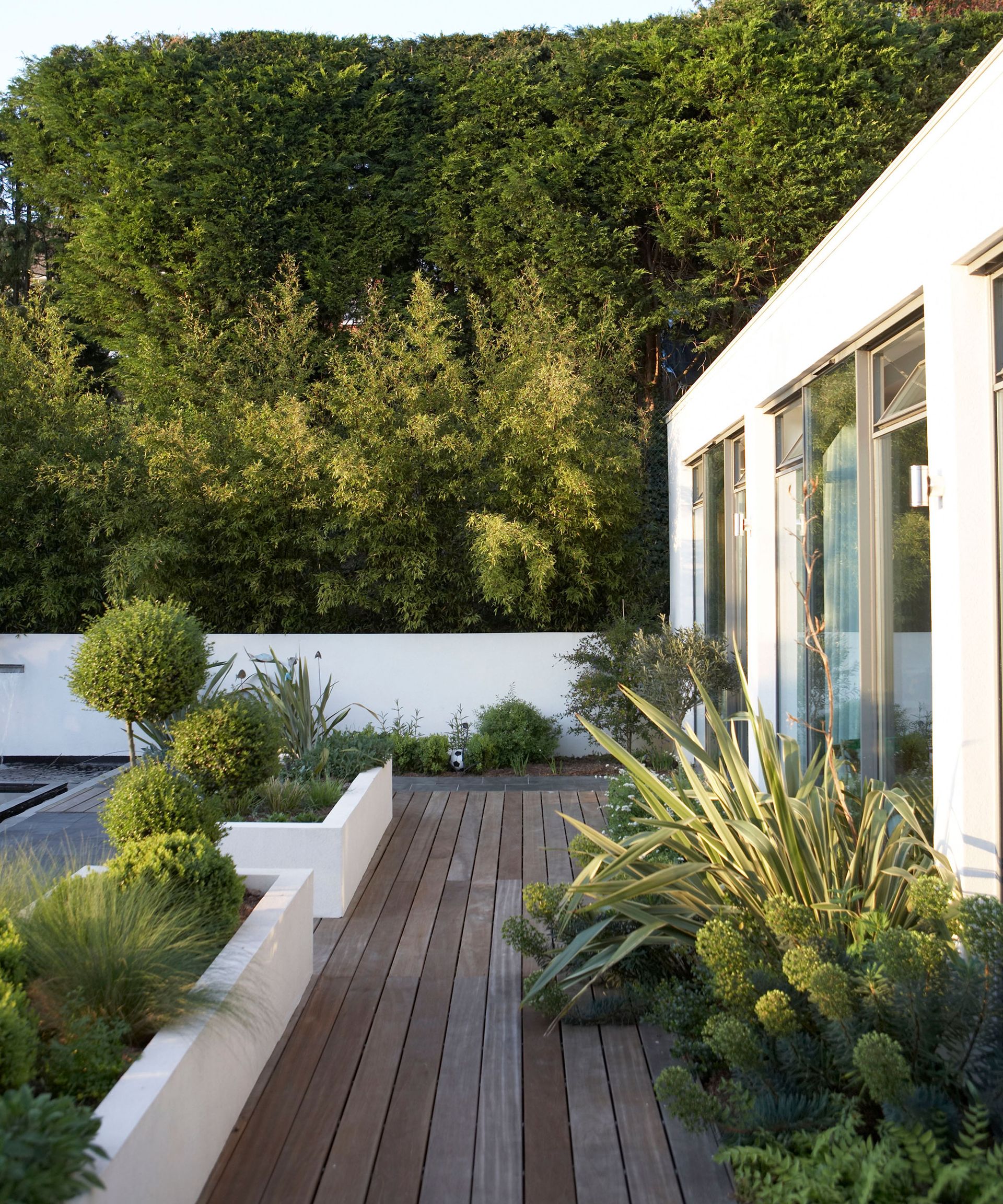 Raised garden beds are a wonderful way to introduce more planting to your outdoor space, and they can work brilliantly as part of your decking scheme when planned from the outset.
Here, long white raised beds complement the extra long decking planks, cleverly extending the feeling of space. Planted up with ornamental grasses and evergreen shrubs, they will provide year-round interest when viewed from both the deck and the house. The simple green and white color sheme works beautifully with the natural look of the timber decking too.
12. Color coordinate decking and fences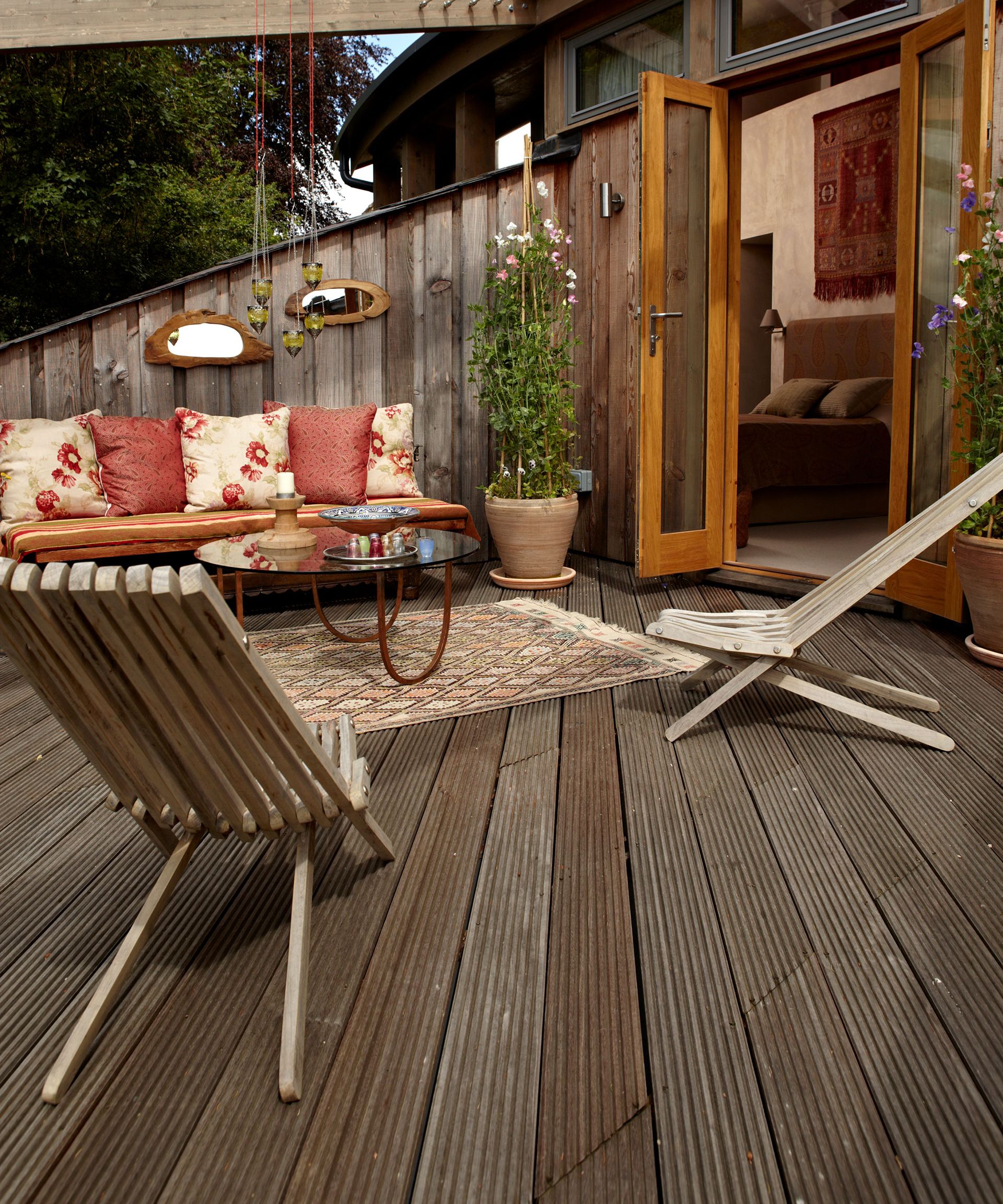 An outdoor room that is an immediate extension of the home suits a scheme in which all furnishings – decking, fencing, seating, cushions, containers and plants – are color coordinated.
In such a scheme, there is scope for imaginative designs using wood stains, available in a wide selection of colors. And the advantage of timber instead of paving or stone is that its color can be easily changed. Experiment with different shades on some timber offcuts first to make sure you are happy with how it will look once the decking stain has dried completely.
13. Use plants to soften the edges of a deck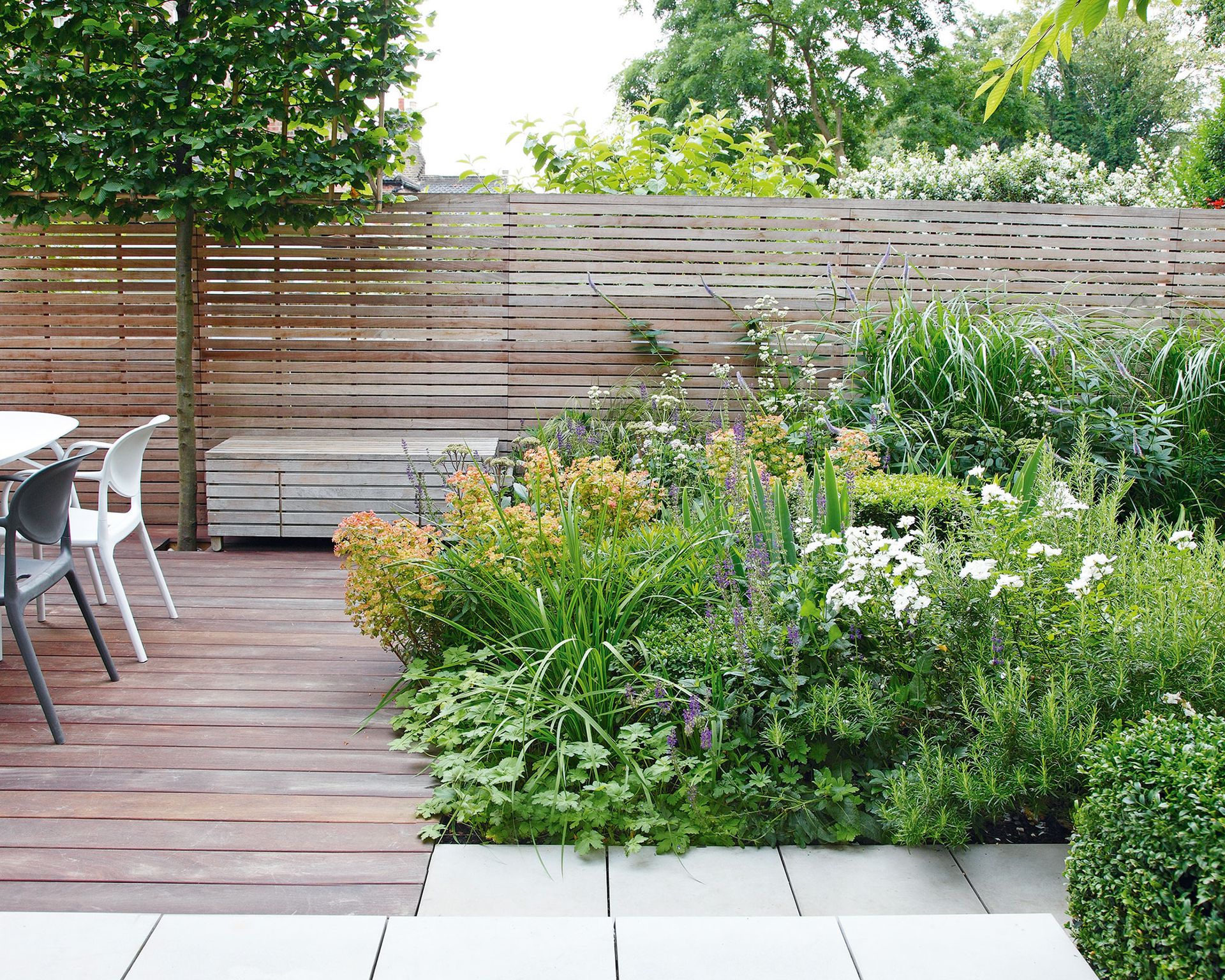 The best deck planting ideas offer a chance to add color and style to your outdoor space. When drawing up your plans, think about where your chosen plants will fit best – whether in pots, flower beds adjacent to the deck, or in beds countersunk within it – before you lay the decking. Allow plants to grow over the edge of the deck to soften the hard lines and create a more natural look.
Plus, if you position your plants correctly and choose the right plants, they can offer privacy or shade. Certain plants, like the citronella plant, can even help keep bugs and pests away from your outdoor dining area.
14. Go for a natural finish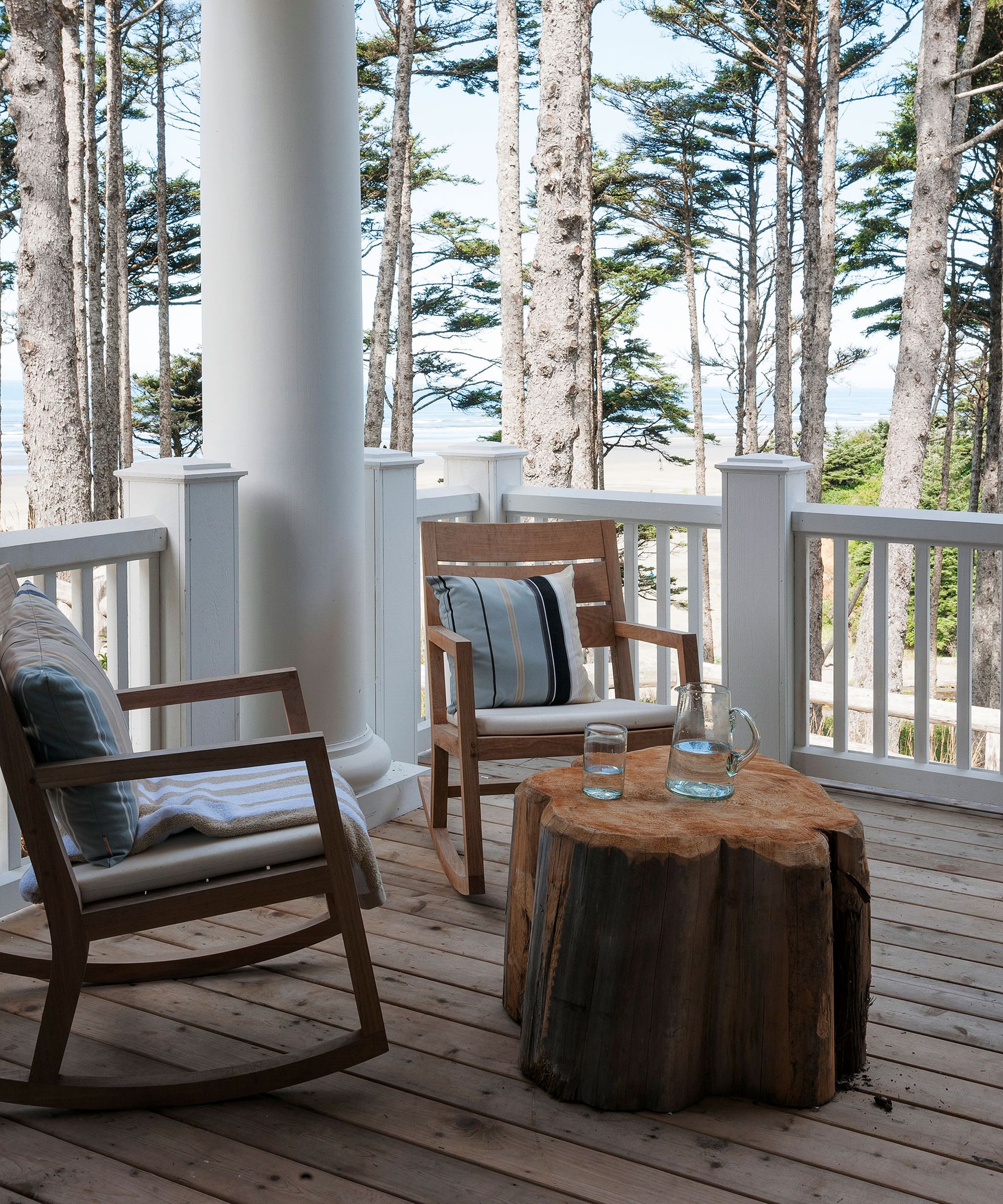 At its best, a timber deck is a handsome, hard-wearing surface that complements most garden settings. It's a natural material that provides a sympathetic background to plants, blending beautifully with water, stone and trees. Timber lends itself to different styles of architecture and design. A deck can be designed in a smart, contemporary look, as easily as in a more traditional style.
An informal look is created when decking is left natural and allowed to weather with time. It turns a silvery-grey, creating a deck color idea that blends beautifully with plants and the natural landscape. A good compromise is to treat the decking with a wood oil that simply enhances the natural beauty of the wood – products made for treating timber boats are ideal.
But decks don't only look good: other advantages include being relatively lightweight in comparison to stone, quick and easy to install and forgiving. Timber can be cut to size to fit perfectly round awkward corners, or over manhole covers and is easily extended at a later date.
15. Create a simple path with decking boards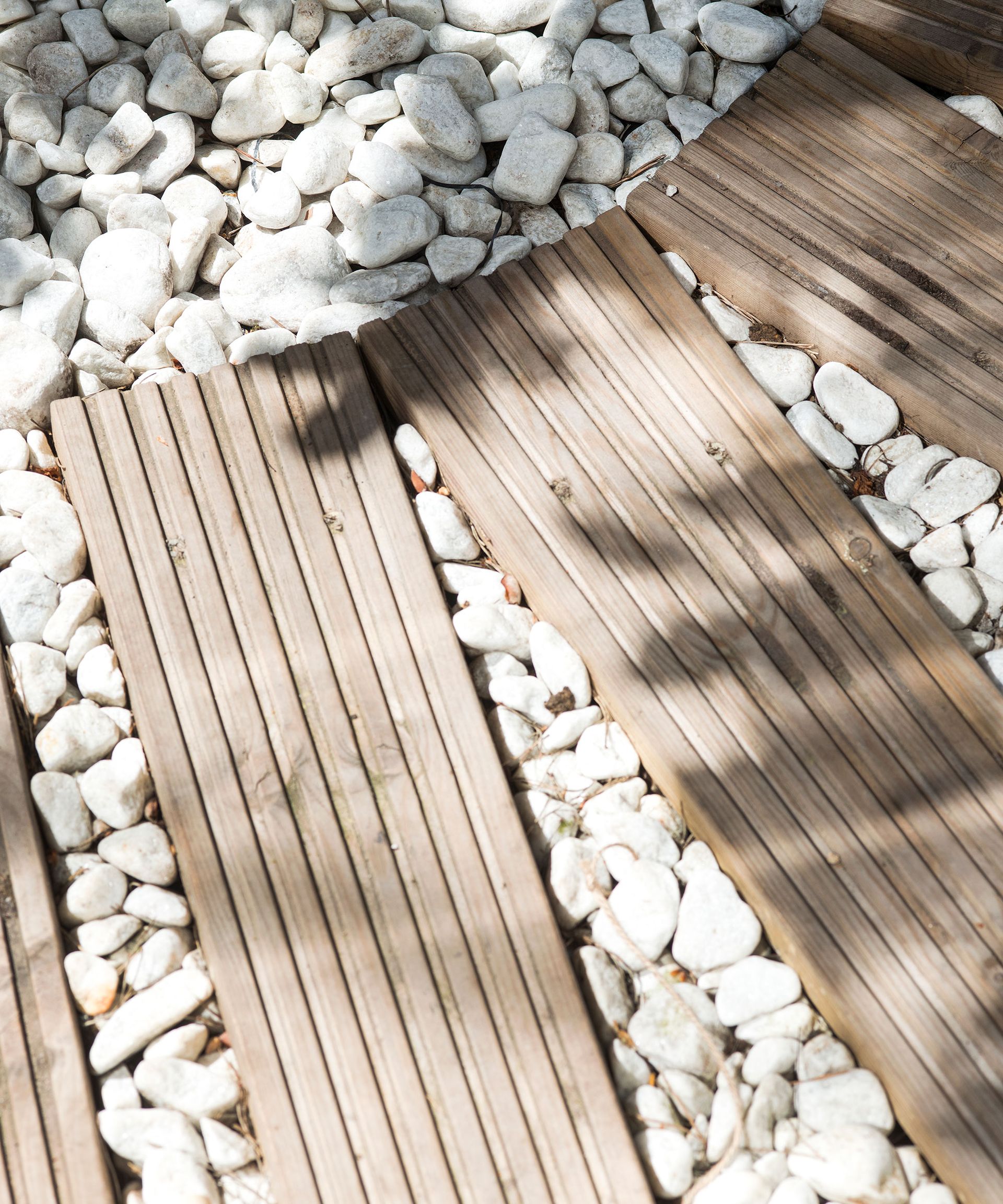 Decking boards are a smart option for a garden path, creating an inexpensive boardwalk effect in a gravel garden.
You could also consider laying your decking planks at different angles or creating curves, but remember, construction is more time-consuming on a larger site. Sketch out your plans, take accurate measurements and mark the ground with posts and strings for the best results.
16. Introduce interest with a raised platform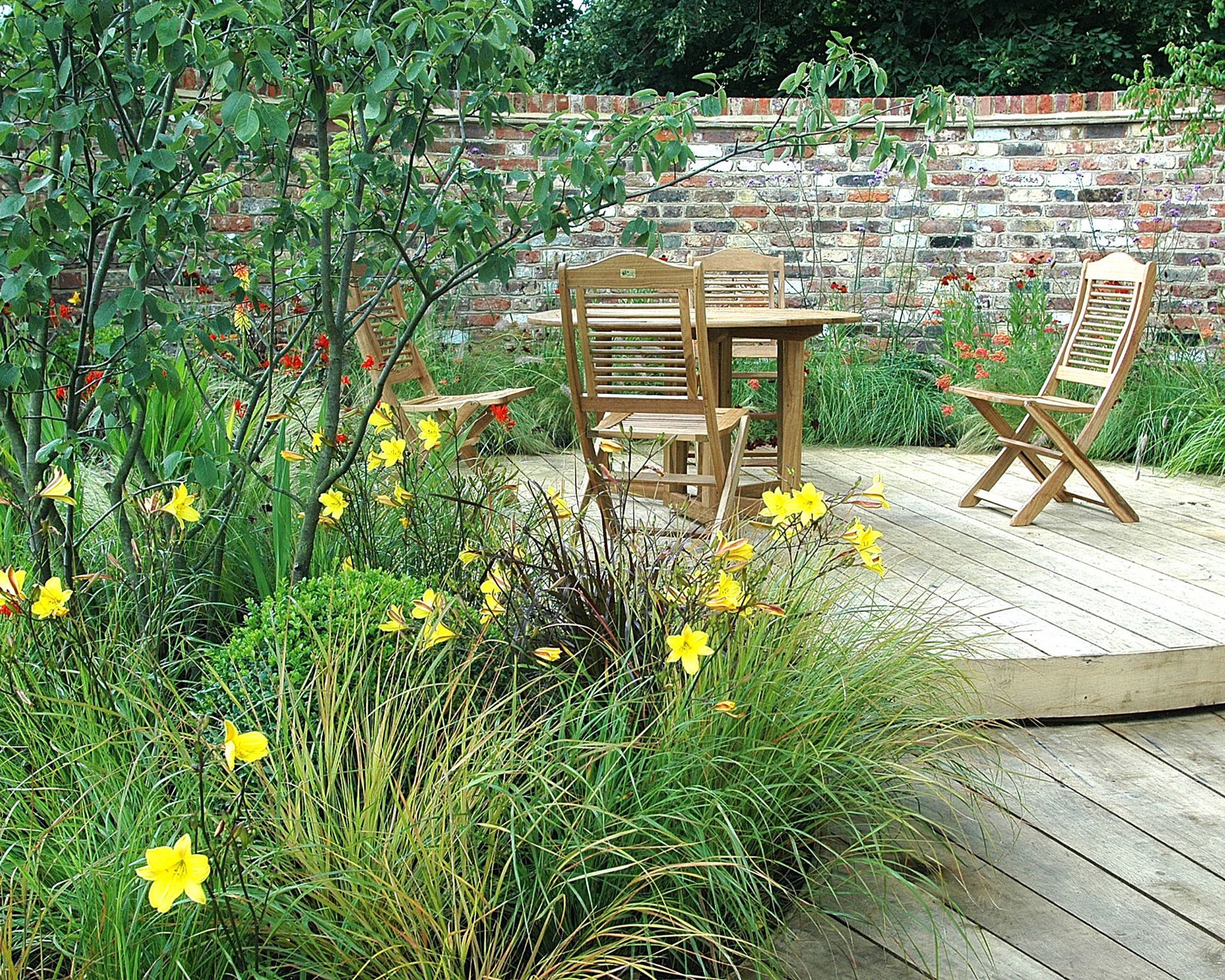 Use decking to lead the eye to a secluded seating spot at the end of your backyard. Decking is especially useful on plots where there is a difference in height, because it can be simply laid to fit the space with steps ascending or descending to other levels.
When choosing a site for a deck, avoid poorly ventilated areas with little sunlight – this can cause rot and algae. Raised decks should be built to encourage a free flow of air through gaps between the decking fascia, with no spaces big enough to let in rats or mice.
---
Which wood should I use for my deck?
There's a vast variety of decking available, so make sure you have a good look at what's out there before making your choice as it can have an impact on how much a deck costs.
Good quality hardwood decking plans cost about double their softwood equivalents but, either way, the additional materials for the base and sub-frame adds at least another third in cost.
Modern timber comes pre-treated against rot and can be left to turn a pleasing silver finish. Decking will last longer on a sunny site that is kept free of leaves and moisture.
Where should I lay decking?
Decking should be placed on even ground, so the area will need to be levelled in advance. Avoid areas that are situated where huge numbers of leaves will fall. Choose a sheltered spot offering both sun and shade.
Is it easy to keep decking clean?
It is surprisingly easy to clean a deck. Use a pressure washer on a gentle setting (or a garden hose and brush, if you don't have one), together with a specialized decking cleaner to give your decking a once-over.
Repeat the process to ensure a super-clean surface. If you have the time and the wood looks like it could do with some extra love, give it a coat of decking stain – it will make the deck look great and help it last longer.
---
'Decking is an excellent choice if you're landscaping your backyard from scratch or you simply want to give it a new look,' says Beth Murton.
'If you're relatively experienced at DIY, it's certainly possible to build a deck yourself, but it's labor intensive and is likely to take you far longer than you think. It's also essential to get the base of your deck right to ensure it is strong and can support the weight of the structure (and the people using it). Making any decking design mistake can be a costly business, so in the long run you may find it cheaper to hire a professional to fit it for you.'
Jennifer is the Digital Editor at Homes & Gardens. Having worked in the interiors industry for a number of years, spanning many publications, she now hones her digital prowess on the 'best interiors website' in the world. Multi-skilled, Jennifer has worked in PR and marketing, and the occasional dabble in the social media, commercial and e-commerce space. Over the years, she has written about every area of the home, from compiling design houses from some of the best interior designers in the world to sourcing celebrity homes, reviewing appliances and even the odd news story or two.