Pool patio ideas – 15 ways to create a fabulous poolscape
Be inspired by these pool patio ideas and create a stylish surround for your swimming pool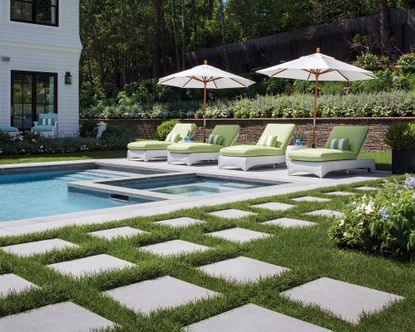 (Image credit: Belgard)
Smart pool patio ideas are vital when creating a sophisticated poolscape, and to make yours a space suitable for relaxing, dining, entertaining, and the kids to enjoy.
A pool patio is a functional area that allows you to move around the swimming pool and climb in and out of the water safely. But it can also create sufficient level space for both seating and dining furniture.
In addition, your patio has an aesthetic role to play in your landscaping, and should complement your pool ideas, other hardscaping materials and backyard ideas, and the house itself, for a harmonious effect.
So, if you are looking for patios to suit every pool and backyard, that will deliver when it comes to both practicality and style, this is the place to be.
Pool patio ideas for every yard
These pool patio ideas tackle everything from pool landscaping ideas to make the most of the space around the pool, to built-in seating ideas and even planting.
1. Size up the patio
A generous patio area creates space for relaxing by the pool without compromising on circulation space. But consider upsizing the pool patio further to add a separate dining or seating area that's connected, but away from the splashes of pool users.
This is more important if you're not considering pool house ideas that bathers can retreat to. Using the same pavers leads the eye so making your way there is inviting.
2. Mix materials
One of our favorite pool patio ideas is teaming this feature of the poolscape with a second hardscaping material.
Here, decking frames the swimming pool itself and provides a place for recliners right beside the water, while the pavers visually separate the dining zone.
If a contemporary look is what you're after for your yard, follow this example and use large format pavers.
3. Make a small patio rich in interest
If you've been searching for pool patios suitable for small backyards, take inspiration from this rooftop design. Using different paver sizes and formats like the rectangular and square pavers here makes even a modestly sized patio a more interesting feature.
Like the idea of taking this route? Choose between creating a pattern that has a repeating motif or a truly random layout. The latter can be easier to achieve with a small or unusual shaped patio.
4. Play with color
Choosing natural stone pavers with interesting color variation is another way to make the pool patio a fabulous decorative feature.
For a subtle effect, stick to pavers of the same dimensions and format, or choose to mix them and create pattern to boost the level of detail underfoot some more.
5. Build in seating
Here's another of the pool patio ideas that can help make the most of a smaller space. Building seating into the patio can be a space-saving tactic for maximizing the utility of the area.
If you're looking for pool area ideas that make the most of space, use this backyard as an example. Here, it's the coping that doubles as seating in a situation where positioning outdoor chairs would block passage alongside the swimming pool.
But even on a large patio featuring an in-ground pool, built-in seating is a fabulous addition to freestanding furniture and ideal if you like to welcome a crowd.
6. Add color with your patio furniture
Decorating outdoors doesn't afford as many opportunities for color as you get inside, so take advantage of those chances when you can.
Upholstered outdoor furniture comes in a wide range of colors and patterns, and you can use it to set the theme of your pool patio. The brightly colored cushions at the Sea Oats luxury vacation rental, above, nod to the aqua blue waters nearby, for example, enhancing the tropical feel of the space.
'Design inspiration here was all based around color,' says Michelle Barry, owner of Drip Castle Estate Collection and the property's designer. 'We pulled the blue from the mosaic turtles in the pool and kept everything else white for a clean, modern esthetic.'
7. Get a sleek finish
Super-sleek pool patio ideas include the use of large format porcelain pavers with a rectified edge.
The precise uniform finish of all four sides of each tile allows for a minimal grout joint and that combined with their generous dimensions results in a clean modern look.
Porcelain can replicate the look of natural stone plus it's stain resistant which, together with a thinner grout joint, makes this an attractive and easily maintainable patio option.
8. Create a spot in the shade
Make the most of your pool patio with varied seating areas and the best outdoor furniture for your space.
Lounge chairs are nice when you first get out of the water, but a conversation set tucked under an awning or veranda becomes an ideal spot to sit and enjoy lunch, read a book, or simply take a break from the sun.
9. Make the transition
Instead of making the transition between lawn and pool patio a sudden one, think about mixing hard and softscape by laying pavers in the grass that leads to the patio.
Make it modern with large square pavers in a precise pattern to avoid a country stepping-stone effect. And don't forget you'll need to keep up with edge trimming around the pavers for things to stay neat and tidy.
10. Outline the swimming pool
Choose contrasting coping as one of your pool patio ideas to draw attention to a curvaceous swimming pool like this one, or to distinguish the clean, crisp edges of a rectangular pool.
The pale finish of this coping is sympathetic to the modern swimming pool, while the remainder of the patio features a traditional gray stone that complements the Gothic folly-style pool house.
11. Add a water feature
Consider adding a focal point to a pool patio to make it an attractive part of the backyard 12 months round, even if you live in a region where the pool is not in use for some period of the year.
A water feature fills the role perfectly cascading from the patio into the pool. Designs can be slim walls of water, or you can go big with multiple flows, formations of rocks, or displays that incorporate your pool lighting ideas, too.
12. Add striped patio umbrellas for a Cote D'Azur feel
Turn your pool patio into a slice of paradise with a row of striped beach umbrellas, evocative of luxe destinations like the Cote D'Azur, a la this luxury rental property in Captiva Island, Florida. Not only will umbrellas add to the ambience, but they come in handy at midday, or in spots without much shade. Plus, they add a touch of pool privacy from overlooking upstairs windows.
'Our inspiration was modern Mediterranean, mixed with old Miami and graphic stripes to offset the classic design of the estate,' says Barry, whose company also owns the above property. 'We really wanted to play off the of a luxury beachfront property-tying everything together with a black and white cabana stripe fabric on pillows, ottomans, umbrellas and curtains.'
13. Change levels
For a large pool patio, consider a design with different levels that will provide more for the viewer to appreciate than a large, flat space.
Try garden zoning using low wide steps to mark the boundary from one functional part to another. They'll create an elegant look that suits more formal garden designs, too.
Alternatively, you can break up the expanse of the pool patio with low walls against which to nestle seating areas or enclose dining areas. The result? A more intimate feel in the large space.
14. Add an outdoor fire pit with plenty of plush seating
Extend the life of your pool patio with an outdoor fire pit. It'll make your pool deck a destination long after the sun goes down (opening the floodgates for some seriously fun pool party ideas), and even after pool season is over, too.
For an even more inviting ambience, surround it with a cushioned conversation set.
15. Choose red brick pavers for Mediterranean style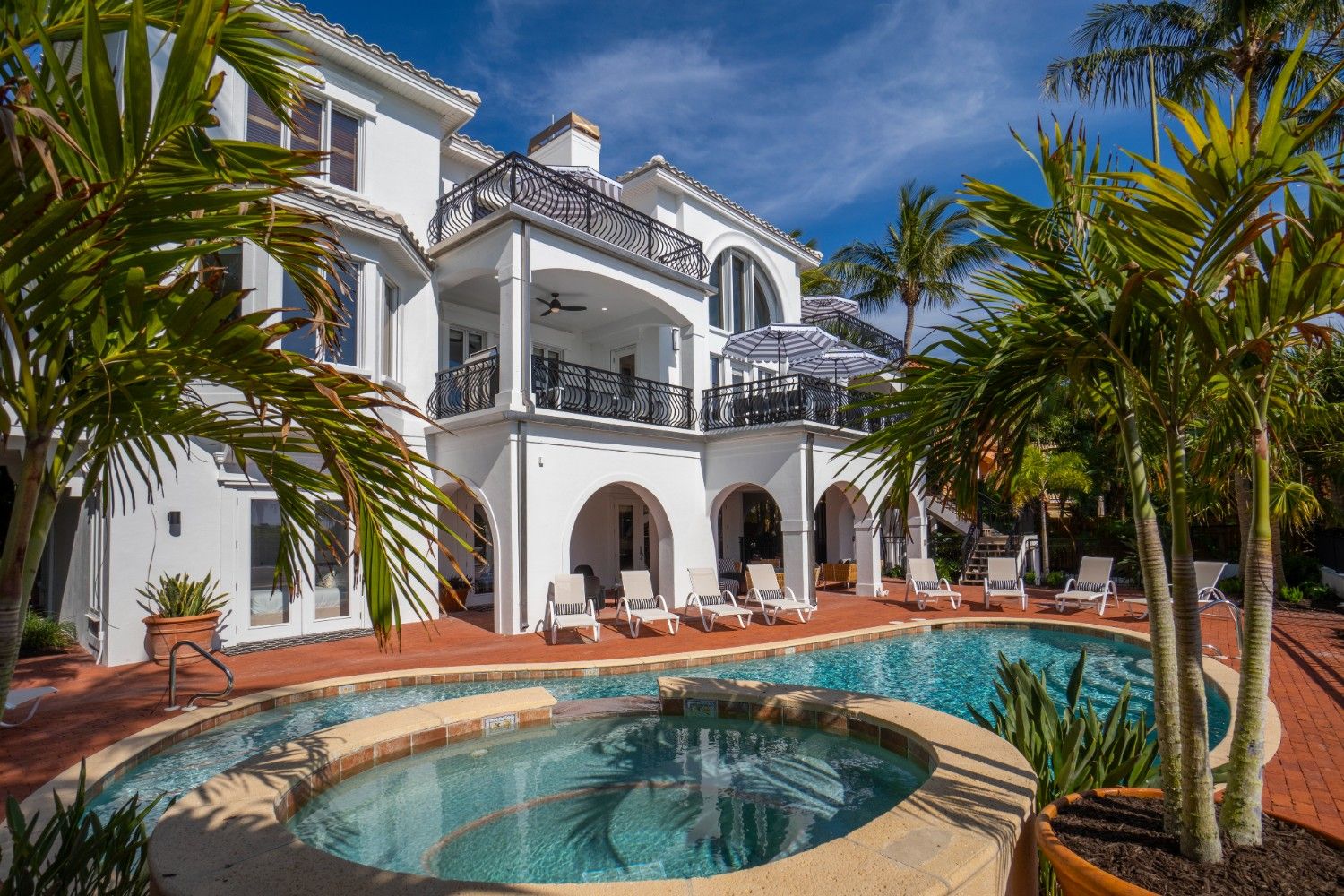 When it comes to choosing a material for your pool patio, gray brick or taupe-colored pavers are common choices. But, if your architecture leans toward Mediterranean or Spanish Colonial style, a red brick pool patio is a natural complement.
What's the best surface to put around a pool?
The best surface to put around a pool is one that is non-slip when wet, comfortable to walk on with bare feet, and that won't become unpleasantly hot in the height of summer.
Natural stone with a textured surface is an attractive option, and can be matched or harmonized with other hardscaping in the yard. Porcelain tile, meanwhile, can replicate the appearance of stone and is easy to look after.
Other options include poured concrete with a brushed finish or with exposed aggregates that prevent slips, cement pavers, and bricks, although the latter won't suit the hottest regions.
Wood decking is a further possibility, but will need regular maintenance to stay in good condition. Alternatively, choose a composite version that looks the part but needs minimal care.
How much does a patio around a pool cost?
The cost of a patio around a pool will depend on the materials you choose for the patio, its dimensions and any challenges created by the site.
For an in-ground pool, expect to pay from around $5 per square foot for pavers plus labor if you're calling in a contractor to take on the job for you. Porcelain tile starts at a similar price, while natural stone might cost from around $15 per square foot.
Again, labor is an additional cost. Poured concrete might cost around $15 per square foot or more for the material itself as well as labor.
If you pick wood decking, expect to pay from around $5 per square foot, or from around $10 per square foot for composite.
A pool patio is a must-have for an in-ground pool, and should be considered when you're budgeting for the cost to build a pool.
In the UK, a concrete patio might cost around £50 per square metre including labor, one in porcelain around £55 per square metre, and in natural stone around £50 per square metre.
Sign up to the Homes & Gardens newsletter
Decor Ideas. Project Inspiration. Expert Advice. Delivered to your inbox.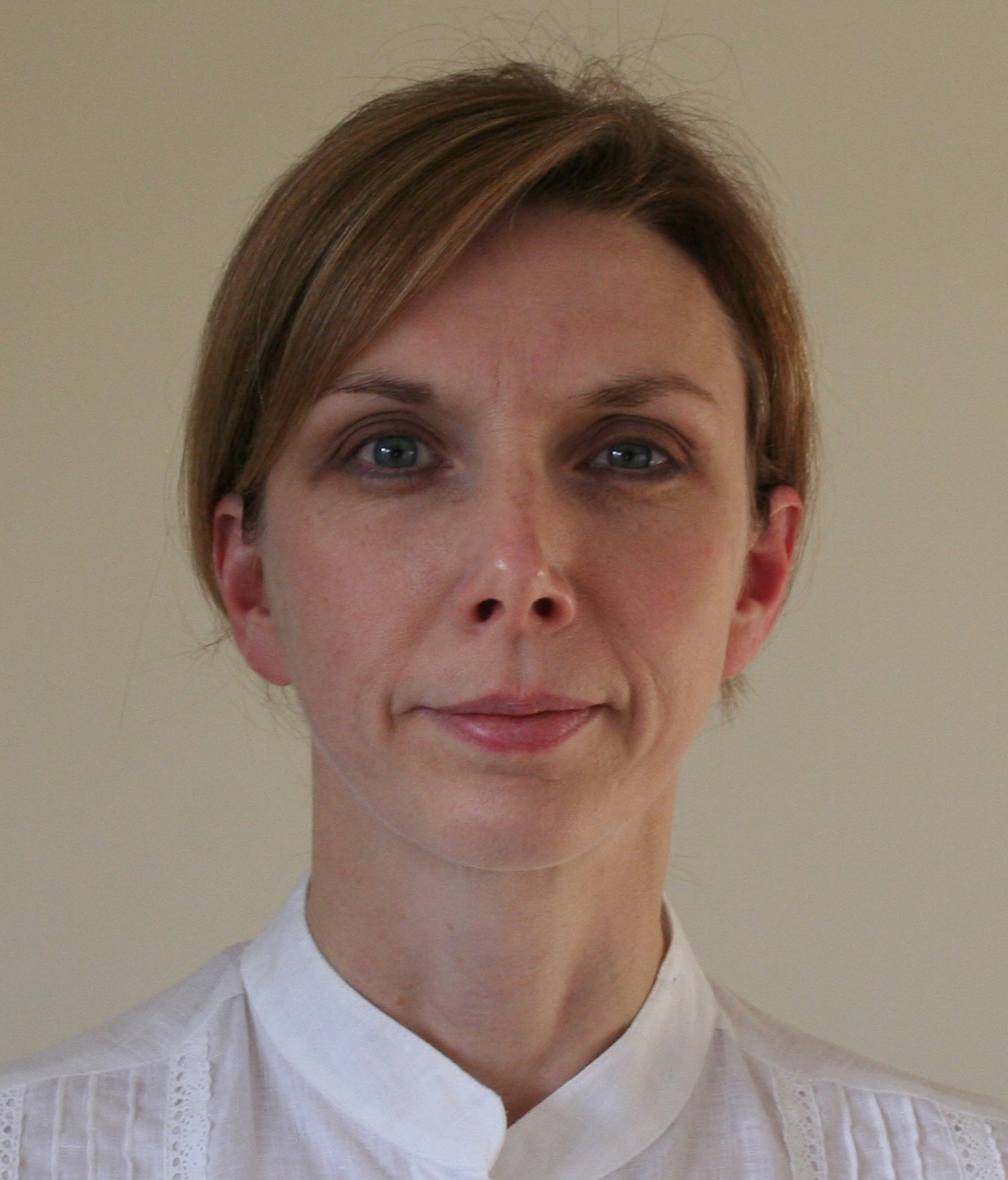 Sarah is a freelance journalist and editor. Previously executive editor of Ideal Home, she's specialized in interiors, property and gardens for over 20 years, and covers interior design, house design, gardens, and cleaning and organizing a home for H&G. She's written for websites, including Houzz, Channel 4's flagship website, 4Homes, and Future's T3; national newspapers, including The Guardian; and magazines including Future's Country Homes & Interiors, Homebuilding & Renovating, Period Living, and Style at Home, as well as House Beautiful, Good Homes, Grand Designs, Homes & Antiques, LandLove and The English Home among others. It's no big surprise that she likes to put what she writes about into practice, and is a serial house renovator.