Pool ideas – 17 of the best designs for every backyard, from natural swimming ponds to infinity pools
We show you the latest pool ideas for creating your own private oasis. From compact design for terraces, to infinity pools with stunning views and a pond in landscaped grounds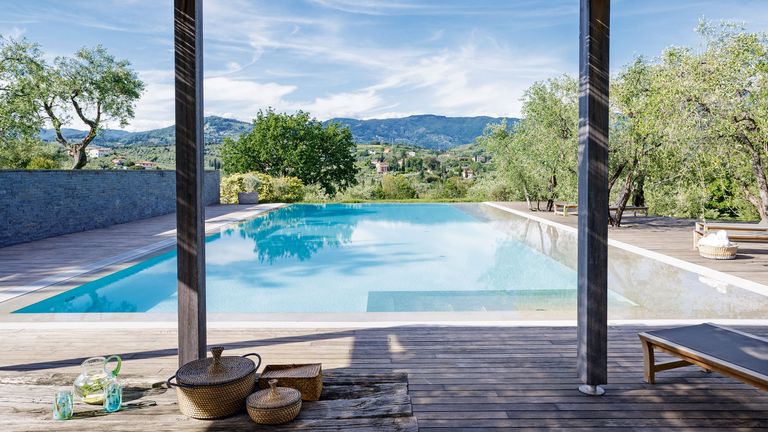 (Image credit: Future / Mark Bolton)
If you're after the best pool ideas, then you have landed on the right page.
The benefits of being near water have long been touted by scientists and wellbeing experts. In fact, marine biologist Dr Wallace J Nichols' book, Blue Mind, is all about the positive effects of being close to or submerged in water of any kind.
While a swimming pool is certainly an investment, it's a family-friendly backyard idea that's sure to help you create memories for years to come. And, as a bonus, it is a garden idea that will certainly up your home's resale value.
Installing a pool, however, is easier said than done, especially when you consider all the design decisions that you'll need to make.
But don't fret! We're here to inspire you with garden tips and pool landscaping ideas to help you get started on the process.
Pool ideas
1. Invest in your own pool retreat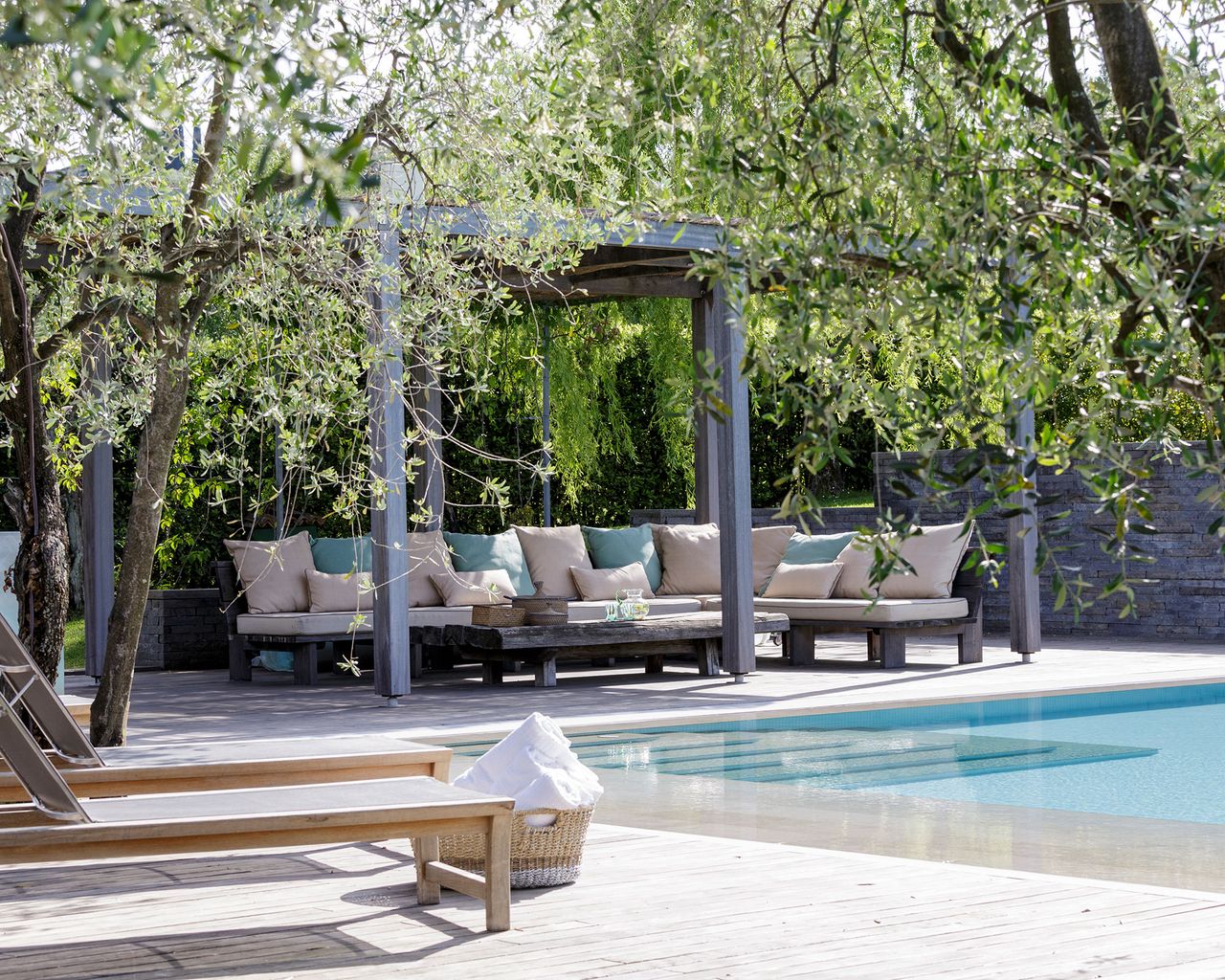 Installing a heated pool in a sunny, sheltered spot close to the house or a garden building, such as a pool house with a dedicated changing area, creates the experience of a luxury holiday home.
Garden and landscape designer Janine Pattison recommends a consistent water depth of 1.4m, which is deep enough for adults to swim in and also suitable for older children to enjoy safely.
An automatic safety cover will keep children from harm when the pool is not in use, advises Tom Holman, director of Fowler Swimming Pools.
2. Opt for a curvaceous design
'In an awkwardly shaped garden, a pool with a free-flowing design will make the most of the space,' says Janine Pattison of JPS Landscape Design.
If you prefer clean lines and symmetry, use planting to fill the uneven gaps left around the straight sides. An infinity-edged pool is a perfect choice for a terraced garden.
A pool with an irregular shape is more difficult to cover, so be prepared for more heat loss if you leave it exposed, or have a bespoke cover fitted.
3. Take your swimming pool to the edge
Infinity-style pools blur the lines between the water and the landscape and are ideal for a contemporary garden with a panoramic view.
'For a classic home, choose a conventional pool and frame the views so they can be enjoyed while swimming,' says Janine Pattison.
Here, this garden in Virginia, designed by landscape architect Joseph Richardson, features an infinity-edge pool overlooking the woods.
'We had originally planned to add a more traditional pool to the terrace, but decided that an infinity edge was the perfect way to spotlight the property's steeply pitched, wooded terrain.'
4. Keep the pool area hidden from the rest of the garden
Swimming pools need not be rectangular slabs of blue hidden away in a corner. Good designs should work with your garden, rather than against its natural flow.
Russell Page, the influential mid-20th century garden designer, had a good deal to say about swimming pools. Spending much of his later career designing fine gardens in the Mediterranean for his wealthy clients, he found that pools were usually required.
Though Page scoffed at what he called 'Hollywood' pools of 'gold and green and blue mosaic, marble or plaster columns, white wooden "pergolas" and masks spitting water', he approved of the simple rectangular pool set apart, preferably screened off by a wall or hedge.
5. Create a pool that embraces the natural flow of the garden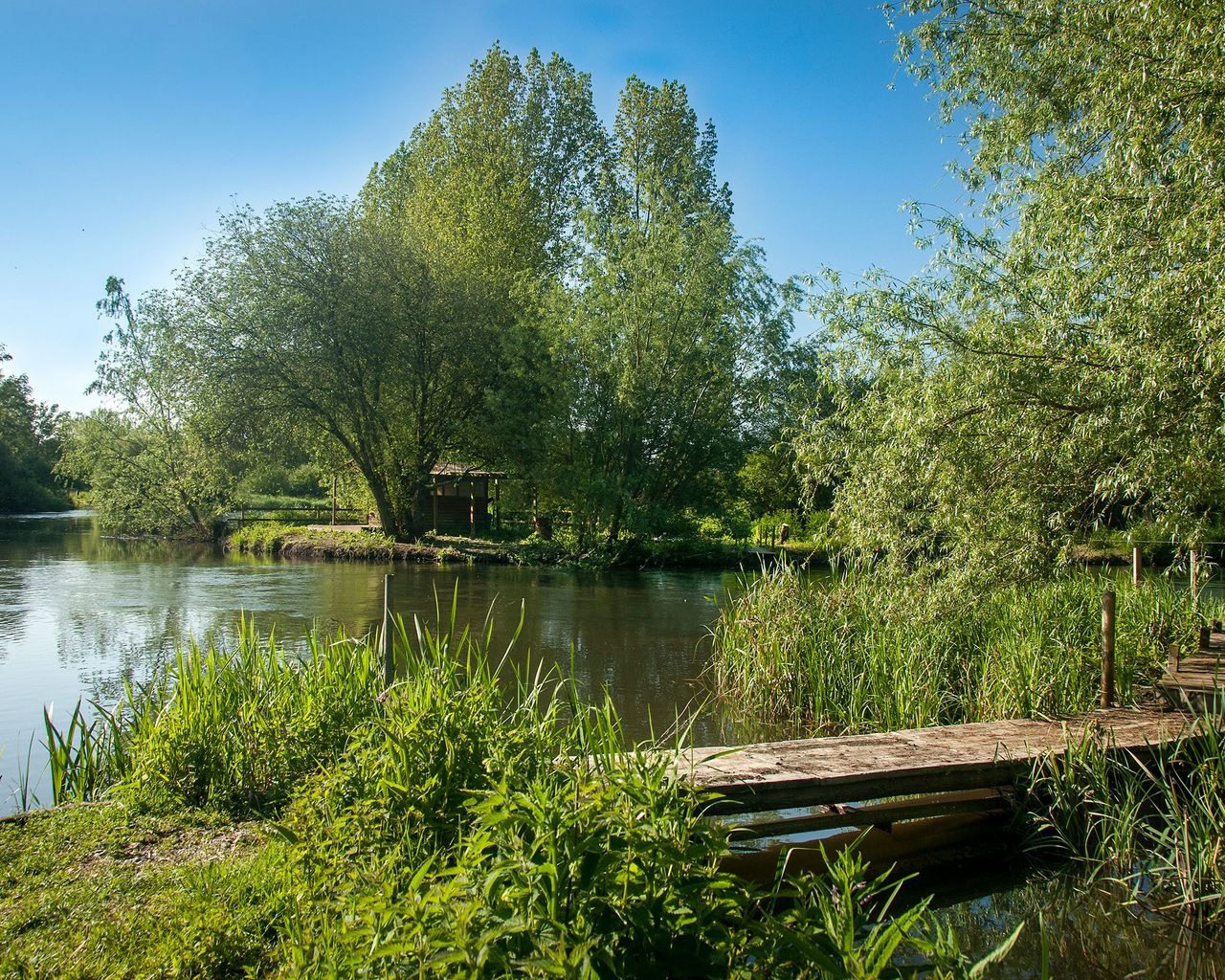 Now, for all its practicality, the shut-away, out-of-sight swimming area seems so last century; as antiquated as bathing machines rolled down to the beach.
Today's pools are welcomed into the border garden, whether in a formal setting of lawns, surrounded by flowers and grasses, or even made to look like a natural garden pond.
6. Foster a natural swimming pool – inspired by nature
The 'natural' swimming pool is the style most rapidly gaining favor in country gardens, not only for its visual appeal, but also its eco-credentials.
Though it looks exactly like an informal garden pond, the properly constructed natural pool (or swimming pond as it is often called) uses no chemicals. Instead it is a mini ecosystem, consisting of a deep swimming area and a shallower neighboring section where a range of suitable plants constantly filter and purify the water.
Whereas the shallow section is, to all intents and purposes, a planted habitat nurturing a range of wildlife, such as frogs and toads, dragonflies, water boatmen, and so on, it is also working hard cleaning the swimming water.
This is circulated by differences in temperature between the shallow and deeper zones and with the assistance of a small pump.
7. Let a hidden pool sparkle in the summer – and winter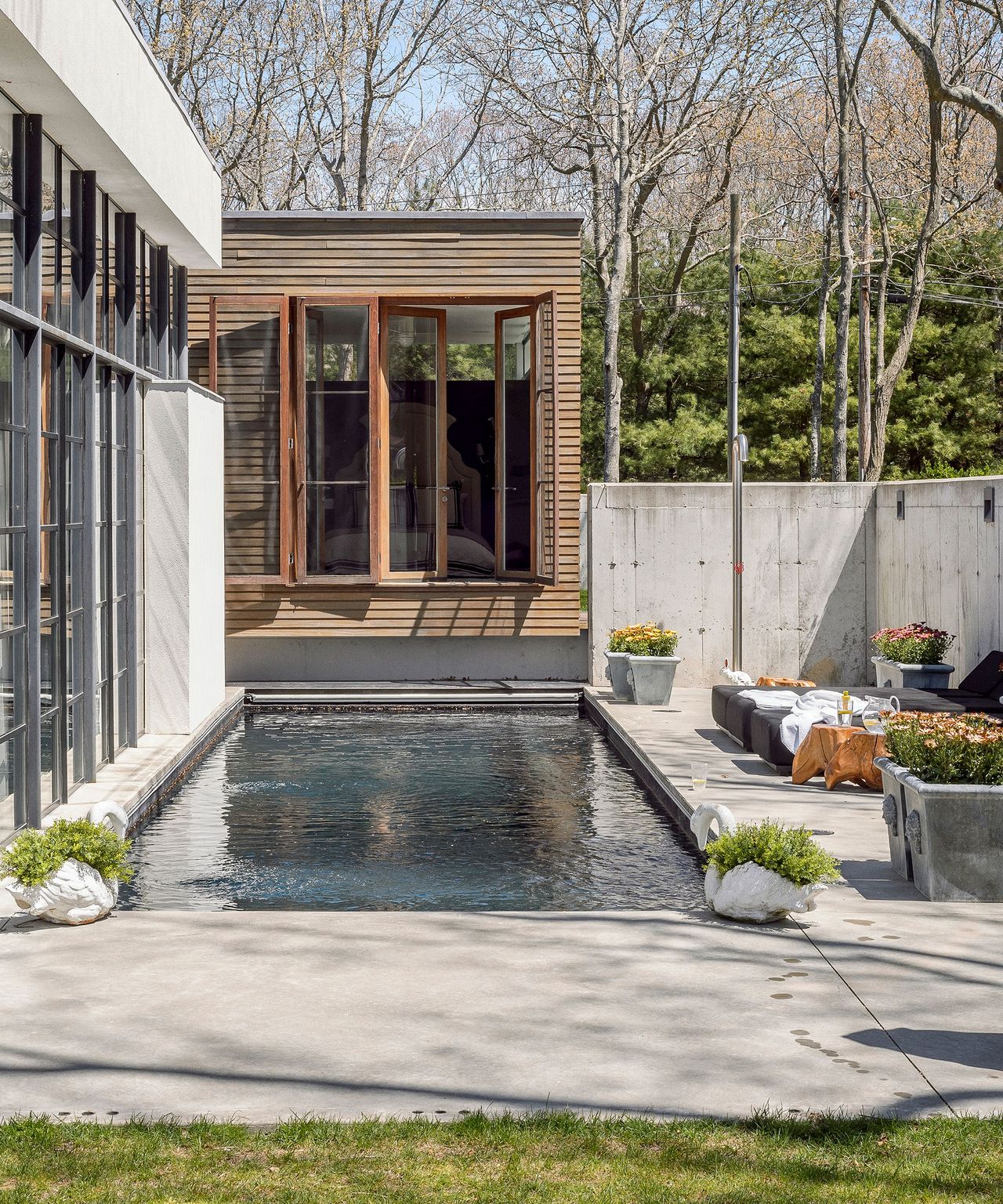 In a city garden, use clever garden privacy ideas, such as plants, screens and canopies, to shield your pool from neighbors' windows and to hide it when it is covered during the winter.
A small round or rectangular plunge pool can double as a water feature, providing a beautiful focal point in your outdoor space.
Regularly using a surface skimmer and a robotic cleaner to remove dirt and debris from the bottom will help to keep your pool clean and clear of fallen leaves and insects.
8. Step up with a raised pool
If you're looking for ways to incorporate a pool into your sloped garden, you could build a pool into the terraced section and use coping stones to double as seating.
Janine recommends surrounding a raised pool with composite decking (wood mixed with plastics and other materials), as it is non-slip and low maintenance. A specialist will make sure the pool is well integrated into your design.
Create wide steps at an angle to the pool to provide easy access as well as an eye-catching design feature.
9. Find space in your garden for a small pool
A lap pool or a swim spa with an adjustable continuous current to swim against is ideal for a small garden with restricted space, such as a courtyard or roof terrace.
A prefabricated pool can be lifted into place in areas with limited access. 'Check that your supplier has experience of roof installations and understands load-bearing requirements,' says Andrew Fisher Tomlin.
Ensure you have enough space to house essential paraphernalia, such as pool pumps and filters.
10. Plan a pool that fits in with the surrounding space
Rural period houses can look at odds with a modern tiled pool.
If you're wondering how to landscape a backyard with a pool, garden designer Andy Sturgeon advises edging the pool with York or sandstone and lining it with tiles to match the paving, to create a more natural appearance.
A pool house that echoes the architecture of the property and an Italianate-style planting scheme will also help blend the pool into a traditional landscape.
'For a cohesive design, link the planting around the pool with that in the garden beyond,' says Andrew Fisher Tomlin.
11. Illuminate your pool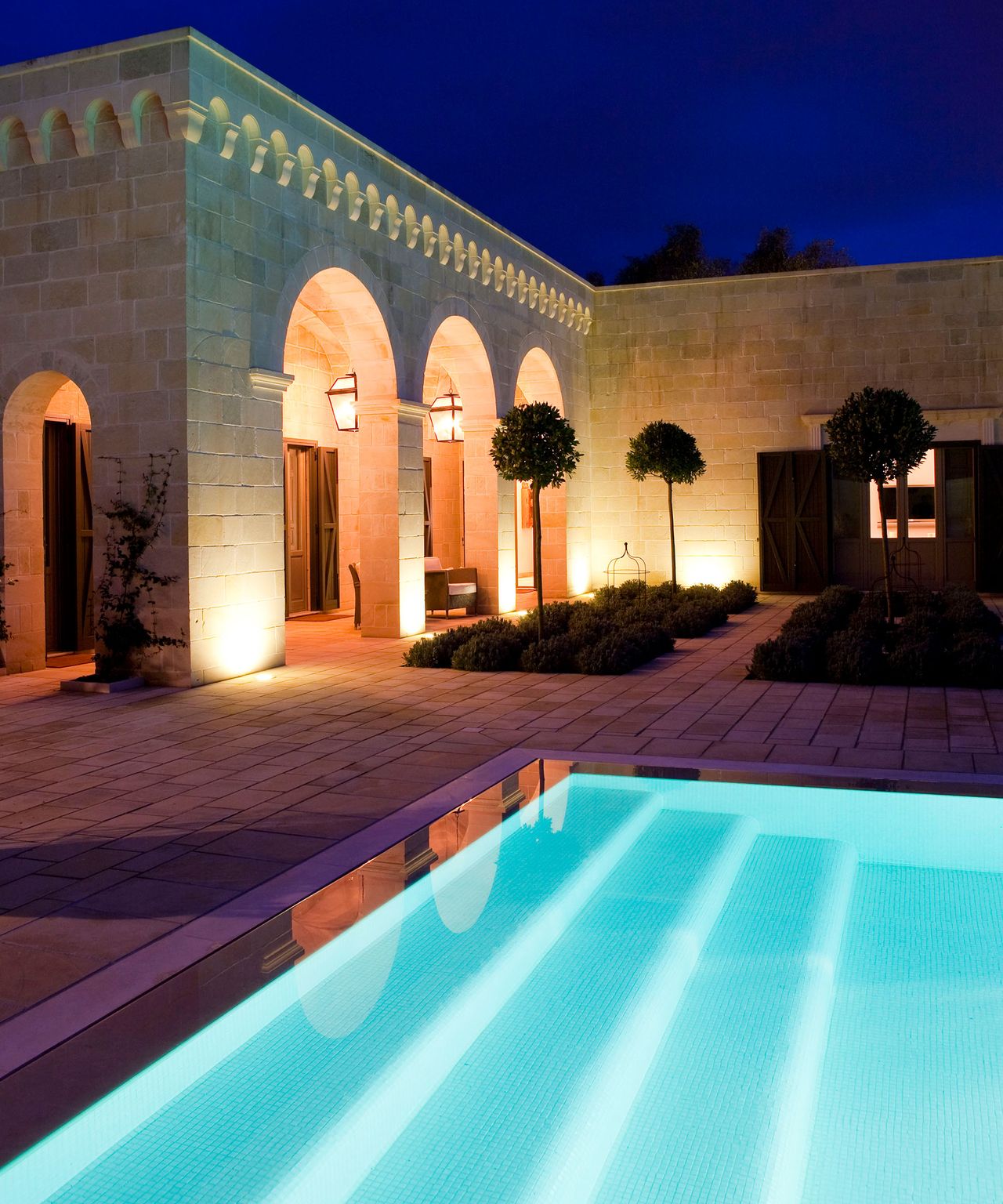 'Good outdoor lighting ideas help to make swimming safer and add ambience and drama to a design,' says Janine Pattison.
'We use LEDs in and around our pools because they have a long life and lower running costs. They also have color-change capability, so different moods can be created at the touch of a button.'
12. Play hide and seek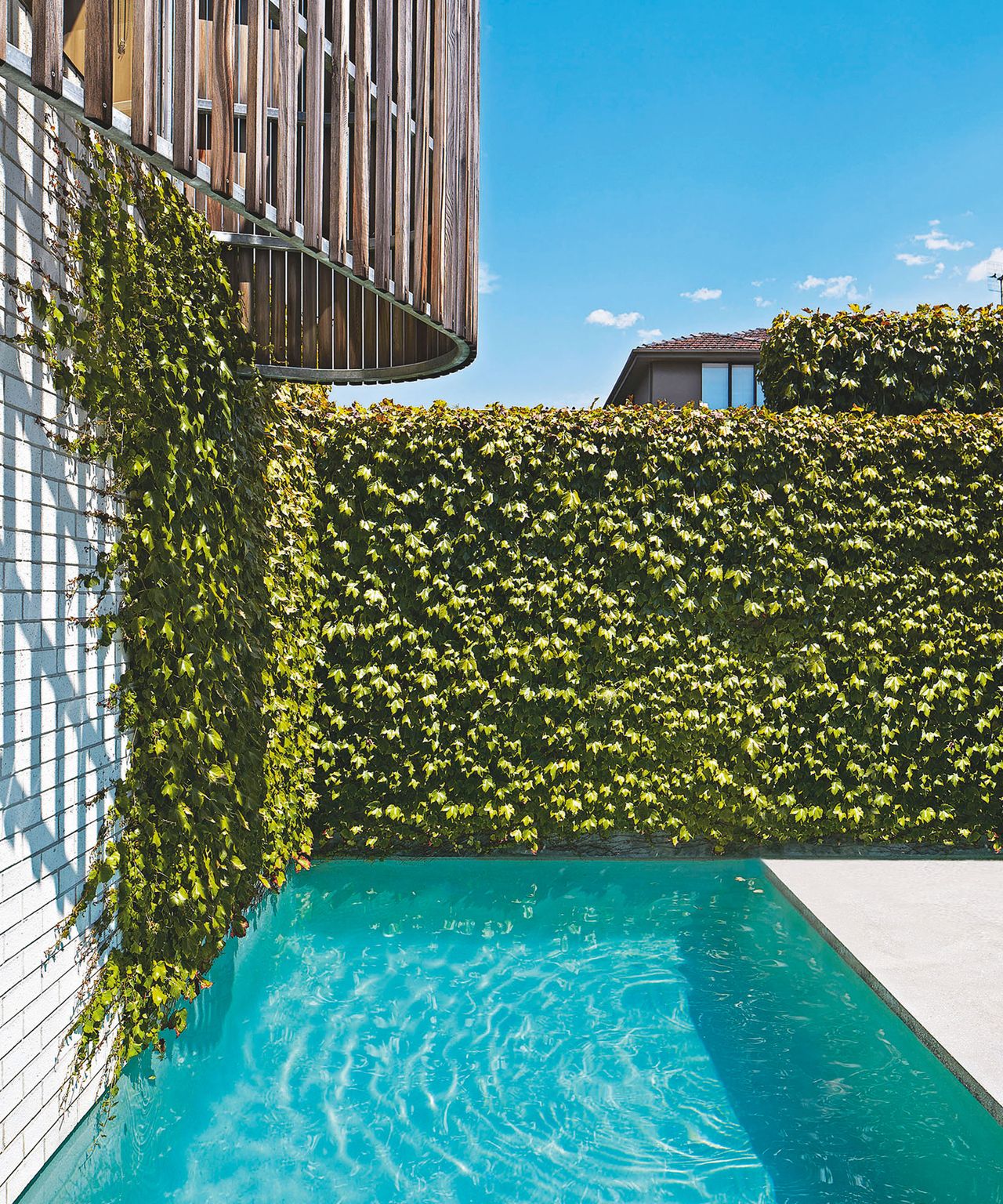 A large garden offers scope to position the pool away from the house and to create a dedicated environment for the feature.
Landscaper and designer Andy Sturgeon suggests disguising the pool behind a low wall or hedge to blend it into the surrounding area.
'Plant right up to one or two edges of the pool, to make it into a proper garden feature and to bring the flowers and foliage up close to the swimmers,' says Andy.
13. Don't skimp on hardscaping
Don't underestimate the importance of landscaping and hardscaping.
'This hardscaped pool patio idea and coping elevate the pool that overlooks a river,' explains Joe Raboine, director of residential hardscapes at Belgard. 'The pavers lead guests to a gazebo and dining area, making the living space seamless and functional.'
14. Provide a beautiful vista from the pool
Designed by Land Morphology, and often called one of the 'most significant gardens in Connecticut', The InSitu Garden integrates hard landscaping, abundant planting, modern art and elements of water to create a spiritually inspiring garden.
The much-adored pool is set in a picturesque landscape planted with meadows, woodland gardens and lawns. This garden 'room' offers expansive vistas through the garden and to the distant hills.
15. Keep your pool area secluded from prying eyes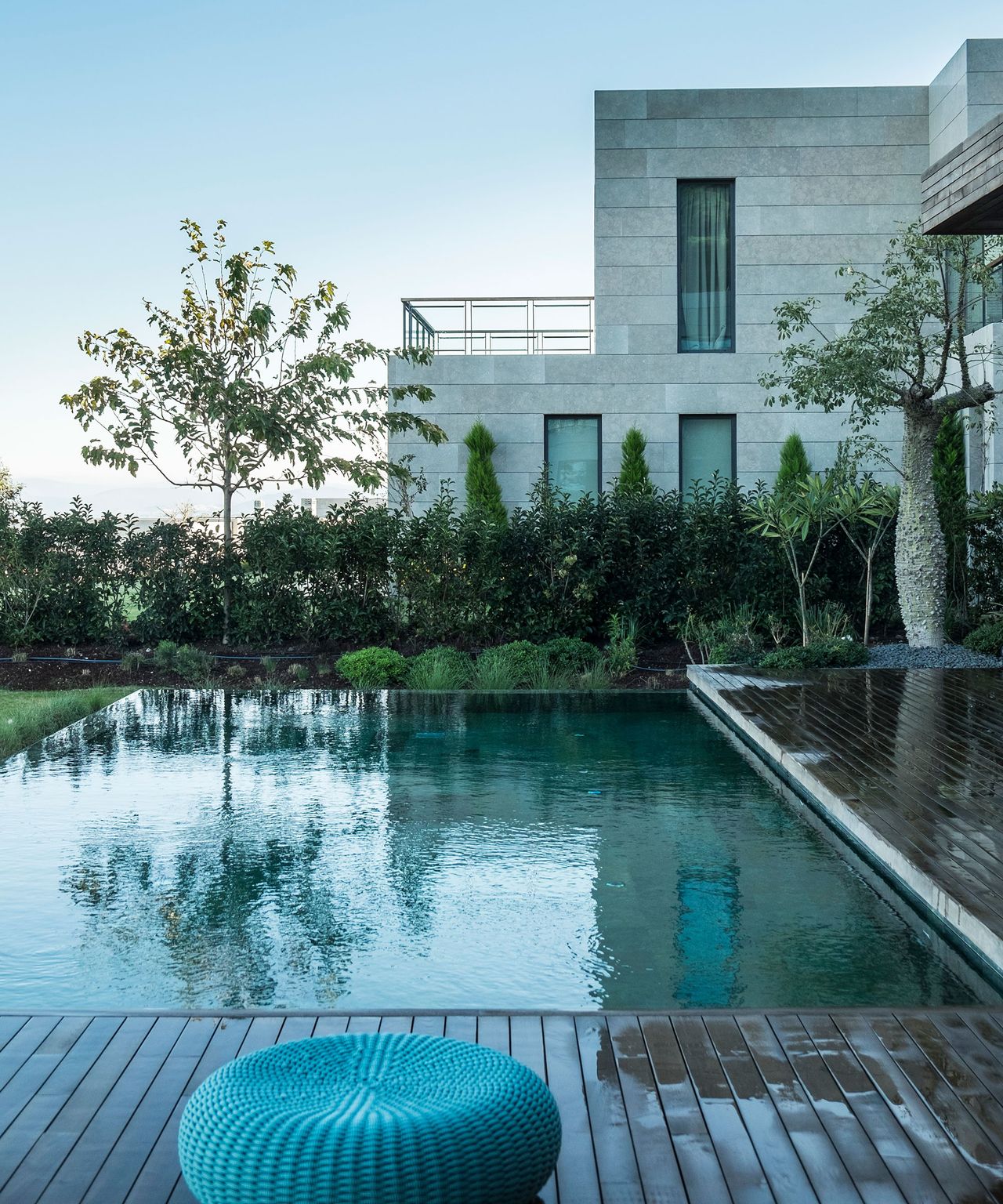 In a small city garden, use plants, screens and canopies to shield your pool from neighbours' windows and to disguise it during the winter when it will be covered.
A round or rectangular plunge pool that doubles as a water feature will create a beautiful focal point when it is revealed as you walk through the garden.
If space allows, go big. Infinity-edged pools offer an exciting swimming experience for your pool party guests, blurring the line between the water and landscape beyond.
Ideal for a contemporary garden with panoramic views, infinity pools are the designers' choice for modern settings.
16. Instil a sense of harmony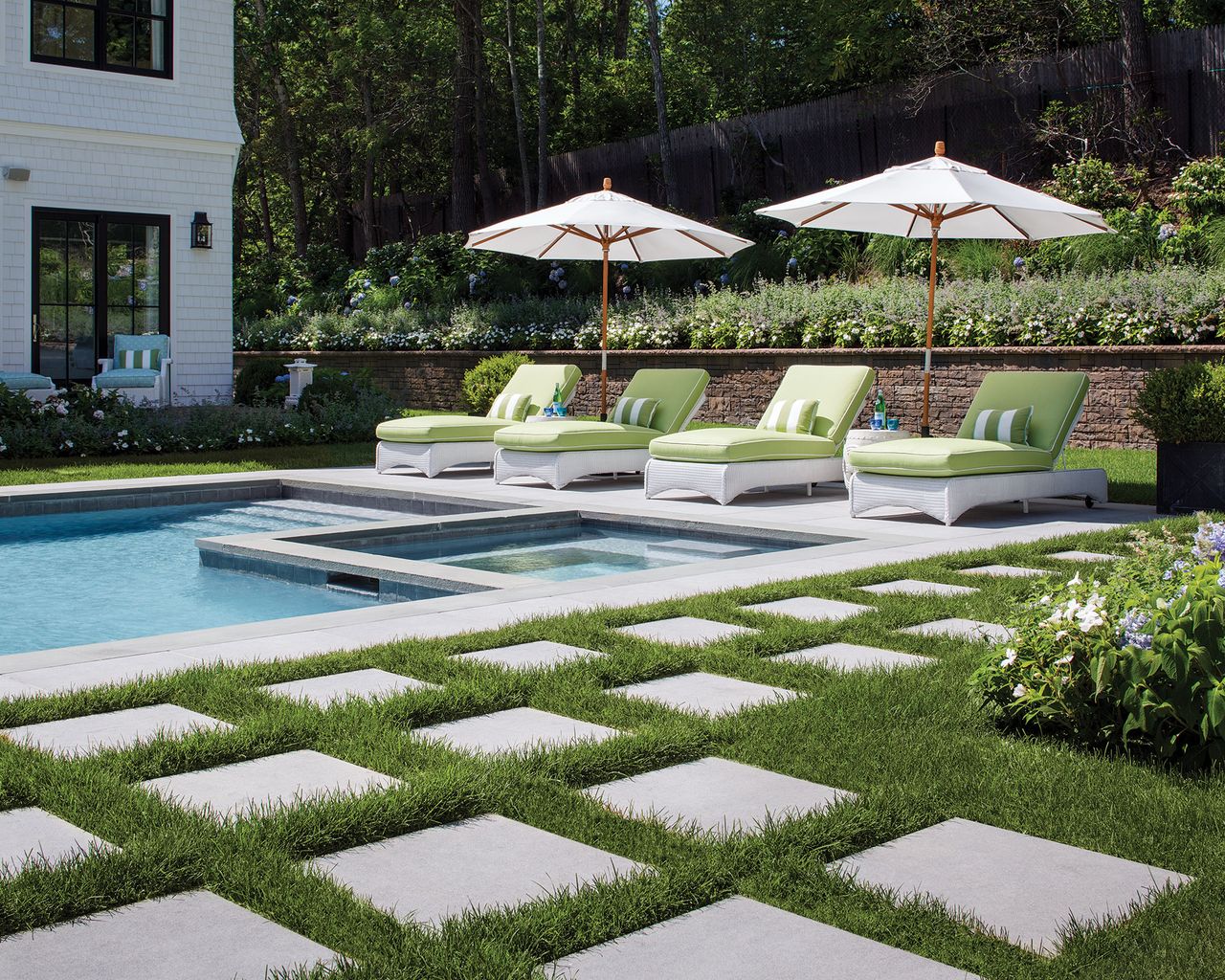 'You can lay porcelain pavers on the grass to create harmony between hardscapes and softscapes,' Raboine explains. 'A retaining wall behind the pool chairs allows for the sloped area to be utilized for plantings and additional greenery.'
Also, don't be afraid to play with different levels.
Adding different levels, like a step-down seating area or an outdoor kitchen that's a few steps above the plane of the pool, helps to delineate the various 'zones' of your backyard and in fact helps the whole space feel more open.
17. Construct an entertainment area around the pool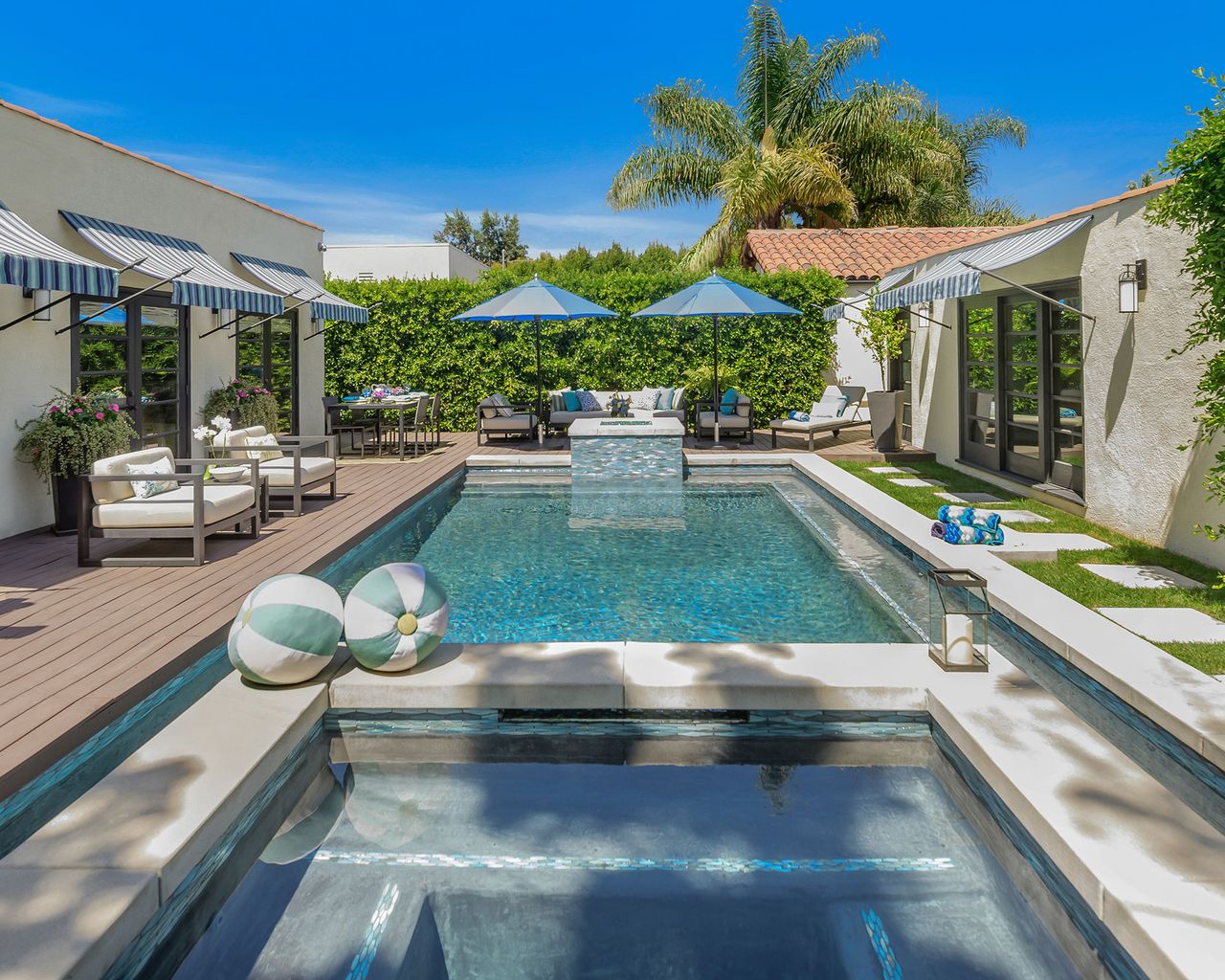 The spectacular pool area idea shown above was designed by Christopher Grubb, an interior designer and founder of Beverly Hills-based Arch-Interiors Design Group.
'Don't be afraid to use different materials around the pool area,' he advises. 'Here, the mix of decking material, concrete, tile and grass adds interest and keeps the eye moving.'
Grubb often adds various levels to an outdoor space. 'This helps to delineate various 'zones' while also keeping the entire space feeling more open,' he explains.
And of course, be sure to choose the best outdoor furniture for around the pool, as this can increase the sense of luxury. Opt for comfortable padded chaise loungers or a moisture-resistant sectional sofa to relax on after your swim.
How much does a swimming pool cost?
If you're wondering how much does it cost to build a pool, Tom Holman explains:
'The price of a pool is based on many factors. A vinyl-lined pool may cost $50,000 (£35,000), while a concrete or tiled pool of the same size will be $60,000 (£45,000). Other variables include site access, heating, automatic safety covers, water treatments, lighting and paving materials.'
How do you create a natural swimming pond?
Taking off in a big way in the US, natural swimming ponds are wonderful for the larger garden. Taking a swim in clear, naturally filtered water is an amazing sensation but this type of pool does require careful and expert installation.
It will need a regeneration zone with plants that will not only filter the water but will also be happy in the local environment, plus a swimming area of the same size that must be at least two metres deep.
Two pumps are required, but these can usually be sited so they are hidden below a deck surrounding the pool so that there's no need for a separate pump house.
Some shade is advisable for a natural swimming pond although not essential. Aim for a quarter of the day in shade if possible.
Additional words / Terri Williams
Jennifer is the Digital Editor at Homes & Gardens. Having worked in the interiors industry for a number of years, spanning many publications, she now hones her digital prowess on the 'best interiors website' in the world. Multi-skilled, Jennifer has worked in PR and marketing, and the occasional dabble in the social media, commercial and e-commerce space.
Over the years, she has written about every area of the home, from compiling design houses from some of the best interior designers in the world to sourcing celebrity homes, reviewing appliances and even the odd news story or two.