Pool party ideas — 11 ways to throw the perfect outdoor gathering
Make a splash on summer days with these great pool party ideas and tips, from delicious recipes to decorating ideas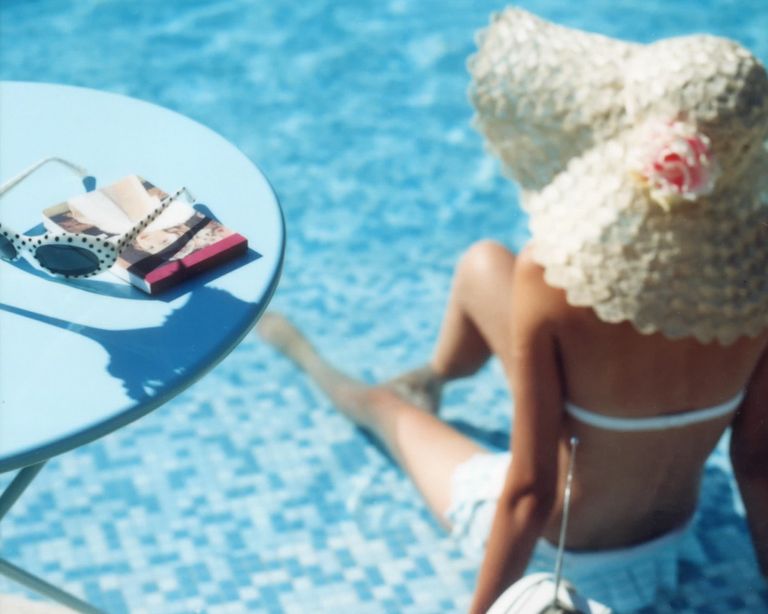 (Image credit: Future)
These pool party ideas for adults will help you and your guests enjoy sun, swimming and great food – what could be more joyous than a pool party?
Add spending time with friends to the equation and pool parties are sure to be happy occasions. If you're planning to host one, we've got all the pool party ideas you need to help you get the best from your day.
And if you don't have a pool, that doesn't mean you have to miss out. Some alternative pool ideas include hiring out local facilities for such occasions, and there are plenty of holiday properties with swimming pools or hot tubs that you can rent with a group of friends, too.
Pool party ideas
1. Serve colorful cocktails
No pool party would be complete without a suitably summery cocktail to offer people on arrival. Something fruity would be perfect.
Pimm's and sangria are good choices as they're relatively simple to make, but are both definite crowd-pleasers if you're looking for any sort of garden party ideas.
Prepare as much in advance as you can. Chop the fruit beforehand and make up big jugs to store in the fridge (where possible) so you're not having to be a bartender all the time once the party starts. (Also see our rum punch recipe below).
2. Set out cushions and seating
Cushions are one of the greatest buys for interiors, instantly able to perk up a piece of furniture or a neutral scheme. And, actually, they work in a similar way in the great outdoors, too.
This simple pool landscaping idea is adorned with cushions, a deck chair and a canopy in stripes, spots and fun geometrics, which create a welcoming look, providing comfort where you need it most – around the hard edge of the pool.
3. Decorate with balloons
If you haven't had balloons at a party since you were a child, you're not alone. But now is the time to try them out again!
Balloons are a great choice if you're looking for decorative pool area ideas. Choose cool aquas to tie in with the pool, and add whites and pinks for a little variety.
4. Provide towels
Don't assume that people will bring their own. Make sure there's a big pile of fresh towels that people can use after a dip.
These towels are white, but if you like, this is another chance to introduce some colour and pattern into your day. Store towels neatly rolled, and have two tubs to hold them – one for clean and one for used.
5. Fire up the barbecue
Barbecues are a wonderful way to cater for your pool party and with endless barbecue recipes to choose from, you can cook almost anything you like, from sizzling sausages to tempting tomahawk.
Having said that, we'd be inclined to go for a simple approach so that you can focus on being a great host, rather than worrying about overdoing a fine cut of beef.
6. Create a vibrant table
This is not the time to get out your best china. Concrete flooring around a pool is not fine china's best friend. For durable outdoor dining ideas, go for unbreakable melamine, or bamboo plates and bowls in bright colors, and choose napkins to fit the theme of your party.
7. Make use of a summer house
Where to put everything can be a dilemma, but with a vast range of pool house ideas and designs to choose from, this needn't be a problem. Use the pool house as an extra space for the party and then stash your furniture in there when the weather turns.
If you have a summer house, why not use it as a bar, where guests can help themselves to drinks, or as a serving station at lunchtime. It'll keep your food covered and out of the sun, and stop things like napkins blowing away in the breeze.
8. Choose light puddings
When you're swimming, you don't want to eat anything heavy. So avoid the sticky toffee pudding (even though it is extremely delicious!). Go for lighter summer recipes and desserts with fruit at their core, such as the Wimbledon classic of strawberries and cream. Bliss!
9. Have a chill-out zone
After a dip, barbecue and drinks, some of your guests may feel the need to lounge so make sure you've considered the best outdoor furniture that will offer a space to relax.
Comfy padded seating is ideal for this. Add a parasol to provide a little shade, and put together a mellow playlist of tunes to create a happy and sunny Ibiza vibe.
10. Don't forget the ice cream
Pudding may have already been served, but there's always room for ice cream, especially on a hot day. If there are any kids present, they will be very grateful to you, too. Go for cones if you want to keep washing up to a minimum.
11. Stay warm next to a firepit
As evening descends, it might start to get a little chilly. With a range of outdoor fireplace ideas to choose from, it's best to be prepared and invest in a firepit, for example, ensuring it's ready to go well before dusk.
If you don't have space to safely light a firepit, then you could provide blankets for any stragglers who wish to stay after the sun has set.
What do you do at a pool party?
Aside from the obvious things to do at a pool party – swimming, chatting to friends and enjoying the sun – there are so many options!
You could have a wine or cheese tasting session, play games such as water polo (or perhaps land-based cards), or just float around on a stylish lilo. If it's a day you're spending with your girlfriends, you could even turn it into a mini spa session with pampering face masks and DIY pedicures.
What do you need for a pool party?
People will be happy if they're lightly fed and have a few nice drinks, so you don't need as much as you think – apart from a pool.
Make sure there's plenty of drinking water so people can stay hydrated and think about other things you can provide to make the day go smoothly, such as a good supply of suncream – on any hot day, there's always someone who's forgotten it!
For safety, it might be advisable to have a lifeguard, too, especially if there are children present.
What food is good for a pool party?
To answer this question, I've turned to food editor Elisa Roche for some pool party food ideas.
'You cannot go wrong with a great big oval Mediterranean watermelon from Italy or Turkey, bought from the local greengrocers,' she says. 'But how to pick a good one? The Turk in me can tell you that the best ones have a pale patch from their ground spot, some good, strong brown veins on the skin and a little light sun bleaching.
'Serve sliced into rough chunks with a squeeze of lime, torn mint and generous flecks of white yogurt. Or delight adult guests by going retro and turning the whole thing into a rum punch.'
Here's how. 'Scoop out the middle, throw out the seeds (or oven roast them for a healthy snack), pop into a blender with one small tin of pineapple in juice and purée in batches. Sieve if you prefer it smooth, then it's back into the holed-out melon.
'Now add two mugs of rum, a heaped tablespoon of brown sugar and the juice of two limes, stir and serve.'
If you'd like your pool party to have a touch of Palm Springs swagger, Elisa's Cornflake Chicken Pieces make lovely easy poolside bites.
'Chop up 10 chicken breasts into bite-sized portions,' she explains. 'Then set aside separate bowls of beaten egg, seasoned flour and bashed-up cornflakes. Dip the chicken into the egg, then into well-seasoned flour, then back into the egg and then finally into the cornflakes.
'Bake on a lined baking tray for 20 mins at 200C/Gas 6, turning halfway through until crisp and cooked through.'
Bon appétit and happy pool partying!