Outdoor dining ideas – for dining outdoors year round
Let's embrace the great outdoors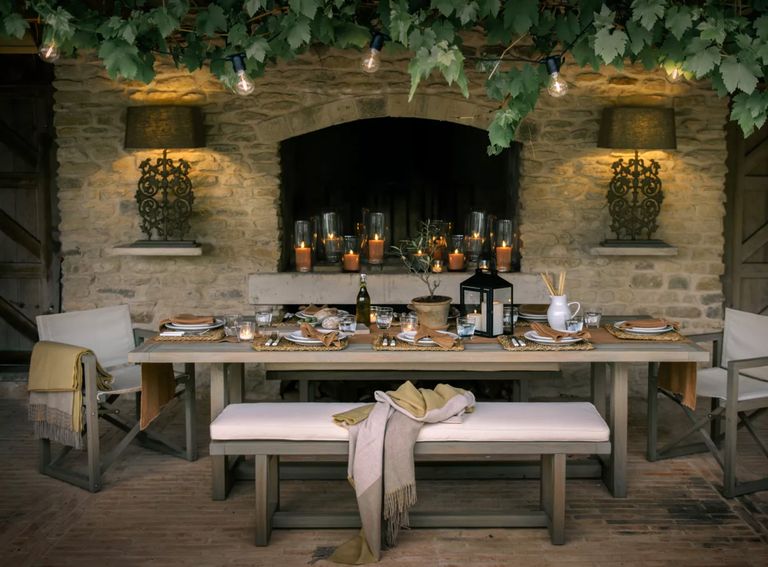 (Image credit: Neptune)
Make the most of these outdoor dining ideas to spend time with friends and family in the garden all year round. With these ideas you can transition from Easter to high summer through to Thanksgiving and Christmas effortlessly. 
Steal more dining room ideas from our main guide.
How do you build an outdoor dining room?
Think how you are going to use your outside space before diving in with a re-design or splashing out on expensive furniture. Is eating al fresco for a single occasion or all year-round your main objective, or is it to create a sunny seating area that doubles up as a spot for sundowners in summer? 
For an instant cozy dining area outdoors, you can demarcate the chosen space in various ways: 'Planters can form a screen to separate an area, or lighting can mark out spaces,' says RHS Gold medal-winning garden designer Rosemary Coldstream. For a longer term solution, 'use paving or decking, which can be laid in opposing directions to zone different areas.'
If you can build shelter – whether to stay out of the rain or snow in winter or in the shade for summer, do. A pergola with climbers will look beautiful but even a temporary shelter will work for one-off occasions.
See: Garden shade ideas – to make outdoor seating a pleasure to use in the summer
Outdoor dining ideas
These outdoor dining ideas will see you through spring and summer 2021. Enjoy!
1. Make sure your outdoor dining area is cozy
If you're dining outdoors on cooler nights – and many of us are this year due to coronavirus – you need to make sure everyone is as warm as possible. This means lining chairs with sheepskins – or faux sheepskins – providing blankets, wraps, perhaps patio heaters and even a fire pit. Candles and lanterns are, of course, a must.
These beautiful outdoor dining ideas are from Neptune – see more of their website.
2. Can you use a dining table outside?
Yes – it's a great last-minute option, especially if you have no space to store outdoor furniture in wet weather and don't have a garden dining table large enough to cope with guests. 
You can still enjoy good times al fresco – simply move your indoor dining table and chairs outside temporarily. Dress your table with linen runners and napkins, and bring out your china and glassware – it will look lovely twinkling in the light of a hurricane lamp or candelabra.
And do as Tasha Green, director of outdoor soft furnishing specialist Weaver Green, does and lay an outdoor rug under your table. 'It makes the space feel considered and comfortable, and keeps evening chills off your feet; she says. When choosing a spot for your table, make sure it's near enough to the house to make transporting everything a little less onerous.
3. Make an outdoor dining area festive
Whether you opt for a drinks' area in summer, colorful bunting and garden lighting or baubles suspended from tree branches in winter, there are plenty of ways to make an outdoor dining space feel festive. See more garden party ideas in our dedicated feature.
4. Dine under a shelter – or a shade
A garden pod with a shaded roof is a fantastic investment for outdoor dining all year around. Good ones come with a roof that can slide back at the touch of a button, detachable sides and even heaters.
On sunny days, choose a natural muted color theme for your table setting to keep the atmosphere light and cool. Save on storage space by selecting weatherproof chairs, such as these, which can be left outside all year.
A pergola is another useful way of demarcating seating or eating areas, plus it brings an attractive architectural element to an outdoor space. 'They add height and interest to a garden,' says RHS Chelsea Gold medal-winning garden designer Kate Gould. 'And are useful for creating shady, secluded seating areas.' For a comfortable spot such as this in which to kick back and relax, choose low-level seating with plenty of cushions.
5. Keep it simple with a less is more approach
There is no simpler way of creating a welcoming spot for al fresco meals than with a generous table and some comfy chairs on a paved area near the house, like this one at interior designer Fiona Crole's home. 
'Round tables make for an informal. relaxed setting, plus everyone can see and hear each other,' says Amy Conn, product development season leader at Neptune. A classic parasol ensures you can linger on the hottest summer days, and adds shelter on cooler days.
6. Choose a room with a view
Beat unpredictable weather with a garden room. Michael Barnes, MD of Apropos, which specializes in indoor/outdoor rooms, says, 'Verandas – with or without bi-folding doors – and aluminum pergolas to shelter you from sudden rainstorms both offer great options for a stylish hybrid garden space.'
7. Inject style with colorful dining chairs
Against the backdrop of stripped wood flooring, these brightly upholstered chairs inject energy into this room designed Tor Interiors. Go one step further and have the backs covered in a contrasting design – then take them outside for one day only. Want to brighten plain chairs to create a cheerful color scheme to suit the occasion? Bright blankets and cushions will do the trick and add to your guests' comfort.
8. Add a pretty tablecloth
Pale greys and taupes form the starting point for a beautiful al fresco table. Add accents of blush on candles and vintage greens on glassware. Muted metals, coarse linens and mottled marble add cool and serene country details.
9. Set a pastoral scene
Let the heady beauty of garden-grown delights inspire your late summer decor. Lay a table ready for a harvest-time gathering with linens influenced by the cutting garden alongside homely and honest serveware and furniture.
10. Unwind with a relaxed country look
One for warmer weather, a table and chairs set by the river makes for an exceptional experience, especially when accompanied by birdsong and bluebells, and the fragrant scent of lavender.
11. Seek a view
When creating your outdoor entertaining scheme, why not take the colors of the surroundings as your starting point? In the case of this Provençal terrace overlooking a glorious vista, we needed to do little more than echo the soft olive greens of the fields and hills beyond. For relaxed summer dining, the best thing is to keep place settings simple – it helps guest feel like its time to relax.
How can I make my patio look nice?
Many of us now view our gardens as an extension of our kitchen and living rooms and are styling them accordingly. 'Be bold by integrating interior and exterior colors and style; says RHS Chelsea Gold medal-winning garden designer Tony Woods of Garden Club London. 'If you have a feature wall color inside, run it outside and along the boundary. Or if you have a very light interior, continue it outside: then choose furnishings to fit the space.
'The key with styling an outdoor area is to look at the hard landscaping and work around it, building your theme from that starting point; advises Tasha Green of outdoor soft furnishing specialist Weaver Green.
See more: Garden patio ideas –for a welcoming outdoor living space