Outdoor dining ideas – 37 alfresco entertaining spaces
These divine outdoor dining ideas and our expert advice will help you make the most of your yard – it's so inviting to be able to enjoy a meal outside with friends and family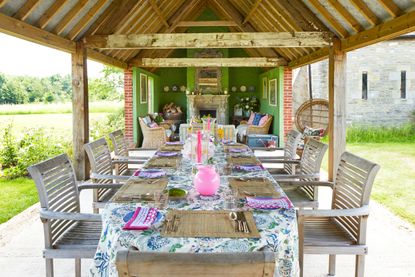 (Image credit: Vanrenen)
Outdoor dining ideas help set the scene for our most memorable meals.
There's nothing quite like light lunches bathing in the summer sun, or being bundled up in blankets with a glass of wine and a hearty meal under the stars – so make sure your backyard ideas are ready for hosting.
Taking dinner from the dining room to the deck doesn't mean you should lower your aesthetic standards, so be sure to put as much care and attention into your dining table and surroundings as you would for any space enclosed in four walls.
There are also one or two extra considerations you'll need to make with an outdoor set up – from working with the elements all year round, to tying in your decor with the surrounding nature – so we've asked the experts to share their top tips, and found some inspiring examples to boost your al fresco experience.
Outdoor dining ideas – 37 beautiful ways to dine outside
These smart outdoor dining ideas will inspire you, whether you're incorporating a dining area as part of your outdoor kitchen ideas, or tucking a small bistro area into the corner of your patio.
1. Find a sheltered spot for your outdoor dining area
There are two schools of thought on this, says Lucy Searle, Global Editor in Chief of Homes & Gardens. 'Either create a convenient space close to the house for ease of access and a seamless flow from indoors to outside, or pick a spot in a picturesque or secluded part of the garden, where you can create a cozy, sheltered outdoor dining area.'
Take into account orientation. Avoid siting an outdoor dining area in the part of a backyard which receives the sun at midday and early afternoon or it may become unbearably hot, unless you are designing it in conjunction with pergola shade ideas. West-facing is ideal, allowing you to maximize light and warmth in the evening, and perhaps even affording a glimpse of the sunset too.
And remember, an outdoor dining area doesn't have to be the only end destination in a garden. Experiment with siting it near a pathway through to another garden zone, or beside a visual focal point. This will help the space to feel like an active part of the garden's natural flow, rather than cut off.
2. Create an indoor-outdoor dining space
Just as you would indoors, consider the pluses and minuses of keeping outdoor dining and outdoor living room ideas separate or connected. If your backyard is large, dedicated areas can give function to the generous plot and create gathering points. However, with the popularity of open-plan living indoors, many people now prefer to have the two spaces flowing easily into each other.
'I don't think there should be any distinction between dining or entertaining areas other than there being a dining table and chairs and then a more relaxed and comfortable sitting area,' says interior designer Sarah Vanrenen of GW Designs. 'My own covered outdoor space has no walls for a large part of it and it works incredibly well. I love the fact that we can spread out into the garden and that the garden comes right up to the edge.'
3. Stay warm with table-top heating
When you're eating, drinking and relaxing it's easy to lose track of time and not notice as dusk begins to fall and temperatures drop. You want your guests to feel comfortable so to avoid the shivers, think about how you're going to provide warmth. Simple solutions include an in-built table-top backyard fire pit, one of this year's leading outdoor living trends.
Or you may prefer a stand-alone firepit, in which case opt for a tall slim model rather than a bowl, to save space and for safety's sake too. Other options include an overhead electric heater, preferably built in to an existing wall, again to maximize floor space, or a gas heater, but bear in mind that although reliable and convenient, this isn't the most eco-friendly choice.
4. Choose the best outdoor furniture
How to choose that all-important table and chairs is a key design decision which will affect the entire space, so take your time to research different looks and ask if your chosen outdoor furniture is waterproof. A contemporary scheme will usually need materials, shapes and colors to hang together coherently to make the strongest impact; there's little leeway with angular lines and highly-polished materials such as brushed or stainless steel.
However, a relaxed vintage vibe allows for a more eclectic approach. Do decide on a color scheme however and stick to it, perhaps choosing one background shade such as cream and picking up surrounding plants and garden features for accents, or your outdoor dining space can end up looking muddled.
If you're struggling to decide, classic teak never looks out of place and can be styled in so many different ways. It may cost a little more than some man-made alternatives, but over the many years of happy outdoor gatherings, this natural and easy to maintain material will return your investment.
5. Tablescape to impress
The great thing about decorating an outdoor dining space is that you can let your imagination run wild. When it comes to the table, start with a cloth or runner in a complementary or contrasting shade to the surrounding color scheme. You can even add another on top, perhaps lengthways or as a centerpiece for added emphasis.
Build up the center of the table by bringing in items of different heights, but always stick to the same kind of textures – so natural wood would go with hessian and recycled glass for a natural look – and at the most, three colors to help the whole look hang together.
To reflect all available light, bring in small mirrored items such as coasters or candlesticks, and add flowers and foliage such as ferns and ivy – anything with a strong structure that hangs and drapes well. Ideally, stems and greenery would come from your own garden or backyard, but if the best blooms aren't in season yet, fake it.
6. Pick the perfect plants for an outdoor dining area
The first step is to add garden screening ideas, perhaps a backdrop of light airy plants around an outdoor dining area to provide a semi-permeable effect, allowing dappled light to pass through, says landscape architect Oliver Bond, of Bond Landscape Design Limited. 'This effect also allows glimpses of the areas and elements beyond, drawing the eye through the space and making it feel more connected and inviting.'
Oliver also has a list of favorite plants he always like to include around an outdoor dining area, including herb garden ideas and plants that attract butterflies. 'These include varieties of Lavandula and Salvia, Rosmarinus officinalis, and Verbena bonariensis in addition to other herbs and pollinator plants,' he says. 'I love to include these plants as a base palette and add to it.'
He adds that with an outdoor dining area, always use plants that provide constant interest: 'These provide a pull to the space, whatever the time of year. Also, I always aim to bring in plants that allow for sensory elements, enhancing the connection to the space, whether through sight, scent, or sound – rustling leaves are so relaxing. I even include herbs by seats so that people can grab a few sprigs of herbs as a fresh addition to their drinks.'
7. Use garden design to delineate a dining space
Avoid squeezing the dining area against the boundaries of your garden or yard, as it's good to leave lots of room for borders or planters to soften the space. 'If you can't provide borders, use large planted pots instead, as this will give the same effect,' says garden designer Lucy Conochie, owner of Lucy Conochie Design.
Adding any kind of border around an outdoor dining area will also go a long way towards creating a feeling of seclusion. To soften the look, Lucy likes to allow self-seeding plants such as Red Valerian to infiltrate hard landscaping. You might even remove a paver or two and fill with tough resilient plants such as grasses or house leeks to add texture and interest.
Lucy would also leave established shrubs and trees in place. She says that making the most of the green structure and natural framework they provide could mean laying a smaller patio or choosing a different dining set, 'but the visual and wellbeing benefits provided by an established canopy of foliage will more than outweigh this.'
8. Include shelter against the elements
Adding an overhead shade, sail, canopy, gazebo or pergola roof ideas to an outdoor dining area achieves several aims in one move. It will provide shade for warmer days and depending on the density and water-proofing, shelter from the rain.
If your garden or yard is overlooked, in an urban area for example, it will also offer privacy from neighbors above. And if you opt for a pergola or another kind of open-work structure you can use it as a base for climbing plants which bring color and ideally fragrance to the space. Do choose an evergreen climber however, such as pyracantha or in temperate climates, opt for a grapevine.
One golden rule if you're considering cover for your outdoor dining space – always err on the generous side. The idea is to provide an encompassing canopy that covers everyone at the table, as no-one wants to be left out in the cold!
9. Create a 'hug wall' for intimacy
Garden designer Caroline Boor, of Caroline Boor Garden Design says that in her schemes she always designs in some form of enclosure to generate a feeling of security and safety. This idea is particularly important when creating an outdoor dining area; no-one wants to feel as if they are on a stage when they're eating, so avoid raising a dining area on a plinth.
The rules would be slightly different for a smaller table and chairs which have been positioned to catch the morning sun – with a cup of coffee perhaps – but in general, go low. 'If you can't dig an actual sunken area, an alternative way to create this feeling of enclosure is in the form of a wall,' Caroline says. 'I created one garden where the wall gently slopes down from the back to create a feeling of being held in a cocoon. The client calls this "the hug wall".'
10. Work in outdoor lighting
There are lots of clever things you can do with smart technology to program backyard garden lighting ideas directly from your smartphone or voice-activated device. Experiment and discover ways for the lights to turn on and off at set times every day or to brighten slowly as darkness falls.
However, you'll also want to create a warm and characterful atmosphere over and around the focal point of the table. For this, take an organic and instinctive approach. Garlands of fairy lights or bulbs and lanterns hung from the branches of trees or suspended from exterior walls on wires are such a pretty choice and can be switched around easily. You might also consider adding a mains-powered water feature with integral light, for a soothing and relaxing outdoor vibe.
11. Mix-and-match outdoor dining furniture
Indoors, matching furniture sets have fallen out of favor in recent years, replaced instead by curated, complementary pieces that create a more personal, less showroom-y feel. So, why settle for a basic furniture arrangement outside? Skip the boxed table-and-chairs set, and choose each piece on its own.
Here, a matching craftsman-style dining table and bench are given a contemporary bent thanks to modern metal dining chairs.
12. Add a dining area on a covered porch
Don't let the sun's afternoon glare or a light summer rain cancel your al fresco dining plans. For an outdoor dining area that's protected from the elements, set up a table and chairs on a covered front porch, like at the home of interiors photographer Jane Beiles, above.
The ability to hang a statement pendant light above the table is a stylish bonus.
13. Create a relaxed dining experience
For an impromptu gathering, or simply a way to switch up the typical outdoor dining area, try lining up a row of cocktail tables, and forgo dining chairs for large outdoor cushions.
'We wanted to bring a layer of whimsy to our dining space that mirrored the surrounding gardens,' says Alyssa DeBord, co-founder of Shannon Paige Events, who designed the space above for the Southeastern Designer Showhouse & Gardens in Atlanta. 'There are places for more formal dining inside, and we wanted to take a more relaxed, but still elegant, approach. What better way to enjoy a sunny spring afternoon than dining in the garden Al fresco style?'
14. Host a crowd with a full-sized dining table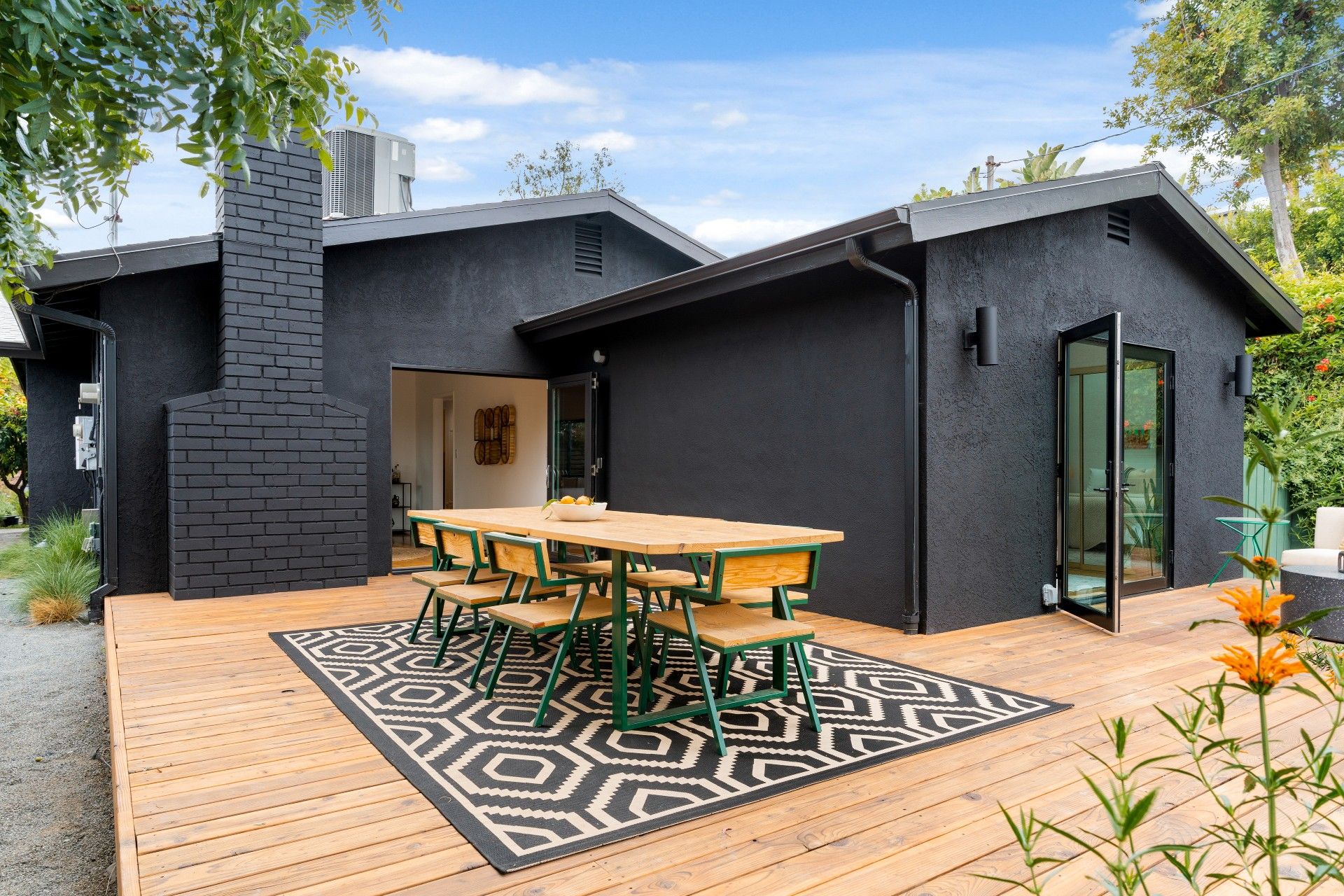 If you tend to host a lot during the summer months, or you live in a climate where year-round outdoor dining is an option, consider making your backyard space your default dining area with an oversized outdoor dining table.
At the Los Angeles home, above, the homeowners took advantage of their outdoor square footage to compensate for their home's smaller footprint by adding a dining table that seats eight. The modern set plays into the home's midcentury origins.
15. Create a sense of place
Dining outside always feels like an occasion, so why not set the scene for memorable evenings to come? Create a sense of place by choosing outdoor furnishings, accents, and lighting that evoke a certain region or design style.
Texas-based firm Pearl Design Interiors. chose a vintage, Art Deco-inspired dining set, paired with tropical-inspired accents to underscore this home's Palm Beach locale.
16. Blend form and function
Designer Mel Bean's goal for this luxurious outdoor grill station and dining area was function, first and foremost. 'It's important that the design is functional for the family,' she says. To achieve this, she prioritized 'hardworking fabrics and an open-concept layout that connects to the outdoors for family - kids and dogs included - to move around.'
The furnishings are a nod to Scandi-inspired living spaces, with a coastal undertone.
17. Glow up with romantic candlelight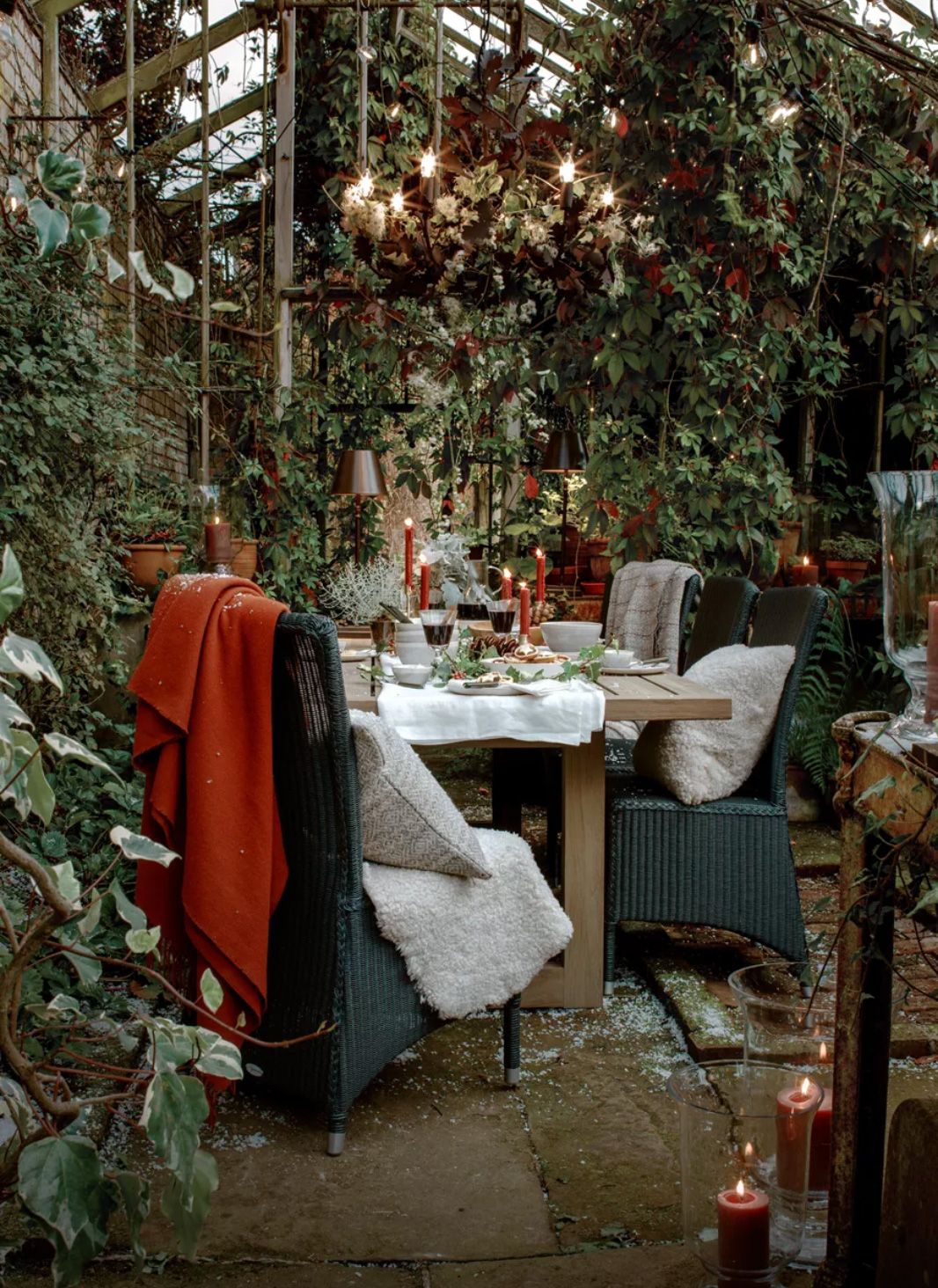 Lighting isn't always the easiest thing to get right when setting up outdoor dining – requiring an electrical connection can limit the positioning of your table. Dining by candlelight, however, doesn't require any power and adds a romantic quality to your meal's atmosphere.
Use candles in conjunction with electrical festoon lights, wall sconces or a dangled chandelier as in this festive example from Neptune – you'll need some reliable lighting for your outdoor kitchen ideas, after all – or go solo for a rustic feeling.
18. Get into the holiday spirit with cozy parties
Don't limit your al fresco dining pursuits to summer – fall and winter are the holiday seasons, and that means party time year-round. Whatever the weather, get your garden bar ideas in shape and procure yourself a patio heater, and host an outdoor cocktail party to celebrate Halloween, the harvest, a pre-Thanksgiving soiree or even a British-style Bonfire Night like this one.
If the weather looks changeable in these cooler months, keep the set up relaxed – like a barbecue on one of the best grills you can get, or a pot luck – to make it easy to dash indoors if absolutely necessary.
19. Get culinary with your table decor
For dining table decor ideas that encompass both the surrounding nature and the main reason you're all gathered around the table, put fruit and veg front and centre. Food can easily double up as decor, especially if you pair beautiful natural produce with florals, like in this example where cored apples become place name card holders, filled with seasonal flowers.
This idea works beautifully in the fall for a harvest feast, or fill bowls with fragrant citrus fruits during summer. And, of course, we'd advise you try to make sure the food can still be eaten after its turn as decor, to minimize wastage.
20. Head out into the woods
Feeling a little wild? Then take your outdoor dining beyond the deck and get a little closer to nature. If you are lucky enough to have a wooded area to your garden – big or small – then consider setting up your dining table below the canopies for an immersive meal.
Go all out and bring the table, dining chairs, tablecloth and more outside to create a surreal and very special set up. Of course, you'll need to be extremely careful with any outdoor fireplace ideas, but a well-managed firepit like the one joining this forest meal can create an elevated campfire fee
21. Style an outdoor dining room with a parasol
Enhance a sun-trap terrace area of your garden with a parasol for a pretty bohemian feel.
Choose a palette based around natural colours found in your garden for a subtle appearance, or highlight the summer sunshine with bright yellows and oranges to add a splash of vibrancy to an otherwise green planting scheme.
Coordinate with seat cushions and tablecloths to turn a simple bistro set into an indulgent spot for dining and relaxation. Make sure to take care of your parasol to ensure its longevity.
Lucy Ferguson, founder of the East London Parasol Company who designed this set up recommends to store your parasol in their bag as upright as possible to avoid irritation, away from radiators.
Avoid putting them away damp, even if you have a parasol made from a water-resistant material, and always remember to take down any type of parasol, sail or umbrella if any wind picks up.
22. Dress your outdoor dining table
Make an effort to style your outdoor dining table as you would for any indoor event. Take inspiration from cult tableware brand Summerill & Bishop by creating a scheme in harmony with the natural world.
A simple white linen tablecloth laid with glassware and flatware in shades of white and green becomes the perfect setting for a fresh summer luncheon. Flowers are key to achieving this look, so include either a generous bouquet or a selection of bud vases overflowing with seasonal blooms.
23. Showcase natural materials
When looking for outdoor dining ideas, create a relaxed vibe by showcasing natural materials. Linen and cotton tablecloths, napkins and seat covers will add a tactile note from nature, and help ground the zone in the garden.
Heighten this by putting away the melamine and instead setting the table with recycled glassware and satisfyingly organic Wonki Ware. Limiting yourself to plain colours rather the integrating pattern also helps encourage this natural feel.
24. Utilize lighting for atmosphere
'Whatever the size or state of your outdoor space, you can still create the perfect atmosphere for relaxing outside,' says Chrissie Rucker OBE. 'The key is to conjure up an intimate, self-contained area – whether it's on a terrace or in the corner of a garden.'
As in this look from The White Company above, dress this area with pretty outdoor lighting ideas for the perfect ambience. Include festoon or fairy lights, lanterns and candles at different heights and brightness for added interest and romance.
25. Remember the added extras
Give your guests an all-round experience by recreating this set up from Neptune. 'When designing your outdoor space it's important to consider a number of things, primarily comfortable seating, and texture,' says George Miller, Home Designer at Neptune Fulham.
'Add a simple sheepskin or throw to ward off the cool evening chill, and our scatter cushions to add a drop of color. Dressing your space will create character, personality and an inviting atmosphere for you and your guests.'
26. Use your dining table outside
Taking a great last-minute option, especially if you have no space to store outdoor furniture in wet weather and don't have a garden dining table large enough to cope with guests.
You can still enjoy good times al fresco. Simply move your indoor dining table and chairs outside temporarily. Dress your table with linen runners and napkins, and bring out your china and glassware. It will look lovely twinkling in the light of a hurricane lamp or candelabra.
And do as Tasha Green, director of outdoor soft furnishing specialist Weaver Green, does and lay an outdoor rug under your table.
'It makes the space feel considered and comfortable, and keeps evening chills off your feet,' she says. When choosing a spot for your table, make sure it's near enough to the house to make transporting everything a little less onerous.
27. Make an outdoor dining area festive
Whether you opt for a drinks' area in summer, colorful bunting and garden lighting or baubles suspended from tree branches in winter, there are plenty of ideas to make an outdoor dining space feel festive.
28. Dine under a shelter – or a shade
A garden pod with a shaded roof is a fantastic investment for relaxed outdoor dining all year round. Good ones come with a roof that can slide back at the touch of a button, detachable sides and even heaters.
On sunny days, choose a natural muted color scheme for your table setting to keep the atmosphere light and cool. Save on storage space by selecting weatherproof chairs, such as these, which can be left outside all year.
A pergola is another useful way of demarcating seating or eating areas, plus it brings an attractive architectural element to an outdoor space.
'They add height and interest to a garden,' says RHS Chelsea Gold medal-winning garden designer Kate Gould. 'And are useful for creating shady, secluded seating areas.' For a comfortable spot such as this in which to kick back and relax, choose low-level seating with plenty of cushions.
29. Keep it simple with a less is more approach
There is no simpler way of creating a welcoming spot for al fresco meals than with a generous table and some comfy chairs on a paved area near the house, like this one at interior designer Fiona Crole's home.
'Round tables make for an informal, relaxed setting, plus everyone can see and hear each other,' says Amy Conn, product development season leader at Neptune. A classic parasol ensures you can linger on the hottest summer days, and adds shelter on cooler days.
30. Choose a room with a view
Beat unpredictable weather with a garden room. Michael Barnes, MD of Apropos, which specializes in indoor/outdoor rooms, says, 'Verandas – with or without bi-folding doors – and aluminum pergolas to shelter you from sudden rainstorms both offer great options for a stylish hybrid garden space.'
31. Inject style with colorful dining chairs
Against the backdrop of stripped wood flooring, these brightly upholstered chairs inject energy into this room designed Tor Interiors.
Go one step further and have the backs covered in a contrasting design, then take them outside for one day only. Want to brighten plain chairs to create a cheerful color scheme to suit the occasion? Bright blankets and cushions will do the trick and add to your guests' comfort.
32. Add a pretty tablecloth
Pale grays and taupes form the starting point for a beautiful al fresco table. Add accents of blush on candles and vintage greens on glassware. Muted metals, coarse linens and mottled marble add cool and serene country details.
33. Set a pastoral scene
Let the heady beauty of garden-grown delights inspire your late summer decor. Lay a table ready for a harvest-time gathering with linens influenced by the cutting garden alongside homely and honest serveware and furniture.
34. Unwind with a relaxed country look
One for warmer weather, a table and chairs set by the river makes for an exceptional experience, especially when accompanied by birdsong and bluebells, and the fragrant scent of lavender.
35. Seek a view
When creating your outdoor entertaining scheme, why not take the colors of the surroundings as your starting point?
In the case of this Provençal terrace overlooking a glorious vista, we needed to do little more than echo the soft olive greens of the fields and hills beyond.
For relaxed summer dining, the best thing is to keep place settings simple. It helps guest feel like it's time to relax.
36. Set up a pretty picnic area