Patio furniture ideas – pretty ways to furnish your patio
Be inspired by our favorite outdoor patio furniture ideas and make yours a stylish place to lounge, dine and entertain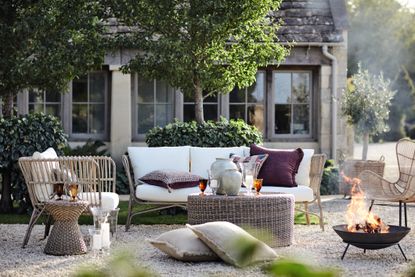 (Image credit: Oka)
Great patio furniture ideas will make your outdoor patio a space that's chic, comfortable and functional, however it needs to be used.
For as many months of the year as the weather allows in your region, the best patio ideas can turn your space into an outdoor living room, dining area, kitchen or bar – or a combination of all of them – with furniture choices to accommodate family and friends.
Your patio furniture ideas might also need to include generous storage that doesn't detract from its lines.
Of course, the best patio furniture choices will provide equal comfort and style to that you'd pick for interiors – plus be weatherproof for your local conditions.
Patio furniture ideas
Whether your backyard takes inspiration from contemporary, classic or country garden ideas, discover a whole host of the best outdoor furniture ideas to enhance your patio space.
1. Give patio furniture a bold backdrop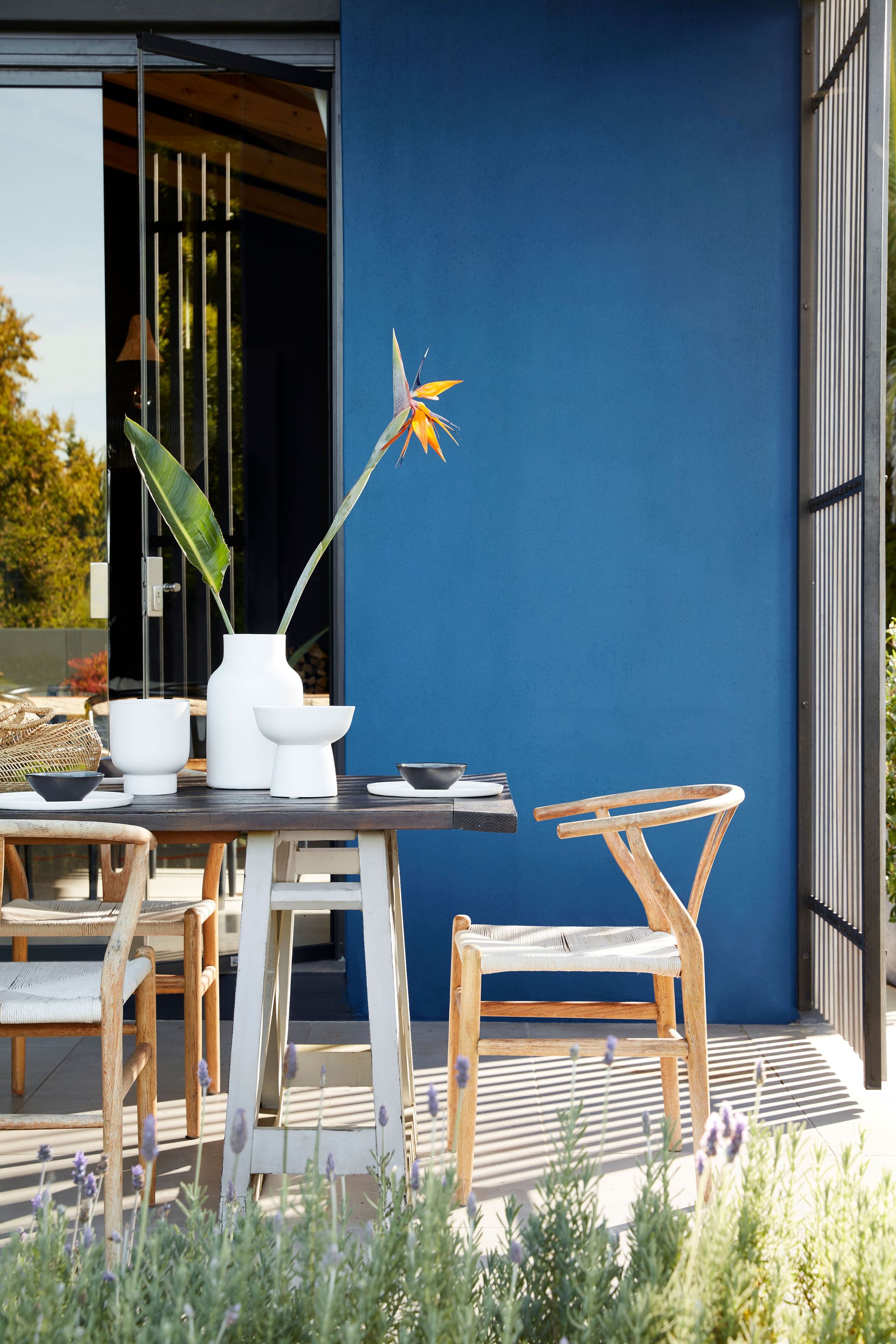 When a patio is located by a wall or fence, using a deep or rich shade on this background will allow lighter colored furniture to stand out. This technique lets the eye appreciate the design details of chairs and tables in paler shades, whether they feature elegant curves or angular lines.
If your patio is right outside an interior dining space, you might want to take the option of using indoor dining furniture out there, especially if yours are iconic designs like these chairs. With easy access to the outside through sliding doors, moving furniture to the patio is easy, but be sure to make use of patio cover ideas to keep the furniture protected.
2. Choose sophisticated bar stools
Add bar stools to your selection of outdoor seating for a relaxed and sociable ambience. Stools with back support provide maximum comfort, but opt for woven designs rather than solid materials to stay cool when temperatures rise.
Your preference might be to pick bar stools made from natural materials in order to harmonize furniture with your patio planting ideas, whether your backyard is contemporary or more classic in style.
3. Complement patio paving
Selecting patio furniture that complements the shade of natural stone or pavers creates a harmonious effect.
'For this Notting Hill, London, garden I chose furniture from McKinnon and Harris for the spa, pool area, terrace and balconies,' says interior designer Katharine Pooley.
'Here you can see chairs from their Duval range; I particularly like the tapered legs and trellis back, and the light gray finish works well with the soft gray limestone paving. I added a darker contrast pipe to the cushions to draw the eye and for a fun extra detail.'
4. Opt for natural stone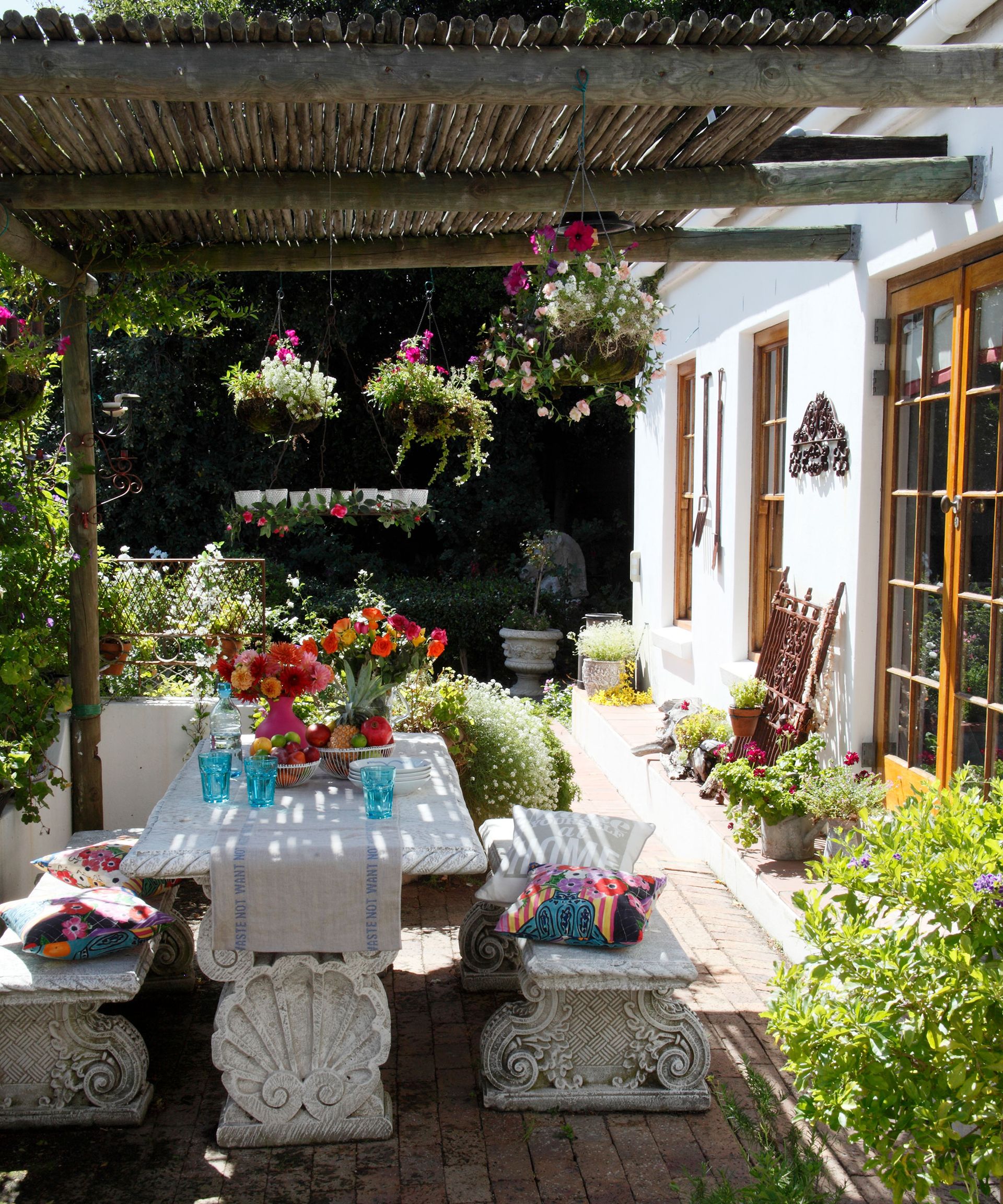 Stone dining furniture is an elegant complement to traditional backyard designs. Both the table and seats can add decorative interest to the space with ornate carved ends. Benches have the ideal proportions for narrower patios like this one, but layer up cushions to boost comfort for sitters.
5. Make space for relaxation
Loungers are always a desirable choice when considering furniture for pool patios, but any backyard will benefit from patio furniture on which you can recline in maximum comfort and style.
Upholstered in green, these sun loungers tone with both the surrounding planting and the lawn. The color also makes this chill-out zone distinct from the relaxation area near the house where the armchairs are upholstered in a sky blue tone.
6. Keep the look sleek
If yours is a patio area that's surrounded by buildings or you're looking for small garden ideas, opting for seating with slim metal frames and open weaves is a great strategy. It'll keep the view through the patio open for the appearance of extra spaciousness. Metal is also the perfect complement to contemporary yard designs.
This patio has subtle contemporary style, with the color of the furniture toning with the gray pavers.
7. Go for a daybed
Use patio furniture ideas to keep cool when the mercury rises by positioning a daybed on a shady patio. Light colored upholstery will ensure the temperature of the lounge seating itself stays down, too.
Surround the relaxation spot with leafy foliage plants, incorporate natural wooden deck ideas, and paint surrounding walls in green to evoke the atmosphere of a shadowed spot under the forest canopy.
8. Add decorative detail
If a patio dining furniture set is looking dated, smarten it up – and give it individual style – by painting it. This version has been given a striped finish in shades that tone with the home's window frames.
Use paint made for exterior wood for a hard-wearing finish. To paint stripes accurately, measure and mark their position in pencil, then use painter's tape along the pencil lines. Press the tape down firmly to avoid paint seeping underneath. Don't let the paint dry fully before removing the tape, and pull it off carefully.
9. Factor in seating with an outdoor kitchen
If your patio is also home to any outdoor kitchen ideas, think about furniture choice as well as the individual elements that make up the desired exterior preparation and cooking space.
Opting for bar seating is a winning tactic. It will put family and friends at a comfortable height for conversation while the chef is at work, and allow them to sit conveniently near the cooking area while still being safely separate from the work zone.
10. Create an interior-style set up
Follow the example of professional interior designers in your outdoor patio furniture ideas, and team a dining set with an area rug to make it more of a focal point on the patio, like in this scheme that also makes use of sliding patio door ideas to enhance the flow between inside and out.
The result will be to make the patio feel as welcoming as a room inside your home, plus the rug will add color and texture to contrast with both the pavers and the furniture.
Although you could take an interior rug outside, it's preferable to invest in a version that's made specifically for the outdoors as it will be hard wearing, cope with the weather, and is easy to keep clean.
11. Play with a natural palette
Wood patio furniture is a great partner to a country-style gravel patio. While the wood does need protection from the elements, keeping the finish natural will complement the soft shades of the patio's surface.
'Consider going for patio furniture ideas featuring curves, like this bench, to echo the soft, organic lines of a rustic backyard,' says Homes & Gardens' Editor in Chief Lucy Searle.
12. Bring zing to seating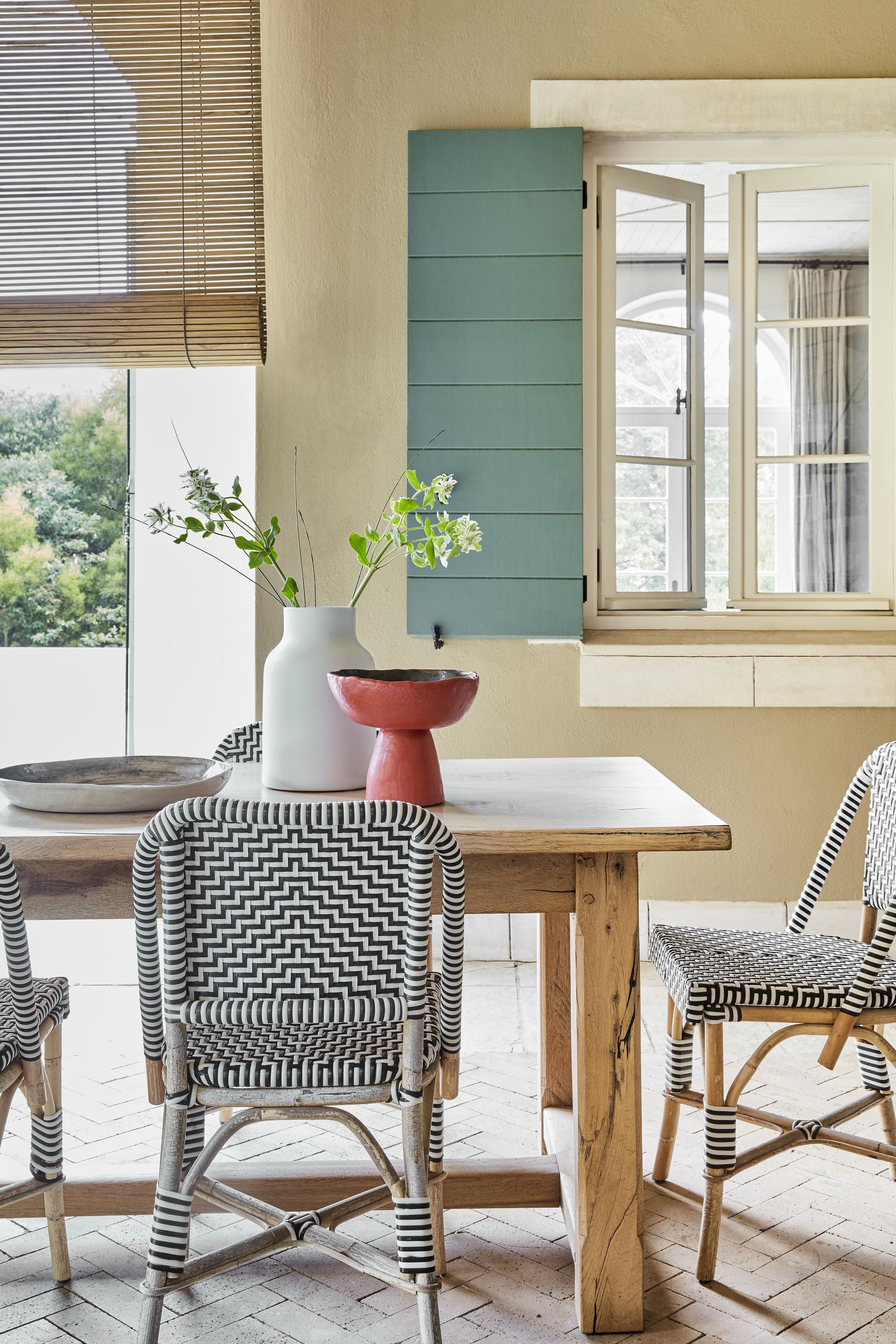 Choosing bold color isn't the only option to make your patio furniture ideas attention grabbing. Opt for a graphic pattern like the one on these woven chairs for a striking look and a contemporary aesthetic. You could also lay a patio in a graphic pattern, like this herringbone design.
Black and white will work set alongside hues from surrounding features, like these plantation shutters, as well as nearby planting however colorful.
13. Incorporate stash space
Consider pieces that have room inside for storage when you're selecting your outdoor patio furniture ideas. In a small backyard or courtyard garden, space to tidy away garden accessories such as cushions and rugs can be limited. But even a large yard might benefit from more storage – and in a convenient location.
Benches with lift-up seats are super handy, as are side and coffee tables with room inside. Because they're doing double duty, the patio won't end up filled with extra pieces, but tidying away will be easy when you're done spending time outside.
14. Cater for cocktails
A sectional is a sophisticated and sociable seating choice for a patio. Think about combining it with a low dining table that means you can go from simply relaxing to informal meals without having to move a group to a more formal dining set.
It's a combination that's ideal for serving cocktails, too, since drinks can be set down conveniently by all sitters, along with appetizers.
15. Share in style
An outdoor chaise longue made for two can make a statement on a patio as part of your pool ideas, or elsewhere in the yard.
A design like this has the symmetry that makes it a fabulous complement to a contemporary yard that features garden bar ideas, but it would work equally well in classic formal layouts.
A wood frame has natural beauty and enduring style, but it also has the advantage of staying cool even when temperatures hit their peaks.
16. Fall for hot color
Patio furniture ideas like armchairs, benches and tables in shades that pop work beautifully in bright sunlight. Think sunny yellows, azure blues, rich oranges and so on. Continue the look with matching planters or pillows for hard furniture.
Vivid hues can also be a way to introduce more color to yards where there isn't much growing space for flower garden ideas in hot hues. For maximum punch and a modern effect, set bold accents off against a dark backdrop.
17. Pick modern metal
Patio furniture made from metal can be a contemporary choice. Metallic frames are less bulky than those made from other materials, because of metal's inherent strength resulting in a lighter look than that created by other options.
Metal can also be shaped to create attractive lines for furniture, like these super sleek chairs that will seat a big group around the table on the semi-shaded patio.
18. Relax with boho chic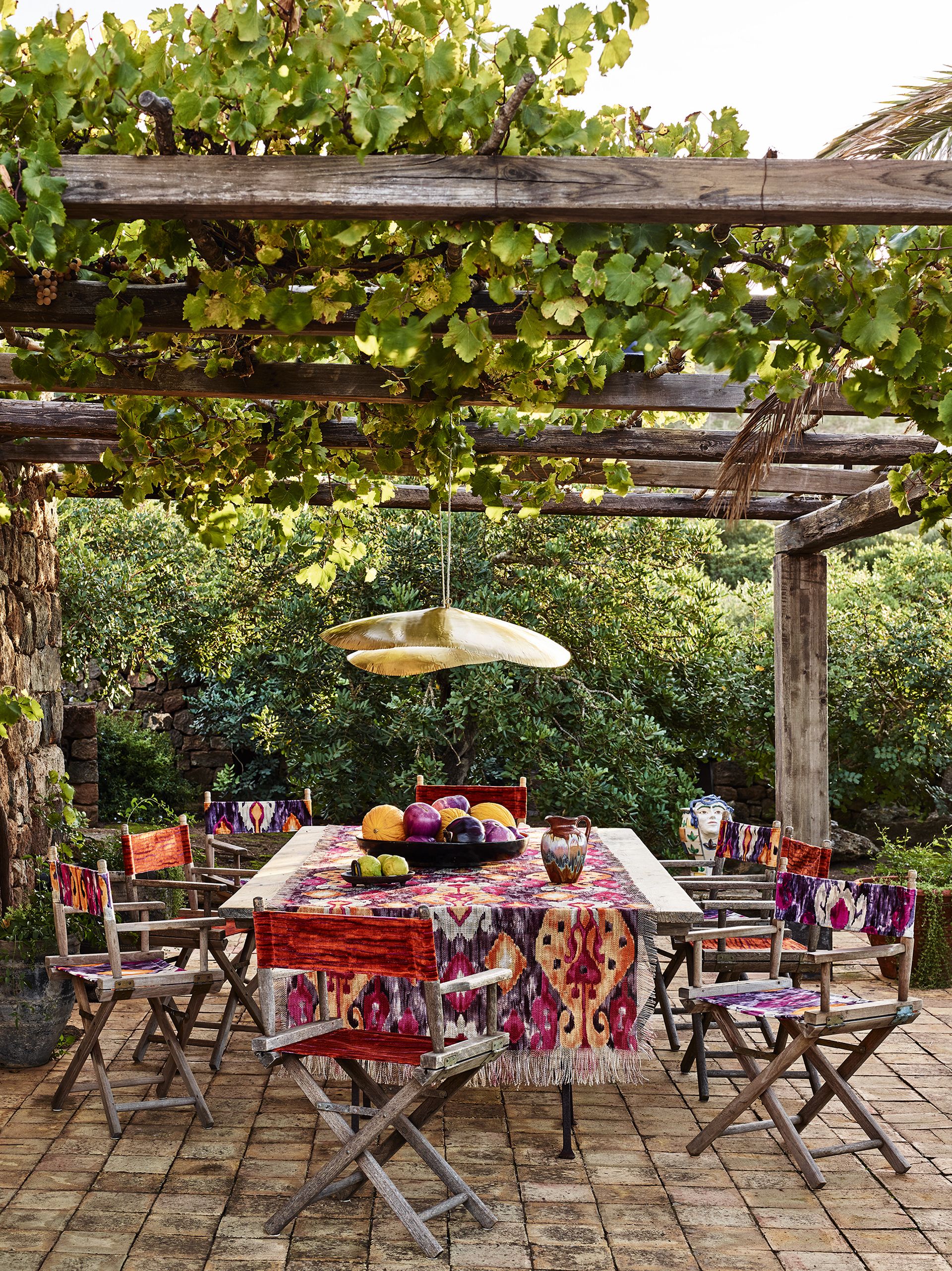 To create a cozy and laid-back ambience, go for boho-style patio furniture ideas. A mix of patterns in bold hues are a must, and while this isn't a look that's about co-ordination, they can pick up the shades of a yard's most brilliant blooms to stunning effect.
Choose wood furniture with as natural a finish as possible. It will still need maintenance, but opt for varnish that lets its color and grain show through. A brick patio is a worthy backdrop, as are rustic pergola ideas like the charming vine-draped example above.
19. Mix don't match
While patio conversation sets are often the right choice, don't count out the option of mixing different pieces to create a more casual look when designing a patio.
Shared elements between armchairs, sofas and coffee tables, such as a material, color or weave, will make them work as a whole. Think shape, too, to pull the look together, repeating curvaceous lines – as here – or more angular shapes.
20. Use industrial materials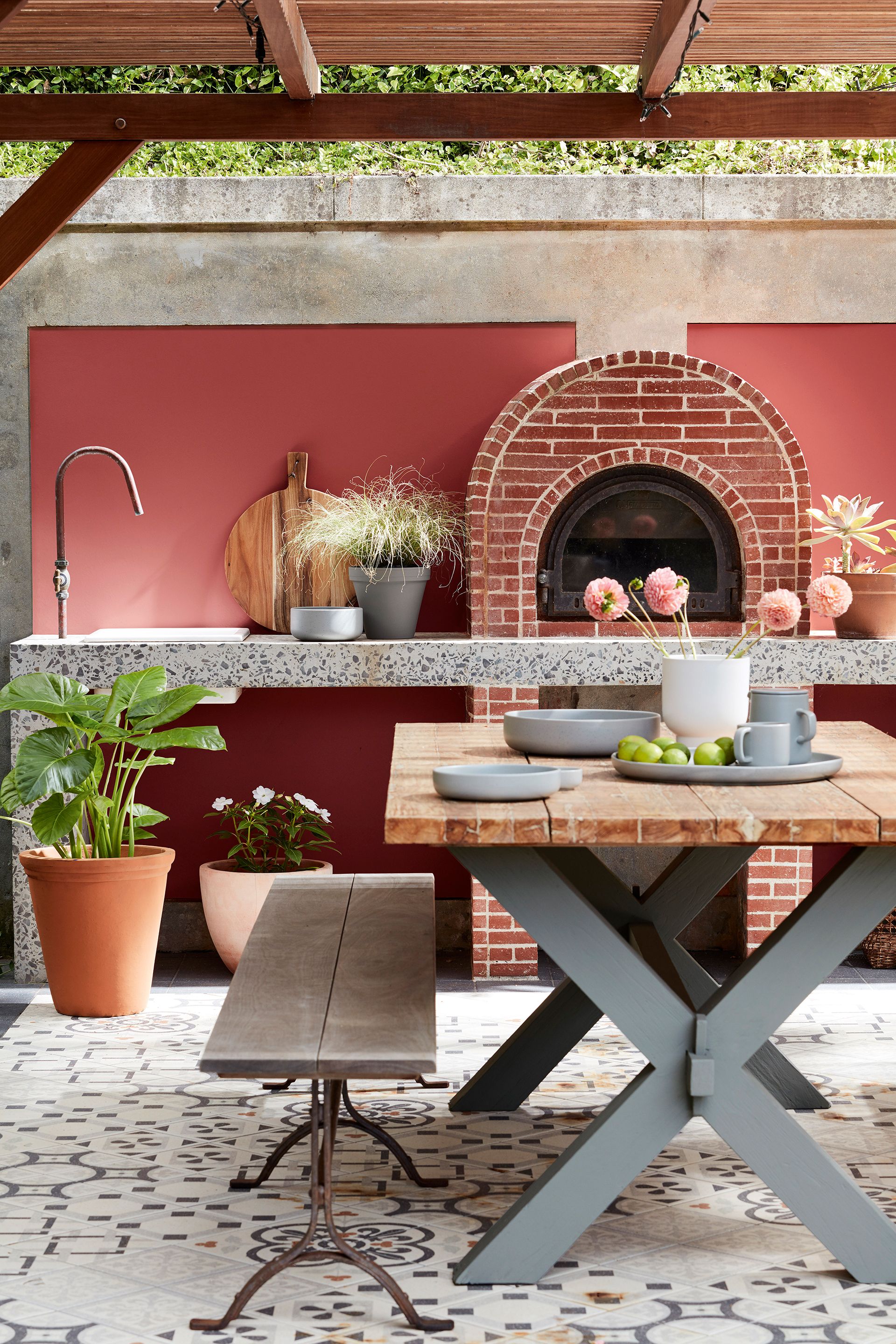 If you are looking to plan an outdoor kitchen with a brick pizza oven on your patio, a dining set with raw rather than polished credentials is a sympathetic choice. This design mixes wood and metal with the oven's brick in an industrially inspired combination.
More refined notes can be part of the picture. Here, the table legs have been given a makeover with a gray paint color that repeats a shade from the outdoor kitchen's countertop, while the wall is finished in a warm shade that harmonizes with the brick of the oven.
21. Embrace minimalism
For minimalist patio furniture ideas, opt for clean lines and a restrained color palette that will hit the same notes as the rest of a minimalist backyard scheme. Pick seating made from materials and upholstered in shades that match the tone of hard landscaping, including pavers, paths, walls and garden fence ideas.
Repeat the crisp lines created by patio meeting lawn and structural planting in lounge seating, too, and arrange chairs symmetrically rather than in more casual groupings.
22. Bring in wicker
The latest wicker patio furniture is generally made from synthetic materials, rather than organic ones like rattan and bamboo. The advantage of this all-weather variety is that it isn't liable to damage caused by moisture.
Choose it for the appearance of the real thing, its durable nature and the ease with which it can be cleaned. It also has the advantage of being a relatively lightweight material, making it easy to reposition.
Of course, that lack of heft is a downside if your backyard is exposed to very windy conditions, so save wicker furniture for a sheltered spot.
23. Get set for a party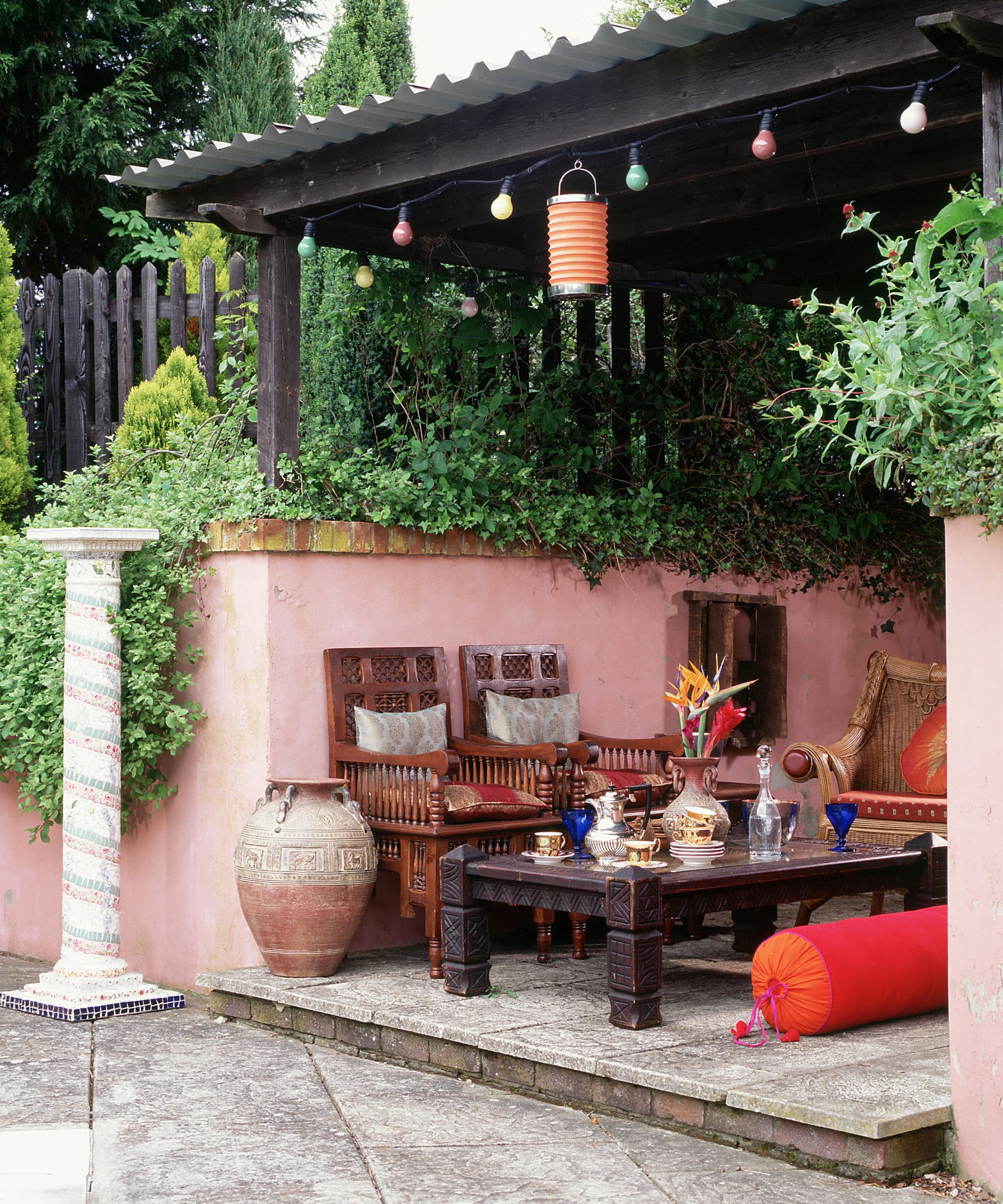 When a patio is covered, there's the opportunity to choose outdoor patio furniture more traditionally seen indoors and create an atmospheric setting for a whole host of garden party ideas. It's a shady retreat during the day too, of course.
Ornate Moroccan-style chairs and a low carved wood coffee table give this raised patio individual style, and they're complemented by pillows and a bolster in warm orange tones.
24. Use a corner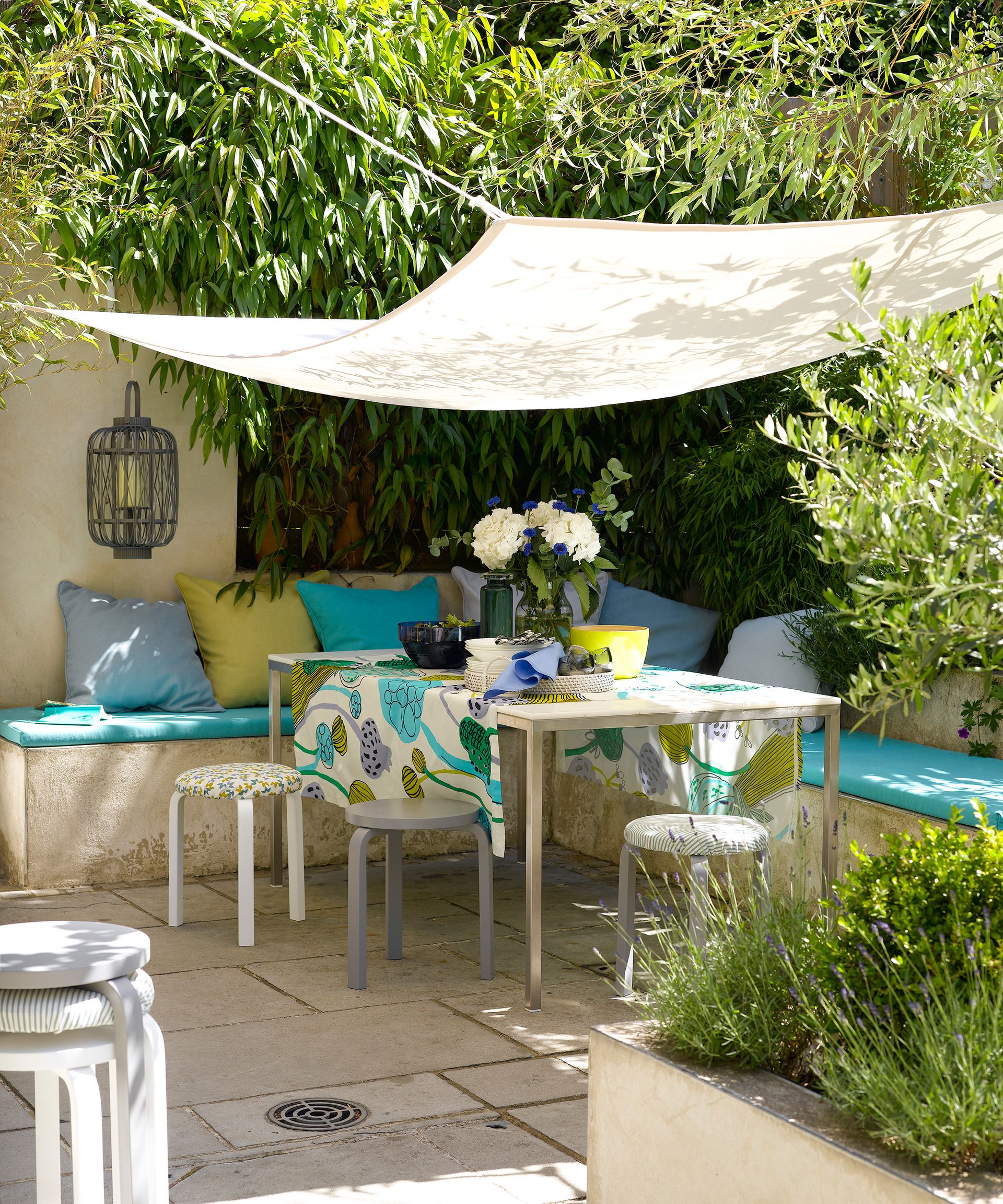 Building a bench into the corner of a patio can maximize the number of people you can seat when planning small backyard ideas. Opt for a dining chair height version and a table can be located here as well, so the patio works as both a lounging and dining space.
With a low square footage available, stools like these are a practical extra seating option as they'll take up less space than a chair.
25. Make space for a crowd
If you have factored a space for games into your backyard ideas, building seating into a patio is a great design idea.
'My client's request was to redevelop their entire backyard, turning it into a fun-filled entertainment space,' says Gary Marsh of Gary Marsh Design LLC. 'One of the components we all agreed on was a bocce ball court with a gathering area under the elegant California oak tree.
'My desire was to create an inviting and comfortable destination for those playing bocce ball, and spectators as well.'
26. Think table shape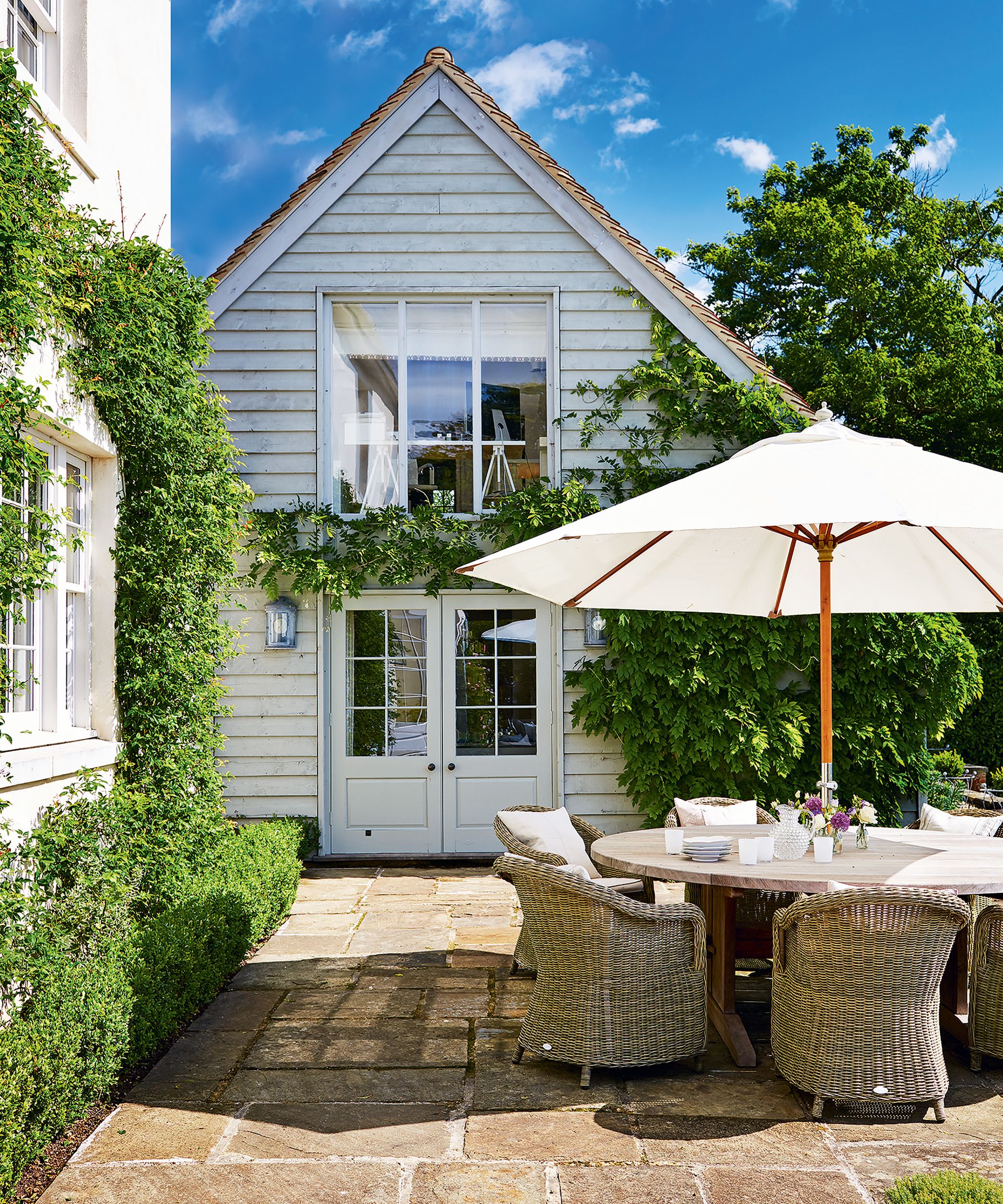 Just as with an inside dining room, it's important to consider what shape of table will best suit the layout of your space when planning outdoor patio furniture ideas.
Round dining tables promote easy conversation as diners can talk to those seated either side of them as well as across the table, provided the diameter of the table isn't too large. A round table can also feel more intimate, especially when paired with subtle patio lighting ideas for dining after dusk.
When you're sizing the table – whether it's round, square, rectangular or oval – always factor in enough room for chairs to be pushed back without toppling off the patio in order for guests to sit down and get up easily and safely.
27. Pretty up with wrought iron
For ornate detail and a traditional look, opt for wrought iron patio furniture. It's also a great solution for a patio subject to gusts of wind, as it won't be blown over. Wrought iron has the benefits of being strong and hard wearing, but do bear in mind that the intricate finish is harder to clean than other designs.
Outdoor cushions are a must for wrought iron seating, as the surface is otherwise unyielding and will feel too hard to sit on for long periods. They will also keep seats at a pleasant temperature.
28. Select sculptural designs
As well as fulfilling its practical purpose, patio furniture ideas with a sculptural quality can provide a focal point within the garden, just as a specimen plant or a vertical feature might.
If you choose patio furniture to make an aesthetic statement, it's worth planning your outdoor lighting ideas and design so it can be highlighted at night, and not just during daylight hours.
29. Choose sustainable wood patio furniture
Wood patio furniture has plenty of benefits, and hardwoods can last for decades if correctly maintained. It can be an eco-conscious choice of patio furniture, too, but you'll want to be sure the designs you buy are sustainable. The best way to check is to look for Forest Stewardship Council (FSC) certified wood.
Wooden patio furniture can also complement outdoor fireplaces well, like this dining set that is teamed with a garden fireplace from Schiedel.
30. Sink patio seating
Consider sunken seating as part of a patio design. It's ideal for a sloped backyard, but sinking a patio is an interesting strategy even on level plots.
Built-in seating makes good use of any changes in height, and emphasizes the zone's distinction from other areas where there's freestanding furniture. This seating is curved, creating an intimate nook that is perfect when planning a shade garden.
Sign up to the Homes & Gardens newsletter
Decor Ideas. Project Inspiration. Expert Advice. Delivered to your inbox.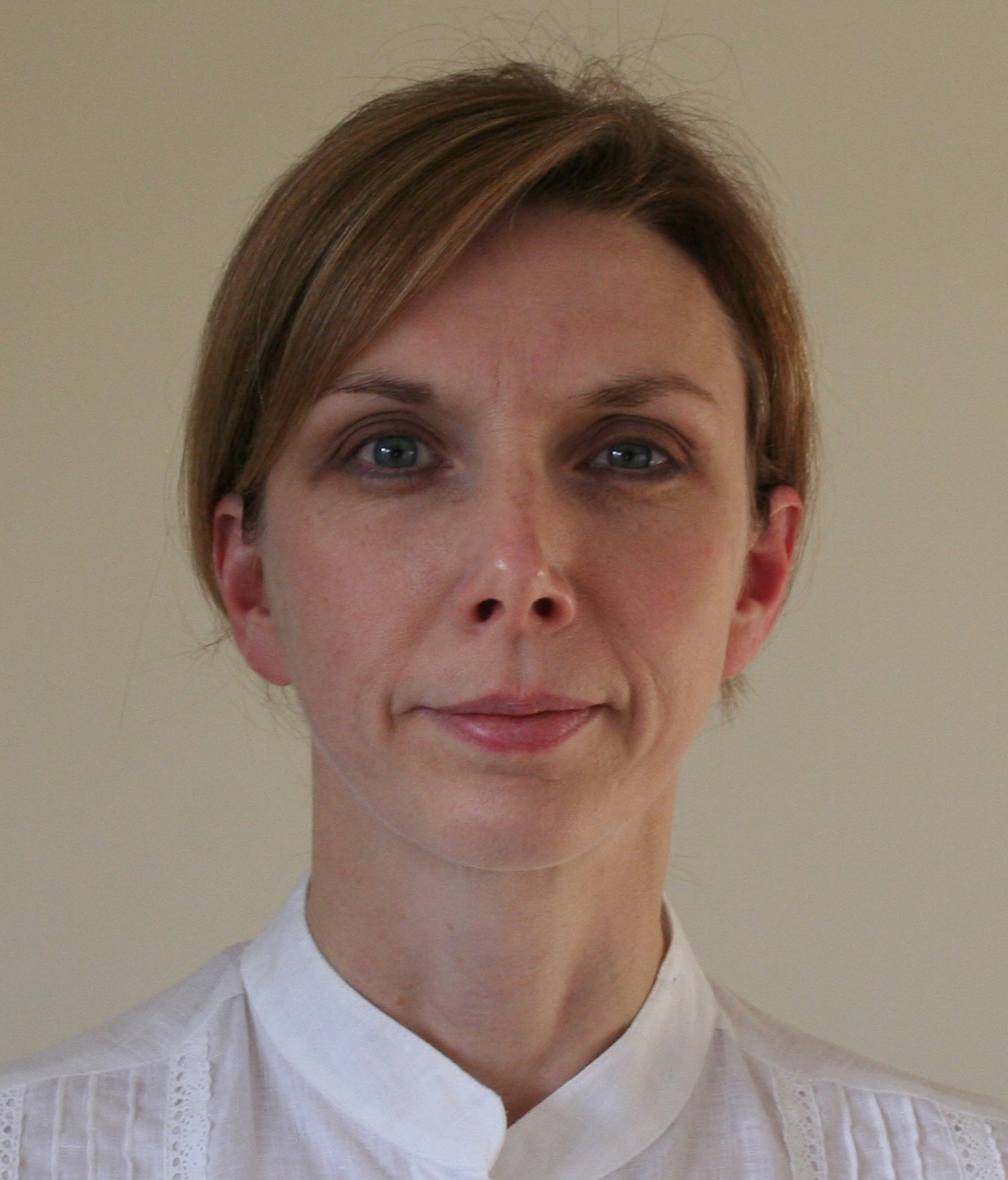 Sarah is a freelance journalist and editor. Previously executive editor of Ideal Home, she's specialized in interiors, property and gardens for over 20 years, and covers interior design, house design, gardens, and cleaning and organizing a home for H&G. She's written for websites, including Houzz, Channel 4's flagship website, 4Homes, and Future's T3; national newspapers, including The Guardian; and magazines including Future's Country Homes & Interiors, Homebuilding & Renovating, Period Living, and Style at Home, as well as House Beautiful, Good Homes, Grand Designs, Homes & Antiques, LandLove and The English Home among others. It's no big surprise that she likes to put what she writes about into practice, and is a serial house renovator.