Patio door ideas — every style of glazing, from Crittall and aluminium to traditional styles
These patio door ideas explore all options, from pocket to pivot, aluminium to wood, explaining the pros and cons of each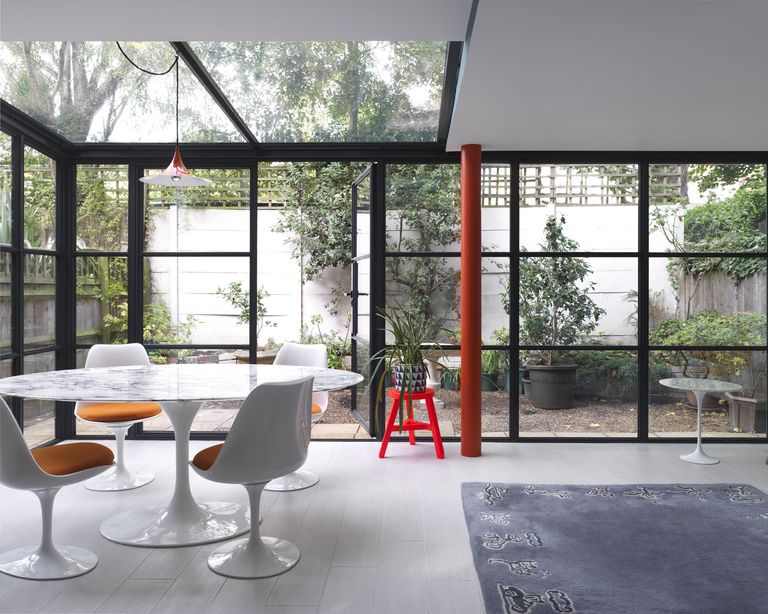 (Image credit: Inglis Badrashi Loddo/Brotherton Lock)
Smart patio door ideas are likely to be near the top of your wish list, whether you're tackling a renovation or an extension project.
From bright, sun-soaked interiors to glorious garden views, there's an array of advantages that come with installing a glazed entrance to your patio.
Fitting a set of glazed doors creates a seamless connection between inside and out, and has the potential to transform the look of your living space, whilst revolutionizing how you use it, too.
How you plan to use the space has a big impact on the door configuration you choose, and there's a plethora of options to suit your goals. Bifolds and sliders are fantastic for creating that all-important garden connection, while French doors are a stunning addition to traditional homes.
Pivot doors add a contemporary flourish, while pocket doors are smart space savers. You can take your pick from frame materials, too, with timber, PVCu, aluminium and composite options available for a range of budgets.
Here, we investigate all the options to help you decide which type of patio door best suits your home and whatever patio ideas you are planning.
Patio door ideas
1. Solid oak bifolds
Centor's 200 Series of bifold doors features a solid oak finish internally with an aluminum outer face, offering the high thermal performance qualities of wood alongside a sleek, metal exterior esthetic.
2. Metal framed French doors
Gridded metal-frame fixed glazing has been paired with French doors to create a chic, industrial aesthetic in this West London home. Inglis Badrashi Loddo masterminded the design for this kitchen extension, which also features roof glazing to establish a bright, sun-drenched space.
3. Space-saving pocket door
This glazed pocket door provides a convenient side entrance to the house. Provided by Maxlight, the glazed leaf slides back into the wall, making it a great space-saving small kitchen idea, rather than having the panel open into the room.
4. Aluminum pivot door
London-based MW Architects designed the kitchen idea shown above for this period property renovation. Supplied by Southern Windows, the pivot door features a powder-coated aluminium frame.
There is a large return internally for the door to fold against, which means that despite the broad width of the panel, it doesn't impose on the surrounding area when open.
5. Traditional timber French doors
Crafted from Accoya, a type of hard-wearing modified timber, these French doors from Westbury Windows & Joinery bring an elegant, traditional aesthetic to the modern kitchen shown above. The doors have been combined with a fanlight above and windows to the sides, allowing even more sunshine to stream inside.
6. Wrap-around glazed sliders
In this contemporary Florida home, designed by SDH Studio Architecture + Design, sliding glazed doors were chosen for their ability to blur the boundaries between indoors and out.
7. Supersized single French door
This extension by London-based Mustard Architects features a large ash-framed glazed door, which provides quick and easy access to the garden, as well as framing a view of the outside. Ash was also used for the window frames to maintain continuity.
8. Sliding glass wall system
Milgard's Stacking Moving Glass Wall System was chosen to maximize the views from this home in San Antonio.
Available with either aluminium or wood with alu-clad frames, the door panels glide back on a fixed track to sit one in front of the other. The doors feature a full weather-stripped structural interlock system for improved energy efficiency.
Feeling inspired? Now you know all the variations and styles of patio door available, you can put the wheels in motion and install your dream doors.
What should I look for when buying patio doors?
Before setting your heart on a specific product, take some time to consider how you want to use the space where the doors will be installed.
For example, do you want a broad span of glass that will provide a gorgeous view of the garden? Or do you simply need a convenient back or side entrance that allows you to nip in and out of the house?
Laying out your needs and expectations will make it easier to identify the right design solution.
What types of patio doors can I choose?
Sliders (or sliding doors)

If it's the view you're after, sliding doors are likely one of the main contenders for your scheme. Typically framed in powder-coated aluminum, this patio door style is often the go-to choice for a sleek, minimal look.
Thanks to the inherent strength and lightweight nature of the metal, you can achieve narrower frames that maximize the area of glass within each door panel.
'With narrower frames it is possible to fit larger sealed units, maximizing the glass area and breaking down the boundaries between inside and out, even when the doors are closed,' says Edward Stobart, head of projects at IDSystems.
The glass panels sit on a fixed floor track and are drawn back to sit one in front of the other when the doors are open.
On the plus side, this means you don't need to allocate space inside the house for the panels to stack back against each other, as you would with folding doors.
However, this arrangement also means that you won't be able to achieve a similar broad span to bifolds when the doors are open – typically, you'll be able to achieve an opening of about 60% of the whole aperture.
Bifold doors

This type of patio door is an excellent option if your main goal is to create an unbroken connection between inside and out.
When opened, the panels concertina back to stack one in front of the other, sitting perpendicular to the main track. This configuration means you can achieve an impressive opening of up to 90% of the whole aperture.
There are numerous opening configurations, too. For instance, you could incorporate an odd number of door panels, with a convenient access door at one end. This would allow you to enter and exit the house with ease, without the need to open the whole setup.
Another option is to have an even number of panels that part in the centre, so the two doors in the middle function as French doors.
Bear in mind that a bifold setup tends to comprise more individual panels than a sliding arrangement, so there will be more framing materials (known in the industry as 'glazing mullions') to break up your view from the inside. Frames tend to be chunkier, too, but there's still plenty of choice when it comes to framing material.
Remember, you'll need to allow enough space (either inside or out) for the panels to stack back against each other when the doors are open.
French doors
This timeless solution works for traditional and contemporary homes. Timber frame designs work beautifully for period properties, while PVCu framed products offer a wallet-friendly option if you're working to a tight budget.
Crittall-style metal frame gridded glazing is popular, too, and will provide an industrial edge. Typically, French doors tend to be the go-to solution if you're working with a smaller aperture and don't have room to incorporate a broad span of sliders or bifolds.
If you're looking for French doors to complement a historic home, dedicate plenty of time to researching the style that suits the period in which your house was built.
'Investigate the various door styles available to you, whether you want fully glazed panels or a design with glazing bars,' says Rob Owens, a sales manager at Westbury Windows and Joinery.
'Try to provide images or descriptions of where and how the doors will be used so your supplier can offer advice.'
Pivot doors
Ideal for making a contemporary design statement, this type of patio door is ideal for when you don't have enough space for a broad span of bifolds/sliders, but a wider opening than what you'd need for a set of French doors.
'A pivot door allows you to achieve a large single opening, measuring up to 3m across,' says Tony Culmer from Maxlight.
The hinges of the door are attached to the top and bottom of the panel, 200mm from the edge, rather than being attached to the vertical hinge. Timber and aluminum are the typical framing options.
Pocket doors
This handy patio door solution is perfect for slim openings in homes where space is limited and an option to consider for cottage extensions and side return extensions.
Instead of opening inwards/outwards, the door panel glides back into a hollow pocket within the wall structure, which means you don't need to allow any space for the door to swing open.
Installing a glazed version means you get all the views and natural light you'd get from a window or single French door, while saving space. This type of patio door is easier to install in extensions or new build homes, as retrofitting the door pocket into an existing wall can be fiddly.
However, if you have your heart set on it, you can work with a professional designer or architect who will be able to put together a setup that works beautifully for your home.
What is the best material for a patio door?
Timber, aluminium, PVCu and composite are the main framing options for patio doors. Aesthetics, budget, maintenance and longevity are all likely to play a role in your decision.
Wood offers a warmth and character that's unparalleled by other man-made materials. It's also a natural insulator, which makes it a smart choice if thermal performance is a top priority for your project.
On the other hand, timber is likely to require more upkeep than other materials. Your doors will likely need to be re-painted or re-varnished every several years to ensure the wood stays sealed.
PVCu is a strong contender from a budget perspective, and it's low maintenance, too. All that's required is a yearly clean with soapy water. However, this material is easier to scratch and more likely to warp than others, especially if your doors are in a sunny spot.
On the plus side, PVCu frames come in an array of colours and finishes to suit your property, including realistic woodgrain effects.
Aluminium is the go-to choice for most contemporary schemes. The innate strength of the metal means minimal framing can be achieved, which is great for slim sightlines that maximize the area of glass.
Powder-coated aluminium won't discolour, warp or rot, and they're virtually maintenance free. An annual clean with soap and water is all that's needed to keep them looking their best. It's worth bearing in mind, however, aluminium won't match the excellent thermal performance of wood.
Composite doors offer the best of both worlds, with the warmth of wood on the inner side of the frame and the strength and low maintenance of aluminium on the outside.
This solution is perfect if you want to incorporate the natural insulating qualities of timber into your patio doors, whilst creating a contemporary exterior aesthetic.
What patio door is most energy efficient?
It's important to consider the insulating values of the frame material and the glass, as well as the weather tightness of the frames before installing patio doors.
'The glass is the largest surface area on a glazed door, and therefore by default is one of the most important factors to consider,' says Matt Higgs, director and co-owner at Kloeber.
'The insulation properties of the glass are measured as a U-value. This is heat loss through the pane where the lower the value, the better the heat retention will be,' he continues. 'The glass will never retain as much heat as a modern cavity wall, so it's advisable to go for the best quality glass unit you can.'
The frame material is also an important factor in determining thermal performance. Timber products have the edge, as wood is less conductive than metal.
'Aluminium products should have a substantial thermal break in the frame, which stops metal on the external face from touching metal on the internal face of the frame. This is called a cold bridge,' says Matt.
'In general, bifolds and French doors have an advantage over sliders and pivot doors in environments that have high wind or adverse weather, because of the way the doors seal up against the frames.'
Remember, the thermal performance of your patio doors will only ever be as good as the way the doors are fitted. You could spend £1,000s on the highest performing products available, but if they are fitted, insulated and sealed poorly they will not deliver the required performance.
Always do your research when it comes to finding a reputable installer who has experience fitting the products you have chosen. Going for a complete design, supply and fit service through one company is often the best way forward.
That way, if the doors don't perform as expected, you only have one point of contact to deal with.
What glazing is best?
'External bifold or sliding doors should include a double-glazed unit as a minimum, with an argon gas filling and low-e coating,' says Rebecca Clayton, a director at IQ Glass. 'This will ensure the glass achieves the thermal performance requirements of Building Regulations.'
In most cases, double glazed units will provide an adequate barrier to prevent heat leaking out via your patio doors. However, if you live in a particularly chilly climate or if energy efficiency is one of your key project goals, triple glazing could be a worthwhile investment.
A good supplier should be able to advise on all the options and offer what's right for your situation.
Is UV glass essential?
A PVB laminate can be applied to glass to prevent too much UV light penetrating through the pane, thus protecting internal surfaces from fading.
'This laminate reduces the amount of UV light that can come through the glass and helps stop fading of things, such as real wood flooring or furniture,' says Rebecca from IQ Glass.
While this type of finish is not essential when installing patio doors, it is recommended if you have expensive artwork or furnishings inside, for instance.
'This interlayer will not reduce solar radiation coming through the glass, which is what causes overheating in highly glazed spaces,' says Rebecca. 'To reduce overheating you should use a solar control coating.'
How long do patio doors last?
Frame material is the main factor when it comes to determining how long your doors will last.
'By taking care of your patio door and ensuring you select the right material for the environment, you should expect a patio door to have a life of 30 plus years,' says Brent Wright, doors product manager at Milgard.
Timber doors can offer a service life of several decades, providing they are well looked after. A lot depends on the type of wood you use, too. Hardwoods like oak can last for 50 years or more, while softwoods like pine will last around 20.
Thanks to the natural durability of aluminium, doors made from this material will also last for 30 years or more, with virtually no maintenance required.
The development of PVCu doors has come a long way in the past two decades, too. Expect a high-quality set to give you a service life of 20 years plus.
How much do patio doors cost?
French doors are typically the most wallet-friendly solution for patio doors. An off-the-shelf set with PVCu frames could cost as little as £400. Made-to-measure timber frame designs, however, come in closer to the £600 mark.
For sliders and bifolds, the price depends largely on whether you invest in an off-the-shelf setup or go for something bespoke.
Bifolds at the lower end of the price spectrum tend to come in at around £600 + VAT per m2. A tailored design made up to your specific dimensions is likely to cost at least 20% more.
'With sliding systems, there's a huge variance in the price and quality of the doors,' says Matt Higgs from Kloeber. 'At the lower end, expect to pay £500 +VAT per m2. At the higher end it'll be more like £1,200 +VAT per m2.'
For pivot and pocket systems, it is more common to go down the made-to-measure route rather than buying off the shelf.
A glazed pocket door is likely to be within the region of £1,200 and £1,500 per m2, with the figure likely to vary according to the details of your glazing and framing spec.
Pivot doors tend to fall at the higher end of the spectrum in terms of price. Bespoke designs from Maxlight, for instance, start at around £5,000.
Hello! I'm Rebecca, and I freelance for Homes & Gardens. I contribute a range of articles to the magazine, from design-focused features to real life case studies.
After starting my journalism career at a luxury property magazine in Bangkok, I re-located to London where I started out as a sub-editor and features writer. I later became the features editor of a popular self-build and renovation magazine, where I delved into the world of structural systems, eco tech and smart homes.
I went freelance in 2017 to pursue my dream of becoming a yoga teacher, but I still write for numerous titles in the homes and interiors sector.
My background is in self-build and renovation, so I'm happy to chat about a plethora of topics, from oak frames and kit houses, to glazing innovations and cladding.
My dream is to build a contemporary glazed extension to the rear of a traditional Victorian property, and then fill it with furniture from Oliver Bonas, Made.com and Swoon Editions. After visiting an array of spectacular homes across the country, I can't wait to install underfloor heating in my own house! In my own home, I have cultivated a Japandi style, with a mix of warm Scandinavian tones and textures complemented by Japanese, Korean and Chinese accessories.