10 garden room ideas – bring the outdoors in with these inviting schemes
With a little creative thinking the architectural use of modern materials can open up homes to abundant natural light in a strikingly stylish way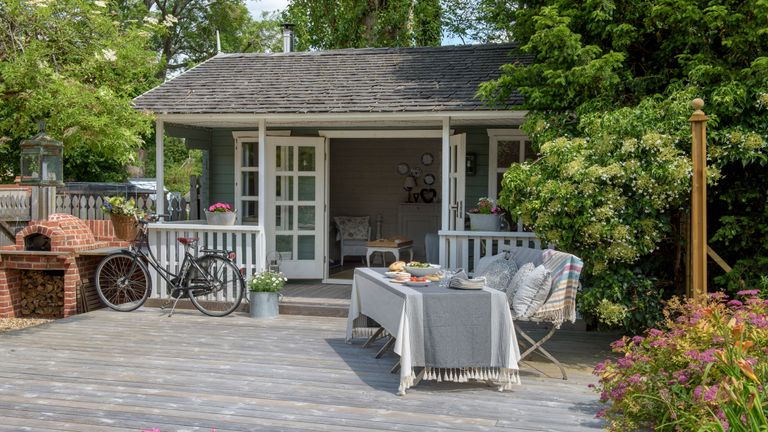 (Image credit: Future / Polly Eltes)
Looking for garden room ideas? If your vision for a bright, sun-filled home is falling short, a glazed structure could be the answer.
Building an extra room with a view of the garden is now a growing trend. With the current vogue for open-plan, multi-purpose family rooms that combine a mix of kitchen, dining and living spaces, garden rooms and orangeries fit the bill perfectly.
See: Garden ideas – inspiration and ideas for outdoor spaces
Read on to discover the best garden room ideas – no matter the size or budget.
What is a garden room?
By definition, a garden room is a glazed extension with a fully tiled roof, and an orangery has a part-tiled roof with inset glass panels. Garden rooms can either be freestanding, like the Bailies', which is a popular choice for home offices, or attached to an existing building. 'More people now choose a garden room or orangery rather than a conservatory, since their solid roof construction makes them highly suitable for year-round living,' says David Salisbury of David Salisbury Joinery.
1. Choose a beautifully blended garden room
Make provision for both dining and lounging: a concrete-topped table and rattan chairs offer a relaxed contemporary feel for lazy weekend brunches, while window seating, softened with an collection of graphic-print cushions in blues and greens, uses every inch of space without detracting from the bright feel.
See: Conservatory ideas – wonderful ways to boost light and space
2. Invest in a glass room extension
One of the most exciting ways to enhance our homes and introduce more natural light is by adding a glass extension.
Here, a suspended ceiling surrounded by a glass border helps to insulate the room while providing tantalising glimpses of sky.
3. Buy the best you can afford when it comes to glazing
Conservatories are unlike any other room in the home, so you need to take a different approach when decorating. Primarily, the high levels of glazing can result in UV damage inside. Using low emissivity glass will reduce the UV and IR light getting through, while fitting blinds to both the roof and sides will also help to combat effects of the sun.
4. Light up with a flat glass roof
Flat glass roofs have proven extremely popular of late. These have several advantages: they offer an uninterrupted view of the sky, can slide open on summer evenings and can be a good solution for a listed building when conservation officers deem a traditional roof lantern to be too dominant.
See: Shed ideas – create an outdoor oasis with these smart storage solutions
5. Decorate in a refreshingly simple palette
A palette of soft green and greys, natural textures and an artful use of flowers and foliage combine beautifully for a summery scheme that blends indoors and out. A neat slipper-style chair makes a comfortable yet unobtrusive addition to a sunny corner, with relaxed Swedish blinds lending a modern country air.
6. Marry two spaces and styles together
Before you choose a design, it is important to note that it can be hard to create a full-use living space with a completely glazed extension. Even with advances in glass technology, this style of building can struggle to stay cool in direct sunlight. This bright, relaxing space features warm grey tones rather than white to prevent it feeling stark. Traditional English decor marries beautifully with hints of the American South in this spacious and welcoming garden room.
7. Bring the outside in
Before designing the décor, consider the look of your garden, and also the surrounding landscape. Is it cottage style or formal? Incorporating the strongest themes and shapes in your garden through color, pattern or line can be a good departure point for planning a garden room scheme.
For a more relaxed look, use metal or wrought iron garden furniture and natural stone flooring, like limestone flagstones or slate. Conventional, upholstered furniture and wooden floorboards will create a more formal feel. As a general rule of thumb, use lighter or medium-toned colors.
For maximum access, install folding or sliding doors that open out all the way and lead straight into the garden; these are perfect for sunny days, allowing for uninterrupted movement between the garden and the house.
8. Embrace a garden room with a view
This house was rebuilt from a shell to include a new, light extension, designed to make the most of views of surrounding greenery. A timeless and long-lasting choice, black steel frames are growing in popularity. Modern steel designs are double glazed and thermally efficient to meet the latest building standards.
See: She shed ideas – turn a humble shed into a relaxing garden retreat
9. Decorate in a harmonious color palette
Botanical prints in fresh greens create a tranquil spring-time feel that brings the outside in. Don't be afraid to mix and match fabric in a country style garden room. It's easier to mix patterns when they are drawn from the same color palette. Try experimenting with scale, combining florals, stripes and geometrics.
See: Storage ideas for sheds – practical ways to keep your garden building organized
10. Introduce plenty of houseplants in a garden room
Garden rooms are the perfect opportunity for plant enthusiasts to show off larger specimens of plants that might not fit in around other areas of the house.
'One of the great advantages of garden rooms is that they are usually so well lit,' says foli8's Plant Scientist, Kenneth Freeman. 'This means that your plants will seldom be wanting for light. They are often warm – almost hot – in the summer, despite all efforts to shade them. Conversely, they can be a little chilly in the winter. These conditions are ideal for a wide range of plants which can be displayed with great imagination and style.'
How to you design a garden room?
When planning a garden room, think carefully about how you'd like to use the space. A garden room can be an extra sitting room, a peaceful sanctuary for enjoying your garden all year round, or a home office or 'quiet zone.' Alternatively, it can be your main family room, like many a contemporary orangery-style kitchen or a large convivial space for parties and entertaining. 'With its full-length windows, an orangery will always create a more formal feel than a fully-glazed conservatory, and is now the most popular choice for kitchen and dining room extensions,' says David.
A wide choice of building materials is available to suit all tastes. Painted hardwood is popular (look for companies using FSC certified sustainably-forested timber), while green oak-framed construction creates a more rustic look. Consider employing an architect, especially if your property is listed. To avoid delays at the planning stage, the scheme must blend sympathetically with the rest of the building, and have similar windows. Planning authorities will look closely at the roofline and positioning of any gables, and their visual impact on neighbouring properties. Solar control glass panels will optimize heat retention, and help keep heating costs down.
Our selection of garden room ideas offers plenty of inspiration for all property types and lifestyle needs.