Summer decor ideas – 10 ways to brighten your home
Bring life to your interiors with these joyful summer decor ideas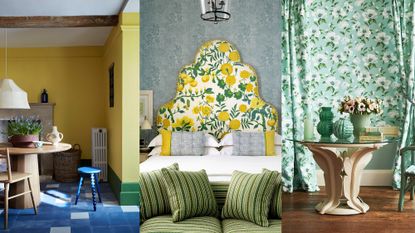 (Image credit: Little Greene, Kit Kemp, Manuel Canovas)
Summer decor ideas are all about bringing joy and happiness into the home as well as celebrating the colors and sights of the season. Whether it's spent at home in the backyard or travelling to exotic climes, summer is a joyful time which brings happy memories for many, so why not bring some of this happiness into our interiors?
With the backyard in full glory and bursting with color, nature is a good place to start when it comes to decorating ideas and inspiration. To bring the outside in choose bold florals and lush botanical prints and embrace hot, vibrant colors, then to complete the look be sure to add in plenty of plants and fresh flowers.
To get you inspired to give your home a summer refresh we've gathered an array of joyful decor ideas which will bring summer magic whatever the weather.
Summer decor ideas
Summer decor ideas are full of bright and bold colors that instantly put a smile on your face, so why not bring some of that into your home? Introducing all the best parts of summer into your home can allow you to brighten up your home and bring a touch of the outside, inside.
Whether it's bold prints, nautical themes, making the most of summer snaps or taking inspiration from nature, there are some really simple ways that you can give your home a makeover and add a touch of the summer season into your home.
1. Decorate in sunshine shades
Decorating with yellow is guaranteed to bring summer magic into your home. An instant mood enhancer, it will put a spring in your step whatever the weather.
'Decorating choices are a natural reflection of the times we are living in, there is a real desire for joyful, welcoming and optimistic shades which as been reflected in the rise of sunny and energetic hues such as 'Indian Yellow' and 'Giallo',' says Ruth Mottershead, creative director of Little Greene. 'Try pairing it with bold green 'Hopper' and a burst of deep summer sky blue for a vibrant and inviting interior.'
2. Decorate with Chinoiserie
Rooted in the beautiful landscapes of China, Japan and other Asian countries, Chinoiserie prints are the perfect way to inject elegance and exoticism into the home.
Dating back to the Mid-18th century, the style, which is often characterized by its sinuous flower, bird and leaf forms, has endured popularity over the centuries and continues to captivate interior designers today. While there are companies that offer hand-painted bespoke murals, there are a growing number of brands offering printed wallpapers and fabrics inspired by the whimsical style.
This season artist Diane Hill has collaborated with Harlequin to release a brand new collection of joyful prints that celebrate the beauty of nature. Based on Diane's hand-painted artwork, the collection features bold blowsy peony prints to classic Chinoiserie designs offset by a simple geometric based on lattice bamboo all bound by a saturated palette of bright jewel tones.
'The collection is aims to uplift and inspire people to decorate boldly, unapologetically and to own their room,' explains Diane Hill. 'We based a lot of the color on traditional 18th-century chinoiserie but gave it a modern refresh. Using royal greens, yellows, sky blues and pinks was all very traditional in the 18th century, so we wanted to feed off that.'
3. Add zest to a kitchen with fruit prints
If there's anywhere in our home that needs to feel joyous and uplifting it's the kitchen; as everyday space we spend lots of time in it's important it's a space that makes us feel happy.
Wallpaper ideas are a brilliant way to bring instant life to a kitchen diner – for a summer feeling all year round try a pattern inspired by the garden colored in citrus hues, such as Morris & Co's Simply Morris Fruit design which is ripe with lemons and pomegranates.
4. Introduce bold florals
Often occasional spaces which are reserved for entertaining, dining rooms are a great place to be bold with summer decor and floral room decor ideas are guaranteed to make an instant statement. To bring wow-factor consider papering in a large-scale floral print wall to wall – you could even go full on chintz by adding in matching curtains.
When choosing dining room wallpaper be sure to think about scale advises Ruth Mottershead, create director at Little Greene.
'Consider the ceiling height when choosing your wallpaper, opting for a smaller scale where you have low ceilings and larger scale more dramatic designs where you have high ceilings or large expanses of wall. If you have panelling within the room, fill the panels with wallpaper and paint the woodwork in a contrasting hue for a cohesive and layered interior.'
5. Lay a pretty table
Tablescaping is one way to honor summer decor ideas and you can create a beautiful setting for a summer tea party by layering up patterned linens, colored glassware and plenty of fresh flowers, suggests fabric designer Pippa Blacker.
'I love using my fabrics when entertaining and often choose a strong color for the tablecloth, perhaps with a pattern that has a feeling of flow and movement to it. I then layer up with linen napkins using a smaller print and softer colors. The look comes together by adding flowers, colored glass and if appropriate colored candles too. I love a colorful, relaxed, and fun summer table.'
6. Style up a sunroom
Make the most of the warm weather by styling up your sunroom ideas with summer decor for a dinner party. Rattan chairs are guaranteed to bring a holiday feel, so layer them with pillows in mix of bright, folksy prints and don't forget throws to keep cozy when the evening chill sets in.
To create an eye catching table choose colored glass tumblers that will come to life in sunlight and display vibrant floral arrangements in woven baskets for a relaxed country feel.
7. Cover a headboard in a joyful fabric
Headboard ideas in joyful prints make for a fabulous way to bring a burst of summer decor into your bedroom without over-powering the space. Full of the delights of the Mediterranean, this fabric by Fanny Shorter features a medley of chrysanthemums, oranges and geraniums in sunburst yellow makes a fitting choice and is offset beautifully with a soothing, watery wallpaper.
'We have balanced the large scale print of the headboard with one of our favourite fabrics on the walls called "Mudprint", which we designed for Christopher Farr Cloth,' says interior designer Kit Kemp. 'The blue colorway creates a calm backdrop that transports you to the Mediterranean Sea, with its painted layered quality adding a subtle movement and textured feel to the room.'
8. Fill the house with plants and flowers
Summer is truly one of the most beautiful times of year, so why not take inspiration from nature and add beautiful flowers and plants into your home? Not only will they look and smell beautiful on display, they'll also make you feel good too. Being surrounded by plants and nature is proven to have a positive impact on our wellbeing and will brighten your day in more ways than one.
9. Keep it bright with white
Throughout the summer season, the days are a lot longer and a lot brighter which means we get more natural light. This should be made the most of when it comes to the interior of your home. The trick is to invite as much natural light into the room as possible and using white as a base color can really help this.
Try to keep walls, furniture and key pieces white or light stone colors and then use wall art and subtle décor items to add a pop of color. This allows you to embrace the natural brightness and beautiful bold colors of summer – the best of both worlds.
10. Try a nautical theme
Whenever you picture summer decor ideas, it's hard not to think of a beautiful room inspired by the beach, the sun shining and the blue sky and sea. Incorporating this type of theme into your home interiors is a really effective way to bring the summer season into your home.
There's nothing like a trip to the seaside to soothe the soul, so why not inject some coastal calm into the bedroom for a truly restful space? Take a pared-back approach by decorating with simple neutrals, elegant lines and soft stripes, adding pops of navy and rust for a contemporary twist. Coastal living room ideas are wonderful, too.
How do I refresh my house for summer?
There are lots of ways you can refresh your home for summer. For a lasting impression try painting rooms in mood-enhancing vibrant shades such as yellow, leafy green and hot pink, or decorating with bold floral and botanical wallpapers –both will bring instant summer magic and will spark instant joy.
'Yellow is a shade that provides positivity to a space. It is a color that makes us feel uplifted, happy, energised and invited,' says Ruth Mottershead, creative director at Little Greene. 'Yellow paint colors have an inherent brightness, freshness and warmth that makes them an ever-popular color all around the home, creating a feeling of warmth and coziness, it is sunshine in your home. 'Giallo' and 'Indian yellow' work beautifully in busy joyful spaces such as kitchens, dining spaces and living rooms.'
Alternatively, for a quick update try styling up your kitchen with a joyful tablecloth, statement floral cushions and filling your home with plenty of fresh flowers.
'Bring in that feeling of summer by using joyful colors and patterns through your table linen and flowers,' says Molly Mahon. 'I love to mix and match my tablecloths and napkins to add as much interest and color as possible.'
Sign up to the Homes & Gardens newsletter
Decor Ideas. Project Inspiration. Expert Advice. Delivered to your inbox.
Pippa is Content Editor on Homes & Gardens online contributing to Period Living and Country Homes & Interiors print issues. A graduate of Art History and formerly Style Editor at Period Living, she is passionate about architecture, creating decorating content, interior styling and writing about craft and historic homes. She enjoys searching out beautiful images and the latest trends to share with the Homes & Gardens audience. A keen gardener, when she's not writing you'll find her growing flowers on her village allotment for styling projects.