Floral room decor – 14 ways to decorate with dark floral prints
Create a glamorous, head-turning scheme with these bold floral room decor ideas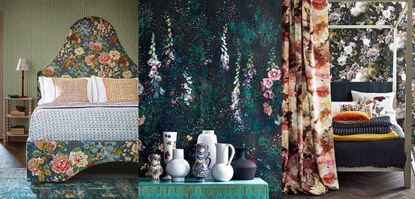 (Image credit: Future)
Floral room decor ideas are guaranteed to lend a romantic feel to home, and, will also add a beautiful touch of drama and glamor when introduced through dark wallpaper ideas, fabrics and accessories.
Decorating with dark florals is a brilliant way to make a unique statement in interior design and is becoming increasingly popular.
'Recently we've seen a real shift from greys and minimal uses of color to the desire for dark grounds and multicolored pattern – the perfect tonic for lifting the spirits and creating a more individual style,' says Rebecca Craig, head of design at Sanderson.
Dark floral prints are often associated with grand, romantic schemes, conjuring images of ornate 17th-century floral paintings by Dutch masters, however there are many contemporary dark floral prints available to keep interiors looking fresh and contemporary and for rural properties you could try a folksy print.
Floral room decor ideas
When it comes to floral room decor there are so many looks to choose from. Dark floral wallpaper ideas will bring instant wow-factor to a space and can help large spaces feel more intimate. They can look really effective used wall-to-wall or combined with painted panelling and window treatments in plain fabrics for a softer look.
If you love dark floral room decor but want something a little more easy to live with than wall-to-wall prints consider introducing bold botanical fabrics on upholster. Alternatively, for a quick and easy way to channel the dark floral trend try adding in accessories such as lampshades and cushions in moody botanicals.
Dark floral prints are brilliant dining room decor ideas, as well as for other occasional spaces, as in these rooms that are not used as often you can often afford to be a bit more bold and playful with interior design.
If decorating with floral prints in dark colors it's important to consider the scale of a design. Large scale designs will make a real impact, but for something more relaxed you could choose a more ditsy repeat design.
Below, you'll find our favorite floral room decor ideas.
1. Use dramatic wallpapers with large-scale blooms
For a floral room decor scheme with plenty of drama use a large-scale dark floral wallpaper. Featuring upscaled white peonies set against a contrasting black background, this beautiful Paeonia wallpaper by Harlequin makes large blousy blooms the real stars of the show. Try it in rooms with tall ceilings to evoke a more intimate feel.
2. Make a statement with a bespoke mural
Are you looking to create an interior which is truly unique and magical? Welcome to the whimsical world of artist and designer Flora Robert (opens in new tab)s, who creates breathtaking botanical murals and timeless designs for wallpapers.
With a canvas of a single wall to an entire room, Flora transforms surfaces into dreamscapes where wandering flowers spontaneously dance together in oceans of alluring color. Think the enveloping tranquillity of Monet's Waterlilies fused with the naive charm of folk art in a signature palette of brights and pastels.
'I love hand-painting murals because the technique brings charm and spontaneity to interiors – imperfection is a nice metaphor for life, isn't it? says Flora.
3. Hang Mediterranean-inspired wallpaper
Taking the prolific Mediterranean climbing plant the Bougainvillea as its focus, this show-stopping wallpaper (opens in new tab)from Cole & Son's Seville Collection is perfect for a more exotic scheme. Featuring a repeat design of hot rouge trailing flowers on a charcoal background, it's guaranteed to turn heads in a modern living room. Try picking out the jade color from the design and using it on complementary panelling to temper the print.
4. Bring vintage charm with an archive print
Floral room decor needn't be just for bedrooms, living and dining room ideas – why not decorate the kitchen with dark floral prints for a quirky yet considered look? To celebrate 160 years, Sanderson has refreshed some of its iconic floral prints in refreshed colorways – perfect for your living room feature walls.
'Florals are a signature look for Sanderson. Many of our designs have a nostalgic air, remembered from childhood days and family homes. Capturing the wonder of nature, they continue to bring beauty into people's lives, with new versions of classic designs combining modern country living with a timeless and undeniably British feel,' explains Rebecca Craig, head of design at Sanderson (opens in new tab).
5. Showcase maximalist floral room decor
Chintz is well and truly back and this maximalist wallpaper with flamboyant tropical florals and foliage in dark purple – set on rose quartz – is a brilliant way to introduce the look to a bedroom. Created by House of Hackney in collaboration with iconic Mayfair club Annabel's, the paper is just one their large collection of signature modern chintz prints. For an elegant, pink room, try pairing it with pastel pink curtains to help soften the look.
6. Give a bedroom a romantic focal point
If decorating with wall-to-wall florals is too overpowering, consider introducing them through upholstery, window treatments. Covered in Osborne & Little's Fullterton design, this headboard idea makes a real statement in a bedroom, plus the sinuous curves are a beautiful complement to the romantic design.
7. Introduce a floral screen in a bathroom
Bring period drama to a luxurious bathroom with a traditional screen in a dark, romantic floral print. Introducing prints through furniture and accessories is a good way to channel the look without over-powering a space.
8. Go for dark florals in a dining room
When just reserved for entertaining and special occasions, dining rooms are the perfect space for bold decor. Using an eye-catching, botanical wallpaper in large occasional spaces will not only bring real wow-factor, it can also make these spaces feel more intimate, too.
A stylised and angular leafy design rather than a soft romantic floral, this dining room wallpaper brings real wall-to-wall drama to this dining room creating a magnificent setting for celebratory suppers and special occasions.
9. Decorate with a folksy print
Often dark floral prints are flamboyant and romantic, which often work well in grand houses, but for a more rural property why not go for a folk feel, instead? This Mind The Gap wallpaper, inspired by the design heritage of Transylvania, features Milfoil, bluebells and various local wildflowers, specific for the Carpathian forests.
10. Try small-scale florals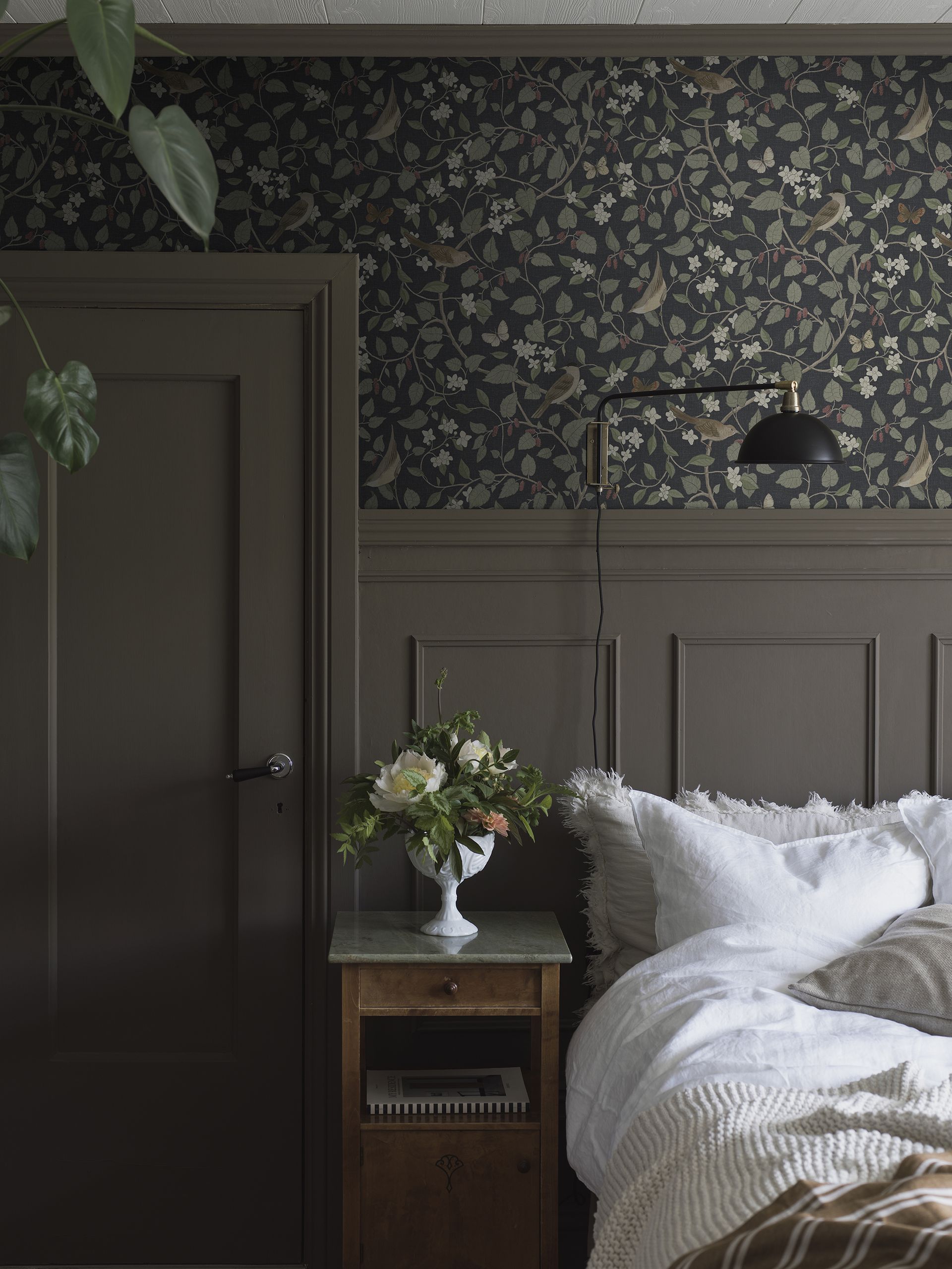 For a vintage bedroom with atmosphere, consider combining traditional wood paneling ideas with a romantic hedgrow-inspired print set on a dark background. Calming and elegant, this Borastapeter Sangfaglar wallpaper features dainty songbirds and butterflies amongst mulberry branches and sweet mock orange blossom in a subdued palette of black and mild green, which has been picked out for use on panelling to create a cohesive look.
11. Bring a touch of luxury to your living room
Buying a living room sofa is a costly investment, so it's understandable why many people play it safe with plain colors. However if you dare to be different, a bold print on a sofa can make for a spectacular focal point. Featuring sculptural shapes of lupins, ferns and strawberries, this Strawberry Field Autumn Conker print by Parker & Jules is available in either velvet or linen.
12. Wow dinner guests with a dark floral wallpaper
Featuring meadow flowers on a navy background this Hope and Bloom wallpaper by Woodchip & Magnolia is guaranteed to turn heads but also has a whimsical softness.
'Our Hope & Bloom collection was inspired by nature and the beauty of the wild, scattered flowers you'd find out in the meadows. We love how this design so easily makes a statement with its dark background and pops of color, and it would work beautifully in a dining room to create a really intimate and inviting environment,' says Nina Tarnowski creative director and joint founder of Woodchip & Magnolia.
13. Paint the back of a display cabinet
Beautiful floral room decor can be achieved through more than just wallpaper and fabric, you could incorporate dark floral prints on furniture, too.
For a beautiful statement piece why not introduce one of Devol's beautiful Decorated Cupboards fitted with a nature-inspired back panel? Available in an array of designs, from 'The Botanical' design (pictured above) to 'Rambling Wild Roses', the decorated back panels of the cupboards feature artwork digitally transferred from hand-painted designs.
14. Combine floral curtains with plain walls for a modern look
Bold, dramatic blooms are having a moment. Bring them into the 21st-century by pairing ornate floral curtains with a pastel dining room color scheme.
'Maximalism is all well and good but here at Linwood we like to take a calmer approach. Just look at how beautiful this floral fabric looks set against this simple backdrop. No pattern on pattern fighting for attention; we all know who the star of the show in this room is,' say the design team at Linwood
How can I decorate with dark florals?
It is easier than you think to decorate with dark florals in the home. Celebrate exuberant floral prints in lush color combinations. 'In particular florals take a moodier turn across fabric design, with a fixation on dark heritage blooms that create an air of faded grandeur.
Bold, dramatic blooms are perfect for those looking to make a statement; by utilising a floral motif in a darker palette throughout one's upholstery, an injection of personality is achieved without it looking overly chintzy,' says Louisa Tratalos, Head of Brand, Arley House.
Pippa is Content Editor on Homes & Gardens online contributing to Period Living and Country Homes & Interiors print issues. A graduate of Art History and formerly Style Editor at Period Living, she is passionate about architecture, creating decorating content, interior styling and writing about craft and historic homes. She enjoys searching out beautiful images and the latest trends to share with the Homes & Gardens audience. A keen gardener, when she's not writing you'll find her growing flowers on her village allotment for styling projects.