Dining room color ideas – 12 paint inspiration shades, from neutrals to navy
Dare to be different with your dining room color ideas, and create an unforgettable atmosphere for your guests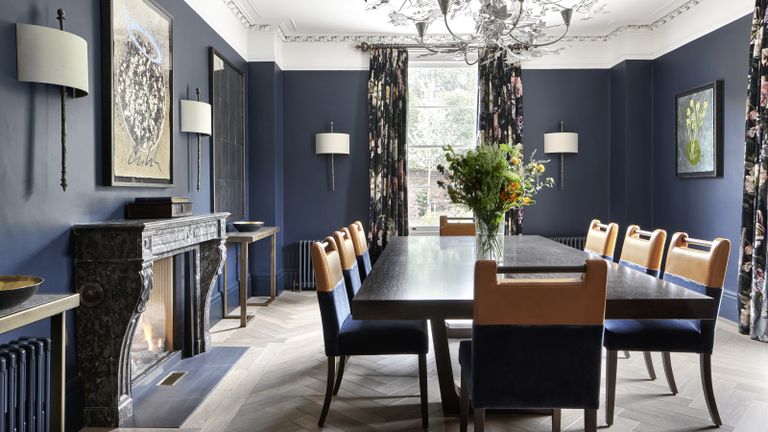 (Image credit: Davide Lovati)
Dining room color ideas define the atmosphere that you'll be providing for your guests – as creating a convivial ambience is at the heart of the room's purpose, color should always be given extra consideration.
A dining room may not be used as frequently as other rooms, but when it is used, it really goes big. As a room dedicated to entertaining and hosting joyous occasions, your dining room ideas can be a little more dressed up that other parts of the house, and should always be ready to party.
There are few hard and fast rules for choosing your dining room color scheme – it's more about your own personality. Are you talkative and the life and soul of a party? A demure host? Laid back and casual? Selecting a color which represents who you are will help your evenings to be uniquely you.
Dining room color ideas
From dramatically dark tones to playful pinks and relaxing greens, we have found some beautiful inspiration for you dining room color ideas, and asked experts for their top tips on creating the ultimate entertaining space.
1. Dare to go dark with jewel tones
The dining room is where you can be your most daring self, making dramatic design choices that might be just a little too much in rooms that you frequent more regularly. Set it apart from the rest of the home by choosing dark colors that are atmospheric at night, and amp up the sense of occasion by choosing jewel tones, like this deep emerald.
Increase the sense of luxury with brass accents, or balance the drama with more relaxed, natural textures like in this example. Contrary to instinct, dark colors work particularly well with small dining room ideas, creating a cozy, intimate atmosphere.
2. Create a modern look with crisp white
For a dining room that will work from dawn to dusk, consider something light and bright. If your dining room or space is likely to host breakfasts and lunches as well, choose something less heavy or go completely minimal with a crisp white. This works well in large, light-filled dining rooms like this one, paired with contrasting black accents and richly pigmented natural materials for a modern look, including wooden floors by The Floor Room. Add visual interest through your dining table decor ideas and pops of color through artwork.
3. Go bold with red
Red may not be the first color to come to mind for your dining room wall ideas, but it's actually an inspired choice.
Difficult to work in many rooms of the home, shades of red are bold and make a dramatic statement. According to color theory, red also actively encourages conversation, making it the perfect background to convivial dinner parties
'Deeper shades work particularly well in a dining room to add a cozy and luxurious feel that complements both traditional and modern styles,' adds Judy Smith, Crown color consultant.
'Pair burgundy with dark furniture to give the space a comforting, period-inspired look, while add touches of dusky pink to create a more contemporary and unexpected feel.'
4. Add energy with terracotta
Essentially a toned down version of red, shades of orange with bring excitement and energy into a space.
For a grown up approach, choose a mellow terracotta or spice shade, which will still provide the right energy for entertaining, but without the dramatic statement of red.
Tonal terracottas also suggest a place of harmonious comfort, so you can expect your guests to sit comfortably and hunker down for the evening. Pair with natural textures across your furniture and dining table styling tricks for a rustic edge.
5. Get contemporary with grey
As an on-trend shade across most rooms of the house right now, choosing grey dining room ideas will help your space feel contemporary whatever your style. Cool and relaxing, a dove grey with a little warmth behind it is the ultimate neutral of the moment, and can be accessorized to feel cozy and inviting, but hangs on to a certain grown-up nature that is great for formal dining rooms.
In this dining room by interior designer Tiffany Leigh, a mid-grey is built upon with a tonal palette, with cool dark browns and even an olive tree bringing out the green undertones of the grey walls.
6. Indulge in sumptuous brown woods
Terracotta may be having a moment, but it's not the only brown in town. Looking into the history books, wooden panelling in rich, caramel browns have been a favorite for decadent and intimate dining rooms for centuries. Wood-clad walls and these strongly hued warm browns can, however, have a place in modern dining room ideas too. Look to mid-century modern design for geometric inspiration and highly polished surfaces, and add textural notes to amp up the sensual notes that will encourage bountiful feasting.
7. Have a play with pink
Long gone are the days of pinks rooms being relegated to the confines of bedroom ideas for girls – over the past couple of years, pink has been encroaching more and more into the main areas of the home.
'Pink paint is proving it deserves a place in every room of your home,' notes Marianne Shillingford, creative director of Dulux. 'With the right shade of blush pink paint or dusky pink paint you can design a stylish, sophisticated space.'
Pink room walls nod at trendy brunch spots, so you can expect a fun and lively atmosphere in this chic space. Since it's most definitely playful, it's an ideal color to explore zoning with paint – perfect if you live in an open plan home and wish to delineate the dining area.
'When it comes to entertaining, atmosphere is important, so it helps to have a stylish dining space,' says Marianne. 'Zoning with color to highlight your 'area of expertise' is the easiest way to create a focal point. All you need to do is paint a block of color on the wall directly behind your table, then continue along the ceiling until you cover the area above it.'
8. Lighten up with yellow
The optimistic tones of yellow are more commonly seen in kitchens and loving rooms than dining spaces as it is traditionally seen as more of a daytime color.
That said, we'd never get anywhere if we didn't find ways of stylishly breaking the rules.
'Refresh your dining room in a sunny yellow hue that will help the space feel light and bright,' suggests Helen Shaw, director at Benjamin Moore. 'Uplifting and friendly, yellow tones help to create a welcoming feel that is essential for space made for entertaining.'
'Depending on the mood you're looking to create, consider deep tones of yellow such as ochre or honey tones which look warm and cosy when ambiently lit. Whereas softer hues can feel optimistic which are great used in more informal dining areas that are used from breakfast through to dinner.'
Crown's Judy Smith adds, 'whether used as a bold color block or a playful accent shade, yellow provides an energetic backdrop for conviviality, radiating fun and positivity into the room.'
When considering how to dress a dining table in the space, pair it with floral displays majoring in a different tone of yellow to add depth.
9. Use green to ground
Color theory tells us that shades of green are trustworthy and grounding – perhaps this is the tone for getting deep into conversation at a dinner party.
On the whole, green is a great choice for softening modern features and furniture as it harkens back to nature, providing a pleasing sense of balance and conjuring the atmosphere of outdoor dining.
Also great for dining rooms in that it suggests a sense of freshness, and who wouldn't want that around when presenting a meal?
10. Go deep with navy blue
Navy blues are a having a bit of a moment, and blue dining room ideas work beautifull in this shade, not least because of how wonderful candlelight looks flickering on deep walls.
'A dining space is a wonderful place to be bold or experimental; this is a room where you want conversation to spark,' says color and paint expert Annie Sloan.
'A rich highly-pigmented blue is a brilliant starting point; bring in joyful exclamatory splashes of clashing orange to harness the best qualities of both shades and make a real design statement.'
11. Embrace drama with black
Black dining room walls are often kept to high end restaurants, though they are slowly but surely trickling into the domestic sphere.
Deep, dark walls are often associated with older, grand homes, and while they certainly look wonderful, blacks – like this shade from Paint and Paper Library – are ideal for thoroughly modern homes.
The contrast of the blackest walls with contemporary furniture, blonde woods and natural textures is, quite simply, cool. Stop the color from overwhelming by including splashes of lighter tones, perhaps a tonal dado rail and a crisp, white ceiling.
12. Choose simplicity with a neutral
For smaller properties, make your small dining room seem bigger than it is by painting the walls with neutrals.
A cooler neutral will have a more refined feeling, but the warmer tones are more suited to a dining space as they are more welcoming to your guests. They also work really well for kitchen diner ideas, where the space needs to serve more than one function.
If you choose a neutral scheme, go full out and take these tones throughout the room for a truly calming feel.
Which color is best for a dining room?
More so than in any other room of the house, this really is down to personal taste. Frankly, anything goes in a dining room. If you're intending for it to be a real party starter of a space, you can be as bold as you like. Bright colors won't translate as well into the evening, but if you love color, choose deeper shades of hues that you love, like sapphire or navy blues and even claret reds and emerald greens. Jewel tones will lend a sense of luxury to proceedings.
Alternatively, if this dining room is intended as an all-day space, lighter shades work well. From crisp white and dove greys, neutrals are an easy way to create an inviting space for lunch and breakfast that makes the most of any natural light in the space. If you want a little more personality in there, choose sunny yellows and pale pinks for playfulness.
What color should I paint my small dining room?
You really can go one or two ways with this one. If you're keen to make the space feel bigger, then lighter is the way to go. As a standard, pale neutrals like white and grey will keep the space feeling as airy and open as possible, so work well for small rooms in general.
However, if your dining room is primarily used in the evenings, consider heading to the dark side. Wrapping a small room in one dark color from top to bottom will make it feel cozy and intimate, and create a dramatic contrast to lighter rooms of the house. Go for shades with a lot of pigment in them so the color burns through the shadows.