Yellow dining room ideas – 10 cheery designs that will spark joy
Uplifting and energizing, explore our favorite yellow dining room ideas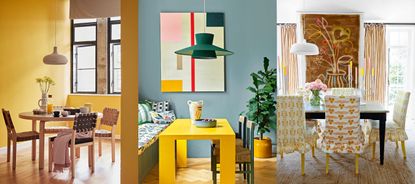 (Image credit: Crown Paints | Sarah Kaye Representation Ltd |Future )
Sign up to the Homes & Gardens newsletter
Decor Ideas. Project Inspiration. Expert Advice. Delivered to your inbox.
Thank you for signing up to Homes & Gardens. You will receive a verification email shortly.
There was a problem. Please refresh the page and try again.
Yellow dining room ideas can create a welcoming space, full of positive energy. The dining room is a place for entertainment, socialization and relaxation, so choosing bright, mood-affecting colors, such as yellow, will create an uplifting space where friends and family will not want to leave.
The color yellow is often associated with feelings of happiness, warmth and energy, and can help to establish an inviting and comforting atmosphere when used for your dining room color ideas.
Decorating with yellow can bring feelings of optimism and joy to your home, and when planning your dining room ideas, working with yellow can create an unforgettable atmosphere for you and your guests.
Yellow dining room ideas
Yellow room ideas can range from bold and bright to more soft and calming, in all it's shades, however, it has been named one of the best colors to make a room feel happy by paint experts. We have curated a range of different, inspiring designs to show you how you can make this versatile color work in your dining room space.
1. Embrace the beauty of bright colors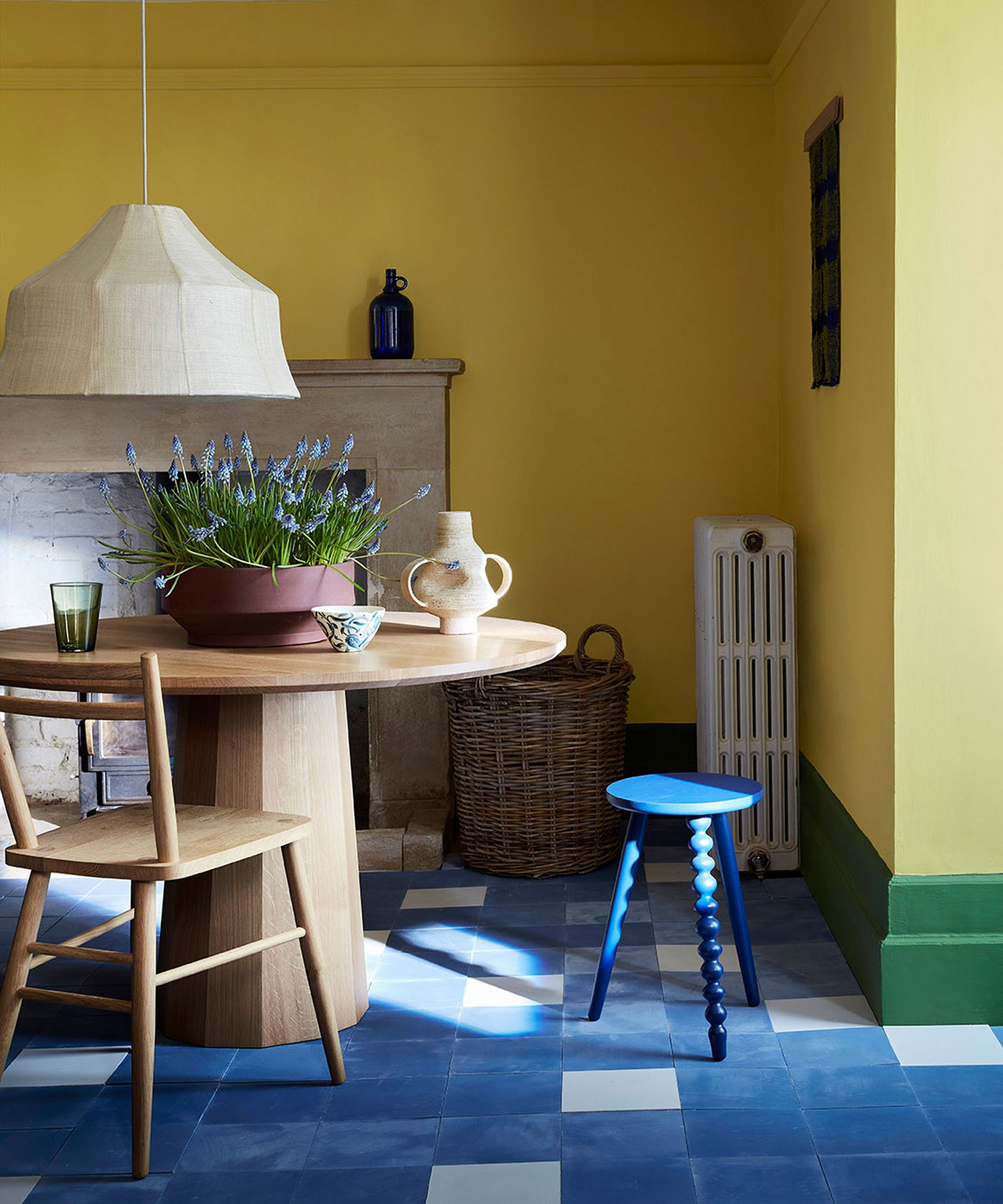 Yellow is renowned to add energy and excitement to a room, so why not take this one step further for your yellow dining room ideas and use other bright colors in combination to create a stand-out design.
As shown in this stunning dining space, painted in Indian Yellow by Little Greene, the sunny shade is beautifully complemented by the painted green skirting and blue tiled floor.
A great look for modern dining room ideas, this adventurous dining room celebrates a bright, elementary color palette. Softened by the light, natural wooden dining table and traditional stone fireplace, the overall design feels fresh, welcoming and contemporary.
2. Paint a yellow feature wall
If you want to use a bright color for your dining room paint ideas but are nervous of it feeling too overpowering, why not start out with painting a feature wall instead of the whole room.
A great way to add an accent color to a room, a painted feature wall can create visual interest and a stylish focal point in your dining room space.
In this dining room, the feature wall has been painted in Yellow Finch by Benjamin Moore, with the paneled wall in Soft Pink and the shelf in Chilli Pepper.
The use of color in this dining room has been carefully considered. The yellow feature wall is brought to life through the use of matching accessories and decorative pieces; with the blue palette adding depth and a stylish contrast. This well thought-out design feels both bold and refined, and shows how a painted feature wall can transform the look of space - one to remember for dining room wall ideas.
3. Enhance a yellow design with artwork
Martin Waller, founder of Andrew Martin states when decorating with yellow, 'yellow is mellow and uplifting all at the same time. It transports us back to long lazy sun drenched days in the Mediterranean and it can brighten us up on the darkest of winter days. Like lightening, yellow is best in dramatic flashes.'
In this dining room by Andrew Martin, the bright yellow painted wall is enhanced by the large-scale artwork by Paul Gauguin.
Decorating with art can help to bring a whole scheme together - it can also be a great starting point for a design. Picking out a particular color from a painting and using this for your paint ideas, or for pieces of furniture in a room can create a stylish and unified scheme.
The beautiful painting and painted feature wall create a striking 'flash' of yellow in this dining space, with the striped rug and upholstered chairs helping to create a design rich in texture, pattern and color.
4. Paint the ceiling for a dramatic effect
For a dramatic and unexpected effect for yellow dining room ideas, why not paint the ceiling in your dining room a warming yellow.
'Painting your ceiling a different color to the rest of your scheme can create a real talking point, ideal for a dining room where you will be entertaining and spending time with guests. It can also work well to make a room feel more intimate and cozy,' says Homes & Gardens' editor in chief Lucy Searle.
The yellow painted ceiling injects color and character into this neutral dining room space. Sleek and sophisticated, the paint has been brought down the wall slightly, with this paint effect used for ceiling ideas to make a ceiling feel taller than it actually is.
5. Use a relaxed, earthy palette
The color yellow is embedded throughout the natural world, from glorious sandy beaches to flowers and the sun in the sky.
Nature often soothes the soul, with being outdoors helping to generate feelings of rejuvenation and calm. Looking to nature for inspiration for interior design can create relaxing and grounded schemes that bring the beauty of the outdoors inside.
Similar to many green dining room ideas, this dining room looks to natural, earthy tones and materials to create a relaxed space where you can feel truly at ease. A beautiful example of yellow and green room ideas, this dining room celebrates natural colors through a soft, muted palette.
6. Create a sophisticated design with mustard yellow
'Not too bright and not too dark, mustard yellow is one of the most popular yellow shades to decorate with in the home. It's rich, deep yellow tones can effortlessly coordinate with spaces of all ages and styles, so why not bring this sophisticated shade into your dining room,' says Jennifer Ebert, Homes & Gardens' digital editor.
In this traditional dining room space, the matching, mustard yellow walls, curtains and pelmets work beautifully with the dark wooden flooring, dining table and chairs, establishing a luxurious, warm and cozy atmosphere – a great color choice for traditional dining room ideas.
7. Add color through furniture and accessories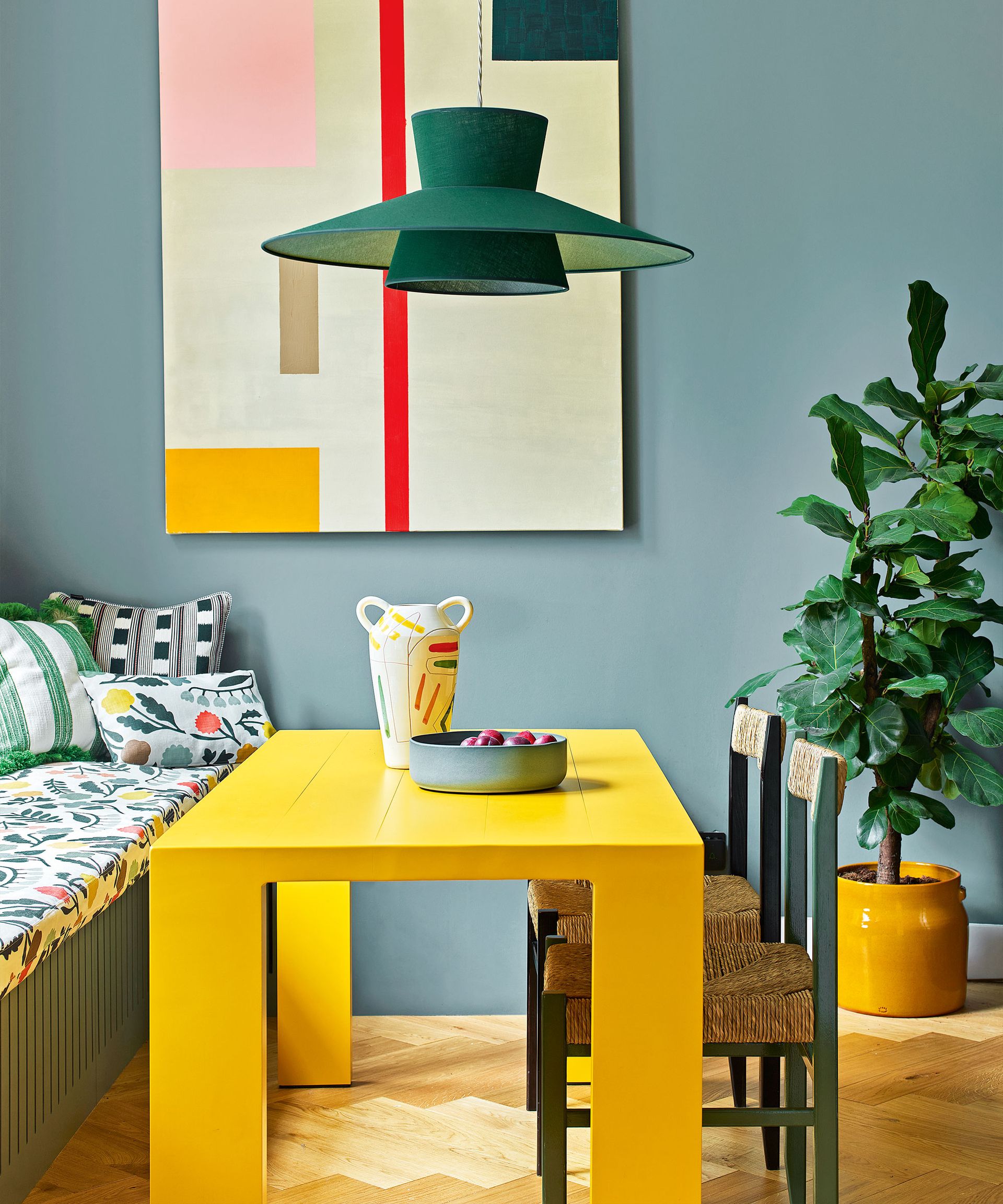 Adding color through furniture and accessories can be just as an effective way to establish yellow dining room ideas.
The dining table is the most important, central furniture piece in your dining room space, so emphasizing this feature through a striking, stand-out design or color will only make your dining room feel more unique and inviting.
In this dining room, the bright yellow, block table design creates a colorful focal point in the space. Complemented by the abstract artwork and ceramic yellow plant pot, this modern dining room is fun, vibrant and creates the perfect area for entertainment.
8. Combine different shades of yellow
Tonal or monochromatic schemes, established through the use of lots of different tones and shades of the same color, can create a balanced and harmonious design that can be both striking and subtle.
This eclectic dining room celebrates the many varieties of the color yellow, as well as stylishly combining contrasting patterns, prints and styles. With darker, mustard tones used for the striped curtains and hanging painting, and lighter shades used for the dining chairs and accessories, the yellow is perfectly balanced by the use of white, creating a lively scheme that still remains relaxing.
For more information on tonal colors and color theory, see our color wheel guide.
9. Pick a soft yellow
A great option for small dining room ideas, or for an open plan kitchen-diner, using a soft, light yellow shade can increase the feeling of light and space in a room.
This dining room, painted in Hawthorne Yellow by Benjamin Moore, feels fresh and inviting, with the light yellow, white and warming wood working together to create a timeless, relaxed look.
10. Create an uplifting space
Painting your whole dining room yellow for yellow dining room ideas can create an uplifting and joyful space, and can mirror the cheerful energy found when spending time with friends and family in this room in the home.
This dining room has been painted in warming Mustard Jar by Crown Paints, part of the their Citrus collection, with this feeling of warmth amplified by the wooden flooring, dining table and chairs. The overall space is quite minimalist in design, with only the essential dining room furniture pieces positioned in the room, allowing for the beautiful yellow color to truly take center stage.
Is yellow a good color for the dining room?
Yellow is is a great color to work with in the dining room. Full of positive energy and cheer, this color is perfect for a space dedicated for entertaining and socializing, creating a welcoming and joyful atmosphere.
As we have explored, yellow dining room ideas can be very versatile. Whether you want to incorporate bright pieces of yellow furniture and accessories, or paint the whole room a warming yellow shade, there are options to suit all styles and spaces.
Lighter shades can work well in smaller dining rooms, with darker ones ideal for more traditional, period properties, however, there are no set rules. The dining room is the perfect place to get creative and adventurous with color, as Sue Wadden, director of color marketing at Sherwin-Williams states, 'dining rooms are a nice visual break from the other spaces in your home that you spend a lot of time in, such as your kitchen or living room, so why not add some color?'
Sign up to the Homes & Gardens newsletter
Decor Ideas. Project Inspiration. Expert Advice. Delivered to your inbox.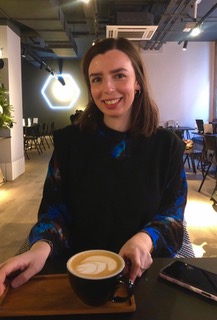 Zara joined Homes & Gardens in February 2022 as a Content Editor. After studying English Literature at University, she worked as an Ecommerce Website Editor, Content Writer and Buying Intern at multiple independent businesses within the luxury retail and lifestyle sectors. Her role at Homes & Gardens unites her love, experience and passion for the world of design and desire to create inspiring written content. She enjoys nothing more than discovering new trends, brands and products, whether that be in fashion, interior design or lifestyle.