Ceiling ideas – 13 ways to elevate the fifth wall with color, pattern and texture
Using the ceiling, the 'fifth wall', as a decorative surface can bring color and drama to a room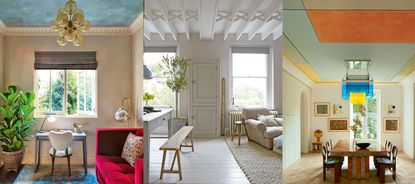 (Image credit: James Mcdonald / Paul Massey / Ricardo Labougle)
Sign up to the Homes & Gardens newsletter
Decor Ideas. Project Inspiration. Expert Advice. Delivered to your inbox.
Thank you for signing up to Homes & Gardens. You will receive a verification email shortly.
There was a problem. Please refresh the page and try again.
Ceiling ideas offer scope to expand your creativity beyond your four walls.
Our selection of the very best ceiling ideas include statement accent wall ideas and beautiful paint ideas to suit every home's style – and we have included a ton of added-value interior design advice, too.
So whether your ceiling is high, low or in need of rejuvenation, there are looks to suit. Plus, of course, we have catered to a wide variety of styles, color preferences, and budgets, and, as ever, there are ceiling ideas you can adopt quickly – no entire renovation needed.
Ceiling ideas – 13 ways to decorate your ceiling with paint, wood, wallpaper and more
Could ceilings be ripe for decorative rediscovery? Many designers seem to think so. The ceiling holds endless possibilities for creativity, and should be treated with the same consideration as any other wall in your home.
1. Paint your ceiling the same color as the rest of the room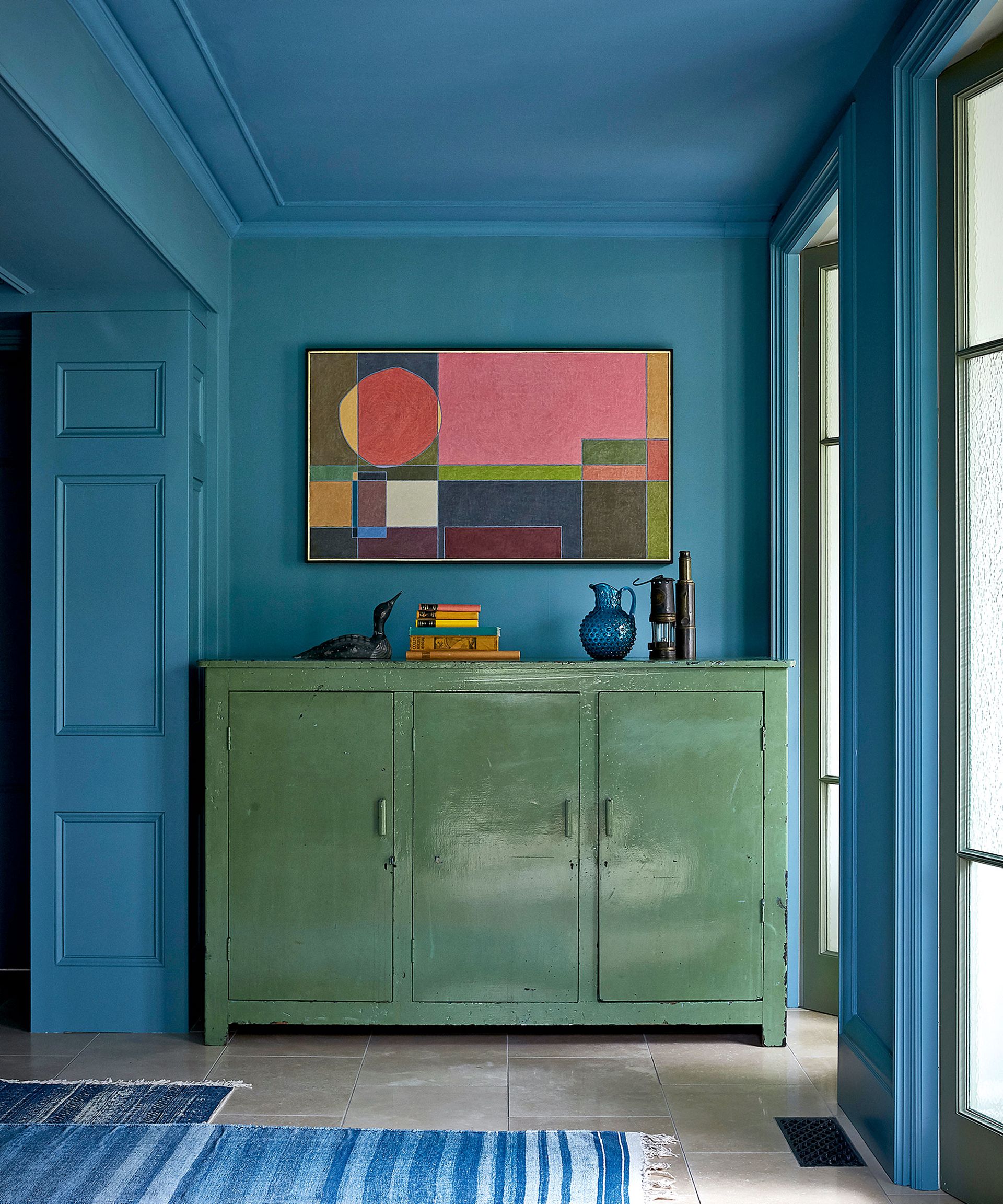 'Ceilings are a great way of adding another layer of interest and making a space feel cozier. All too often they are an afterthought but we make sure to consider their potential,' confides interior designer Nicola Harding. 'Using statement color and paint ideas on the ceiling helped extend the walls in this dining room.'
Nicola starts by thinking how she wants the room to feel, ultimately, and she also takes into consideration the amount of natural light – which comes here from the floor-to-ceiling glazed doors. With that in mind she specified a simple emulsion – Farrow & Ball's Stone Blue – that both complemented and enhanced the furniture, rugs and artwork, a great look for ceiling paint ideas.
2. Wallpaper the ceiling
Ceilings are an opportunity to take a bold wallpaper idea and supersize it. In this case that means straight up the wall and right across the ceiling with a contrasting striped paper. To achieve this effect, it's worth using an experienced decorator to deliver the best outcome.
An elegant look for ceiling wallpaper ideas, decorating with stripes will create a structured, timeless effect for your ceiling ideas.
3. Make a feature of the ceiling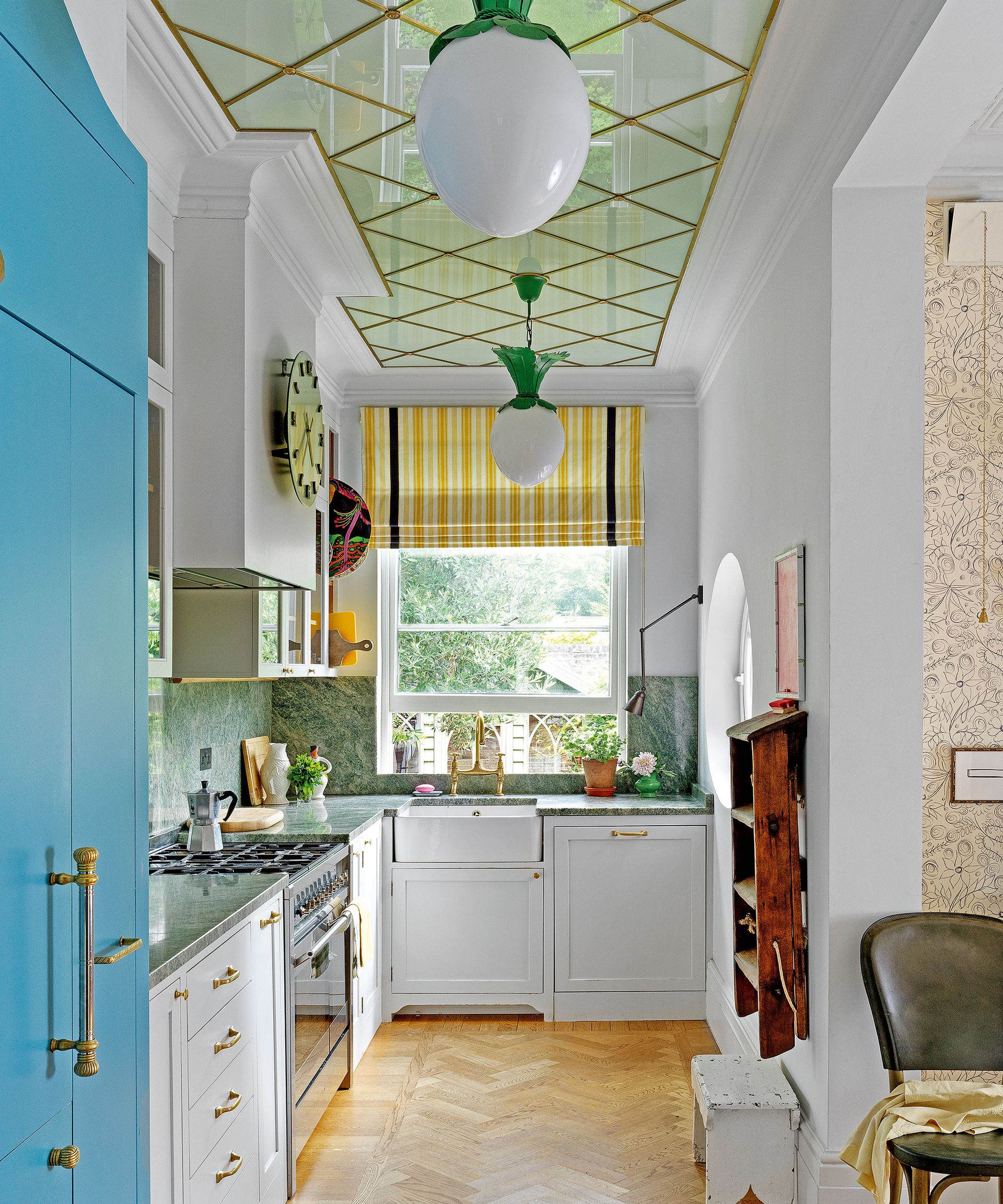 By using mostly white for the walls and kitchen cabinets, this kitchen by Beata Heuman allows the details to come to the fore. In particular the glass ceiling shines here – literally, elevating the room and adding interest through reflections, plus a real sense of more space. A beautiful example of what can be achieved with kitchen ceiling ideas.
4. Add a rustic touch with wood planks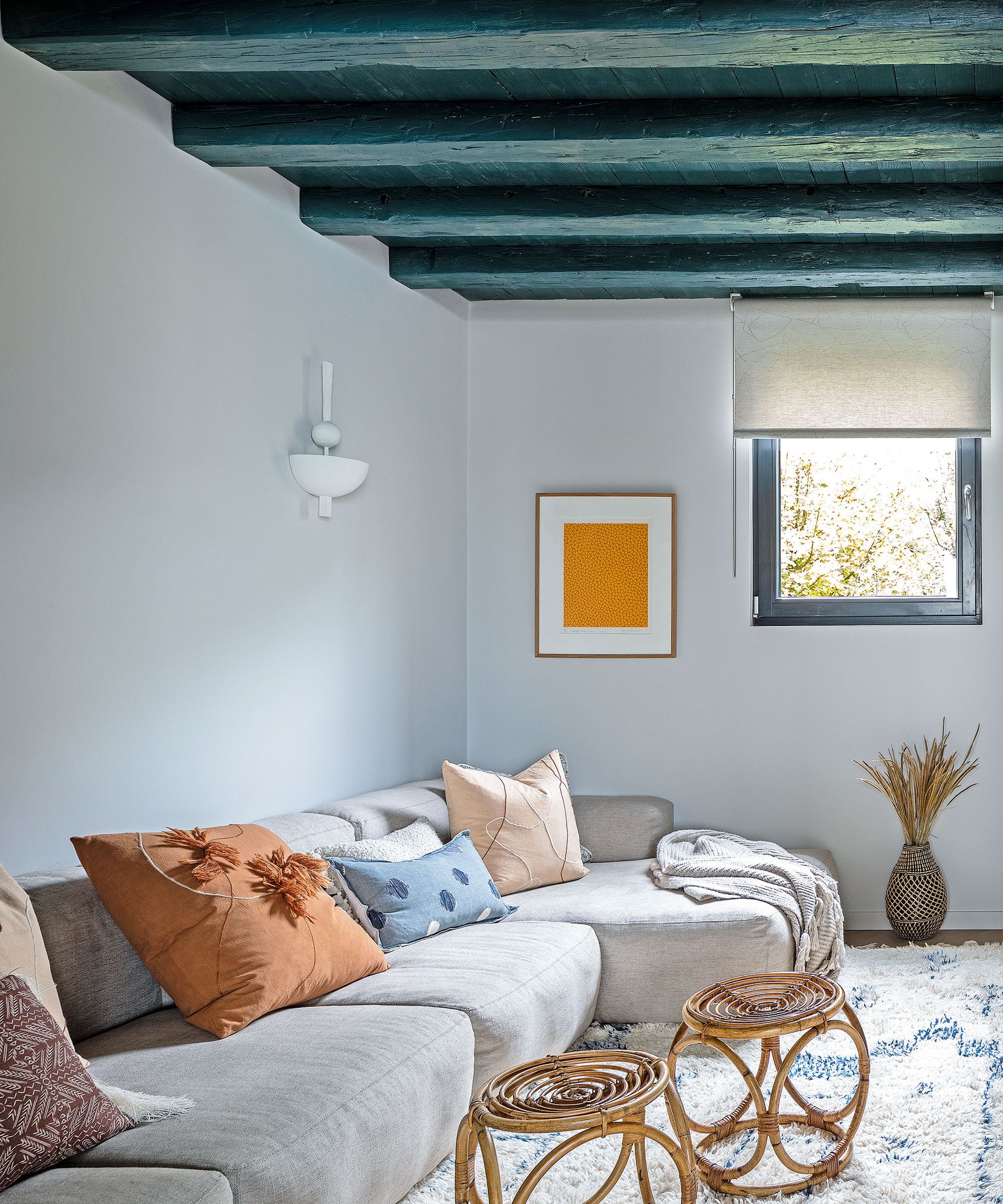 A cozy and colorful look for living room ceiling ideas, Katie McCrum's client wanted to recreate the green Parisian ceilings of her clients' first and much-loved apartment so she tracked down some reclaimed wood floor planks which were installed by Crafted Cabinetry and then painted in Harley Green from Little Greene.
An innovative design that adds a colorful, contemporary twist to the rustic nature of wood, a great look for wood ceiling ideas.
5. Go for an entirely bespoke option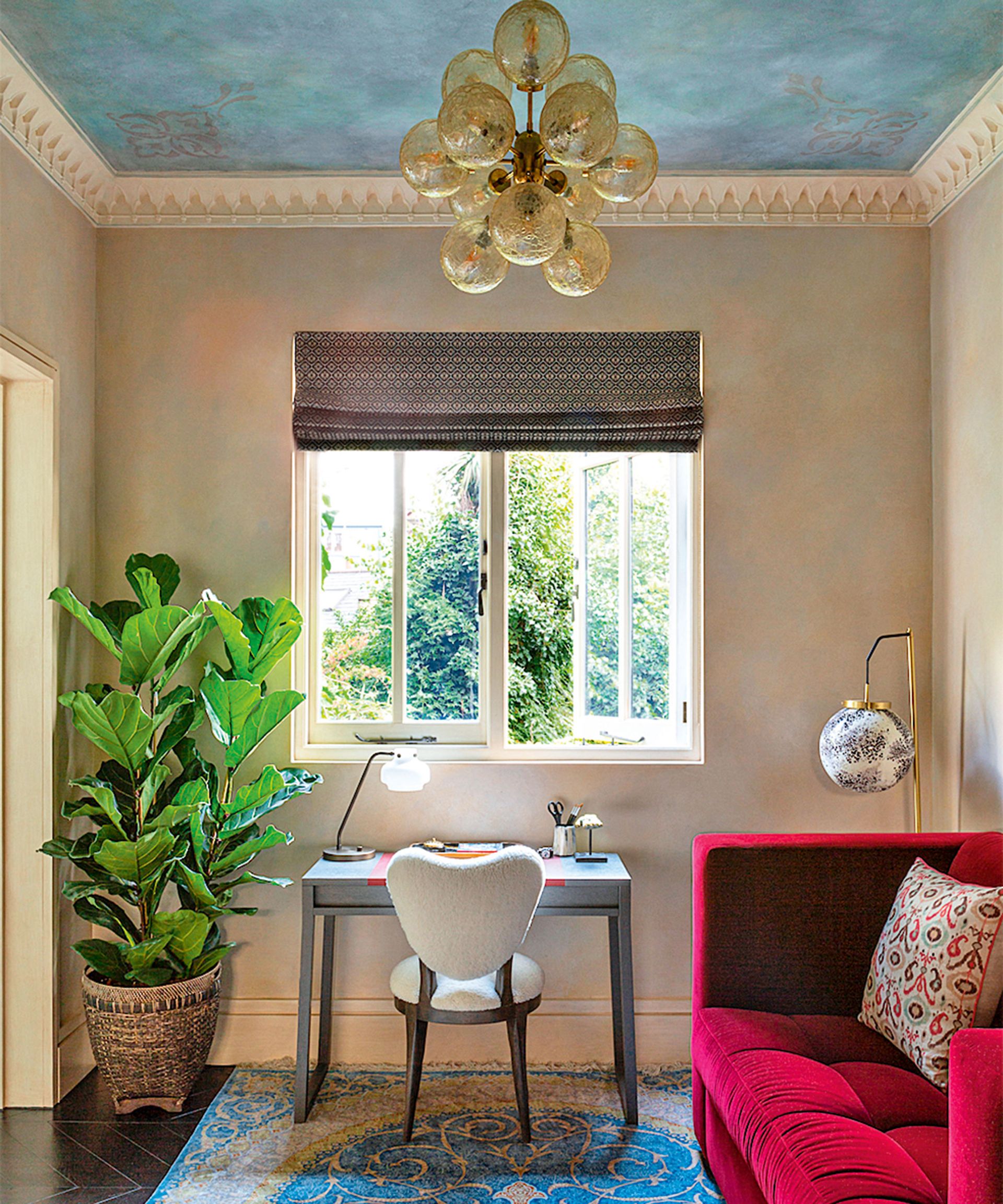 'The fifth wall is a great way to add layering and a three-dimensional aspect to the design of a space, says Elnaz Namaki, creative director, Elnaz Namaki Studio.
For this study and occasional bedroom, interior designer Elnaz Namaki chose a completely bespoke plastered paint color solution, working with a plaster finish artisan. This was overlaid in the corners with bespoke paisley stencils around the spotlights.
6. Create a ceiling that is both functional and beautiful
Although this bathroom ceiling is striking, its design is as much about function as it is about style. According to design practice Collett-Zarzycki: 'We have created a grid of stainless steel angles supporting opalescent acrylic panels that conceal bathroom lighting ideas behind,' a beautiful option for bathroom ceiling ideas.
7. Highlight architectural features
In this Salvesen Graham drawing room, a grey shade for the ceiling and cornice adds definition and is a sophisticated choice that flatters the formal living room. Pastels and whites and creams often work well – start pale and increase the intensity of color until you find the right balance, a great look for ceiling trim ideas.
8. Clad your ceiling in wood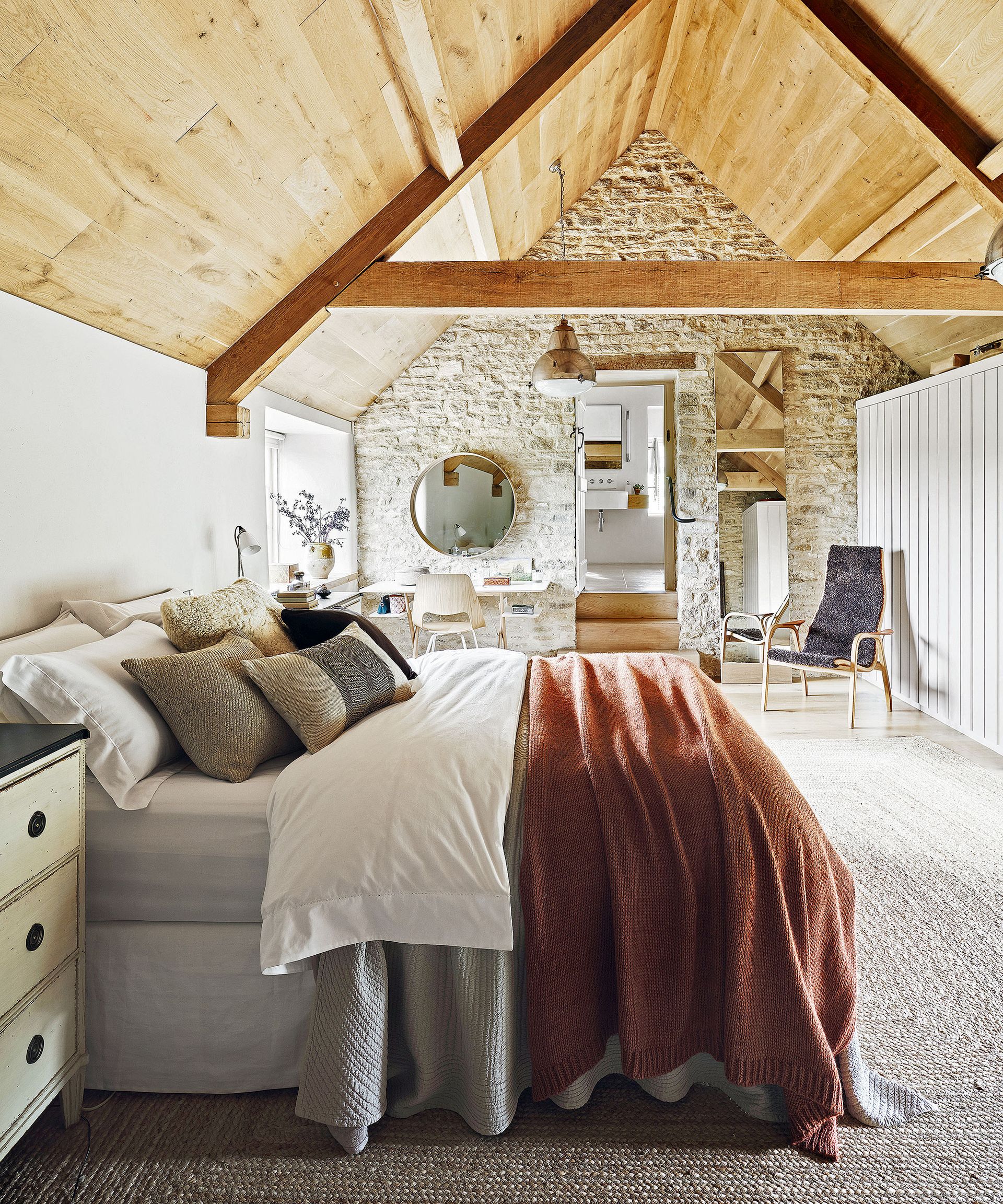 The materials in this spacious main bedroom suggest a cabin in the woods or materials associated more with porch ceiling ideas, however, the slick finishes add a layer of urban polish. To clad a ceiling in timber, especially with such a precise finish, takes careful planning. Once the choice of timber and the finished design have been signed off – long boards have been used here to draw the eye along the ceiling and are in a slightly different timber to the exposed rafter – a skilled joiner or carpenter will need to prepare the existing ceiling.
The wood will also need to be treated to protect it and preserve its good looks. This takes patience, time and budget but, as you can see, it will be ready to give a lifetime of pleasure for your bedroom ceiling ideas.
9. Paint a whimsical scene
'This kids' bathroom is for younger members of the family, so we chose bold colors and a playful approach,' says Jane Landino of design practice Taylor Howes. She put a darker wallpaper above the picture rail, a whimsical choice that feels like floating clouds.
10. Pay homage to the original 'bones' of the house
The lines and crosses of this white living room ceiling reveal the beauty of its structure and architecture, and create a lively counterpoint to the calm space below.
In old houses it can pay to investigate the original 'bones' of the house though it is important to consider the condition ceilings may be in if you expose them. The use of white paint here may have helped to conceal flaws as well as create a softer effect that blends in with the room below, a great option for beamed ceiling ideas.
While exciting discoveries are possible, it's best to proceed with caution in period properties as the process may take considerable amounts of time and money. Replacing old ceilings is a notoriously messy business and expert help may be needed to make good any damage.
11. Get creative with color
In this family living room designed by Turner Pocock, the pale walls, plus the lines of timber on the ceiling, echoed by the natural matting on the floor, create a visual ice-cream sandwich. Three darker elements – floor, living room sofa, ceiling – direct the eye to the mix of art on the wall behind.
12. Create intense contrast
This French kitchen is both modern and traditional with a combination of refined lines and authentic Parisian Haussmann mouldings. 'A deep yellow ceiling makes an intense contrast to the simple cabinetry and white walls, achieved with several coats of the same shade,' says Argile founder Jean-Frédéric Nothomb.
The ceiling was painted first with Argile's primer, followed by two coats of T644 Jaune Indien (Indian yellow). The yellow tempers and warms the brightness of the white on the walls (T111 Terre Blanche). Argile is a high-performance paint that achieves an elegant finish and striking depth of color. It comes in a classic range and nature eco range, which is made from over 95% vegetable oils.
13. Commission an artist to paint a statement design
'The brief was that the house be filled with frivolous use of dining room color ideas,' says Scott Maddux of Maddux Creative. Without its eye-catching ceiling this dining room would be a restrained space, filled with very desirable 20th-century furniture but with no element of fun and surprise.
The client's 20th-century art collection provided inspiration and specifically the work of British artist Ben Nicholson and French glass maker Louis Barillet. Both have a particular approach to geometry which is explored on the ceiling and in the glass doors, and echoed in the contemporary lighting piece by Johanna Grawunder. Scott commissioned artist Isabelle Day to carry out the painstaking paintwork.
What can I put on my ceilings?
There are a multitude of ways to elevate your ceiling with materials, color, texture and even wallpaper.
'Ceilings have been overlooked in recent times,' says interior designer Rachel Chudley, 'but when you visit historic houses, the ceiling is often treated as a masterpiece.'
Adam-style ceilings of the 18th century are often cited but ceilings have been used as a decorative surface for centuries. The 21st-century ceiling is arguably more playful with designers encouraging their clients to experiment with pattern, color and shape/structure.
And don't forget lighting. Lighting is inevitably a consideration when planning ceiling design. Think strategically about where illumination is needed. 'Lights can be a feature of the ceiling design or be incorporated into it to disappear,' says Katie McCrum, who also suggests avoiding it altogether: 'wall lights and side lights are increasingly popular alternatives to ceiling lights, especially when used on a 5-amp circuit.
How can I make my ceiling look good?
Interior designer Elnaz Namaki recommends taking the time to give a room's ceiling proper consideration, as a completely separate surface rather than an afterthought.
'We approach the ceilings in key rooms such as hallways, living rooms, studies, dining rooms and cloakrooms, the same way we approach the other surfaces,' she says. 'Start with thinking about the color, texture, reflection and finish already in the space.'
How can I make my ceiling look bigger?
Interior designers and architects have a tool kit of tricks to add the illusion of height in a room. 'Coffered ceilings make a room feel so much bigger. Architectural details can add real drama to a space, says Jane Landino of design practice Taylor Howes.
'Anything that draws your eye upwards gives the illusion of higher ceilings and grandeur. These not only add interest but also "cheat" the height of the room and make it look taller. With a coffered ceiling, we also like to use details such as concealed lighting' - a good option for basement ceiling ideas.
If there is enough space and budget Jane and her team add specialist finishes such as gilding or polished plaster, or even hand-painted bespoke murals such as celestial star maps. 'If you have enough ceiling height,' adds Jane, 'one can also consider having a vaulted ceiling or barreled ceiling which looks fabulous in areas such as wine rooms.'
Sign up to the Homes & Gardens newsletter
Decor Ideas. Project Inspiration. Expert Advice. Delivered to your inbox.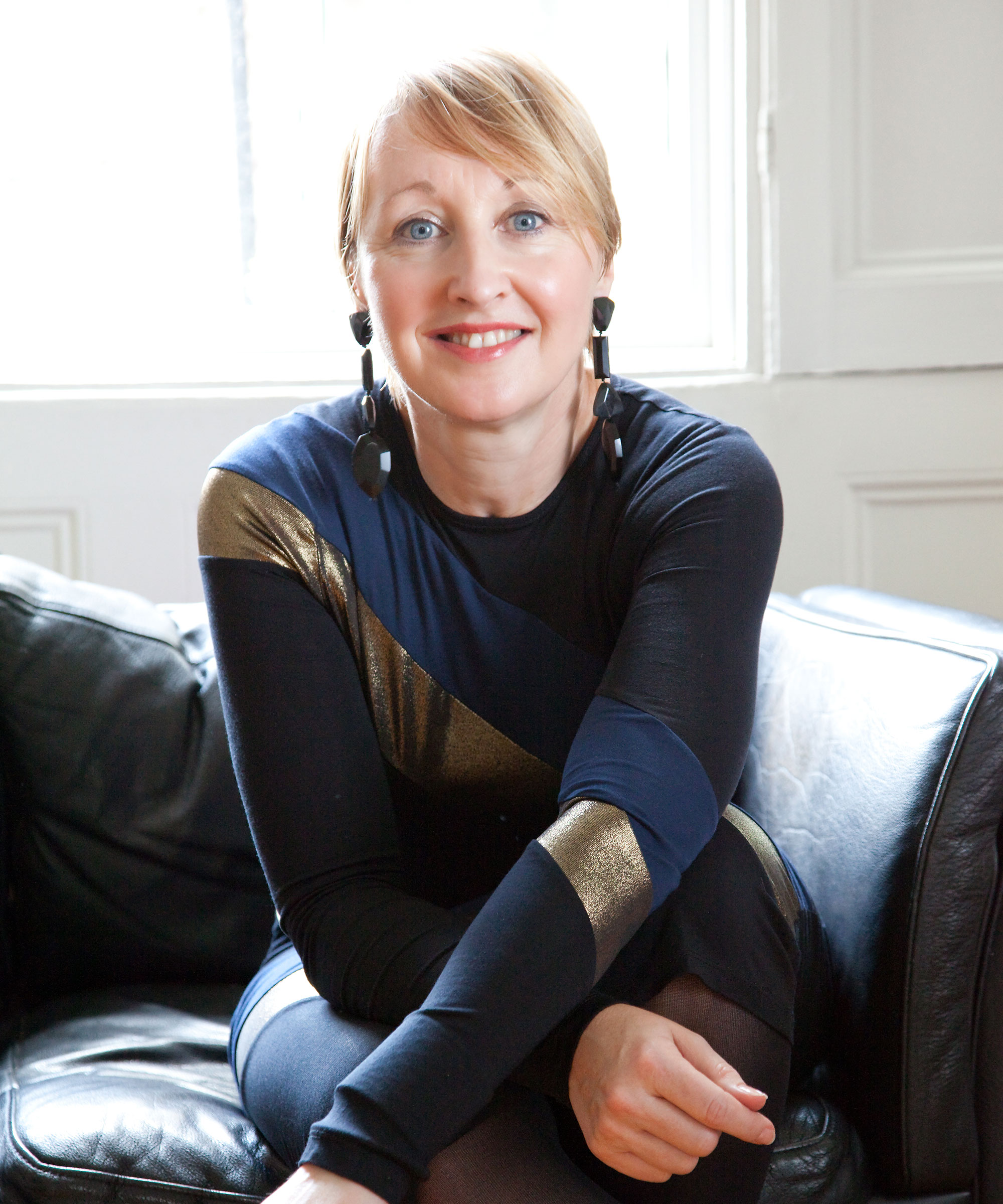 Kate Burnett is a journalist and editor who has been writing about residential design and architecture for nearly 20 years. A former acting executive editor of Homes & Gardens and Livingetc, she has written for national newspapers and magazines including the Financial Times, Evening Standard and Sunday Times. A trained designer, she has also worked with leading architecture and design practices including dRMM and Keechdesign.