Ceiling wallpaper ideas – 10 ways to wow with wallpaper
Transform your ceiling from a blank canvas into a unique artistic feature with our ceiling wallpaper ideas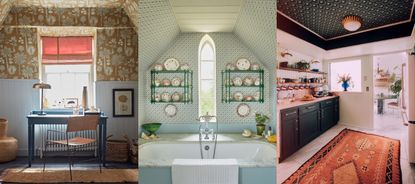 (Image credit: Jon Day Photography | David Parmiter | Divine Savages)
Ceiling wallpaper ideas can create a beautiful statement in a room, adding pattern, vibrancy, color and character to the 'fifth wall' that is often forgotten about when designing a scheme.
A stylish and unique option for your ceiling ideas, wallpaper allows for you to incorporate your favorite colors, prints and artistic designs into a space, adding a unique focal point and enhanced level of visual interest in a room.
Using wallpaper on the ceiling isn't for everyone, but this unconventional design technique can be a great way to uplift and freshen up a space with style and intrigue - encouraging you to look up as well as look around when you step into a room.
Ceiling wallpaper ideas
With so many wallpaper ideas to choose from, we have curated a selection of our favorite wallpaper ceiling ideas to provide you with some inspiration for the ceilings in your space.
1. Add style with stripes
Timeless and sophisticated, decorating with stripes is an elegant option for both classic and contemporary interior spaces.
Depending on your chosen design and how you integrate it into your space, a striped wallpaper can be both bold bold or subtle, colorful or understated.
For wallpaper ceiling ideas, a striped design can not only add shape and structure to your ceiling, it can trick the eye into thinking a room is longer and larger than it is.
As shown in this modern dining room space, the striped wallpaper is used on the upper half of the wall and ceiling, creating a stylish, elongated effect that creates an all-encompassing, cocooned effect. With the sky blue color perfectly fitting for the ceiling, this design is a long-lasting option for dining room wallpaper ideas.
2. Pretty up a dressing room
When planning your dressing room ideas, getting creative with wallpaper can add a luxurious, inviting touch to the room, elegantly enhancing the atmosphere of glamour in the space.
The perfect place to experiment with color and style, this dressing room by Vanrenen GW Designs has been covered floor to ceiling in a beautiful, Daisy Chain wallpaper print by Sarah Vanrenen.
Creating a stylish, vintage look that feels cozy and inviting, using wallpaper throughout your dressing room can help to make your dressing room feel more impressive and unique.
3. Create a unique indoor-outdoor effect
This hallway has been decorated on the upper part of the walls and ceiling in Cole & Son Nuvolette wallpaper in black and white. Defined by an enchanting sky design, the wallpaper establishes a unique, indoor-outdoor effect, adding depth and drama to this entrance into the home.
Creating an immersive and atmospheric space, the design celebrates the shapes and movement found in the clouds in the sky, transporting you outdoors for hallway wallpaper ideas.
Working with colors, textures and prints inspired by nature in interior design often creates a relaxed, tranquil effect, and as shown in this hallway space, can be both striking and calming simultaneously.
4. Make a statement in a kitchen
'Not always high on the list of rooms to use wallpaper in the home, kitchen wallpaper ideas are a great way to inject a decorative element into this high-traffic and functional heart of the home,' says Lucy Searle, Homes & Gardens' editor in chief.
In this beautiful kitchen by Arianna Danielson, elegantly uniting art deco influences with a relaxed, Bohemian style, the ceiling has been covered in Divine Savages Deco Martini Arsenic wallpaper. Inspired by the roaring twenties and the decadence of Gatsby glamour, the dark green and gold geometric pattern establish a luxurious look, enhanced by the decorative opal glass and gold metal ceiling light and perfectly matching the green cabinets.
A beautiful showcase of a mix of styles, patterns and colors, this kitchen is fun, vibrant and a great example of how ceiling wallpaper ideas can transform the look and feel of a space, a winning look for kitchen ceiling ideas.
5. Embrace a colorful, bold print throughout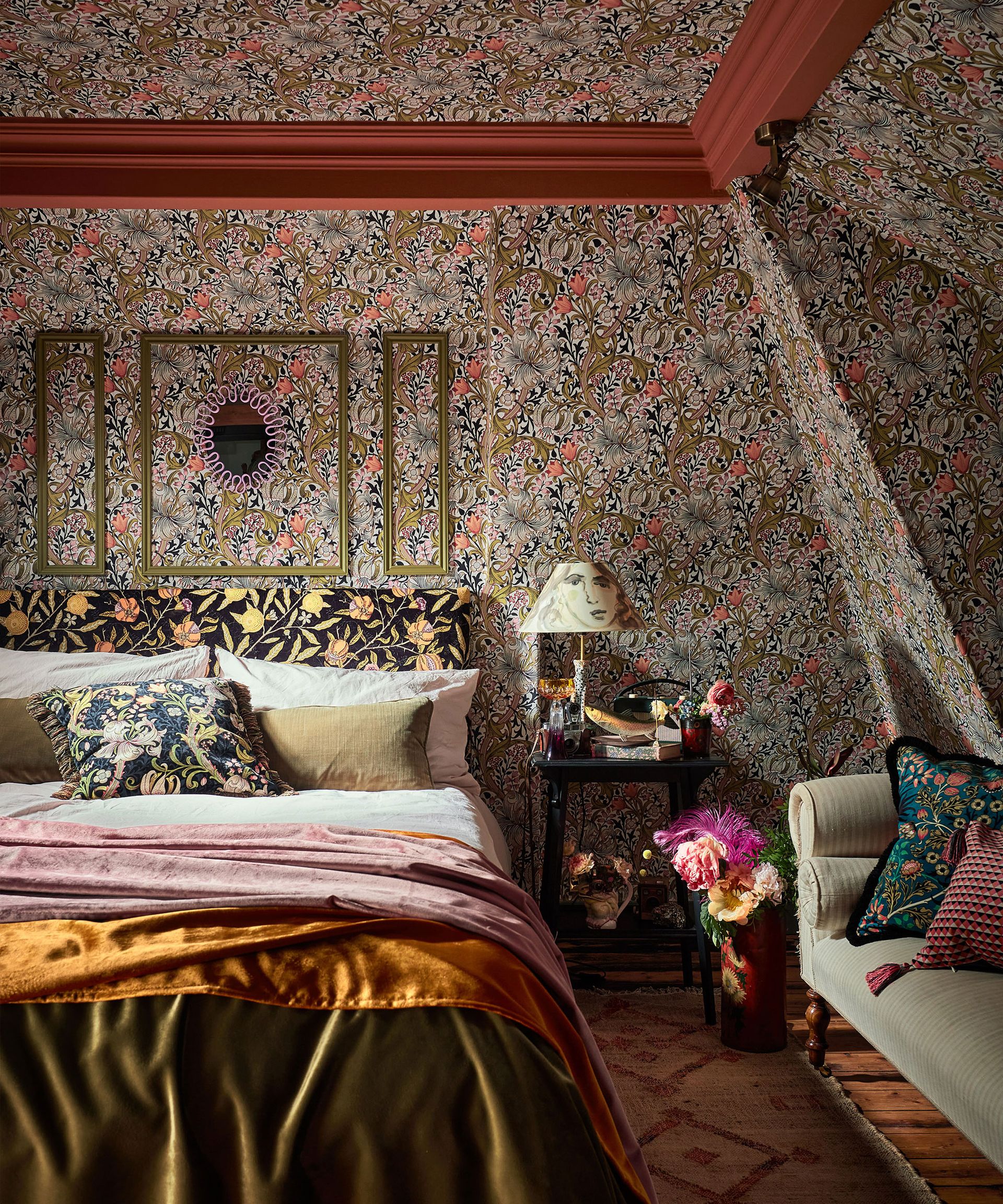 For a fun, vibrant and maximalist decor idea, using a bold and colorful wallpaper throughout the whole room can create a stand-out, impactful design, perfect for bedroom ceiling ideas.
This bedroom has been decorated in a beautiful, Gold Lily floral print from Archive by Sanderson Design. The wallpaper is enhanced by the red painted ceiling trim and complemented by the the cushions and headboard that feature designs from the same Archive collection - a stunning example of bedroom wallpaper ideas.
With the wallpapered ceiling perfectly fitting for this decadent and evocative space, the bedroom feels moody yet inviting, dramatic yet comforting, and makes the most of every inch of space to celebrate the natural beauty and dark, earthy color palettes found in nature.
6. Add character to a children's room
Children's bedroom wallpaper ideas can make for a fun, imaginative and creative environment where both you and your child can appreciate a stylish wallpaper design for years to come.
For this baby girl nursery by Margaret Ash Design, she states of the design, 'designing the nursery allowed me to design the girl's nursery of my dreams. We livened up the ceiling with Schumacher Feather Bloom Sisal wallpaper, and floral window treatments, a fun touch that can work well in the bedroom as the child grows up.'
Choosing an enduring wallpaper design like this is great for a children's bedroom as it can stand the test of time as they grow through the years.
7. Keep things connected
'For a cohesive, unified look, why not match your wallpaper ceiling ideas with the a print or pattern used in another section of a room,' says Homes & Gardens' editorial director Sarah Spiteri.
This bedroom has used the Tramonto Amber wallpaper from Graham & Brown on the ceiling and in a section above the bed to create a striking headboard effect. An eye-catching, geometric wallpaper defined by a repeated pattern of large interlocking circles, the design adds a unique, textural illusion to the space, as well as adding inviting depth.
With the rounded form of a circle renowned to add a sense of softness to a room when used in interior design, this warming wallpaper helps to create a relaxing, tranquil bedroom space, with the circles on the ceiling creating a calming focal point when lying in bed, like that of a dusky sunset - an elegant example of neutral bedroom ideas.
8. Zone the space
In this child's bedroom by Studio Peake, the walls and ceiling surrounding the bed have been decorated in Chintamani Trellis wallpaper by Ottoline.
A great example of how wallpaper can be used to zone a space within a room, the design works perfectly for children's bedroom wallpaper ideas.
Establishing a colorful and inviting sleep space, the patterned, geometric design, also used for the blind and headboard, creates a cozy, cocooning effect, one to remember for nook bed ideas.
9. Wallpaper part of the ceiling
A great technique for attic bedroom ideas, why not wallpaper the slanted ceiling surfaces and leave the central section free for ceiling paint ideas.
In this elegant country bathroom by Louisa Greville Williams, the blue and green floral wallpaper has been used on the walls and slanted ceiling area, with the central section defined by sleek white wooden paneling, adding a send of calm and balance, a beautiful example of bathroom ceiling ideas.
Louisa Greville Williams from Vanrenen GW Designs states, 'we often paper the ceiling - especially in an attic, it just makes the space so much cozier.'
Establishing a pretty view and focal point when relaxing in the bath, this ceiling wallpaper idea creates an inviting and elegant look for bathroom wallpaper ideas.
10. Add character to your study space
Now more than ever we are looking for creative ways to enhance our study space or the area that we work from home - to make it not only more comfortable and functional, but reflective of our style and identity.
For a modern home office idea, using wallpaper can beautifully transform the look of the space, adding color, vibrancy and pattern, with a wallpapered ceiling elevating the look one step further.
In this office, created for Homes & Gardens by stylist Katrin Cargill, the design is defined by an inviting blue and brown color palette and the use of natural textures. The tropical, palm leaf wallpaper has been used on the upper half of the wall and the slanted ceiling, perfectly balanced by the soft blue paint used on the wooden paneling. Finished with inviting natural textures and materials, this home office feels tranquil, soothing and unique.
'With ceiling wallpaper ideas often viewed as a bold and impactful choice, this study space shows how a ceiling wallpaper design feature can also be just as relaxing, with it all depending on your chosen print and how you style the rest of the space,' says Jennifer Ebert, Homes & Gardens' digital editor.
Is wallpaper on a ceiling a good idea?
Ceiling wallpaper ideas can create a beautiful design statement in a room, with style and techniques to suit interiors of all sizes and styles.
Tara Miller, from The Heartland Interior Design states, 'No matter what wallpaper you put on the ceiling, it is sure to make people look up. By placing wallpaper solely on the ceiling, you can make it feel like a canopy of sorts, like you are under a circus tent. Or you can have a mural installed on the ceiling so it feels like a fancy painted ceiling in a basilica.'
Carefully consider the design you want to use for your ceiling wallpaper ideas. You don't want a room to feel enclosed or choose a pattern that does not sit well with the rest of your scheme, rather you want to enhance your design and add a beautiful focal point, whether that's through an elegant contrast or the use of the wallpaper used on the walls.
For more helpful advice and tips, Joanna Gaines' latest decorating tip is decorating a ceiling with wallpaper.
Sign up to the Homes & Gardens newsletter
Decor Ideas. Project Inspiration. Expert Advice. Delivered to your inbox.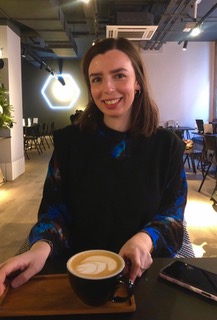 Zara joined Homes & Gardens in February 2022 as a Content Editor. After studying English Literature at University, she worked as an Ecommerce Website Editor, Content Writer and Buying Intern at multiple independent businesses within the luxury retail and lifestyle sectors. Her role at Homes & Gardens unites her love, experience and passion for the world of design and desire to create inspiring written content. She enjoys nothing more than discovering new trends, brands and products, whether that be in fashion, interior design or lifestyle.