Modern home office ideas – 10 contemporary looks for home studies
Design a stylish, yet functional, workspace with these modern home office ideas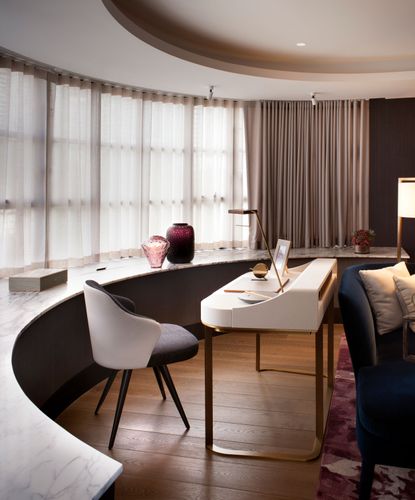 (Image credit: TG Studio)
Sign up to the Homes & Gardens newsletter
Decor Ideas. Project Inspiration. Expert Advice. Delivered to your inbox.
Thank you for signing up to Homes & Gardens. You will receive a verification email shortly.
There was a problem. Please refresh the page and try again.
The beauty of a modern home office is that with a little careful planning it is easy to ensure that it is equal parts stylish and functional; the perfect addition to a contemporary home and lifestyle, where working from home is quickly becoming the norm.
While home studies often conjure up images of traditional, often masculine spaces, complete with dark wooden desks and burgundy leather armchairs, our modern home office ideas prove just how simple it is to design a workspace that is in keeping with the rest of your contemporary home.
Modern home office ideas
Whether a permanent shift to home working has inspired a home office redesign, you have recently moved house to allow for a more suitable workspace, or you're looking for an easy way to fit a workstation into your home, our modern home office ideas and home office design tips promise to provide plenty of inspiration.
1. Break up a white scheme with purifying houseplants
An all-white, small home office has plenty of aesthetic appeals and certainly makes for a calming work environment. However, these spaces can start to feel a little clinical, particularly if your desk is positioned against a wall.
Here, house plants, carefully positioned behind the desk been used to add texture and interest to an otherwise blank canvas. Not only is this visually appealing, but opting for air-purifying plants will also ensure a cleaner working environment.
2. Experiment with on-trend paint shades
The beauty of a home office is that it is often one of the smallest spaces in the house, which is worth remembering if you are considering experimenting with a trending home office paint shade or wallpaper print. Rather than commit to something trend-led in a larger space, such as the living room, consider the home office the perfect canvas for playing around with interior styles. Here, a gorgeous shade of blue creates a calm working environment.
3. Ensure your custom home office will evolve as requirements change
This modern home office setup was designed with adaptability in mind, which is essential if you are investing in a smart, custom finish such as this.
Rachelle Lazzaro, the Lead Designer at OAK Design Project, told us: 'we always lean into custom millwork when working with clients so that we can tailor the space to meet their needs.'
'For this particular office built-in, our clients wanted to utilize an unused dining room into a suitable workspace for their two small children while still allowing the space to be transitional for future use. The shelving towers were customized to fit within an awkward builder-grade obstacle but now feels intentional while serving as ample storage space for board games and art supplies. A mix of open and closed shelving gives the built-in the perfect blend of form and function.'
4. Embrace bold paint in a modern workspace
When it comes to choosing a paint shade for your modern home office, it is easy to be drawn to the aesthetic appeal of a simple, white space. But, if a stripped-back and simple aesthetic is not your style, do not be afraid to embrace something bright and bold.
Patrick O'Donnell, Farrow & Ball Brand Ambassador, told us: 'We all need something to keep us smiling through those 8 am video meetings or marathon study sessions – and why shouldn't it be a generous dose of your favorite color? Creating a workspace that invites and excites you can help keep those motivation levels high, whether it's with a mood-boosting hue like India Yellow, a focus-promoting dark tone like Railings, or anything in between that takes your fancy.'
5. Flood your modern home office with natural light
Positioning your desk so that it faces out of a window is a space-enhancing solution that's perfect for a modern home office. And if your home office sits inside a larger space – as it does in this stylish room – facing outside and away from the room has the power to make your workspace feel separate, which is great news if you struggle to work and rest in the same environment.
Here, a pretty window treatment frames the desk, further creating zones within the multifunctional space.
6. Slot a modern home office into a small space
If you're short on space, it's worth taking a good look around your home to see whether there are any small, unused spaces that, with a bit of imagination, could be transformed into a stylish workspace.
Here, an awkward box room was transformed into a functional workspace with minimal effort. Simply source a small desk, stylish desk chair and fix some storage solutions to the wall and you have a fully functioning office space. And if you envisage returning to work full time at some stage, this workspace will be just as easy to deconstruct.
7. Create a separate home office space to achieve a better work-life balance
It can be difficult to maintain a healthy work-life balance if you work from home permanently, which is why Emma Sims-Hilditch, Creative Director of Sims-Hilditch, advises clients to 'situate an office space in an external building like a coach or summer house,' if space allows.
Emma adds 'for those without this option, ensure your home office is located in an area that can be shut off from the rest of the house. Finally, remember that unlike the office at work, this space is your own. Make the most of this by hanging artwork and photographs which inspire you. You might also like to place your favorite flowers on your desk to add a note of optimism and personality to the space.'
8. Find inspiration in your surroundings
If you are fortunate to live in a green space, be sure to make a feature of it when designing a modern home office. This floor-to-ceiling sliding door not only draws the eye when entering the space, making it appear larger and lighter, it also adds a sense of calm. During summer the doors can simply be slid open to truly bring the outdoors in.
9. Design an adaptable workspace
Oftentimes, the modern home office serves more than one purpose. Aside from being a spot for you – and possibly your partner – to work throughout the day, it's likely also a space for kids to complete homework.
With this in mind, you will need to ensure that your workspace can adapt to suit a variety of needs. The key to this is to keep things simple. Here, a simple desk set-up with minimal clutter ensures that the space can be used by all. Alternatively, opt for a hidden desk to keep the room looking minimalist and smart.
10. Ensure your modern home office inspires you
Ensure your home office is a space that keeps you feeling inspired by regularly switching up your soft furnishings and accessories. This doesn't have to be expensive, you might simply shop the belongings you already own, making a few switches every month or so.
Interior design blogger Lesley Graham gave us the following advice: 'I think a home office is a great place to have fun. Go for a daring color, create an inspiration wall or pinboard and just design a room that feels like the fullest expression of you. In my experience this makes work and creativity flow beautifully together.'
How can I make my home office look modern?
To make your home office look modern, ensure you stick to a simple scheme. Either a single paint shade or two shades blocked together, will create a clean and contemporary feel, while floral and printed wallpapers will achieve a more traditional finish. Choose a hardwood floor for a space that is both modern and easy to keep clean.
From there, opt for simple, streamlined furniture, preferably in a similar shade to the paint color you have chosen for your walls. For example, opt for a black or dark wood finish in a space with a dark scheme, or white or light wood in a room with a light and bright feel.
Inject life into your modern home office by decorating with house plants and well-chosen prints. You might even consider putting up a pinboard that is more informal and will allow you to switch up your artwork with ease – a great option for those who want their space to inspire.
How do you decorate a modern office?
To decorate a modern home office, the key is to keep things simple. Paint shades should be fresh and inspiring – many people opt for blues and greens which achieve a calming feel in a workspace.
That said, bold paint shades, as well as trendy dark shades, will work well in a home office with the right proportions. Options such as color blocking, or creating a feature wall, are available if you don't feel ready to commit to a single bold paint shade.
Generally, bold prints and floral wallpapers are best avoided in a modern home office as they tend to achieve a more traditional feel.
Sign up to the Homes & Gardens newsletter
Decor Ideas. Project Inspiration. Expert Advice. Delivered to your inbox.
Emily first (temporarily) joined the Real Homes team while interning on her summer break from university. After graduating, she worked on several publications before joining Real Homes as Staff Writer full time in mid-2018. She left the brand in 2020 to join the police force but continues to write for Homes & Gardens about interiors.