Small home office ideas – 18 tiny home office designs
These small home office ideas are guaranteed to increase productivity without compromising on style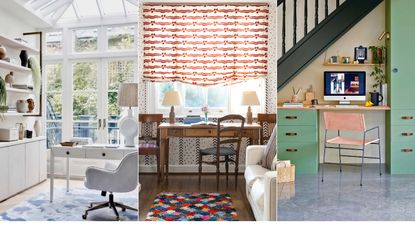 (Image credit: Future)
Small home office ideas are now a staple part of home design. Once considered a luxury, they are now a necessity with many of us regularly working from home or perhaps even permanently.
With a little thought, clever home office ideas and design know-how, it's easy to create a productive working environment, no matter how little space you have available.
Small home office ideas
Whether you're repurposing a box room to function as your tiny home office or are looking for ways to work a workspace into an empty corner of your home, our small home office ideas are here to inspire. Designed with productivity in mind, these spaces are stylish and functional, whatever your work from home needs.
From home office design tips on how to make a small home office feel larger and ideas for transforming an unused space into a home working station to advice on choosing furniture, storage solutions, and paint shades for your tiny office space, our small home office ideas provide plenty of inspiration.
1. Position your desk in front of a window
When working out your home office setup, give due consideration as to where to cite your desk. Choose the largest desk possible for your space – there are plenty of home office desk ideas – this will increase the flexibility of your small home office ideas.
Where available, always position your desk in front of the window, doing so capitalize on the natural light coming into the room – not only good for your eyes and wellbeing but will also look flattering when you're on video calls. 'When working for long hours it's really important to have fresh air, so near a window is best and it's nice to look outside when your eyes need a break from the screen,' advises Kate Guinness of Kate Guinness Design. Maximising the amount of sunlight in your home office ideas is a must, and knowing how to increase natural light will certainly help with this mission.
Once you've positioned your desk, also think about the design of your worktop. 'A vase of flowers on the table always helps bring cheer. Similarly to the flowers, a lovely piece of art, or patterned wallpaper or blind, can be great in a workspace to give you something lovely to gaze on when you need a break from the screen/inspiration,' adds Kate. You can even consider desk Feng Shui to bring balance to your workspace.
2. Let your design be inspired by the natural world
The natural world is renown for its power to inspire and its ability to aid concentration and reduce anxiety. Therefore, it is essential to incorporate as much greenery into your small home office ideas as possible.
'One of the simplest ways to incorporate biophilic design into your home office is to make sure it benefits from an inspiring view – ideally with lots of greenery. If the layout of your home doesn't allow for this, then the next best thing is to incorporate large house plants into your floorplan together with small potted indoor plants on desktops, windowsills, and shelving units,' says sats Irene Gunter, founder of Gunter & Co.
'If you would like to take this idea to the next level, group plants of varying heights together, creating a stunning mix of different textures and colours to mimic nature. Other ways to bring a feeling of the natural world into your home office is to paint it in natural colours, source nature-inspired artworks and think about how you can maximize natural light.'
3. Make the most of unusual spaces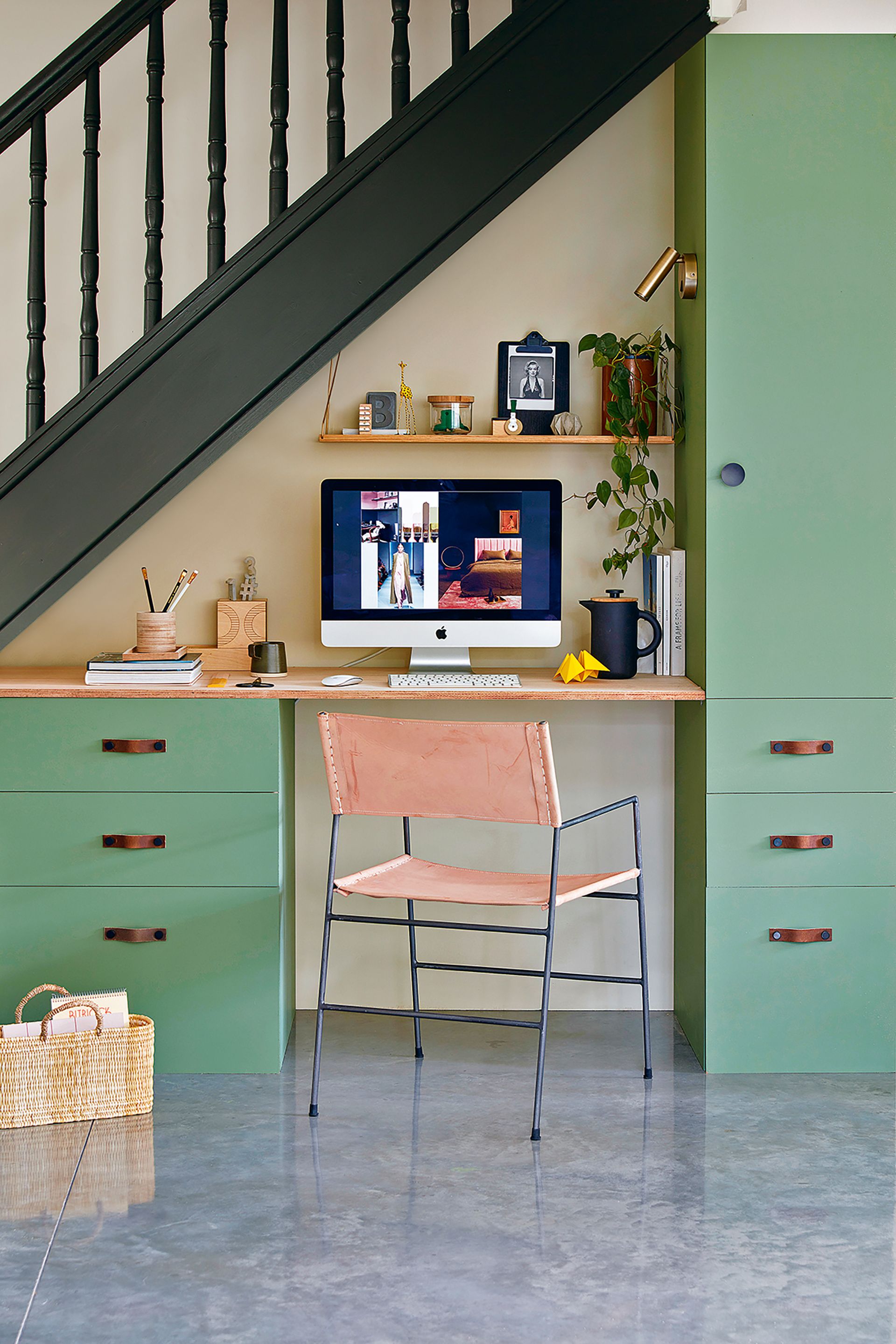 Not everyone has a dedicated room they can consign to be a home office, especially if working from home is only an occasional affair. This is where the nooks and crannies of your home come into their own. When creating small home office ideas for these unusually shaped spaces, it is advisable to opt for bespoke fitted furniture paired with comfortable home office seating ideas.
'The big advantage of bespoke furniture is of course that it can fill the space and cope with any idiosyncrasies. It is amazing how much storage you gain by going high up the wall, and if you make it no deeper than it needs to be your room will still feel spacious. Your designer can measure exactly what needs to be housed or displayed and make sure that it will all fit, look good and be accessible,' advises Simon Tcherniak, senior designer at Neville Johnson.
For small home office ideas, organizing a desk is essential to keeping the space feeling productive.
4. Prioritize task lighting
When focusing on an intricate task such as reading and writing, it is vital that you have good lighting, thankfully there are lots of home office lighting ideas that are sure to help.
While a pendant or wall lights may provide ample ambient lighting, your desk is likely to require something more focused. 'A good desk light can lift the spirits and increase focus. Whether you have a dedicated study or a converted nook, lighting is key to creating a mood of productivity,' says Original BTC director, Charlie Bowles. 'Look for streamlined designs with angleable shades, to cast light where it's most needed. A bone china shade will create a soft welcoming environment you're eager to spend time in, while a metal shade concentrates light on paperwork.'
5. Opt for a bureau to create a hidden home office
Not everyone is able to dedicate an entire room to their work pursuits, for many of us our office must also double as a living room, guest bedroom or other space. Thankfully there are lots of small home office ideas to help you design a flexible space, complete with hidden desk ideas.
'It's crucial that a home working environment doesn't encroach on one's precious personal space. This means being able to stash your laptop and work phone out of sight at the end of the working day. If they are out of sight, hopefully they are out of mind! Successful storage always comes down to plenty of forward planning. Think about how you use the space and what you want to hideaway or proudly put on display,' says Irene Gunter.
6. Use colour to create an inspiring space
When designing a home office it is important to ensure that the space doesn't feel dull. Given the amount of time you will spend sitting at the desk, your home office needs to feel like a space where you want to spend time.
In a study commissioned by MyJobQuote, Lee Chambers MSc MBPsS , Psychologist and Wellbeing Consultant explored the best colours with which to decorate your home office.
'Blue is known as the official colour of productivity. It promotes calm concentration and emotional balance that helps to keep you in a state of flow. However, too much blue can leave you a little too relaxed and blunt your innovative streak, so consider adding some warm colour accents.'
Shades of blue are also very important from a psychological viewpoint: 'Turquoise has been identified as finding a balance between blue and green, taking benefits of each and having been shown in office environments to improve decision making and creative communication.'
7. Fit a small home office into an awkward space
If you can't dedicate an entire room to your dream home office setup, consider whether there are any awkward spaces in your home that, with a spruce up, could be transformed into a functional workspace.
Here, an area under a sloped ceiling – typically a difficult space to style – becomes an ideal small home office with minimal effort required. Printed wallpaper is used to add interest to the space and prevents the feeling of staring at a blank wall while you work.
8. Opt for simple and streamlined furniture styles
When choosing furniture for a small home office, opt for pieces that are simple, streamlined, and classic in their design.
Bulky furniture will overwhelm a small space, making it feel boxy. Contrastingly, streamlined solutions will open up the space, allowing it to feel larger and lighter. Plus, it's well documented that a clear, clean, and simple space is of benefit to those seeking to increase their productivity.
9. Install a custom unit for a high-end home office
If your modern home office ideas calls for more than a desk and desk chair, consider investing in a custom unit to achieve a high-end finish.
Here, some clever thinking has transformed traditional kitchen cabinetry into a sleek but small home office. Complete with open shelving, deep drawers, and desk space for two, this home office makes the most of a compact space, while opting for a sage green paint shade and gold fixtures to ensure a smart, cohesive finish.
If space allows, you might even slot this small office space into an open-plan living area.
10. Hide your small home office at the end of the day
This solution was designed with small home offices in mind; a clever option for those whose rooms serve multiple purposes.
Anna Trinder, Director of The Dormy House told us: 'With more employees working from home on a long term basis, it's never been more important to balance your home and work life. Being both stylish and functional, our Bruton Home Office is the perfect small home office hideaway for when you've finished your working day, no matter how much space you have to play with.'
11. Opt for a light and bright scheme in a small home office
This clever small home office idea transforms dead space into a functional working environment and can be achieved on a small budget.
Opting for a simple white color scheme opens up the area, ensuring it reaches its lightest and brightest potential. A matching white writing desk blends in with ease, preventing the space from feeling cluttered, while sweet desk accessories and wall art prevent the all-white scheme from feeling too clinical.
12. Maximize storage potential in a small home office
If you're running a small business from your small home office or have a job that requires plenty of paperwork, storage solutions are key to ensuring you remain organized. Here, built-in floor-to-ceiling solutions maximize a small space. Then, simply invest in some sweet boxes and shelf dividers and organize to your heart's content.
13. Repurpose a small space
Hidden desk ideas are very popular for small home offices – especially those positioned in a room that has a second purpose.
Patrick O'Donnell, Brand Ambassador for Farrow & Ball, gave the following advice on designing a small home office: 'Finding a suitable workstation, especially one that we can walk away from at the end of the day, feels like a luxury that few of us have but, there are some clever ways to get around this, such as re-purposing a built-in cupboard. With some de-cluttering and a little creativity, try painting the interior in a contrasting color. A restful blue such as Light Blue No.22 will create a gentle, calming backdrop for a good working environment.'
When it comes to choosing a color for your home office, Patrick adds that 'Blues are a color of nature which has relaxing qualities, especially at the softer end of the spectrum.'
14. Prioritize natural light to make a small home office feel larger
Consider positioning your desk facing a window – an easy way to make a small workspace feel larger and lighter.
Emma Sims-Hilditch, Creative Director of Sims-Hilditch, provides the following advice: 'Lighting is an important consideration when designing a home working space. We recommend placing the desk close to natural light if possible, maybe even with a view of the garden or outdoors. This can be supplemented with task lighting, like a table or floor lamp for when the evening starts to draw in.'
15. Match furniture to your paint scheme for a smart finish
When it comes to home office paint colors for small space, it can be tempting to choose light shades to reflect light. However, if limited space means that your home office consists of a desk and chair tucked neatly into the corner of your living room, you might consider opting for furniture in a similar hue to your paint scheme – the aim being to make the corner devoted to your small home office blend away rather than stand out.
Here, a dark wood desk and chair blend seamlessly into an on-trend dark blue living space, creating a smart cohesive feel. A stylish table lamp in a contrasting shade is not only a functional addition but adds some interest to the space, while a small art print is effective in helping zone the workstation.
16. Design an adaptable alcove office
This alcove office was designed with flexibility in mind, which is just what you need if your small home office will be required to serve multiple purposes. In addition to being the ideal space for home working, it also makes a suitable homework station for teenagers. Simple shelving provides plenty of storage potential, while a fresh blue paint scheme ensures the space will serve a variety of needs.
17. Make a small home office stand out
When contemplating a home office scheme, function – such as storage – must be central to your design, but does not have to be visually dominant. Choosing an eye-catching focus, such as a statement office chair or a beautiful antique desk, even a work of art, will distract from the room's purpose and make it feel as considered as a living space.
'Your design approach to a home office is not unlike any other room in the house,' advises interior designer Athena Calderone. 'It should speak your visual language and evoke personality. But perhaps the most important thing to remember is the delicate dance between aesthetics and utility. A workspace should be designed to inspire and motivate you each day, but also be grounded in practicality.'
18. Purpose-design a small home office
A small home office design gives you the perfect opportunity to be efficient with space, positioning the desk, storage, and everything else you need along one wall, so that everything is to hand and neat – here, simple shelving doubles as a desk, too, to keep the space streamlined.
'The beauty of this small home office, for me, is the window,' says Homes & Gardens' Editor in Chief Lucy Searle. 'The room is small and boxy, and designed with just one purpose in mind: working, but the connection to the view outside through the floor to ceiling window elevates the space from enclosed attic space to a bright space that's bound to inspire.'
How do I make a small home office look bigger?
To make a small home office look bigger with ease, it is a good idea to reach for light paint shades. White paint will make a small space look larger and lighter, but if you are concerned about your small home office looking too clinical, other options include light shades of green and blue which will not only have a space-enhancing effect but are also recognized for their calming properties.
From there, it is best to avoid large, bulky furniture with a dark finish. Instead, opt for simple, streamlined solutions in light wood or white. Ensure you have effective storage solutions – particularly if your work calls for plenty of paperwork – as a cluttered space will look significantly smaller than an office that is neat and organized.
How do I maximize a small home office?
To maximize a small home office, it is best to think about the purpose you want your workspace to serve from the outset and to prioritize investing in quality pieces that will ensure a healthy working environment. This way, you will avoid filling the space with unnecessary furniture and accessories which will make the space feel smaller than it is.
If all your work setup requires is a desk and desk chair, avoid being drawn into purchasing unnecessary storage solutions which will only be left unused. Conversely, if you know that you require ample storage, consider investing in a custom office space that will maximize the potential of your small space.
How small is too small for a home office?
So long as you can work there, there is no size too small for a home office. Whether you're capitalizing on the space under the stairs or are working from a bureau, you can create a home office to suit whatever space you have available. In an ideal world, a small bedroom makes the perfect space, but that isn't always readily available.
If you are worried about the available space, consider drawing on garden room ideas to create a purpose built home office.
Sign up to the Homes & Gardens newsletter
Decor Ideas. Project Inspiration. Expert Advice. Delivered to your inbox.
Emily first (temporarily) joined the Real Homes team while interning on her summer break from university. After graduating, she worked on several publications before joining Real Homes as Staff Writer full time in mid-2018. She left the brand in 2020 to join the police force but continues to write for Homes & Gardens about interiors.