Boot room ideas – 25 modern, traditional and country looks and expert tips
Incredible boot room ideas for your home, from storage to surfaces, flooring to furniture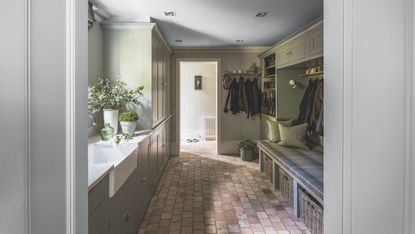 (Image credit: Mel Yates/Future)
For busy families, dog lovers, and anyone who enjoys an outdoor lifestyle, a boot room is the no-nonsense space that will soon become your happy place.
By keeping outerwear, boots and shoes, pet paraphernalia and all sorts of other kit – paddle boards, skateboards, rucksacks – in one designated, organized space, the knock-on effects will be felt throughout the entire home.
We've spoken to the experts to discover their best boot room ideas, storage solutions and organising tips.
And if you don't have a boot room, you'll find that lots of these suggestions work for hallway ideas, too.
Boot room ideas – the essential ingredients
'When I'm working through boot room ideas with clients, I always recommend tiled floors with dark grout to hide dirt,' explains Dee Gibson, founder of interior design service, Velvet Orange.
'The essentials will depend upon your needs and space available, but consider a large coir mat in the entrance, a dog bath and/or a sink to hose off muddy clothes or soak a few items, built-in cabinets for storage, and hooks with plenty of space around them for bulky outdoor coats.
'A boot room is a good spot for skinny shelves for any tools that need a home, such as screwdrivers. Plus a bench for pulling on and off the wellies/shoes. A radiator is ideal to keep the space warm in winter, and will help dry off any towel you use when you come in.
'Paint using an eggshell or washable paint, and tile any backsplashes if you have a sink in there. Spotlights are ideal for good light distribution. And if you have soft furnishings, choose washable cushion covers, ideally in moisture-resistant fabric.
'Finally, a few lavender pouches will keep clothing smelling fresh and help to make your home smell nice.'
1. Create a space for each person
Give each member of the family their own section in a boot room and increase the chances that items will always be easily found when needed.
This bespoke fitted storage been designed with hanging space, shelves and baskets, separated into distinct sections by dividers. It has also been carefully cut at the top to fit seamlessly around the ceiling beams.
Incorporating a rug adds a dash of color and warmth to the scheme.
2. Install a glazed roof
A side return with a glazed roof is a great idea for a boot room, as it allows light to flood into what's often a tucked-away space.
Georgian-style housekeeper cupboards are seeing a return in popularity for their Narnia-like ability to hide all kinds of magic behind their doors. Although not a cheap option, commissioning a pair of generously sized cupboards will prove a good investment for a tidy house.
Keep a few open shelves for some of the better-looking kit; or go a step further and have special items and artwork left out on show.
3. Open up with a barn door
Keeping a boot room well aired is essential to ensure clothing and footwear dries out after muddy walks, and items don't become musty or mildewed.
While windows or air conditioning will keep air flowing, why not consider a barn door for your boot room, especially if you live in the country? It can keep pets in – and chickens out – while allowing fresh air to fill the space.
5. Illuminate the sink
Task lighting is as important in the boot room as it is anywhere else in the home, but you can combine beauty with practicality.
Positioning a wall light above a sink will mean you won't miss any dirt when scrubbing shoes or cleaning vegetables – just be sure it's approved for use in an area prone to moisture and splashes.
6. Be inspired by grand country house style
Most of us won't have a country pile with a boot room this size, but the elements here can be translated to a smaller space, in town or country.
'Consider a bench to sit on when putting on or pulling off boots and shoes,' suggests Sara Bird, Assistant Editor at Country Homes & Interiors magazine.
'Include hooks and shelves for coats and hats; a sink for washing boots, vegetables and muddy paws; and robust flagstone flooring that will cope with years of wear and tear.'
7. Decorate with wallpaper
'A patterned wallpaper works beautifully in a boot room,' says designer Susie Watson, who creates fabric, wallpaper and furniture designs, as well as offering interior design consultations. 'It adds interest to an otherwise quite functional room, particularly because you may not have space for many pictures or decorative items.'
Watson opts for a strong red or green wallpaper in many of her boot room projects, but contemporary papers like this gold design will add glamor to the space.
Panelling on the lower half of the wall will protect from scuffs and marks, leaving the wallpaper above to draw the eye away from the boots and outerwear.
8. Fit a radiator for dry, warm wellington boots
Position a peg rail above a low radiator so the rising heat can gently dry coats and cover-ups. You can also line up wellington boots, garden shoes and boots along the heater for the same reason.
A radiator by the door can also warm up any draughts entering the house, so your boot room becomes a buffer zone to keep the rest of your home toasty and comfortable.
9. Make space for the dogs
Giving your pooch its own bed will protect your upholstery and also help to keep fur and fluff contained.
In a boot room, where floors tend to be hard and may be chilly, a raised dog bed will ensure your hound is warm and comfortable. Having a gap to create airflow between the dog bed and the floor will also help to prevent condensation forming below the mattress, eliminating smells, mildew and damp.
Choose a design that complements your boot room decor – a woven dog bed will match a boot room's traditional basket storage.
10. Keep pet paraphernalia in one place
It makes sense that walking kit, such as leads and dog coats, are kept with your outdoor shoes. But you could also consider keeping pet care items, such as towels and dog shampoo, bedding and food in the boot room.
This will contain pet paraphernalia in one place, leaving your kitchen cupboards free for (non-fur) family essentials.
11. Consider overhead lockers
'For easy access to coats and other belongings, open storage is a favorable choice,' says Alex Main, Director, The Main Company. 'However, if you prefer to keep everything neatly stored away we would recommend a closed storage solution.'
Classic overhead lockers are perfect boot room ideas, combining concealed storage with best use of space as they extend upwards to the ceiling.
Stow away items that are used less frequently, such as camping and hiking gear. Or swap the contents seasonally, packing cold weather kit away in winter, or stashing summer hats and sun umbrellas during fall and winter.
12. Build storage around a window
This attractive set-up has all the attributes of a classic boot room – shoe and hat storage, baskets and a pet bed, even a bench – but building the shelving around a large window changes the perspective.
Instead of looking at the boot room contents, the eye is drawn to the pretty blue bench and the view beyond. This is an ideal option when you need to incorporate a boot room in a hallway at the front of the house but don't want it to take over the space.
13. Create an inviting space
'Pretty racks for hats and bags dedicated to each person in the family, with their initials on if possible, really personalise a boot room,' suggests Dee Gibson of Velvet Orange interior design.
'Install attractive wooden coat hooks and use baskets for any dry shoes or items you change out of. Finally, put cushions on a bench in removable, washable fabric to add a touch of warmth and coziness to the space.'
14. Keep practical kit to hand
When you're planning your boot room ideas, don't forget the small details that will help the space to function well for you and your family.
Use dedicated drawers for equipment such as clothes pegs, household tools, batteries and other useful bits and bobs, and keep shoe care, cleaning and laundry essentials in their own box or kit bag.
15. Utilize available space for your boot room ideas
When you don't have the space for a separate boot room, consider how you can fit its functions into the areas you do have available.
Tall cupboards in a hallway can hold coats and boots, for example. While a column of shelving can be fitted neatly into a narrow space beside a door or window.
Fabric liners will prevent clothing snagging on wicker baskets, while handy labels can name the contents so you don't have to rummage through to find what's inside.
16. Create a garden boot room
While most boot rooms sit within a home, keen gardeners may consider dedicating a space in the shed or greenhouse for wellingtons, coats and aprons.
'Shoe racks that allow you to store boots upside down will mean they dry more quickly and you're less likely to be surprised by creepy-crawlies,' says Teresa Conway, Gardens Editor, Homes & Gardens magazine.
'A boot scraper and a simple line to peg wet gloves on to dry are brilliant in-the-know boot room ideas for the green-fingered brigade.'
17. Put the boot room in a porch
The transitional space of a porch is the perfect boot room option if you don't have a separate space.
Whether at the front or rear of your property, keep the area neat and organised with hooks for coats, hats, leads and riding tackle. And line boots up neatly to avoid an unsightly jumble.
A coir mat will prevent from mud and dirt being traipsed into the house.
18. Focus on the room, not just the boots
For a change from fitted storage pieces, include antique furniture to give your boot room character and charm.
A chest of drawers will provide storage for hats, gloves and scarves; with hooks for coats.
'Vintage wooden cubby or parcel storage is worth hunting down on eBay or in antiques shops as this can be repurposed for shoes and looks good too,' suggests Susie Watson, Founder, Susie Watson Designs. 'An umbrella stand is an essential for me and this is something you can go quite decorative on.'
19. Choose surfaces with care
'Boot rooms need to be hardwearing to cope with day-to-day family life, as well as muddy boots and paws,' says interior designer Jojo Bradley.
For flooring, consider brick, flagstone, or concrete. 'Or opt for a matt porcelain tile that can be easily cleaned and stand the test of time,' Bradley suggests.
'For worktops, use quality granite or quartz, keeping them light and bright. Marble effect can give an air of luxury in this small space.'
20. Add a butler's sink
The classic butler's sink has the depth needed in a boot room, whether you're cleaning football boots, trimming cut flowers, or even washing down your pet.
If space allows, consider an extra-wide version for versatility. A tap with a flexible hose can also be useful when it comes to quick clean-ups.
21. Paint cabinets for a pop of color
Light-toned colors can brighten a dark space, particularly if a boot room is small or tucked away in a shady corner of the house. But painting cabinets in a bold tone will give character to this functional space.
'Boot rooms tend to be on the smaller size, so soft neutrals work beautifully to give a light and breezy feel,' suggests interior designer Jojo Bradley. 'But I also like to paint walls and joinery in strong blue and green hues to create a rich and inviting feel.'
Pick hardwearing, wipeable paint that's specifically designed for high-use spaces such as boot rooms, where knocks and scuffs are common.
22. Put up hooks to dry coats easily
'Dry stuff can be kept behind cupboard doors but it's good to have open storage when you're ticking off your boot room ideas, for air circulation and to avoid mildew,' advises interior designer Dee Gibson of Velvet Orange.
Think about positioning hooks at head height for adults, plus a lower rail that children can each easily.
23. Build in shelves and baskets for storage
'Shelving can be used for display purposes as well as storage,' suggests Jojo Bradley of Jojo Bradley Interior Design.
'Shelves can be accessorised with potted succulents or a simple large-scale scent diffuser. Or for a more country feel, perhaps a riding hat and rustic storage baskets or boxes.
'The choice of beautiful hardware can elevate simple joinery, we love using Armac Martin for a touch of luxury with antique brass tones for warmth.'
24. Go cozy with underfloor heating
'You may wish to add a touch of luxury to your boot room and consider underfloor heating,' suggests Inga Morris-Blincoe, General Manger at Lifestyle Floors. 'There's nothing better than coming in from a long, cold walk, slipping off your shoes and feeling the underfloor heating warm you through.'
It's always best to check with the flooring manufacturer about suitability if you are looking to install underfloor heating, but most dryback luxury vinyl tiles are suitable for underfloor heating, including Lifestyle Floor's Love Aqua range of water-resistant laminate.
'In addition to being waterproof and easy to clean, you should look for a floor with a long wear warranty, to ensure it can cope with the demands of a busy family boot room,' Morris-Blincoe recommends.
25. Double up with the utility room
Of course, not everyone has space for both, but you can get the best of both worlds by combining boot room and utility room ideas, as in this design from B.Styled Interiors using cabinetry from Life Kitchens.
'Boot rooms and utilities have evolved to become multifunctional spaces,' says Graeme Smith, Head of Retail and Commercial Design at Life Kitchens.
'With the addition of pantry cupboards and open shelving, a boot room can be more than a place to store wellies, shoes, umbrellas and pet baskets. It can also house additional dry goods and laundry products.'
How do you decorate a boot room?
'Pale sage greens or soft blues look wonderful on panelling and joinery,' says interior designer Dee Gibson of Velvet Orange. 'I'd then either continue the color on to the walls. Or for a lighter look, paint the walls and ceiling off-white. A dark floor is a great boot room idea when you want to hide any footprints and paw prints.'
If your boot room is next to your kitchen, consider painting your cabinets in a complementary color to create a natural flow between the spaces.
You could also pick up on other decorative elements, such as blinds, soft furnishings and even wallpaper, to create a cohesive look.
What do you put in a boot room?
Storage is key as this is where you will keep outerwear, boots and shoes, and all manner of other essential items that you need close to hand but you don't want cluttering up your kitchen and other rooms.
'Opt for units made with reclaimed wood,' suggests Alex Main, Director, The Main Company. 'The natural beauty of the boards will create visual interest and pair nicely alongside a neutral wall.'
Ideally, you'll find space for open and closed storage, including cubby holes; hooks or a peg rail; baskets for smaller items; and shoe racks or shelves. A sink is useful, especially if you have pets that will need rubbed down and dried off before entering the main part of the house.
A bench will give you a space to sit while removing or putting on boots.
For more information, see our what do you put in a boot room guide.
What flooring is best for a boot room?
'Boot rooms are designed to be the entrance point for your home, which inevitably means they will get muddy and bear the brunt of rainy umbrellas, pushchairs and muddy trainers. For this reason, your main focus when choosing a floor should be on practicality,' says Inga Morris-Blincoe, General Manger at Lifestyle Floors.
To be mud resistant, your floor needs to be waterproof and easy to clean. Choices include stone, tiles and concrete, or engineered wood that's specially designed to withstand wear and tear.
'Luxury vinyl tiles, traditional sheet vinyl and even specialist water-resistant laminate are also good options,' suggests Morris-Blincoe. 'These are available in gorgeous wood, tile and even abstract designs to complement your boot room decorating scheme.'
Sign up to the Homes & Gardens newsletter
Decor Ideas. Project Inspiration. Expert Advice. Delivered to your inbox.
Andrea has been immersed in the world of homes, interiors and lifestyle since her first job in journalism, on Ideal Home. She went from women's magazine Options to Frank. From there it was on to the launch of Red magazine, where she stayed for 10 years and became Assistant Editor. She then shifted into freelancing, and spent 14 years writing for everyone from The Telegraph to The Sunday Times, Livingetc, Stylist and Woman & Home. She was then offered the job as Editor on Country Homes & Interiors, and now combines that role with writing for sister title homesandgardens.com.