Best blender 2021 – 10 blenders for ice, smoothies and more
Pick up the best blender for your home with our top picks from Smeg, NutriBullet, Ninja and KitchenAid, with settings for protein shakes, smoothies, soups and ice crushing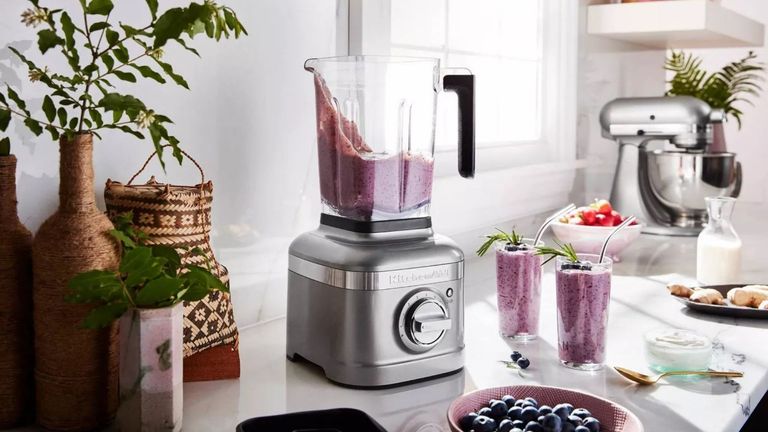 (Image credit: KitchenAid)
The best blenders will blitz ice, vegetables, fruit, nuts, and other ingredients to make anything from smoothies to soup. 
We've rounded up our top 10 blenders from KitchenAid Ninja, NutriBullet, Thermomix, Vitamix, Smeg and Breville, so in this buying guide you can find some top blender for around $100, as well as some premium options that cost as much as $500. 
Some of our best blender top picks have even been tried by members of the Homes & Gardens team, and you can spot those with our rating out of five. In reviewing the best blenders we made smoothies and soups, but also crushed ice and frozen fruits and vegetables to see how powerful these blenders really were. 
Typically, the best food processors are your best bet if you want to make dough or other more dry recipes, but for making delicious drinks all year round, a trusty blender will be an essential.
The best blenders 2021
1. Ninja BN701 Professional Plus Blender
Best blender overall
Specifications
Capacity: 64 oz.
Pitcher: Plastic
Dimensions: 6.75 x 9 x 17.5 inches
Power: 1400W
Reasons to buy
+Three presets+Excellent ice crushing power+Great safety settings
Reasons to avoid
-Middling capacity
The Ninja BN701 Professional Plus Blender has Auto-IQ crushing power, which means you'll never need to stand and monitor your blender again. This blender has settings for smoothies, ice crush, and even blending ice cream, and each one has a specific timer and rhythm to make the blending process as efficient as possible.
What we love
What we love about the Ninja BN701 Professional Plus Blender is its easy controls. If you do want to customize your blending simply select the Low, Medium, High or Pulse modes to blitz to your heart's content. 
Features
Families will benefit from the safety locking system, which keeps the lid safely in place and won't operate until it's fully closed. You can lift the lid to create a spout, perfect for pouring out drinks. 
What you may lack with this blender is the capacity you need. It has a medium capacity of 64-oz
Best blender for smart features (and looks)
Specifications
Capacity: 1.5 ltr / 48oz
Pitcher: Tritan
Dimensions : 13.65 x 7.75 x 6.4inches
Power: 800W
Reasons to buy
+Smart features+Looks a treat+Multiple modes, including one for ice
Reasons to avoid
-Only one pitcher-Can't handle hot things
We've been able to get hands-on with the Smeg BLF01 50s blender and we can attest that it's not only a joy to look at, it's also lovely to use. For a start, there are a range of colors available, from red to baby blue, and all come with the same high quality tritan jug and die-cast aluminum base. 
What we love
While the look may be retro, it's all modern when it comes to how the Smeg BLF01 50s Blender works. We used it to make a light and lump-free smoothie using frozen ingredients, where the frozen setting came in very helpful.
The pitcher is not advised for use with hot ingredients so we had to wait for our soup to cool before use, but we were impressed with just how creamy the result was. It was also easy to pour in cream while the blender worked thanks to the lid, which has a stopper for measuring and adding as you blend. 
Features
Not all parts can be placed in the dishwasher, but the pitcher can. It cleans a treat and doesn't require screwing into the base, instead just slotting into place. Not the best blender for versatility, but it certainly delivers on aesthetics and delicious results. 
Homes & Gardens rated 4 out of 5 stars: see our full Smeg Blender review
3. Ninja Professional Plus Kitchen System with Auto-IQ
Best for multiple purposes
Specifications
Capacity: 2.1 ltrs / 72 oz.
Pitcher: Plastic
Dimensions: 17.64 x 9.96 x 7.52 inches
Power: 1400W
Reasons to buy
+Can be used as a food processor+Good safety features+Dishwasher-safe parts for easy cleaning
Reasons to avoid
-Will take up a lot of space-Quite loud
Many blenders just come with a standard pitcher, with accessories costing extra. If you want to expand the repertoire of what you can do, then the Ninja Professional Plus Kitchen System with Auto-IQ makes sense.
What we love
As well as the 72 oz. pitcher, you get a 64 oz. food processor bowl (this has chopping and dough) and two 24 oz. blending cups for single-serve drinks to take away.
That's a big arsenal at your disposal and makes this blender an all-round friend for your kitchen. Of course, the downside is that you have to find space to store all of the extra bits, so of which you may not even use.
There are five Auto-IQ programs smoothie, ice crush, extract, chop and dough), but which ones are available depends on the accessory attached: you can't crush ice, for example, when the food processor is connected, but you can with the single-serve cup and the pitcher.
Features
Outside of the Auto-IQ programs, there are just Low, Medium, High and Pulse settings. With a powerful motor, the Ninja Professional can easily crush ice and blend smooth smoothies. It is quite loud, though.
Safety features are neat, and the accessories and lids have to be in place for the blender to operate. Every part is dishwasher safe, for easy cleaning.
Other blenders on this list may give better individual results, but if you need multiple tools at a great price, this is a great choice.
Homes & Gardens rated 4.5 out of 5 stars
4. KitchenAid K400 Variable Speed Blender
Best for professional results
Specifications
Capacity: 1.4 ltrs / 56 oz.
Pitcher: Glass
Dimensions : 9.02 x 7.59 x 15.8 inches
Power: 1200W
Reasons to buy
+Choice of colors+Tough glass pitcher+Great for crushing ice+Auto cleaning
Reasons to avoid
-Heavy-Expensive
Available in a smart range of colors to match the company's popular mixers, the KitchenAid K400 Variable Speed Blender makes a statement.
What we love
It comes with a large 56 oz. jar, made out of robust and extremely thick glass. It may be a touch on the heavy side, but gives you an impression of how long this blender will last.
A single dial on the front lets you choose from the five-speed settings and pulse, plus the special modes: smoothie, ice crush, frozen drink, and clean.
The weight of the pitcher means that there's no need for a locking mechanism: drop the pitcher and integrated blades onto the base and you're ready to go.
Features
Nothing is a problem for this blender: ice is crushed into fine snow, hard fruits and vegetables are blended into smooth drinks, and you can whizz through dry ingredients thanks to the powerful 1200W motor.
The automated cleaning mode gets the pitcher ready for the dishwasher, and the base can be wiped clean. 
If you need the absolute best, then this is the blender for you, but it's expensive, especially given that you only get a pitcher and no other accessories (extras are available at a charge). 
Homes & Gardens rated 4.5 out of 5 stars
5. NutriBullet Rx
Best blender for budget-friendly design
Specifications
Capacity: 30 oz and 1ltr
Pitcher: Plastic
Dimensions: 15.16 x 15.16 x 13.11 inches
Power: 1700W
Reasons to buy
+Heating function for soups and sauces+Dishwasher-safe parts+Personal and family-sized cups
Reasons to avoid
-1 liter is not enough for some soups
If you want the best NutriBullet blender to take care of all your blending needs, the Rx is a great pick. It not only handles personal-sized 30oz smoothies, but can blend hot soups up to one liter. 
What we love
We think this blender is pretty reasonably priced. It offers a heating function to keep your soup at the optimum temperature for serving straight from the blender, and the screw-on lid is perfect for pouring.
The cups are dishwasher-safe and there is a blade removable tool to make hand-washing easier. 
You can also blend through ice and frozen ingredients with the 1700 watt motor and stainless steel blades. 
Features
This blender gives you everything you'll need, including a cleaning brush, multiple lids, a 'SouperBlast' pitcher, and two sizes of blending cups. 
It's the most powerful of NutriBullet's blenders, and for the price we think it's a great choice. 
6. Vitamix 5200
Best blender for everyday use
Specifications
Capacity: 1.9 ltrs / 64 oz.
Pitcher: Plastic
Dimensions: 20.5 x 8.75 x 7.25 inches
Power: 1380W
Reasons to buy
+Powerful+Quality industrial build+Makes hot soup
Reasons to avoid
-No pulse option-Not dishwasher safe
There's something charming about the Vitamix 5200. With its rugged and simple controls, it looks like the kind of blender that belongs in an industrial kitchen. 
The quality and power would certainly back this up, making the 5200 a good investment for those that use a blender every day.
What we love
This machine has 10-speed settings in the Variable mode and a switch for High speed. There's no pulse option on this model.
Still, the 10 variable speeds are generally enough for managing anything you do, moving between leaving chunky bits at low speed, and fully blended at the higher speeds. 
With the High setting, you can even make hot soup, with the friction caused by the blades heating the food.
Features
Thanks to the powerful 1380W motor, the Vitamix 5200 can handle anything you need, including dealing with hard fruits (pineapple, carrots, seeds) and even ice. 
The pitcher has to be in place for the blender to operate, and the rubber-sealed lid keeps liquids from spilling out during use.
You can run the blender on high speed with a bit of water to clean it out, but you'll need to finish the job with soapy water, as this blender is not dishwasher safe.
If you're looking for a tough, simple blender, that you can use day after day, this is a great choice.
7. Ninja SS101 Foodi Power Nutri Duo Smoothie Bowl Maker and Personal Blender
Best blender for smoothie bowls
Specifications
Capacity: 0.7 ltrs / 24 oz.
Pitcher: Plastic
Dimensions: 15.20 x 14.30 x 6.50 inches
Power: 1200W
Reasons to buy
+Capable of smoothies and thicker dips+Designed for personal use+Can blast through ice with ease
Reasons to avoid
-No large pitcher for families
You've probably seen smoothie bowls on Instagram, and here's the machine to make them. 
What we love
No more unscrewing the lid of your blender to make sure every ingredient is smooth, the smoothie bowl maker has a built-in tamper. 
It's also great for making dips, and you can select from either a 'dips' or 'bowl' mode to pick the right type of consistency and ingredient. 
Features
Other preset Auto-IQ modes include the extraction mode, designed to get the most out of fibrous ingredients, and smoothie mode for that classic morning drink. 
The power Nutri bowl is 14 ounces and the two personal pitchers are 24, with a to-go lid included. Perfect for protein shakes and delicious homemade milkshakes to go. 
Homes & Gardens rated 5 out of 5 stars
8. Thermomix TM6
Best blender for cooking
Specifications
Capacity: 2.2 ltrs / 74 oz.
Pitcher: Stainless steel
Dimensions: 13.4 x 12.8 x 12.8 inches
Power: 1300W
Reasons to buy
+Chefs love it+Can cook almost anything+Easy to clean+Great safety features
Reasons to avoid
-Bulky, will need space to store everything-Can't see into pitcher-Big investment
It might look like a blender with an oversized base and touchscreen, but the Thermomix TM6 is far more than this. As well as blending, it can grind, chop, whisk and even mix dough.
What we love
It can also heat, with options for searing, slow cooking and sous vide. Oh, and did we mentioned that you can mix frozen ingredients in the bowl? Or that you can steam or use it as a rice cooker?
The downside is that the machine is bulky and there are a lot of accessories to store.
As a blender, the TM6 is incredible. It will handle everything from hard ice down to frozen vegetables, powering through everything without thought. It can even take caster sugar and give you powdered sugar, which is super impressive. 
However, the stainless steel pitcher means that you can't see what's going on, making manual adjustments a touch tricky.
Features
With access to Thermomix's Cookidoo subscription platform, you can follow guided recipes to make thousand of impressive dishes. Or, you can go for manual mode and take the hassle out of making labour-intensive sauces, such as hollandaise. 
The TM6 will only operate with the lid on, for safety. With a cleaning mode and dishwasher-friendly parts, it's easy to clean up after use.
A touch overkill and expensive if you only want to make smoothies or blend the odd sauce, but the Thermomix TM6 is the single-best kitchen gadget for those that take their cooking really seriously.
Homes & Gardens rated 4.5 out of 5 stars: see our full Thermomix TM6 review
9. Breville Super Q
Best blender for automated use
Specifications
Capacity: 2 ltrs / 68 oz.
Pitcher: Plastic
Dimensions: 8.2 x 10.6 x 18.1 inches
Power: 1800W
Reasons to buy
+Strong and stable+Lots of settings+Cleaning program+Powerful motor
Reasons to avoid
-Might have too many settings for technophobes-Cheaper options available
Described as an industrial blender for home use, the Breville Super Q is a chunky and heavy beast. Having such a heavy base should mean that it's more stable in use.
What we love
Despite the size, the blender is easy to assemble and comes with the main, large pitcher, plus a smaller 24 oz. personal cup. The front control panel is dominated by the programs: pulse/ice crush, smoothie, green smoothie, frozen dessert, and soup. The latter uses friction to heat ingredients. 
There are 12 more manual speed settings, moving from stir, through mix, chop, and blend to puree and mill. That makes this machine a touch more complicated to use, so you'll need the well-written manual to help you find the best setting. 
Features
Programs all work well, giving you ideal results with the push of one button, while the 12 speeds and powerful motor help you get your ideal own results with a bit of experimentation.
There's a cleaning program to get the pitcher and blades dishwasher ready.
If you want excellent results at the touch of a button then this is the blender for you, but it's expensive and a more traditional blender with manual controls can be bought for less.
10. Instant Ace Nova Cooking Blender
Best blender for budget
Specifications
Capacity: 1.6 ltrs / 56 oz.
Pitcher: Glass
Dimensions: 16.9 x 12.3 x 10.9 inches
Power: 1000W
Reasons to buy
+Easy to use interface+10 speed settings, and 8 cooking presets, including the ability to make hot soups and sauces
Reasons to avoid
-Not strong enough to make nut butters
The maker behind the infamous Instant Pot pressure cooker also makes a blender at a consumer friendly price. And bonus, it can cook too.
What we love
Like the Instant Pot, the Instant Ace Nova Cooking Blender is truly a multi-tasking tool, with nine programs that can conquer everything from smoothies to nut milks.
Unlike most blenders at this price point, the Instant Ace Nova has a sturdy glass pitcher, as plastic is not suitable for cooking foods at high temperatures. 
Features
It has multiple settings including one touch presets for smoothies, soy milk, rice milk, nut/oat milk, soup, and frozen desserts, as well as standard puree, crushed ice,, blend and pulse functions. And you also have the choice of 10-speed customizable speeds up to 25,000 RPM for true control over your blended beverages and foods. 
After use, it features a self-cleaning mode to loosen and remove any residue, that can then be scrubbed away with the included cleaning brush.
Additionally, the blender comes with a  3-in-1 food tamper, neasuring cup, cleaning brush, and a food-safe strainer bag for filtering soy, rice, oats, nuts or seeds. 
Overall, the Instant Ace Nova Cooking Blender is an incredible value cooking companion. It's really exciting to see all the capabilities in one device. 
How do I choose a blender? Which is best for frozen drinks, or smoothies?
A blender is a great tool for cooking and making drinks, such as smoothies, keeping the pulp of fruit and vegetables as well as the juice.
The type of blender you buy really depends on how often you want to use it and what you mostly want to use it for. All blenders are capable of making smoothies, particularly blending softer fruits.
Motor
If you want to make frozen fruits or desserts or deal with harder fruits or vegetables, then you may need a machine with a more powerful motor, so that it can crush ice into fine snow. 
Programs
Look out for a blender that has automatic programs for the kinds of drink or action that you want, as this takes the guesswork out of using a blender.
That said, manual controls are important if you want finer control over the results, say blending a soup that still has some chunks in it.
A pulse function is a great way to get fine control: the blender runs while you press the button but stops the second that you release it. 
Features
Move up the price scale and you'll find that you get additional features. Some of the most powerful blenders, for example, can use friction to heat raw ingredients, delivering hot soup in just a few minutes.
Capacity
Look out for the total capacity of the blender: go for a larger one if you've got a big family to feed. Accessories can also be important, either in the box or as additional extras: self-serve cups let you take a drink on the move, and grinding cups can be a handy way of dealing with herbs and spices in smaller volumes.
If you want something that can blend directly into a pot or pan, check out the best immersion blenders. 
How much should I spend on a blender?
Budget really comes down to how much you'll use the blender. If you're only an occasional user, then a budget model ($100 to $150) makes sense. At this price, you'll get decent controls but you may find that your results aren't quite as smooth.
If you use a blender every day, then you need to move up the scale. Spend over $200 and you're likely to get more accessories and programs. 
If you want the best results then you're looking at spending $400 or more. At this price, you'll get the fastest motors, more control, and, often, a wider range of automatic programs to make your job easier.
For those who just want a personal-sized blender, take a look at the best portable blenders guide for more reviews. 
What's better, Vitamix or Ninja?
Vitamix is well known for its high-end, powerful blenders. These machines are a great choice for those that blend daily and that want the absolute best results. Controls can be rather basic on some models, so these choices are ideal for experienced users.
Ninja products tend to be cheaper, and may not produce quite as smooth results. However, you'll generally get more automatic programs and value is usually very good, with many sets coming with a lot of accessories to expand what the blender is capable of.
Are glass blenders better than plastic?
Most blenders come with a hardened plastic pitcher, but you'll find the odd model that has a glass one. Strictly speaking, glass is harder wearing and won't scratch as easily as plastic. This can make a difference if you regularly crush ice, as the sharp edges can scratch cheaper plastics. Plastic can also get tainted by ingredients, staining.
The downside of glass is that it's much heavier and if you drop it, you're likely to end up cracking or breaking thepitcher. 
Modern plastics are much better, particularly on the high-end machine, so you shouldn't notice scratching. And, plastic is lighter and less likely to break if you drop it.
Millie has been with the Homes and Gardens team since early 2021, bringing with her a love of cooking appliances and al fresco entertaining. She writes about stand mixers, blenders, and other small appliances, and loves putting barbecues and pizza ovens to the test. Millie thinks that the kitchen is the most important room in any home, but then, she is very biased.