Best immersion blender 2022: reviews of top hand blenders
Featuring KitchenAid, Breville, Vitamix, and Braun, here are the best immersion blenders you can buy to make tasty smoothies and delicious creamy soups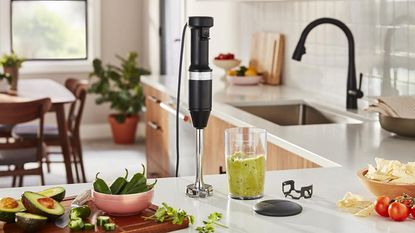 (Image credit: KitchenAid)
If you want the perfect appliance for making delicious seasonal soups and summery salad dressings from scratch, look no further than the best immersion blender. Also known as stick blenders or hand blenders, these portable devices are perfect for blitzing piping hot soups directly into the pot.
Of course, the best immersion blenders can also be used to make smoothies and fresh drinks, but we find that the best blenders in our main roundup work best when it comes to crushing ice. What they don't offer is attachments for whisking heavy cream or kneading cookie dough, which is why immersion blenders can be an incredibly versatile addition to your kitchen.
We've used immersion blenders to make sauces for pasta dishes and dips such as hummus and baba ganoush. Some of our favorites even come with mini chopper attachments that rival the best food processors in chopping onion or garlic to make effortless bases for homemade dishes. Keep reading to find our best immersion blender picks from KitchenAid, Cuisinart, Braun, and NutriBullet.
The best immersion blenders 2022
The Braun MQ9007 MultiQuick 9 Immersion Hand Blender comes with three attachments: a blending wand, whisk, and masher for making creamy potatoes and puree.
The blending wand is particularly innovative, with an easily-controlled flexible blending shaft that moves up and down with the press of a button to have even more reach around your bowl or pitcher as you blend. In our testing this is the immersion blender that packed the most power, hands-down. It won on our soup consistency tests, and it also made some of the speediest and smoothest pestos of the machines we tested.
It's a mixed bag though, with the whisk taking one of the longest times to create stiff peaks from egg whites. This was also pretty flimsy in comparison to models from KitchenAid and Smeg. The mashed potato maker worked well, but we found that it jammed unless we fully peeled our potatoes.
The pitcher is 20oz and attachments are safe for dishwashing. You can also make the most of the splash control technology, which cuts down on suction and therefore reduces the risk of splashing when blending wet ingredients for soups and smoothies.
Best immersion blender for non-stick pans
Specifications
Attachments: Chopper, blender, whisk, scratch-resistant cap
Dimensions: 14.76 x 12.01 x 5.2 inches
Power: Lithium ion battery
Reasons to buy
+
Pan guard included
+
Variable speed trigger
+
Plenty of colors
+
Blending cup comes with a lid
Reasons to avoid
-
Works best for right-handers
2. Braun MQ9007 MultiQuick 9 Immersion Hand Blender
Best immersion blender for soups
Specifications
Attachments: Blending wand, whisk, masher, 20oz beaker
Dimensions: 2.75 x 2.75 x 9.45 inches
Power: 700 watts
Reasons to buy
+
Plenty of attachments
+
Powerful motor
+
Less suction and risk of splashing
+
Flexible blending shaft
Reasons to avoid
-
One of the most expensive options on the market
Immersion blenders don't always work well with non-stick pans because they can scuff up the coating with their metal blending wands. Enter the KitchenAid Variable Speed Corded Hand Blender, which has a plastic cover that keeps the blending head and blade far away from the base of your pan to give you some extra peace of mind when cooking.
We found in testing that this immersion blender was a little more comfortable for our right-handed tested than our left-handed tester. It did second-best in our soup blending test, with very seamless blending and the variable blending paddle coming in helpful to start smoothly before amping up the power.
The blending cup comes with a lid, perfect for storing sauces or soup in the fridge, and we were taken with the style of the design which could slot easily into any kitchen, with a number of colors to choose from.
3. KitchenAid Cordless Variable Speed Hand Blender
Best cordless immersion blender
Specifications
Attachments: Chopper, blender, whisk, scratch-resistant cap
Dimensions: 14.76 x 12.01 x 5.2 inches
Power: Lithium ion battery
Reasons to buy
+
Takes only 2 hours to charge
+
Variable speed trigger
+
Plenty of colors
+
Comes with a chopper, pitcher, and more
Reasons to avoid
-
Battery life is limited to 20 minutes
The KitchenAid Cordless Variable Speed Hand Blender liberates even the best immersion blenders of a cord.
It takes only two hours to charge this immersion blender to its full 20 minute run time. The attachments are generous, too. There's a jug with a 4 cup capacity, as well as a mini chopper and whisk.
Great touches include the scratch-resistant cap for the blender head, and the variable speed trigger. We really liked the blending cup, which has a lid with a removable insert so you can add your blending attachment to make mayonnaise or sauces without any splashing or mess.
This immersion blender also comes in a range of colors including black, red, blue velvet, and white. Cordless is taking off in a big way. Our best portable blender guide has more examples.
4. Cuisinart EvolutionX Cordless Rechargeable Hand Blender
Best rechargeable immersion blender
Specifications
Attachments: Blending wand, whisk, blender
Dimensions: 2.4 x 2.34 x 16.28 inches
Power: 7.4 volts of lithium ion
Reasons to buy
+
Cordless control
+
Powerful whisking
+
Reasonably priced
+
It's easy to switch out attachments
+
Only takes 2 hours to recharge
Pick up the Cuisinart EvolutionX Cordless Rechargeable Hand Blender if you want a cordless hand blender that doesn't cost the earth. It's surprisingly well priced given its premium looks and powerful lithium ion motor. When we used it to make soup the blender didn't give us the smoothest consistency overall, but it handled a variety of ingredients very well and was one of the fastest to reach stiff peaks when we used the whisk attachment on egg whites.
The freedom of cordless immersion blenders is something you'll never realise you needed, but it means you can move around your entire kitchen and even blend your soups directly in the pot you cooked them in, with far easier cleaning after, too. The 30oz blending cup is large enough to make a morning smoothie, and it has a 20-minute runtime with only 2 hours of charging time.
In testing our one gripe was the safety lock, which certainly keeps the immersion blender a lot safer, but needs to be re-activated even if you momentarily take your finger off the trigger.
5. NutriBullet Immersion Blender
Best value immersion blender
Specifications
Attachments: Blender, whisk
Dimensions: 2 x 2 x 16 inches
Power: 350 watts
Reasons to buy
+
Budget-friendly
+
Two speeds
+
Soft grip handle
The NutriBullet Immersion Blender comes at a reasonable price and has a whisk and blender attachment for making delicious desserts and smooth soups and sauces.
There are two speeds for different intensities and consistencies, and a soft-grip handle to prevent any slipping. We enjoyed the whisk in particular. Some whisks feel quite flimsy, almost like afterthoughts to the immersion blending attachment, but the NutriBullet had a good sturdy feel that we felt would last a long time.
The motor is just over half that of our top pick, the Braun MQ9007 MultiQuick, and there are no anti-scratch designs to prevent your pans from being damaged, but for the price this is a great choice.
How we picked the best immersion blenders
We tested them! At Homes & Gardens, we put a lot of thought into how we test, and for our best immersion blender guide we decided to bring all of our candidates into our testing facility and compare them side-by-side.
There was a lot of discussion about which soup would be best suited to seeing how capable an immersion blender is, and we settled on a humble English pea and mint soup. Peas come with small but noticeable skins, and mint can be quite a harsh herb to blend, so we felt that we would be able to taste the difference in power and effectiveness with this recipe. We cooked up a big batch, divided it between all of the blenders, and ran them for the same amount of time before doing a blind taste-test to see which was the smoothest.
Not all immersion blenders come with added attachments, but we tested those that did. Whisks were tested with egg whites, seeing how long it would take for the whisk to create stiff peaks of an equal amount of egg white in each test. When an immersion blender came with a mini chopper, we used that to make a pesto. Some came out like a smooth sauce and others like a roughly chopped dip, which could be good or bad depending on what you plan on cooking.
We also took into account how easy the products were to clean, and how it felt to use them.
How do I choose a good immersion blender?
Finding the best immersion blender is all about knowing what you need to use it for. While we were taken by some multi-taskers, there is no point in buying an immersion blender with a mini blender or masher attachment if you don't plan on using it. That's especially the case if you're paying a premium for the added attachments.
Some will already have machines in the home that are designed to take the place of these attachments, and many food processors also come with mini chopper attachments, so take a good look at what you already have, from a hand mixer to an extra-large jug for blending into, and then evaluate what is missing from your kitchen or needs replacing.
Power is important, so take a look at what the motor power is. While soups blend up very easily, and heavy cream won't take much power to whip up nicely, there is a case to be made for opting for a powerful model if you intend of making purees, dips, or thick sauces.