Best ice cream makers 2023: expert advice for quick, quality results
Our expert team took the best ice cream makers on the market and put them through their paces. We found the best for all your frozen favorites.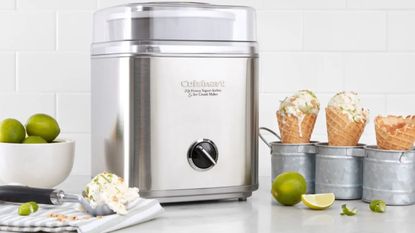 (Image credit: Cuisinart)
Making your own ice cream is a surprisingly easy process. You're able to dodge a lot of additives, make it exactly as you want it, and it can be a fun process for the whole family. Once you've tried it, you won't go back, but if you don't get the right ice cream maker, you can find yourself in a sticky mess.
Quick List
Just as with other summer staples like the best grills, I tested a range of products on the market, from household names like Cuisinart and KitchenAid to Amazon underdogs like Zoku. I've collated our favorite options for single-serve, soft-serve, and batch production, making sure to test every one on on ice cream, sorbet, and frozen yogurt, as well as their vegan, dairy-free counterparts.
The results were mixed. For some, sticking with tradition paid off, but innovations in design and style gave different results and different options for a variety of households. There were other ice cream makers that I really wanted to like, but I felt they didn't live up to their reputations.
Best ice cream makers 2023
You can trust Homes & Gardens. Our expert reviewers spend hours testing and comparing the latest products, helping you choose the best for you. Find out more about how we test.
Best overall
1. Cuisinart Pure Indulgence
Best overall
Specifications
Method: frozen bowl
Pre-freeze: overnight
Dimensions: 8.25 x 8.25 x 11.5 inches
Weight: 12.5 lbs
Sound: 80 dBA
Batch yield: 2 quarts
Reasons to buy
+
Makes perfect ice cream
+
Good value
+
Easy to clean
+
Good for storage
Reasons to avoid
-
Requires overnight prep
-
Can't use for more than two big batches
-
Makes a little bit of noise
Cuisinart are market leaders for ice cream makers and the Pure Indulgence doesn't disappoint. I tested this by making ice cream, vegan ice cream, sorbet, and frozen yogurt. On all of these recipes, Cuisinart more than delivered. The results were smooth, well-churned, and light to eat. When I re-froze our creations, everything was still scoopable and delicious. At the end of churning, the compact, stainless steel body is easy to clean because it has a few, simple parts. The shape is easy to put in a cupboard; it's one of the smaller ice cream makers. For under $100, this is excellent value.

Most ice cream makers create some noise and require forward planning, the Cuisinart is no exception. You'll need to prepare the bowl by having it chilling overnight. This means that you'll need to be organized and you'll need quite a bit of freezer space to fit it in. After I had been using it for a few hours, in quite a hot kitchen, it needed to go back into the freezer for a re-fresh.
For more details you can read our full Cuisinart ice cream maker review.
Best soft serve
Best soft serve
Specifications
Method: frozen bowl
Pre-freeze: 16 hours
Weight: 6 lbs
Dimensions: 10.9 x 10.3 x 10.3
Sound: 84 dBA
Batch yield: 2 quarts
Reasons to buy
+
Impressive results
+
Simple to use
+
Saves space
+
Good value
Reasons to avoid
-
Only compatible with KitchenAid
-
Difficult to store in freezer
-
Long prep time
Ice cream, sorbet, and frozen yogurt: the KitchenAid mastered them all. I already knew that KitchenAid makes quality kitchen appliances and this was no exception. This was one of the quickest ones to deliver thick, well churned results. The process is easy to use, if you're familiar with KitchenAids. At under $80, it's great value and you won't need to buy and store a whole new appliance either.

While I think this made the best ice cream on test, there's a big problem that keeps this from the top spot. The main restriction is that this is an attachment for a KitchenAid stand mixer. You can't use it unless you already have an Artisan, Classic or a Pro Line mixer, and it isn't compatible with mini mixers. The bowl is big, so you couldn't keep it in your freezer all of the time, but you'll need to leave it in there overnight to prepare to make perfect ice cream. The open top is great for watching your results, but can get messy when pouring and emptying your finished chilled churns.
For more details you can read our full KitchenAid ice cream maker attachment review.
Best budget ice cream maker
Best budget ice cream maker
Specifications
Method: Frozen bowl
Pre-freeze: overnight
Dimensions: 5.43 x 5.43 x 3.7 inches
Batch yield: 5 fl.oz
Motor: none
Reasons to buy
+
Great value
+
Quick results
+
Easy to store
+
Simple to clean
+
Range of color options
Reasons to avoid
-
Very hands-on
-
Can be a bit messy
-
Texture isn't super smooth
A miniature marvel, this is one of our favorite ice cream makers. It's $25, so it's one of the most affordable options, but it doesn't skimp on design. It's just really simple. The freezer bowl needs overnight chilling, but it's small enough to keep stored in your freezer at all times. After freezing the bowl, you simply pour in your fridge-temperature mix and stir and scrape until it's the perfect consistency. You'll have ice cream results in 5 minutes, at most in ten. Once you're finished, this small bowl is easy to clean and doesn't demand the storage of bigger appliances.

Rather than flipping a switch or turning a dial, this is a very hands on process. You can't really do anything else for the five to ten minutes that you're scraping and stirring your ice cream for. As a result, it can get a little messy, as you become the churner. It's also worth noting that the lack of a paddle and motor leaves you with a slightly rougher texture too; it's not the same professional churning technique. It's also worth noting that this only makes 5 fl. oz, so it won't make enough to feed a family.
For more details you can read our full Zoku ice cream maker review
Best no prep option
4. Breville Smart Scoop
Best no-prep option
Specifications
Method: compressor
Pre-freeze: none
Dimensions: 15.7 x 11 x 11
Weight: 30 lbs
Capacity: 1.5 quarts
Reasons to buy
+
No preparation needed
+
Wide range of settings
+
Adjustable
+
Easy to use
Reasons to avoid
-
Expensive
-
Big for countertops
-
Heavy
Unlike the other ice cream makers I tested, there's no overnight freezing needed. The Smart Scoop does it all in 30 minutes. With twelve different settings, a 'keep cool feature', and adjustable sounds, this feels luxurious. The Smart Scoop has presets that take all the guesswork out of ice cream making. Where the other ice cream makers had a single setting, you can select a range of soft and gard textures specific for to sorbet, gelato, ice cream, and frozen yogurt. This achieves consistent textures across ice cream, sorbet, and frozen yogurt, perfect for soft serve desserts. You can also choose to keep your ice cream cool inside the machine, saving any partially melted messes and there's a setting to help you harden up any ice cream that's too soft.

Whilst there's a lot to love, this is over four times the price of the other ice cream makers that I tested. It's brilliant, but I don't think it's great value. It's great to have elaborate, silent settings, but I didn't feel that our less expensive ice cream makers were lacking in texture, especially for domestic users. The machine weighs 30 pounds, so you won't want to move it once it's in place. You'll need to make quite some room for it, because it's big too.
I am in the process of testing the Breville ice cream maker. A review will be coming shortly.
Best for speed
Best for speed
Specifications
Method: blender
Pre-freeze: 24 hours
Dimensions: 6.52 x 12.07 x 15.95 inches
Weight: 14.4 lbs
Yield: 3 pints
Sound: 105 dBA
Reasons to buy
+
Range of settings
+
Compact containers
+
Smooth results
+
Blends in 3 minutes
Reasons to avoid
-
Big to store
-
Really loud
-
Heavy
-
Expensive
From açai bowls, to milkshake and gelato, the Ninja Creami adjusts its blending settings to deliver fantastic results. The Ninja works by chipping into your pre-frozen mix, so is different from most churning ice cream makers. For this reason, everything is ready in just three minutes rather than thirty. Rather than having to pre-chill a big bowl in the freezer, you can pop in their pint-sized pots and then you'll be ready to go. When you're done, everything can be packed into the dishwasher. It's very easy.

Unpacking the Ninja, I was struck by how heavy and tall this machine is. While you don't need to give up any room in your freezer for the bowl, it still isn't portable or easy to store. The Creami was the loudest of all the ice cream makers that I tested. With these compromises and the Creami's high price tag, I didn't feel like it was fantastic value for money.
For more details you can read our full Ninja Creami review.
Our Verdict
It's hard to pick an ice cream maker that is the definitive 'best', because I would use each one for very different occasions. If I had a KitchenAid attachment and a big freezer, that would be my go-to, but they're both big conditions. The Cuisinart delivers similar results, but doesn't take up as much space and doesn't rely on you having a KitchenAid stand spare. The Zoku is a brilliant option if you don't want lots of mess, to make lots of ice cream, or if you're looking for something fun for all of the family. The Ninja is well suited to those after quick blends of a range of ingredients. So you can see my dilemma, maybe I should just buy them all. You can never have too much ice cream anyway.
How We Test
At Homes & Gardens we are committed to thorough and rigorous testing. That's why we ensure that we have personally tested products -- where possible -- before we recommend them to you.
We tested the market-leading ice cream makers in our test kitchen. We made thorough notes from unboxing, right through to cleaning up and storing the ice cream makers away. We gave them basic tasks, such as making vanilla ice cream, but we also used dairy-free ingredients, and sorbets, so that we had a representative picture of how these ice cream makers would function in your day-to-day life. If you would like to know more about how we test, we have some detailed information on our dedicated page.
FAQs
What should I look for when buying an ice cream maker?
There are lots of different factors that you'll want to consider
Method
Some machines will use a freezer bowl, some will have a built in freezer, and some won't have either. A freezer bowl requires you to pre-plan to perfection, whilst machines tend to be louder and more demanding on your utilities. Some machines will require more hands-on attention than others, which will only need you to flip a switch.
Capacity
If you'll only be making single servings each time you use your ice cream maker, there's no point in investing in a big appliance. Conversely, if you plan on making batches in advance, you'll only end up frustrated by having to repeat the same process over and over.
Price
You don't always get what you pay for with ice cream makers. They can be expensive appliances and they don't always deliver on a range of functions. Generally, the more you pay, the more settings, speed, and power your maker will have, but that is not a given. Make sure that you always get value for your money.
Special features
Ice cream makers can get pretty elaborate, so if you want one that will make a Mr Whippy shape with cone storage, add in features, and marbling effects, you need to pick an appliance that can do that without much complaint. Equally, if you only want to make ice cream, it's a waste to pay for extra settings and features.
How long should an ice cream maker take to churn?
This will depend. We have tested appliances that will take 3 minutes, but they've also been known to take forty. Speed is no guarantee of quality, and we saw better results with longer churns. Check the manufacturer's guide and make notes as you play with recipes and techniques.
How much should I pay for an ice cream maker?
This depends on what you are after. I wouldn't pay less than $25, because the quality won't be any good. The Zoku is $25 and it's brilliant, but it's very small, and you'll have to do all your churning by hand. We've also tested ice cream makers that cost up to $300, but they have lots of settings to produce different types of ice cream in different time frames. Always check reviews to see whether you are getting good value.
What speed should I have my Kitchenaid on to make ice cream?
Once you have inserted your ice cream maker attachment, start your KitchenAid on the lowest speed setting. Once you've added your ice cream mix, you can build it up to half speed. Make sure to be patient with your ice cream, as you don't want to over-churn and ruin it.
Do all ice cream makers require you to freeze the bowl?
No. Some will have motors, such as Breville's, or will require you to pre-freeze the ingredients, like with the Ninja Creami.
Can ice cream makers make gelato?
Yes. The best ones will have a churner and compressor, but you can use an ice cream maker with gelato. The main difference is in the ingredients: ice cream uses eggs, while gelato tends not to.
What is the best at home ice cream maker?
This depends on your needs. All of the ones on this list are brilliant options for making at-home ice cream. If I had to choose one, it's a close call between the Cuisinart and the KitchenAid. However, for small batches, I would use the Zoku.
Do you need an ice cream maker to make ice cream?
No. Ice cream makers can help the process to be a lot more simple and efficient, but there are plenty of recipes that you can follow that won't require a machine. You might need to whip cream yourself or with an electric mixer though.
How do I clean an ice cream maker?
Always check the manufacturer's instruction manual, because some parts might be dishwasher safe. As a rule of thumb, I use warm, soapy water and a soft sponge to wipe my dasher and freezer bowl clean. If the appliance has a motor, use a damp cloth to wipe the machine clean and then a microfiber cloth to dry it.
Are ice cream makers worth it?
This, as with many questions, depends. I like nice ice cream and I like it often. For Ben & Jerry's or Häagen-Dazs, each tub costs around $8. That can mount up. Not to mention the additives, sugars, and ingredients that you often find in store-bought products. For someone who is interested in ice cream and eager to make their own flavor combinations, an ice cream maker is worth it. If you're half-hearted, not really interested in ice cream, sorbet, or frozen yogurt, you can make ice cream yourself maybe once or twice a year and you won't miss an ice cream maker.
Sign up to the Homes & Gardens newsletter
Decor Ideas. Project Inspiration. Expert Advice. Delivered to your inbox.