Best pizza ovens 2023: expert tests and advice
Looking for the best pizza oven to light up your home and yard? Take a look at our top picks, from Breville, Gozney and Ooni, for that perfect pizza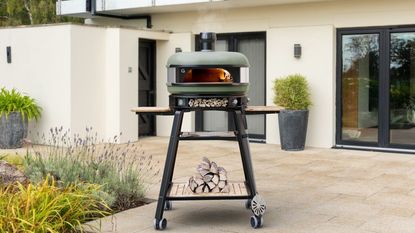 (Image credit: Gozney)
A guaranteed summer sellout, winter is a clever time to invest in the best pizza oven for your yard. It might not be the best season for pizza parties, but a pizza oven is an investment that you'll use again and again, and they make a brilliant holiday gift.
We've reviewed a number of the best pizza ovens on the market from Gozney, Ooni, and Solo Stove, comparing wood-fired and gas pizza ovens that offer easy ignition and cook times of under 60 seconds. We have also included an indoor pizza oven from Breville in our guide, which can be plugged in, whether you're in the kitchen or outside on the porch.
We're continually testing to make sure that we bring you all of the top recommendations, but every pizza oven in this guide has been reviewed by a member of our expert team, meaning they're well and truly Homes & Gardens-approved. From the fuel type to the cook time and ease of assembly, we've got all the important features of the best pizza ovens covered.
For more outdoor essentials and to create the ultimate outdoor kitchen set-up, our pick of the best grills is a useful read.
The best pizza oven 2022
Why you can trust Homes & Gardens Our expert reviewers spend hours testing and comparing products and services so you can choose the best for you. Find out more about how we test.
The best pizza oven we've tried
Specifications
Fuel type: Wood and gas
Exterior dimensions: 33 x 32 x 20 inches
Cook surface: 16.7 x 16.7 inches
Best type of pizza: Speedy Neapolitans
Reasons to buy
+
Window for easy viewing
+
Very speedy heating
+
Extra large capacity
+
Multiple fuel types
Reasons to avoid
-
Window got a little smokey
We loved the Ooni Karu 16 Multi-Fuel Pizza Oven when we put it to the test. It's a generously sized oven that won't be easy to store, but it's surprisingly lightweight and perfect for propping up in an outdoor kitchen.
What we love
The door has a unique hinge feature which makes it easy to pivot your pizzas as they're cooking. It's got a see-through panel too, which means you can keep an eye on your pizza as it cooks. However, this did get a little smoky during cooking.
Another big new feature is the in-built thermometer, which is digital and shows the fluctuations in temperature as your pizza oven is cooking. This is perfect for consistency between different pizzas.
Features
The Ooni Karu 16 Multi-Fuel Pizza Oven has Cordierite pizza stones (see our guide on how to clean a pizza stone for some handy information) and a 16-inch cooking area for large pizzas. Note that the gas burner doesn't come as standard, so it will be an additional expense if you want to cook with gas.
The top pizza oven for gas cooking
Specifications
Fuel type: Gas and wood (wood burner attachment sold separately)
Exterior dimensions: 16.3 x 21 x 18.6 in
Cook surface: 12.4 x 13.4 in
Best type of pizza: Homemade, especially Neapolitan
Reasons to buy
+
Includes a professional pizza peel and carry strap
+
Silicone cover makes it safe-to-touch
+
Capable of cooking a Neapolitan pizza in one minute
Reasons to avoid
-
Wood burner attachment sold separately
One thing we loved about the Gozney was its portability. It arrives on your door pre-assembled in the box with a black Velcro strap wrapped around the unit. You can literally pick it up, place it outside, and get cooking straight away.
What we love
There is a lot to love about the design. The built-in thermometer is handy and the safe-to-touch silicone covering (in green or gray) means you can touch the exterior without worrying about burns – this is important as the inside reaches 950 degrees.
Roccbox has retractable legs and when unfolded, you can easily attach the gas burner to the undercarriage. While gas is the standard fuel for Roccbox, Gozney does have a detachable wood burner if you'd like to order it as an additional accessory. In reality, it may not be necessary. We found the wood hopper a little lacking if you want to get a proper roaring fire going, whereas the gas never left us short on power, and was a lot speedier to get started.
Features
Though you can only fit one pizza (max 12 inches in diameter) in the Roccbox at a time, it's not really a concern because the oven can cook a Neapolitan pizza in one minute. An added bonus? The Roccbox includes a professional pizza peel so it's easy to place the pizza in the oven and take it out. Gozney offers a turning peel (for an extra price) that comes in handy when turning the pizza so as to achieve quality crispness along all edges of the pie, much like the Gozney Roccbox.
The best indoor pizza oven
Specifications
Fuel type: Electric
Exterior dimensions: 18.1 x 18.5 x 10.6 in
Cook surface: : 12 x 12 inches
Best type of pizzas: Any, including frozen pizzas
Reasons to buy
+
Indoor pizza oven achieves 750 degrees
+
Can cook any type of pizza in this oven, including frozen pizzas
+
Pre-set buttons to cook different types of pizzas
Reasons to avoid
-
Mimics a wood-cooked pizza but lacks the exact smoky flavor that comes with a wood-fired oven
The Breville Smart Oven Pizzaiolo is the answer to a quick and hassle-free pizza night. This electric pizza oven is designed for use indoors, making it the perfect option for those who lack patios or don't need a large pizza oven setup. The countertop oven is the first of its kind to reach temperatures of 750 degrees Fahrenheit. What does that mean? It can cook a 12-inch pizza in just two minutes.
What we love
The Element iQ smart system regulates power so that the oven mimics the type of heat generated in a brick oven. The idea is that the pizza comes out tasting similar to a wood-fired pizza, minus the wood. You can also adjust the oven to cook different types of pizza – like New York, pan, thin and crispy, or frozen pizzas.
We were wowed by how easy it was to use, and although we did worry for our countertops, it somehow contains all of that heat incredibly effectively.
Features
The independently-controlled deck made of natural cordierite stone is the star of the show. It sits above an Incoloy heating element that provides that leopard-spotted charred finish you can usually only get from a wood-fired pizza oven. With a manual mode, you can control the deck and top temperatures as you see fit. We preferred the pre-set features which kept the whole thing almost foolproof. A word of warning though - just like any pizza oven, it will take some time to come back to heat between pizzas.
The best compact pizza oven
Specifications
Fuel type: Wood or gas
Exterior dimensions: D20 x H15 inches
Cook surface: 12-inch pizza
Best type of pizza: Small wood-fired pizzas
Reasons to buy
+
Heats up and cooks quickly
+
Wood-fired and gas-fired options
+
Mid-range price point
Reasons to avoid
-
Very expensive
-
Needs fire starters
The Solo Stove Pi is one of the more affordable pizza ovens we tested, and while you can pay extra for the gas attachment, we enjoyed getting hands-on with wood-fired cooking for our review.
What we love
There is a guard that protects you from throwing your pizza too far back in the oven. A big win that prevents your pizza from getting squished or burnt.
The whole thing is quiet large, but very lightweight. There is also next-to-no assembly needed, which means you can get going as soon as it's out of the box.
Features
You'll need to get a specific type of wood: kiln-dried, 1" wide by 4-5" long. You'll also need a small fire starter, preferably non-toxic of course, to get going. It's a bit less accessible than the Ooni, which allows you to top up fuel and check on your fire from the back of the machine.
The oven is equipped to make 12" pizzas, but ours came out at around 10" with a bit of room at the edges. These are perfect for small gatherings, but may be on the slow side for big groups.
You can find out more in our Solo Stove Pi Pizza Oven review (opens in new tab)
The best professional-standard pizza oven
Specifications
Fuel type: Wood
Exterior dimensions: 34.4 x 61 x 79.5 inches
Cook surface: Enough for 4 pizzas
Best type of pizza: Authentic wood-fired pizza
Reasons to buy
+
Seriously professional design
+
Four pizza capacity
+
Heat and weather resistant exterior
+
Large and premium design
If you want the best of the best, look no further than the ALFA FX4PIZ-LRAM Wood Fired Pizza Oven. This pizza oven was designed to be on display, and it has a huge capacity.
What we love
Cook up to four pizzas at one time in the ALFA FX4PIZ-LRAM Wood Fired Pizza Oven. It works exactly like a restaurant-standard pizza oven, with wood-fired power and a massive temperature range of up to 950°F.
It has two side shelves that can be used to store pizza peels and other tools. They'll even keep plates ready to be filled with delicious pizzas.
Everything about it is pure quality. The double-layer dust coating is resistant to heat and weather conditions.
Features
Ceramic fiber insulation ensures long-lasting warmth, and the pyrometer will help you to monitor the temperature of the internal cavity.
Assembly is easy. Simply screw on the side shelves and the chimney. It comes on wheels, meaning if you do want to wheel it out of the way for various events, it's easy to do so.
The best versatile pizza oven
Specifications
Fuel type: Wood, dual-fuel propane, dual-fuel natural gas
Exterior dimensions: 26 x 24.8 x 28.8 inches
Cook surface: 7.5 x 18.5 x 21.6 inches
Best type of pizza: Authentic Neapolitan
Reasons to buy
+
Can cook more than just pizza
+
Professional, modern design
+
Multiple fuel type models to choose from
Reasons to avoid
-
Expensive
-
Lots of the accessories sold separately
For a truly professional standard, the beautiful Gozney Dome pizza oven boats a smooth, rounded modern design, and can cook much more than just pizza, making it a highly versatile choice for your outdoor space and cooking habits. Winner of the Time Best Inventions Award 2021.
What we love
We love the striking, stylish design, available in two contemporary color finishes, Bone and Olive. You can choose between three different fuel options, from dual-fuel models to a traditional wood model, with each working to create a restaurant quality authentic Neapolitan pizza. As the design is built to the exact ratios of a restaurant pizza oven, the cooking process is fast and efficient.
We also love that the oven can cook dishes other than pizza; from slow roasting and smoking meats, to steaming and cold smoking, there are unlimited possibilities.
Features
Some of the key features of the Gonzo Dome include, a durable GozneyShield™, created from a ceramic bonded outer coating, making the structure stronger, water-resistant and UV stable, digital thermometer, a regulated air ventilation system, steam injector, accessory port so you can easily alter the design for different food types, and double-layer stone floor and dense cavity insulation - ensuring that the design can heat up quickly and remain hot.
The design can be paired with a number of accessories, from pizza servers and an infrared thermometer to the bespoke Dome stand.
How did we choose the best pizza oven?
When reviewing the best pizza ovens – with a tasty margarita in hand and a list of our favorite pizza recipes ready to try – we tested for how evenly the pizza stone heated and how long it took to hit the higher temperatures.
We also took into consideration, looks, size, ease of assembly, and the overall cook and taste of the pizza.
For more information on our testing process, see our how we test guide.
Millie Fender is Head of Reviews at Homes & Gardens and has reviewed a number of the pizza ovens in this guide. With a lot of trial and error, she's discovered exactly what a pizza oven needs to make the best pizza, and can compare between Ooni, Gozney, and other leading brands with her hands-on experience.
Millie has the Gozney Roccbox in her own home, which is perfect for her small outdoor space. She found that it excels at making pizzas for small gatherings, and works best when it's had a decent amount of time to pre-heat.
Jason Orme is Managing Director of Homes & Gardens, and a number of other home and interiors websites and magazines. He has worked in homes media for over 20 years, appearing in all the mainstream national newspapers as well as many specialist magazines, including Homebuilding & Renovating, which he edited for 12 years.
Jason reviewed the Ooni Karu 16, and found that it is "by some distance the leading pizza oven of its type available. For a pizza oven of this size and spec – a real crossover between the pro models and consumer-friendly versions – it's very intuitive and easy to use."
Kaitlin Madden is Executive Editor at Homes & Gardens. She is also the co-founder of the interior design startup, The Finish, which offers home decorating services on-demand.
Kaitlin reviewed a number of the pizza ovens in this guide, including the Solo Stove Pi and the Alfa Nano Pizza Oven. She says "I love this pizza oven. It's become one of our favorite 'party tricks', because any time we have people over now, we make pizza.
Everyone we've made it for loves it, too, and even when we make pizzas that aren't quite as good looking as what you'd get from a restaurant, they taste every bit as good (or better!)"
Alex Temblador is a Contributing Editor at Homes & Gardens. She writes on a wide variety of topics for H&G, and has tested everything from vacuum cleaners to fitness equipment and pizza ovens in the name of product research.
Alex reviewed the Gozney Dome, a versatile outdoor oven that allows at-home cooks to use gas or wood to create a deluge of recipes from pizzas to salmon, steaks, and vegetables. She says "Gozney made a smart move when they created the Dome. There really isn't anything that's super comparable on the market. For the price, you get a great, durable product that can reach temperatures up to 950 degrees. Plus it retains heat like few products can do!"
What to consider when buying the best pizza oven
Fuel type and flavor
Fuel is the most important factor when considering what type of pizza oven to purchase because it determines additional costs (for the fuel), the time it takes for the oven to heat up, cleaning measures, and how well the pizza tastes.
Wood-fired pizza ovens produce the best flavor of pizza because it infuses a great smoky, charred flavor into the crust, cheese, and toppings. Some fruitwood can add a slightly sweet taste. A bag of wood chunks costs $5-$15 per bag (depending on what size you buy) so it's fairly affordable. However, it will require some clean-up and a bit of a learning curve. Lighting a fire and maintaining it is sometimes easier said than done. No matter your fire-starting skills, it will take 10-15 minutes for the fire to get to the right temperature to cook.
Charcoal, which can be paired with wood to fuel certain pizza ovens, provides a nearly similar experience and flavoring that wood has. Like wood, it's not too expensive ($5-$15). Most quality pizza ovens will have a tray that catches the ash for easy disposal, but like wood, it does take some time for the oven to reach the right temperature. Deep Dish Pizzas are best cooked with charcoal.
Electric pizza ovens are great, but they're usually designed for indoor use only. Keep in mind that electric pizza ovens don't yet have the capabilities to achieve that smoky wood flavor that only wood and charcoal can produce.
Pizza types
Most pizza ovens are designed to cook homemade pizzas, like Neapolitan and Deep Dish pizza -- not pre-prepared frozen pizzas that you would find on the frozen aisle at your grocery store. There are exceptions to the rule, like the Breville Smart Oven Pizzaiolo, an indoor electric pizza oven that does accommodate frozen pizzas.
Cook time
If you purchase a high-quality pizza oven, such as the ones featured here, you can expect your pizza to cook in as little as 1 minute and as long as 10 minutes – which is a lot quicker than a pizza delivery service. For families who are always on the run, it might be better to purchase a gas-fueled pizza oven or an indoor electric pizza oven as they heat much quicker and require far less prep and clean-up time.
Size
It can be easy to overlook the size of a pizza oven but take a moment to consider the measurements. If you're working with a small patio or no patio at all, then an indoor pizza oven might be the way to go. While the Forno Venetzia Pronto 500 could perhaps be stored outside year-round, smaller pizza ovens like the Roccbox or the Ooni should be stored indoors, so make sure you have the space for that.
Maneuverability
The quality and craftsmanship of the Ooni and Roccbox pizza ovens are great, but the fact that you can easily pack them in your car and take them to a friend's house, on a camping trip, or to the local park, makes these two quite special.
You've reached the end of the page. Jump back up to the top ^