Best pizza ovens 2021: outdoor gas and wood-fired pizza ovens
Skip the takeout and buy the best pizza oven of 2021, with our reviewed pizza ovens from Ooni, Breville, and Roccbox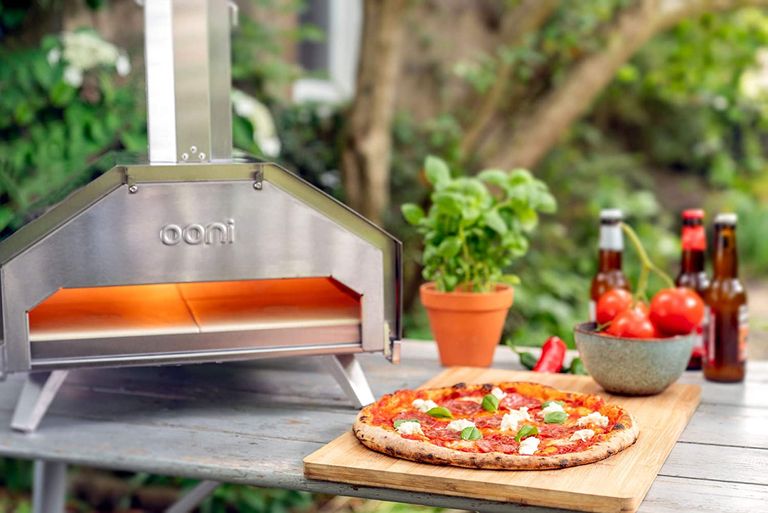 (Image credit: Ooni)
The best pizza oven is about to transform your yard this summer. We've been reviewing some of the best pizza ovens for indoor and outdoor use, designed to cook you an authentic homemade pizza in just 60 seconds. Not only are they easy to use, these pizza ovens are also a charming feature in any backyard or kitchen. 
They're cheaper than takeout, but homemade margarita really does just taste better. That's not all the best pizza ovens are good for, though. These multitaskers run on gas, wood chips or fire wood to offer a huge range of temperatures. You can sear scallops and steak or cook bread or even casseroles, slow and low. 
Many of the best pizza ovens in our guide have been tried hands-on by the Homes & Gardens team, so keep reading for our pizza oven reviews, still hot from the oven. 
Once you have picked your pizza oven, level up your outdoor kitchen game with the best grills, too.
1. Ooni Karu 12 Multi-Fuel Pizza Oven
The best pizza oven overall
Specifications
Fuel type: Wood, charcoal, and gas (gas burner sold separately)
Exterior dimensions: 15 3/4 x 28 3/4 x 28 3/4 in (including chimney)
Cook surface: 13 x 13 in
Best type of pizza: Homemade, especially Neapolitan and Deep Dish pizza
Reasons to buy
+Can use four different fuels with this oven+Cordierite stone baking board is long-lasting+Chimney chute lets you adjust airflow
Reasons to avoid
-Gas burner is sold separately
Purchase the Ooni Karu 12 Multi-Fuel Pizza oven, and your house will quickly become the go-to place for family and friends who are utterly amazed at the cooking capability of this oven. What makes this the best pizza oven is that it's designed to use gas, wood, charcoal, or wood and charcoal fuel. Unfortunately, it doesn't come with an Ooni gas burner, but you probably won't be in a hurry to make this purchase after you've cooked a pizza with charcoal or wood fuel. The flavor is unmatched. 
The Ooni Karu arrives already assembled which means, you just need to flip out the legs and make certain accessory adjustments depending on which fuel type you're using. For instance, you would need to attach the chimney chute for charcoal or wood fuel, and remove the chute and replace it with a lid if using gas. 
There are benefits to using gas, wood, or charcoal with this oven. Using a propane tank to fuel the pizza oven is a quick and easy set-up with virtually no clean-up time. Charcoal and wood does require you to dump the ash from the fuel tray when cooking is complete, but it's kind of hard to beat the incredible smoky flavor that is absorbed into the toppings, cheese, and crust when using these types of fuel. (Pro tip: use charcoal to cook a Deep Dish Pizza, wood for a Neapolitan pizza, and both charcoal and wood at the same time to achieve the best of both worlds)
The Cordierite stone baking board is long-lasting and can handle extreme temperatures, which is good because the oven can reach up to 950 degrees. The board is there to bake the dough on the bottom and leave a charred crunchy effect on the crust. Like with most pizza ovens, it may take a few tries to figure out how to spin the pizza so it cooks evenly on all sides, but when you do, you'll be surprised that it only takes one minute to achieve a fully-cooked and ready-to-eat Neapolitan pizza pie. 
2. Gozney Roccbox
The premium pizza oven
Specifications
Fuel type: Gas and wood (wood burner attachment sold separately)
Exterior dimensions: 16.3 x 21 x 18.6 in
Cook surface: 12.4 x 13.4 in
Best type of pizza: Homemade, especially Neapolitan
Reasons to buy
+Includes a professional pizza peel and carry strap +Silicone cover makes it safe-to-touch +Capable of cooking a Neapolitan pizza in one minute
Reasons to avoid
-Wood burner attachment sold separately 
Portability is what makes the Gozney Roccbox a magical pizza oven. It arrives on your door pre-assembled in the box with a black velcro strap wrapped around the unit. You can literally pick it up, place it outside, and get to cooking soon after. 
There is a lot to love about the design. The built-in thermometer is handy and the safe-to-touch silicone covering (in green or gray) means you can touch the exterior without worrying about burns. This is important as the inside reaches 950 degrees. 
Roccbox has retractable legs and when unfolded, you can easily attach the gas burner to the undercarriage. While gas is the standard fuel for Roccbox, Gozney does have a detachable wood burner if you'd like to order it as an additional accessory. In reality, it may not be necessary. The flame power is intense and the unique rolling flame design mimics that of a wood fire oven. 
Though you can only fit one pizza (max 12 inches in diameter) in the Roccbox at a time, it's not really a concern because the oven can cook a Neapolitan pizza in one minute. An added bonus? The Roccbox includes a professional pizza peel so it's easy to place the pizza in the oven and take it out. Gozney offers a turning peel (for an extra price) that comes in handy when turning the pizza so as to achieve quality crispness along all edges of the pie.  
3. Breville Smart Oven Pizzaiolo Pizza Oven
The best indoor pizza oven
Specifications
Fuel type: Electric
Exterior dimensions: 18.1 x 18.5 x 10.6 in
Cook surface: : 12 x 12 inches
Best type of pizzas: Any, including frozen pizzas
Reasons to buy
+Indoor pizza oven achieves 750 degrees +Can cook any type of pizza in this oven, including frozen pizzas+Pre-set buttons to cook different types of pizzas 
Reasons to avoid
-Mimics a wood-cooked pizza but lacks the exact smoky flavor that comes with a wood-fired oven
The Breville Smart Oven Pizzaiolo is the answer to a quick and hassle-free pizza night. This electric pizza oven is designed for use indoors, making it the perfect option for those who lack patios or don't need a large pizza oven setup. The countertop oven is the first of its kind to reach temperatures of 750-degrees Fahrenheit. What does that mean? It can cook a 12-inch pizza in just two minutes.
The Element iQ smart system regulates power so that the oven mimics the type of heat generated in a brick oven. The idea is that the pizza comes out tasting similar to a wood-fired pizza, minus the wood. You can also adjust the oven to cook different types of pizza – like New York, pan, thin and crispy, or frozen pizzas.
The independently-controlled deck made of natural cordierite stone is, however, the star of the show. It sits above an Incoloy heating element that provides that leopard-spotted charred finish you can usually only get from a wood-fired pizza oven. With a manual mode, you can control the deck and top temperatures as you see fit, though most people use the set features on the oven for a more seamless cooking experience.
To top it off, the exterior of the Breville Smart Oven Pizzaiolo can be touched when in-use, making it a safe option for children who want to help out on pizza night.
4. Ooni Pro 16 Outdoor Pizza Oven
The best multi-fuel pizza oven
Specifications
Fuel type: Wood, charcoal, gas
Exterior dimensions: 19.29 x 29.13 x 31.1 in
Cook surface: 16 inches
Best type of pizzas: Large
Reasons to buy
+Big enough to fit a 16-inch pizza+Wood fuel creates an unmatched flavor+Comes with the convenience of gas fuel
Reasons to avoid
-Is not as portable as some of the smaller pizza ovens 
The Ooni Pro Large Multi Fuel Outdoor Pizza Oven is a large and in charge portable pizza oven with a variety of fuel types to choose from. You can cook with charcoal for slow and low meats, or use gas or fire wood for a hot pizza ready in under 60 seconds.
Heating up to 950°F in under half an hour, the Ooni Pro is insulated and comes with a pizza stone included for large and even pizzas. It can be used for roasting meat, fish and vegetable dishes as well as pizza. 
The legs fold down for easier transportation, but because it's a larger option it's not the most portable in our guide. 
5. Talavera Tile Pizza Oven
The best traditional wood pizza oven
Specifications
Fuel type: Wood
Exterior dimensions: 26 x 26 x 15.5 in
Interior dimensions: 15 x 15 in
Best type of pizzas: Handmade pizzas (never frozen)
Reasons to buy
+Will blend in with many outdoor patio designs +Creates a wood-fired flavor to pizzas+Offers a more traditional pizza-making experience
Reasons to avoid
-Requires extra materials like sand-Takes pizzas 5-10 minutes to cook
Ask any pizza connoisseur and they'll argue that the best way to cook pizza is with a wood-fire oven. The taste is unmatched. So if you're a traditionalist at heart, you'll love the Talavera Tile Pizza Oven. 
This pizza oven was handmade in Mexico. The hearth is made of cement while the external material is made of clay. The deep rich brown color is complemented by colorful Talavera tiles resulting in an almost Southwestern design that will easily blend into many outdoor set-ups. 
A 15 x 15-inch homemade pizza – not a frozen one – is best prepared for the Vesuvius Pizza Oven. To get started, you'll need to purchase a small bag of sand to place in the one-inch level of the bottom of the pizza oven before you light a fire. The sand provides an insulation barrier. The oven comes with two volcanic pizza stones which should be placed on the sand. Choose from seasonal hardwoods like maple or ash, though oak is always a good choice. For a lovely smoky flavor, go for fruitwoods like cherry or hickory.
Once you start the fire, you'll need to wait 20-30 minutes before placing your pizza pie inside. The oven's maximum temperature is 650 degrees but you can start baking at 350 degrees by checking the temperature through the chimney feature at the top of the oven (you'll need your own thermometer). It takes about 5 to 10 minutes for the pizza to cook.
What to consider when buying the best pizza oven
Fuel type and flavor
Fuel is the most important factor when considering what type of pizza oven to purchase because it determines additional costs (for the fuel), the time it takes for the oven to heat up, cleaning measures, and how well the pizza tastes. 
Wood-fired pizza ovens produce the best flavor of pizza because it infuses a great smoky, charred flavor into the crust, cheese, and toppings. Some fruitwoods can add a slightly sweet taste. A bag of wood chunks cost $5-$15 per bag (depending on what size you buy) so it's fairly affordable. However, it will require some clean-up and a bit of a learning curve. Lighting a fire and maintaining it is sometimes easier said than done. No matter your fire-starting skills, it will take 10-15 minutes for the fire to get to the right temperature to cook. 
Charcoal, which can be paired with wood to fuel certain pizza ovens, provides a nearly similar experience and flavoring that wood does. Like wood, it's not too expensive ($5-$15). Most quality pizza ovens will have a tray that catches the ash for easy disposal, but like wood, it does take some time for the oven to reach the right temperature. Deep Dish Pizzas are best cooked with charcoal. 
Electric pizza ovens are great, but they're usually designed for indoor use only. Keep in mind that electric pizza ovens don't yet have the capabilities to achieve that smoky wood flavor that only wood and charcoal can produce. 
Pizza types
Most pizza ovens are designed to cook homemade pizzas, like Neapolitan and Deep Dish pizza -- not pre-prepared frozen pizzas that you would find on the frozen aisle at your grocery store. There are exceptions to the rule, like the Breville Smart Oven Pizzaiolo, an indoor electric pizza oven that does accommodate frozen pizzas. 
Cook time
If you purchase a high-quality pizza oven, such as the ones featured here, you can expect your pizza to cook in as little as 1 minute and as long as 10 minutes – which is a lot quicker than a pizza delivery service. For families who are always on the run, it might be better to purchase a gas-fueled pizza oven or an indoor electric pizza oven as they heat much quicker and require far less prep and clean-up time. 
Size
It can be easy to overlook the size of a pizza oven but take a moment to consider the measurements. If you're working with a small patio or no patio at all, then an indoor pizza oven might be the way to go. While the Forno Venetzia Pronto 500 could perhaps be stored outside year-round, smaller pizza ovens like the Roccbox or the Ooni, should be stored indoors, so make sure you have the space for that.
Maneuverability
The quality and craftsmanship of the Ooni and Roccbox pizza ovens are great, but the fact that you can easily pack them in your car and take them to a friend's house, on a camping trip, or to the local park, makes these two quite special.