Breville Smart Oven Pizzaiolo review: an unbeatable indoor pizza oven
The Breville Smart Oven Pizzaiolo is by no means cheap, but it makes amazing homemade pizza that rivals even wood-fired alternatives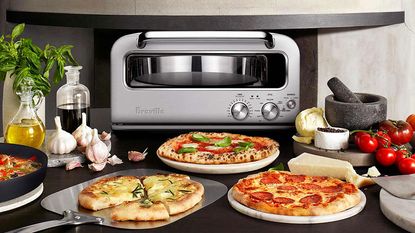 (Image credit: Breville)
The Breville Smart Oven Pizzaiolo is a serious investment piece, but if you love to make homemade pizza and want the process to be as easy and speeds as possible, it's the perfect choice.
Reasons to buy
+

Fully adjustable

+

Easy to store

+

Use it indoors or outdoors

+

Not hot to touch

+

Temperatures you'll struggle to achieve in a wood-fired oven
Reasons to avoid
-

Very expensive

-

Lacks the charm of a traditional oven
You can trust Homes & Gardens. Our expert reviewers spend hours testing and comparing the latest products, helping you choose the best for you. Find out more about how we test.
Sign up to the Homes & Gardens newsletter
Decor Ideas. Project Inspiration. Expert Advice. Delivered to your inbox.
Thank you for signing up to Homes & Gardens. You will receive a verification email shortly.
There was a problem. Please refresh the page and try again.
The Breville Smart Oven Pizzaiolo doesn't have the same charming domed lid and chimney as some of the best pizza ovens we've tried, but it can't be faulted for its ability to make amazing pizza.
What's more, the Breville Smart Oven Pizzaiolo makes it virtually impossible to get the pizza cooking process wrong. Unlike an outdoor pizza oven, where you have to turn your pizza to ensure that it's evenly cooked, the Smart Oven Pizzaiolo creates a consistent internal temperature and even times the cooking of your pizza to make sure it won't burn.
I put the Breville Smart Oven Pizzaiolo to the test for two pizza nights with my family, taking into account the quality of the pizza it produced, as well as how easy it is to set up and use.
Breville Smart Oven Pizzaiolo: Specs
Fuel type: electric
Dimensions: 18.1" x 18.5" x 10.6"
Weight: 45.6 pounds
Oven temperature: Up to 750°F (400˚C)
Pizza size: 12 inch pizzas
Pizza cooking time: as little as 60 seconds
Use: indoor
Modes: 7
Power: 1800 Watts
Setting up the Smart Oven Pizzaiolo
I was sent the Smart Oven Pizzaiolo by Sage, which is the UK trading name for Breville. Beyond the name though, the machine itself is the exact same no matter where in the world you buy it.
It comes with a pizza paddle, pizza stone, pan with removable handle, a magnetic sticker that sits over the controls to tell you what temperature to use for what type of pizza, and of course, the oven itself.
It's pretty heavy to lift onto the kitchen counter, but I was able to do it myself. This is partly because it has a handle that makes it easy to lift from the front, and because it's quite compact for a pizza oven, you should find storing it easy enough if you have a little space to spare.
You can place a sticker over the control panel to switch from a temperature-based display to one that makes it easy to adjust based on what type of pizza you're cooking. You can adjust the darkness of the pizza, and while the right temperature is selected automatically you can override this if you want a more crisp or more doughy pizza.
Cooking in the Smart Oven Pizzaiolo
I have reviewed more traditional outdoor pizza ovens by making some bread dough in my stand mixer and then rolling out the dough and cooking garlic bread and a range of pizzas for the family. I find that it typically takes a few tries to get the perfect pizza, as you can see in my Gozney Roccbox review, but because of the timer on the Breville Smart Oven Pizzaiolo I had no such trouble with this oven.
When you select your desired temperature the oven takes a few minutes to come to temperature. It will beep loudly when it's ready, and you can shimmy your pizza from the peel onto the pizza stone, which lifts towards you as you open up the oven.
Radiant heat will give your pizza that classic Neapolitan leopard charring, mimicking the conditions of a wood-fired oven while not burning toppings.
My main concern when heating this oven up to the brick oven temperature of 750°F was that it would scorch my wooden countertops, which would have been difficult to explain to my landlord. Thankfully this oven has excellent heat retention and it was actually safe to touch throughout.
Making pizza
You can make a variety of different pizzas in the Breville Smart Oven Pizzaiolo. The highest temperature is best suited to thin-crust pizzas, and the thicker the base, the lower the temperature should be. This principle is easy enough to apply to a more manual pizza oven, but the hands-free nature of the Pizzaiolo is a real perk for those who make lots of different types of pizza.
You can even cook store-bought pizza in this oven, although if you have the time I would highly recommend making it from scratch, even if you use store-bought dough.
Image 1 of 3
My first pizza was a thin crust, and the pizza oven recommended cooking it for three minutes. As promised the upper heating element did not burn my toppings, but still created an authentic-style crust with the classic leopard-spotted (but not burnt) texture.
I found that my mozzarella was not as cooked as I would have liked, but having tested many pizza ovens, this is a common result of adding more cheese than you need to your pizza. So for my next pizza I resumed with a "less is more" mentality, which was a lot more successful!
What else?
The Breville Smart Oven Pizzaiolo comes with a pan that's perfectly sized to sit on the 12-inch pizza stone. This is ideal for deep dish, and there's a handle that locks into place when it's time to remove.
You are limited by the size of the 12-inch pizza stone, especially if you like your pizzas to be large enough to share, but you will find that even in an outdoor pizza oven you often face these same restrictions.
The oven needs to re-heat between each pizza, which takes a couple of minutes. This is also the same in any outdoor pizza oven, because every time you open the oven it does release heat.
One of the most impressive features of the Breville Smart Oven Pizzaiolo is how easy it is to turn on and off. It took 25 minutes to reach its maximum temperature, which is very speedy for any oven. When it is switched off it takes only 15 minutes for the fan to stop cooling the oven down, and while you should absolutely proceed with caution, I was able to remove the inner pizza stone after this point.
Cleaning the Breville Smart Oven Pizzaiolo
As you can probably tell from the floury countertops in my review photos, I found the cooking process to be very messy when testing the Breville Smart Oven Pizzaiolo. That said, the oven itself is very easy to clean. The pizza stone is easy to lift out and then it's just a case of washing it down with a damp cloth to remove leftover flour and semolina. The exterior is also very clean to wipe down, and the pizza peel can go in the dishwasher.
Should you buy the Breville Smart Oven Pizzaiolo?
There's no denying how expensive the Breville Smart Oven Pizzaiolo is, with an RRP of $999.95. That said, it's also the most capable pizza oven I've ever tested. It does require access to a socket so you may struggle to use it outdoors, but its relatively compact frame makes it perfect for storing away when not in use.
If you fancy yourself a pizza chef, you may miss the charred and smokey taste of a wood-fired oven. However, the Breville Smart Oven Pizzaiolo is designed to minic the conditions of a traditional oven with the radiant heat and thick pizza stone. If you want an indoor pizza oven for your home and enjoy making meals from scratch, I could not recommend it more.
About this review, and our reviewer
Millie Fender is our Editor for all things cooking at Homes & Gardens. She spends a lot of time testing everything from toasters to air fryers in her own apartment, and recommending the very best ones to readers.
All our reviews are tested from home, and the Breville Smart Oven Pizzaiolo is no exception. Millie put it to the test for a number of days with her family, making thin and thick-crust pizzas to test its full range of capabilities, before sending it back to Sage UK, who kindly loaned it to her for the purposes of this review.
Sign up to the Homes & Gardens newsletter
Decor Ideas. Project Inspiration. Expert Advice. Delivered to your inbox.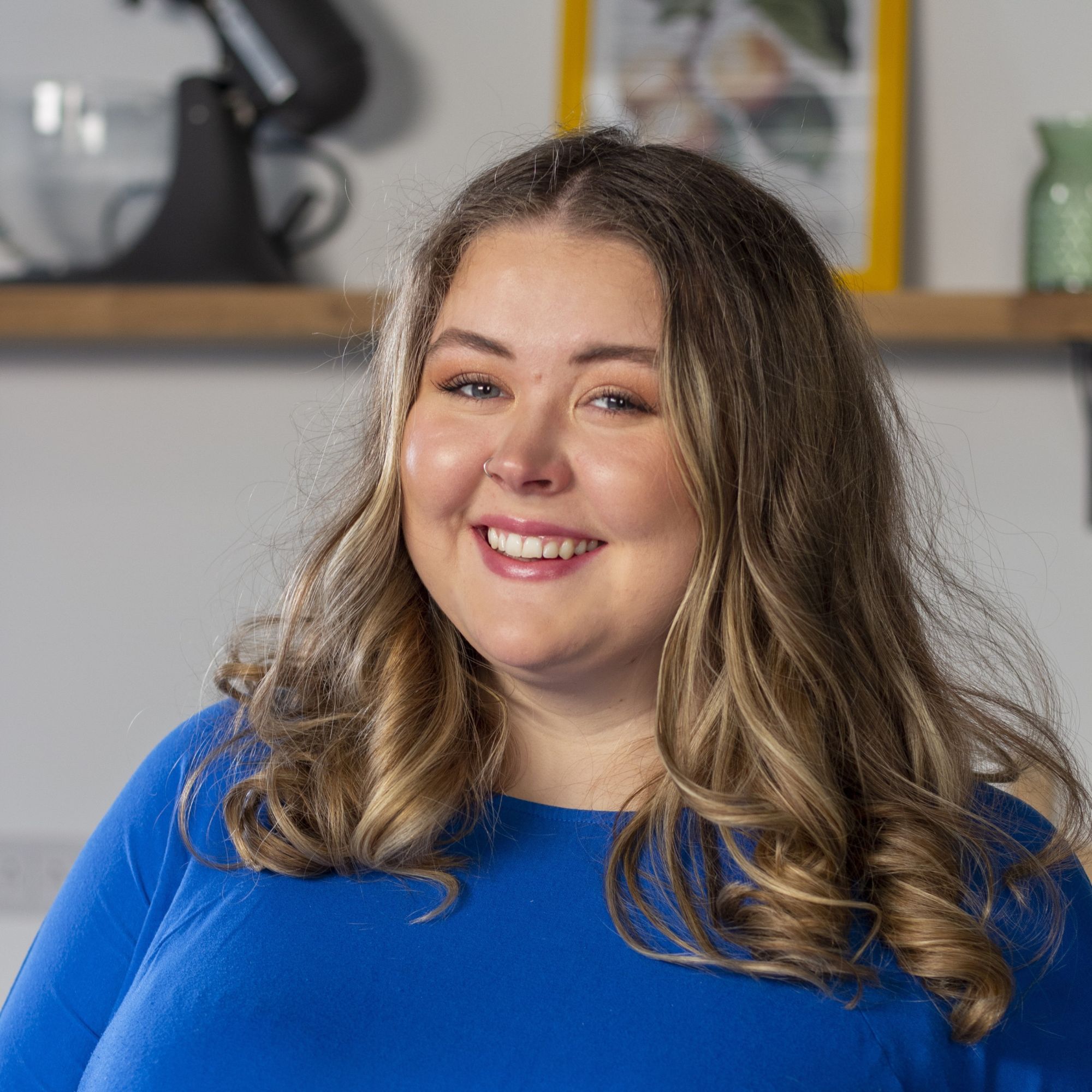 Millie Fender is Head of Reviews on the Homes and Gardens Ecommerce team. She specializes in cooking appliances, such as the best kettles, and also reviews outdoor grills and pizza ovens. Millie loves to bake, so she will take any excuse to review stand mixers and other baking essentials. When she's not putting products through their paces in our dedicated testing kitchen, Millie's reviews are conducted at home, meaning she uses these products in her own day-to-day life.