Best stand mixer 2023: tested by expert bakers
The best stand mixer revealed: after dozens of cakes, cookies, and loaves, our team of experts finds the very best from KitchenAid, Cuisinart, Smeg and more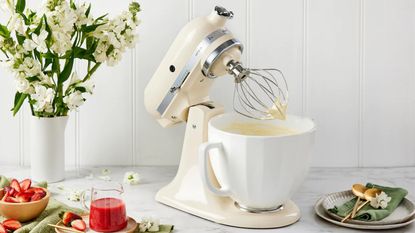 (Image credit: KitchenAid)
Best stand mixers 2023: Jump Menu
Whether you're stepping up your home baking or a pro pastry chef in training, the best stand mixers whip up mixes in minutes, saving you time and effort.
After years of testing, our experts have concluded that the best stand mixer is still the iconic KitchenAid Artisan. The five-quart mixing bowl can accommodate enough cake batter to make at least two tiers at once. It impressed on test with its brilliant, colorful finishes and its wide range of tools to perfectly whisk eggs, fold in flour and knead bread dough.
Before awarding the Artisan top spot, our experts tested the best classic stand mixers from KitchenAid, Smeg, Cuisinart and more. We considered their effectiveness, quality, durability, ease of cleaning, and price.
Alongside functionality, we considered the stand mixers' looks – since, unlike our selection of the best hand mixers, yours will likely be out on the countertop full time. We've also taken weight into consideration, in case you have the space to be able to tuck your stand mixer away when not in use.
Best stand mixer deals
To get the fairest prices on the best stand mixers, I recommend reading the whole article. But if you're tight on time and money, you should take advantage of these deep discounts.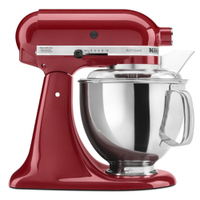 KitchenAid Artisan 5 Quart | Was $412.00, now $349.98 at QVC
The best stand mixer in the world is now on sale. On test, it excelled at mixing cake batter, dough, and whipped cream. It looks great in any kitchen style. 23 colors are all on sale and it also comes with a pouring shield to stop your countertops being covered in flour as you mix.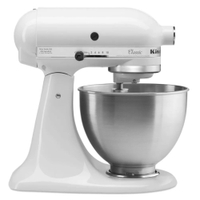 KitchenAid Classic Stand Mixer | Was $329.99, now $239.99 at Walmart
This deal just dropped by $60 overnight. If you know you want a KitchenAid mixer, but you just can't stretch to an Artisan, you'll appreciate this deep discount on the KitchenAid Classic. It's a little smaller, a little less powerful, and it only comes in black and white, but it brings KitchenAid quality for less.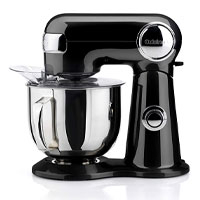 Cuisinart Precision Stand Mixer, 500W, Black, SM50BU | Was $249.95, now $159.99 at Amazon
We've argued for years that the Cuisinart Precision is almost as good as the iconic KitchenAid Artisan. It's usually hundreds of dollars less than the Artisan, and this deal makes it an unbelievable bargain. This study machine kneads bread with ease, and the controls are easy to use.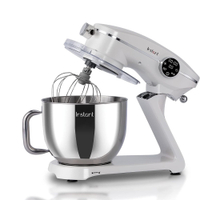 Instant Stand Mixer Pro | Was $299.99, now $179.99 at Amazon
We were incredibly skeptical when the makers of the Instant Pot brought out a stand mixer, but this held up on test. It's not the best stand mixer in the world, but it's light and easy to store and inbuilt scales can weigh your ingredients as you add them to the bowl.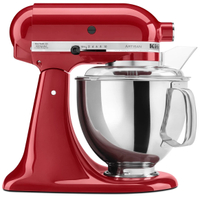 KitchenAid Artisan 5 Qt. Stand Mixer KSM150PS | was $449.95, now $349.99 at Macy's
Rated our best stand mixer, don't miss out on a $100 saving on this excellent model. The KitchenAid Artisan is a favorite of mine, and is the perfect size for making multi-layer cakes. I also loved how it can store neatly on the kitchen counter, ideal for kitchens of all shapes and sizes.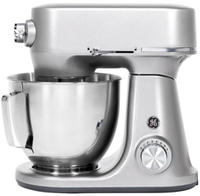 GE Stand Mixer| was $299.99, now $210.00 at Amazon
We've yet to try the GE Stand Mixer, but based on reviews and the quality GE is known for, this could definitely be a worthwhile investment. This machine comes with seven speeds, a 59-point mixing cycle for thorough mixing, and a sturdy 350-watt. It also has an easy Lift tilt-head and 5.3 qt. capacity. Right now, it's selling for $200 less than its listing price at Amazon.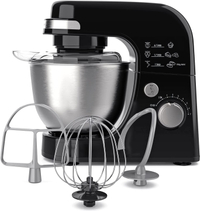 Hamilton Beach Electric Stand Mixer, 4 Quarts| Was $99.99, now $69.99 at Amazon
The Hamilton Beach Electric Stand Mixer is an affordable option for those looking for a decent mixer on a budget. It claims to offer the same mixing action as KitchenAid, though has slightly less power at just 300 watts. Reviewers are concerned with longevity as to how long the product may last, but it seems to get through the required basics. Helpful markings on the side give advice as to what speed setting to use based on what you're making.
Millie Fender is our expert e-Commerce editor at Woman & Home. Amongst our experts, Millie is the authority on stand mixers. She loves to make and if you've ever seen her handle a stand mixer, her expertise is pre-eminent.
The quick list
Best overall
1. KitchenAid Artisan Series
Best overall
For an iconic, American-made stand mixer, we'd always choose this. With 10 power settings it made everything from cake batter, to bread dough, and whipped cream effortlessly.