KitchenAid Artisan Mini Stand Mixer review
We put the delightfully compact KitchenAid Artisan Mini Stand Mixer to the test to see if it measures up with the full-size alternative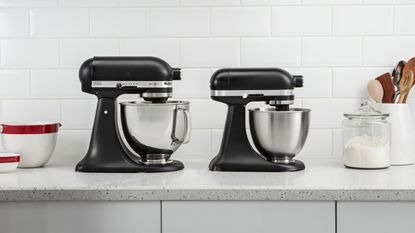 (Image credit: KitchenAid)
The KitchenAid Artisan Mini Stand Mixer has a 3.5 quart capacity which is perfect for smaller bakes, and comes in a compact size if you're lacking countertop space. In this review we put it through various tests to establish if it's a good, small-size stand mixer alternative.
Reasons to buy
+

Adorably small size

+

Perfect for small or busy countertops

+

Excellent performance

+

Lightweight and easy to use
Reasons to avoid
-

Very similar RRP to the full-size Artisan Mixer

-

Capacity might not be family-sized
You can trust Homes & Gardens. Our expert reviewers spend hours testing and comparing the latest products, helping you choose the best for you. Find out more about how we test.
The KitchenAid Artisan Mini Stand Mixer is a sized-down alternative to the iconic KitchenAid brand flagship - the KitchenAid Artisan Stand Mixer. Lighter by quite a substantial amount (18lbs down from 26lbs), this mixer is also minature when it comes to capacity (3.5 quarts down from 5 quarts) as well as featuring petite attachments for smaller bakes.
Kitchenaid claims this mixer still has all of the power of its bigger sister, despite its little size. We put it to the test by mixing up a series of bakes to see how it performed and to see if it really can still take it all on. The KitchenAid Artisan Stand Mixer (the larger model) is renowned for its appearance on The Great British Baking Show, and for the multitude of sumptuous colors that you can snap it up in.
So, if you've always coveted a KitchenAid mixer, but considered the bulkiness an offputting factor, then you might be wondering if the KitchenAid Artisan Mini can still deliver everything you need it to in the battle of the best stand mixers. We put it to the test to find out.
Specifications
Colors: 10
Type: Tilt-head mixer
Capacity: 3.5 quarts
Weight: 18lbs
Speed settings: 10
Material: Stainless steel
Dimensions: 12.3H x 7.8W x 12.3D inches
Attachments: 1 Flex Edge Beater, 1 Coated Dough Hook, 1 6-Wire Whip
First impressions
My job aside, I'm very enthusiastic about stand mixers, not just because they are ultra-helpful, but because they are also arguably the most aesthetically pleasing kitchen appliance out there. Even my (slightly higher than normal) enthusiasm waned when it came to the KitchenAid Artisan Mini on first hearing about it, given that the RRP of this considerably smaller model is only $20 cheaper than its full-size alternative. I wondered what the point of a mini mixer was if there wasn't a cost benefit.
Despite this, all of my doubts vanished as soon as I opened the box containing this mixer, and all of its adorably tiny attachments. It was a lot smaller than I was expecting, giving it a really lovely miniature feel, and yet the capacity of the included stainless steel bowl was still impressive. Plus, I tested this mixer out in the classic Candy Apple Red shade, which only added to the impressive air.
This mixer has an identical design aside from the size of its bigger predecessor, which you can discover more about in our KitchenAid Artisan Stand Mixer review. That includes the tilt-head feature, which allows you to maneuver the mixer up and down as you add ingredients and take a break from mixing. Once the head is secured down and your ingredients have been added, the speed control is ultra-convenient. You can simply use the speed dial to switch between the ten available settings.
In the box with this mixer, there are three attachments: a flat-head beater, a wire whisk, and a dough hook. In order for you to get an accurate picture of what this mixer is like to use, we used each of these attachments in different tests to gauge their abilities.
Making cake
Kitchenaid recommends using the flat edge beater for mixing ingredients, as the scraper is optimally designed to ensure that the sides and bottom of the mixing bowl are taken care of. With that in mind, we set out to bake a Victoria sponge cake using the all-in-one method.
I was expecting the power and performance of this mini mixer to be diminished due to its size but was pleasantly surprised to find the opposite. Even at a medium speed, there was a noticeable level of power, and the ingredients were left wholly combined after just a few minutes.
As you can see from the images, the test of this mixer was conducted at the same time as various full-size mixers. Despite the smaller size, the KitchenAid Artisan Mini Stand Mixer excelled at this test, and on a medium setting it felt powerful but not out of control. Some mixers can shake and shudder when the power gets too high, but this mixer worked quietly and efficiently without being a nuisance.
Making bread
The dough hook that is included with this mixer is perfect for breadmaking. It has a C-shape claw that mimics the motion of hand kneading but requires absolutely none of the effort. To attach it to your mixer, you simply need to lift the head using the dial and rotate it until it clicks into place.
We made a wholemeal loaf using this mixer, to get an idea of how valuable it is as an attachment. Using the medium speed, the consistency of the dough came together well, yielding a smooth springy dough. The results were achieved in just a couple of minutes, saving your arms from strenuous work. You can see the dough turning and folding as the mixer works too, so if there is a particular dough consistency you need, you need keep an eye on the process.
Once again, I felt this mixer excelled in comparison to its full-sized counterparts, including the Cuisinart Precision Stand Mixer, despite the fact that the latter has double the wattage to work with. This is down to the engineering and design of KitchenAid mixers, which are undeniably second to none. So, despite the smaller size, there's no doubt that this mixer will work for you if bread or dough is your priority too.
Making whipped cream
The final attachment to test out is the wire whip, which incorporates air into egg whites, cream or anything else that you need to beat. We used it to whip cream and chose a high speed to get the job done, as recommended.
It was an ultra-easy process to whip cream with this mixer, and it was done in one of the quickest times compared to the full-sized mixer, which is a testament to its abilities.
Cleaning
Another benefit of the mini size of this mixer is that clean-up is bound to be easier. The bowl can be put into the dishwasher as soon as you're finished with it, and the fact that it is considerably smaller means that even if you have a smaller capacity dishwasher, the bowl should fit in.
In terms of the attachments, the dough hook and beater head can be put in the dishwasher too, but the wire whip should be hand washed, so that the intricate shape remains the same. As far as the exterior is concerned, the stainless steel can be wiped down to ensure your new investment remains sparkling clean.
How it compares
When it comes to comparing the KitchenAid Artisan Mini Stand Mixer to the full-sized alternative, the essential information you need is that it's 25% smaller, $20.00 cheaper and that it performed just as well as the bigger model in our tests. That means that if you're considering investing, you should take the plunge if you really need a smaller model or if you like the sound of a miniature version. This mixer is bound to impress, and you'll be enamored by it the minute you see it.
However, if you're looking to get the most from your investment, then the Mini won't tick all of your boxes, as the capacity is reduced, and the power is much less in terms of watts. The KitchenAid Artisan Stand Mixer is everyone's favorite mixer for a reason, and won't let you down when it comes to capacity, performance, and aesthetics.
Should you buy the KitchenAid Artisan Mini Stand Mixer?
If I was to invest in a stand mixer, I would opt for the KitchenAid Artisan Mini Stand Mixer due to the fact it is endearingly small, and because I don't need a large capacity for my bakes. However, if you do want to cater to your whole family with cakes, then you might need that 5 quart capacity, or potentially even more, such as the KitchenAid Pro Line Stand Mixer.
There are ten colors to choose from with this model, which ordinarily would be considered quite a range, but in comparison to the endless colors of the KitchenAid Artisan Stand Mixer, it is less impressive. If you want to match your mixer to your kitchen hues exactly, then you probably won't mind spending the extra $20.00 to do so.
Bakers who are looking for an upgrade from their KitchenAid Artisan Stand Mixer will probably not want to downsize to a model like this, and might be swayed instead by the power of alternatives, like the Smeg 1950s Stand Mixer.
For a casual baker or anyone who is desperate for a stand mixer but doesn't quite have the space, then the KitchenAid Artisan Mini Stand Mixer is the absolute perfect pick, with a high-quality finish that will not disappoint.
About this review, and our reviewer
Molly is the Ecommerce Writer across Homes shopping content, spending time reviewing products to see if they can earn a place in buying guides. She has turned her hand to testing stand mixers, hand mixers and more in order to pick out the features that matter the most to readers.
This stand mixer was tested alongside a range of other hand mixers at a Future testing facility in Reading, as you'll see from the photos. Unfortunately, this mixer was not available to be kept for long-term testing, but efforts will be made to glean information on how the mixer performed after months and years of use.