Nutribullet vs Ninja: which blender comes out on top?
Nutribullet vs Ninja, which blender should you buy? We put these classic bullet blenders head to head to make your decision easier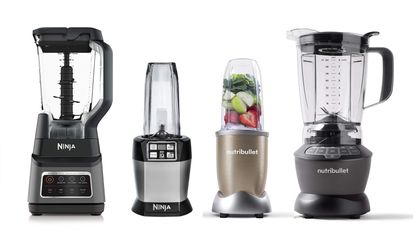 (Image credit: Ninja/Nutribullet)
Sign up to the Homes & Gardens newsletter
Decor Ideas. Project Inspiration. Expert Advice. Delivered to your inbox.
Thank you for signing up to Homes & Gardens. You will receive a verification email shortly.
There was a problem. Please refresh the page and try again.
Wondering which is better: NutriBullet or Ninja? Both brands are known for great quality blenders that come in a range of different sizes and designs, but which should you go for?
Both Ninja and NutriBullet feature in our best blender guide, and we have tried both brands hands-on in our rigorous blender testing process. NutriBullet is best known for its bullet-style blender design which comes with a single-speed, one-serving blending cup that is easily switched on and off with just a twist. Ninja is more commonly known for its smart range of pre-set blenders, which come with buttons you can press to make a smoothie, crush ice, or chop fruits and vegetables.
When deciding between the best NutriBullet and Ninja models, bear in mind that Nutribullet are best known for their portable blenders, while Ninja also has a range of larger blending appliances that take up more space, and cost more.
We'll talk you through the different product ranges below, and we have also directly compared two blenders to see how the brands compare, head to head. In our comparison, we tried out the NutriBullet Pro 900, and the Ninja Nutri 1000 Watt Auto-IQ blender.
NutriBullet and Ninja deals
You can trust Homes & Gardens. Our expert reviewers spend hours testing and comparing the latest products, helping you choose the best for you. Find out more about how we test.
Explore our picks of the best NutriBullet and Ninja deals currently available.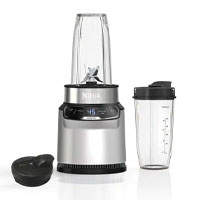 Ninja Nutri-Blender Pro with Auto-iQ | was $99.99, now $79.99 at Amazon
I found the Ninja Nutri-Blender Pro with Auto-iQ simple and easy to operate, and loved how the more compact design still provided a powerful blend, and effortlessly blended fruit, veggies and ice with ease.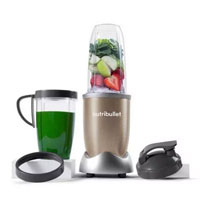 NutriBullet NB9-0901 Pro | Was $99.95 now $59.99 at Macy's
One of my favorite NutriBullet products, this model has a powerful 900-watt motor and can be a truly versatile addition to your kitchen. An ideal design for smoothies, this deal at Macy's comes with a 32oz. Colossal cup, a 24-oz. Tall cup, a Flip-top to-go lid and two lip rings.
NutriBullet Pro 900 Series Blender
Power: 900W
Cup Capacity: 32oz.
Modes: 1
Colors: 17
RRP: $109.99
For
Makes very smooth drinks
Can power through tough ingredients easily
The controls are straightforward
It won't take up too much space
Attachments for taking your drink on the go
Reasonably priced
Against
Limited size
Blades can't go in the dishwasher
Ninja Nutri-Blender Pro 1000W
Power: 1000W
Cup Capacity: 24 oz
Modes: 3
Colors: 1
RRP: $99.99
For
Simple to operate
Powerful motor
Well priced
Easy to clean
Against
Loud
Doesn't handle dry foods
Which is better: the NutriBullet or Ninja?
Below, you will see why I think a NutriBullet is a better buy than a Ninja. However, there are distinct differences, depending on what you are making. I go through them in detail, below.
For small or smoothie-sized blenders, choose a NutriBullet. Having tested NutriBullet vs Ninja blenders head-to-head, our NutriBullet came out on top. We gave a rare five-star rating in our NutriBullet Pro 900 Series Blender review, and while it is limited by its smaller single-serve capacity, it is the perfect choice for smoothies.
For large portions, drinks or soups, choose a Ninja blender. However, if you want a larger blender, we would recommend turning to Ninja blenders. Designed to offer versatility and a selection of attachments to choose from, we really enjoyed reviewing the Ninja Professional Plus Kitchen System with Auto-IQ when we tested it. Nutribullet's largest blender, as tested in our NutriBullet Blender Combo review, scored four stars in our review. Like the Ninja, it has a multi-serve and a personal cup, but it only has three blending speeds to choose from.
Nutribullet vs Ninja design differences
NutriBullet blenders are known for their simple and effective design. The base is compact and lightweight, and it requires you to screw the blade base onto your smoothie cup, press it down into the base, and twist it to start the blending process. To stop blending, you just need to twist it back to a neutral position.
NutriBullet warns that its Pro 900 blender cannot be used for more than a minute at a time, presumably out of fear that the engine can overheat. However, we have used it for over a minute in the past and it did not have any issues. Keep the time limit in mind, but we wouldn't list it as a deterrent.
Ninja, however, has a preset mode called Auto-IQ, which is a feature you'll find in some of the best food processors alongside their top blenders. This allows you to twist the smoothie cup into place and press from one of multiple modes. With the Ninja Nutri 1000, this includes Blend, Pulse, and Ultra Blend. These are pre-timed, meaning you can simply press the button and leave it to blend and automatically shut off once the cycle is finished.
NutriBullet vs Ninja: making a smoothie
NutriBullet produced the best results.
I put my two blenders side-by-side to directly compare the results of two identical smoothies. I added the same amount of frozen mango, fresh pineapple (with the tough core included), curly kale, yogurt, and water to each cup, but because of the difference in cup sizes, the Ninja blender cup filled up far more.
I added the blending lids and twisted both into the bases before pressing down the NutriBullet and twisting the cap into place, pressing the 'Blend' button on the Ninja as it seemed best suited to a smoothie of this type.
The Ninja had a preset time of 50 seconds, and it pulsed multiple times to incorporate the fresh and frozen ingredients with no difficulty. The NutriBullet, by contrast, simply had a continuous blend cycle which I also left for 50 seconds.
Neither blender had trouble slicing through the kale, frozen fruit, and pineapple core, and they came out very similar in color.
However, there was a difference in the texture. The Ninja smoothie had more visible patches of green where the fibers of the kale had not completely been broken down, whereas the Nutribullet smoothie came out much more finely blended and it tasted very smooth.
Overall, it was a better drinking experience. The smoothie was creamier and every ingredient had clearly been broken down, whereas in the Ninja there were small specs of kale that could have used more blending.
NutriBullet vs Ninja blenders: which should you buy?
I recommend NutriBullet.
If you want a powerful bullet blender to make tasty smoothies, I would recommend picking up the NutriBullet Pro 900 blender. It has two 32 oz to-go cups and lids, as well as a screw-on handle for easy drinking. Despite its marginally less powerful battery than the Ninja BL480D, it still was able to cut through kale stems, tough pineapple core, and frozen chunks of fruit with absolutely no difficulty.
However, if you do like the idea of the Auto-IQ settings you'll get with the Ninja Nutri-Blender Pro 1000W, or if you are taken by the slightly lower price tag, it is also a top choice. The blender will allow you to leave your drink to blend hands-free, whereas the NutriBullet requires you to stand by and switch off the blender manually when you're happy with your drink's consistency.
While the NutriBullet produced a better smoothie, it really is designed to do only this. The Ninja Nutri Pro 1000 Watt Auto-IQ Blender also has a pulse mode and a max blend mode, which I have used to make smoothie bowls in the past, and which is very effective on purely frozen ingredients.
Looks-wise, I do think the NutriBullet has a more appealing color selection and overall appearance. The bullet design is extended down to the metallic base, and NutriBullet has also launched an exclusive range of fun colors with a matt base, which is perfect for strictly color-coordinated kitchens.
Larger NutriBullet and Ninja blenders
We have reviewed a number of NutriBullet and Ninja blenders, and while we put two personal-sized blenders head-to-head, if you are looking for a large or multi-serve blender, our reviews can still come in useful.
When we reviewed the Ninja Professional Plus Kitchen System with Auto-IQ, the versatility was a big winner. It has a very powerful food processor attachment, with two levels of chopping blades that effectively cut through onions, dough, and more. Most importantly, the blending worked very well, even on soups.
As our review of the Nutribullet Blender Combo shows, it is the brand's attempt at a multi-serve, and while it's good value for money, we did feel that it lacked the range of pre-sets and speeds you'll find with a model from Ninja.
Ninja Professional Plus Kitchen System with Auto-IQ
Power: 1400W
Cup Capacity: 72oz pitcher, 64oz bowl, two 24oz cups
Modes: 5 presets
RRP: $219.99
For
Very powerful
Attachments are dishwasher-safe
On-board countdown timer
A range of food processor blades and discs
Against
The lids won't close when not on the attachments
Bulky to store
NutriBullet Blender Combo
Power: 1200W
Cup capacity: 64oz blender, 32oz cup, 24oz handled cup
Modes: 3 speeds, pulse, extract
RRP: $149.95
For
Large 64oz pitcher
Simple to use
Lightweight pitcher
Suitable for both right- and left-handed cooks
Affordable
Pitcher can blend hot liquids
Dishwasher-safe accessories
Against
Pitcher can stain
Extractor blade for cups isn't dishwasher safe
Can feel a bit top heavy when pitcher is full
Only three blending speeds and one auto program
How we test our blenders
We've had hands-on testing time with many NutriBullet and Ninja models. When reviewing we crushed ice, blended frozen fruit into thick smoothie bowls, and made green smoothies from fibrous kale and spinach.
Cleaning a blender is a very important part of the user process, so we give props to blenders that can be cleaned in a dishwasher. However, some also come with self-cleaning settings that can prevent ingredients from sticking to the blades of the pitcher. We cleaned every blender by hand to see how easy this was, and if it felt safe.
You can find out how Homes & Gardens tests blenders in our dedicated page. Our review and testing guidelines provide more insight into our process.
Sign up to the Homes & Gardens newsletter
Decor Ideas. Project Inspiration. Expert Advice. Delivered to your inbox.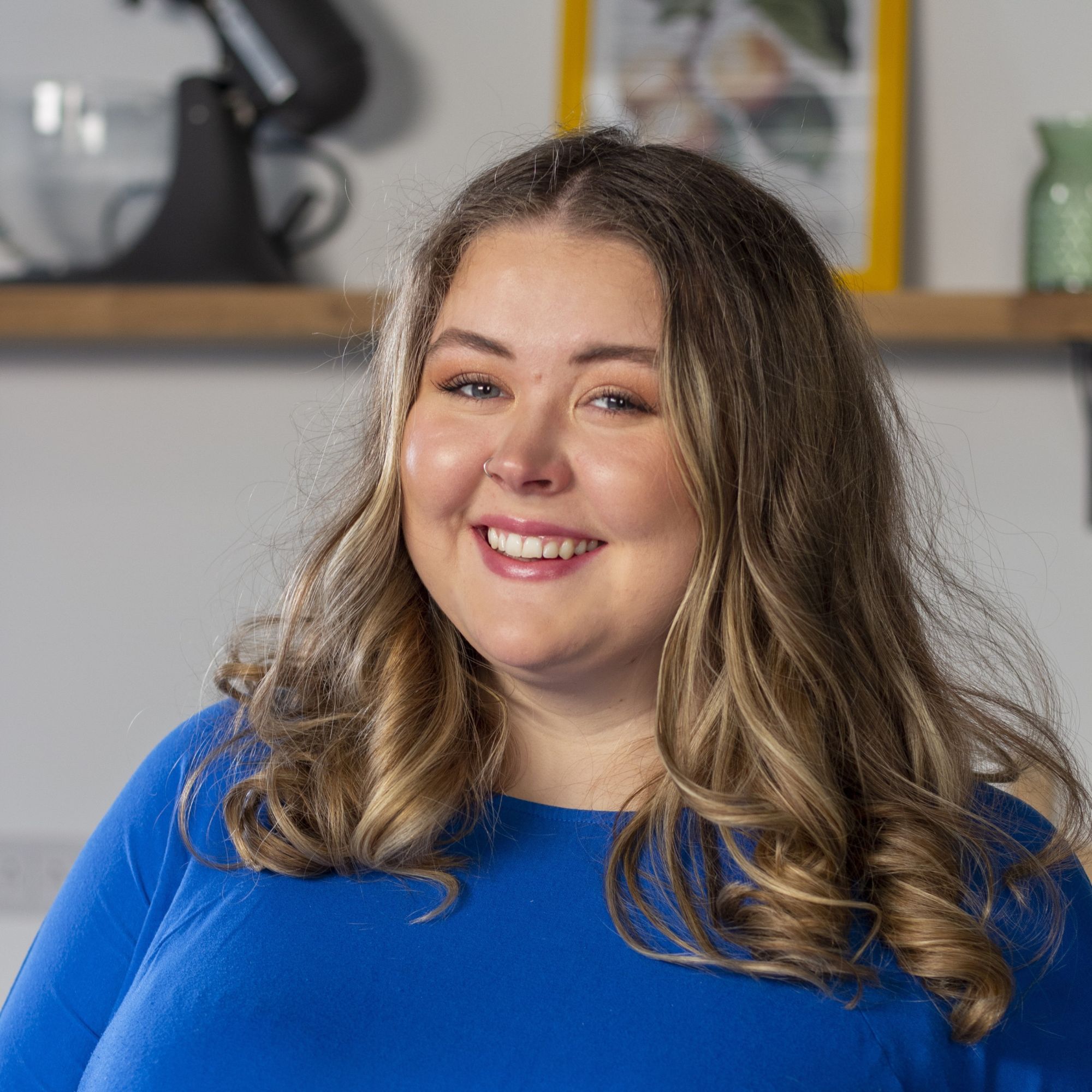 Millie Fender is Head of Reviews on the Homes and Gardens Ecommerce team. She specializes in cooking appliances, such as the best kettles, and also reviews outdoor grills and pizza ovens. Millie loves to bake, so she will take any excuse to review stand mixers and other baking essentials. When she's not putting products through their paces in our dedicated testing kitchen, Millie's reviews are conducted at home, meaning she uses these products in her own day-to-day life.