NutriBullet vs Ninja: which blender should you buy?
NutriBullet vs Ninja, which blender should you buy? We put these classic bullet blenders head to head to make your decision easier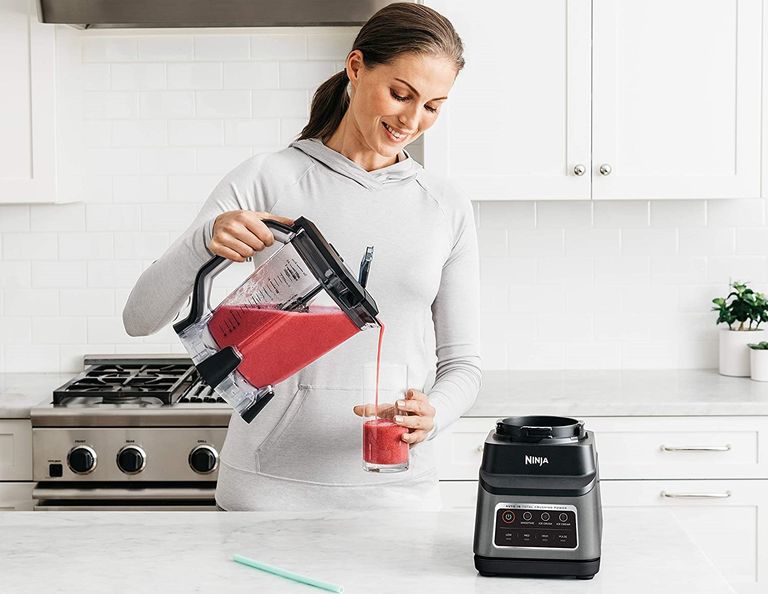 (Image credit: Ninja)
NutriBullet vs Ninja blenders, which should you buy? We've tried both Ninja and NutriBullet blenders as part of our best blender guide, so we put them in a head-to-head test to see which one came out on top. The two brands both make classic bullet blenders, as well as more traditional pitcher-style models, but there are a lot of differences in the range of functions and the designs that sets Nutribullet and Ninja apart.
When deciding between a NutriBullet and a Ninja, it's likely you're looking for a more portable blender, which is what NutriBullet is known for. Ninja also has a range of larger blending appliances which take up more space, and cost more, but for the purposes of this Ninja vs NutriBullet comparison we tried out the NutriBullet Pro 900, and the Ninja Nutri 1000 Watt Auto-IQ blender.
You may be making your decision based on value-for-money, in which case we will be putting the best prices on NutriBullet and Ninja models right here, too.
NutriBullet vs Ninja: design differences
NutriBullet blenders are known for their simplistic and effective design. The base is compact and lightweight, and it requires you to screw the blade base onto your smoothie cup, press it down into the base, and twist it to start the blending process. To stop blending, you just need to twist it back to a neutral position.
Ninja, however, has a preset mode called Auto-IQ, which is a feature you'll find in some of the best food processors alongside their top blenders. This allows you to twist the smoothie cup into place and press from one of multiple modes. With the Ninja Nutri 1000, this includes Blend, Pulse, and Ultra Blend. These are pre-timed, meaning you can simply press the button and leave it to blend and automatically shut off once the cycle is finished.
NutriBullet vs Ninja: making a smoothie
I put my two blenders side-by-side to directly compare the results of two identical smoothies. I added the same amount of frozen mango, fresh pineapple (with the tough core included), curly kale, yogurt, and water to each cups, but because of the difference in cup sizes the Ninja blender cup filled up far more.
I added the blending lids and twisted both into the bases before pressing down the NutriBullet and twisting the cap into place, pressing the 'Blend' button on the Ninja as it seemed best suited to a smoothie of this type.
The Ninja had a preset time of 50 seconds, and it pulsed multiple times to incorporate the fresh and frozen ingredients with no difficulty. The NutriBullet, by contrast, simply had a continuous blend cycle which I also left for 50 seconds.
Neither blender had any trouble in slicing through the kale, frozen fruit, and pineapple core, and they came out very similar in color.
However, there was a difference in the texture. The Ninja smoothie had more visible patches of green where the fibers of the kale had not completely been broken down, whereas the NutriBullet smoothie came out much more finely blended and it tasted very smooth. Overall, it was a better drinking experience.
Other things to consider
While the NutriBullet produced a better smoothie, it really is designed to do only this. The Ninja BL480D Nutri 1000 Watt Auto-IQ Blender also has a pulse mode and a max blend mode, which I have used to make smoothie bowls in the past, and which is very effective on purely frozen ingredients.
Looks-wise, I do think the NutriBullet has a more appealing color selection and overall appearance. The bullet design is extended down to the metallic base, and NutriBullet has also launched an exclusive range of fun colors with a matt base, which is perfect for strictly color-coordinated kitchens.
NutriBullet vs Ninja blenders: which should you buy?
If you want a powerful bullet blender to make tasty smoothies, I would recommend picking up the NutriBullet Pro 900 blender. It has two 32 oz to-go cups and lids, as well as a screw-on handle for easy drinking. Despite its marginally less powerful battery than the Ninja BL480D, it still was able to cut through kale stems, tough pineapple core, and frozen chunks of fruit with absolutely no difficulty.
However, if you do like the idea of the Auto-IQ settings you'll get with the Ninja BL480D, or if you are taken by the slightly lower price tag, it is also a top choice. The blender will allow you to leave your drink to blend hands-free, whereas the NutriBullet requires you to stand by and switch off the blender manually when you're happy with your drink's consistency.
Millie Fender is the Small Appliance and Cooking Editor on the Homes and Gardens Ecommerce team. She specializes in cooking appliances and also reviews outdoor grills and pizza ovens. Millie loves to bake, so she will take any excuse to review stand mixers and other baking essentials. All of Millie's reviews are conducted at home, meaning she uses these products in her own kitchen, the way they're designed to be used.
Millie is from Bath, England, and she grew up surrounded by classic Georgian architecture and interiors. She dreams of buying her own house and filling it with antiques, but for now, she lives in a sunny London flat with a very busy kitchen.