Ninja Professional Plus Kitchen System with Auto-IQ review
The Ninja Professional Plus Kitchen System with Auto-IQ is the perfect all-in-one machine to make the most of your kitchen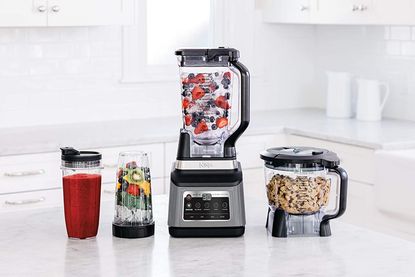 (Image credit: Ninja)
Get three kitchen must-haves in one with the powerful Ninja Professional Plus Kitchen System with Auto-IQ. It has attachments for personal and large batch blending, as well as a food processor, all with one smart base.
Reasons to buy
+

Very powerful

+

Attachments are diswasher-safe

+

On-board countdown timer

+

A range of food processor blades and discs
Reasons to avoid
-

The lids won't close when not on the attachments

-

It's a lot to store
Why you can trust Homes & Gardens Our expert reviewers spend hours testing and comparing products and services so you can choose the best for you. Find out more about how we test.
In this Ninja Professional Plus Kitchen System with Auto-IQ review we put the three-in-one kitchen machine to the test for just about any task it's capable of. With a smart Auto-IQ base offering a selection of blender and food processor modes, as well as an array of chopping discs and blades, this is a smart multi-tasker that will be pride of place in any kitchen.
The Ninja Professional Plus Kitchen System with Auto-IQ is a bulky choice though, so unless you are looking for the best food processor and best blender in one machine, it will prove a lot to store.
Ninja Professional Plus Kitchen System: Specifications
Colors: steel
Type: multi-serve blender, personal blender, food processor
Weight: 8.8 pounds
Programs: smoothie, ice crush, extract, chop, dough
Speed settings: low, medium, high, pulse
Material: plastic pitcher, stainless steel blades
Dimensions: 7.38 x 9.63 x 18 inches
Motor: 1400 watts
Ninja Professional Plus design
The Ninja Professional Plus Kitchen System with Auto-IQ comes in a generous box with a personal blender, multi-serve blender, and food processor attachment. There are also blades for chopping and also dough blades to make pastry and dumplings. The system also has a reversible metal blade for shredding on one side, and chopping on the other.
I found it very easy to unbox and set up. Once plugged in you need to twist any one of the attachments into place. When they're locked in, you can choose from the settings on the blending base to begin slicing, chopping, or blending.
The base has Auto-IQ, which is Ninja's system of preset functions for different tasks. These settings include one for smoothies, crushing ice, kneading dough, chopping vegetables, and extracting the most nutritional value out of your smoothies and soups.
There are also manual buttons for either low, medium, high, or pulse blending or chopping.
Blending in the Ninja Professional Plus Kitchen System
Not everyone needs a multi-serve blender for every drink, which is why we have a guide dedicated to the best portable blenders for personal use. Bullet-style cup blenders are very useful for smoothies, which is why we enjoyed testing the Ninja Professional Plus Kitchen System with Auto-IQ for making single servings of fruity drinks in its 24-oz blending cup.
Although it looked a little comical on the wide base, our smoothie came out very creamy, with little residue of tough leaves and berry seeds.
I also made a soup in the Ninja Professional Plus Kitchen System with Auto-IQ. The large pitcher is 64-oz in total, which is more than enough to serve four generous bowls of soup. Because it's plastic though, I thought it best to wait a bit before blending my piping hot soup.
The lid of the blender needs to be locked down into place, and can be unlocked using a button. There is also a pouring spout that lifts from the corner, so you don't need to unlock the lid to pour.
Once ready to blend I pressed the medium button and ran a countdown timer for one minute, after which my soup was very smooth indeed.
One of the more irritating things about the Ninja Professional Plus Kitchen System with Auto-IQ is its lid, because when it's not locked down flat the lever at the side stands up, which takes up more space in the dishwasher and in the cupboard.
Chopping in the Ninja Professional Plus
If you're used to chopping vegetables by hand, you will be amazed at the difference a food processor can make. I put a zucchini, some celery, and carrots into the food processor before pressing the chop button. This ran a pulsing mode on and off for about 30 seconds, which left me with very evenly chopped ingredients ready to fry off for the base of a tomato sauce.
I really enjoyed the multi-layered blades which ensured that it was not just the ingredients at the bottom of the bowl that were chopped.
The capacity of the food processor bowl is 8 cups, which is plenty for even large portions. If you want to add more as you chop there is a removable cup which will allow you to drop more in while the processor works.
Same as the blender, you need to lock down the lid on the food processor, which also causes some bulk when storing.
Using the Ninja Professional Plus to slice
The reversible metal disc of the Ninja Professional Plus Kitchen System with Auto-IQ is great for both shredding and slicing. It is a shame that there is only one disc though, which means you cannot choose more thin or thick slices, or finer grating.
Even on the low setting, the Ninja Professional Plus Kitchen System with Auto-IQ was very fast indeed when it came to grating cheese. However, I did find that the end of the cheese became stuck between the pusher and the grating disc, which means I had to finish it by hand.
Cleaning
Ninja makes many of the best air fryers and best slow cookers, and across the range, I really enjoy them for how easy they are to clean. This also applies to the Ninja Professional Plus Kitchen System. All removable attachments, from the lids and blending cups to the blades and slicing disc, can go through the dishwasher for easy cleaning.
If you plan on using it on a regular basis, it is also easy enough to clean the Ninja Professional Plus Kitchen System by hand. The blending jug cannot have the blade removed, but you can see our guide on how to clean a blender to safely clean the blades using water and dish soap.
Should you buy the Ninja Professional Plus Kitchen System?
If you have the space to store three attachments as well as a rather bulky base, the Ninja Professional Plus Kitchen System is more than worth the space it requires.
I was impressed by the food processor attachment in particular, which was speedy and chopped evenly using the double-layered blades. The various Auto-IQ settings are excellently timed with differing strengths and intermediate pulsing. This was particularly useful when blending a large smoothie or soup, because it meant I could leave the setting to work unassisted while I went about making breakfast.
There are some more stylish options on the market, should you want a blender or food processor that you wish to display. The KitchenAid K150 blender and the Smeg blender are both easier on the eye and can be paired with toasters and other appliances in your home.
About this review, and our reviewer
Millie Fender is our Editor for all things small appliances at Future. She spends a lot of time testing everything from toasters to air fryers in her London flat, and recommending the very best ones to readers.
All our reviews are tested from home, and the Ninja Professional Plus Kitchen System with Auto-IQ review is no exception. Millie put it to the test for a number of weeks to make morning smoothies and chunky stews before writing this review.
Millie Fender is Head of Reviews on the Homes and Gardens Ecommerce team. She specializes in cooking appliances, such as the best kettles, and also reviews outdoor grills and pizza ovens. Millie loves to bake, so she will take any excuse to review stand mixers and other baking essentials. When she's not putting products through their paces in our dedicated testing kitchen, Millie's reviews are conducted at home, meaning she uses these products in her own day-to-day life.