Quietest blender 2023: our tested picks for nearly-silent smoothies
Blenders are a kitchen essential, but they're not the most relaxing appliances to use. These are the quietest blenders from our tests of the best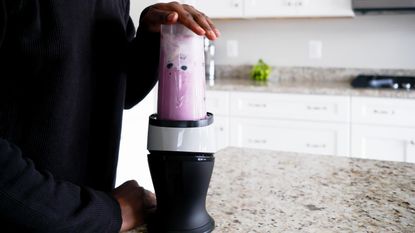 (Image credit: GettyImages)
Quick Menu
Blenders chop, crush, slice, and blend through the toughest textures. The trade-off, however, is that blenders are rarely quiet. It can be hard to make your morning smoothie without waking up the whole house. While Vitamix, Blendtec, Cuisinart, and other market leaders have released blenders which are specifically designed to be quieter, many of these cost above a thousand dollars.
That's why we've gone to the trouble to find the quietest blender you can buy. Many of the best blenders on the market are quiet, affordable, and make great drinks. You shouldn't have to spend hundreds of dollars for peace and quiet.
After extensive testing, research, and advice from our experts, I've gathered together the best blenders on the market. They aren't silent, but they're a good compromise. Whether you're looking for a bullet blender, personal blender, or one for your countertop, these are the best-performing blenders you can buy.
Best quiet blender deals
To get the fairest prices on the best blender, I recommend reading the whole article. But if you're tight on time and money, you should take advantage of the seasonal sales.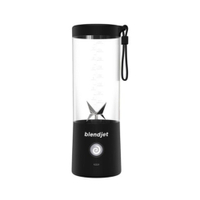 BlendJet 2 Portable Blender | Was $49.95, now $42.45 at Best Buy
This isn't a huge discount, but it's a great product. With this grab-and-go cordless blender, you can make shakes in the gym, in the office, or even on the road. You can find out more in our full BlendJet 2 review.
Quietest blender overall
The quietest blender overall
Specifications
Colors: a full range
Type: portable blender
Weight: 1.34lb
Capacity: 16 fl. oz
Speed settilngs: 1
Material: plastic
Dimensions: 9 x 3
Motor: 5 volts
Maximum noise: 85.9 dB
Reasons to buy
+
A great range of colors
+
The price is reasonable
+
Easy to clean
+
Very portable
+
Can handle fresh fruit as well as protein powder
Reasons to avoid
-
The charging port could use a cover
-
It won't blend tougher ingredients
Buy it if
✅ You're a gym bunny or often on the go: this is super portable
✅ You're short on space: this is ultra-compact
✅ You need a quick clean up: this is really easy to clean
Don't buy it if:
❌ You blend spinach and ginger: it's imperfect on tougher ingredients
❌ You need capacity: it's designed for single servings
❌ You like to use every seed: some ingredients will get stuck under the blades
The bottom line
🔎 Blendjet 2 compact and speedy, this is the perfect option for those who are always on the go
The BlendJet 2 is the quietest blender we've ever tested. BlendJet markets it as 'whisper quiet', and whilst it's not silent, it's certainly much quieter than many other blenders on the market. Reviewers compare the noise-levels to a normal conversation (64 decibels), and we found the same on test.
Millie, our small appliance expert, was pleased with the results of her smoothie making. She found that it was surprisingly powerful across a range of tough and frozen ingredients, especially considering this is a cordless option. It did struggle a little with tough frozen fruits and blueberry skins, but nothing too drastic.

As far as portable blenders go, this is great for its size. As with the NutriBullet GO, portable blenders are a great option for low-noise levels, but they aren't the most powerful. As it is a cordless model, it isn't as powerful as countertop appliances and you will have to recharge it.
See our full review of the BlendJet 2 for more details.
Quietest personal blender
The quietest personal blender
Specifications
Dimensions: 4.92 x 4.92 x 15.75 inches
Colors: white, black, grey
Design: corded
Weight: 9.97 pounds
Watts: 1000W
Maximum noise: 89.2 dB
Reasons to buy
+
A compromise of performance and noise
+
Eye-catching and beautiful
+
Crushes ice as promised
+
Makes way more than smoothies
+
Comes with useful accessories
Reasons to avoid
-
Heavy
-
Difficult to remove thick contents due to ridges
-
Not totally silent
Buy it if
✅ You're style-first: this minimalist and modern style is beautiful
✅ You want some versatility: this infuses water and makes smoothie bowls too
✅ You batch blend: this can seal and store drinks for a few days
Don't buy it if:
❌ You want big portions: the 33.8 oz capacity is better for solo blenders
❌ You need quick clean: the grooves make it tricky to remove all the smoothie
❌ You want multiple blend speeds: this has a single button for controls
The bottom line
🔎 Beast Blender this style-first blender can also infuse drinks and make smoothie bowls, but it's better for single servings
If looks could carry a blender to the top of the list, this would have been sat in the top spot for years. It's a quiet, good-looking blender that we love for so many reasons.

The Beast blender delivers on power and quality, without producing wake-the-whole-house noise. When we tested it on some of the toughest smoothie ingredients, every drink was faultless. Even when we moved onto ice and dips, making pesto, salsa, and a range of baking batters, the Beast Blender excelled.
It's also portable, so the ribbed vessel can double up as a stylish bottle to take with you to the gym, to work, or wherever you need to be. The fact that you could infuse a water or iced tea in the vessel too, makes this even more appealing. Although, it is worth noting that the ribs are trickier to clean than in other models.

Compared to other mainstream blenders, this is quiet. It's much quieter than comparable blenders. However, the BlendJet model above is quieter. If you prioritize silence, the BlendJet is better. If you're all about performance, you'll love the Beast.
See our full review of the Beast Blender for more details.
The quietest countertop blender
3. Vitamix The Quiet One
The quietest countertop blender
Specifications
Capacity: 48oz
Colors: black
Dimensions: 18 x 8.5 x 10.7 inches
Dishwasher safe: no
Power: 2237 watts
Settings: 34 presets
Maximum noise: 64 dB
Reasons to buy
+
Specifically designed to be quiet
+
Commercial capacity
+
34 settings
+
Considered design
+
Powerful
+
Heat setting for soups
+
Very quiet for its size
Reasons to avoid
-
High price tag
-
Commercial (some unnecessary features)
-
Not dishwasher safe
-
Not completely silent
Buy it if
✅ You have a large household: this has 48 oz capacity
✅ You need power: this has commercial levels of power
✅ You want quality: this feels like it's build to last
Don't buy it if:
❌ You'll store this in a cupboard: it's heavy to lift
❌ You're on a budget: this comes with a premium price tag
❌ You're always in a hurry: the jug isn't portable like other options in this guide
The bottom line
🔎 Vitamix The Quiet One a super silent, commercial-quality blender which comes with a premium price tag
Vitamix shouts about how quiet this blender is. Despite a huge 48oz capacity and a frankly monstrous 3 horsepower motor, this powerful commercial blender has advanced noise reduction technology that takes its decibel levels down to around those of a personal blender. It will deliver juice-bar quality smoothies without waking up the neighborhood.
Reviewers online all rave about the quality and capabilities of this incredible model. It delivers on Vitamix quality, smooth blends and feels incredibly premium too. You could throw ice, spinach, and ginger into the Vitamix and it wouldn't falter.

High quality comes at high prices: this blender can cost up to $1,500. It also weighs more than 10 pounds, so it will have to live on the countertop year-round.
We like to have personally tested every product which we write about. This blender is on our list for experts to test, but we have not yet been able to use it in our kitchen. In lieu of physical testing, we have extensively researched reviews and websites to find reliable, informative content. This is included as an exception to the rule because we think it is a really great option.
The quietest portable blender
The quietest portable blender
Specifications
Colors: silver, red, black, white
Type: portable blender
Weight: 1.5lb
Capacity: 13oz
Speed settings: 1
Material: plastic
Dimensions: 7.52 x 7.01 x 4.06 inches
Motor: 700 watts
Maximum noise: 79.3 dB
Reasons to buy
+
Lightweight
+
Safety-first design
+
Can fit into most bags
+
Long-lasting battery
+
Intuitive controls
+
Not very loud
Reasons to avoid
-
Lacking in power
-
Can't handle large drinks
-
Bottle cannot go in the dishwasher
-
Not the smoothest blend
Buy it if
✅ You want something fast: this is super speedy
✅ You make single servings: this has small blender bottles
✅ You'll take this on the go: the jug becomes a bottle, perfect for the gym
Don't buy it if:
❌ You blend ice: this lacks power
❌ You need capacity: this is designed for single servings
❌ You need speedy cleaning: this isn't dishwasher safe
The bottom line
🔎 Nutribullet GO ultra silent, easily portable, but lacking in strength, this is perfect for simple smoothies and nothing too tough
This is one of the quietest blenders you can buy, as well as one of the lightest and quietest. Our experts expected to be blown away by the NutriBullet GO and - spoiler alert - they were.
Millie, our expert tester, compared the noise level to an electric toothbrush. In blender terms, that is blissfully silent. Aside from producing minimal noise, easily fits into a handbag, so if you're often on the go, it's the perfect option. This is also an affordable choice: if you buy a smoothie every day, you'll start saving money within the week, because this is only $40.

With less noise comes less power and reduced capacity - a common compromise when considering quieter appliances. This blender struggled to blend ice and we found a few larger pieces of fruit in our blends. The bottle isn't dishwasher safe .
See our full review of the NutriBullet GO for more details.
The quietest immersion blender
5. NutriBullet Immersion Blender
The quietest immersion blender
Specifications
Power: 350 watts
Weight: 2.88lb
Settings: 3
Attachments: Blender, whisk
Dimensions: 3 x 3 x 7 inches
Maximum noise: 93.2 dB
Reasons to buy
+
Budget-friendly
+
Two speeds
+
Variable power controls
+
Soft grip handle
Reasons to avoid
-
Low power motor
-
Not silent
-
Compromise on function
Buy it if
✅ You need to blend hot: this can handle soups and sauces on the stove
✅ You want value: this is the best value immersion blender
✅ You need silence: this is super quiet
Don't buy it if:
❌ You want max power: there are stronger options
❌ You need lots of settings: this only has two
❌ You make smoothies: this is better used in pans than jugs
The bottom line
🔎 NutriBullet Immersion Blender the perfect option for soups, sauces, and hot foods on the stove, but less ideal for smoothies on the go
Immersion blenders already tend to be quieter than the average countertop blender. When our experts took the NutriBullet to our test kitchen, we were seriously impressed. Not only is it much quieter than all the other models we tested, it's slim and well designed too. One of our favorite features was the soft grip handle, which can make a world of difference to your blending experience, especially if you're doing it in big batches.
Our experts also enjoyed using the useful whisk attachment, and flipping between the two speed settings. They were powerful enough to blend smooth soups and sauces, but not so much that they split whipped cream immediately. The performance and price combined to make this the best value option in our roundup of the best immersion blenders.

As with portable blenders, this model is quieter because the motor is just 350 watts. With that in mind, it won't do the job quite as well as our top pick, the Braun Multiquick.
How we test our blenders
We put blenders thr