Quietest blender 2023: our tested picks for nearly-silent smoothies
Blenders are a kitchen essential, but they're not the most relaxing appliances to use. These are the quietest blenders from our tests of the best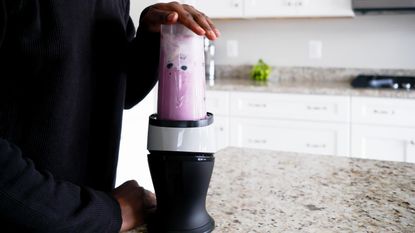 (Image credit: GettyImages)
Blenders chop, crush, slice, and blend through the toughest textures. The trade-off, however, is that blenders are rarely quiet. It can be hard to make your morning smoothie without waking up the whole house. While Vitamix, Blendtec, Cuisinart, and other market leaders have released blenders which are specifically designed to be quieter, many of these cost above a thousand dollars.
That's why we've gone to the trouble to find the quietest blender you can buy. Many of the best blenders on the market are quiet, affordable, and make great drinks. You shouldn't have to spend hundreds of dollars for peace and quiet.
After extensive testing, research, and advice from our experts, I've gathered together the best blenders on the market. They aren't silent, but they're a good compromise. Whether you're looking for a bullet blender, personal blender, or one for your countertop, these are the best-performing blenders you can buy.
Quietest blenders 2023
You can trust Homes & Gardens. Our expert reviewers spend hours testing and comparing the latest products, helping you choose the best for you. Find out more about how we test.
Quick Menu
Quietest blender overall
The quietest blender overall
Specifications
Colors: a full range
Type: portable blender
Weight: 1.34lb
Capacity: 16 fl. oz
Speed settilngs: 1
Material: plastic
Dimensions: 9 x 3
Motor: 5 volts
Maximum noise: 85.9 dB
Reasons to buy
+
A great range of colors
+
The price is reasonable
+
Easy to clean
+
Very portable
+
Can handle fresh fruit as well as protein powder
Reasons to avoid
-
The charging port could use a cover
-
It won't blend tougher ingredients
Why you should buy it
A straightforward, single-serve option for on-the-go blends
What we love
The BlendJet 2 is the quietest blender we've ever tested. BlendJet markets it as 'whisper quiet', and whilst it's not silent, it's certainly much quieter than many other blenders on the market. Reviewers compare the noise-levels to a normal conversation (64 decibels), and we found the same on test. Millie, our small appliance expert, was pleased with the results of her smoothie making, especially considering this is a cordless option.
Good to know
As far as portable blenders go, this is great for its size. As with the NutriBullet GO, portable blenders are a great option for low-noise levels, but they aren't the most powerful. As it is a cordless model, it isn't as powerful as countertop appliances and you will have to recharge it.
See our full review of the BlendJet 2 for more details.
Quietest personal blender
The quietest personal blender
Specifications
Dimensions: 4.92 x 4.92 x 15.75 inches
Colors: white, black, grey
Design: corded
Weight: 9.97 pounds
Watts: 1000W
Maximum noise: 89.2 dB
Reasons to buy
+
A compromise of performance and noise
+
Eye-catching and beautiful
+
Crushes ice as promised
+
Makes way more than smoothies
+
Comes with useful accessories
Reasons to avoid
-
Heavy
-
Difficult to remove thick contents due to ridges
-
Not totally silent
Why you should buy it
A quiet, good-looking personal blender
What we love
The Beast blender delivers on power and quality, without producing wake-the-whole-house noise. It looks beautiful on your countertop and effortlessly crushes ice. We tested the versatility of this appliance and found that it could make pesto, salsa, and other batters well. While the BlendJet above is quieter, this performs better, so if you're more concerned about the quality of your smoothies than noise, this is a good choice.
Good to know
Compared to other mainstream blenders, this is quiet. It's much quieter than comparable blenders. However, it's not as quiet as specialized quiet models. It's also not the easiest to clean, because of the ridges.
See our full review of the Beast Blender for more details.
The quietest countertop blender
3. Vitamix The Quiet One
The quietest countertop blender
Specifications
Capacity: 48oz
Colors: black
Dimensions: 18 x 8.5 x 10.7 inches
Dishwasher safe: no
Power: 2237 watts
Settings: 34 presets
Maximum noise: 64 dB
Reasons to buy
+
Specifically designed to be quiet
+
Commercial capacity
+
34 settings
+
Considered design
+
Powerful
+
Heat setting for soups
+
Very quiet for its size
Reasons to avoid
-
High price tag
-
Commercial (some unnecessary features)
-
Not dishwasher safe
-
Not completely silent
Why you should buy it
For investing in blending zen
What we love
Vitamix shouts about how quiet this blender is. Despite a huge 48oz capacity and a frankly monstrous 3 horsepower motor, this powerful commercial blender has advanced noise reduction technology that takes its decibel levels down to around those of a personal blender. It will deliver juice-bar quality smoothies without waking up the neighborhood.
Good to know
High quality comes at high prices: this blender can cost up to $1,500 dollars. It also weighs more than 10 pounds, so it will have to live on the countertop year-round.
We like to have personally tested every product which we write about. This blender is on our list for experts to test, but we have not yet been able to use it in our kitchen. In lieu of physical testing, we have extensively researched reviews and websites to find reliable, informative content. This is included as an exception to the rule because we think it is a really great option.
The quietest portable blender
The quietest portable blender
Specifications
Colors: silver, red, black, white
Type: portable blender
Weight: 1.5lb
Capacity: 13oz
Speed settings: 1
Material: plastic
Dimensions: 7.52 x 7.01 x 4.06 inches
Motor: 700 watts
Maximum noise: 79.3 dB
Reasons to buy
+
Lightweight
+
Safety-first design
+
Can fit into most bags
+
Long-lasting battery
+
Intuitive controls
+
Not very loud
Reasons to avoid
-
Lacking in power
-
Can't handle large drinks
-
Bottle cannot go in the dishwasher
-
Not the smoothest blend
Why you should buy it
Ideal for on-the-go, single-serve blends
What we love
One of the quietest blenders you can buy, our experts were blown away with this NutriBullet. Millie, our expert tester, compared the noise level to an electric toothbrush. In blender terms, that is silent. Aside from producing minimal noise, this feels lightweight and easily fits into a handbag. It's an affordable choice for making and taking smoothies on the go.
Good to know
With less noise comes less power and reduced capacity - a common compromise when considering quieter appliances. This blender struggled to blend ice and we found a few larger pieces of fruit in our blends. The bottle isn't dishwasher safe .
See our full review of the NutriBullet GO for more details.
The quietest immersion blender
5. NutriBullet Immersion Blender
The quietest immersion blender
Specifications
Power: 350 watts
Weight: 2.88lb
Settings: 3
Attachments: Blender, whisk
Dimensions: 3 x 3 x 7 inches
Maximum noise: 93.2 dB
Reasons to buy
+
Budget-friendly
+
Two speeds
+
Variable power controls
+
Soft grip handle
Reasons to avoid
-
Low power motor
-
Not silent
-
Compromise on function
Why you should buy it
A quiet stick blender for soups and sauces
What we love
Immersion blenders already tend to be quieter than the average countertop blender. From our tests, we recommend the NutriBullet. It was the best value option in our roundup of the best immersion blenders. Our experts loved the soft-grip handle, whisk attachment, and two speed options.
Good to know
As with portable blenders, this model is quieter because the motor is just 350 watts. With that in mind, it won't do the job quite as well as our top pick, the Braun Multiquick.
How we test our blenders
We put blenders through rigorous tests to explore the best features and find the potential flaws with each product. We will add in extra tests if a blender boasts an additional function to thoroughly examine the manufacturers' claims.
The key aspects to each test involve making smoothies, dips or smoothie bowls, crushing ice, and making soup. These are the essential features of any good blender. We also assess cost, and - crucial for this guide - how noisy they are.
There's more information in how we test our blenders.
FAQs
How to choose a blender
Blenders are really useful kitchen appliances for when you want to whizz up smoothies, soups, or ice. The type of blender that you want will depend on what you'll be using it for. There are a few key factors that it's worth checking:
Motor
If you're blending frozen fruits, vegetables, and ice, it's helpful to have a more powerful motor. However, these tend to be louder, so it's a balancing act if you're looking for something quiet.
Programs
It's a great feature if your blender has automatic programs for different uses. They're a helpful guide for unfamiliar users. However, it is really nice to have manual controls too, so that you can keep an eye on the texture of your blend.
Features
The more you pay, the more you'll get from your blender, including extra settings, extra jugs and containers, and the ability to heat up food like soup.
Capacity
Whether you're after single-serve or a more family-friendly option, consider capacity when buying. Lots of quieter options tend to be single-serve so that they don't require a huge motor. That means they might not work for big families.
How much does a blender cost?
This ranges depending on the type of blender you'll use. You can pick up small models for $100, which will give you suitable controls. However, for more specialized and advanced features, think about models which sit around the $200-500 mark.
Who makes the best blender?
Different brands make the best blenders for a range of needs. Our best blenders guide placed the Vitamix at the top of our roundup, because this brand makes powerful, effective blenders with plenty of bonus features.
Cheaper models such as Ninja have similar, but not identical results. We have compared different models in our Vitamix vs Ninja and Ninja vs Nutribullet and Vitamix vs Blendtec comparisons.
Which blender is best for juicing?
Although it's not quiet, our tests found that the best choice is the Breville the 3x Bluicer, which combines blender and juicing in one.
Which blender is best for crushing ice?
We like the KitchenAid K150 for blending ice, but bear in mind it's pretty loud.
Which blender is the quietest?
The BlendJet 2 is the quietest blender we've tested, blending at around 64db - about the noise of the average conversation.
What is the most powerful and quiet blender?
Balancing the two means compromise: powerful motors make more noise. We have read reviews that Vitamix's The Quiet One is a fantastic option, however, we are yet to trial it ourselves. The Beast Blender is a great balance of style, power, and silence.
How do I make my blender quieter?
If you want to make your countertop blender quieter, you can put it on top of a dish towel or silicone mat. If you're willing, you could buy a sound enclosure box. It's a good idea to ensure that you can still have easy access to your blender from this. Alternatively, blend at a different time. Although this won't make your blender quieter, it helps avoid a loud, morning blend which could wake up the whole house.
Our Verdict
Blending is not a quiet process. If you're worried about making noise in the morning, for example, you're much better to blend the night before than compromise on power, price, and quality. However, all of the blenders on this list strike a good balance between the different factors.
If I had to choose one, I'd recommend our Beast Blender. It's not silent, but it's quieter than your average blender. It looks like the perfect aesthetic appliance and can tackle multiple tasks, from blending smoothies to making salsas.
Our Experts
Reviewed by
Millie Fender is Head of Reviews and has written for Homes and Gardens since 2021. She specializes in cooking appliances, and is a whizz when it comes to blenders. She used these blenders both in our dedicated testing kitchen and in her day-to-day life at home. When it comes to smoothies, she's tested the best of the best.
Reviewed by
Lindsey Davis has been writing about homes for most of the last decade. She has worked on Real Homes, Livingetc, Gardeningetc and Ideal Home where she helps readers find the best products for their homes. She tested the Cuisinart blender personally and ongoing, so keeps updating us on how it works day-to-day.
Midwestern product tester and writer Courtney Irwin is a working mom of three who loves nothing more than a good deal. Equal parts entrepreneur and family-gal, she believes hard work deserves to be celebrated. Oftentimes in the form of a new gadget or sun-filled vacation! When she's not on the hunt for the next big trend, you can catch her in her kitchen, cooking and testing appliances.
Laura is our eCommerce editor. Before Homes & Gardens she studied English at Oxford University. Alongside her studies, she qualified as a barista and trained as a master perfumer. This makes her our certified expert for all things coffee, candles, and fragrance. Laura has worked for luxury retail brands, reinforcing the importance of quality and style over quantity and fads. She looks for products which have been designed with thoughtful finishes.