Best vacuum 2021: 8 powerful vacuum cleaners that will leave your home spotless
The Homes & Gardens edit of the best vacuum cleaners you should consider for your household from Dyson, Miele, Shark and more.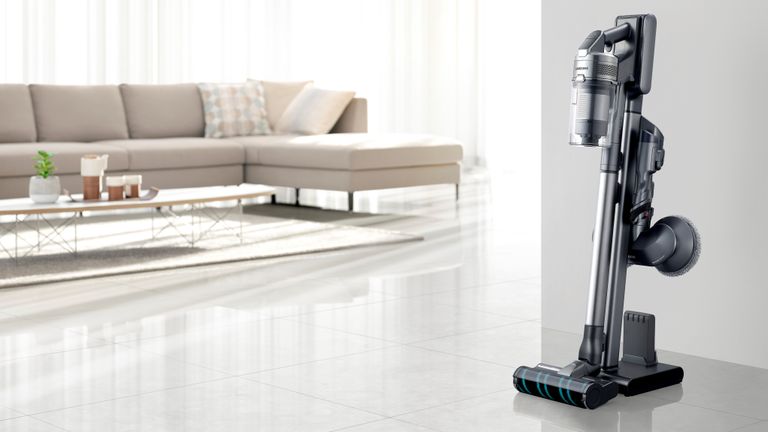 (Image credit: Samsung)
If you're reading this, likely, you're on the hunt for a new vacuum, or curious about the latest and greatest in floorcare. Well, the Homes & Gardens team is here and ready to answer the call to guide you through choosing the right vacuum for your home. 
We've thoroughly researched, tested, and consulted amongst our team to discuss the top vacuums we've come across. The few designs we haven't gotten first-hand experience on just yet, we rely on the reviews and feedback from shoppers like you.
Here, we have the best-in-class for all types of vacuums from ultra-powerful cordless vacuums with a battery life that can extend up to two hours to vacuums ready to bring a new level of clean to the homes of allergy sufferers and pet owners. 
Scroll through to discover our best vacuum cleaners of the year.
Best vacuum overall
Specifications
Corded or battery powered?: Cordless
Dust bin capacity: 0.5 gallon
Weight: 7.85lb
Dimensions: 12.5"H x 50.63"L x 11.7"W
Max dB: Not disclosed
Battery life: Up to 120 minutes
Warranty: 2 years
Reasons to buy
+Incredible suction+Quick to charge+Easy to handle+Versatile attachments
Reasons to avoid
-Top heavy-Not Great on Area Rugs
Dyson's most powerful cordless is a beast in terms of power, capacity, and run time. Perhaps, that's why it has overtaken what a traditional corded model could accomplish.  It features an unprecedented (for a cordless) half-gallon dust bin, two removable batteries that both provide up to 60 minutes of power and twice the suction of any other cordless vacuum... maybe too much if that's possible. 
Why we love it
We could go on for hours about why we're big fans of the Outsize, but its half-gallon dust bin and two hours worth of fade-free suction means you can deep clean your entire home without pausing to recharge or empty the dust bin. And for a cordless, that's a pretty big deal. 
The High Torque XL cleaner is noticeably larger than the other V11s and covered more surface area in one pass. The Dyson DLS™ technology automatically senses and adapts to changes in floor type. 
The digital display shows the exact remaining run time for whichever mode you choose: Eco, Auto, or Boost, so you'll always know just how much time you'll have left on a single battery. 
Finally, the vacuum has some pretty intense technology that makes the Outsize so powerful, namely the Dyson Hyperdymium motor that rotates at over 125,000 rpm combined with Radial Root Cyclone tech that generates forces of 79,000g to fling dust into the bin without clogging the filter for uncompromising power. It's also engineered to absorb vibrations and dampen noise, to keep sound levels down. 
Good to know
Dare we say the Outsize has too much power? Proceed with caution on lightweight area rugs, because the suction can be intense. 
If you don't want to use the accompanying wall dock for storage, Dyson also sells a  freestanding docking station, for an extra cost. 
Best Cordless Vacuum
Specifications
Corded or battery powered?: Cordless
Dust bin capacity: 34qts
Weight: 9.04lb.
Dimensions: 10.23" L X 9.65" W X 46.46" H
Battery life: Up to 60 minutes
Warranty: 5 years
Reasons to buy
+Easy to fold down for storage, and compacts down to less than 3 feet for closet storage+Super lightweight+Easy to remove dust cup+Does not require a charging hub+Charges through a removable battery+Anti-allergen seal traps dust and allergens
Reasons to avoid
-Cumbersome to unfurl back up from storage mode-Top-heavy-Small dustbin
Shark's top-of-the-line Vertex Lightweight Cordless Stick Vacuum was designed to compete with some of the most premium-level cordless vacuums available, and we were so impressed, we're calling it our favorite cordless. 
What we like about it
The Vertex cordless flexes its powerful suction with superior pick up, anti-hair wrap, sufficient battery runtime, and an easy-to-use design. The DuoClean Powerfins create constant contact with floors on both carpets and hard surfaces, and the self-cleaning brush roll is a must-have feature for pet owners to prevent against clogs from hair. It powers through on contact both large and small pieces of debris. The washable HEPA filter and Anti-Allergen Seal are also effective at trapping and sealing particles from escaping. 
Good to know
Being cordless and lightweight, the trade-off in these types of vacuums will be a smaller dust bin, but the one-touch operation to empty the dust bin is frustration-free. 
The Multi-Flex technology makes it super easy to fold down the vacuum for easy storage. However, we didn't find it as useful for actual cleaning, as its slim profile made it very easy to reach low profile spaces. To unfurl the vacuum back up to full height, does take both hands though. 
3. iRobot Roomba S9+
Best robot vacuum
Specifications
Dust bin capacity: .42qts
Weight: 8.15lb
Dimensions: Robot: 12.25"W x 3.5" H Clean Base: 12.2" W x 15.1" D x 19" H
Compatibility: Alexa/Google/Apple-Siri
Warranty: 1 year
Reasons to buy
+Self-emptying+Superb cleaning+Smart room navigation+Reliable voice control+Good for allergy sufferers
Reasons to avoid
-Expensive-Replacement bags cost extra
The S9+ is the pinnacle of the Roomba lineup with the best cleaning for pet hair, smart room mapping, and navigation,  easy to create no-go zones using the app, and the added bonus of an incredibly sleek design.
When the S9+ moves from hard floors to carpet the suction increases automatically for a deeper, more powerful clean, and it's even well-prepared to suit home with pets and deal with shedding fur. The S9+ has 40x more suction and cleaning power than its Roomba 600 series. It also has a high-quality air filtration system to help keep dust particles and allergens being returned to the room. 
To learn your home, and its cleaning route, the S9+ uses Imprint™ Smart Mapping technology to learn your floorplan as it cleans and remembers it for future cleaning jobs, including furniture placement and the ability to clean specific rooms. 
But best of all is the Roomba S9+ CleanBase docking station that charges the battery and empties its dustbin automatically, making cleaning even easier and more reliable, and you'll no longer have to empty the vacuum mid-clean or come back to half a finished job. Each dust bag has enough room for 30 full vacuum bins of dirt and only needs to be emptied once every 2 months.
Want more top robot vacuum picks? We break down the best robot vacuums by category in our guide. 
4. Dyson V11 Animal
Best vacuum for pet hair
Specifications
Corded or battery powered?: 25V battery powered
Dust bin capacity: 0.2 gallons
Weight: 6.68lb
Dimensions: 10.28"H x 49.65"L x 9.84"W
Battery life: Up to 60 minutes
Warranty: 2 years
Reasons to buy
+Automatically adjusts power+Lots of accessories+Smart LCD screen+As powerful as a plug-in cleaner
Reasons to avoid
-Fixed battery-Fiddly to clean bin-Quite expensive
When it comes to ease of use and power, nothing comes close to the Dyson V11 Animal. In fact, with the V11 motor, this cordless has the power of a traditional plug-in model.
Beyond suction performance, the V11 Animal features some pretty intelligent smart tech, like the High Torque cleaning head (designed for carpets and hard floors) which uses sensors to automatically adjust vacuum power according to the floor type. Even better, there's an LCD screen at the rear that gives you the current battery life in minutes and even shows you handy videos, such as how to clean the filter should suction drop.
Dyson also promises 99.97 percent filtration, which is great for allergy sufferers and has a clever eject system for the sizeable 0.2-gallon bin, so you get the mess out without the cloud of dust.
Beyond operating as a standard stick cordless and convertible handheld options, the Dyson V11 Animal includes a suite of accessories for getting into hard to reach areas and dealing with upholstery including a  mini motorized tool (great for pet hair on stairs and upholstery), combination tool, crevice tool, and a stubborn dirt tool. Plus, there's built-in storage for most of the attachments, with two clips on the wall-mounted charging dock that the V11 hangs from and one on the cleaner's wand.
5. Miele Complete C3 Cat & Dog Canister Vacuum
Best vacuum cleaner for allergy suffers
Specifications
Dust bin capacity: 4.75qt.
Weight: 23lb.
Dimensions: 19.52" x 11.18" x 8.94"inches
Cord length: 23ft.
Warranty: 1 year all inclusive, 7 year
Reasons to buy
+Bagged design is the ultimate protection against contact with collected dust+Perfect for pet parents to contain odors +Onboard accessory storage
Reasons to avoid
-Have to rebuy dust bags-Heavy 
Those with serious sensitivities to dust, pollen, dander, pet hair, or other particles that infiltrate our homes will do best with a back to the basics vacuum design with a bagged dust bag to trap and seal in collected debris. Miele is most known for its canister vacuums, though an upright version is available as well of the Complete C3 Dog and Cat vacuum, which are designed to last for literal decades.
What we like about it
The Complete C3 is one heavy-duty machine with premium, top-of-the-line features. Beyond obvious features like unparalleled suction power, a roomy dust bag that doesn't let the vacuum loose suction, it's also relatively quietly 
The Parquet floor brush for hard floors has a  low profile and 90-degree rotation for reaching tight spaces and under furniture, while the extra-large power-driven 14"-wide electronic brush head for a thorough cleaning, with a swivel neck and five-level height adjustment to power through medium pile carpet.  Other attachments include an upholstery nozzle, crevice tool, dusting brush, and a handheld turbo brush head that all conveniently store within the canister itself.
Convenience is of the utmost priority. Rather than having to reach down to the canister every time you want to switch a mode, the 6 stage foot pedal lets you easily change suction level. While it is a corded model, (the 1200 watt motor has to be powered somehow) a retractable cord also reduces time spent having to wind it back up as well as tripping risk. Another noteworthy feature is the addition of a bumper guard to protect your furniture and walls.
Filtration
Miele offers superior filtration to ensure that nothing escapes once it is suctioned up. The Active Air Clean filter uses two layers of electrostatic filters to remove allergens, plus a charcoal-filter core to absorb odors. The proprietary Miele AirClean 3D Efficiency Dustbags are self-sealing to trap dirt and increase the air quality in your home.
Good to know
Being a bagged design, you'll need to have additional dust bags on hand to swap out when the dust bag is full. 
6. Dyson Ball Animal 2
Best vacuum for large homes
Specifications
Dust bin capacity: .55 gal
Weight: 17.5
Dimensions: 42.13"H x 15.35"L x 13.39"W
Cord length: 31ft.
Warranty: 5 years
Reasons to buy
+Large capacity dust bin+Asthma and allergy-friendly+Washable lifetime filter+Excels on both hard floors and carpets
Reasons to avoid
-Heavy to operate and hard to push on carpet-Access to the hose not all that intuitive
While vacuums that are smaller and lighter seem to dominate, we can't forget about vacuums with large-capacity dust bins, ample cord length for corded models, or enough of a run time for cordless designs to get you through total home deep, cleans without having to pause to recharge or dump out debris. A commercial design may seem like the way to go, but they usually don't cut it in the looks department. The Dyson Ball Animal 2 is an established model, with a massive .55 gallon dust bin that should help you cover large swaths of the floor before having to empty the tank. While it's rated as an excellent choice for pet owners, its usefulness goes far beyond hair pick-up. 
What we like about it
Dyson may have been emphasizing its cordless models, but its corded collection is nothing to forget about when you want dependable suction for larger cleaning tasks. The 31-feet cord is also useful for helping you go the distance, without unplugging and replugging. You may even be able to wander into a different room. The addition of a hose makes gives additional freedom for above ground cleaning. 
Now, the Dyson Ball Animal 2 performance is not just dependable, but best in class for suctioning up hair, dirt, debris and more on both carpets and floors. 
Good to know
Like a typical upright, we wouldn't describe it as featherweight, so it takes a little more effort to push, especially on carpet. However, the addition of the iconic ball makes it much easier to maneuver. 
7. Samsung Jet 90 Complete Stick Lightweight Vacuum
Best Design
Specifications
Corded or battery powered?: Cordless
Dust bin capacity: .8 liter
Weight: 6.28lb
Dimensions: 8.5 x 9.8 x 44.7 inches
Battery life: Up to 60 minutes
Warranty: 1 years
Reasons to buy
+Exceptional cleaning on all surfaces including hard-to-reach areas we often miss+Versatile with loads of accessories and attachments+Adjustable length options+Can purchase a separate wet clean attachment
Reasons to avoid
-Set up is complicated
Aesthetics matter, but we're not just referring to the sleek chrome and modern shape of the Samsung Jet 90 Stick Cordless Stick Vacuum. It also has some noteworthy features that contributed to its design like a telescoping length that extends reach, excellent suction performance, and a 5-layer HEPA filtration system that traps the most microscopic irritants and particles from escaping. 
What we like about it
In addition to its telescopic pipe to adjust the length for users short and tall, and extremely lightweight design, its incredibly slim build makes it extremely easy to vacuum under low-lying furniture. 
The sleek digital display makes it easy to track how your vacuum is doing with notifications on your vacuum for power level and brush type, and sends alerts such as airflow issues, clogs, missing filters, and more. 
And of course, you want to know about performance, which is where the Samsung Jet 90 Complete continues to blow us away. The 200-watt powerhouse takes no mercy on both floors and carpets thanks to its Jet Cyclone that keeps the vacuum from getting clogged, has a generous battery that lasts for up to 60 minutes, and 180° swivel flexibility for ultimate maneuverability. Chores have never been this easy. 
Good to know
The Samsung Jet 90 includes a separate, self-standing dual charging station that can charge two batteries at once in just 3.5 hours, though the separate battery is sold separately and a separate wall dock for storing the vacuum off the ground. 
The Jet Complete includes a variety of attachments including a mini-motorized tool for collecting fine dust particles and hair, a long-reach crevice tool, a combination tool that's perfect to use on upholstery, or even in your car, and an anti-static soft brush for hard floors. Additional accessories are available to purchase like a Spinning Sweeper Brush for mopping, or the Samsung Clean Station, which automatically empties the Jet Stick vacuum's dustbin.
Additionally, our reviewer noted that setup was a little complicated figuring out what each attachment was.
8. Shark Navigator Lift Away Upright Vacuum
Best value vacuum cleaner
Specifications
Dust bin capacity: .9qt.
Weight: 13.9lb.
Dimensions: 10.24" L X 10.24" W X 45.27" H
Cord length: 25 feet
Warranty: 5 years
Reasons to buy
+Reliable+Good assortment of attachments+Lift-Away adds portability+HEPA filtration 
Reasons to avoid
-Bulky-Prone to tipping over-No anti-hair wrap or self-cleaning brush roll technology
Not everyone is looking to spend hundreds of dollars on a vacuum, and that's totally OK. If you're looking for value and performance, Shark Navigator Lift Away Upright Vacuum can typically be found for under $300, and is loaded with common Shark features like HEPA filtration, Lift-Away for increased portability, and 
What we like about it
 This reliable upright offers incredible value, suction power, and even HEPA filtration. If you're keen on attachments, it's well equipped with a wide upholstery tool that handles pet hair on furniture, and two crevice tools, a lengthy 24-inch, and a compact 5.5-inch for reaching tight spaces. Finally, the brush roll shutoff feature allows you to instantly switch from deep carpet cleaning to gentle bare floor cleaning. 
For an upright, it's considered lightweight, and the swivel steering makes it easier to handle. The addition of Shark's signature Lift-Away technology adds increased flexibility and portability to reach under tight spaces or for above-floor cleaning. 
Good to know
Users report that the top-heavy design is prone to tipping over, and some users find the 25-foot cord just a tad shorter than they'd hoped. 
The only thing the Navigator seems to be missing that recent (and pricier Sharks) offer is its anti-hair wrap tech, self-cleaning brush-roll and DuoClean technology. However, pet owners and allergy sufferers still get on without sacrificing cleaning power. 
What to consider before buying a vacuum
Consider a variety of factors before choosing a vacuum as some details are more important to one than they may be to another. 
Type
Vacuums come in a variety of types. Some common terms you may come across include: 
Upright: Upright models do as they sound, they are stable and can sit upright. They are usually heavier, more stable, and offer the most consistent suction and larger dust cup capacity. Most upright vacuums are corded. 
Stick: Those looking for lightweight, easy to maneuver vacuums or are short on storage space, may prefer a stick vacuum for its slim profile that makes it lighter and easier to store. However, they can't stand on their own, so it will need to be propped up if you pause cleaning or placed on the floor. Stick models can be found in either corded or cordless operation, but they usually don't offer as much suction power as an upright.  
Canister: Canister vacuums have separate canister that house the the motor and dust bin with a long hose that works with a variety of attachments. Theyare usually much lighter and more easy to maneuver than upright counterparts, and just as powerful. They are very convenient for stair cleaning and make it easy to get. Due to their low profile, they also take up less space to store. 
Cordless: Cordless vacuums are battery-powered and do not require a wall outlet nearby to operate. As technology evolves, these vacuums become more powerful, run longer, and increasingly more lightweight. They will require a period of time to charge between cleans. 
Robot: Robot vacuums autonomously clean your home on your own schedule without you having to lift a finger. Many can be paired with smart home assistants, provide detailed home mapping, and can run on your own schedule. However, you will need to remove any obstacles before running. 
Handheld: Many cordless models convert into handheld units, but for smaller jobs and quick clean-ups, handhelds, either corded or cordless, are great to have on hand for getting into tighter spaces or cleaning above ground. 
Dust bin
Here we consider two factors. Dust bin size and bagged or bagless designs. Consider how large your home is, or how often you're willing to empty the dust bin. Bagged dust bins will seal in collected dirt and debris, but there is the added cost of repeatedly keeping the bags on hand. Meanwhile most bagless designs are clear and allow you to see in to how much dirt has been collected. They can be dumped directly in the garbage, but there is still the risk of a few particles escaping back into the air. 
Weight
Taking into account the maneuverability of your vacuum, if you will be using a vacuum between levels, it is necessary to choose a vacuum that is lightweight enough for you to carry up and down the stairs.  An appropriate vacuum weight is around 10lbs.
Floor Type
Consider if you have more hard, smooth floors or carpets, and be sure to select a vacuum that is built to handle that surface. Some handle both excellently (or come with interchangeable attachments), while others work on hard floors or carpets much better.  
Cord length
If you've already determined that cordless is for you, disregard, but the length of a vacuum can really make or break one's cleaning experience if you're constantly having to plug into different outlets. Look for vaccums that offer between 25 and 30 foot long cords for plenty of space to roam. 
Special Features
Increasingly, more and more vacuums highlight special features like support for pet hair, no hair wrapping, or specialized HEPA air filtration. Some vacuums will highlight this directly, while some brands, like Shark or Bissell, are known for their pet-friendly vacuums.