Shark Vertex Pro Lightweight Cordless Stick Vacuum Review
We tested the Shark Vertex Pro Lightweight Cordless Stick Vacuum with DuoClean PowerFins and compare it to similar models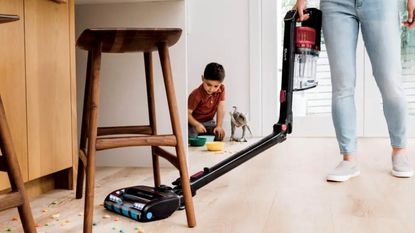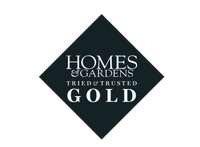 (Image credit: Shark)
Shark's latest addition to the Shark Vertex lineup offers extended cleaning capabilities for a streamlined experience. It's supped up with more power, run time, a larger dust bin and a sleeker design, plus existing features we already loved like anti-hair wrap, LED lights, and an easy storage and charging experience.
Reasons to buy
+

Great pick up

+

Quick Set-Up

+

Easy to fold down for storage, and compacts down to less than 3 feet for closet storage

+

Super lightweight

+

Easy to remove dust cup

+

Does not require a charging hub

+

Charges through a removable battery

+

Anti-allergen seal traps dust and allergens

+

LED lights on floorhead
Reasons to avoid
-

Automatically sets to Deep Clean mode each time it turns on

-

Smaller floorhead
You can trust Homes & Gardens. Our expert reviewers spend hours testing and comparing the latest products, helping you choose the best for you. Find out more about how we test.
The Shark Vertex Pro Lightweight Cordless Stick Vacuum was designed to give you full-size vacuum power, with the convenience of a lightweight cordless design.
It's the successor to the Shark Vertex Lightweight Cordless Stick, a model that we reviewed and loved, and set the bar for what we look for in a cordless vacuum. Building on that vacuum's best features, the Pro is loaded with more suction power, a larger dust bin, and a digital display for an upgraded cleaning experience. It also managed to be even lighter in weight, without feeling flimsy.
So, are these upgrades worth it? We've tasked the Shark Vertex Pro Lightweight Cordless Stick Vacuum with DuoClean PowerFins through a number of cleaning sessions and are ready to get into the nitty-gritty details.
Want more options? Our best cordless vacuum guide covers the gambit of the varying cordless vacuums available, from models perfect for pet owners to sleek models that match your aesthetic.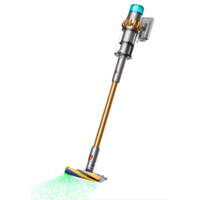 Shark Vertex Pro Lightweight | was $449.99, now $419.98 at QVC
This light, premium vacuum is easy to store and use. Thanks to its ergonomic, lightweight body, it's one of our favorites. We think it's good value on a normal day, so in the sale it's even better.
Who will love the Shark Vertex Pro Lightweight Cordless Stick Vacuum with DuoClean PowerFins?
Power Cleaners: Those after power and specs will enjoy the powerful suction, enlarged dustbin, and generous runtime that will enable you to power through your cleaning with minimal pauses. Plus, the multi-flex wand makes it easy to access hard-to-reach places.
Pet-owners: The DuoClean PowerFins has excellent hair pick-up while the Self-Cleaning Brushroll resists hair wrap.
Small-Space Dwellers: Folds compact, and doesn't require a specific charging hub
Allergy Sufferers: Utilizes HEPA filtration to capture and trap dust, dander, and allergens as well as a CleanTouch® Dirt Ejector to minimize your interactions with the collected dirt.
Shark Vertex Pro Lightweight Cordless Stick Vacuum with DuoClean PowerFins: Specifications
Model: IZ662H
Maximum power: 309 watts
Dust capacity: 1qt.
Cordless: Yes
Runtime: Up to 60 minutes
Cleaning path width: 10.63in.
Dimensions: 10.24" L X 14.7" W X 46.5" H
Weight: 8.82lb.
Filter: Washable HEPA, Foam and Felt
Warranty: 5 years ( 2 year limited battery warranty)
Attachments: Crevice tool, Anti-Allergen Dust brush and pet multi-tool
Shark Vertex Pro Lightweight Cordless Stick Vacuum with DuoClean PowerFins: features and functions
DuoClean PowerFins
The core component of the Shark Vertex models, and perhaps why the Vertex is our favorite product line. The Powerfins technology feature two rollers to suck up dirt and dust that maximize floor contact for continuous cleaning. It's kind of like two vacuums in one, and sucks up twice as much in one pass-through. The PowerFins roller and a soft roller uncover dust and debris from carpets, directly engage floors, and pick up more in every pass. The soft roller picks up small debris and dust while the silicone PowerFins dig deep into carpets and directly engage floors for better pet hair pickup, as opposed to vacuums with standard bristles.
Self-Cleaning Brushroll
Shark's vacuums are leaders in the anti-hair wrap movement. With the self-cleaning brush roll, human and pet hair don't get caught or wrapped in the rollers and reduce suction power.
Multi-Flex Technology
Not only are you unrestricted by cords with this Shark Vertex, but the addition of Multi-Flex Technology also enables you to contort the vacuum into different positions to access hard-to-reach areas. For instance, it flexes up to a 90-degree angle so you can access low areas without bending over, and it's what allows the vacuum to fold in half for compact storage.
Hypervelocity Accelerated Suction
Not your ordinary cordless vac. The addition of Hypervelocity Accelerated Suction delivers a direct airflow path for incredible deep-cleaning performance.
Anti-Allergen Complete Seal Technology
Traps allergens on contact with its HEPA Filtration system and Anti-Allergen Complete Seal Technology that doesn't expel irritants back into the air. The brush rolls continually rotate to ensure air is only sucked in one direction.
Convertible Handheld
In addition to the standard upright mode, you can also seamlessly detach the handheld for above-floor cleaning, and even use the wand for hard-to-reach areas. The included attachments clip on with ease for targeted cleaning.
IQ Display
The digital display screen showcases battery percentage level and indicates the suction level and floor type, selected via two buttons on either side of power button. Toggle between three modes: ECO mode for maximum runtime, Deep Clean mode for increased power and optimized runtine, and Boost mode for maximum suction.
Attachments
This particular Shark vacuum came with a variety of attachments to use with the handheld including a crevice tool, a pet multi-tool that multi-tasks to clean stuck-on debris and remove pet hair from upholstery, and a anti-allergen dust brush for delicate objects, getting in narrow spaces, and dusting blinds. No accessory storage or sack, however.
What is the Shark Vertex Pro Lightweight Cordless Stick Vacuum with DuoClean PowerFins like to use
Unboxing and Set Up
The Shark Vertex Pro packaging utilizes recyclable paper and cardboard in its packaging as opposed to plastic, which it had previously used. Once everything is unwrapped, the floorhead, multif-flex wand, and handvac all click into place, though for optimal performance you will want to charge.
Charging and storing
One of the standout features of the Shark Vertex Pro is that the swing-style mechanism of the Multi-Flex design folds in half for easy and compact storage that doesn't require a designated charging hub, and it can store on its own. It doesn't quite stand upright, a trait common to stick vacuums, but still doesn't require finding a place to prop it up.
The battery is easily removable to be charged on your kitchen counter or in situ wherever you'd like to leave the vacuum to charge. You can even purchase an additional battery if you'd like to have an extra on hand for extended cleaning sessions.
Cleaning Performance
Operation is pretty easy. Once you press the center power button, toggle between the carpet or floor according to the floor you're cleaning. It automatically turns to the middle Deep Clean mode, then you have to click the button twice to get back to Eco. From someone who prefers to start vacuuming on the lowest floors, I wish I didn't have to cycle through each time I turn it on and off to preserve battery.
The Multi-flex feature works best on hard floors to get deeper under low areas, as the angle becomes too difficult to maneuver, but overall the vacuum exhibits mighty power on both carpet and bare floors.
The vacuum can last up to 60 minutes when used as a Hand Vac on Eco Mode, or up to 46 minutes on a bare floor, and 30 minutes on carpet, both in ECO. Runtime is drastically shortened when in Boost mode, with just 10 minutes of cleaning time.
Emptying the dust bin
The enlarged dust bin (a quart) meant less frequent stops to the bin to empty, and more space for cleaning. Emptying the bin was also insanely easy and required minimal interaction with the dirt, it simply "ejects" into your trash.
Maintenance
The dust bin easily dislodges to be cleaned when needed with water. The top of the bin is also where the pre motor foam filters sit, which you can pull out to remove. They should be cleaned once a month by rinsing with water and then left to completely dry. The Post-Motor HEPA filter only needs to rinsed once a year.
The soft roller pops out from the floor head and can be wiped with a dry cloth, or rinsed as needed. Like the filters, it needs to be completely dry before re-inserting. Hair that initially wraps around the second silicone brushroll will eventually self-clean itself, especially if you continue on the barefloor setting, though you may find yourself wanting to yank off any strands that didn't make it through.
The Pantry Test
I took the Shark Vertex Pro through our Pantry Test, the unscientific test that uses common pantry staples to test the suction capabilities of our vacuums. I arranged a quarter cup of cereal, a quarter cup of rice, and two tablespoons of sugar to see how the vacuum handled food particles large and small. I've also started including a few strands of hair from my hair brush. On both floor types it powered through the food pieces with ease, though took a little more time on hard floors.
The Pantry Test on hardwood floors:
The Pantry Test on carpet
How does the Shark Vertex Pro Lightweight Cordless Stick Vacuum rate online?
As of March 2022, the Shark Vertex Pro Lightweight Cordless Stick Vacuum has a 4.5 rating on Amazon and a 4.5 rating on Shark's website.
How does the Shark Vertex Pro Lightweight Cordless Stick Vacuum compare to other models?
The Shark Vertex Pro Lightweight Cordless Stick Vacuum is Shark's most premium cordless vacuum offering. What sets it apart from the other Shark cordless models is it has the most powerful suction by a long shot and the longest runtime (up to 60 minutes) and DuoClean technology. Other Shark models tend to offer between 40 and 60 minutes on a single charge.
Shark Vertex Pro Lightweight vs. Shark Vertex Lightweight
When directly compared to the Shark Vertex Lightweight Cordless Stick Vacuum, the weight, build and runtime have a negligible difference. However, the Pro edition has a much larger dust bin of 1 qt, as opposed to about a third of a quart. The Pro's battery life is 10 minutes longer and it also hase marginally more powerful suction power. The design also feels more high-end with a digital display that boldly shows battery percentage remaining. The MSRP between the two is $479 and $429, with the pricetag indicating the higher-tech upgrades.
Shark Vertex Pro vs. other cordless vacuuums
The roomier 1-qt. dust bin is still larger than what we see from comparable models on Dyson, Tineco, and even Bissell. It also incorporates convenient floor LED lights to guide the way. We've found that Shark has the best results at powering through debris, large and small, and it feels much less of a dirty task to deal with hair wrap.
However, a feature that this premium Shark is missing that others have is automatic floor adjustment and suction power capabilities.
Shark Vertex Pro Lightweight Cordless Stick Vacuum with DuoClean PowerFins: Final Thoughts
The Shark Vertex Pro Lightweight Cordless Vacuum is truly an outstanding vacuum performer when you take into account cleaning performance, ease of use, and maneuverability. It's lightweight, even with the larger and more convenient dust bin for extended cleaning too. The compact storing is a neat feature for anyone short on space, or simply a fan of clever design.
Shark still lacks the technology from some of the vacuums I've tried that can automatically adjust suction power according to surface type or debris typee, so toggling back and forth between is a bit inconvenient, knowing that this technology exists at slightly comparable prices. I do however, greatly value the continuous power and overall ease of operation, the excellent measures taken to seal in allergens and limit interaction with debris, and of course, how it handles hair... that of my dog and myself.
Shark Vertex Pro Lightweight Cordless Stick Vacuum with DuoClean PowerFins: where to buy
Sign up to the Homes & Gardens newsletter
Decor Ideas. Project Inspiration. Expert Advice. Delivered to your inbox.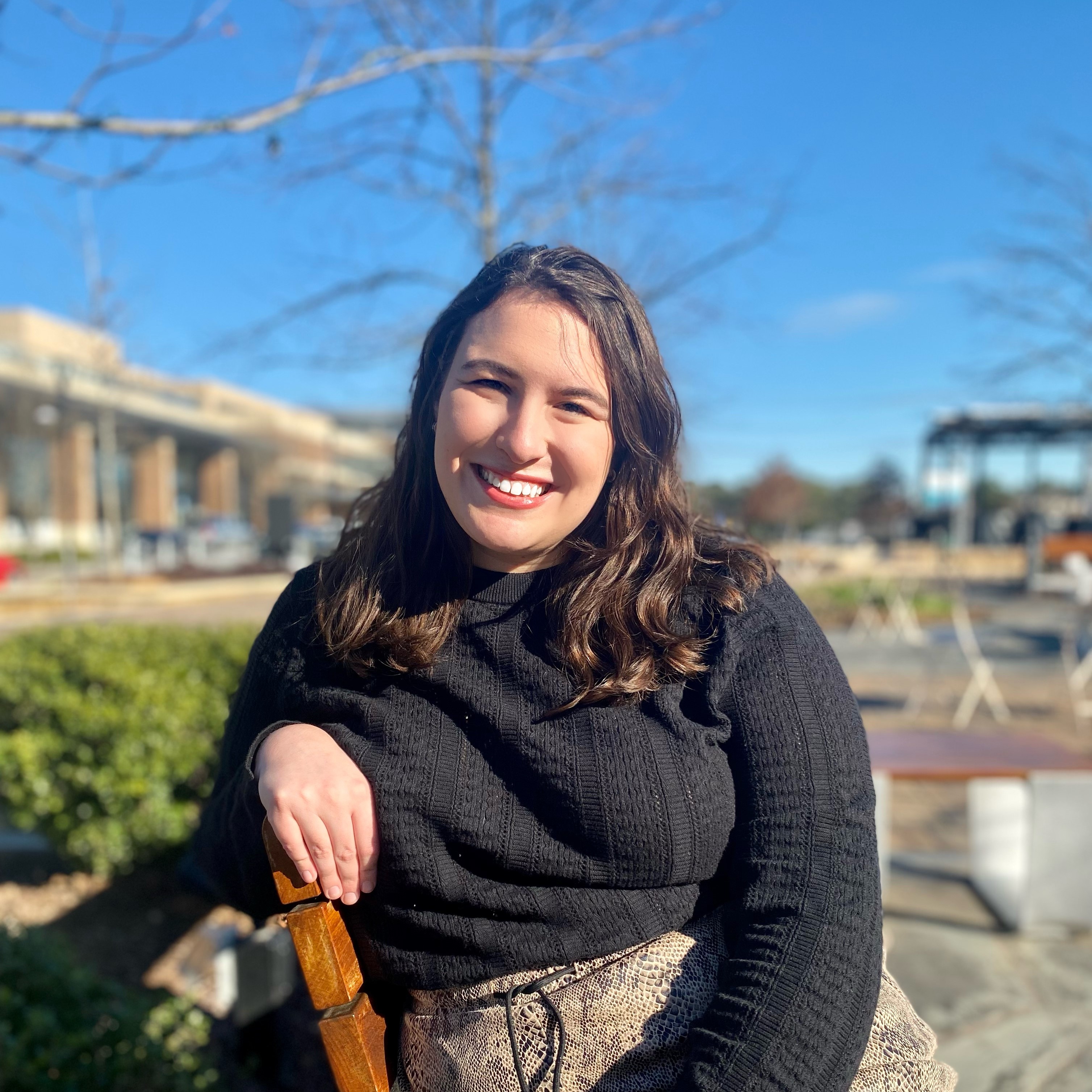 Jaclyn is H&G's eCommerce editor and oversees all things shopping. She's also a bonafide sleep expert, and previously managed all sleep content on Homes & Gardens and Real Homes– in fact, she has passed our five-step certification process to become a verified customer advisor on mattresses. She regularly scouts out the best of the best for buying guides to help you fill your home with only the best. She joined the team in January 2021. She has previously worked with Apartment Therapy, The Kitchn, The Spruce, The Spruce Eats, and MyDomaine. When Jaclyn's not working, she loves browsing real estate listings, unwinding with a chilled glass of Rosé, and entertaining her Cavapoo, Reese.