Shark vs Dyson: which brand should you choose?
Which top vacuum brand – Shark vs Dyson – offers the best value and performance? We investigate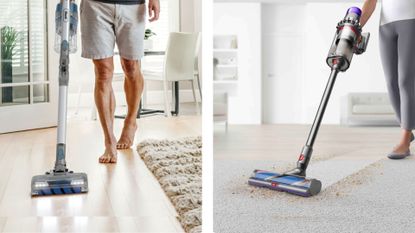 (Image credit: Shark/Dyson)
Which is the better vacuum: a Dyson or Shark? Both brands make fantastic vacuum cleaners, so how do the two compare on quality, reliability, performance and price, and which should you buy?
Here at Homes & Gardens we have tested many vacuum models from both brands, and it's worth saying that both Dyson and Shark make some of the best vacuums you can buy, and we think you'll be happy with either.
But of course, there are differences, and we do like to get into the detail, so, let's take a deep dive into the most important features that differentiate the two.
Whether you're after the best Dyson vacuum or in the market for the best Shark vacuum, we've had extensive time with both in our homes and testing facility. This comparison between the two brands will help guide your vacuum purchase.
The best Shark and Dyson Holiday deals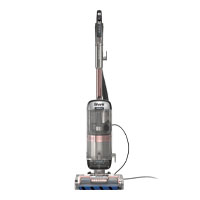 (opens in new tab)
Shark Vertex DuoClean PowerFin Upright Vacuum | Was $449.00 now $229.00 at Best Buy (opens in new tab)
Save $200 on the Shark Vertex DuoClean PowerFin Upright Vacuum. The ultra-powerful design features powered lift-away, a self-cleaning brushroll and DuoClean PowerFins.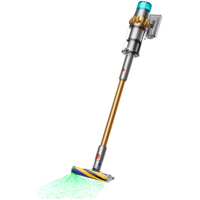 (opens in new tab)
Dyson V15 Detect Absolute | Was $749.99 now $649.99 at Dyson (opens in new tab)
It's the lowest price we've ever seen on our top-rated vacuum: the Dyson V15 Detect. Why not go with the most supped-up version that comes with extra accessories including a fabric and mattress tool and a low-reach adaptor?
Shark vs Dyson: Product Range
Shark and Dyson both offer a wide range of choice. Shark offers a range of corded, cordless, handheld, and robot vacuums, while Dyson emphasizes its cord-free range.
For the sake of this comparison article, we will be emphasizing both brands' best cordless vacuum cleaners, when comparing each brand.
Dyson's hero cordless vacuum is the Dyson V15 Detect (opens in new tab) (check today's prices via the link or read more about it in our Dyson V15 Detect review). It is distinct from other vacuums in that it utilizes a green diode laser (as opposed to LED headlights) to reveal dust and debris on hard floors that is invisible to the naked eye; Dyson has trickled this useful feature down to other models, too.
Shark's hero cordless vacuum is the Shark Stratos Cordless (opens in new tab) (check today's prices via the link), which has the most powerful suction and hair pickup of any Shark vacuum. It also has a self-cleaning brushroll and new odor-neutralizing technology as its special features.
Both offer tremendous power, are featured in our list of the best pet hair vacuums, easily convert to handheld vacuums, and are lightweight and easy to use.
Below, we visually compare factors like runtime, power, dust bin size, and any special features.
Swipe to scroll horizontally
Shark Stratos Cordless
Shark Vertex Cordless
Shark Vertex Pro
Dyson V8
Dyson V12 Detect Slim
Dyson V15 Detect
Dyson Outsize +
Best For
Newest Shark Launch
Space-saving
High-end Digital Features
Most affordable Dyson
Most lightweight
5-star vacuum
Most cleaning longevity
Run time
Up to 60 minutes
50 minutes
Up to 60 minutes
Up to 40 minutes
Up to 60 minutes
60 minutes
120 minutes
Power
309 W
281 W
309 W
N/A
150AW
230 AW
230 AW
Weight
8.9lb.
9.04lb.
8.82lb.
5.51lb.
5.2lb.
6.79 lb.
7.9lb
Dust bin
.72 qts
.08 gal
.25 gal
.54L
.1 gal
.2 gal
.5 gal
Price
$499.99
$429.99
$479.99
$449.99
$649.99
$749.99
$949.99
Black Friday Deal
$449.99
$249.99
$279.99
$349.99
$499.99
$649.99
N/A
Special Features
Odor Neutralizing Technology, DuoClean® PowerFins® HairPro
MultiFLEX freestanding storage, Duo Clean Powerfins
Extended Size Dust Bin, digital display
N/A
24% lighter than V15, button power control
Automatic surface detection, Piezo sensor, green diode laser
Extended size dust bin, automatic surface detection, green diode laser
Another range that Dyson has been emphasizing lately: its small-spaced approved hard floor cleaners.
The Dyson Omni-Glide (opens in new tab) (check today's prices via the link or read our Dyson Omni-Glide review for more information) is designed to effortlessly dance in any direction across hard floors
Shark also offering a comparable lightweight product: the Shark WandVac (opens in new tab) (today's prices via the link for find more information in our Shark WandVac review. In 2022, Shark also introduced a Wandvac with a self-emptying function, similar to what you may see on many of the best robot vacuums.
Both brands share comparable runtimes of about 20 minutes. More comparisons below.
Swipe to scroll horizontally
Shark WandVac
Dyson OmniGlide
Run time
17 minutes
20 minutes
Power
225 w
50AW
Weight
2.1 lb.
4.18 lb.
Dust bin
.13qts
.05 gal
Price
$199.99
$449
Special features
LED headlights, Available in 5 colors, charging dock
Omni-directional floor head, HEPA
Both Shark and Dyson offer upright corded vacuum models.
Shark is perhaps most renowned for its Navigator vacuum (opens in new tab), but its Apex (opens in new tab), Vertex (opens in new tab) and Stratos (opens in new tab) models (links lead to today's best prices, and you can find out more about the latter in our Stratos upright review) models are a step up from cordless, and loaded with power, tech, and special features.
Dyson's core upright model is the Dyson Ball Animal 3 Extra (opens in new tab) (link goes to today's best prices and you can find out more in our Dyson Ball Animal 3 Extra review), which is top-rated for pet owners and offers the most suction on the market. Its distinct ball design makes navigating furniture and obstacles much easier.
Swipe to scroll horizontally
Shark Stratos
Shark Vertex
Shark NV360 Navigator Lift-Away Deluxe
Dyson Ball Animal 3 Extra
Dyson Ball Animal 2
Best for
Newest
Premium
Budget-friendly
New pet hair and grooming features
Reliable alternative
Cord length
25 feet
30 feet
25 feet
35 feet
35 feet
Power
1416
1344 watts
1200 watts
290 AW
270 AW
Weight
17.72 lb.
16.38lb.
13 lb.
17.3 lb.
17.5 lb
Dust bin
1.48 qt.
1 qt.
1.2 qt.
1.7 L
.55 gal
Price
$429-$449
$499.99
$199
$499.99
$499
Black Friday Price
$299.90
$249.99
$99.99
$399.99
$349.99
Special features
DuoClean PowerFins HairPro, Odor Neutralizer Technology, HEPA
DuoClean Powerfins, Led lights, Powered Lift-Away motor
Lift-Away
New Pet hair technology and grooming tools
Ball maneuvering technology, single power option
Shark vs Dyson: Price
Dyson vacuums are usually in a range of $399 for their older models and hard floor units to $949 for its top-of-the-line Dyson Outsize + (check today's latest prices via the link), which is the largest cordless on the market, and now includes the laser technology of the Dyson V15 Detect (opens in new tab) (link goes to today's best prices).
Shark vacuums are at a more mid-range of $150 for an upright vacuum to $650 for an AI-backed robot vacuum with an auto-empty dustbin. Cordless vacuums fall between $150 for a mid-rated Navigator cordless to $450 for its top-of-the-line Vertex Pro, which boasts a larger 1 qt. dust bin and increased power.
Shark also frequently runs promotions, up to half off, while the most discount you will likely see on a Dyson is around $200.
Shark vs Dyson: Power
Dyson has the advantage when it comes to sheer air watts, with the most powerful suction around. Models from the V11 range and newer offer automatic surface detection to adjust the power (and battery life) accordingly. Dyson typically offers three modes: Eco, Medium, and Boost. Of note, the Dyson Ball Animal 2 (opens in new tab) (link goes to today's best prices), has only one power setting, and it's very powerful.
Dyson's traditional cordless models operate with a trigger method to conserve battery when not in use. On their micro models, Dyson has swapped in a power button, but early users reviewed that the button was placed on the handle in an awkward position that wasn't super intuitive with use.
Shark also lets you select power modes according to surface type, or if an extra boost is required, however, you will manually have to switch between. Shark typically offers a hard floor, carpet, and MAX power option. Shark vacuums operate with a power switch for continuous power.
Both of these features are handy for selecting an appropriate power for the surface you are cleaning.
Shark vs Dyson: Debris Pick Up
At a minimum, we want our vacuums to suck up all traces of dirt, dust, and debris. Both Shark and Dyson can get the job done.
Shark wins, however, when it comes to larger pieces, like food crumbs, suctioning up larger pieces like cereal to rice in one pass, while these items seem to get pushed forward with a Dyson.
On hard floors and carpets, Shark vacuums tend to fare similarly, with settings to toggle between carpets and hard floors. When on the hard floor setting, the brushbar is turned off.
Dyson makes different floorheads for varying purposes. The fluffy floor heads are optimized for hard floors with their softer fibers to rid floors of dust, while the detangling motor bar floorhead digs deep into carpets, though still effective on hard floors if the fluffy floorhead is not included. Dyson vacuums either adjust setting power level or automatically adjust based on detected dirt amount. The upright models do feature an option to turn off the brushbar when vacuuming hard floors.
See how they fare, below:
Shark Vertex Lightweight Cordless
Dyson Outsize
Shark vs Dyson: Battery Life
Both Dyson and Shark offer comparable battery life in its models, promising up to 60 minutes in its most premium versions. Depending on the model, both Shark and Dyson offer designs with removable batteries, such as the Dyson Outsize or the Shark Vertex Cordless.
Shark vs Dyson: Pet Hair
Both Shark and Dyson are top-rated when it comes to collecting pet hair.
However, we think Shark does it better for those who are trying to avoid the dreaded hair tangle around the brush roll.
In regards to Dyson, hair is collected, but long strands will wrap. On the floor heads, discreet hair removal vanes automatically clear hair from the brush bar and the brushbar has a conical design to also spiral hair off and into the dust bin. The pet attachments found on the Dyson Outsize+ and V15 Detect feature the newly introduced hair screw tool which aims to reduce hair wrap around the brush roll with its mini-motorized anti-tangle conical brushbar. They work and are great for cleaning upholstery and small items.
Across the Shark line up, Shark's self-cleaning brush roll technology is much more widespread at keeping pet hair from wrapping around the roll. Factor in its Duoclean technology, which utilizes a brush roll and a soft roller for double the contact, and the pick-up is constant.
Shark vs Dyson: Dust Bin
Dyson was actually the first to engineer bagless dust bins, using the clear dust bin design to be able to keep track of how much dirt has been collected and a system that will never lose suction because the bin is full. At this point, however, both Shark and Dyson use bagless dust bins.
Both dust bins use an easy, one-touch propeller system designed to be hassle-free and hygienic. Dyson's base opens and pushes the dirt forward, while the Shark releases the base, which actually has a wider mouth for dirt to dispense out of.
We've personally found a better emptying experience from Shark as we're not having to reach in to take out stuck clumps of debris, as has been our experience with Dyson. The bins can also easily be rinsed with water. Dyson's dust bins can typically only be wiped with a damp cloth, as they are connected to electrical components.
Within the dust bin, hair both wraps around the filters inside the dust bin on the Shark and Dyson. Hair is easier to pull out of the Shark, however, which neatly wraps around can easily be pulled out, while it's more difficult to place your hand up in the shaft of the bin. Dyson's dust bin utilizes a rubber stopper to sort of push the dirt down and to keep it going in one direction.
Traditional uprights tend to have larger dust bins by default, while cordless models are typically smaller, in an effort to keep them streamlined and lightweight. Dyson's Outsize is the outlier, with its full-size half-gallon dust bin. Beyond this specialty model, we find Dyson and Shark's dust bin offerings to be rather similar in size.
Shark vs Dyson: Filtration
All of Dyson's products carry advanced whole-machine HEPA filtration (opens in new tab), emphasizing its 5-layer filtration and cyclone technology that is the heart of Dyson's technology to keep dust and dirt trapped inside.
The dust bin is only the first stage to separating the particles visible to the naked eye. Dyson's multi-cyclone technology, with up to 18 cyclones, depending on the model, maintains the velocity required to remove fine dust from the airflow. Pre- and post-motor filters are responsible for filtering the smallest particles, capable of removing 99.97 percent of particles invisible to the human eye as small as 0.3 microns.
Dyson filters are easily washable and help prevent the build-up of allergens or dander.
Most Shark machines feature their Anti-Allergen Complete Seal (opens in new tab), which traps dust, allergens, and irritants and seals them inside, keeping it out of the air you breathe. Particles filter through the washable foam and felt filters. Some more of the premium models will also feature HEPA, but it will drive up the price.
Shark vs Dyson: Warranty
It's normal to want your vacuum to last, and for many, the warranty can be a big deciding factor. Dyson offers two-year parts and labor warranties on its vacuums whereas Shark offers five-year warranties.
Shark vs Dyson: which is best
We highly regard both Dyson and Shark for the high-level cleaning performance that both offer. In the end, it comes down to what will suit you best: are you after value or design? Power based on floor type or automation? Below, we've identified some of the key features of both and what sets them apart.
Buy the Shark vacuum if you:
Are looking for value and power
Don't want to deal with hair wrap with a self-cleaning brush roll
Want LED lights on your vacuum
Don't like trigger-style power
Feel confident with a longer warranty
Looking for a range of vacuums that have more obvious differences
Buy the Dyson vacuum if you:
Want the latest innovations like automatic suction adjustment and battery displays,

i.e.,the green laser and piezo sensor on the V15 Detect or the full-size dust bin of the Outsize.

Crave fade-free power and extended battery life.
Need top-level filtration.
Like the lightweight design that easily converts to a handheld.
Want to choose from models and attachments with similarities, but with incremental changes.