Shark vs Dyson 2023: which vacuum cleaner is best?
Our experts reveal the winner when Shark goes toe-to-toe with Dyson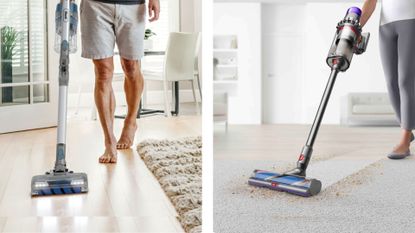 (Image credit: Shark/Dyson)
We've tested all sorts of vacuums over the years, but when it comes down to it, Dyson and Shark tend to top our rankings of the best vacuums.
While Dyson have led the market for years, offering premium, powerful vacuums, Shark are hot on their heels with great-value vacuums that don't break the bank.
When you drill into the details, there's a world of difference between the best best Dyson vacuums and the best Shark vacuums. We've had extensive time with both in our homes and testing facility, so we know exactly which comes out on top.
Written by
Alex is Head of eCommerce at Homes & Gardens and spends his days trawling the internet for the latest product launches and deals, as well as testing homes products in our specialised test facility. Before H&G, he got his start in consumer journalism reviewing vacuums; after many hours vacuuming the same yard of carpet over and over on test, he's well placed to cover the best vacuum cleaners.
Shark vs Dyson: which is best?
TLDR: Dyson is the winner, and our pick for the best vacuum in the world is the Dyson V15 Absolute. It picks up debris incredibly well, has huge a huge capacity, a high-tech laser to illuminate debris and anti-hypoallergenic filtration.
However, the $700 price point is out of reach for most of us. Very few people can afford to drop nearly a thousand dollars on a vacuum cleaner, no matter how good it is. The Shark Vertex Pro Lightweight Cordless is our narrow runner up in the guide to the best vacuums, and offers incredibly effective cleaning without the expense.
However, those are just our overall picks. Read on if you want to drill into the detail on the best cordless, pet hair, upright and robot vacuums from both brands. We also cover which brand is better value, which has stronger suction, and which offers the best warranty.
Buy a Shark vacuum if you:
Are looking for value
Want powerful suction
Don't want to pull hair out of your vaccum
Need LED lights on your vacuum
Don't like trigger-style power
Need a longer warranty
Buy a Dyson vacuum if you:
Want the most powerful suction you can get
Want the latest innovations like a vacuum laser or particle sensor
Want extended battery life
Need top-level filtration
Want a light-weight cordless
Shark vs Dyson: best cordless vacuum cleaner
WINNER: DYSON V15 DETECT ABSOLUTE
As we said above, the Dyson V15 is our favorite vacuum cleaner in the world. It has amazing suction, stops pet hair from getting stuck, and we love the laser and piezo sensor, which lets you know exactly what you're removing from your floors. It scored a perfect 100% vs the nearly-but-not-quite 90% of the Shark Vertex Pro Lightweight.
Dust bin capacity: 0.2 gal
Weight: 6.8lbs
Max dB: not disclosed
Battery life: up to 70 minutes
Warranty: 2 years
For
Green Laser dust detection on Fluffy brush roll illuminates dust particles invisible to the eye
Piezo sensor and LCD screen shows the size and number of dust particles collected in real-time
New anti-tangle hair screw keeps pet hair from getting stuck
Incredible suction
Versatile attachments
Against
Green laser only shows dust on hard floors, harder to see in bright daylight
Dust gets stucks in dust bin
High Torque cleaner head with anti-tangle technology (secondary floorhead) doesn't move as easily, and it doesn't have an LED Light
Must hold trigger for continual operation
Shark Vertex Pro Lightweight
Dust bin capacity: 0.25 gal
Weight: 9.04lbs
Max dB: not disclosed
Battery life: up to 60 minutes
Warranty: two years
For
Great pick up
Quick Set-Up
Easy to fold down for storage, and compacts down to less than 3 feet for closet storage
Super lightweight
Easy to remove dust cup
Does not require a charging hub
Charges through a removable battery
Anti-allergen seal traps dust and allergens
LED lights on floorhead
Against
Automatically sets to Deep Clean mode each time it turns on
Smaller floorhead
Shark vs Dyson: best vacuum for pet hair
WINNER: DYSON OUTSIZE+ (with a couple of caveats)
Our tests found that the Dyson Outsize+ is the best vacuum for pet hair. It's huge, incredibly powerful, has a great capacity, as well as great anti-hair wrap on carpet, saving you from pulling hair out of the vacuum. We tested it in a house with dogs and it easily handled their fur. It also has excellent HEPA filtration to prevent allergies.
However, if you have hard floors throughout your home, you should know that hair gets caught in the specialised hard floor brush. As ever with Dyson, there's a weighty price tag; at $949.99, it's the priciest vacuum in Dyson's already expensive range.
If either of these put you off, our runner up in our tests is the Shark Stratos. This vacuum also excelled when we put it to the test against dog fur, and has amazing odor neutralizer technology that banishes pet smells before they start. If you don't want to stretch to a thousand dollars, the Stratos is a smart alternative.
Dust bin capacity: 0.5 gallons
Weight: 7.98lbs
Battery life: Up to 120 minutes of run time (across two batteries)
Warranty: 2 years
For
Massive dust bin
Incredible suction
Quick to charge
Easy to handle
Versatile
Against
Top-heavy
Hair wraps around brush-roll on hard floors
Too powerful on small, delicate rugs
Shark vs Dyson: best upright vacuum cleaner
WINNER: SHARK STRATOS
While it just missed out for best pet hair vacuum, the Stratos is the best upright vacuum on the market. It overcomes the usual limits of an upright with a handy lift-away body that makes it easy to use on stairs. The odor-neutralizing cartridge is no gimmick, genuinely improving the usual smells of pet hair, and it has good anti-hair wrap, so you won't have to pick hair out of the brush roll.
The Dyson Ball Animal 2 is another good choice, and surprisingly, better than its successor, the Ball Animal 3. it's probably the most powerful vacuum you can buy, annihilating pet hair from carpets and rugs. However, this power is one of its weaknesses — it's so strong that it can be difficult to push on carpet.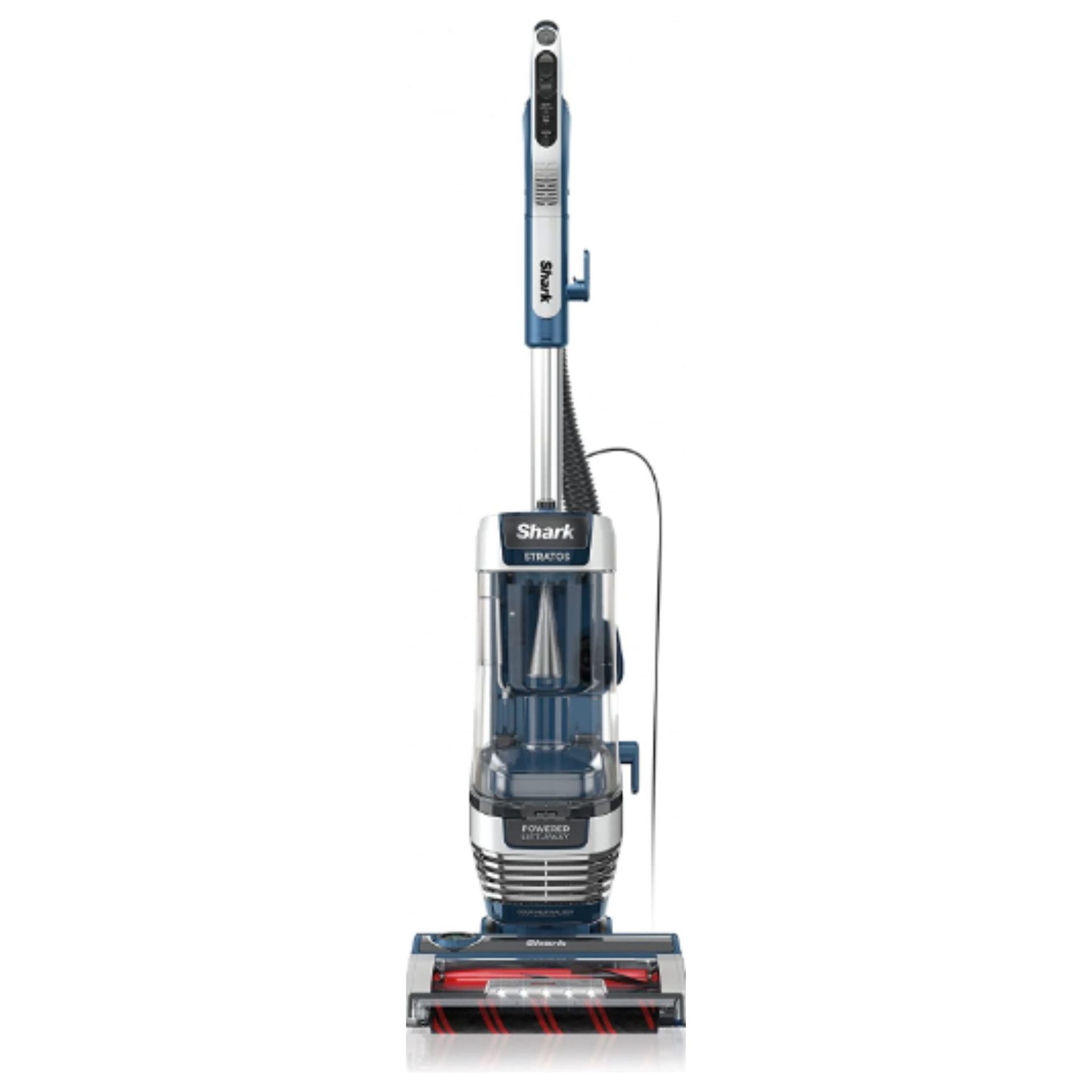 Shark Stratos Upright Vacuum
Dust bin capacity: 0.37 gallons
Weight: 17.2lbs
Battery life: n/a; corded
Warranty: 5 years
For
Powerful suction
Versatile design
Easy to maneuver
Odor-neutralizing cartridge
Self-cleaning brushroll
Against
Quite bulky
Small dust bin
Dyson Ball Animal 2 Vacuum
Dust bin capacity: .55 gallons
Weight: 17.5 lbs
Battery life: n/a; corded
Warranty: 2 years
For
Very powerful
Long hose and extension reach
Maneuvers easily
Large dustbin
Against
Hair wraps around brush roll
Only one power setting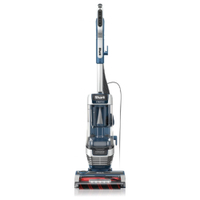 Shark Stratos Upright Vacuum | was $429.99, now $299.99 at Shark
Use the code STRATOS130 for a discount on the Shark Stratos. Saving you $130, I think this is one of the best deals on the market.
Shark vs Dyson: best robot vacuum
WINNER: Shark AI Ultra 2in1 Robot Vacuum & Mop
This one is an easy call. Robot vacuums continue to be one of Dyson's few weaknesses. They've discontinued all of their robot vacuums in the US market and they only have one available in the entire world - the Heurist, available in the UK. Not only is this not available in the states, but I happen to have tested this vacuum, and it isn't very good, with weak pickup and poor room mapping.
The Shark AI Ultra 2in1 Robot Vacuum & Mop, however, is a fantastic robot. It has great suction and really great mapping, easily avoiding chair legs, cords, and pets. It also has a built in mop, if you have hard floors, though you'll have to be on hand to change the water and pads.
Best robot vacuum with self-cleaning base
Specifications
Navigation: LiDAR
Dust bin size: 1.95qt. for the base, .26qt. on robot
Dimensions: 12.9 x 12.6 x 3.5 inches
Noise level: N/A
Compatibility: Alexa/Google/Apple-Siri
Reasons to buy
+
Bagless Self-Emptying base holds up to 60 days of dust
+
Highly customizable map
+
Multiple vacuum settings
+
Able to work around obstacles
+
Impressive mopping abilities
Reasons to avoid
-
Mopping isn't self-sufficient
-
App can be confusing
-
Can't track progress as it cleans
Shark vs Dyson: FAQs
Shark vs Dyson: which is better value?
WINNER: SHARK
Shark vacuums are at a more mid-range of around $150 for a Shark Navigator to $650 for the Shark AI 2in1 Robot Vacuum and Mop. Cordless vacuums rise to $450 for its top-of-the-line Vertex Pro, which boasts a larger 1 qt. dust bin and increased power.
Shark also frequently runs promotions of up to half off, while the largest discount you'll see on a Dyson is around $200, and usually only around Black Friday.
Dyson vacuums tend to cost around of $399 for their older models like the Dyson Ball Animal 2 to an eye-watering $949 for its top-of-the-line Dyson Outsize+ , which is the largest cordless on the market, and now includes the laser technology of the Dyson V15 Detect.
Shark vs Dyson: which is more powerful?
WINNER: DYSON
When it comes to sheer air watts, Dyson offer the most powerful suction around. Dyson typically offers three modes: Eco, Medium, and Boost. The Dyson Ball Animal 2 mentioned above has only one power setting, and it's very powerful. Dyson's models tend operate with a trigger method to conserve battery when not in use, but some people find it uncomfortable to keep pressing down on the trigger.
Shark also lets you select power modes according to surface type, or if an extra boost is required, however, you will manually have to switch between. Shark typically offers a hard floor, carpet, and MAX power option. Shark vacuums operate with a power switch for continuous power, which may be a better choice if you have mobility problems in your hands like arthritis.
Shark vs Dyson: which has the bigger product range?
WINNER: SHARK
Shark and Dyson both offer a wide range of choice, but Shark has more models available, and they're in wider categories. Where Shark offers a range of corded, cordless, handheld, and robot vacuums, while Dyson emphasizes its cord-free range, and no longer sells robot vacuums in the United States.
You can scroll the below table to directly compare runtime, power, dust bin size, and any special features.
Swipe to scroll horizontally
| Header Cell - Column 0 | Shark Stratos Cordless | Shark Vertex Cordless | Shark Vertex Pro | Dyson V8 | Dyson V12 Detect Slim | Dyson V15 Detect | Dyson Outsize + |
| --- | --- | --- | --- | --- | --- | --- | --- |
| Best For | Newest Shark Launch | Space-saving | High-end Digital Features | Most affordable Dyson | Most lightweight | 5-star vacuum | Most cleaning longevity |
| Run time | Up to 60 minutes | 50 minutes | Up to 60 minutes | Up to 40 minutes | Up to 60 minutes | 60 minutes | 120 minutes |
| Power | 309 W | 281 W | 309 W | N/A | 150AW | 230 AW | 230 AW |
| Weight | 8.9lb. | 9.04lb. | 8.82lb. | 5.51lb. | 5.2lb. | 6.79 lb. | 7.9lb |
| Dust bin | .72 qts | .08 gal | .25 gal | .54L | .1 gal | .2 gal | .5 gal |
| Price | $499.99 | $429.99 | $479.99 | $449.99 | $649.99 | $749.99 | $949.99 |
| Black Friday Deal | $449.99 | $249.99 | $279.99 | $349.99 | $499.99 | $649.99 | N/A |
| Special Features | Odor Neutralizing Technology, DuoClean® PowerFins® HairPro | MultiFLEX freestanding storage, Duo Clean Powerfins | Extended Size Dust Bin, digital display | N/A | 24% lighter than V15, button power control | Automatic surface detection, Piezo sensor, green diode laser | Extended size dust bin, automatic surface detection, green diode laser |
Both Shark and Dyson offer upright corded vacuum models.
Shark is best known for its Navigator vacuum, but its Apex, Vertex and Stratos models are a step up from cordless, and loaded with power, tech, and special features.
Dyson's core upright model is the Dyson Ball Animal 3 Extra, which is top-rated for pet owners and offers the most suction on the market. Its distinct ball design makes navigating furniture and obstacles much easier.
Swipe to scroll horizontally
| Header Cell - Column 0 | Shark Stratos | Shark Vertex | Shark NV360 Navigator Lift-Away Deluxe | Dyson Ball Animal 3 Extra | Dyson Ball Animal 2 |
| --- | --- | --- | --- | --- | --- |
| Best for | Newest | Premium | Budget-friendly | New pet hair and grooming features | Reliable alternative |
| Cord length | 25 feet | 30 feet | 25 feet | 35 feet | 35 feet |
| Power | 1416 | 1344 watts | 1200 watts | 290 AW | 270 AW |
| Weight | 17.72 lb. | 16.38lb. | 13 lb. | 17.3 lb. | 17.5 lb |
| Dust bin | 1.48 qt. | 1 qt. | 1.2 qt. | 1.7 L | .55 gal |
| Price | $429-$449 | $499.99 | $199 | $499.99 | $499 |
| Black Friday Price | $299.90 | $249.99 | $99.99 | $399.99 | $349.99 |
| Special features | DuoClean PowerFins HairPro, Odor Neutralizer Technology, HEPA | DuoClean Powerfins, Led lights, Powered Lift-Away motor | Lift-Away | New Pet hair technology and grooming tools | Ball maneuvering technology, single power option |
Shark vs Dyson: which has the best suction?
WINNER: SHARK
Both Shark and Dyson can get the job done.
Shark wins, however, when it comes to larger pieces, vacuuming up larger pieces like cereal to rice in one pass, while these items can occassionally just be pushed forward with a Dyson.
Dyson makes different floorheads for varying purposes. The fluffy floor heads are optimized for hard floors with their softer fibers to rid floors of dust, while the detangling motor bar floorhead digs deep into carpets, though still effective on hard floors if the fluffy floorhead is not included. Dyson vacuums either adjust setting power level or automatically adjust based on detected dirt amount. The upright models do feature an option to turn off the brushbar when vacuuming hard floors.
See how they fare below:
Shark Vertex Lightweight Cordless
Dyson Outsize
Shark vs Dyson: which has better battery life?
Both Dyson and Shark offer comparable battery life. Both offer up to 60 minutes runtime for their best cordless vacuums, like the Dyson V15 Absolute and the Shark . Depending on the model, both Shark and Dyson offer designs with removable batteries, such as the Dyson Outsize or the Shark Vertex Pro lightweight.
Shark vs Dyson: which has the bigger dustbin?
Dyson was actually the first to engineer bagless dust bins, using the clear dust bin design to be able to keep track of how much dirt has been collected and a system that will never lose suction because the bin is full. At this point, however, both Shark and Dyson use bagless dust bins.
Both dust bins use an easy, one-touch propeller system designed to be hassle-free and hygienic. Dyson's base opens and pushes the dirt forward, while the Shark releases the base, which actually has a wider mouth for dirt to dispense out of.
We've personally found a better emptying experience from Shark as we're not having to reach in to take out stuck clumps of debris, as has been our experience with Dyson. The bins can also easily be rinsed with water. Dyson's dust bins can typically only be wiped with a damp cloth, as they are connected to electrical components.
Within the dust bin, hair both wraps around the filters inside the dust bin on the Shark and Dyson. Hair is easier to pull out of the Shark, however, which neatly wraps around can easily be pulled out, while it's more difficult to place your hand up in the shaft of the bin. Dyson's dust bin utilizes a rubber stopper to sort of push the dirt down and to keep it going in one direction.
Traditional uprights tend to have larger dust bins by default, while cordless models are typically smaller, in an effort to keep them streamlined and lightweight. Dyson's Outsize is the outlier, with its full-size half-gallon dust bin. Beyond this specialty model, we find Dyson and Shark's dust bin offerings to be rather similar in size.
Shark vs Dyson: which has the best filtration?
WINNER: DYSON
All of Dyson's products carry advanced whole-machine HEPA filtration, emphasizing its 5-layer filtration and cyclone technology that is the heart of Dyson's technology to keep dust and dirt trapped inside.
The dust bin is only the first stage to separating the particles visible to the naked eye. Dyson's multi-cyclone technology, with up to 18 cyclones, depending on the model, maintains the velocity required to remove fine dust from the airflow. Pre- and post-motor filters are responsible for filtering the smallest particles, capable of removing 99.97 percent of particles invisible to the human eye as small as 0.3 microns.
Dyson filters are easily washable and help prevent the build-up of allergens or dander.
Most Shark machines feature their Anti-Allergen Complete Seal, which traps dust, allergens, and irritants and seals them inside, keeping it out of the air you breathe. Particles filter through the washable foam and felt filters. Some more of the premium models will also feature HEPA, but it will drive up the price.
Shark vs Dyson: which has the better warranty?
WINNER: SHARK
Shark is the clear winner here, offering five-year warranties where Dyson only offers two-year parts and labor warranties.
As Head of eCommerce, Alex makes sure our readers find the right information to help them make the best purchase. After graduating from Cambridge University, Alex got his start in reviewing at the iconic Good Housekeeping Institute, testing a wide range of household products and appliances. He then moved to BBC Gardeners' World Magazine, assessing gardening tools, machinery, and wildlife products. Helping people find true quality and genuine value is a real passion.