Shark IQ Robot XL Vacuum with Self-Empty Base review
Our cleaning routines just got much easier with the Shark IQ Robot XL vacuum with self-emptying base taking on the hard work.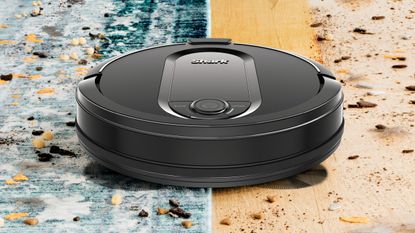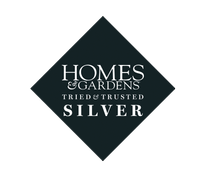 (Image credit: Shark)
The Shark IQ Robot XL is an excellent smart vacuum with a self-emptying base for routine cleaning with all the bells and whistles of extremely high-end models. It struggled with large pieces of dirt, but it excelled at the pick of daily (or weekly) build-up on both carpets and hard floors.
Reasons to buy
+

Controllable via app with Wifi to schedule and choose which room to clean in

+

Self-Emptying base holds up to 30 days of dust

+

No-go strips create a boundary of where you DON'T want the vacuum to go

+

Effortlessly transitions between hard floors and area rugs
Reasons to avoid
-

Charging base requires space,can't be moved

-

Won't work across multiple floors/ room barriers

-

Had trouble picking up large pieces of debris
You can trust Homes & Gardens. Our expert reviewers spend hours testing and comparing the latest products, helping you choose the best for you. Find out more about how we test.
Robot vacuums have revolutionized cleaning our homes, and as the technology is getting more and more advanced, so are the options available to us. Now, we got our hands on the Shark IQ Robot XL vacuum, and we're here to help you determine if this the best robot vacuum that will transform your cleaning routine.
Release any prejudices that robot vacuums go in crazy paths, get caught on the tiniest obstruction, have too short battery life, or simply just don't clean. The Shark IQ Robot is working to prove just how easy it is to incorporate a robot into your daily life with smart mapping technology, remote scheduling, and a self-emptying base so you can do less and your home will be cleaner.
Read on for our review of how the Shark IQ Robot XL vacuum (opens in new tab) fared in our at-home trials.
Shark IQ Robot XL vacuum: specifications
Maximum power: 35 watts
Dust capacity: 30 days (1.95qt. for the base, .17qt. on robot)
Runtime: Up to 120 minutes
Charge time: Approx. 6 hours
Vacuum Dimensions: 12.9"L X 12.6"W X 3.5" H
Base Dimensions: 12.5″W x 8.5"L X 15"H
Cleaning Path Width: 5.6 inches
Weight: 5.9lb.
Filter: Yes
Warranty: 1 year
Accessories: BotBoundary Strips, self-emptying base
Shark IQ Robot XL Vacuum: features
Smart Mapping Technology
The Shark robot has multiple sensors that help to map out your space, as well as cliff and boundary sensors to keep your vacuum from taking a vacuum. Once your home is mapped, you can control which rooms you want to be cleaned. Some users said it took many runs of the robot vacuum to get a complete reading, but mine was ready after the second cleaning cycle.
No-Go Zones
The Shark Robot includes a roll of BotBoundary Strips that can be cut to size around furniture, power cords, high thresholds, pet areas, or wherever you don't want your robot to go. You should keep the strips there until you have a final and accurate mapping of your home. There's also the option to create no-go zones within the Shark App, but that requires a full-map to already exist.
Self-Emptying Base
Perhaps the strongest feature is the self-emptying base, which Shark claims only needs to be emptied once every 30 days. However, the size of your home, how often you run a cycle, and how dirty your floors are, all affect how quickly the external base will fill up. Luckily, there is little guesswork involved as to when the base is full, as the machine alerts you to when the base needs to be emptied, and there's a fill window that lets you see how much dirt has gathered. The robot methodically inserts itself back onto the dock to align itself with the debris intake channel, before creating a whirling engine sound. It's brief but loud.
The Shark App and Voice Control
During set up, you'll download the Shark app, create a Shark account, and connect the robot to Wifi. Here is where you name your robot (mine is Sharky Shark), remotely activate and schedule your robot, see cleaning history, view any error notifications. Once the map is complete, you can set additional no-go zones manually and create rooms. This is beneficial when you want to clean a single area and not the whole house.
Within the app, you can set the schedule for each day and time you want the vacuum to run, and it can vary.
When the robot is running, you can also select the vacuum's mode Eco, Normal, or Max, which made no visible difference in cleaning prowess, except it shortened or extended battery life and was louder or quiet based on the mode. We usually kept it on normal, which was about 60 decibels on floors and 55 decibels on carpet.
It also connects to Amazon Alexa, so you can control your vacuum with your voice.
Shark IQ Robot XL Vacuum: design
The Shark IQ Robot Self-Empty XL is comprised of two main parts: The vacuum itself and its self-emptying base.
The vacuum is sleekly designed in appearance. The main driving wheels that flank each side and front castor wheel helps it effortlessly transition from carpet to hard floors. A rubber bumper protects furniture and walls as it cleans an obstacle, but the plastic black strip that gives it a glossy edge was prone to scratching as it hit up against metal table legs. It features various sensors including an optical flow sensor, cliff and boundary sensors, and a vision module. An on-board camera maps the ceiling as it cleans.
The Shark Robot features Shark's signature self-cleaning brushroll and promises powerful suction. I found that hair wrap did occur and I manually needed to clean it out, but that didn't bother me. Two side brushes work to feel around and bring debris inward toward the machine, as the cleaning path is just over 5-inches wide.
The vacuum cleans in a neat row as it maps your home, and goes back and forth a few times. However, if an area was not cleaned to your liking, there's also no option to direct it back to a certain spot to give the area another pass over.
If you don't plan to use the app, though you should, the top-side of the robot vacuum features a clean and a dock button to operate manually. Here, you can also see the wifi or error indicator lights in case anything is off.
The base is the permanent hub for the robot vacuum. It requires a 3-foot clearance on either side and approximately 5 feet in front, so you do need a considerably sized area to house the base. If you choose to house your base on carpet, you'll also place the included SharkMat for a smooth transition onto the base. It also can not be removed in between or during cleanings, as it will cause the robot to have to remap your home, losing all mapping progress and no-go zones. This also means that you can not map the vacuum on different floors or in rooms that are not consecutively part of the map. Shark however says that it can be manually placed on other floors and skip the in-app features.
The base charges the robot, houses the external dust bin, and features a filtration system as well. Once the vacuum backs onto the base, the debris intake channel sucks the dust and debris from the robot's chamber into the base dust bin. A dust bin release button makes it easy to pop out the dust bin to empty it into a garbage can. The dust bin also has a fill window, and the machine will also alert you to when either the robot or the dust chamber needs to be manually emptied.
The vacuum runs relatively quiet that will not disrupt activities at home, and can't be heard from other rooms. Though, the vacuum makes a loud, whirling engine noise when emptying into the dust bin.
Shark IQ Robot XL Vacuum: set up and operation
The setup of the vacuuming itself is pretty simple, but you do need to take the time to clear out any obstacles, cords, shoes that you don't want potentially damaged.
The perfect time to do this is of course during its first charge, which takes approximately six hours. When the robot is charging, the indicator on the base will turn from green to blue.
The main part of the setup is deciding on where you want to house the base. As mentioned earlier, it needs a considerable amount of space for clearance. It also can not be removed in between or during cleanings, as it will cause the robot to have to remap your home, losing all mapping progress and no-go zones.
I also noticed that on the first run, when my floors were probably the dirtiest, it collected the most amount of dust and debris, and that with routine cleaning, the dust build-up should stabilize. On subsequent cycles, the collected debris was significantly less.
Due to the self-cleaning brush roll feature, the Shark robot is rated as a great choice for pet-owners. Within the app, if you select that you have pets, every 30 minutes of runtime, the robot will automatically return to the dock to unload collected debris before resuming where it left off.
The vacuum operated in a motion going back in forth facing the base. It had few issues identifying obstacles, and easily went back and forth between the hardwoods and area rugs. It did however try to vacuum on the base of pedastal-style ottoman and a c-shaped end table, which made a bit of a grating sound. Nothing was harmed, and I figured the vacuum just saw it as another floor surface. Next time, I would create no-go strips for those pieces. The vacuum did do a good job, however, of getting under low-profile furniture that had not seen some cleaning action in quite some time.
Shark IQ Robot XL Vacuum: The Pantry Test
In some of the other reviews, you've might have clicked upon, we've shown what I call the Pantry Test, where we use common pantry staples–sugar, rice, and cereal–to test the suction capabilities of our vacuums.
Here, I must report, it failed, but there's a reason. Robot vacuums aren't meant to pick up large pieces. They're much better for routine cleaning, not cleaning up active spills.
The Pantry Test was the only time I received an error message due to cleaning.
On the carpet, the cereal and rice were essentially pushed all around the room. The impact with a clump of cereal actually caused the vacuum to clog right away, and prompted an error. They were mostly eventually cleaned up, but it wasn't pretty, and I had to come back through with another vacuum. The sugar, was more promising, as it was quickly swept up, but as the robot vacuum doesn't go over the same area repeatedly like you can with ground-in messes with a traditional stick or upright, sugar residue was also left.
It also caused the robot's dust vacuum to clog with cereal and rice so that the brush roll couldn't even spin.
Similarly, on the hard floors, the cereal and rice were pushed across the floor in all directions (even under the sofa), but the sugar for the most part was suctioned on the first go.
The food pieces also clogged the vacuum's ability to properly filter into the self-emptying base, creating a mess that required manually removing the dust bin from the robot.
How does the Shark IQ Robot XL Vacuum rate online?
Reviews are a mixed bag across the internet. In March 2021, the Shark IQ Robot XL Vacuum rated a 4.4 on Amazon, a 4.3 on Best Buy and a 3.6 on Shark. For instance, most of the negative comments I came across on Amazon or Shark mention the vacuum taking many many cycles to generate an accurate map. Mine only took two cycles on the first day of use, so I can only imagine a software update has been made that has remedied the delayed readings.
How does the Shark IQ Robot XL Vacuum compare to other vacuums?
Main competitors to the Shark IQ Robot XL Vacuum would be the iRobot Roomba, which also offers a similar self-emptying base in a number of its collections namely the i7+ ($599), and top of the line i9+ (1,099), but at a much steeper price point. The i7+ and i9+ both offer customized cleaning routines, let's you see where you cleaned, while the lesser-priced i3+ at $399, also with a self-emptying bin, does not offer the ability to select different rooms to clean or no-go zones.
In comparison, other users of the Roombas have noted more powerful suction, faster mapping technology, and more efficient navigation. After all, iRobot has been at robot vacuums for far longer than Shark's robot products, but it's still a decent product at a very competitive price point. The Roombas also featured bagged dust bins, which have to be purchased, whereas Shark's dust bin is bagless.
Meanwhile, we recently tested the Proscenic M7 Pro, which also features a self-cleaning base that requires bags, is slightly less in price than the Shark, and has a mopping feature.
Shark IQ Robot XL Vacuum: final thoughts
Is the Shark IQ Robot the absolute best robot vacuum out there? No. But, it does have all the bells and whistles that many higher-end robot vacuums have like smart-mapping, personalized cleaning schedules and the self-emptying base that make it a safe choice for those thinking about getting their first robot vacuum.
The self-emptying base is one of my favorite features of the Shark robot. If the robot's onboard dust bin fills, it knows to go back to the dock to unload debris into the base before resuming cleaning, ensuring that I don't have to stop what I'm doing to empty the bin. The 30-day capacity is affected by how often you clean and how large the space is, but I got in the habit of emptying the bin weekly.
The robot itself seemed to transition easily from hardwoods to carpets and area rugs and had no trouble moving throughout my home. Its short height also enabled it to get under most of my low-profile furniture. However, it did not do well at picking up debris where the hard floor meets an area rug or large pieces.
The robot itself runs extremely independently, enabling you to operate on a set it and forget it mentality when you use the scheduling features. It seems like almost everything was thought out from the recharge and resume to its ability to follow no-go guidelines.
Now, the technology is limited in its inability to be used in other rooms that are not consecutively joined together or across different floors of a home. For instance, a baby-gate in my kitchen (to keep my dog confined to the kitchen and living room) meant I couldn't use the vacuum in other areas of my house.
If this is your first time with a robot vacuum, I think you will be pleased at just how hands-off the experience can be when you use the Shark IQ robot. However, you will still need to have another vacuum on hand to get the areas that the Shark IQ missed or for larger clean ups. But hey, the value of being able to delegate the heavy work to the robot vac? Absolutely priceless.
Where to buy the Shark IQ Robot XL Vacuum with self-emptying base
About this review and our reviewer
Jaclyn is the US eCommerce editor across the homes titles at Future, including Homes & Gardens, where she specializes in a variety of topics ranging from vacuums to mattresses. She spends her days tracking the latest buzzworthy releases and testing a variety of products to determine whether they are worth bringing into your home. All reviews are based on real-life experience of using these products at home.
The Shark IQ Robot Self-Empty XL was tested between the family room and kitchen with hardwood floors and area rugs, Covering an area of about 500 sq ft., it represented the largest area in the home that could be vacuumed on the same map. Due to the fact that the vacuum can only have one map at a time, it was not tested near stairs or fully carpeted rooms. A small non-shedding dog lives in the house, but still manages to track in his fair share of dirt.
As with all our reviews the Shark IQ Robot Self-Empty XL has been tested first-hand in our home, using it just as you would so you know exactly what you are buying. The products are given to us free of charge and we test them for as long as possible before sending them back to the brand, unless we are able to keep it as we are with this cordless vacuum. This means that we can continue to use the product which gives us the opportunity to return to our reviews for updating, so you can keep up-to-date with how it's fared over a period of time.
Jaclyn is H&G's eCommerce editor and oversees all things shopping. She's also a bonafide sleep expert, and previously managed all sleep content on Homes & Gardens and Real Homes– in fact, she has passed our five-step certification process to become a verified customer advisor on mattresses. She regularly scouts out the best of the best for buying guides to help you fill your home with only the best. She joined the team in January 2021. She has previously worked with Apartment Therapy, The Kitchn, The Spruce, The Spruce Eats, and MyDomaine. When Jaclyn's not working, she loves browsing real estate listings, unwinding with a chilled glass of Rosé, and entertaining her Cavapoo, Reese.