Best robot vacuums 2023: 7 machines that clean on autopilot
Sit back and relax while the best robot vacuums clean your house for you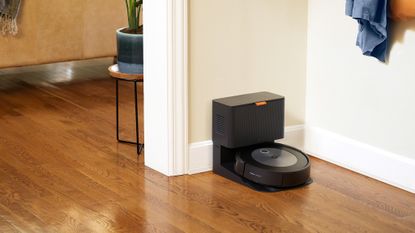 (Image credit: iRobot)
The best robot vacuums take all the hassle out of vacuuming. They'll take on carpets, hard floors, and rugs, let you know when they're full, and even return to base when they need a charge. You won't have to think about vacuuming again with one of these taking care of business.
While the first robot vacuums were pretty basic, the technology's hugely improved in recent years. The latest designs boast advanced Artificial Intelligence, piles of sensors, voice control, app control, self-emptying, clever room mapping, and even mopping. These little guys take vacuuming hands-free, doing all the work for you.
We've rounded up our fave buys from the best vacuum brands, featuring the likes of iRobot, Shark, and Roborock. Our expert testers have assessed every one, so you know you're getting good quality.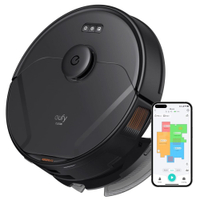 Eufy Clean X8 Pro | Was $499, now $399 at Amazon
I just tested this robot vacuum and it's brilliant. With a mop function and detailed mapping capabilities. I think it's the best robot vacuum on the market, especially with $100 off the price.
Best robot vacuums 2023
You can trust Homes & Gardens. Our expert reviewers spend hours testing and comparing the latest products, helping you choose the best for you. Find out more about how we test.
This is the best robot vacuum you can buy
Specifications
Navigation: Camera and sensors
Dust bin size: .42 gallons
Dimensions: 13." W x 3.4" H
Noise level: N/A
Compatibility: Alexa/Google/Apple-Siri
Reasons to buy
+
Self-emptying
+
Superb cleaning
+
Accurate Obstacle Detection
+
Intelligently maps and shows where it cleans
+
Beautiful design
Reasons to avoid
-
Expensive
-
Replacement bags cost extra
-
Can't set Keep Out Zones until after a map is completed
Why we love it
The Roomba j7+ is the most stylish Roomba to date, and it's jam-packed with iRobot's latest technology, including brand-new obstacle avoidance detection, called use PrecisionVision Navigation. Dare we say it's one of the most intelligent robot vacuums we've come across? It captures pet (and human) hair with ease, avoids cords and small clutter, and is overall pretty easy to control. It replaces the i7+, offering the best cleaning for pet hair, smart room mapping, and navigation, and easy-to-create no-go zones using the app.
The j7+ uses Imprint Smart Mapping Technology, armed with a camera and a suite of sensors to create a floorplan of your space that it utilizes to most efficiently clean your home. Within the iRobot app, you will be able to track and see where the robot cleaned, note any particularly dirty areas, confirm any obstacles the j7+ detected, and of the course schedule. The brain of the vacuum, is the iRobot Genius Home Intelligence, available in any wifi-enabled iRobot, can anticipate your needs by learning your schedule and using unique intelligence to understand where and when your robot is most useful. It also has a high-quality air filtration system to help keep dust particles and allergens from being returned to the room.
But best of all is the Roomba j7+CleanBase docking station that charges the battery and empties its dustbin automatically, making cleaning even easier and more reliable, and you'll no longer have to empty the vacuum mid-clean or come back to half a finished job. Each dust bag has enough room for 60 full vacuum bins of dirt.
Good to know
The Roomba j7+ utilizes an onboard camera, which may raise some privacy concerns for some, but iRobot emphasizes data security and uses end-to-end encryption. The camera takes static pictures of obstacles to report each run back to you and does not offer a live feed, where you can opt in to send found obstacles to iRobot's database. We did have some glitchy moments with the iRobot app and getting it to properly link up, but overall the robot exceeded our expectations.
Our iRobot j7+ review has more details.
Best robot vacuum with self-cleaning base
Specifications
Navigation: LIDAR
Dust bin size: 1.95qt. for the base, .26qt. on robot
Dimensions: 12.9 x 12.6 x 3.5 inches
Noise level: N/A
Compatibility: Alexa/Google/Apple-Siri
Reasons to buy
+
Bagless Self-Emptying base holds up to 60 days of dust
+
Highly customizable map
+
Multiple vacuum settings
+
Able to work around obstacles
+
Impressive mopping abilities
Reasons to avoid
-
Mopping isn't self-sufficient
-
App can be confusing
-
Can't track progress as it cleans
Why we love it
The Shark AI Ultra 2-in-1-Robot with Self-Cleaning Base is remarkably self-suffieicent to operate, enabling you to set, and forget about your vacuum routine. It offers smart mapping, personalized cleaning schedules, and a self-emptying base that makes it a convenient choice for those thinking about getting a robot vacuum.
The Shark AI Ultra utilizes LIDAR technology, which uses light to detect and arrange your space as well as detect obstacles. The robot operates in Shark's special Matrix Grid, which covers the floor from different angles and repeat passes. The Shark AI Ultra uses a unique, but extremely effective way for more efficient edge cleaning; CleanEdge Technology, uses blasts of air to loosen dirt and push it into the path of the vacuum. The battery lasted almost two hours, should it need to recharge or empty the dust bin in the middle of cleaning, it will automatically return the dock, and then resume.
For those that opp for the 2-in-1 one design like we tested, it also employs the use of sonic mopping, and includes an attachment to swap in with a water tank and mopping pad that scrubs hard floors 100 times per minute. Though, you will need to be close by to remove the wet parts before it returns to the dock to prevent mold growth.
Shark's self-emptying base (with a HEPA filter) only needs to be emptied every 60 days, though that differs with how often you run the robot and how messy your floors are.
Final thoughts
The Shark AI Ultra Series is a powerful little workhorse. Its navigation technology is superior to the previously reviewed Shark IQ, which cleans row by row to navigate as opposed to Lidar technology, and is presumed to offer 50% better hair pick up. It's available in configurations with and without the self-emptying base as well as with and without the mopping.
Via the SharkClean app, you can schedule cleanings, target specific rooms, adjust suction power, note no-go zones, but there are many different options, which can feel a little overwhelming, determining the difference between a room and a zone.
3. Roborock S7
Best robot vacuum for wet and dry cleaning
Specifications
Navigation: LIDAR
Dust bin size: 480mL
Dimension: 13.8 x 13.7 x 3.8"
Noise level : 67dB
Compatibility: Amazon Alexa, Google Assistant
Reasons to buy
+
Vacuum and sonic mopping
+
Good for large homes
+
Great dust pick-up
+
Comprehensive app
+
Zoned and multi-floor cleaning
+
LiDAR navigation allows efficient route planning
+
Option to upgrade to a self-emptying base
Reasons to avoid
-
Not compatible with 5G networks
Why we love it
If our previous pick is any indication, the growth of vacuuming and mopping robots is becoming a commonplace feature. Roborock champions some of the most sophisticated mopping technology, as seen in its sonic-mopping ability called Intelligent Mopping, found in the Roborock S7 series. The sonic-mopping technology pulses at over 3,000 cycles per minute to scrub out stuck-on dirt, with a large 300ml water tank suitable for large homes, and instinctively lifts when it comes in contact with the carpet.
The S7 is designed for homes up to 300 m² and is powerful enough to deal with everyday dust and dirt with a rated 2,500kpa that lifts dust from floors and pulls grime out of the carpets. It uses LIDAR navigation to create accurate maps of your home with precision route tracking and plans the most efficient route while cleaning in nice straight lines.
Thanks to the Mi Home app it rarely gets lost or confused. Plus you can even designate no-go areas – around the kid's LEGOs, or near a particularly delicate plant– which it will diligently avoid. You can even set it to clean certain areas – around the kitchen table after breakfast – as well as schedule cleaning sessions. Plus, during a cleaning cycle, it shows the route it's taking so you know exactly where it's cleaned, so you'll never have to wonder if it missed a spot.
Good to know
We wouldn't throw out the long-handled mop just yet, but the small water tank lets you control the amount of water sprayed and the scrubbing pad leaves floors appreciably cleaner. And we like the fact it has a plastic moisture-collecting tray that sits under the charger, protecting the wet surface until you can get home and rinse out the cleaning pad.
Best robot vacuum for carpets
Specifications
Navigation: vSlam
Dust bin size: 0.4 litres / 0.42qts
Dimensions: 12.3" x 12.3" x 3.5"
Noise level: N/A
Compatibility: Alexa/Google/Apple-Siri
Reasons to buy
+
Self-emptying
+
Superior suction power
+
Smart room navigation
+
Good for allergy sufferers
Reasons to avoid
-
Expensive
-
Noisy
-
Replacement bags cost extra
Why we love it
The S9+ is the most powerful Roomba to date, with a 40x improved suction compared to its base models such as the Roomba 981 (note: the j7+ only has 10x the power), making it an excellent choice for picking up pet hair and deep cleaning carpets. Being an iRobot, it also offers smart room mapping and navigation, and easy to create no-go zones using the app. It cleans in neat rows and will pay extra attention to spots that need a deeper clean. The D-shape helps it get into corners too. We've watched the S9+ be a determined cleaner, that may move lightweight furniture pieces a few inches until it reads it as an obstacle, but had no issue detangling from cords.
When the S9+ moves from hard floors to carpet the suction increases automatically for a deeper, more powerful clean. It also has a high-quality air filtration system to help keep dust particles and allergens from being returned to the room.
Good to know
This vacuum is incredibly noisy. We're not being sensitive - Alex says that when it's emptying into the storage bin it sounds 'like a jet engine taking off'. She sent over a video for a second opinion and we can testify how loud it is. You can't hear yourself over the sheer noise of it, and Alex's dog looked very unimpressed. If you're out at work in the day then this might not be an issue, but with so many of us working from home these days, it's a significant drawback. It's also very strong; where other vacuums might just get stuck next to a chair leg, the s9+ will push it over, which you don't want if you've got expensive furniture or kids nearby.
Best robot vacuum for smart home mapping