Best robot vacuums: 7 top options for autonomous cleaning
Our round up of the best robot vacuums means you can sit back and relax while your vacuum zooms around your feet...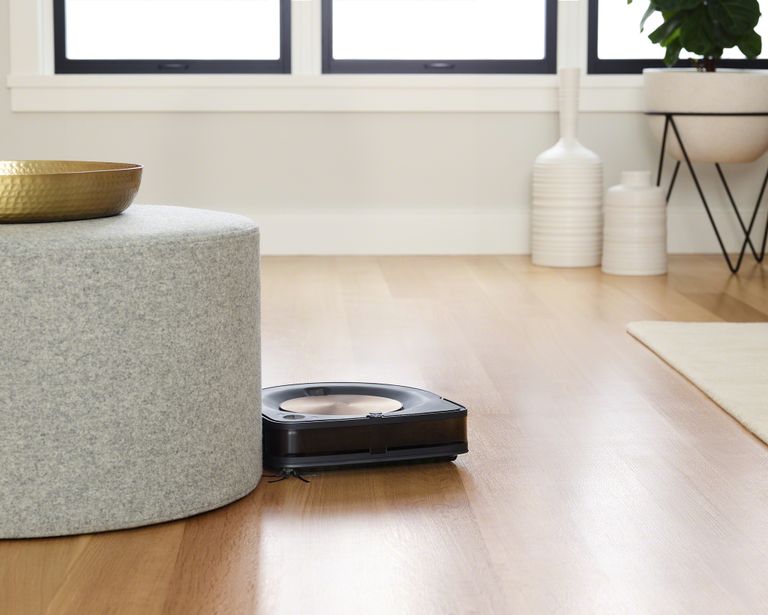 (Image credit: iRobot)
Having one of the best robot vacuums to zip around the home whilst you're at work -or doing something more enjoyable than vacuuming - is a real treat. They'll keep themselves busy, let you know when they're full and even return to base when they need a charge.
And while the first robot vacuums were pretty dumb, things have improved beyond immeasurably, with the latest designs now boasting advanced Artificial Intelligence, piles of sensors, voice control, app control, self-emptying, clever room mapping and even mopping! They're essentially an extension to the best cordless vacuum cleaners because it's efficient, hands-free cleaning but with these little guys they'll just do all the moving around for you.
Need help choosing? No worries: we've rounded up our seven buys (below) from the likes of Miele, Shark, and iRobot in this guide, so there is a vac to suit all budgets and requirements. They're all served at the best price to help save you more time by doing all the research for you.
Best robot vacuums 2021
1. iRobot Roomba S9+
This is the best robot vacuum you can buy
Specifications
Dust bin size:: 0.4 litres / 0.42qts
Dimensions:: 33.8 x 33.8 x 9.2cm / 12.3" x 12.3" x 3.5"
Loudness dB: : N/A
Compatibility: Alexa/Google/Apple-Siri
Reasons to buy
+Self-emptying+Superb cleaning+Smart room navigation+Reliable voice control+Good for allergy sufferers
Reasons to avoid
-Expensive-Replacement bags cost extra
The S9+ is the most stylish Roomba to date, and while we also recommend the S7+ and the older, cheaper Roomba 981, this remains the pinnacle of the range with the best cleaning for pet hair, smart room mapping, and navigation, and easy to create no-go zones using the app.
When the S9+ moves from hard floors to carpet the suction increases automatically for a deeper, more powerful clean. It also has a high-quality air filtration system to help keep dust particles and allergens being returned to the room.
But best of all is the Roomba S9+ CleanBase docking station that charges the battery and empties its dustbin automatically, making cleaning even easier and more reliable, and you'll no longer have to empty the vacuum mid-clean, or come back to half a finished job. Each dust bag has enough room for 30 full vacuum bins of dirt.
Best robot vacuum with self-cleaning base
Specifications
Dust bin size:: 1.95qt. for the base, .17qt. on robot
Dimensions:: 12.9" x 12.6" x 3.5"
Loudness dB: : N/A
Compatibility: Alexa/Google/Apple-Siri
Reasons to buy
+Controllable via app to schedule and choose which room to clean in+Bagless Self-Emptying base holds up to 30 days of dust+No-go strips create a boundary of where you DON'T want the vacuum to go+Effortlessly transitions between hard floors and area rugs
Reasons to avoid
-Charging base requires space, can't be moved-Won't work across multiple floors/ room barriers-Had trouble picking up large pieces of debris
If you love the idea of being able to set your vacuum and forgetting about it, down to having to empty the dust bin, consider the Shark IQ Robot XL with Self-Cleaning Base. It offers smart mapping, personalized cleaning schedules, and a self-emptying base that makes it a safe choice for those thinking about getting their first robot vacuum. While not as powerful at the top-of-the-line Roomba S9+, it's an excellent contender and nearly half the price. 
For areas you don't want the Robot to go, the vacuum comes with a roll of No Go strips to cut to size for placing around sensitive zones like plants or pet food areas. The anti-brush roll feature is useful for keeping strands of hair from clogging the machine The robot operates in clean, methodical lines and though the battery lasted almost two hours in our testing, should it need to recharge or empty the dust bin in the middle of cleaning, it will automatically return the dock, and then resume. 
Shark's self-emptying base only needs to be emptied every 30 days, though that differs with how often you run the robot and how messy your floors are. While the self-clean base can not be moved once placed (otherwise the mapping will have to start from scratch) and the robot can only map one floorplan per a time. It's meant to suction everything from pet hair to small messes, though we would avoid relying on it to pick up larger pieces of debris.
3. Roborock S6 MaxV
Best robot vacuum for wet and dry cleaning
Specifications
Dust bin size:: 460mL
Dimensions:: 350 x 350 x 97mm / 13.5 x 13.5 x 3.8"
Loudness dB: : 58dB
Compatibility: Amazon Alexa, Google Assistant
Reasons to buy
+Vacuum and mopping+Great dust pick-up+Comprehensive app+Zoned and multi-floor cleaning+LiDAR navigation allows efficient route planning and a connected Smart app allows you to see what the vac sees+Obstacle recognition avoids small items like pet bowls or shoes left out
Reasons to avoid
-No self-emptying base
The S6 Max is an extremely intelligent vacuum that also washes hard floors as it goes, with 25% more suction power than earlier models. Click in the 297ml water tank and microfiber cloth and you're left with dust-free and shiny floors without lifting a finger.
Designed for homes up to 240 m², it's powerful enough to deal with everyday dust and dirt, and thanks to excellent multi-level mapping software and the Mi Home app it rarely gets lost or confused. Plus you can even designate no-go areas - around the kid's LEGOs, or near a particularly delicate plant–  which it will diligently avoid, as well as uses ReactiveAI, controlled by two onboard cameras that allow MaxV to recognize and avoid everyday objects including pet waste, power strips, and shoes so you're not left with any additional mess from unforeseen obstacles.    You can even set it to clean certain areas – around the kitchen table after breakfast – as well as standard times sessions. 
Power adjusts automatically from hard floors to carpets to maximize results, and there's impressive suction. The bin is easy to empty too.
We wouldn't throw out the long-handled mop just yet, but the small water tank lets you control the amount of water sprayed and the scrubbing pad leaves floors appreciably cleaner. And we like the fact it has a plastic moisture-collecting tray that sits under the charger, protecting the wet surface until you can get home and rinse out the cleaning pad.
4. NEATO Botvac D701 Connected
Best robot vacuum for getting into corners
Specifications
Dust bin size:: 0.7litre / 0.72qts
Dimensions:: 33.6 x 31.9 x 10cm / 13.4 x 12.5 x 3.9"
Loudness dB: : TBC
Compatibility: Alexa / Google Assistant
Reasons to buy
+Methodical cleaning+Gets right into the corners+Large dust container
Reasons to avoid
-Older design-No 'full' indicator for bin
While it lacks some of the bells and whistles found on newer more expensive models, the D7 from Neato is a solid all-round option that picks up a huge amount of dust, dirt and pet hair.
The square front design 10.9cm/4.4" brush bar and spinning side arms means it can get right into the corners and also has a wide brush bar for efficient cleaning in large open plan areas. The app lets you set 'no-go' lines on a map, which is fast becoming a must-have feature, especially if you're terrible at remembering to tidy up.
If you don't want to use the app, the Botvac D7 also comes with some slim magnetic strips you can lay across the floor to create a physical barrier the robot won't cross. 
At just 30 minutes, the battery life isn't especially good compared to newer models, but as it is efficient getting around, and fast charging when docked, it can happily go home for a quick charge mid cleaning session.
5. Miele Scout RX2 SLQL0 30
Best robot vacuum for big houses
Specifications
Dust bin size:: 0.4litres / 0.42qts
Dimensions:: 35 x 34 x H8.5cm / 13.8 x 13.5 x 3.6"
Loudness dB: : 64dB
Compatibility: Alexa
Reasons to buy
+Great carpet cleaning+Gets close to the edges+Four power modes+Good battery+Low profile 
Reasons to avoid
-Poor smartphone app-Expensive-Slow
With two extra-long sweeper arms, a powerful brush bar and class-leading two-hour battery life, the Miele Scout RX2 is a wonder for big houses and pets.
It picks up dust and pet hair brilliantly and the slim design navigates easily under the furniture, and while the navigation seems incredibly haphazard, and does bump around quite a bit compared to the Roomba, it gets the job done and covers an awful lot of floor space. 
The bin is easy to empty, and we like the onboard brush that lets you give the filter a quick clean. It's a neat, stylish design we'd be happy to have on display.
Connecting to the Miele app wasn't as fast and intuitive as the rest of the vacuums we've tested, but the cleaning results are definitely worth the effort. That said, the Scout RX2 does come with a quality remote control that lets you set basic timers and start/stop, so it might appeal to anyone not interested in using their smartphone.  
6. eufy by Anker, BoostIQ RoboVac 30C MAX
Best quiet robot vacuum cleaner
Specifications
Dust bin size:: .6L
Dimensions:: 12.8" x 12.8" x 2.8"
Loudness dB: : 55 dBA
Compatibility: Google/Alexa
Reasons to buy
+Slim profile to fit under furniture+Very quiet operation+Works with both a remote and via app+Able to automatically adjust suction power+Ccmes with boundary setting strips
Reasons to avoid
-No smart mapping
Still working from home? Well, we can't have a noisy vacuum disrupting your workday, or worse, an important work call. The eufy BoostIQ RoboVac 30C MAX operates at a quiet rhythm of about 55 dBa, which is about the same volume of an electric toothbrush while providing a beefy 2000pa in suction power. 
It's also incredibly slim to slide under low-profile sofas and beds. Using BoostIQ, the robotic vacuum will automatically increase suction power within 1.5 seconds when extra vacuuming strength is needed, such as when moving from hard floors to carpets.  
At this price point, the eufy BoostIQ RoboVac 30C does lack smart mapping and operates in a random pattern. However, it is controllable with both a remote and an app. The large .6L dustbin allows is amply sized to accommodate up to 100 minutes of cleaning without having to empty the dust bin. 
7. Trifo Max Original Home Surveillance Robot Vacuum
Best robot vacuum for home security
Specifications
Dust bin size:: 0.6litres / 0.62qts
Dimensions:: 34dia x H8cm / 13.7dia x H3.2"
Loudness dB: : TBC
Compatibility: Alexa enabled
Reasons to buy
+Great value+Good for hard floors+Mopping with removable water tank+Fast
Reasons to avoid
-No 'bin full' indicator-Confused by shadows
With so many robot vacuum cleaners now available, brands are working extra hard to get noticed with clever features and special pricing, but Trifo has done something completely different; they've equipped their vacuum with a smart home security camera that keeps an eye on your home while also cleaning.
As with a standard home security system, the built-in camera can detect sound and movement and send alerts to your smartphone (iOS, Android), let you check in to see all is OK, and importantly it can be turned off so you don't feel spied upon. 
It can also keep watch when charging, and you can talk through its built-in speaker from your smartphone.
It's a clever idea and nicely executed, and thankfully the Max also cleans well, with a hugely impressive 3,000 Pa of suction and 120-minute battery to cope with even the worst tumbleweeds of pet hair.
It also comes with two heads – one standard brush bar and an interchangeable brushless attachment that sucks up hair without getting tangled.
How do I choose a robot vacuum cleaner? 
With models available from $100 to $1,500, choosing how much you want to spend is key, and while automatic dustbin emptying, and Alexa compatibility is convenient it doesn't necessarily mean cleaner floors. 
As a rule, spend as much as you can, but look out for features that are useful for your home. Robot vacuums work best on hard floors, so if you have deep pile you'll need a model with extra suction power. 
Timers are also essential – generally set via smartphone app, but onboard controls are available on cheaper non-Wi-Fi models – meaning the cleaner will work when it's convenient to you. If you, or a family member suffer from allergies, we'd suggest you look for designs with a HEPA (or similar) filter that's washable to trap allergens.  
Are robot vacuum cleaners worth it? 
A good robot vacuum is an investment, and we would suggest avoiding anything under $300/£300 as anything less tends to be more robot floor sweeper than an intelligent cleaner. 
Our best buy costs up to $1,300 (or £1,300) which is a lot, but you will notice the difference. 
Remember to factor in that you'll also need a traditional vacuum cleaner - or the best vacuum for pet hair- as no matter how good they become, robot vacuums can't clean the stairs or the car. Are they worth it? If you have pets, they're especially useful as they help control the hair and dander, for everyone else, choose wisely and you'll have one less daily chore to do.
Do robot vacuum cleaners really work and clean properly?
While robot vacuums can easily navigate around a room, they're no match for a shoelace or a pile of LEGO. If you remember to pick obstacles off the floor before you leave for work, you will come back to a much cleaner house. And the beauty is, it will clean every day, without complaining. 
Robot vacuums work best doing routine cleaning and aren't as effective at quick cleans up or spot cleaning. You'll still want to have a vacuum, both cordless and corded models work, on hand for picking up larger pieces of debris, getting into nooks and crannies, and cleaning stairs. 
Those models with built-in mops can also remove light surface stains on hard floors, but it's the equivalent of a wipe with a microfiber cloth rather than a deep clean.
What is the best robot vacuum cleaner?
To recap... the best robot vacuum cleaner you can buy is the iRobot Roomba S9+. We've tried it, tested it and absolutely loved it enough to award it five out of five stars. 
The S9+ is the most stylish Roomba to date and performs like a dream, too. As it moves from hard floors to carpet the suction increases automatically for a deeper, more powerful clean. And it also has a high-quality air filtration system to help prevent dust particles and allergens being returned to the room. It does this all on its own and is certainly one which we couldn't live without...
You've reached the end of the page. Jump back to the top ^