How to design a patio
Use our expert guide to discover how to design a patio – and create a fabulous but functional outdoor living space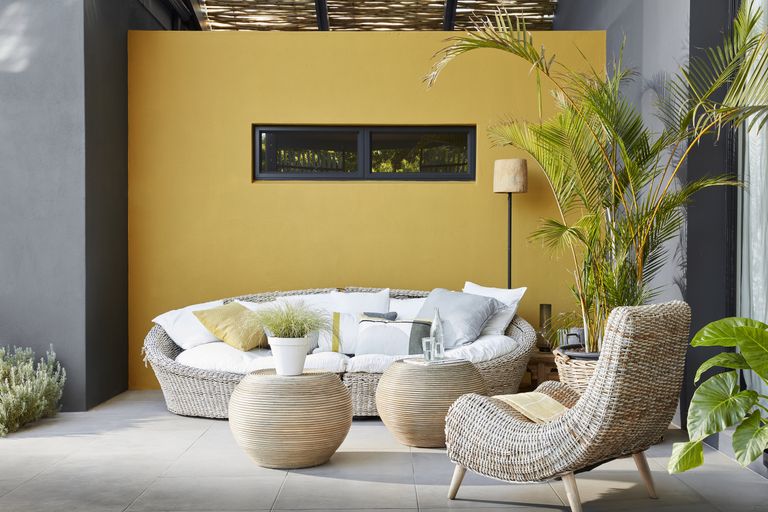 (Image credit: Little Greene)
We have come to expect so much from our gardens of late, so getting patio design just right is vital. After all, they must simultaneously act as vibrant social hubs furnished for dining and entertaining and areas for quiet moments of reflection to escape the stresses of the day. 
Striking such a balance takes careful consideration. Finding the perfect location is an important step; a spot that catches the light at the right time of day, but that 
is also conveniently situated close to the house or sufficiently equipped to provide everything you need. 
The intended function of the space will ultimately dictate the outcome of the design. 
This expert guide brings you all the tips you need to find out how to design a patio perfectly. For inspiration and a ton of patio ideas, don't miss our inspiring picture gallery.
How to design a patio
Use this step by step to find out how to design a patio like a pro. 
How do I plan a patio layout?
Planning your patio's layout should be determined by how you want to use it – and therefore the furniture it will house. So, if you plan to entertain regularly, you will want to consider what patio furniture you need – a dining set, a lounging set, or both – and what how big you need the furniture to be – in other words, how many people you might want to regularly host on it. 
Then you need to plan for the negative space on the patio – or, the gaps and spaces between the different furniture and between the furniture and the edges of the patio. Ideally, you want these negative spaces to be 3ft or 1m wide. This gives you space to comfortably move around the patio without it feeling or looking cluttered and, especially if your patio is raised or terraced and doesn't have railings, means furniture – and those seated on it – are unlikely to topple off it.
The simplest way to design a patio that suits your needs exactly is to draw it out to scale. That way, you can plan in beds and borders, pot positions and even space for any outdoor kitchen ideas you may have. Using rope, you can create the boundary of your patio in your existing yard, too, to double check its dimensions.
What is a good size for a patio?
This largely depends on the size of your backyard and whether you want the patio to be an element or the dominant feature of its design. But as a general rule, you should again plan a patio's size for how many people it might regularly host – and usually, that means around 25 sq ft of space per person. So, if you are a family of five, that's a 125 sq ft patio.
Creating zones on a patio
Just as you would indoors, it is vital to plan the different zones for your patio right at the beginning of your patio's conception. If, for example, the outdoor dining area is best placed near your kitchen doors and you need to plan shade into the design, the time to work this into your plans is right now.
Similarly, you may want to create a lounging zones, surrounded by pots or beds filled with aromatic herbs or scented climbers.
Zoning a patio is less important if you are happy to use it flexibly – but if you are designing a patio that's fixed, perhaps because it's a series of smaller patios on different levels, you need to consider its zones carefully from the outset.
Where to position a patio
There are three factors that will influence this choice: how you want to use your patio; where it will look best in your garden's design overall; and whether it is overlooked or not.
How you want to use the patio: if it's only for dining, a shady spot will suit, but if you are a sun worshipper, then you will want to position your patio in a sunny spot. Conversely, if your entire backyard is sunny and you want to create a dining area in a particular area of it, you can use our clever shade garden ideas to perfect the space – and we talk more about this below.
Where it will look best: traditionally, patios are just outside the door to your backyard for convenience – but there is no reason, especially in a large space, not to have more than one garden. And, of course, if your only sunny space is at the end of the garden, and you can plant around the patio sympathetically to create a lovely view of it from the house, this may be your best option.
Patio positioning for privacy: patios need to feel private but that doesn't mean that you have to position it for privacy in your backyard as it is – there are plenty of garden privacy ideas you can employ to create a new, secluded space. 
Choosing patio materials
While keeping an eye on garden trends for the latest looks is something we would always advise, it's important that how you design your patio reflects the style of the interior of your home and the exterior materials it is built with. 
So, modern homes will suit contemporary materials and design tricks, while more traditional homes will need period-style or authentic materials sourcing. 
There has been a big shift in both materials and finishes used in patio design over the past few years. Porcelain is becoming increasingly popular, 
according to Cassandra Crouch, a member of the Society of Garden Designers (MSGD), primarily 
due to its low-maintenance requirements and 
the wide variety of colors and finishes available. 
'Porcelain can provide a clean, more contemporary look,' she says. 'To avoid designs feeling cold or 
hard, I use planting to soften this.'
Renowned garden designer Butter Wakefield offers this advice to make the best patio material choices:
1. Be sympathetic to locality
'At my garden design studio, we tend to choose a paving material that either directly reflects aspects of the architecture of the house or elements of the interior design.
'We also like to create pattern within the paving, so we often specify a smaller paving unit, sett or brick to use in conjunction with a larger format. The more interest and pattern we can create in the paving, the more visually pleasing the overall scheme.'
2. Choose hardwood for decked patios
'It is 
worth spending a bit more on hardwood decking, sustainably sourced, as this produces the best and most long-lasting results. We prefer ipe, iroko or teak, in as wide a board as possible, which is usually around 140mm. 
'We tend to specify concealed milled joints; this means the boards slot together side to side, avoiding the need for surface-mounted screws.'  
See: Deck ideas – creative decking ideas for your garden, patio or terrace
3. Pick brick for character and style
'We love Belgian Vande Moortel bricks and have created quite a few patio schemes recently using these. The Ancienne Belgique range is a particular favorite as they are the most delightful size, full of character and charm. 
'We also often choose Durlston Driveway and Stableyard cobbles and setts from Allgreen Group 
to add interest and pattern in paving.'  
4. Choose locally sourced, real stone
Stone sourced and supplied locally is certainly more environmentally friendly than a granite sourced and shipped from China, for instance. Going to a local stone yard or talking to your garden designer about this early in the process can help you find local stone that should complement your gardening landscaping overall too.
Incorporate planting into patio design
Pockets of planting around the edges of the patio or as a division between different zones will soften your design. Choose a planting scheme for your patio that will reflect the planting that's successful in the rest of your backyard, but consider a few stand-out plants, such as specimen trees in containers to create a stylish finish.
Planting for privacy and scent are both important elements of patio design, too.
When composing a planting scheme for a patio, work 
with the characteristics of the plants to optimize 
the space. 
Landscape architect Oliver Bond MSGD 
uses tall plants to frame the area and screen at 
the rear of beds, and short or creeping varieties 
that overhang the hard edges of paving to soften 
the division between the two. 
'I incorporate a planting palette that provides form, structure, color, aromas and sounds, along with tactile and edible elements,' he explains. 
'It's important to provide stimuli for all the senses throughout the year, to allow the patio space to inspire and entice.'
Including hard landscaping in patio design
Raised beds and attractive garden fence ideas are important finishing elements of patio design that need to be planned in right from the start. Walls, whether built from stone or cheaper rendered materials will give your patio a more stylish finish, especially if they echo the exterior materials of your home. 
However, you can finish your patio design with beds and boundaries built from wood, which can be cheaper and quicker to construct.
How to design a patio for shelter
Form follows function for garden designer Peter Reader MSGD. He recommends a 'shelter' only if the client needs 
or wants it, or if the site or aspect demands it. 
Pergolas are good for adding height, structure and atmosphere to a patio space, and create a dappled shade rather than a full sun block. They are perfect for training scented climbers up, which will give your patio a sense of secluded serenity.
See more patio cover ideas in our inspiring picture gallery.
Include water features into a patio design
'Water features are in high demand,' says Oliver. 'Mainly as a focal point, but also because the sound of water or the calmness of a still mirror pool will transform a garden into a tranquil space. 
'Water features can be functional and versatile; they can provide habitats for wildlife or be used in innovative ways – I recently designed and installed a small contemporary water feature that doubles as an ice bucket for social gatherings.'
How to budget a patio design
There's the all important matter of money. 
The hard landscaping is the most costly part of designing a patio – and while labor costs might be fixed, you can reduce or increase costs with different materials and design elements, such as railings, pergolas and walls.
See: How to build a patio – a step-by-step guide to laying a garden patio
Garden designer Cherry Mills MSGD advises, 'There's a vast range of natural stone and manufactured paving available at different prices. But remember to factor in the cost of preparing the ground for landscaping, and of laying the base material and the labor to install the paving.'