Patio lighting ideas – 12 creative ways to light a patio
These patio lighting ideas will help you conjure up the perfect ambience for dining and relaxing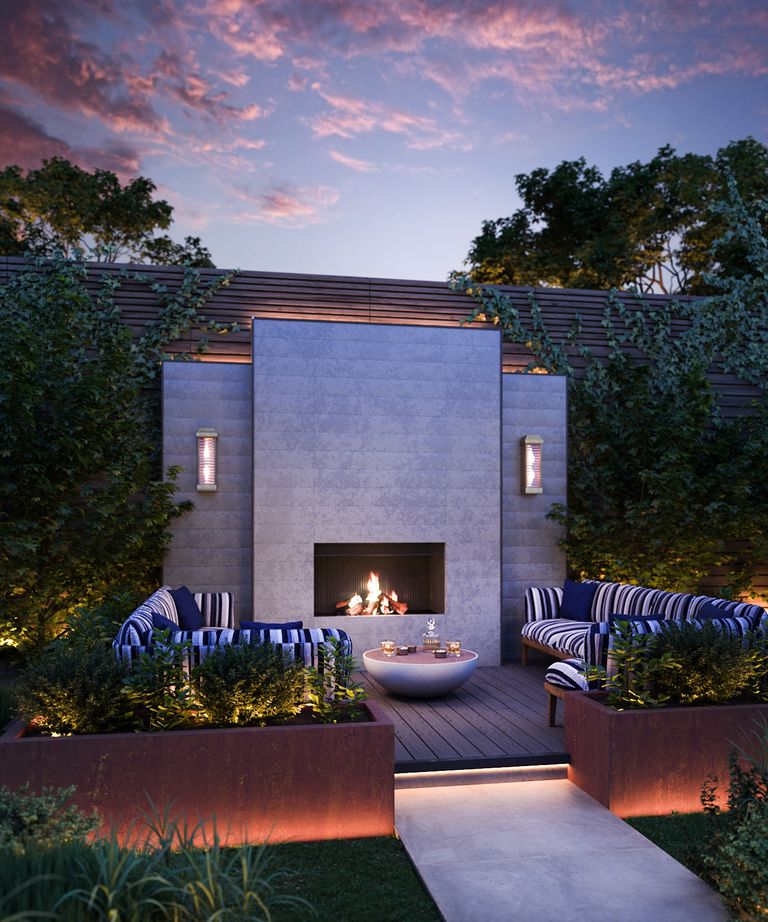 (Image credit: Rosendale Design)
Great patio lighting ideas will ensure your al fresco dining – or relaxing – spot can be enjoyed as night falls as well as during the day.
Just like inside your home, an outdoor dining space needs lighting that creates the perfect atmosphere for relaxing and sharing food, drinks and conversation, in addition to its practical purpose of illuminating the area from nightfall.
When you're planning your patio ideas, it's vital to create sufficient light for everyone to move around the space and take their seats safely – as well as see their food and drink. But a surfeit of illumination will ruin the cozy ambience, and sense of intimacy.
These beautiful patio lighting ideas will create the perfect backdrop to evening meals with the family and get-togethers with friends. Our favorite outdoor lighting ideas, they're at the top of our garden must-haves list.
1. Choose a pendant for outdoor patio lighting ideas
Pendant lights aren't just a solution for the interior of a home and outdoor versions make an attractive feature in all different garden ideas when suspended above a patio.
It's important to size up sufficiently with an outdoor pendant so the light doesn't become lost in the space.
2. Frame an outdoor fireplace
Set lights either side of an outdoor fireplace to create a sophisticated exterior living room. They can provide sufficient soft background lighting for a seating area that's gently enhanced by the flickering flames of the lit fire.
The symmetry of a pair of lights either side of the fire is the perfect complement to facing sofas that make for a fabulous alfresco entertaining space.
3. Opt for portable lamps
It's worth investing in lights you can move around the patio for a flexible solution.
A portable design will produce a small pool of light, but that's enough for a cozy atmosphere when night has fallen either for a solo patio user to enjoy the sounds of the backyard at night, or a pair to make the most of the outdoors.
4. Consider a floor lamp
Like pendant lights, floor lamps definitely shouldn't be confined to the interior of your home. One of these can make a stylish addition to a patio used for dining or relaxing and can be bought to complement your patio furniture ideas.
It should, of course, be a version specially made for outdoor use, and a weighted base will help keep it secure in exterior breezes. Want to avoid cables? Look for a design with a chargeable lamp.
5. Mix shapes and colors
A group of lanterns above a patio dining table makes an attractive and eye-catching focal point and are wonderful accessories for brightening patio cover ideas, such as pergolas. For a casual boho effect, mix different shapes and shade colors as well as suspending them at different heights.
Think about echoing the colors in beds and borders to complement your flower bed ideas, or repeat tones from the table setting for a colorful display.
6. Go for warm light
Make sure patio lighting has a soft effect that is relaxing on the eye.
If you're going for LED lights or solar garden lighting ideas, that means picking a type that produces warm white light like those shown here. Cool white is more luminous and suited to practical applications rather than laid-back environments.
7. Wash light down a wall
If your patio is sheltered by a wall, it's the ideal place to add permanent lighting that makes using the space super convenient. They can wash light down the wall to make a feature of a painted or textured surface and to illuminate patio planting ideas or seating below as well as providing general illumination for dining or sitting out after dusk falls.
8. Bring in candlelight
Groups of candles are hard to beat when it's an atmospheric glow that's required both inside the home and on the patio. But the requirements of safety mean they shouldn't be left unattended, nor positioned where they could cause a trip hazard. They're also liable to be extinguished by the wind outside.
Alternatives include choosing hurricane lanterns to protect them from breezes, although you should still be present while they're lit.
A further solution for getting the same look without any concerns is to go for battery-powered candles that promise easy and safe operation.
9. Hang a series of pendant lights
A row of pendant lights over the dining table is one of our favorite patio lighting ideas. You'll need enough in the row to light the whole length of the table to make meals a comfortable experience.
Bear in mind that they'll need to be suspended high enough to avoid blocking views and conversation across the table, but at a level lower than a pendant: the series should feel visually connected to the table below.
10. Double up
In need of a heater to use your patio as frequently – or as late into the evening – as you prefer? Then consider choosing an electric version that will provide light for the area as well as warmth. A design with a shade has the style of a lamp, too, as well as a lamp's elegant lines.
If your patio is small, and a floorstanding patio heater will take up too much of the space, tabletop versions are a neat and handsome alternative.
11. Create rustic style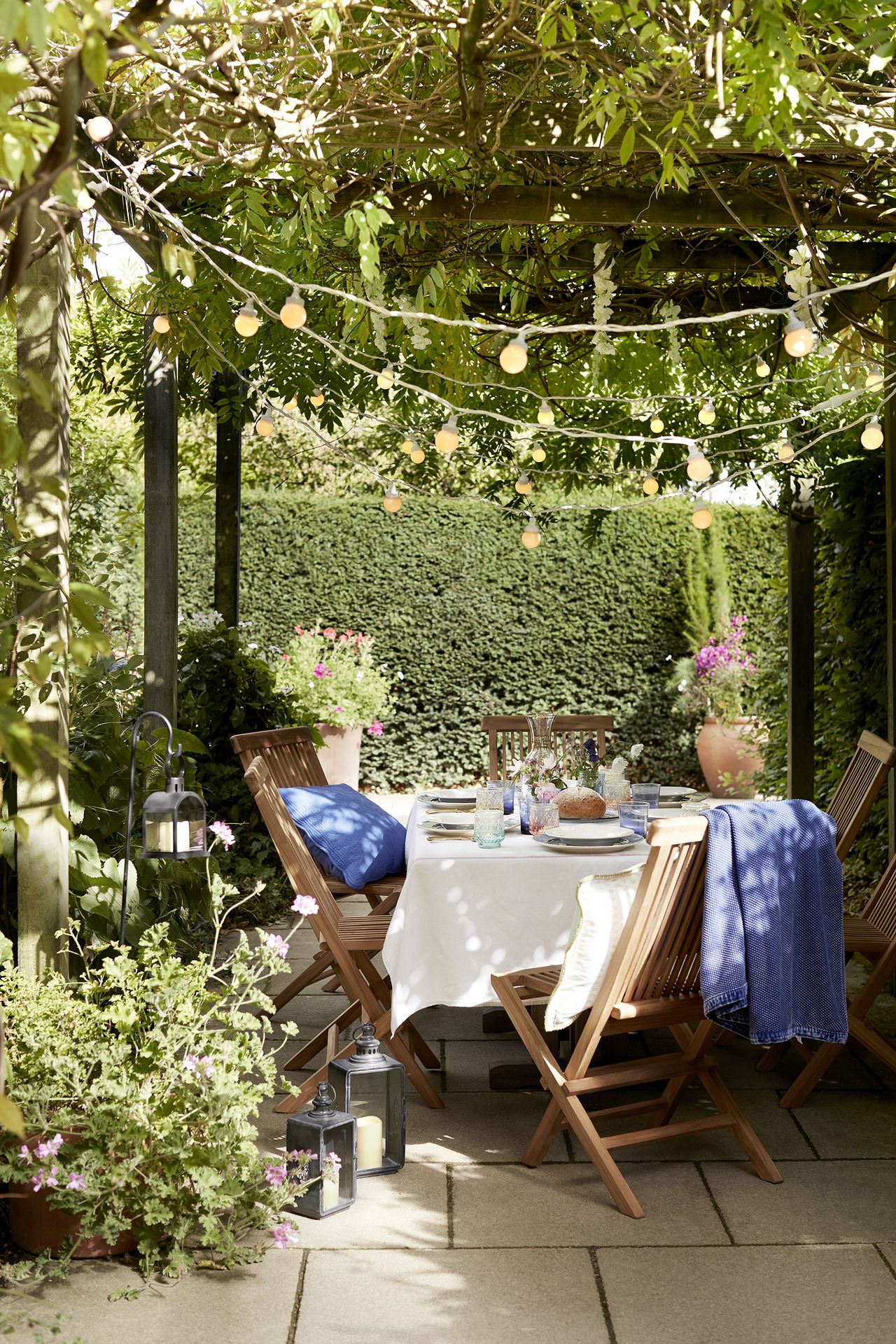 Outdoor string lighting ideas are a great complement to cottage-style gardens with wood furniture, and can be easily hung from a rustic pergola. Let them drape towards the table for a soft effect and gentle light for the tabletop.
Team them with other light sources for sufficient illumination for the patio area. Classic metal lanterns also suit country gardens.
12. Complement a contemporary patio
If your patio is part of a modern yard design with the emphasis on hardscaping in materials such as stone, concrete and metal, along with architectural planting, patio lighting needs to be contemporary, too.
Echo the geometric lines of the yard design in the shape of wall lights, and repeat the colors of a modern materials palette as well for a pulled-together effect.
What are the best lights for an outdoor patio?
The best lights for outdoor patio are those that suit the way in which it's used, and which complement its style. For a festive feeling, outdoor string lights are hard to beat and can be solar or battery-powered, which makes them easy to fit and avoids any trailing cable worries.
But for regularly used patios, fitted lighting is the most convenient, and can combine pendant and wall lights as background lighting, along with other patio lighting ideas such as exterior floor and table lamps, plus accent lighting to highlight plants and architectural features. This will, of course, be best incorporated at the same time as you are planning and designing a patio, although can be less neatly retro-fitted.
If you are fitting electric lighting or outside outlets, always follow building codes and regulations and call in a qualified contractor.
How do you light an outdoor patio?
To light an outdoor patio, think first about the ambient or background lighting for the space. This could be from an outdoor pendant light or string lights, for example, and will create overall light for the patio that's soft and atmospheric.
You could complement these with wall lights on some patios. Just make sure to look for up and down lights to avoid glare.
If you're grilling as well as dining on the patio, don't forget that you will need bright enough light for safe working – in other words, task lighting. This should be able to be operated separately, though, so you can turn it off once cooking is done for a more relaxing mood.
For patios with seating areas, floor and table lamps are worthwhile additions to a lighting scheme, casting intimate pools of light over those seated.
Don't forget that accent lighting that puts the focus on chosen features can double as a safety feature, highlighting the edge of the patio or steps, for instance. Any path to a patio should also be lit so the way to the area is clearly apparent.
Sarah is a freelance journalist and editor writing for websites, national newspapers, and magazines. She's spent most of her journalistic career specialising in homes – long enough to see fridges become smart,
decorating fashions embrace both minimalism and maximalism, and interiors that blur the indoor/outdoor link become a must-have. She loves testing the latest home appliances, revealing the trends in
furnishings and fittings for every room, and investigating the benefits, costs and practicalities of home improvement. It's no big surprise that she likes to put what she writes about into practice, and is a serial house revamper. For Realhomes.com, Sarah reviews coffee machines and vacuum cleaners, taking them through their paces at home to give us an honest, real life review and comparison of every model.