Outdoor lighting ideas – 30 best ways to use garden lighting
Use these outdoor lighting ideas to enjoy your garden into the night, illuminating features and creating magical outdoor spaces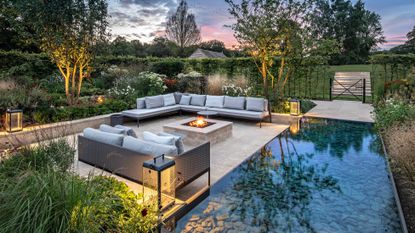 (Image credit: Light House Designs)
You can transform your gardens into magical spaces with outdoor lighting ideas. As dusk descends, carefully positioned outdoor lighting ideas can play a central role, drawing attention to the texture and shape of plants or decorative features, and creating a sense of depth and space with the interplay of light and shadow.
Illuminating elements in your garden as part of your backyard ideas can not only serve practical purposes, lighting up steps and garden paths for reasons of safety and to ensure safe travel, but can have many other uses. Backyard lighting ideas can transform a dark and uninviting outdoor space into an extension of your home's living areas at night time, while you can add curb appeal by lighting your front yard, and used in conjunction with front porch lighting ideas it will offer a warm welcome to visitors.
'Lighting around your garden is essential to ensure that you don't just enjoy your garden during the day but in the evenings too,' says Brian Davenport, owner and co-founder of The Solar Centre.
'One of the most important things to keep in mind is that you don't want to overwhelm the garden with too many lights,' adds Mark Feldman, chief home officer of Riverbend Home.
Outdoor lighting ideas
Approach your outdoor lighting ideas in the same way you do your interior lighting ideas. Work out which elements of your backyard you wish to highlight, consider areas that can be highlighted both for aesthetic reasons as well as practical ones. Together these two elements will establish the basis of your outdoor lighting design.
Not only do you need to think about how your outdoor lighting ideas will look when you're in the garden, but you also need to think about how they look when viewed through the windows of your home. Garden lighting ideas will create a beautiful vista which you can enjoy whatever the weather and patio lighting ideas, in particular, can transform this space at nighttime, year round.
'Layers of outdoor lighting ideas on the exterior of your home help to create ambience, highlighting mood, the garden and/or the home as well as providing general illumination at night,' advises Bruce Fox, founder of Bruce Fox Design, 'Use multiple sources of lighting for any exterior plan, including small lights to guide walkways, up lighting for trees/vegetation, low lighting for ambiance and lanterns in areas for socializing. Your landscape light should be on a dimmer so that you can vary the levels of lighting.'
1. Define the purpose of the outdoor lighting
When planning garden lighting, 'defining the purpose helps you to decide the type of garden lighting required. Are you looking for wayfinding, path light or more accent, feature lighting?' explains Jo Mann, founder and design director at Light House Designs.
In the design above, front lighting on a cedar tree draws attention to this majestic feature and draws the eye down the garden, while wide beam flood lights set in the lawn act as path lights.
Be sure to choose outdoor lighting ideas that are suitable to the environment. Check the IP rating and consider whether the lighting will have to withstand traffic or a mower. 'It is important to ensure the finish of the luminaires can withstand an exterior environment, while blending seamlessly into the landscape,' Jo adds.
2. Consider the position of lighting
If consideration is given to the position of outdoor lighting ideas, 'the effect can be subtle and stunning in equal measure,' explains Jo Mann.
Uplighting can be a very effective way to enhance trees, shrubs, feature as well as architectural elements in gardens.
The position of garden lighting can provide very different effects. 'If it is positioned in front of the object, it provides a wash; to the side will define shape; from behind the lighting will cast the object into silhouette. Columns can have a dramatically different appearance if the light is set at the front, side or back,' Jo adds.
'Site tests are instrumental in deciphering the optimum effect. When lighting a mature tree, for example, where no bough or branch are the same, it is important to trial a working sample at dusk so you can see the result. Depending on the size of the canopy, sometimes the lights can be meters from the lower branches, and you may need more than one fitting for effective coverage.'
3. Vary beam angles
Using varying beam angles is another way to create layered elements of interest with outdoor lighting ideas.
'A wide beam angle will provide a flood of light, a narrow beam will provide a sharper, more defined shard. If you are lighting a particularly sculptural tree, or yard art idea, you may wish to wash the front of the canopy with a soft flood of light, then add a secondary element by casting a narrow beam of light up the trunk, positioned near the bottom of the tree,' explains Jo Mann.
'If you set the lighting behind the tree, it casts the solid shape in silhouette. A large willow tree can look like a firework as the light shimmers through the canopy. If the tree is next to a garden pond or lake, the glistening reflection on the still, black water is equally stunning,' explains Jo, such as in the design above, where uplit multi-stem trees around a patio seating area are reflected in the water feature.
4. Choose the right light fitting for the location
It is crucial that you choose the appropriate type of light and accessory for the location. Lighting incorporated within flower bed ideas will require a spike fitting to avoid overgrown foliage, or leaves falling on top of the fitting which will block the light. 'If the luminaire is set in paving as part of a garden path idea it will need a recessed fitting, and with gravel, the luminaire can be recessed into a set stone to keep it level and fixed in position,' advises Jo Mann.
In this design above, Jo used spike uplights to pleached trees on left hand perimeter, while she downlit path lights for wayfinding without glare.
Disguising light can also bring character to an area.
5. Create an outdoor living room with lighting
Outdoor lighting ideas can create the true sense of an outdoor 'room'. For instance, if you position lights on a garden wall either side of an outdoor fireplace it will give the sense of an exterior living room. The soft background lighting can mimic that you might use in an interior room, to subtly light the seating area and provide the finishing touch to a fabulous alfresco entertaining space.
6. Add solar lights to the front garden
When considering outdoor lighting ideas be sure not to overlook how lighting could enhance your front yard landscaping ideas. An outdoor light will provide a welcoming beacon for visitors, as well as enhance security.
When selecting lights for the front of your home, it is best to opt for outdoor lighting ideas that work on a sensor or a timer. By selecting lights that operate intermittently you will still get the benefits of outdoor lighting ideas but it will not disturb neighbors or waste energy when they are not in use. Solar outdoor lighting ideas will save energy, too.
7. Create a versatile patio with wall lighting
A patio provides you with a versatile outdoor space that can take you from day to night regardless of the weather. However, if you're planning to stay out after the sun sets then patio lighting is essential.
'Whatever the size or style, wall lights are a great choice of outdoor lighting that's both practical and atmospheric. As well as providing effective task lighting perfect for illuminating different areas of a garden, defining boundaries, and linking different zones within a larger garden. They also offer great accent lighting, making them ideal for highlighting features within the garden, and providing a gentle source of light when you want to relax or entertain in the evening,' says Jo Plant, head of design at Pooky.
8. Illuminate your living wall with perfectly positioned spotlights
Living wall ideas are a popular addition to gardens, maximizing the available planting space and providing a pretty backdrop to your patio. Draw the eye to this living feature wall by uplighting it with embedded patio lights.
Despite being more difficult to install than other forms of garden lighting, in ground lighting can still be done on a DIY basis. 'The important thing is that the lighting needs to be far enough away from the wall in order to allow for the growth of the plants over a period of years. However, if they are placed too far away then the wall is never properly lit,' says landscape architect John Davies. 'For this garden, we chose a fitting that has an adjustable lens meaning that it can be placed further away and yet still light the wall effectively.'
9. Give guests a warm welcome by adding wall lights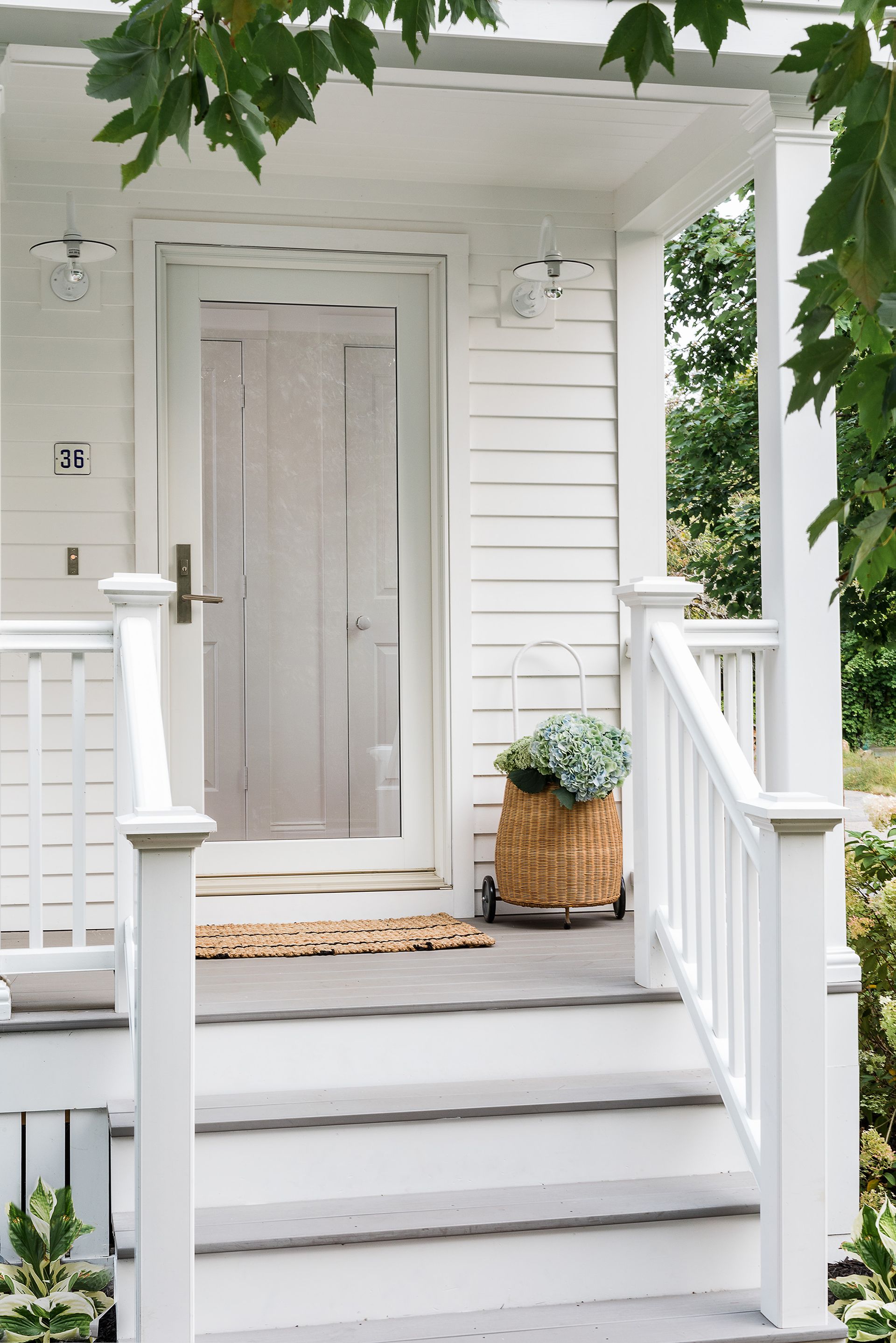 Outdoor lighting ideas can bring life and character to the entrance to your home and when properly curated, it can transform your front porch ideas. However, with such responsibility, it can be hard to know where to start with your outdoor lighting. Consider, too, if garden security lighting needs to be part of the equation here.
'First and foremost, ask yourself, what is the overall "feeling" that you want your front porch design to have? The silhouette of a fixture adds interest, and should support your "vision". Consider quality, buy quality lighting whenever you can. Also, decide if you want the lighting to pop and stand out or be more quiet,' says designer Nikki Amodio.
'For this project, my goal was to create a "white out" monochromatic design and focus instead on textural shapes. I am always interested in mixing vintage into a design. I chose classic white porcelain enamel coated vintage style fixtures from Barn Light Electric Company.'
10. Use solar lights to create a cozy spot for al fresco dining
When it comes to deck lighting ideas, think of ways to frame the space. If your patio is flanked by walls or planting, integrate solar powered lanterns for a decorative yet practical touch. Doing so transforms your patio into a pretty evening vista even when not in use, as it will draw the eye to this garden oasis.
'Select landscape lights that will blend in with plants and highlight the planting without drawing attention to the lights themselves,' says Mark Feldman of Riverbed Home. 'Space your lights organically throughout your garden. You can follow a pattern, but let your plants guide you to where you should place each light, not every plant needs to be lit.'
11. Accentuate height in the garden by illuminating tree trunks
If your garden landscape is punctuated with several large trees, use their generous trunks as a base for your outdoor lighting ideas. Trail backyard string light ideas up the trunk of the tree to add visual height and illuminate what can otherwise be a dark and unappealing part of the night time garden. Add depth to the garden lighting scheme by opting for bulbs with different temperatures for different trees.
12. Illuminate water features with lighting
Garden fountain ideas bring tranquility and peace to the garden and while the sound of gently trickling water will offer a continuous soundtrack to your space, the elegant sight will disappear come nightfall. Incorporating outdoor lighting ideas into your water feature ideas brings life to the display, highlighting the movement and character that the water brings to the garden.
'When designing your outdoor lighting ideas, use the light to accent either a rhythm of different plants, hedges and containers or to highlight particular trees, or a stack of firewood,' says Daniel McCurry from Father Nature Landscapes of Birmingham, Alabama. 'However, only select one feature per illumination. If you have too many featured pieces in one vista, you confuse people about what is most important.'
13. Integrate lighting into your borders to illuminate planting
Gardens are defined by their borders and planting. From the shape and color of the leaves to the weaving spaces and textures of the bark, outdoor lighting ideas can accentuate these details to increase the character of your plot. 'Blending soft, warm lights into your garden's hedges or other soft/hard landscaping will create an atmosphere and a relaxed and sophisticated outdoor living space,' says Paige Anderson, landscape architect at Nitido Design.
14. Consider wildlife when planning your outdoor lighting ideas
When planning garden lighting, you also need to think about wildlife garden ideas. Light has a dramatic effect on wildlife, they take their cues from the rising and setting of the sun, so artificial light can throw this into flux.
'Reduce the effect caused by your outdoor lighting ideas by positioning them as low as possible, aiming them downwards or fitting hoods to reduce how much light shines into the sky. There is some early research that shows white and blue lights are worse for wildlife, with red, yellow and green having less impact, but it very much depends on the species', explains Charlotte Ambrose, supporter relations and experience manager at the Royal Society for the Protection of Birds.
'If you know there's a bat roost nearby, or that they're feeding in the area, then please do avoid all artificial outdoor lighting ideas if possible – bats are very sensitive!'. If you are looking for ways to encourage bats into your garden, consider building bat houses to provide them with a safe place to roost.
15. Illuminate steps with recessed lights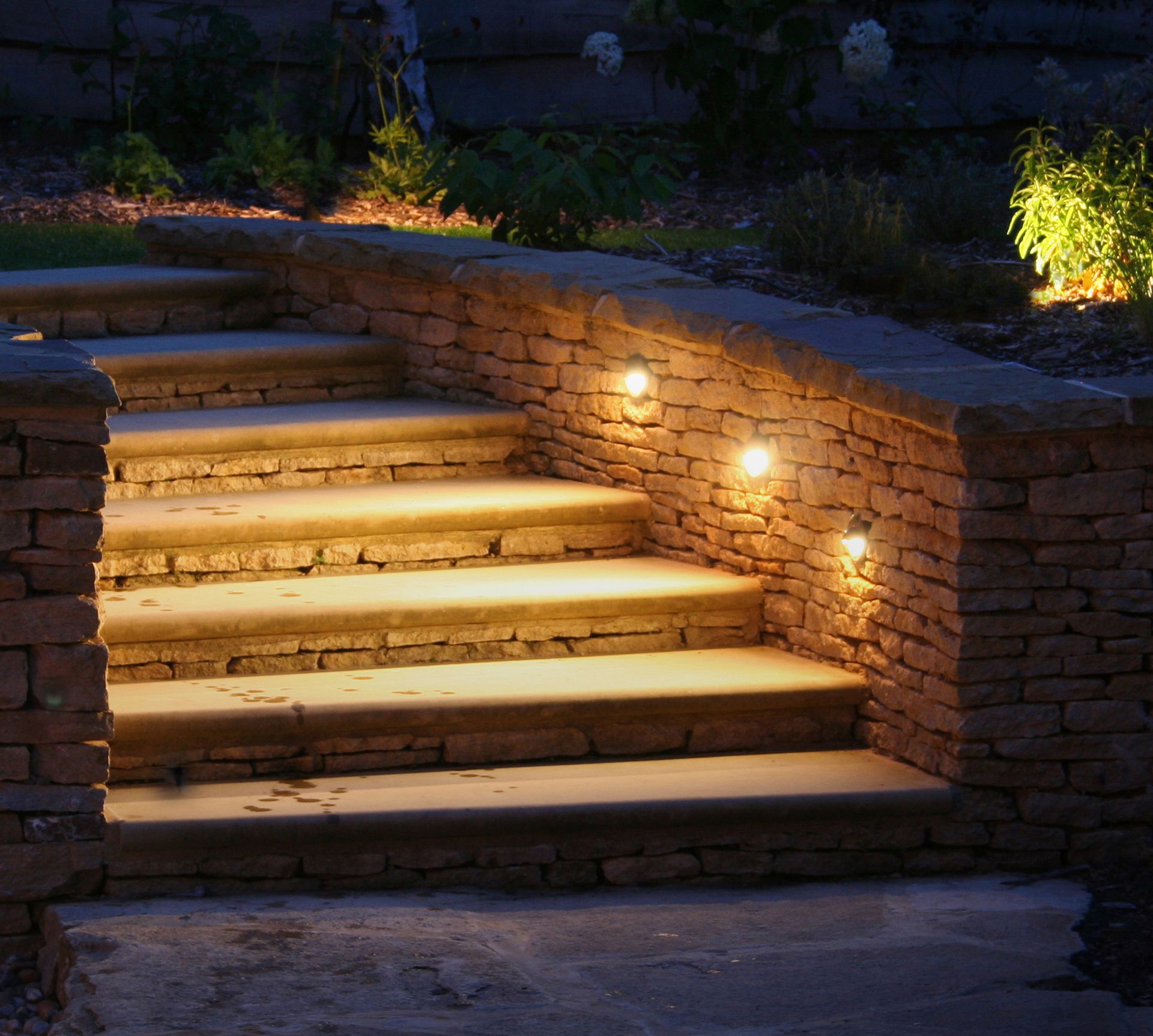 Illuminating borders and steps in your garden offers practical benefits as well as aesthetic ones. Steps can be illuminated from above, below or from the side.
'Lighting steps is mainly about making them safe. We always try to make the lighting as even as possible without too much glare, the best way to do this is to aim the light across the steps so it doesn't point straight into the faces of anyone using them. For that reason we wouldn't put lights in the risers unless that was the only option,' explains Philip Milner, technical manager at Lighting For Gardens.
'If you are lucky enough to have walls at the side of your steps you have the perfect place to put your lights. They could be recessed into the walls to give you an uncluttered look, or if that isn't practical, there are surface mount lights available that don't stick out too far. Some designs of step light also have built in eyelids to reduce glare.'
16. Know when your outdoor lighting ideas are too much
When it comes to exterior lighting, James Bassant, who is co-founder and design director at Astro, says that quality and clever placement is far more important than quantity.
A more considered use of lighting for a specific feature can have a much greater impact. Whether picking out the route of a path, a gentle wash of light over a surface or highlighting a distant object to draw the eye, it can be surprising how little light you may need to create a sophisticated look.
17. Highlight different zones with outdoor lighting ideas
When asked about creating different light zones outdoors, designer Charlotte Rowe told us that these don't work in the same way as with interior lighting.
If there are zones or separate areas in a garden or backyard, we might perhaps treat them as such but it is difficult, as light leaks out across the space. It would be better to look at how certain garden elements can be lit.
18. Illuminate a patio with a balance of wall lights and candlelight
Outdoor lighting ideas are an essential part of your garden party ideas. Sally Storey, lighting designer of John Cullen, recommends you start by looking at features immediately outside your house, such as a plant, walls, and the paving or decking. 'It is important to draw the eye out, especially when viewing your backyard from a window or conservatory,' she says.
Pair fixed wall lights that provide practical lighting, opt for candles and smaller solar powered lights on the table accentuate your beautiful table setting.
19. Uplight a tree with spot lights
A small spotlight in a plant pot or in-between a tree will also provide a focal point, or, in a modern scheme, try an illuminated container, such as a battery-operated LED-illuminated plant pot. Walls can be lit, too, using a technique known as 'washing', where a light is placed at the top or bottom of a wall, with the beam grazing the surface, picking out colors and textures, and creating patterns of light and shade.
'Hedging is hard to light successfully,' adds Charlotte Rowe. 'Instead, plant trees within an enclosed hedge space and uplight them.'
20. Illuminate the main garden
Focusing on the garden itself, you can use outdoor lighting ideas to create a feature of trees, highlight sculptures and transform fountains into dynamic sparkling features.
Award-winning garden designer, Janine Pattison of JPS Landscape Design uses a range of techniques to achieve these effects. 'We employ uplighting, downlighting, silhouetting, and spot lighting, which, combined with careful use of color, add a touch of lifestyle chic to a garden,' she explains.
Uplighting is often used to illuminate special features, such as a sculpture or tree. The beam from a single spotlight, placed at the bottom of the structure, is focused on the object, making it sing out against the darkness.
Downlighting produces a similar effect but the spotlight is placed up high and the beam focused down. When used in a tree, it creates a dappled effect similar to moonlight. Backlighting a feature will throw it into silhouette and, when combined with these other techniques, contributes to a theatrical 3-D effect.
21. Make a feature of your pool with illumination
Reflective pool ideas, contemporary cascades and feature fountains will all be enhanced when illuminated at night. Underwater lights can be halogen, LED or fibre optics, but they must be encased in waterproof, IP-rated fixtures.
Sarah Jane Rothwell of London Garden Designer uses outdoor lighting ideas to enhance water features. Light is given movement as the flow of water reflects dancing shadows at night-time. Corten steel can be a stunning choice as it creates a warm glow that bounces off the surface.
'For small cascades, direct underwater spotlights onto the plinth of flowing water, or run a color-changing LED strip along the rill from which the water emerges,' suggests Sally Storey. 'Fibre optics can also be fully integrated into a cascade or fountain, making the water look like it's illuminated from within, while locating a fibre optic within the jet of a bubble fountain gives the impression of a night light glowing inside.'
You can also light up swimming pools, introducing a slab of color into the night garden, but avoid underwater lights in planted ponds, as they will highlight weeds and roots. Instead, direct a light onto marginal planting or a sculpture beside the pond, which will then be mirrored in the water, producing dramatic reflections.
22. Create a focal point of your garden sculpture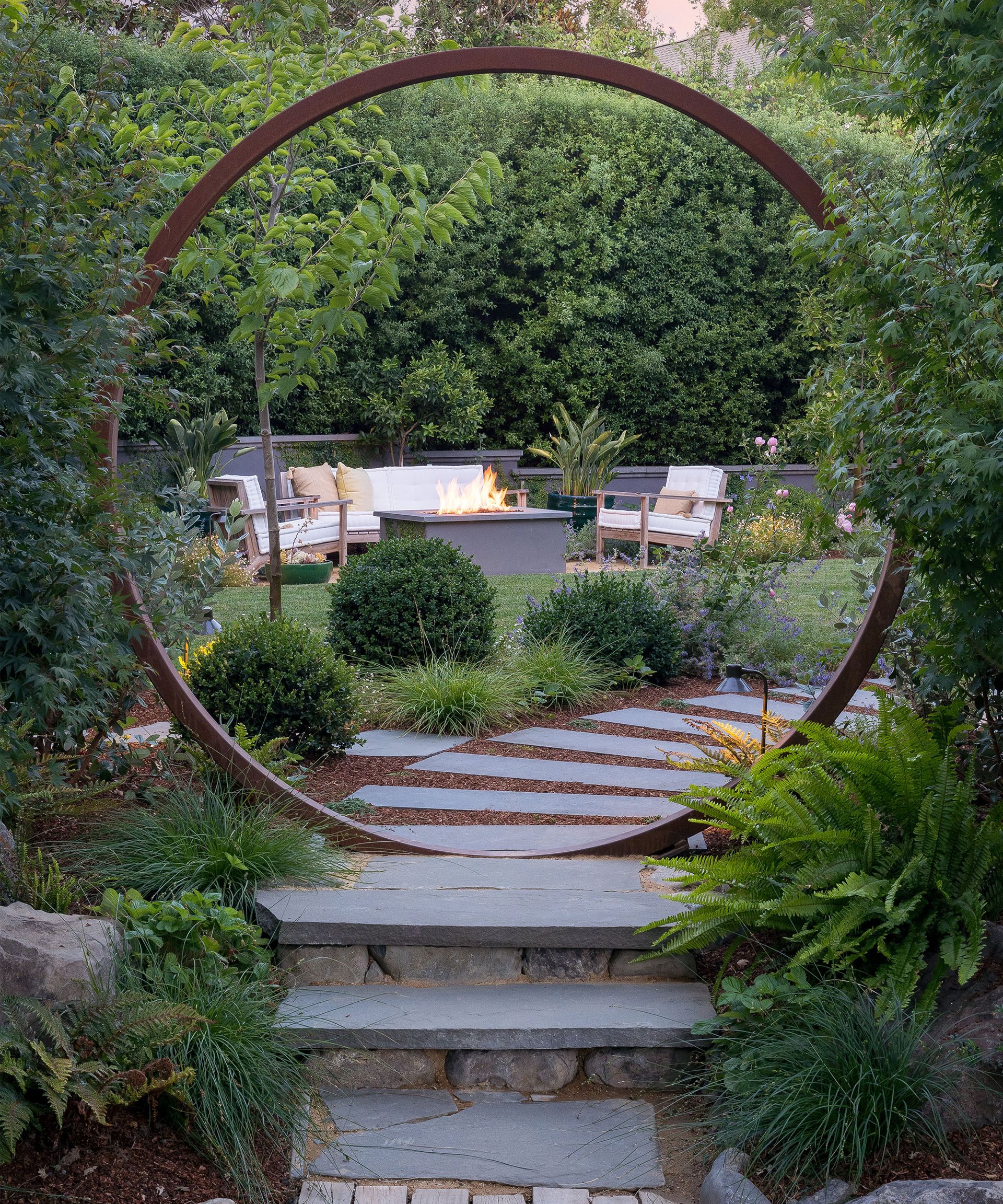 A sculpture will have its own character that can be highlighted by good outdoor lighting ideas. Award-winning sculptor David Harber explains that when lighting any sculpture it's important to respect the subtleties of surface and texture.
Powerfully swamping something in light may destroy all the nuances of the piece and inappropriately placed lighting could create shadows and highlight areas that change the sculpture's personality completely.
David recommends spending 10 minutes with a torch, which will be illuminating in terms of what could be achieved, and says that more often than not, less is more.
23. Consider the light colors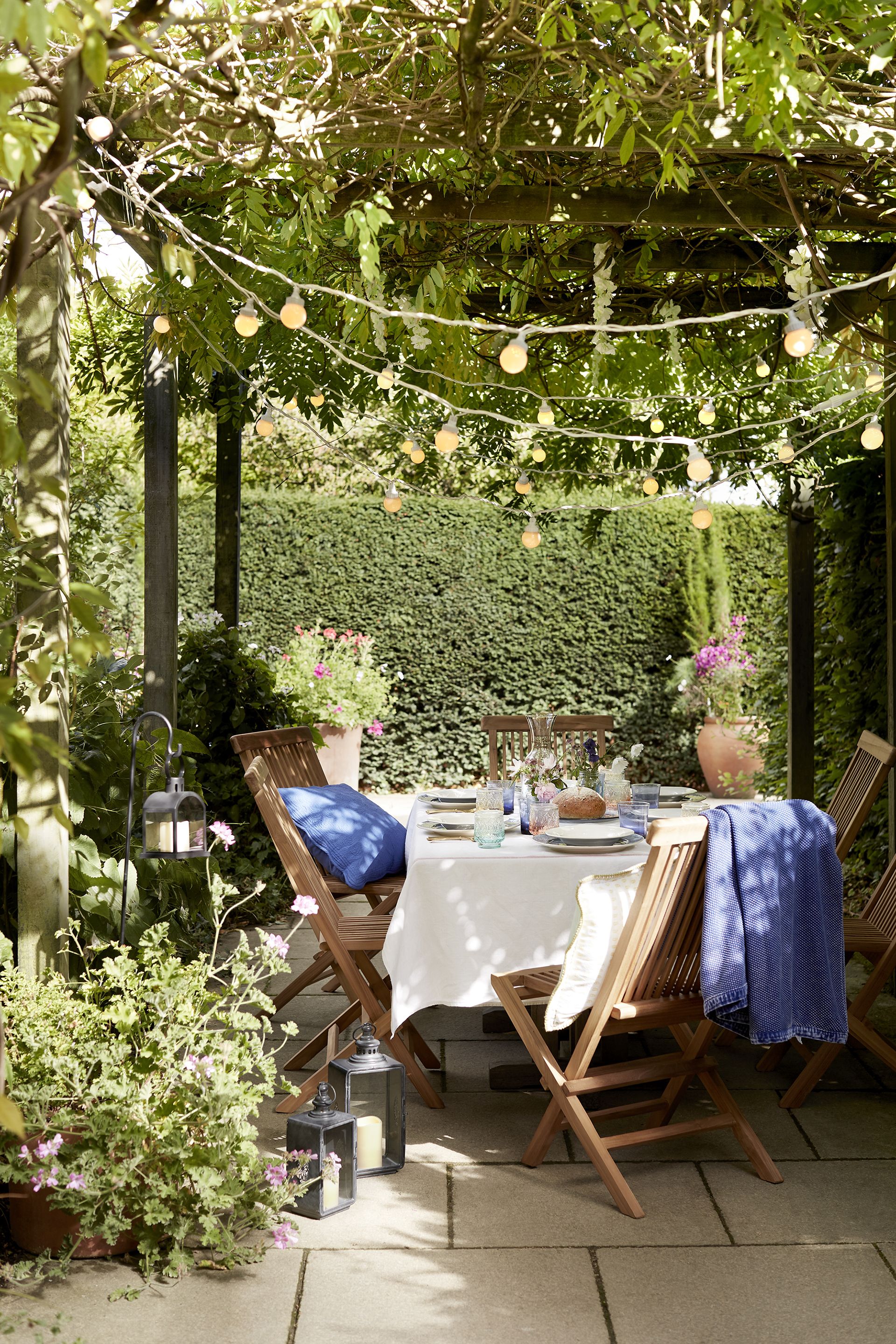 Introduce color into a dark garden using outdoor lighting ideas, such as colorful lanterns or rainbow festoons. Thread them through a tree or over a pergola to create a garden party atmosphere.
Or install LEDs, which come in a wide choice of shades and can be programmed to create color-changing sequences. The best effects are achieved when colored outdoor lighting ideas are used in moderation or to enhance a contemporary design.
In more traditional settings, Nigel Parsons of Hallam Garden Design, suggests using soft white lights and focusing them on painted walls or plants, rather than using the light source itself to inject color.
24. Instil interest with shaped lighting
Consider shaped outdoor lighting ideas to create interesting features. This entrance through a thick laurel hedge is framed by large, lit hessian stars, while the path and gate are illuminated by strings of fairy lights creating a mood of fantasy and intrigue.
25. Use portable outdoor lighting ideas for flexible lighting
Decorative candle holders and oil lamps cast a soft, romantic light, and are ideal for occasional use on a patio or in a small garden – though never leave burning candles unattended.
Table lamps that mirror stylish interior designs are now available for gardens, too and are the perfect way to dress an outdoor living room.
26. Illuminate the space under a parasol with lighting ideas
Parasol lights are another option for outdoor lighting ideas and are especially useful for evening al fresco dining. These can either be integrated units or lights that clamp on to the top of a parasol pole. Easy to install, many run on AA batteries, such as the LED lights from Target and Best Buy.
27. Leaving areas of darkness are as important as lighting
Luke Thomas, design director at John Cullen Lighting advises that in order to create depth in a scheme, darkness is as important as outdoor lighting ideas. If we were to light all aspects of a feature, for example a topiary box ball, the look would fall flat, but lighting just one side creates a striking contrast.
28. Stay safe and secure with front of house garden lighting ideas
Smart garden lighting ideas can be used to enhance the safety of your front porch by illuminating steps and paths, as well as areas around the house to both welcome guests and deter intruders.
Consider fitting LEDs on either side of step risers to illuminate the treads, and light paths with small spots or bollards, which can also contribute to your garden design by doubling as illuminated sculptures.
If you're looking for garden lighting to brighten an entranceway, you can choose spotlights or lamps fitted with a PIR motion sensor that turns on as people or cars approach. Adjust the sensor to ensure lights only come on as people enter your property and not when they are simply walking past. Floodlights are really only suitable for large properties or long driveways.
29. Opt for hanging outdoor lighting ideas to add height to your scheme
Rather than restricting yourself to ground-level lighting or being limited to high-rise festoon lighting, consider outdoor lighting ideas that are hanging from architectural hooks to highlight sculptural elements in the garden.
'Pick out with light the key sculptural elements that define the garden structure, such as sculptures, water features, and specimen trees, adding infill lights to the flower beds where necessary,' says Sally Storey, Design Director, John Cullen.
30. Employ a lighting designer to create the perfect outdoor lighting scheme
A garden or lighting designer will create a plan tailored to your particular garden and needs, and also take into account cost, safety and security.
Joseph Best of The Light Garden explains the service he provides. 'We always begin with a visit to walk through ideas and designs. We then draw up a bespoke scheme with costs and often return for a night visit to demonstrate different lighting effects in the dark to show clients how they will look.'
You can find a designer through the Society of Garden Designers, or seek recommendations from friends and family.
Ask to see examples of a designer's work, and ensure the specialist or electrician that installs the lighting is registered with one of the following governing bodies: NAPIT, ELECSA, ECA, or NICEIC, which will ensure the contractor installs to BS 7671 (the electrical regulations) and meets the necessary building regulations.
How do I light the outside of my house?
You can light the outside of your house through a variety of different methods – from solar powered stakes in borders and festoons hung from the heights of a pergola through to practical spotlights on steps and walls to guide the way.
'Keep in mind where you will be in relation to your garden when viewing at night. You don't want to be placing any of your garden lights so that they'll be competing with porch lights, or fire pits, or directed at people,' advises Mark Feldman.
How do you light a garden at night?
When choosing outdoor lighting ides, consider the overall look and your practical needs. Do you need occasional lighting to illuminate a seating or dining area, or are you looking for a garden nightscape with equal impact to the daytime view?
Alternatively, you may simply need to light steps and pathways through the garden, or security lighting to protect your property. Look, too, at different design effects, and select features, such as trees and fountains, that can be enhanced with lights.
When weighing up your options, remember to factor in any outdoor lighting costs including the installation of an outdoor power supply by a qualified electrician – a basic requirement for most lighting schemes.
What type of light is best for outdoors?
'Garden lighting is now regarded as a vital ingredient, adding a touch of luxury and 'lifestyle chic' to your outdoor space, whether it's a small city garden, a large country home or something in between,' says Janine Patterson, garden designer.
Running costs should be no bar to achieving your outdoor lighting ideas. LEDs (Light Emitting Diodes) and fibre optics are very energy efficient, while solar powered units cost nothing to run. However, it's important not to overdo it.
A good scheme works in harmony with your landscape, creating layers of light and focal points. Turn lights off every night and when you're not using the garden or viewing it, and do seek advice from a lighting or garden designer, particularly if you're in a 'Dark Sky' area or national park with lighting restrictions.
How can I add light without wire?
You can add light without wire by using solar lighting. 'Getting wiring laid down in your garden can be a difficult process, whereas solar lights cut the hassle and can be used immediately,' says Brian Davenport of The Solar Centre.
'However, not choosing the right spots for your lights may leave you sitting in darkness. You'll want to make sure you position these in areas that receive full sun during the day,' he adds.
'Alternatively, pick a lighting option which has a separate solar panel. This will allow you to place your lights in a shaded area, while still make sure the solar panel receives enough light.'
Make sure you know how to plan and instal garden lighting before you start.
How do I light my patio?
There are many different ways you can light up a patio area, from uplighting surrounding trees or shrubs, downlighting pergolas or structures, or adding lanterns around a seating area. You can also entwine a pergola supports with string lights for a subtle yet beautiful effect.
Sign up to the Homes & Gardens newsletter
Decor Ideas. Project Inspiration. Expert Advice. Delivered to your inbox.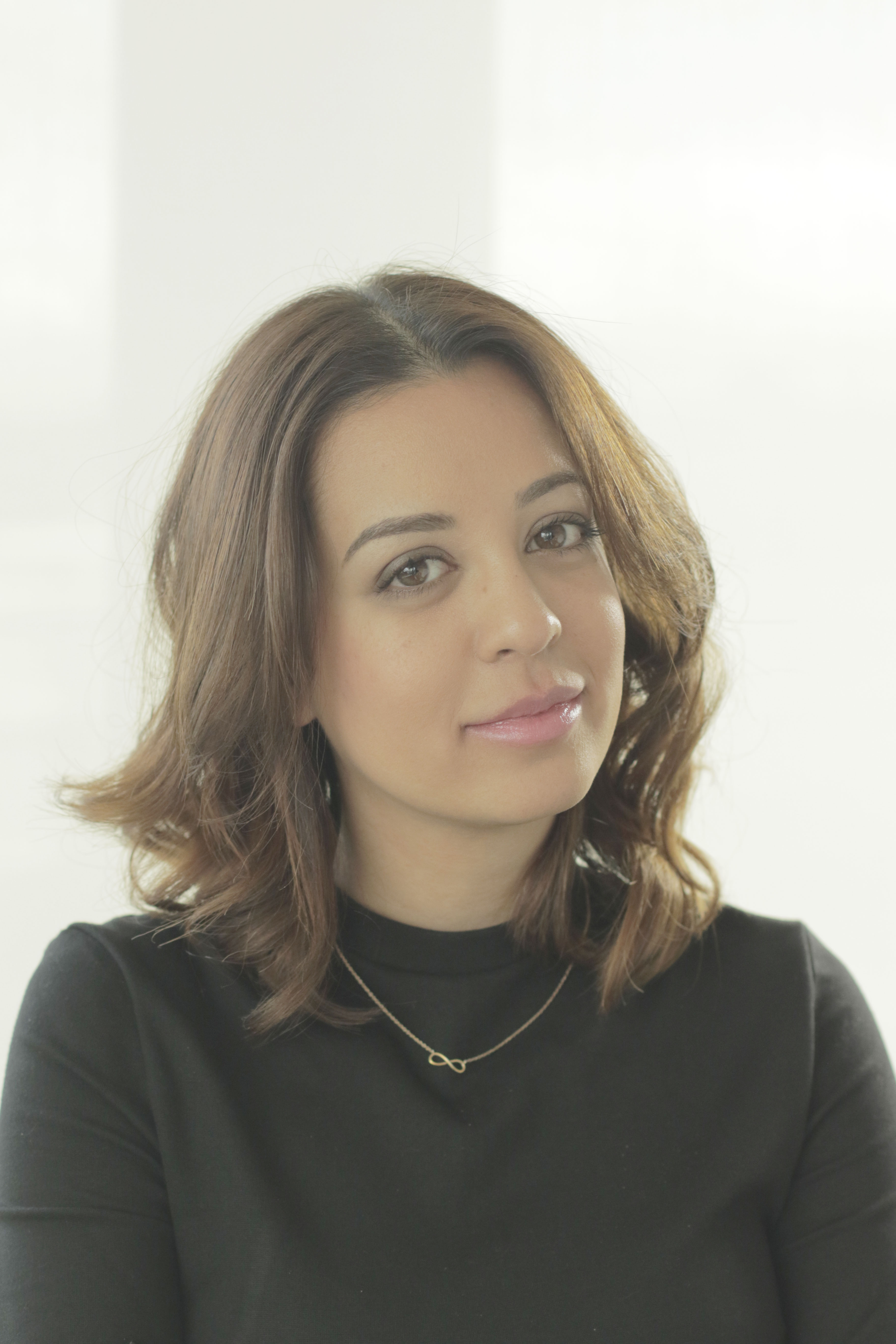 Jennifer is the Digital Editor at Homes & Gardens. Having worked in the interiors industry for a number of years, spanning many publications, she now hones her digital prowess on the 'best interiors website' in the world. Multi-skilled, Jennifer has worked in PR and marketing, and the occasional dabble in the social media, commercial and e-commerce space. Over the years, she has written about every area of the home, from compiling design houses from some of the best interior designers in the world to sourcing celebrity homes, reviewing appliances and even the odd news story or two.