How to plan and install garden lighting – everything you need to know
Make your al fresco space work harder by planning and installing a well-considered lighting scheme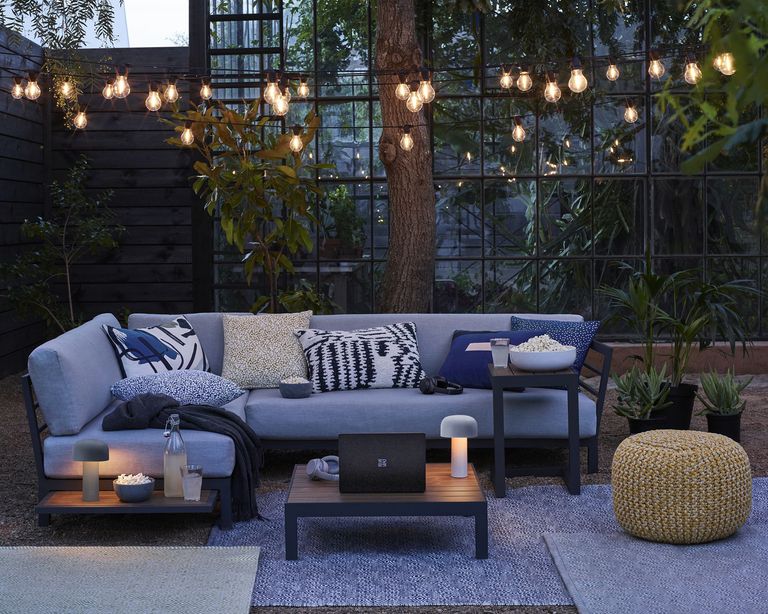 (Image credit: John Lewis & Partners)
Clever lighting not only creates ambience, it makes pathways and dark corners feel safe and it can allow for a chilly evening to appear more inviting. 
So instead of packing up the outdoor furniture in September, make your garden work harder all year round with clever lighting options. 
Whether you have a small urban courtyard or an expansive country estate, no area is too small to light; even a window box or a porch can be adorned with well-placed spotlights. A flexible scheme can include anything from colors and beams to clever solar options or state-of-the-art digital systems. 
Don't be swayed by too many modern possibilities, instead, ensure you find a garden designer to present a lighting plan that not only offers practical solutions to your needs, but also complements your outdoor space whatever it's size. 
Ultimately you want to create a garden that invites exploration and feels both magical and memorable.
How do you install garden lighting?
If you are locating your lights on exterior brickwork, this can be run via a mains supply channeled through the wall from the house. 
Seek advice from your electrician about the best types of lighting options. At the very least the lights you select should have an IP43 rating (Ingress Protection Rating) which means they are weather and waterproof. 
If you are looking to install more complex lighting options for your garden, employ a landscape architect or lighting designer who can help you reimagine your space from the ground up.  
Whether you need spotlights in the pool or lighting on the pathway, these features will all need to be considered well before embarking on your garden project as the electric cables will need to run underneath the stonework or ground. 
Before you fall in love with all manner of lighting options, remember the cost of installing an outdoor power supply will be a factor you'll need to consider.
How do you design a garden lighting scheme?
Speak to your garden designer about what your practical needs are and how you want to 'feel' when you sit in your garden. 'I find some clients might want a calm, minimalist space whilst others might want a lush garden which feels totally enveloped. Lighting plays a huge part in creating both of these looks,' explains Boston-based landscape architect, Amy Martin. 
Consider the placement of your lighting and the essential areas that will require strong task lighting. 
'Think about why you are lighting your garden,' explains Sally Storey from John Cullen Lighting. 'You tend light at the front for security and for ease, and you light at the back to extend the space or to provide visual interest when you are entertaining.'
An outdoor kitchen, for example, will need strong lighting, whereas a seating space can be more ambient. 'If the back of your house has lots of glazing, when you look out it will be like a mirror reflecting everything back. However if you have lights in the garden then it draws your vision outside and feels like an extension of the space,' adds Sally.
In general there are four different methods of lighting spaces in your garden - uplighting, downlighting, backlighting and spotlighting. A spotlight is useful to draw attention to a particular object from above, whereas uplighting happens from below. 
Downlighting creates an effect by illuminating from a height, but in a more nuanced way (lighting the branches of a tree, for example) and finally, backlighting which involves beaming light from behind to create a silhouette and a sense of depth.
How do you illuminate a garden?
Generally, avoid lighting which could appear too harsh and, if possible, avoid showing the source of the light. The most effective garden design can make lighting appear almost invisible, yet it feels inviting and memorable at the same time. 
'I always recommend a combination of lighting,' notes Sally Storey.  'We like to use mini floodlights to illuminate lower foliage. Then a narrow beam spotlight for taller shrubbery such as a multi-stemmed tree.'
Consider where lights should be placed. 'I like to light downwards from a tree, so I use lots of sturdy wiring to 'hide' the lights within it,' explains Amy Martin. 
When it comes to downlighting, it's imperative that the beam cast downwards is soft. 'Place the lights extremely high up in a tree – 5 metres is the minimum. This will avoid a glare down on to the ground,' notes Sally Storey. Uplighting should be subtle too, lighting up the wall of your fence from below works really well, for example.
Remember it can be as simple or sophisticated as you like. Think about unusual options such as lighting a pool with a projector or using colored lanterns to light steps.
'For entertaining I advise lighting underneath the seating, uplighting any trees, which will mimic the look of a standard lamp, and then finishing with lanterns either side - this will provide a low-level glow around the seating space,' explains Sally.
Whatever you do, you don't want things to look garish. Nestle lights in plants, add lighting to steps and think carefully about your use of uplighters and downlighters. You want to evoke a feeling of ambience, which is vital to achieving a successful garden design.