Kitchen lighting ideas – 45 ways to set the scene for cooking, eating and entertaining
Our kitchen lighting ideas and expert advice offer cleverly planned illumination inspiration that will bring your room out of the shadows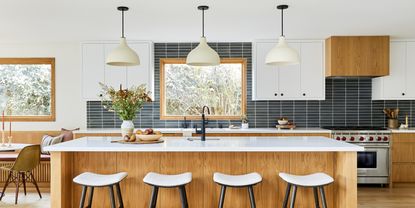 (Image credit: Ginny Macdonald/Sara Tramp)
Kitchen lighting ideas are an important part of any successful design scheme, with functional and aesthetic illumination particularly important in a space that is used increasingly for entertaining as much as cooking.
Apart from its key function, lighting can have a transformative effect on your kitchen ideas from making the space look bigger to highlighting key pieces and creating a specific ambiance.
Kitchens usually need to include task, mood and feature lighting. Task lighting is the most practical and covers hardworking areas like the prep space, cooking area and the sink; mood lighting creates different atmospheres and feature lighting is eye-catching and can simply introduce a bit of character.
A layered approach to lighting will not just set the mood to your kitchen but bring interest and depth. Here are just some of the kitchen lighting ideas that can bring a new dimension to your kitchen.
Kitchen lighting ideas
Investing in a kitchen lights design that provides both effective task lighting and creates the perfect ambience is essential. These kitchen lighting ideas and expert advice will help you start that journey.
1. Mix up your fixtures, but keep it coherent
As all kitchens will require multiple different types of lighting, consider exploring a multitude of kitchen lighting trends in your space by mixing and matching different fixtures.
'Have fun with different shapes and shades, but if you're mixing it up, stick to a theme or a core tone so that everything hangs together visually,' says Tom Howley, Design Director of his eponymous kitchen design brand.
This principle is clear in this large barn conversion kitchen by Richard Felix-Ashman, where three differing styles of pendant, chandelier and wall lighting have been used over the counters, island and dining tables. All of them feature the color black with two sporting brass accents, with the entire scheme exploring a contemporary take on vintage styles.
2. Add punch to a neutral scheme with feature lighting
Not only can lighting fixtures make a big impact through their illumination power, but their form can often be the final piece of your kitchen design puzzle that brings everything together.
The modern kitchen lighting ideas used in this San Francisco apartment by Cathie Hong see a pair of black and dark green pendant lights hang over an island in a kitchen that is largely colored with white and light oak. Along with the faucet, the lights create a standout contrast with their dramatically dark color, adding structure and a thoughtful design touch to the space.
3. Consider a solo light to highlight a focal point
A single designer light poised above an island unit can be all it takes to unite a scheme, inject elegance, and emphasise a focal point, especially in an open plan space.
'If you're going for one lone fitting, it should be scaled in proportion with the island. Not so big it overpowers, nor so small it looks lost in the space,' says Mike Fetherston, design director, Hetherington Newman. 'Position either centrally if the shape of the island suits, or above a bar seating area. The bottom of the pendant should be clear of head height, so at least 90cm above the worktop.'
4. Create a quirky feature with oversized lighting
When thinking about how to plan kitchen lighting, don't be afraid to go big at your kitchen's heart. Daringly oversized lighting features are a great way to add character to a kitchen – just be sure to position them carefully.
In this kitchen by Tiffany Leigh, oversized lampshades hang from the ceiling over the island – their positioning maximizes task lighting over the workspace, while also creating a widespread warm glow at the center of the room. Crucially, they are kept high enough not to interfere with the eyeline, and add a quirky touch thanks to their slightly surreal size.
5. Incorporate reflective materials to bounce light around the room
When thinking about how much light your kitchen needs, it's important to consider a balance of natural light and artificial light. One trick you can use to enhance both – day or night – is to incorporate reflective surfaces into your design. In this kitchen by Liz Caan, brass metallic accents glow in the sunlight, glass cabinet doors reflect light in the darker lower areas of the kitchen, while a mirror next to the window and a statement mirrored ceiling light creates a glistening jewel at the center of the room.
6. Select lights that are in line with the kitchen island
When planning your kitchen lighting, few modern kitchen island or peninsula units feel complete without some form of stylish lighting above. Getting it right requires advance planning, especially on islands beyond two metres long. Determining what will happen on the island first will help plan where you need illumination. On longer surfaces it's often better to target lighting above key points, like the prep area and breakfast bar, rather than line pendants up in equally spaced rows.
'We like to aim for practicality but with some flair,' says Roundhouse designer Ben Hawkswell. 'This six-light pendant boasts great directional lighting for targeting work areas and its streamlined design maximises sightlines.'
7. Group smaller, understated lights for a more dramatic impact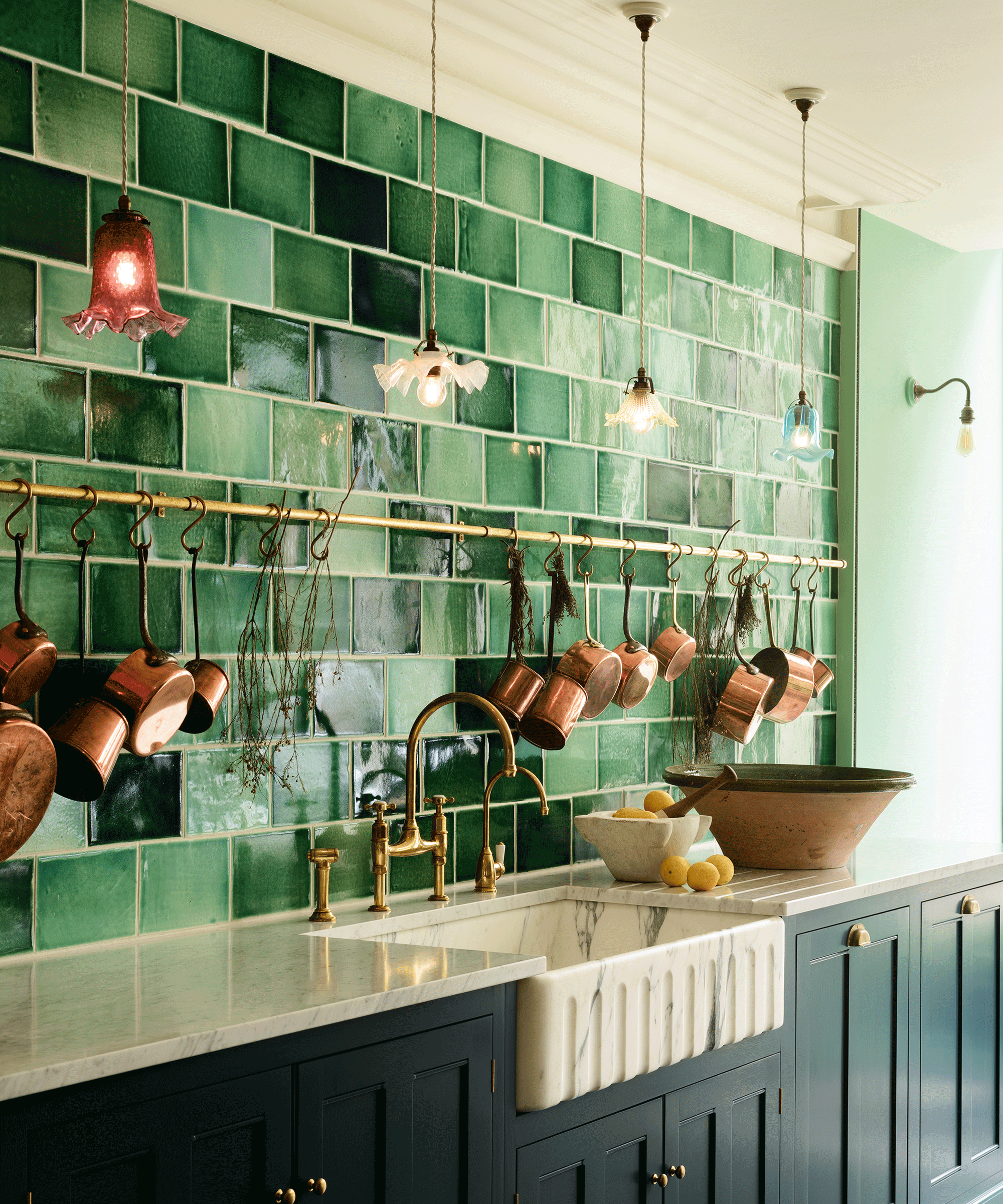 The unexpected positioning of these pretty vintage pendants elevates their appeal. It also bears practical benefits, bringing the light source closer to the task in hand. The faded elegance and jewel-like colors of these antique glass pendants are unique, but the shades have been visually united using matching retro fittings. Individually, they may be small and dainty, but worked together they feel far bolder.
'You can easily tire of statement lighting that dominates the kitchen,' says Helen Parker, creative director, deVOL Kitchens. 'Discreet and understated designs still catch our attention, but we don't get bored of them so easily.'
8. Choose a vintage light for a unique one-off statement piece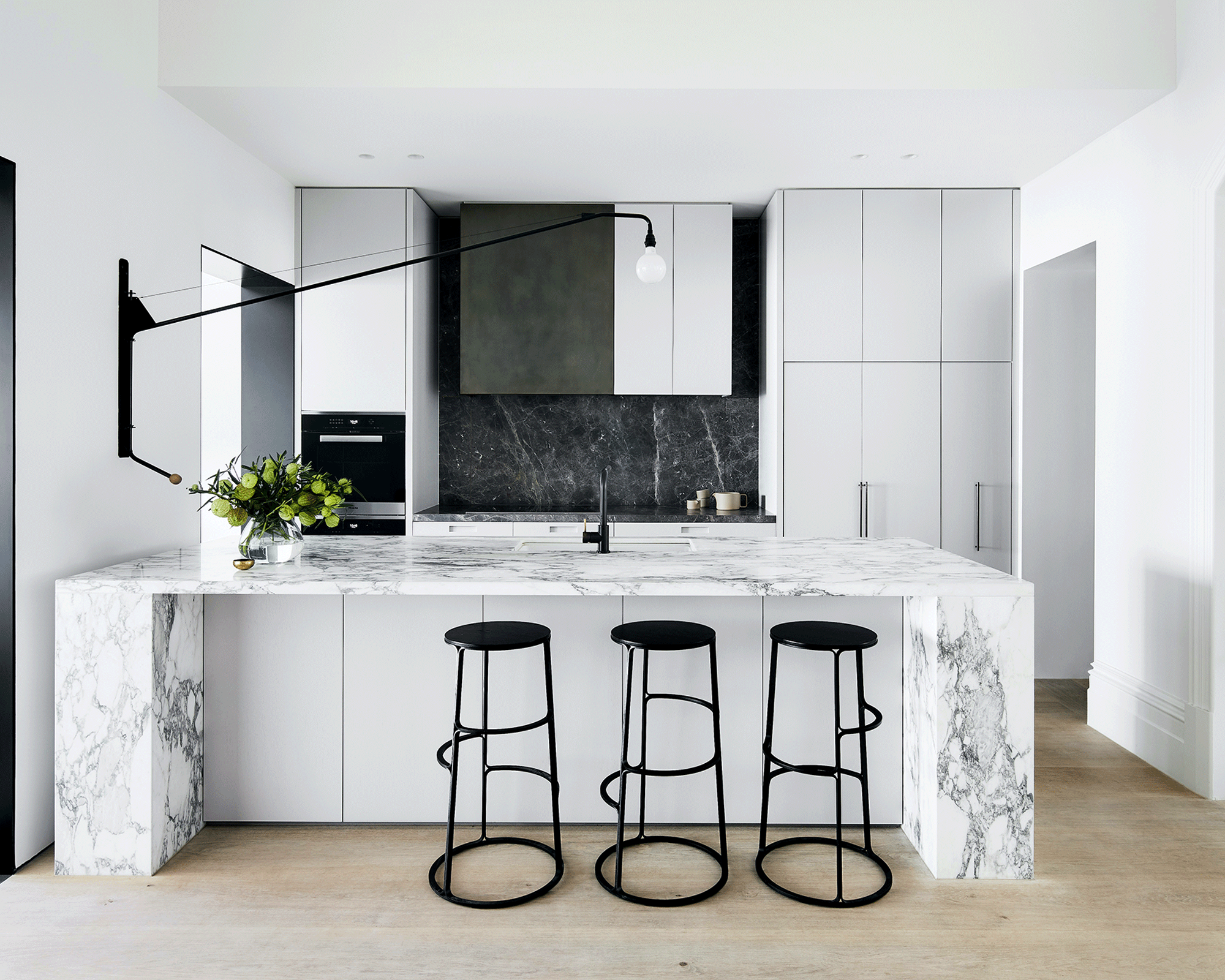 If you're going for one statement light, make sure it's a keeper by seeking out timeless design. This monochrome kitchen, created by Australian interior designer Fiona Lynch, is punctuated by Jean Prouvé's purist masterpiece for Vitra. Designed in the 1950s, its pared-back industrial lines still feel modern more than half a century later. We love how the tubular steel swing arm can be effortlessly moved between sink and breakfast bar.
Similarly enduring lighting brands include Flos, Lampe Gras and Louis Poulsen. Find original examples at 1st Dibs. Modern productions of this industrial look can be found at Industville, Pooky and Holloway of Ludlow's Old School Electric.
9. Blend modern and traditional styles
Kitchen lighting isn't just a practical necessity – when chosen with creativity, it can add an impactful twist to a room's design scheme. For example, don't be afraid to use them to blend the present with the past.
In this kitchen by interior designer Windsor Smith, modern kitchen lighting is used to bring a contemporary edge to a kitchen with a firm foot in tradition. The coned fittings put a modern twist on the classic chandelier arrangement, much like how the slick, brushed brass cabinet handles update the paneled doors.
10. Layer lighting in tall kitchens
When planning contemporary kitchen lighting, you may well need to think about covering the room vertically, as well as horizontally. Fitted downlighters will bring widespread light across the kitchen, but lower lighting may well be needed to bring focus into particular parts of the room.
This is especially important if you're working on a kitchen with high ceilings, where the diminished impact of downlighters mean you may want to add extra lighting closer to eye level. In this kitchen with a double height ceiling, low-hanging pendant lights are used over the island to bring more light into the food preparation area.
11. Consider the rule of three
There are three main types of lighting in a modern kitchen: task, mood and feature, and the most successful kitchen schemes include all three.
Task lights are the brightest and target the working areas such as preparation surfaces, cooker and sink, while mood lighting, which is soft and diffused, is used to create ambience.
Feature lighting can refer to the fitting itself, which makes a statement whether it is on or off, as in the kitchen above, or to something interesting like a color-changing system, in-cupboard illumination or plinth-level lighting, which adds an extra dimension but is not essential.
'Always opt for more light sources rather than brighter ones, and set decorative and mood lighting on dimmers, so they can be adjusted with ease,' advises Giovanni Corrado of Baroncelli.
Another rule of three applied to kitchen lighting ideas? Three pendants over a kitchen island, rather than two or four. This is because odd numbers are more pleasing to the eye.
12. Plan for an eye-catching kitchen lighting idea
One way to give your kitchen lighting ideas real impact is to pick a stand-out centerpiece that can sit over the island or dining table. It needn't provide anything but good ambient lighting, but making it dimmable is a bonus for adjusting the room's atmosphere when you need to.
Black track lights are also becoming increasingly popular, because they can provide plenty of light and add a little 1970s style.
Jamie Blake, creative director of Blakes London, says, 'Use them in place of a pendant, or opt instead for a single pendant over the island, rather than a set. One large and spectacular pendant, perhaps suspended over the island to one side or over a breakfast bar, can look like a piece of art.'
13. Highlight a dining area with pendant lights
When considering how to choose kitchen lighting, it's important to match the appropriate style to its location in the room. Adding extra light to a dining area is a great way to boost atmosphere and make sure your culinary creations look their best when served, and pendant lights hung from the ceiling do this while also creating an unmissable design feature.
In this kitchen by designer Ginny Macdonald, pendants are used over both the island and the breakfast area. Their low hanging nature means they are always best used over a table or counter, where people aren't going to walk underneath them.
14. Give unique nooks dedicated lighting
Because life is never entirely straightforward, not every kitchen has four walls – especially in older buildings, you may find yourself with the odd nook or cranny that needs to be worked with. Recessed areas and alcoves can be great spaces to turn into dedicated areas for certain functions, but they can also end up being a little darker if tucked away from the room's main lights.
In this kitchen owned by Waterworks Co-Founder Barbara Sallick, an alcove has been turned into a bar area, deliberately lit with its own brass wall sconces to ensure home bartenders can work their magic with ease.
15. Double up in larger spaces
Big kitchens or an open plan kitchen needs big lighting plans – so don't be afraid to double up on light fittings both horizontally and vertically. In this sprawling kitchen by Claudia Afshar, the light needed to be distributed across a counter, a breakfast bar and not one, but two islands. Afshar therefore chose to use both a multitude of downlighters fitted into the ceiling, as well as pendant lights over both islands to ensure every bit of the room is well lit.
16. Choose pretty accent lamps that are practical too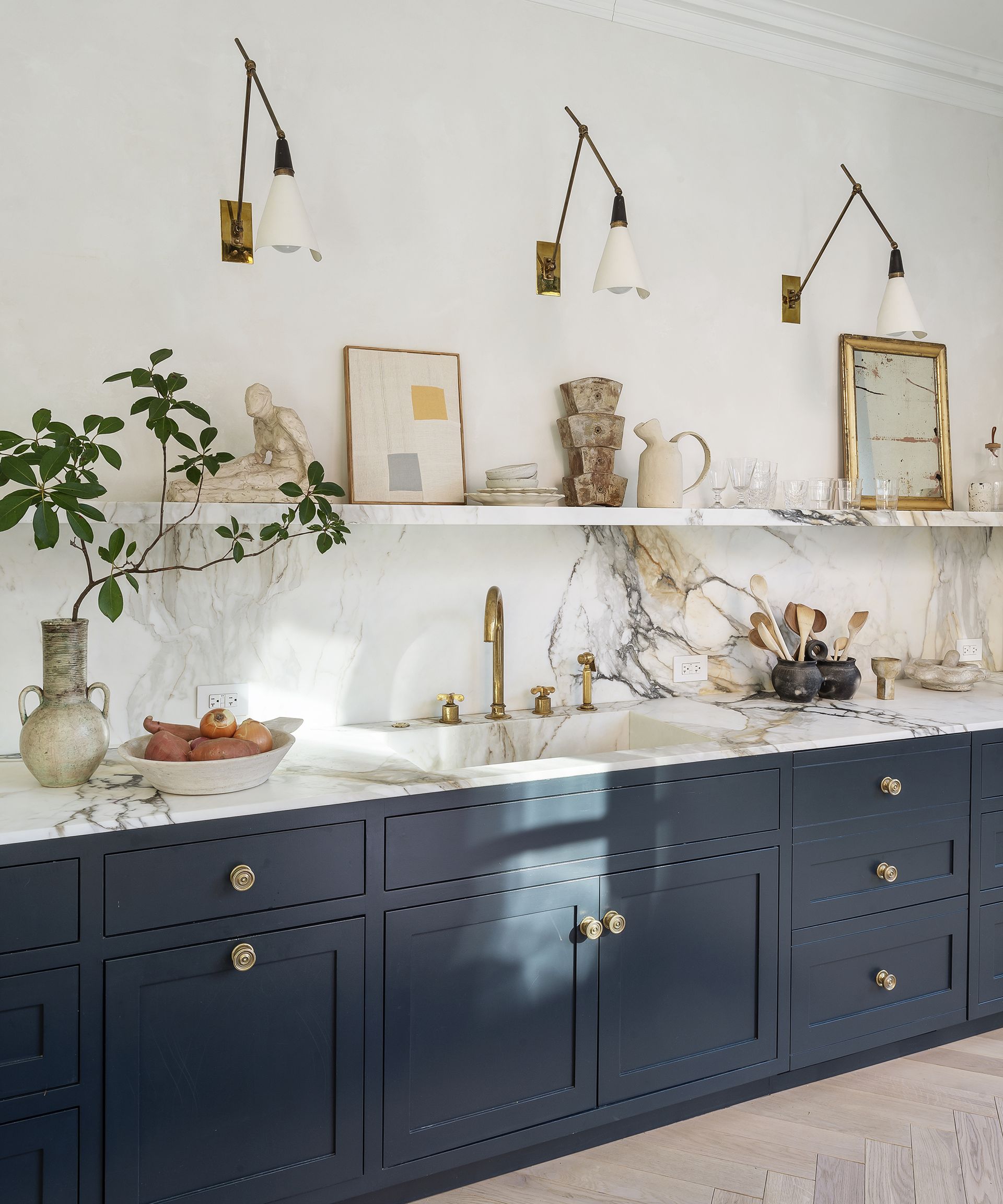 'Often, lighting can be the last thing considered in kitchen design,' says Andrew Hall, managing director of Woodstock Furniture. 'However, for a kitchen to look its best and function well, the space must be lit properly.'
Experts agree that the best time to install a new lighting scheme is way back when you are still planning your kitchen, as you are signing off your kitchen layout ideas and drawings. Leave it until later and it becomes an after-thought with limited possibilities.
However adventurous you would like to be with your scheme, it's crucial to establish your budget early. As a general rule, John Cullen recommends spending as much on your kitchen's lighting as you do on the flooring.
17. Light under kitchen cabinetry to create a floating feel
As the layout develops, start thinking about the lighting, not only for wiring purposes, but also so that you can problem solve as the plans unfold, says Blake.
'For example, I would usually use LEDs under the wall cupboards to light the countertop. Without them, another lighting solution is required, so instead I might include kitchen wall lighting on swing arms that can be angled to suit.'
The kitchen lighting ideas above are incredibly practical, but they also highlight the exotic stone backsplashes and countertops, the floor and the shelving display, creating a floating feel that is perfect for enhancing space if you are looking for small kitchen lighting ideas.
18. Light inside cabinetry – and pantries
Consider practical lighting inside pantries, breakfast dressers and wall cupboards, ideally on switches that automatically turn on the light when the door is opened and off when shut, advises Blake.
Lighting inside glazed cabinets can be used to make a feature of glassware, while a simple table lamp on a console or dresser helps link kitchen with dining or living areas in an open plan room.
'I rarely use plinth- or cornice-level lighting, because it isn't usually necessary and can make a room look like a spaceship. There are exceptions, such as when a tall run of cabinetry stops short of the ceiling. Here, a soft glow of light could be used to illuminate a dark patch to create a balanced look.'
19. Add industrial accents
Industrial styles have become increasingly popular over recent years, with metallic accents and concrete surfaces cropping up more and more. These metal trapeze lights give this classic Tom Howley kitchen an urban edge.
20. Go for gold
Gold lights have incredible reflective properties and are ideal for bouncing light around the room. They are also a brilliant addition to darker kitchen color schemes, as they help to lift and lighten a room – as seen in this stunning Tom Howley kitchen.
21. Mix and match vintage finds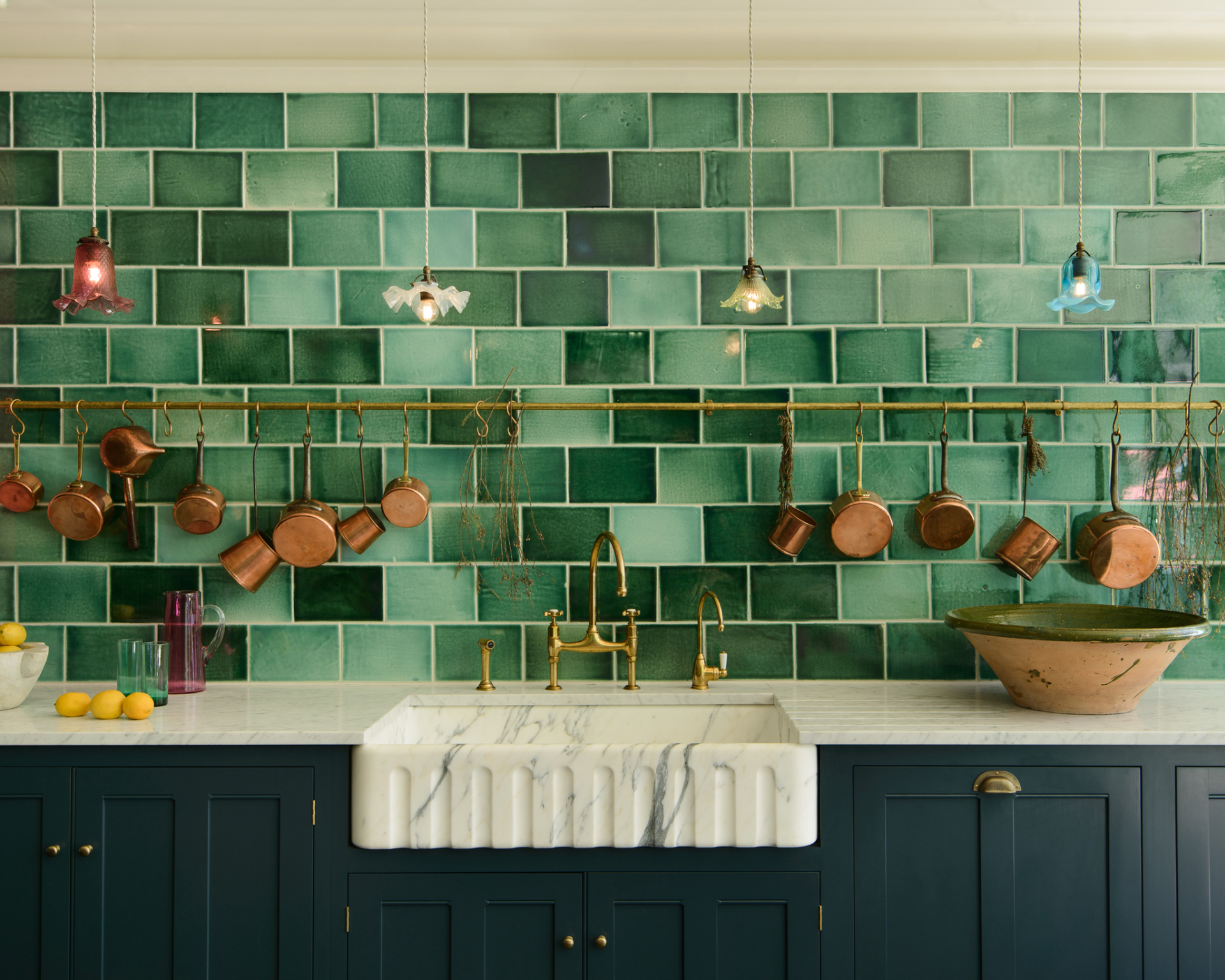 This classic English kitchen by deVOL uses mismatching vintage-style pendants to create a totally unique lighting solution. Sometimes venturing back to previous eras works well – even in more contemporary kitchens.
22. Charm with a chandelier
Chandelier lights are brilliant for adding a sense of occasion to an entertaining space.
What's more, not only do chandelier crystal droplets look visually pleasing, but they also shimmer and reflect light, casting it around the room – ideal if you're thinking of going bigger and bolder with your space, like in this gorgeous Tom Howley kitchen extension.
23. Love linear lights
Linear lights can be a great modern kitchen idea, as they are in-keeping with the streamline nature and clean lines typically found in them.
Whether it's a strip light or a parallel rows of spotlights, there are so many ways this linear look can be achieved - as seen in this gorgeous Sebastian Cox Kitchen by deVOL. It's also a great solution for kitchen island lighting.
24. Make your island shine bright
One idea to add a little more drama to a kitchen is to showcase your island. A way to do this is to have pendant drop-down lights solely over your kitchen island and ceiling spotlights throughout the rest of the room. This means all the attention will be on this central hub - where you're most likely to be cooking and entertaining anyway.
This classic English kitchen by deVOL does exactly that.
25. Go back to basics with single bulbs
Exposed bulb lights have been everywhere the past few years and give an industrial look to a space. We love these bulb pendant lights in this deVOL real shaker kitchen.
26. Be an energy saver
Incorporate LEDs at multiple levels to flood your kitchen in light, without costing the earth. LEDs are by far the most energy-efficient option, lasting at least 20,000 hours or ten years – they are a great way to incorporate more sustainable kitchen ideas into your space.
Look for those with warm color rendition to avoid a clinical feel. A 12W cluster LED spotlight compares in warmth and brightness to a 50W halogen spotlight.
27. Creat a dynamic trio
Boost the impact of statement pendants by arranging them in a row along the length of an island or table. As we said above, odd numbers work best; opt for three or five depending on the area.
28. Go to great lengths
In a room with a high ceiling, lower-level pendants work especially well above an island or dining table, where they won't cause an obstruction.
29. Put on a light show
'Never feel too compelled to have a light in the centre of a ceiling. Install several lights and ensure they are given specific tasks. If the dining table is likely to be in the corner of the kitchen, hang a pendant over there. It's more functional and looks more considered,' says Busola Evans, Homes & Gardens' kitchen and bathroom supplement editor.
30. Add an arty installation
Kitchen lighting should not just be thought of as purely practical. It can also be used to add a dynamic look to your kitchen. Contemporary fittings like these striking pendants in mismatched styles, provide a design feature that captures the imagination, a great option for kitchen ceiling ideas.
31. Get the wall factor
'The perfect height of lights depends on two factors: the height of the people living in the house and the height of the ceilings. Wall lights work well in a small kitchen, especially ones with little natural light,' says Kenny Collins, chairman of The Lighting Store.
32. Show off star quality
The saying 'go big or go home' might be the mantra of youth, but it certainly rings true for the kitchen.
'There's a real trend for architectural lighting in kitchens right now, like big pendants with several arms, and they make a real statement. Ensure that they hang at least 2m above the island or table,' explains Sarah Spiteri, editorial director of Homes & Gardens.
33. Create the ultimate showstopper
A good, well-thought-out lighting scheme can make all the difference in a kitchen. 'Match the style of your light fittings to your kitchen – interesting light fittings will stop your kitchen looking overly clinical.
'Prismatic glass and bone china work wonderfully in country style kitchens, metallic pendants give an industrial flavor, and brightly-painted pendants bring an often-needed pop of color,' enthuses Peter Bowles, managing director of Original BTC and Davey Lighting.
34. Install an eye-catching modern lighting centerpiece
Lanserring has hit upon the most perfect kitchen island lighting with this fabulous fitting.
Designed to create ambient lighting, its main role in this room is to draw attention to the modern kitchen island and to give the kitchen a living room appeal, rather than to provide practical task lighting.
35. Make the best use of downlights
Dimmable ceiling downlights are a popular solution for general lighting in a modern kitchen, says Jamie Blake, creative director of Blakes London.
'Turn them right up when you want to clean the room, dim them right down when you want a softer mood.
'While it may help to start by drawing up a grid of downlights to create an even spread of light, remember that you may need to adjust it to accommodate things like steel joists, skylights, TV screens and so on. Nor do you want to put a downlight right next to a pendant or hard up against a wall cabinet. Use the grid merely as a starting point that you can modify to suit your space.'
36. Layer light
A complex room, such as a living-kitchen, will demand different light levels for a range of activities.
In the kitchen idea shown above, track lighting washes walls with soft light by evening and has more focused spots, pendants and task lighting where needed.
'There is nothing worse than a dimly lit work area,' says Melissa Klink, Head of Design at Harvey Jones. 'Make sure to position spotlights or pendants directly above key areas to ensure the light isn't blocked when you stand at the sink, hob or work top.'
37. Tackle task lighting
Task lighting can be discreet and hidden under wall cupboards or shelving, but you can also make a feature of it with designer kitchen wall lighting ideas that can be angled to direct brightness where it is needed.
38. Consider low light sources
LED strips provide a soft low light that is useful for backlighting backsplashes and shelving, but they can also be useful for directing traffic through the kitchen space.
It's human nature to gravitate towards light, so put a subtle glow beneath a counter with bar-style seating to encourage guests to pull up a seat.
39. Light the inside of cabinetry