20 kitchen lighting ideas – to set the scene for cooking, eating and entertaining
Our kitchen lighting ideas and expert advice offer cleverly planned illumination inspiration that will bring your room out of the shadows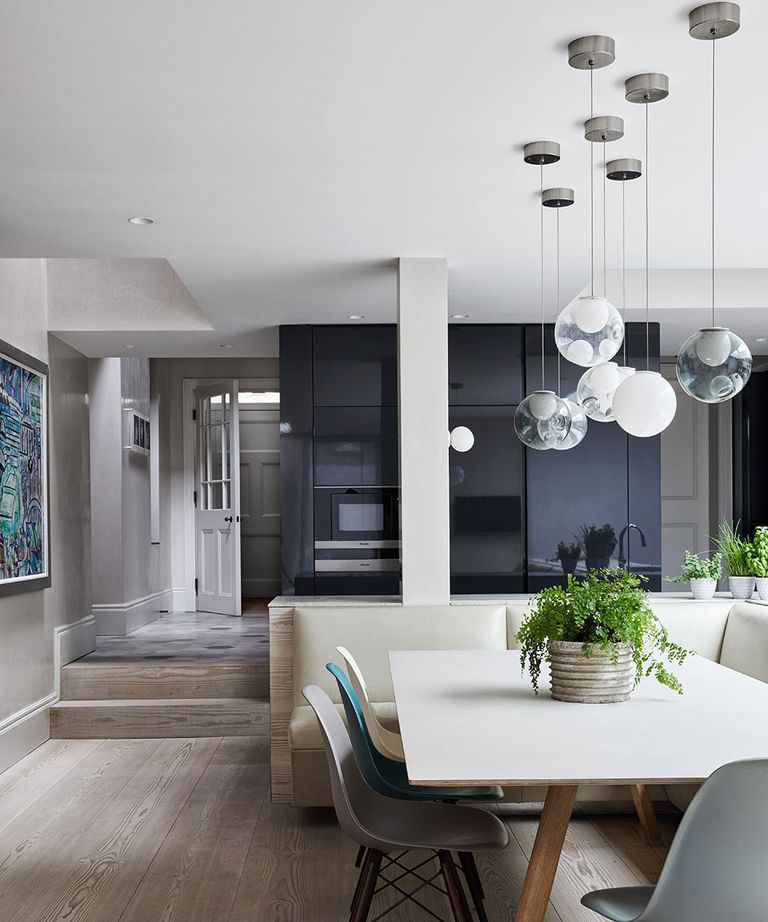 (Image credit: Davide Lovatti)
The right kitchen lighting ideas can deliver several levels of brightness, make a space feel larger, and dramatically alter the mood and feel of a room. After all, the kitchen's primary function may still be cooking, but it increasingly serves as one of the main entertaining spaces in the home.  
BEST KITCHEN LIGHTING IDEAS
Investing in kitchen lighting that provides both effective task lighting and creates the perfect ambience is essential.
These kitchen lighting ideas and expert advice will help you start that design journey.
1. Consider the rule of three
There are three main types of lighting: task, mood and feature, and the most successful kitchen schemes include all three. 
Task lights are the brightest and target the working areas such as preparation surfaces, cooker and sink, while mood lighting, which is soft and diffused, is used to create ambience. 
Feature lighting can refer to the fitting itself, which makes a statement whether it is on or off, as in the kitchen above, or to something interesting like a color-changing system, in-cupboard illumination or plinth-level lighting, which adds an extra dimension but is not essential. 
'Always opt for more light sources rather than brighter ones, and set decorative and mood lighting on dimmers, so they can be adjusted with ease,' advises Giovanni Corrado of Baroncelli.
Another rule of three applied to kitchen lighting ideas? Three pendants over a kitchen island, rather than two or four. This is because odd numbers are more pleasing to the eye. 
2. Plan for an eye-catching kitchen lighting idea
One way to give your kitchen lighting ideas real impact is to pick a stand-out centerpiece that can sit over the island or dining table. It needn't provide anything but good ambient lighting, but making it dimmable is a bonus for adjusting the room's atmosphere when you need to.
Black track lights are also becoming increasingly popular, because they can provide plenty of light and add a little 1970s style. 
Jamie Blake, creative director of Blakes London, says, 'Use them in place of a pendant, or opt instead for a single pendant over the island, rather than a set. One large and spectacular pendant, perhaps suspended over the island to one side or over a breakfast bar, can look like a piece of art.'
3. Choose pretty accent lamps that are practical too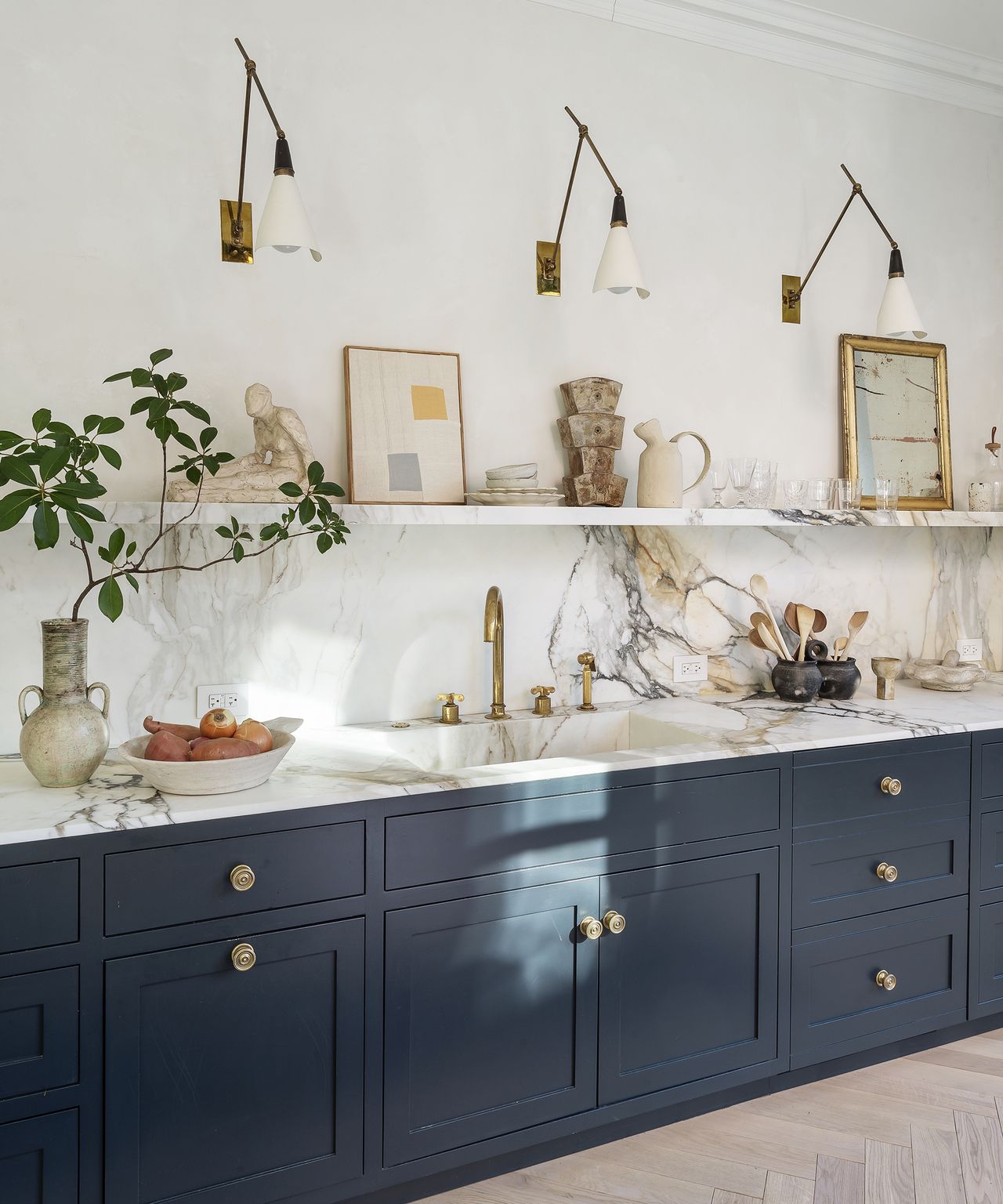 'Often, lighting can be the last thing considered in kitchen design,' says Andrew Hall, managing director of Woodstock Furniture. 'However, for a kitchen to look its best and function well, the space must be lit properly.'
Experts agree that the best time to install a new lighting scheme is way back when you are still planning your kitchen, as you are signing off your kitchen ideas and drawings. Leave it until later and it becomes an after-thought with limited possibilities.
However adventurous you would like to be with your scheme, it's crucial to establish your budget early. As a general rule, John Cullen recommends spending as much on your kitchen's lighting as you do on the flooring.
4. Light under kitchen cabinetry to create a floating feel
As the layout develops, start thinking about the lighting, not only for wiring purposes, but also so that you can problem solve as the plans unfold, says Jamie Blake, creative director of Blakes London. 
'For example, I would usually use LEDs under the wall cupboards to light the countertop. Without them, another lighting solution is required, so instead I might include kitchen wall lighting on swing arms that can be angled to suit.'
The kitchen lighting ideas above are incredibly practical, but they also highlight the exotic stone backsplashes and countertops, the floor and the shelving display, creating a floating feel that is perfect for enhancing space if you are looking for small kitchen lighting ideas.
5. Light inside cabinetry – and pantries
Consider practical lighting inside pantries, breakfast dressers and wall cupboards, ideally on switches that automatically turn on the light when the door is opened and off when shut, advises Jamie Blake.
Lighting inside glazed cabinets can be used to make a feature of glassware, while a simple table lamp on a console or dresser helps link kitchen with dining or living areas in an open plan room. 
'I rarely use plinth- or cornice-level lighting, because it isn't usually necessary and can make a room look like a spaceship. There are exceptions, such as when a tall run of cabinetry stops short of the ceiling. Here, a soft glow of light could be used to illuminate a dark patch to create a balanced look.'
6. Add industrial accents
Industrial styles have become increasingly popular over recent years, with metallic accents and concrete surfaces cropping up more and more. These metal trapeze lights give this classic Tom Howley kitchen an urban edge.
7. Go for gold
Gold lights have incredible reflective properties and are ideal for bouncing light around the room. They are also a brilliant addition to darker kitchen color schemes, as they help to lift and lighten a room – as seen in this stunning Tom Howley kitchen.
8. Mix and match vintage finds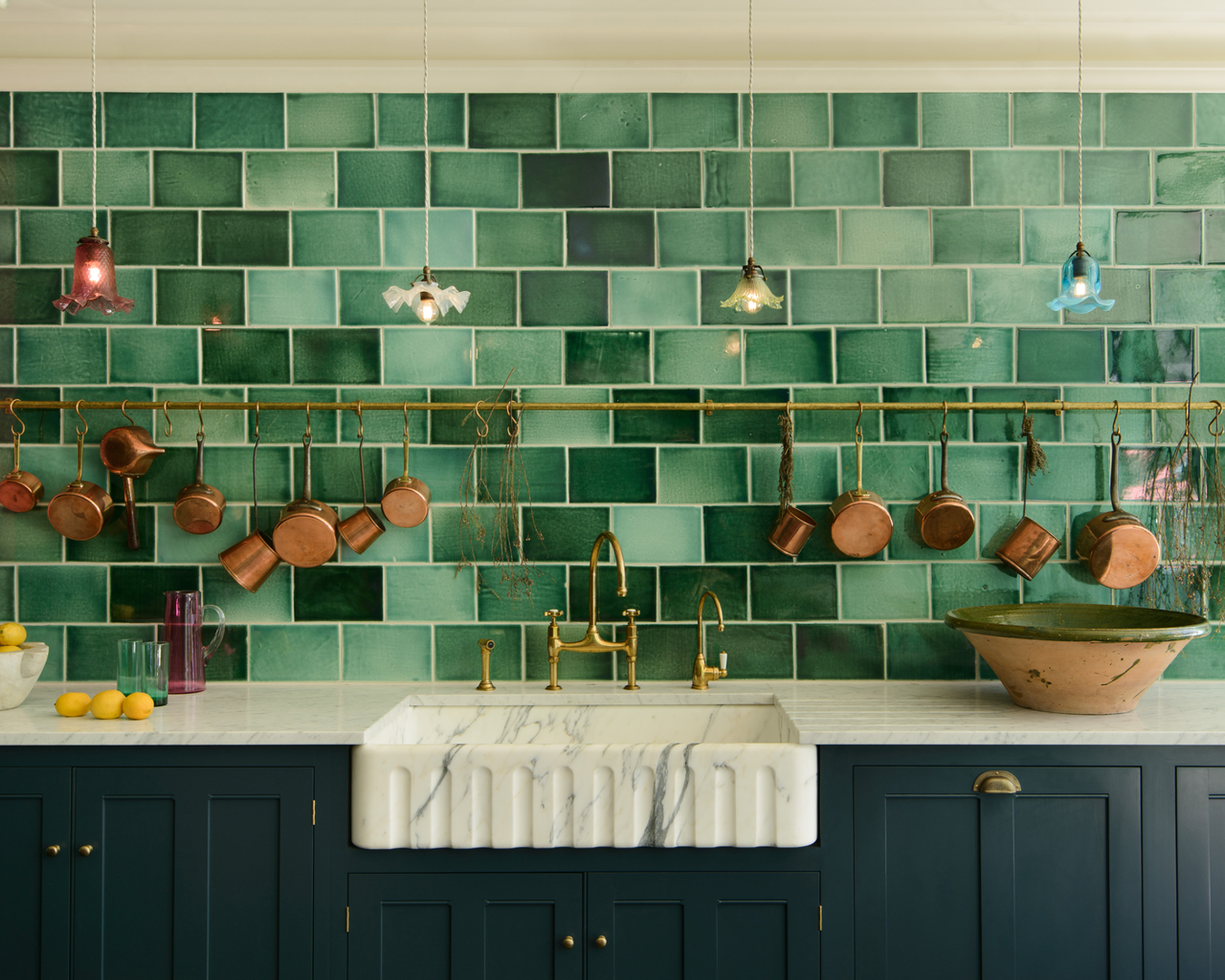 This classic English kitchen by deVOL uses mismatching vintage-style pendants to create a totally unique lighting solution. Sometimes venturing back to previous eras works well – even in more contemporary kitchens.
9. Charm with a chandelier
Chandelier lights are brilliant for adding a sense of occasion to an entertaining space. 
What's more, not only do chandelier crystal droplets look visually pleasing, but they also shimmer and reflect light, casting it around the room – ideal if you're thinking of going bigger and bolder with your space, like in this gorgeous Tom Howley kitchen extension. 
10. Love linear lights
Linear lights can be a great modern kitchen idea, as they are in-keeping with the streamline nature and clean lines typically found in them.
Whether it's a strip light or a parallel rows of spotlights, there are so many ways this linear look can be achieved - as seen in this gorgeous Sebastian Cox Kitchen by deVOL. It's also a great solution for kitchen island lighting.
11. Make your island shine bright
One idea to add a little more drama to a kitchen is to showcase your island. A way to do this is to have pendant drop-down lights solely over your kitchen island and ceiling spotlights throughout the rest of the room. This means all the attention will be on this central hub - where you're most likely to be cooking and entertaining anyway.
This classic English kitchen by deVOL does exactly that.
12. Go back to basics with single bulbs
Exposed bulb lights have been everywhere the past few years and give an industrial look to a space. We love these bulb pendant lights in this deVOL real shaker kitchen.
13. Be an energy saver
Incorporate LEDs at multiple levels to flood your kitchen in light, without costing the earth. LEDs are by far the most energy-efficient option, lasting at least 20,000 hours or ten years.
Look for those with warm color rendition to avoid a clinical feel. A 12W cluster LED spotlight compares in warmth and brightness to a 50W halogen spotlight.
14. Creat a dynamic trio
Boost the impact of statement pendants by arranging them in a row along the length of an island or table. As we said above, odd numbers work best; opt for three or five depending on the area.
15. Go to great lengths
In a room with a high ceiling, lower-level pendants work especially well above an island or dining table, where they won't cause an obstruction.
16. Put on a light show
'Never feel too compelled to have a light in the centre of a ceiling. Install several lights and ensure they are given specific tasks. If the dining table is likely to be in the corner of the kitchen, hang a pendant over there. It's more functional and looks more considered,' says Busola Evans, Homes & Gardens' kitchen and bathroom supplement editor.
17. Add an arty installation
Kitchen lighting should not just be thought of as purely practical. It can also be used to add a dynamic look to your kitchen. Modern kitchen lighting ideas, like these striking pendants in mismatched styles, provide a design feature that captures the imagination.
18. Get the wall factor
'The perfect height of lights depends on two factors: the height of the people living in the house and the height of the ceilings. Wall lights work well in a small kitchen, especially ones with little natural light,' says Kenny Collins, chairman of The Lighting Store.
19. Show off star quality
The saying 'go big or go home' might be the mantra of the youth, but it certainly rings true for the kitchen. 
'There's a real trend for architectural lighting in kitchens right now, like big pendants with several arms, and they make a real statement. Ensure that they hang at least 2m above the island or table,' explains Sarah Spiteri, editorial director of Homes & Gardens.
20. Create the ultimate showstopper
A good, well-thought-out lighting scheme can make all the difference in a kitchen. 'Match the style of your light fittings to your kitchen – interesting light fittings will stop your kitchen looking overly clinical. 
'Prismatic glass and bone china work wonderfully in country style kitchens, metallic pendants give an industrial flavor, and brightly-painted pendants bring an often-needed pop of color,' enthuses Peter Bowles, managing director of Original BTC and Davey Lighting.
What type of lighting is best for kitchens?
Most residential lighting is now LED, as it is energy-efficient and long-lasting. It is also compact, so you can buy tiny lamps on a flexible strip to run along shelf edges and under counters and plinths, which can significantly lighten the look of a hefty island.
LED downlights have replaced the halogen bulbs of old. Look for directional options that let you shine light where you need it. Broadly, there are four types of lighting to consider: task lighting to illuminate countertops, sink and hob; general lighting to give overall brightness; ambient lighting to add a soft glow to sociable spaces, and decorative lighting to create focal points and display areas.
What's trending in kitchen lighting?
Controllability is key. 'Lighting is the most important element to bear in mind when zoning in a kitchen,' explains Tom Howley, design director of Tom Howley. 
'Spotlights in the ceiling should always be dimmable, so you can adjust the mood in the kitchen when you have guests. Task lighting is essential over the most used worktop areas. This is key when prepping food in the evening, allowing you to keep the atmosphere relaxed elsewhere with the dimmable lights.'