Kitchen lighting trends 2021 – 10 designs to update your space
These are the top kitchen lighting trends 2021 – to take your kitchen into 2022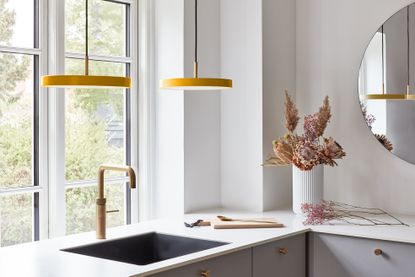 (Image credit: Amos Lighting )
The biggest kitchen lighting trends in 2021 are more colorful, imaginative and stylish than ever. And while they're aesthetically pleasing, they play to functionality too, which all good lighting designs should.
We've spoken to the interior design experts and as result we have 10 kitchen lighting trends that will take you smoothly and stylishly into 2022. So, whether you're planning a kitchen remodel and are looking for lighting, or just want to add to your kitchen ideas for an up and coming update, these are the latest designs you need to know about.
Kitchen lighting trends 2021
Kitchen trends do come and go, but we like to choose those that are stylish but have longevity. We spoke to 10 kitchen design experts to get their take on what's hot in kitchen lighting trends right now.
1. A mix of materials
Jo Plismy, founder of Gong gives her top advice on what she feels is next for kitchen lighting ideas:
'I believe the next big kitchen lighting trends will involve experimenting with new and different materials to make exciting and unique lighting designs. This will include using both newer high-tech materials and ancestral ones too.
'The possibilities for materials used in the creation of lighting is endless and I think we will see innovation in the use of softer materials such as rattan and fabric as well as harder ones including steel, ceramic, resin, aluminium and even marble, which looks fantastic in a kitchen. To transform matter into light, you need the alchemical genius of craftsmen and designers. Lighting is an endless playground for them, and materials form an inspiring palette.
'For my part, I am particularly interested in exploring more natural materials such as rattan, bamboo, linen, and Kapok. After the events of the past year, I think everyone is being more drawn back to nature and the simple things in life, especially those that will last, rather than becoming part of the throwaway society.'
Above, is a great example of the kind of kitchen wall lighting ideas that are on trend in 2021.
2. Use hanging pendants – in a different way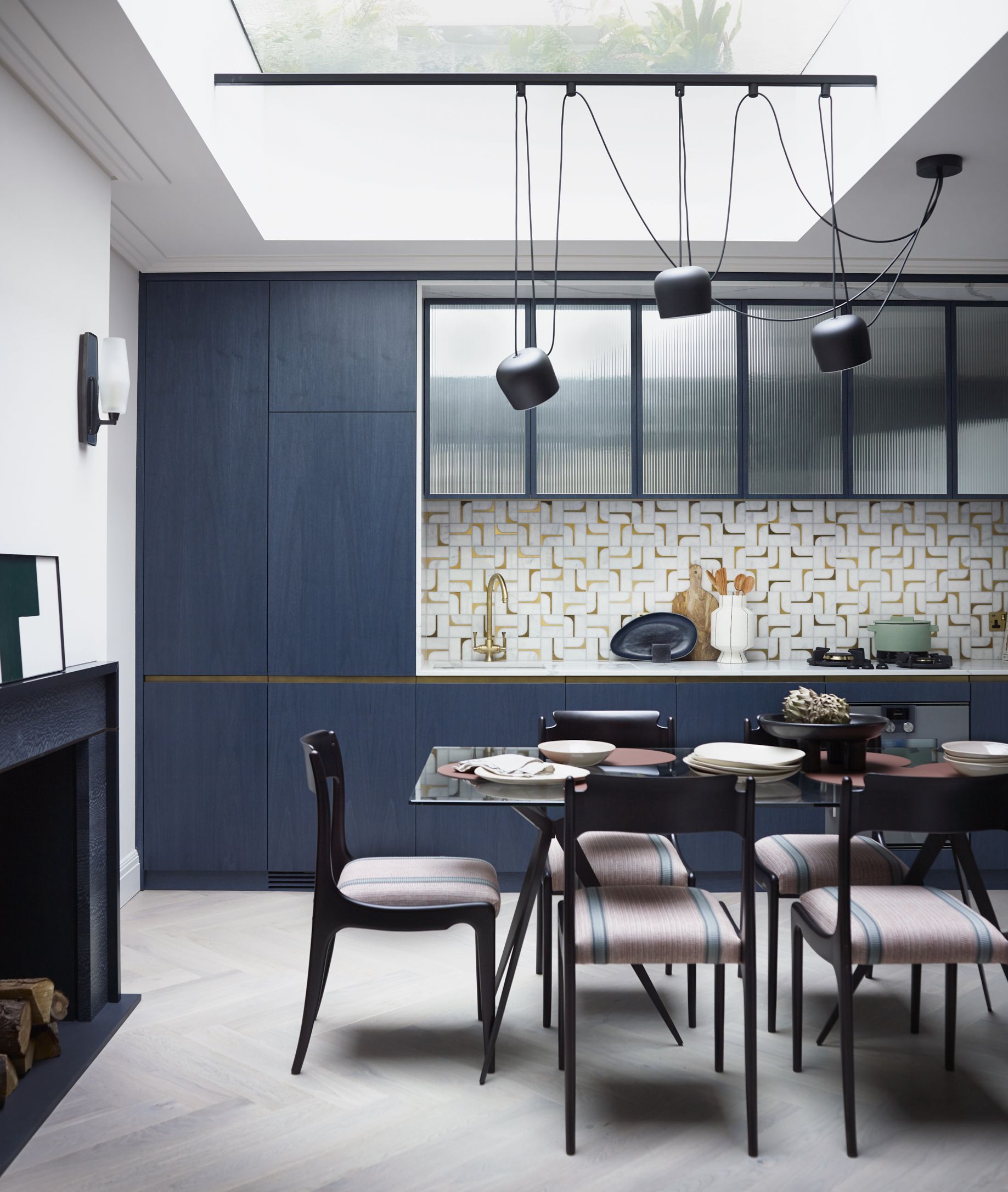 If you are considering modern kitchen lighting ideas, this kitchen lighting trend might be for you.
'We love a pendant like the next person, but we wanted to do something different in this bold, contemporary kitchen. These stunning lights are by Flos and we wanted to hang them in a less traditional way, so we added a steel beam to the roof so we could hang them at random heights.
'The aim was to create our own version of kitchen lighting in a decorative way, rather than as something purely functional,' says Irene Gunter, founder of Gunter & Co (opens in new tab).
3. Metallics are back, but in a more subtle way
Gary Singer, owner of Eggersmann (opens in new tab) gives his kitchen lighting trends advice for the coming year – which includes a new way to complement kitchen island lighting ideas and the rest of your decor:
'People want bespoke bells and whistles, but also luxurious materials and design details. It is these refined details they pay for. It is the smart functionality of the drawers, the areas that are concealed and the neat little lighting details.
'The kitchen lighting trend I'm noticing is that these elements are now carrying through into the rest of the scheme – the brass metalwork of the baseboard is also seen in the barstools and the pendant lighting above the kitchen island. This gives balance to the overall kitchen design, instead of the lighting being seen as a separate statement element, it's now all encompassing.'
4. Lights encased in a 'lantern'
'Lantern lighting above the island is currently very popular. We see this kitchen lighting trend continuing into 2022 but with more of an emphasis on characterful lighting, often with an industrial edge as shown here with this "lantern" light. It's a great way to add individuality to a kitchen scheme,' says Richard Moore, design director at Martin Moore (opens in new tab).
Lighting and kitchen island ideas have always been an important combination, and another trend we've noticed is groups of three pendants over an island – this is a classic styling trick as odd numbers always work best visually, and this trio of bulbs encased in glass is a great example of this.
5. Use a combination of spots, LED lights and pendants
It's not always just one kitchen lighting trend that's important when you are planning kitchen lighting, as Richard Atkins, design director at DesignSpace London (opens in new tab) explains:
'Lighting is essential in a kitchen to ensure that it will function effectively and safely. It is a vital part of a kitchen and should be planned during the design process. It is especially important when the kitchen is in an open-plan space, as the lighting has to be zoned for different tasks and to create different ambiences.
'That is why we specify and install a mix of lights, both for practical purposes and to create interest and atmosphere in the space. 2022 will see this continue: spots and LED lights for function and pendants and feature lighting over the island and dining table for fun and aesthetics.
'Having different lighting systems and settings for use at different times of the day or for different purposes, means the space can become more flexible and enjoyable.'
6. Retro lighting is back!
If you are searching for lighting ideas for small kitchens that's subtle but still has personality, this one is for you.
'Surface mount, simple lighting is in, can lights are out. The surface mount lighting in this kitchen is a trendier version of traditional can lighting and adds visual interest to the ceiling with its subtle cream color and design, but at the same time doesn't distract, we're definitely going to see more of this style of lighting in 2022,' advises Eddie Maestri, AIA, founder of Texas based Maestri Studio (opens in new tab).
7. Go for subtle choices over bold
'Stand back and hold back when designing all the elements of your kitchen and don't be tempted to buy things to fill every space. People often try too hard to get a "look" they have seen on Pinterest and to theme their kitchen with all the things they love and want to show – but hold back. You can easily tire of statement pieces and of large bold themes that dominate your room, lighting is a big one,' exclaims Helen Parker, creative director at renowned kitchen design studio, deVOL.
'We see so many lighting schemes and it's always the discreet and understated ones that catch our eye and that we don't tire of – this is our kitchen lighting trend prediction for 2022.'
8. Ditch the angular shapes and opt for curves
'We tend to get wind of kitchen lighting trends early – we see surges in demand for particular elements, such as more natural materials, or statement pendants and at the moment we're seeing a demand for sculptural lights and soft curves,' says Charlie Bowles, director at Original BTC.
This trend is a particular favorite of ours as kitchens tend to be made up of sharp angles – unless you opt for rounded corners on your island and cabinetry.
9. Choose clear glass shades
'We've noticed a real shift towards our elegant hand-blown glass pendants over kitchen islands and dining tables,' says Sheena Lawrence, co-director at Jim Lawrence.
'Clear glass shades bypass the visual imposition that can sometimes happen with weightier lighting, allowing light to pass through wherever you need to place the fittings. This is particularly beneficial for island and dining tables so that the need for task lighting can be fulfilled without making the area feel cluttered or heavy.
'Reeded glass can offer the same benefits but provides a subdued subtle glow with a more vintage oriented look. Marrying the best of contemporary and period design means these lights will never go out of style.'
10. A colorful pendant – or two
'Lighting will always play a vital role in your kitchen, it should reflect the essence of a room whilst creating an inviting ambience. Opting for a colored light fixture – our kitchen lighting trend prediction for 2022 – in particular will not only bring focus to an area but it will also add that accent of vibrancy that will transform more neutral schemes with contrast and style,' says David Amos, CEO at Amos Lighting + Home.
The pendant light is one design trend that's here to stay, it's versatility is its strength as it comes in such a huge array of looks – from big, bold and metallic to dainty and subtle, you simply can't go wrong with them.
What kind of kitchen light fixtures are in style?
Black is featured quite heavily in kitchen lighting trends, this doesn't mean the entire light is black – for example it could be black metal or hung with a black chain, or a black shade. Clear glass pendants are also popular, they work well in small kitchens as they allow light to pass through them therefore they don't 'block' light – a great choice if you're wondering how much light your kitchen needs. The industrial influence is still around but with a more refined, lighter touch.
Are recessed lights a kitchen lighting trend?
Yes recessed lights are still a kitchen lighting trend, but not on their own – they work well, functionally, over countertops and island bars, but are best used alongside other lighting options like pendants and wall lights to add character. This way you create a layered look that covers all key areas of the kitchen, too.
Sophie has been an interior stylist and journalist for over 20 years and has worked for many of the main interior magazines during that time, both in-house and as a freelancer. On the side, as well as being the News Editor for indie magazine, 91, she trained to be a florist in 2019 and launched The Prettiest Posy where she curates beautiful flowers for modern weddings and events. For H&G, she writes features about interior design – and is known for having an eye for a beautiful room.